A Dirty Martini mixed with a Bloody Mary? This Dirty Redbird Martini (my special Cardinals Cocktail) is the perfect cocktail recipe for supporting the St. Louis Cardinals!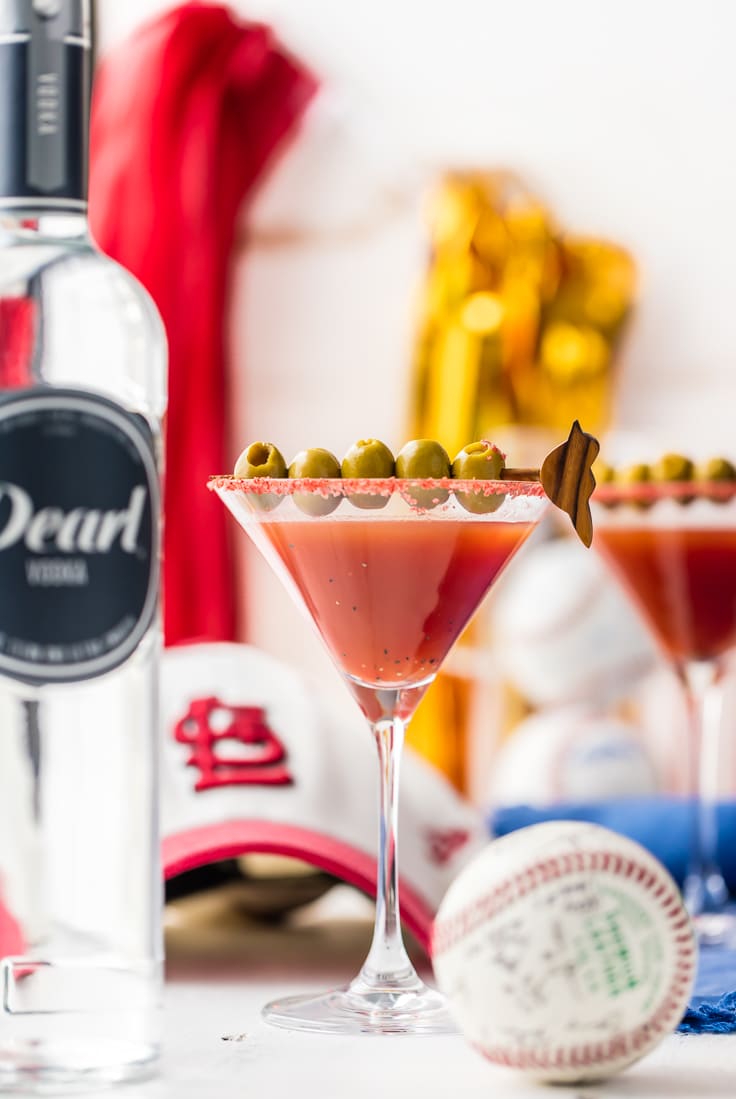 Dirty Redbird Martini
I live in a house divided. I grew up in KC and you guys know I talk about the Royals pretty much non-stop. My blood is blue, BUT…I live in St. Louis. I'm married to a die hard Cardinals fan. Pat loves the Cardinals as much as I love the Royals, and he should! STL is maybe the best baseball town in America, and the Cardinals are quite the team to love. Up until last year, the jealousy that he got to cheer for the Cards consumed me at times.
All of a sudden, the Royals won the World Series and Pat's life has been turned upside down. He has been forced to watch the WS DVD more times than I care to admit, has had to read article after article about how Salvy and Hosmer rule the world, and has allowed me to purchase an entire wardrobe consisting of blue and white. I even made him take pictures of our family as the last minutes of the World Series ticked down so that we could document the moments. He loved it…??
So it's about time I do something nice for Mr. Pat and his Cardinal Nation.
THE DIRTY REDBIRD MARTINI (aka CARDINALS COCKTAIL) is my labor of love for the man and city I love.
And a team that I do admit I cheer whole heartedly for (as long as they aren't playing my Royals…).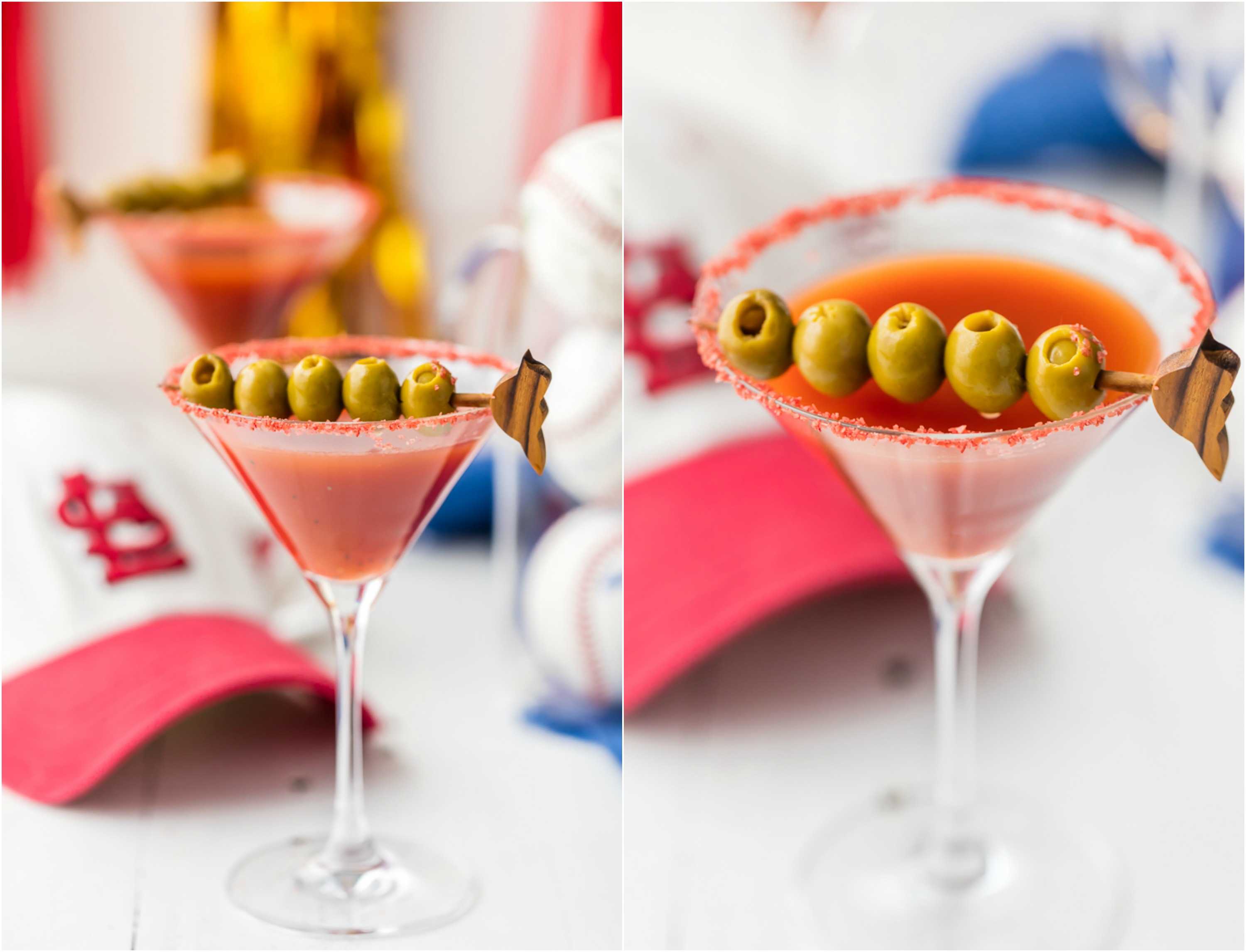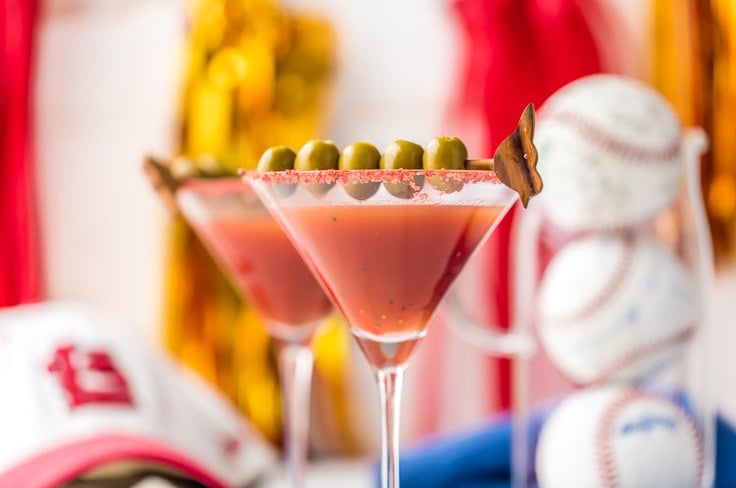 Dirty Martini plus Bloody Mary
Pat loves Dirty martinis, but I obviously wanted my Cardinals Cocktail to be RED, so I was at a loss. I actually was going to make something fruity, but that just isn't something Pat would drink, so that was out too. I was literally laying in bed thinking about what I could make when the idea for the Dirty Redbird Martini popped into my head.
Half Dirty Martini, half Bloody Mary! It would be red for the Cardinals and tying in with the mascot…PERFECT! So excited. When I taste tested it, I was even more excited! This is the perfect cocktail for tailgating morning noon or night, for any game of the year!
Redbird Martini Ingredients:
Vodka
Tomato Juice
Olive Juice
Lemon Juice
Onion Salt
Black Pepper
Worcestershire Sauce
Hot Sauce
Celery Salt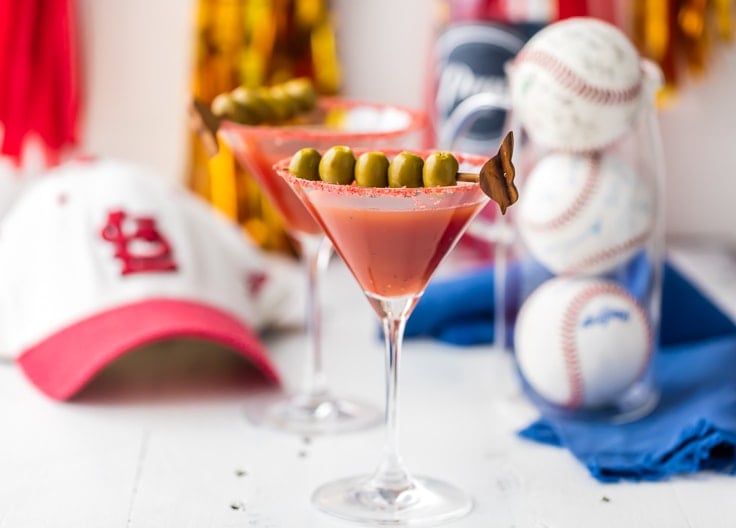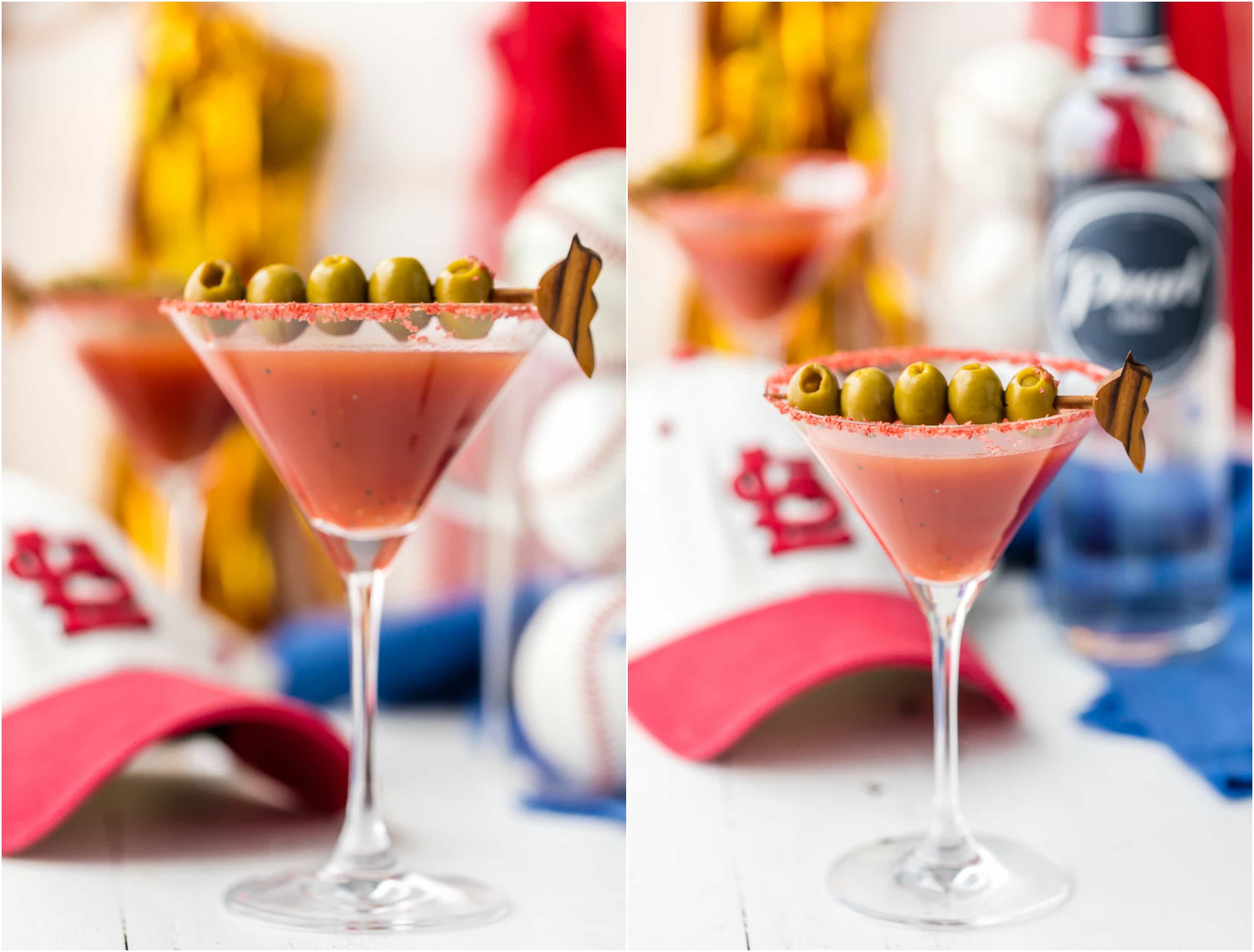 Best Vodka for This Martini
I'm so honored to be working with Pearl Vodka again this year…my VERY FAVORITE vodka. They have all the best flavors, and their smooth Black Pearl can't be beat. And major bonus, they're made RIGHT HERE IN ST. LOUIS!! Be still my heart! I have just loved working with them and love their heart for STL. Stay on the lookout for more STL themed recipes coming your way throughout the year! Click HERE to find out where to buy near you. You will not regret it!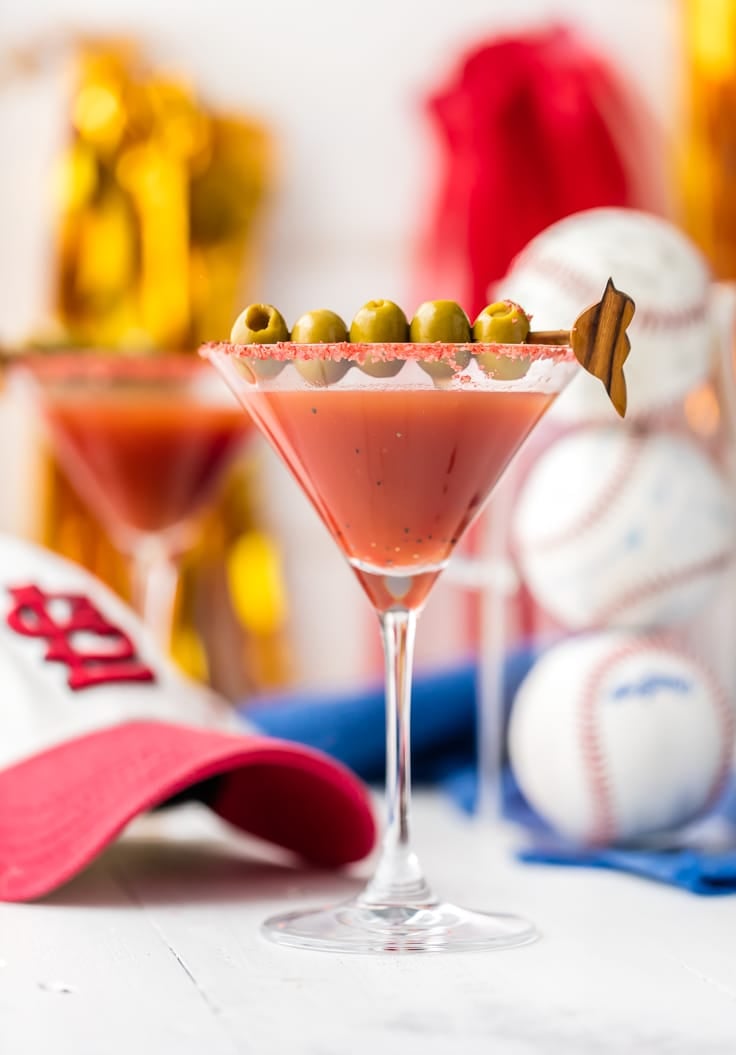 Cheers to Pat and the Cardinals. Thank you for putting up with me year round. This Cardinals cocktail recipe is for you!
Check the recipe card for details on how to make a Dirty Redbird Martini. Enjoy!
Be sure to try these other fun martini recipes: