CHEESY CAPRESE DIP is the ultimate EASY party dip for any occasion! Perfect for any celebration, tailgating, and especially the Super Bowl! Best cheese dip recipe ever!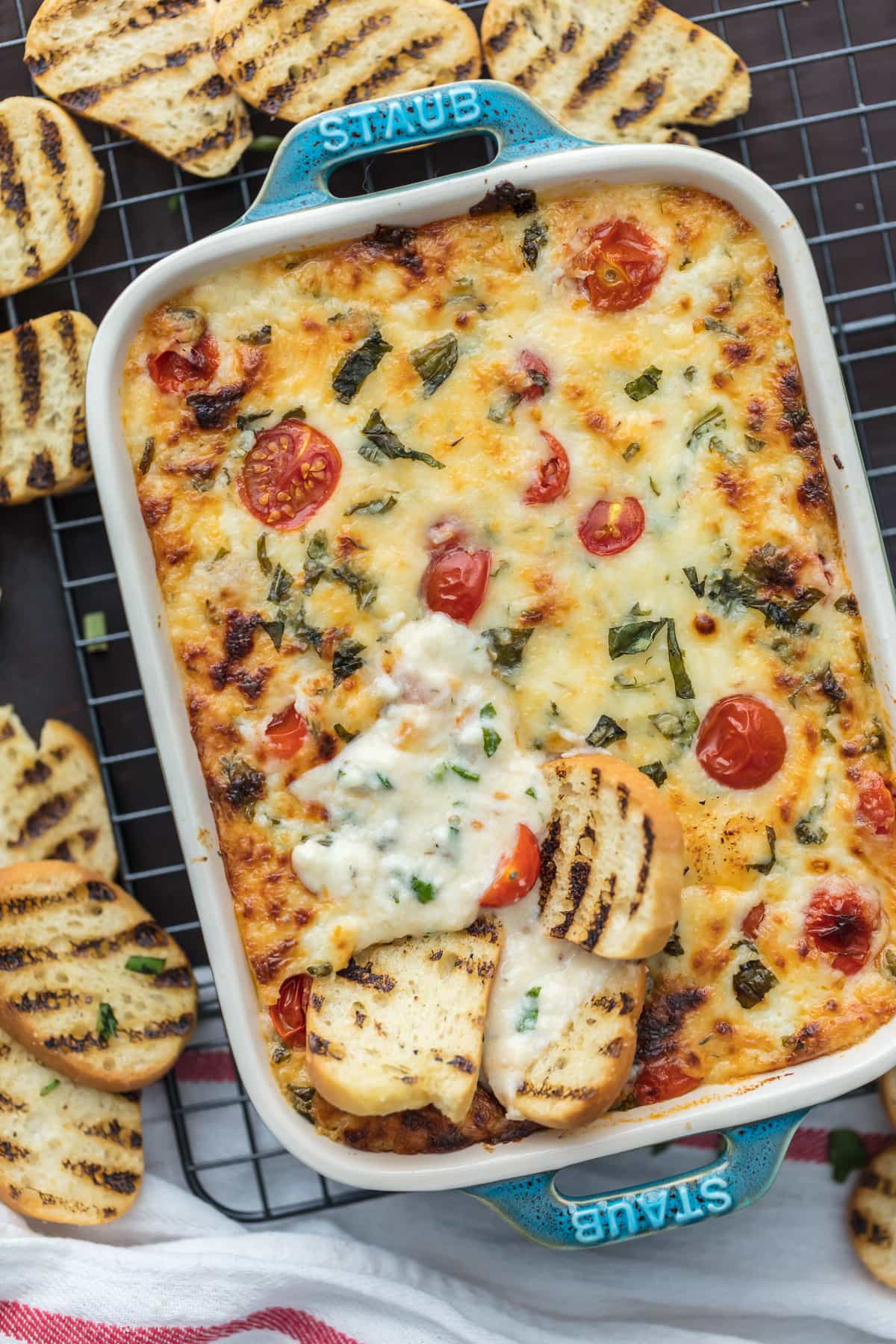 This post was originally published in October 2013 as one of my FIRST POSTS EVER! It's been an absolute favorite ever since so I thought it could use a face lift. Enjoy!
I don't really have words for this dip.  I'm not even sure what to write besides, BEST. DIP. EVER. It might be the best thing I have ever tasted. I know, I know, I say I like all the recipes I make. This one is just in a different category. Simple flavors and simple prep = simply delicious! I made this and posted it for the first time back in October 2013 and let's just say it's a good things I didn't figure out the recipe before my wedding. Fitting into that wedding dress would have been a disaster. But worth it??? Maybe! :) (Be sure to check out our other favorite Easy Caprese Recipe!)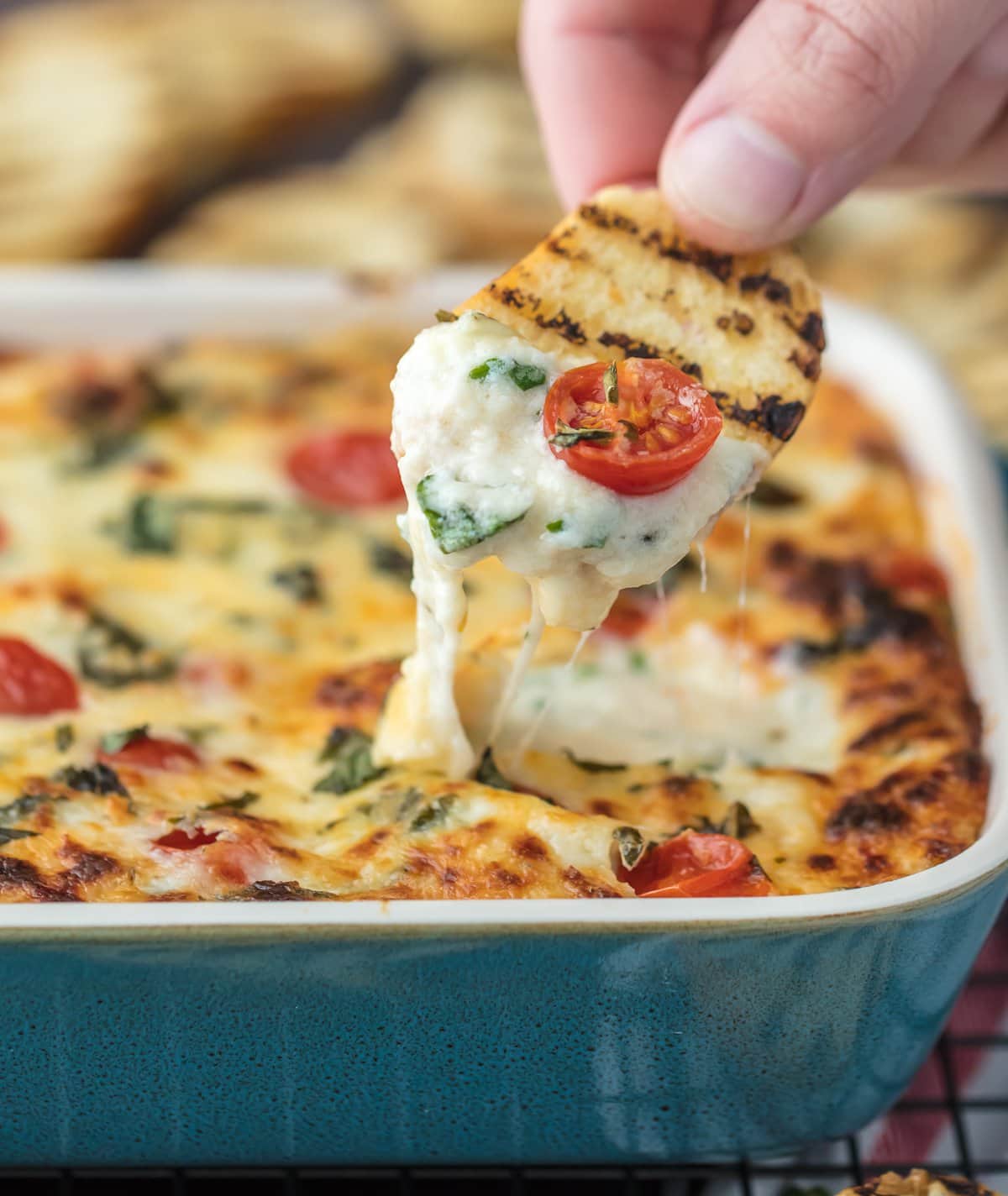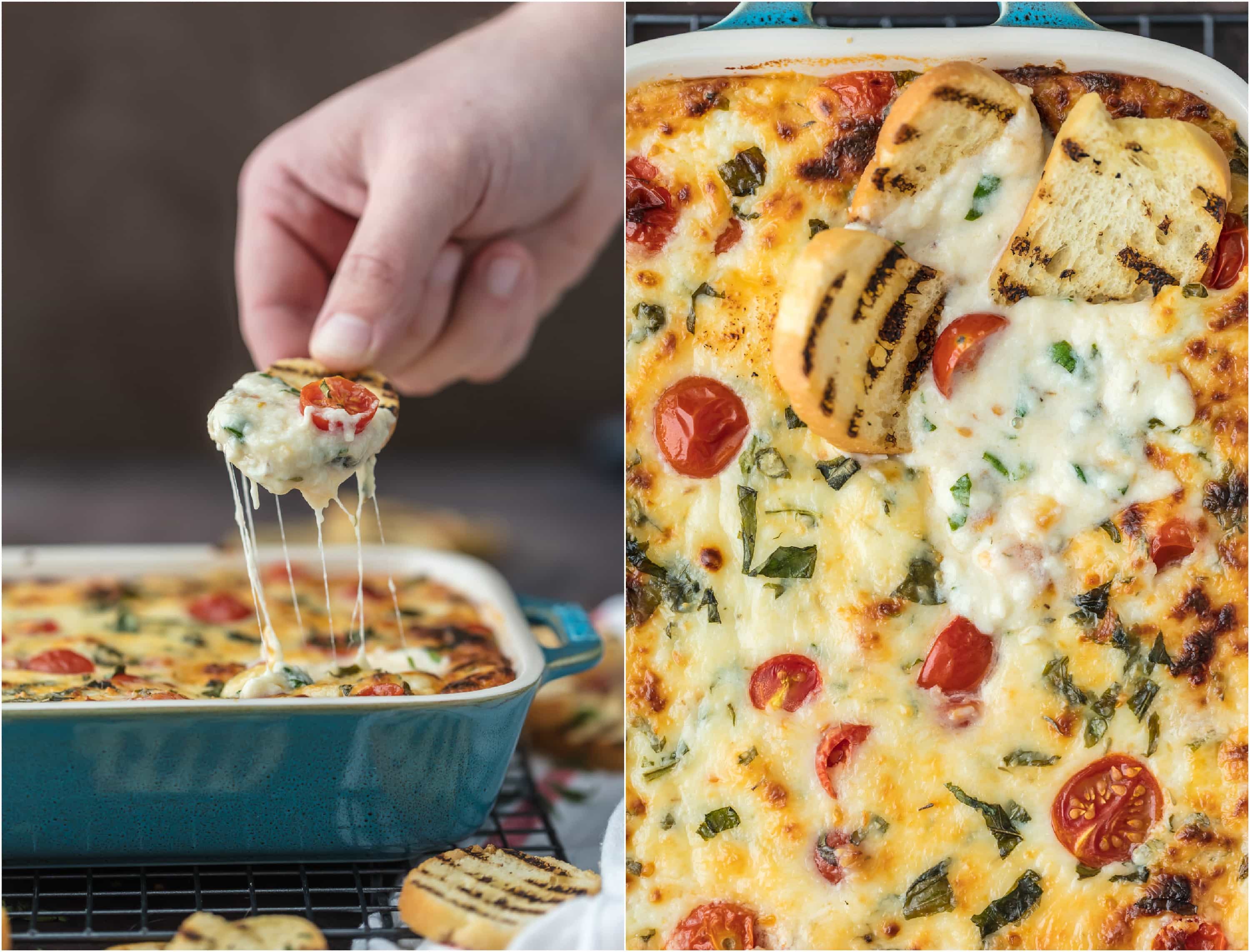 Promise me, for your health, that you'll try to only make it once a year and you'll make it for a lot of people.  It's nice to be the star of the show at any party, and this Cheesy Caprese Dip DEFINITELY makes you the star of the show. As long as you make it for a lot of people you can't possibly eat it all yourself while sitting in front of Netflix. What, just me?? Don't blame yourself, just avoid the madness and make it for groups of 10 or more.  PSA over.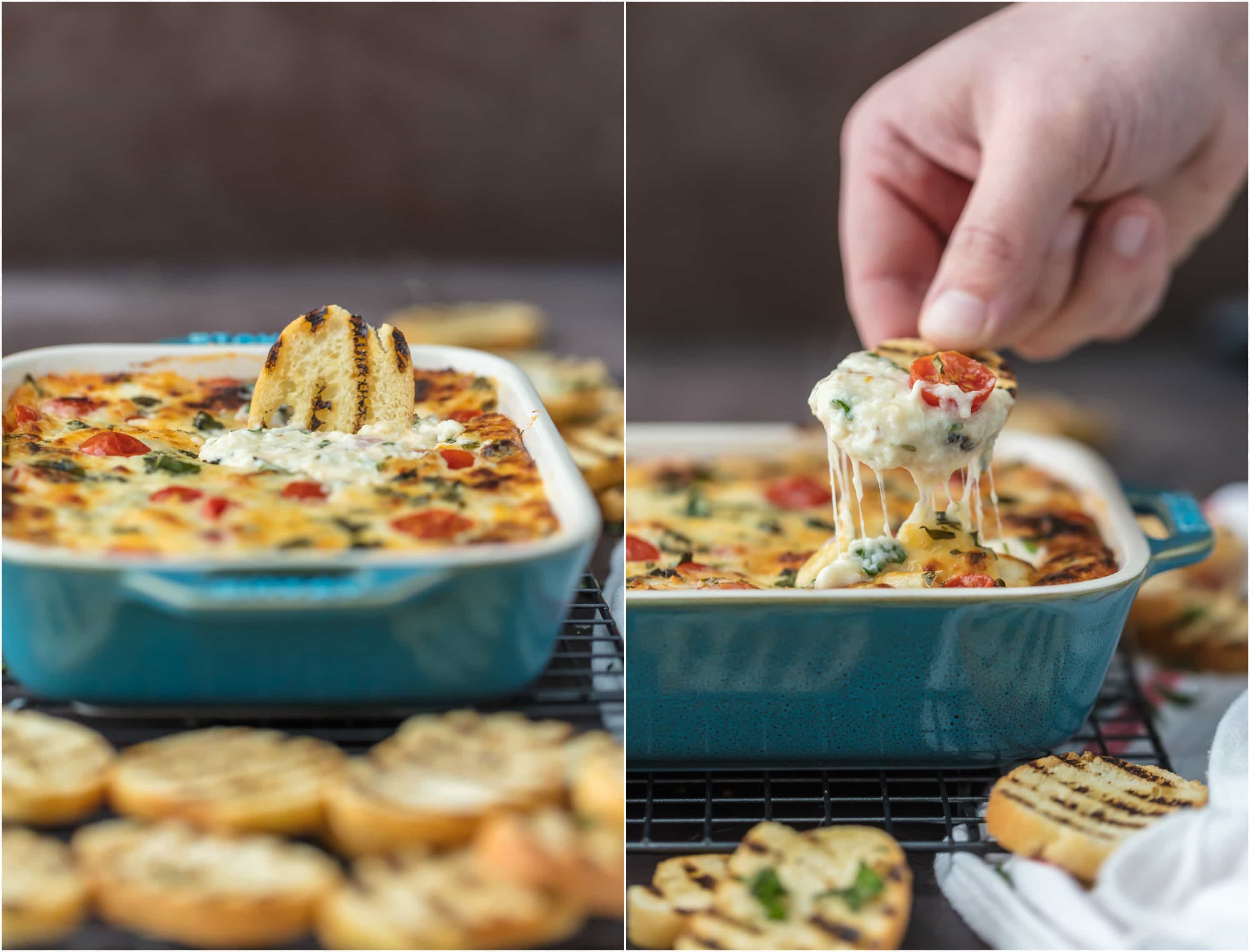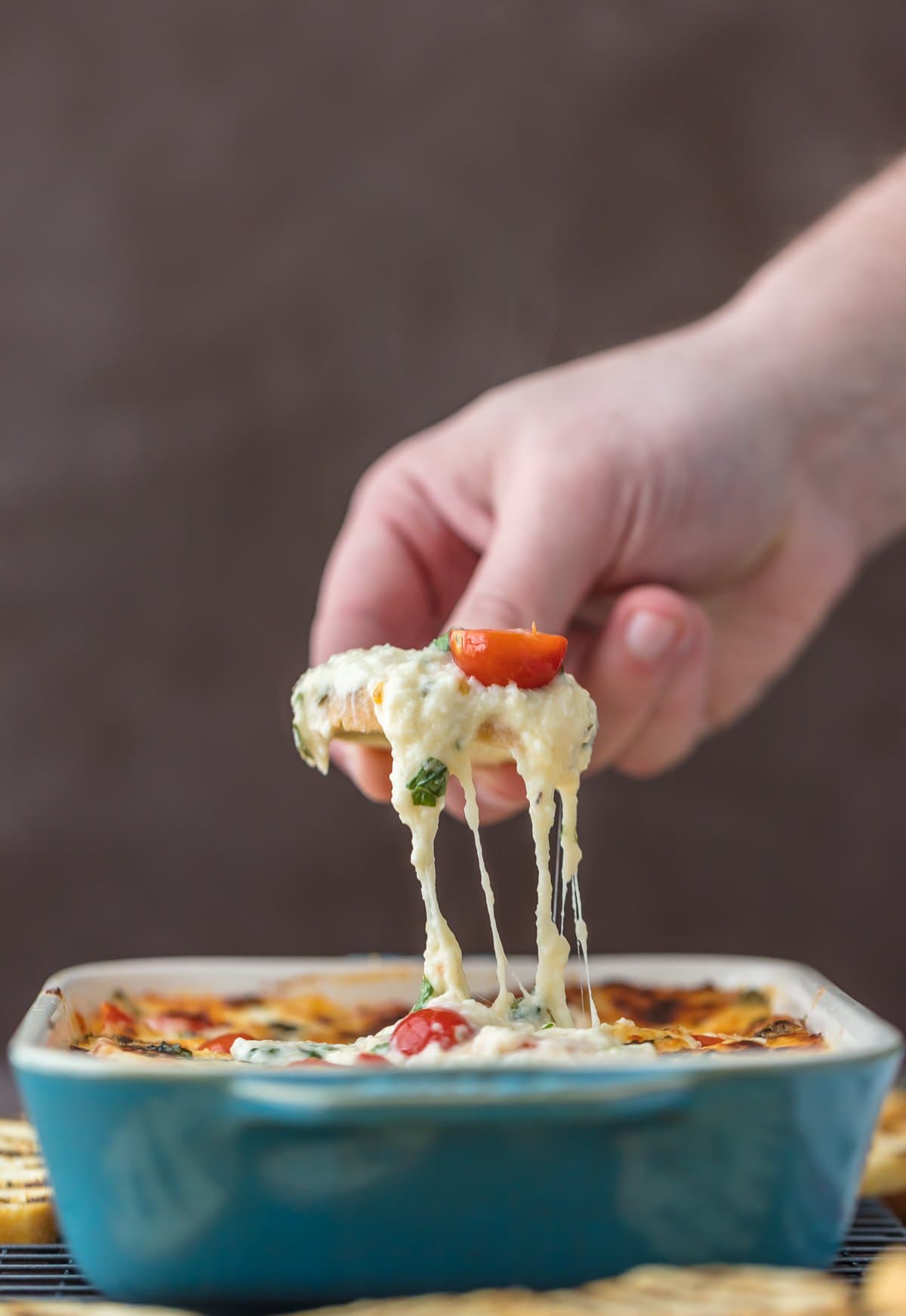 I've always loved caprese recipes and have made quite a few since I opened the door on this blog. A few favorites include White Chicken Caprese Lasagna, Mini Caprese Cups, Stuffed Caprese Chicken Sandwiches, and Caprese Bruschetta. All are SO YUM, but this is the dip that started it all. Cheesy Caprese Dip. INSANELY GOOD!  I wish i could take all the credit for this recipe.  Especially since its the best thing I've ever tasted and one of the best things i've ever made.  I found a similar recipe here, made a few tweaks, and this baby was born.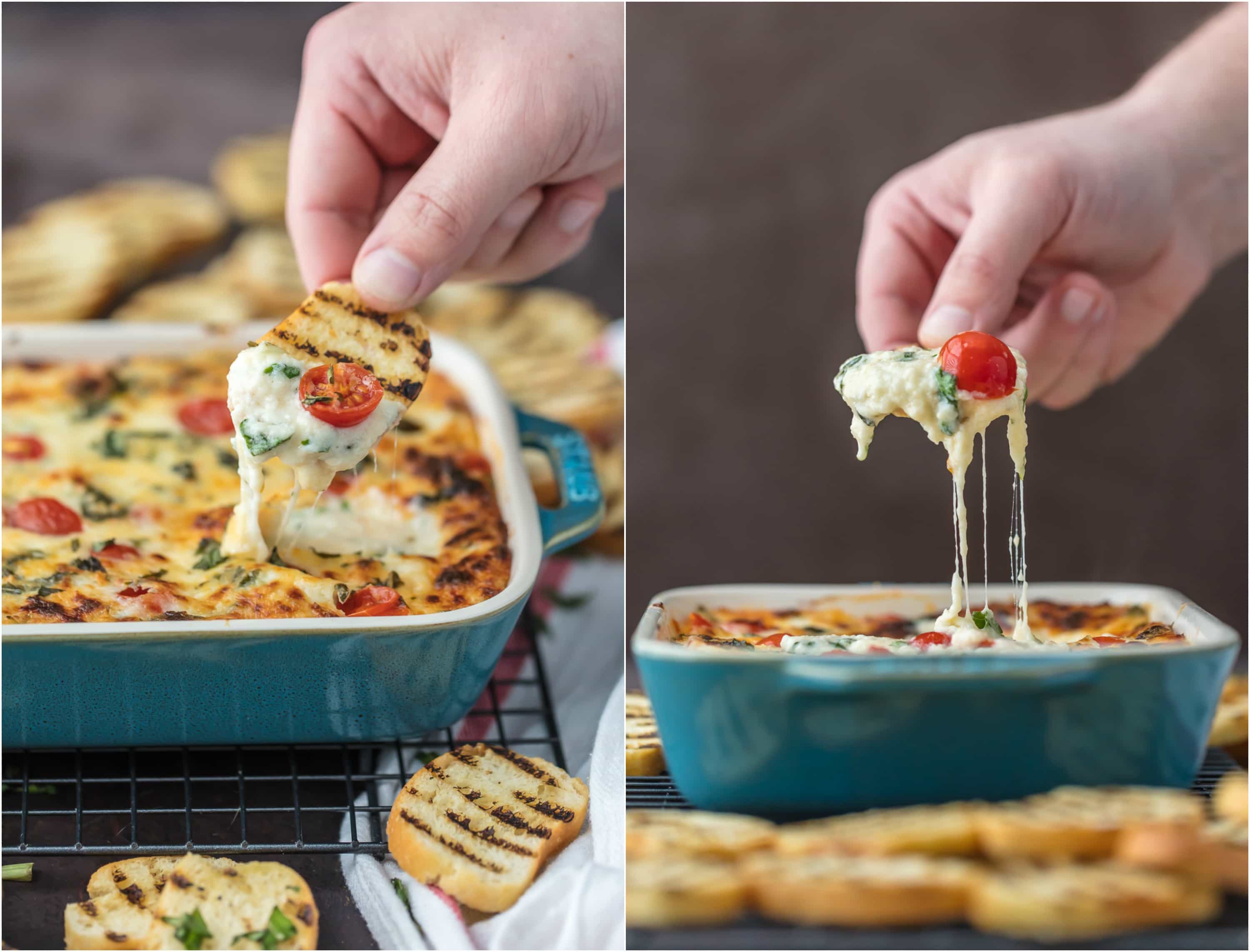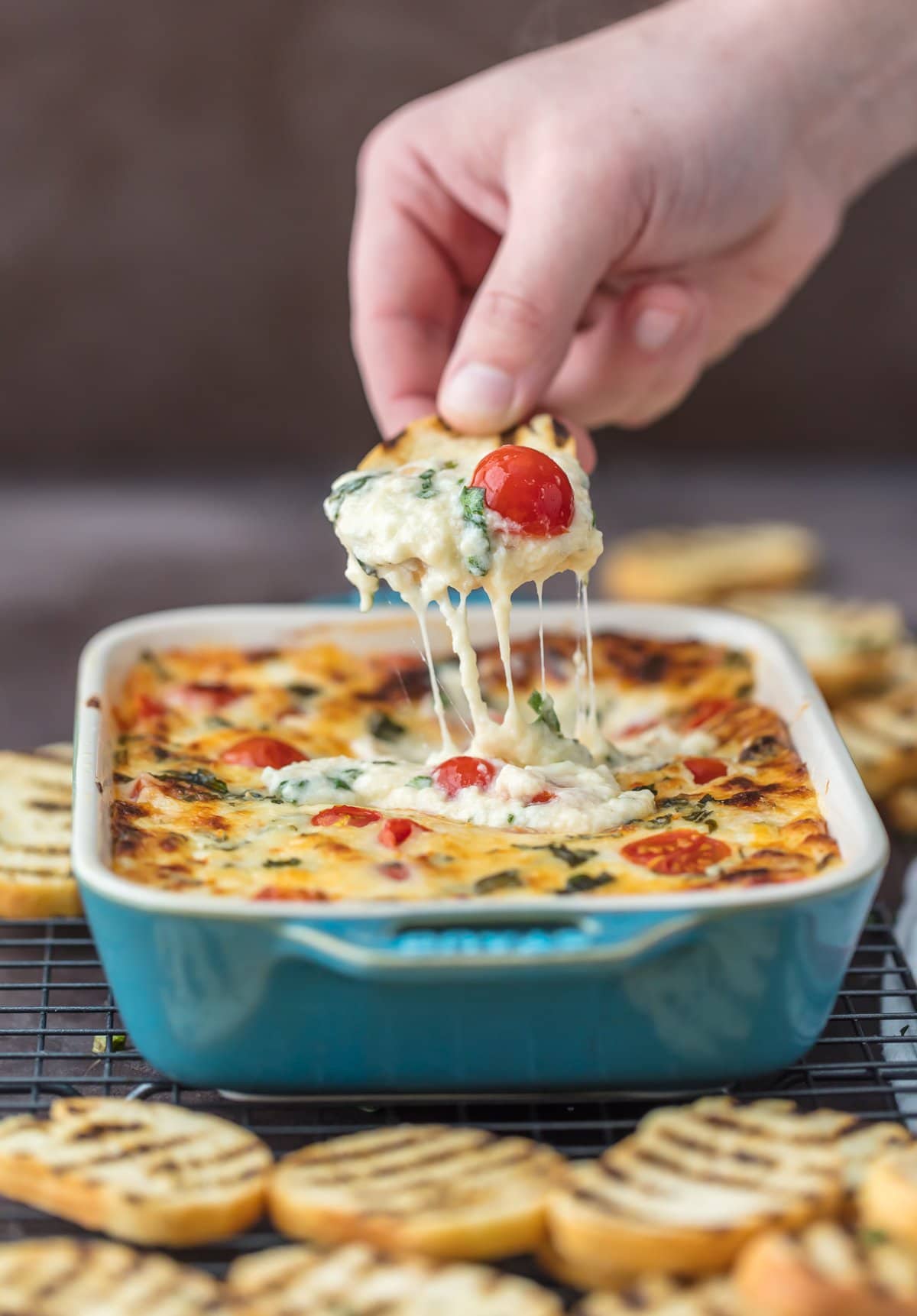 Since this was one of the first recipes I made for The Cookie Rookie…the pictures used to be quite sad. But they still make me smile…thinking of the good times snacking with friends and the excitement of starting out on a new venture. See exhibit below: :)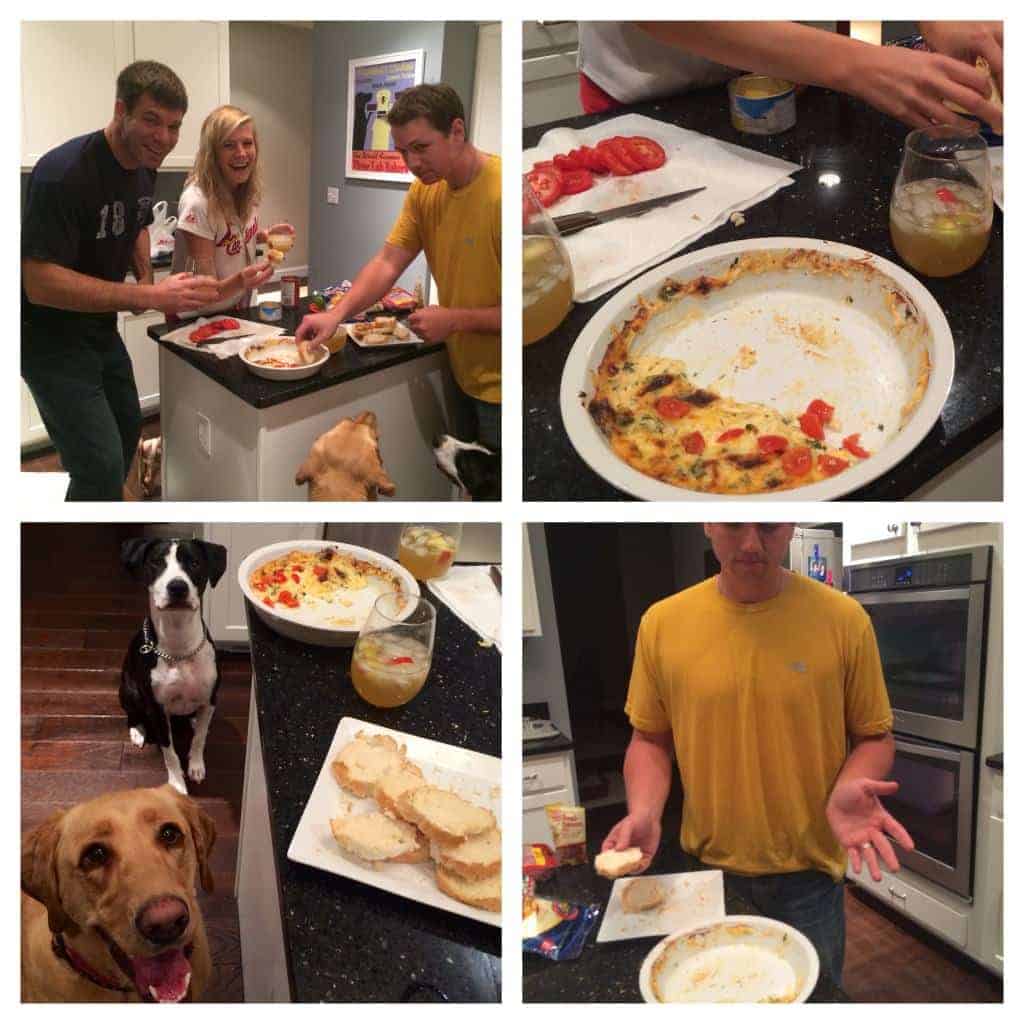 I really hope you enjoy this recipe as much as we did.  It's such a fun crowd pleaser. Don't say i didn't warn you…this is the best dip you will EVER eat!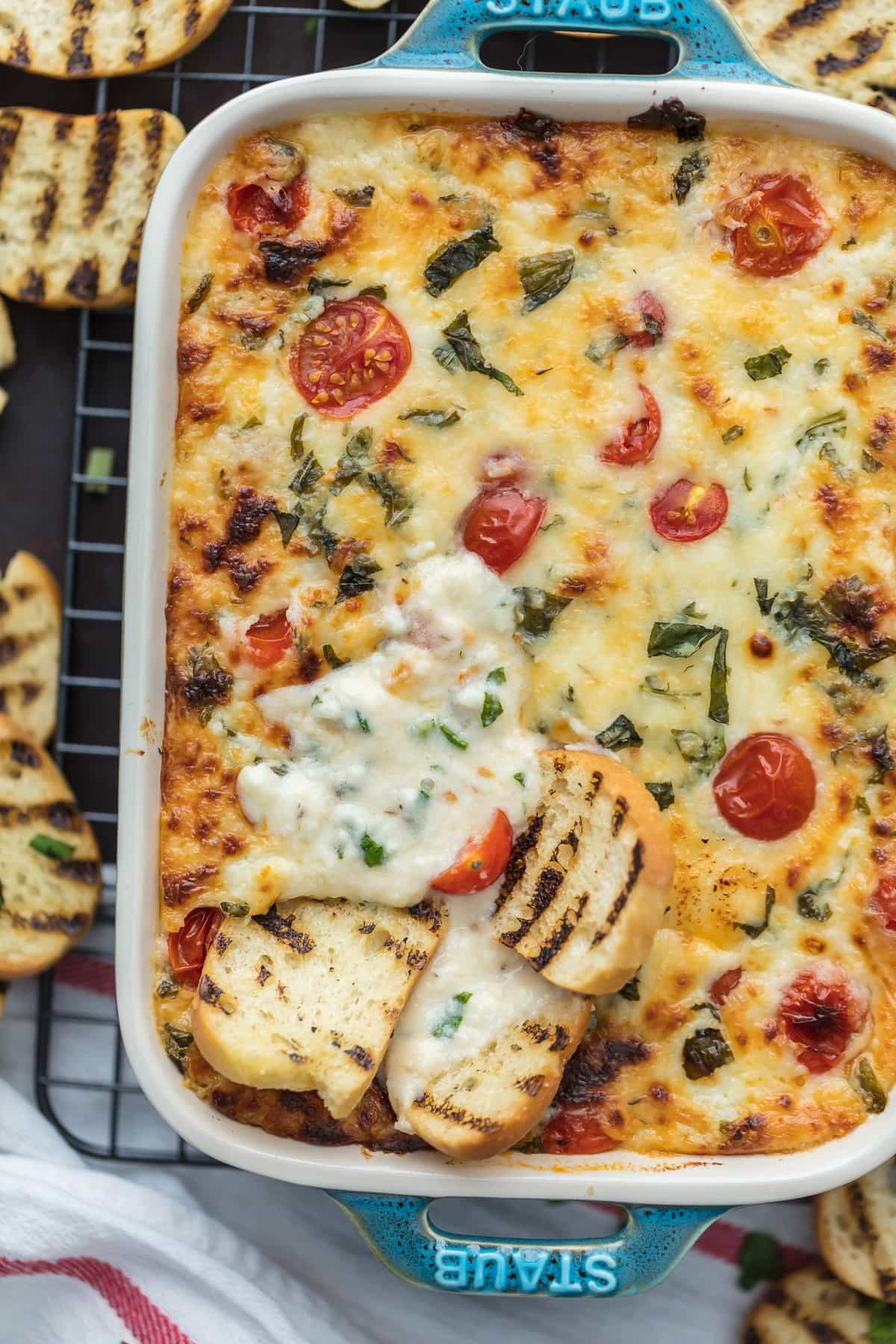 Enjoy!
cheesy caprese dip
the best dip you will EVER eat. maybe the best thing you will ever eat. this is the type of recipe that brings people together. enjoy!
5 minPrep Time
15 minCook Time
20 minTotal Time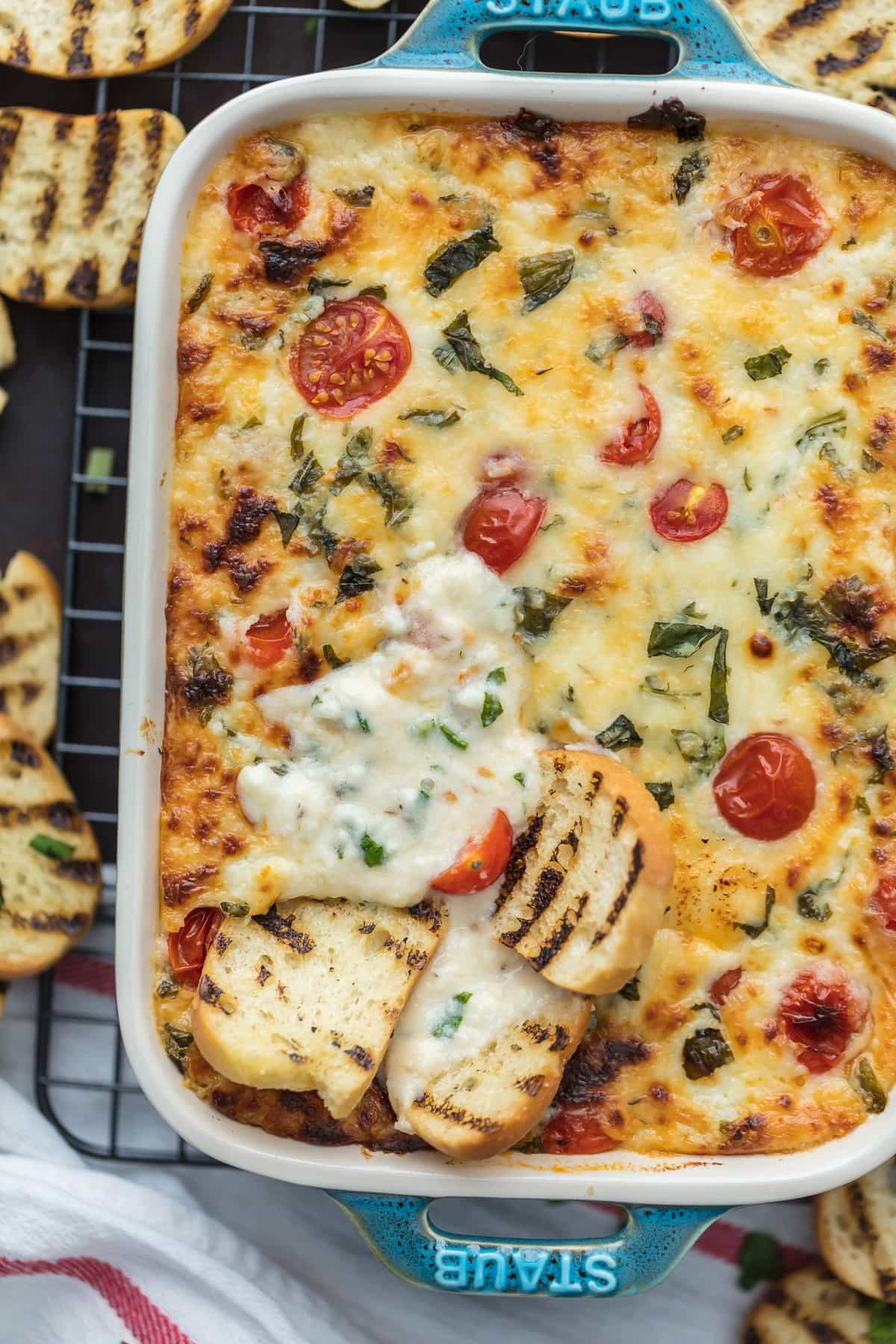 5 based on 1 review(s)
Ingredients
1 cup light sour cream
1/2 teaspoon mustard powder
1 teaspoon garlic powder
1 teaspoon dried thyme
1 teaspoon herbs of provance
8 ounces shredded mozzarella cheese (about 2 cups)
8 ounces shredded Monterey Jack cheese (about 2 cups)
1 cup basil leaves, chopped
1 cup diced tomatoes
Extra basil leaves
2 French Bread baguettes, sliced
Instructions
Heat oven to 350 degrees
Stir sour cream, mustard powder, herbs, and thyme in a large bowl
Add cheese and cup chopped basil
Spread mixture into small pan or pie dish
sprinkle diced tomatoes on top of mixture
Bake for 10 to 15 minutes or until cheese has melted and is bubbling.
While the dip is in the oven, slice bread and place on baking dish
slightly drizzle or spray bread with olive oil
Slide into the oven and bake 6 to 8 minutes until toasted.
After cheese is melted and bubbly, switch to broil and let it get extra crispy for about 5 minutes (watch closely)
Serve warm with toasted bread.
Fight the urge to make it all over again immediately :)
7.6.7
1550
https://www.thecookierookie.com/cheesy-caprese-dip/