Fried Chili Cheese Dip Skillet, our favorite ONE POT dip recipe for tailgating! Skillet cheese dip never looked so good!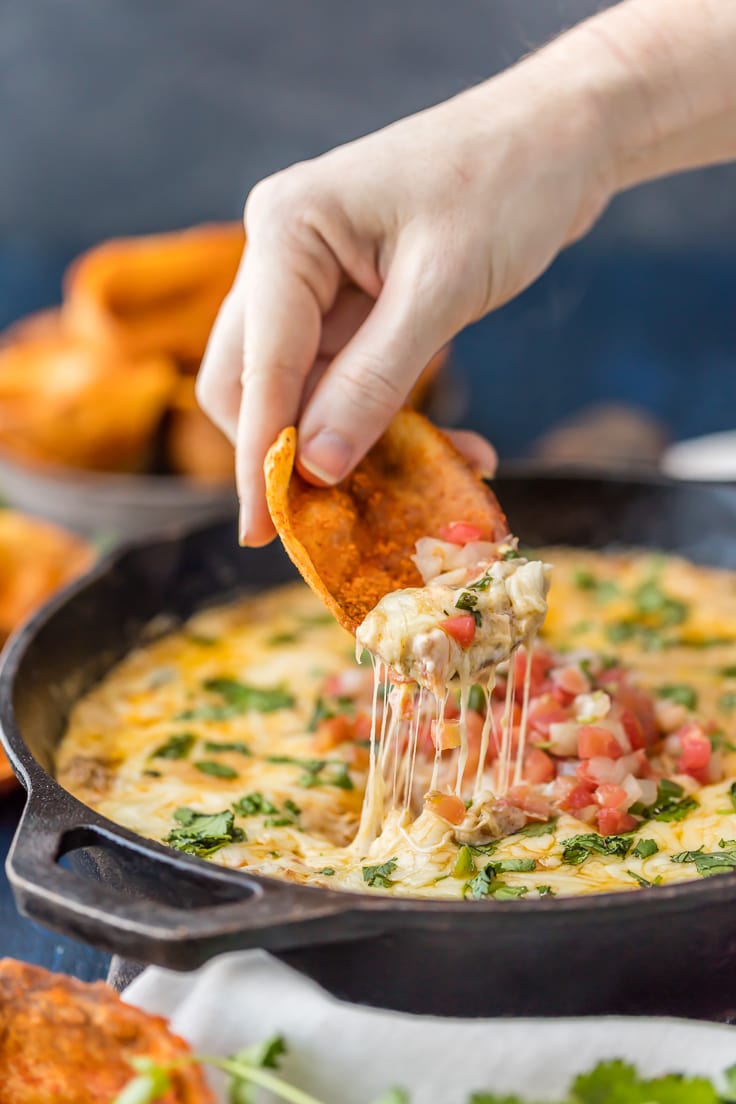 Oh my GOSH you guys…Wednesday is my favorite holiday of the entire year!!!! NATIONAL CHIP AND DIP DAY!! Better than my birthday and better than Christmas. On my birthday, I have to stop eating chips and dip to eat cake. Blah. Oh Christmas I'm distracted by hams and cookies and everything in between. On Wednesday March 23th we can eat chips and dip ALL DAY LONG and not feel bad about it. Best Day Ever!
If you're going to celebrate Chips and Dip with an entire holiday, you better make some good chips and dip! This Fried Chili Cheese Dip Skillet with Deep Fried Mini Taco Boats is THE BEST EVER. It's perfect for cheat day, tailgating, literally any party, and of COURSE National Chip and Dip Day! Go forth and celebrate!! :) (If you're looking for our other favorite chilis, be sure to check out our favorite White Chicken Chili as we as this Best Chili Recipe!)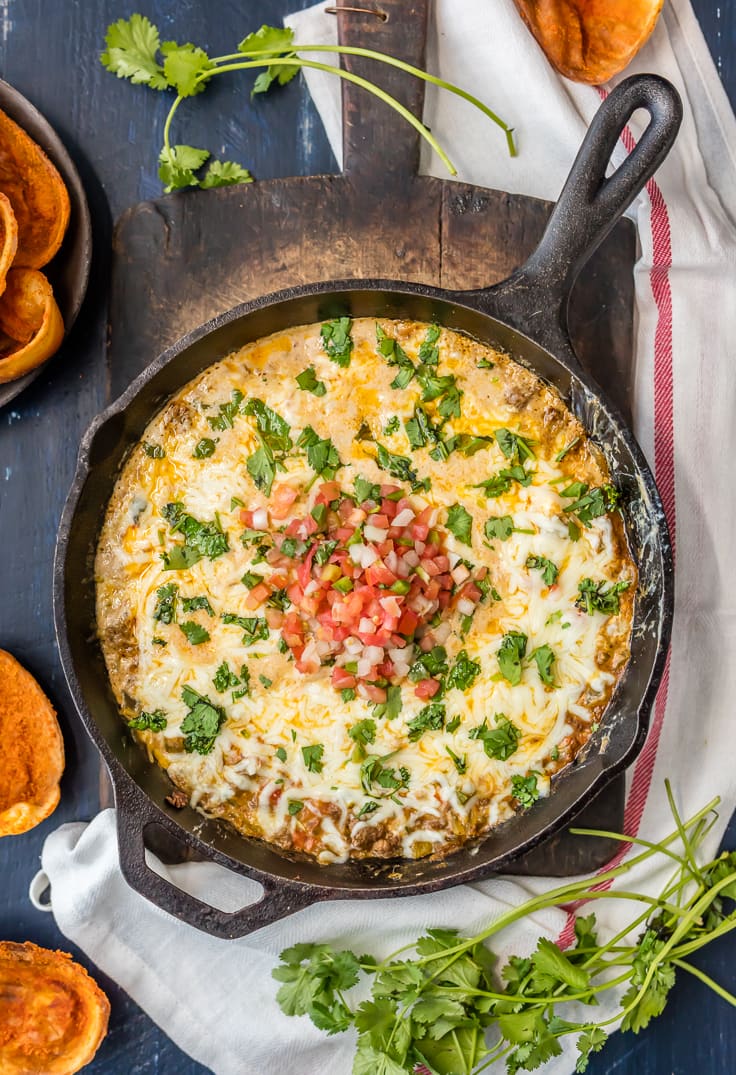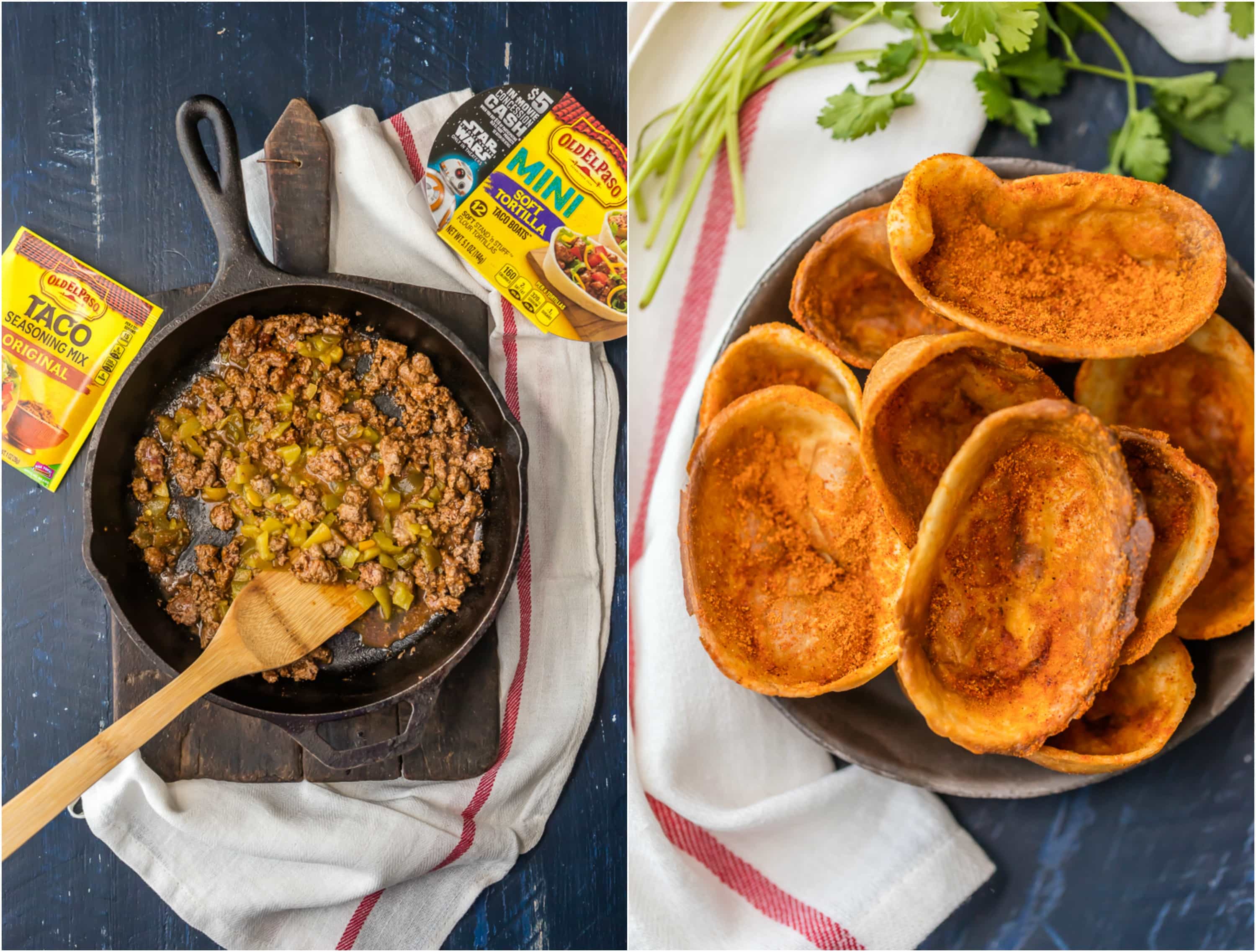 As you guys know, I'm an ambassador for Old El Paso. Every time I work with their products, I love them even more. They are just SO versatile. Simple, delicious ingredients. Just like I like my food. I used their green chiles (my FAVE), taco seasoning, and Mini Taco Boats for this recipe. The Mini Taco Boats just so happen to make the absolute BEST chips when deep fried and sprinkled with taco seasoning!! HOW have I not tried that before?? I'm hooked.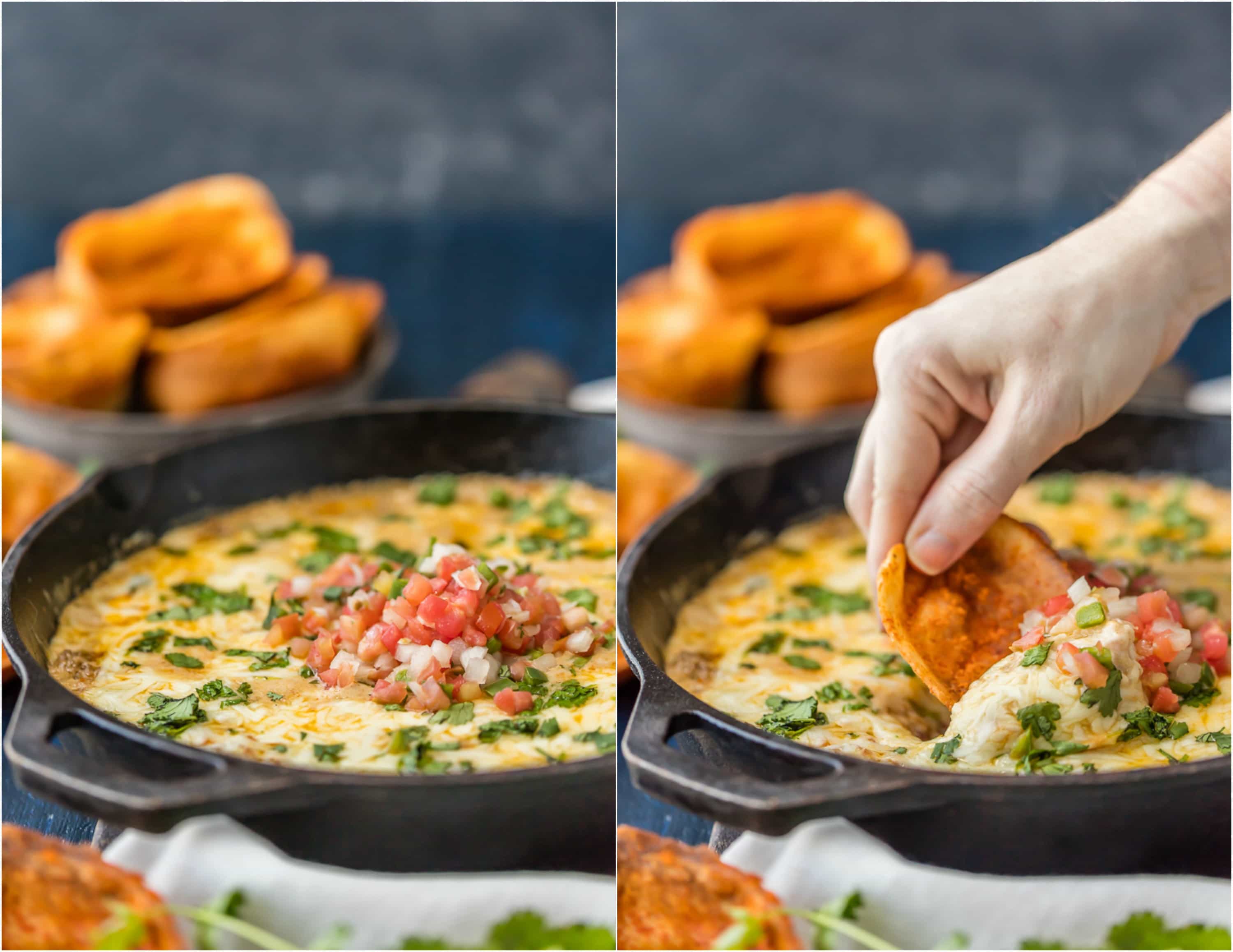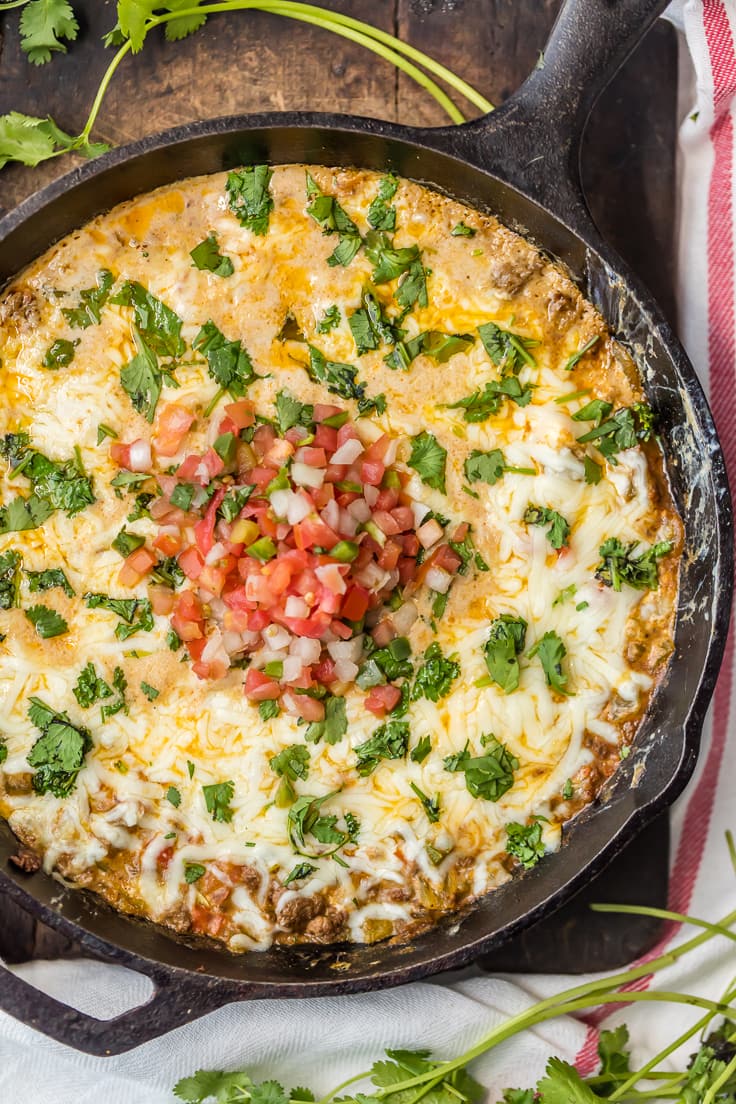 So back to planning the National Chip and Dip Day celebration.
This Fried Chili Cheese Dip HAS IT ALL. Cheese? Check. Ground beef? Check. Lots of flavor and spice? Check. TOTALLY SUPER SIMPLE AND MADE IN ONE POT? Check Check.
It's hard to find a new favorite dip when you're addicted like me, but this just might be the winner. I wish I could say it's healthy…but like I said…everyone deserves a cheat day once in a while! Let National Chip and Dip Day be your cheat day! Or March Madness. Or your bday. Or the Superbowl. Really, any day. This dip is worth it!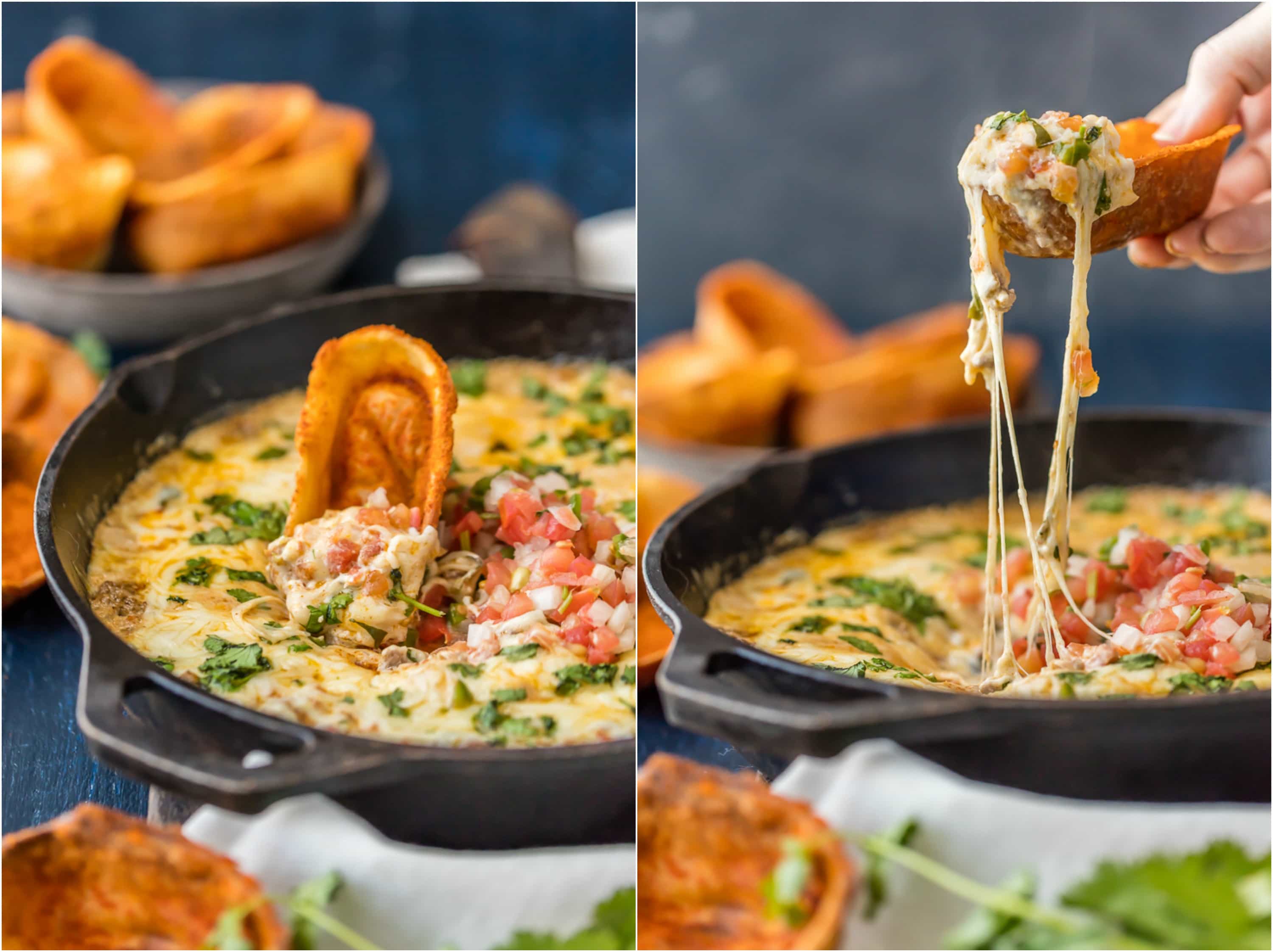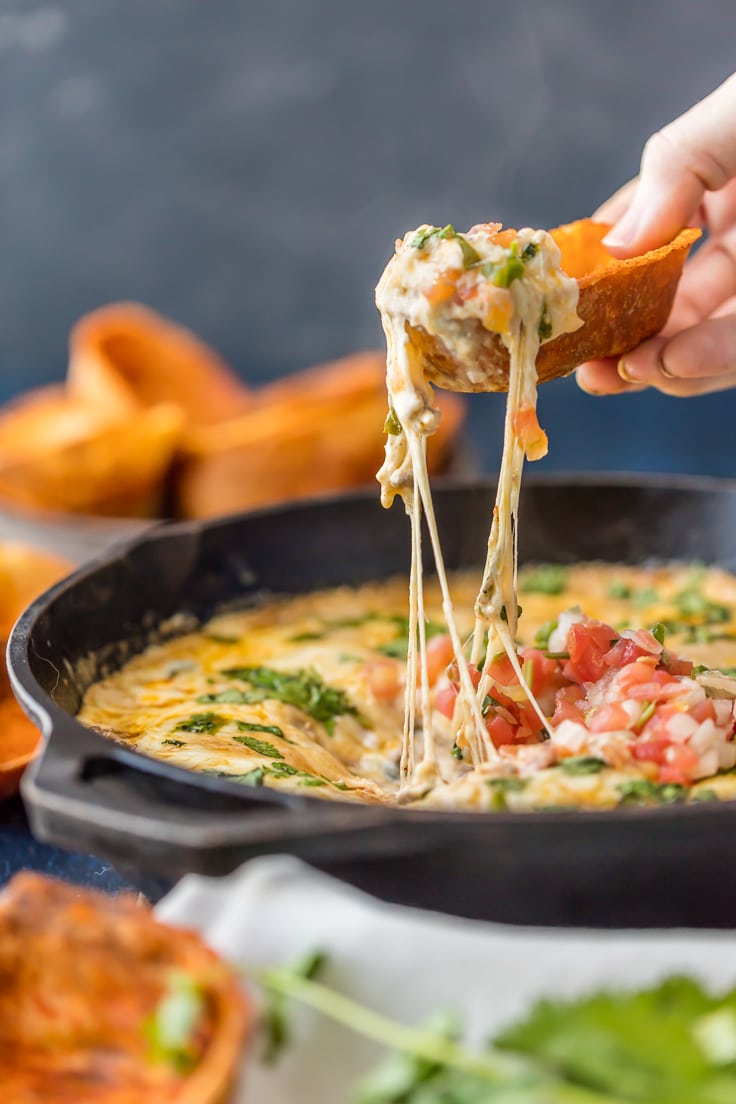 If you guys have a favorite dip recipe, leave it in the comments below! I'm ALWAYS on the hunt for new hot dip recipes. I literally can't get enough.
HAPPY NATIONAL CHIP AND DIP DAY! Enjoy the Fried Chili Cheese Dip Skillet!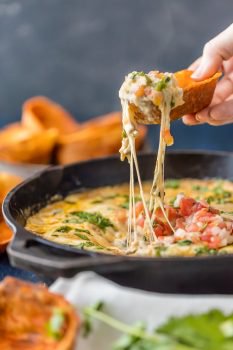 Fried Chili Cheese Dip Skillet
Ingredients
2

packages Mini Taco Boats

1

1 ounce packet Old El Paso Taco Seasoning, divided

Sea salt to taste

8

ounces

1/2 pound lean ground beef

1

can Old El Paso chopped green chiles

8

ounces

low fat cream cheese

8

ounces

Manchego cheese

finely chopped

½

cup

pico de gallo

1

cup

shredded mozzarella cheese

¼

cup

chopped fresh cilantro

more pico de gallo for garnish
Instructions
Fill a dutch oven with canola oil, at least 2 inches deep

Heat oil over medium high heat until 350F

Add the Mini Taco Boats to the oil 3-4 at a time, pressing down to make sure the boats fill with oil. Allow to fry until browned, about 3 minutes.

Remove from the oil and place on a paper towel lined paper plate. Sprinkle lightly with taco seasoning and sea salt on each side.

Repeat with all of the remaining chips. Set aside.

In an 8 inch skillet, heat the ground beef over medium high heat, crumbling as you cook. When almost cooked through, add the green chiles and the remaining ½ packet taco seasoning (you should use about ½ a packet on the chips) and continue to stir while they cook and combine.

Add in the cream cheese and chopped manchego, continuing to stir and combine all the ingredients. It will be bubbly and ooey gooey!

Stir in the pico de gallo and reduce heat to low/medium.

Sprinkle with the mozzarella and cilantro and allow to bubble until top cheese melts. Do not stir in the mozzarella, allow it to create a top crust on the dip.

Top with more pico and serve warm with the fried Mini Taco Boats.

Enjoy!
This post has been sponsored by Old El Paso. All opinions are 100% mine. Thank you SO much for supporting the brands that help support The Cookie Rookie!