TEQUILA LIME FLAMING CHEESE DIP is the most fun way to eat cheese dip! This delicious queso is loaded with pico and green chiles, topped with a chili lime reduction, and then doused in tequila and lit on fire. It's the ultimate New Year's Eve or Super Bowl appetizer!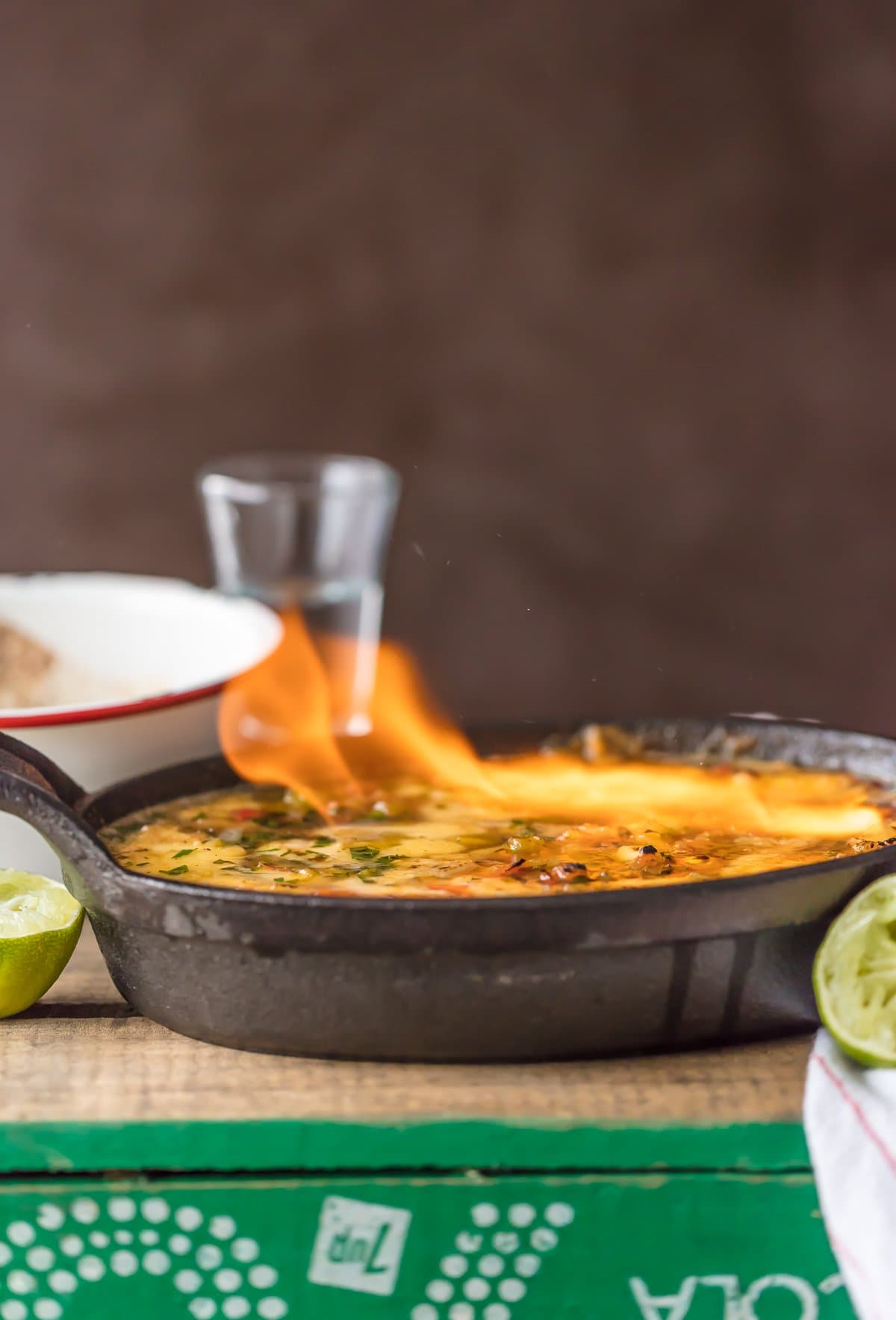 Flaming Cheese Dip Recipe
Flaming Cheese Dip is a fun and fiery appetizer that you have to try! Tequila Lime Queso is so delicious, the perfect thing to serve at a party.
Mom and I recently met up to do some shopping and eat Mexican food (duh), and we tried a new to us place in Chesterfield. The chips and salsa were excellent (a must), but our favorite dish of the day was their Flaming Queso Dip! I had never seen such a fun appetizer, and knew I had to make my own version at home.
I decided to spice things up a bit by making TEQUILA LIME FLAMING CHEESE DIP, and it was just as easy and delicious to recreate at home as I imagined…an instant winner! We will be watching the Super Bowl with Mom and Dad with this Flaming Cheese Dip recipe on demand…that is for sure!
Lots of cheese, green chiles, pic de gallo, and more mixed with a chili lime reduction, add in the tequila then light it up! This appetizer is sure to WOW any guests, and once the flames burn out, it's time to dig into one of the tastiest queso recipes.
Wow your party guests with this delicious Tequila Lime Flaming Cheese Dip. A truly fun and FIERY queso recipe that everyone will love!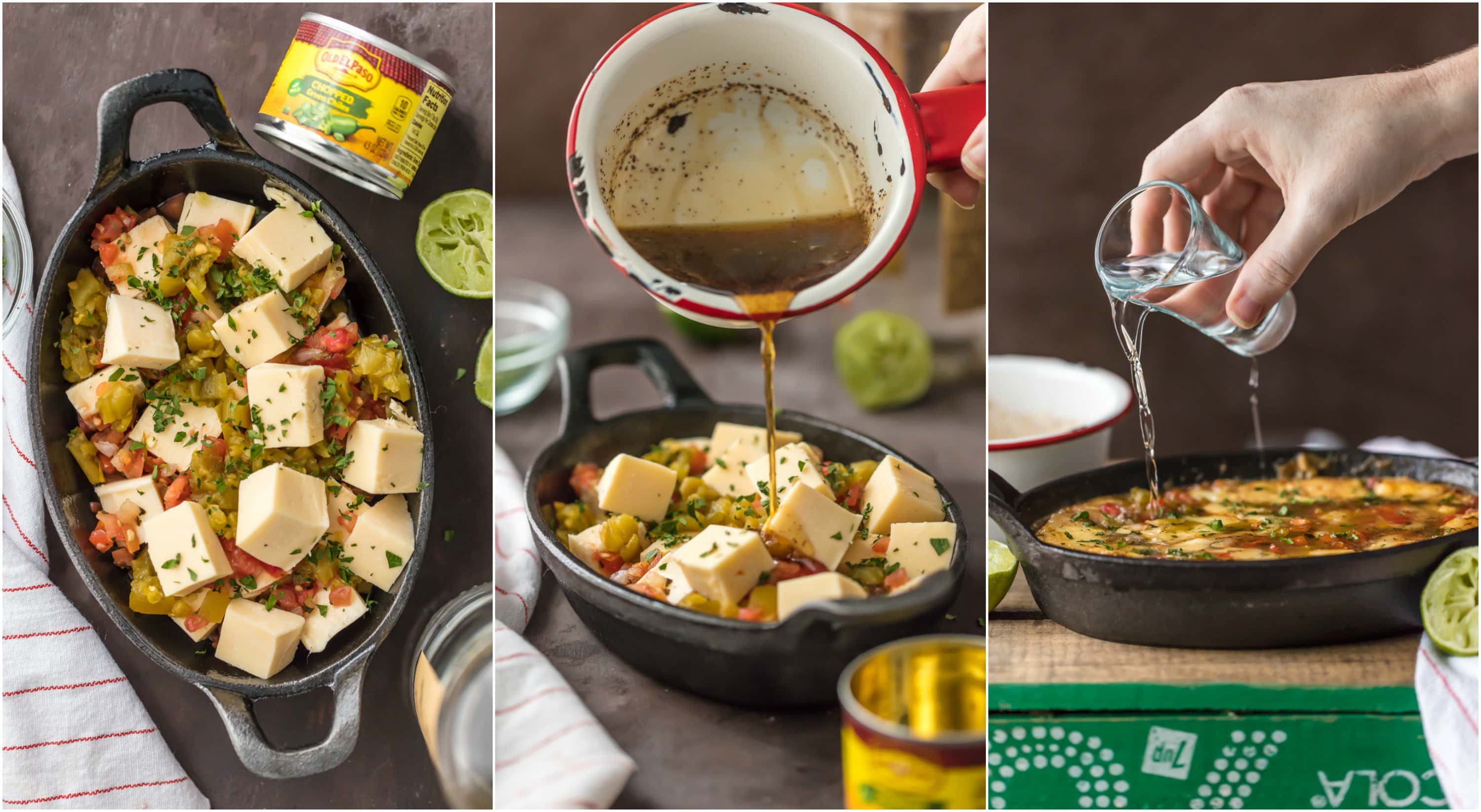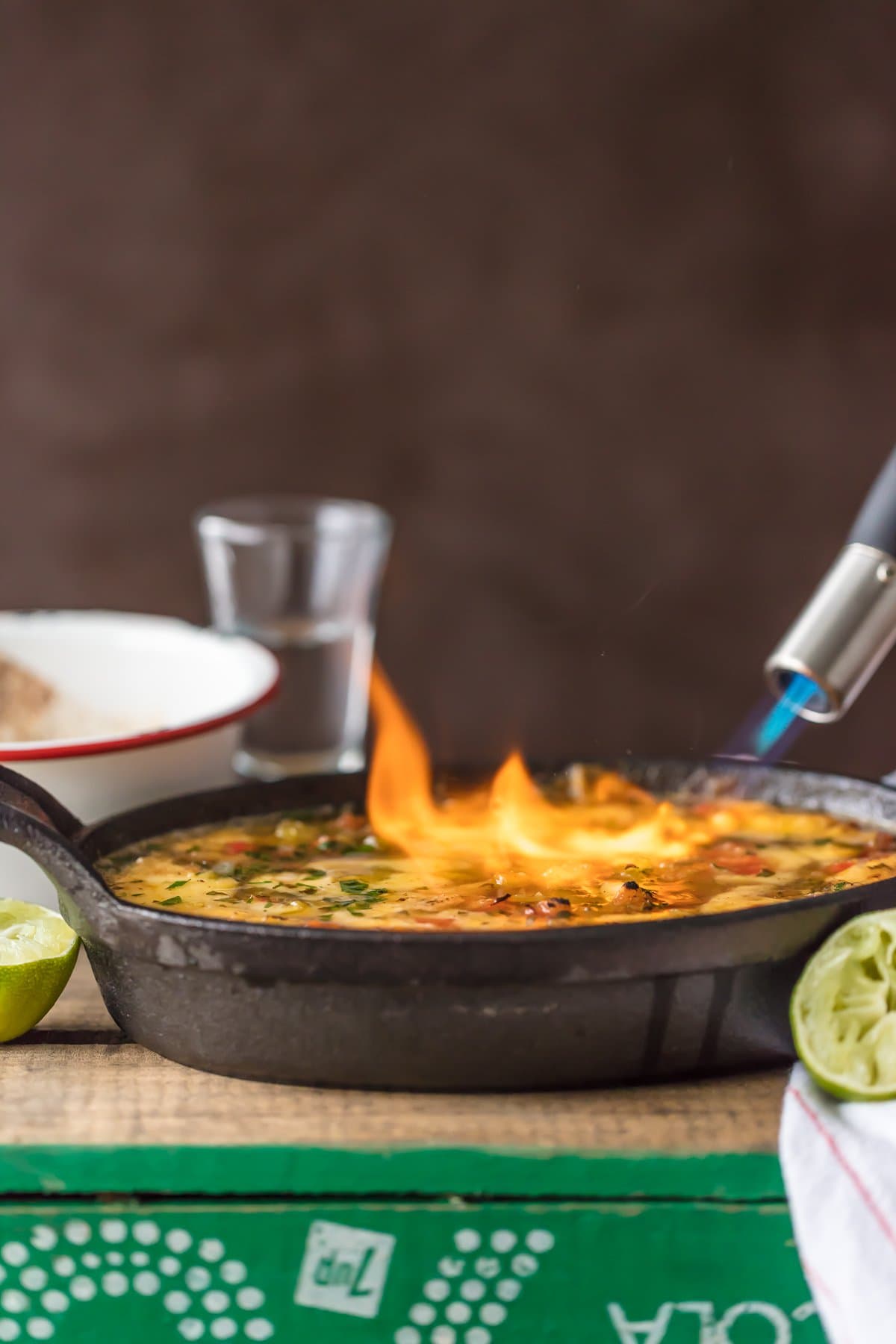 Tequila Lime Queso Ingredients
What's more fun than getting to play with fire AND eat delicious melty cheese? I seriously can't think of a thing. This flaming cheese dip is the most fun appetizer ever!
For this queso recipe, I used Queso Chihuahua cheese, topped it with fresh pico de gallo and green chiles (OLD EL PASO of course, my ultimate favorite, as you guys know. What would I ever do without them?!), and then added a delicious Chili Lime Simple Syrup. You guys…the flavor that simple syrup adds is outrageous! It's just the right amount of spicy, sweet, and pizazz. You bake the dip until it gets all melty and bubbly, then douse it in tequila and set it on fire (BE CAREFUL). I'm OBSESSED and cannot wait for you to try it! Aren't you intrigued yet?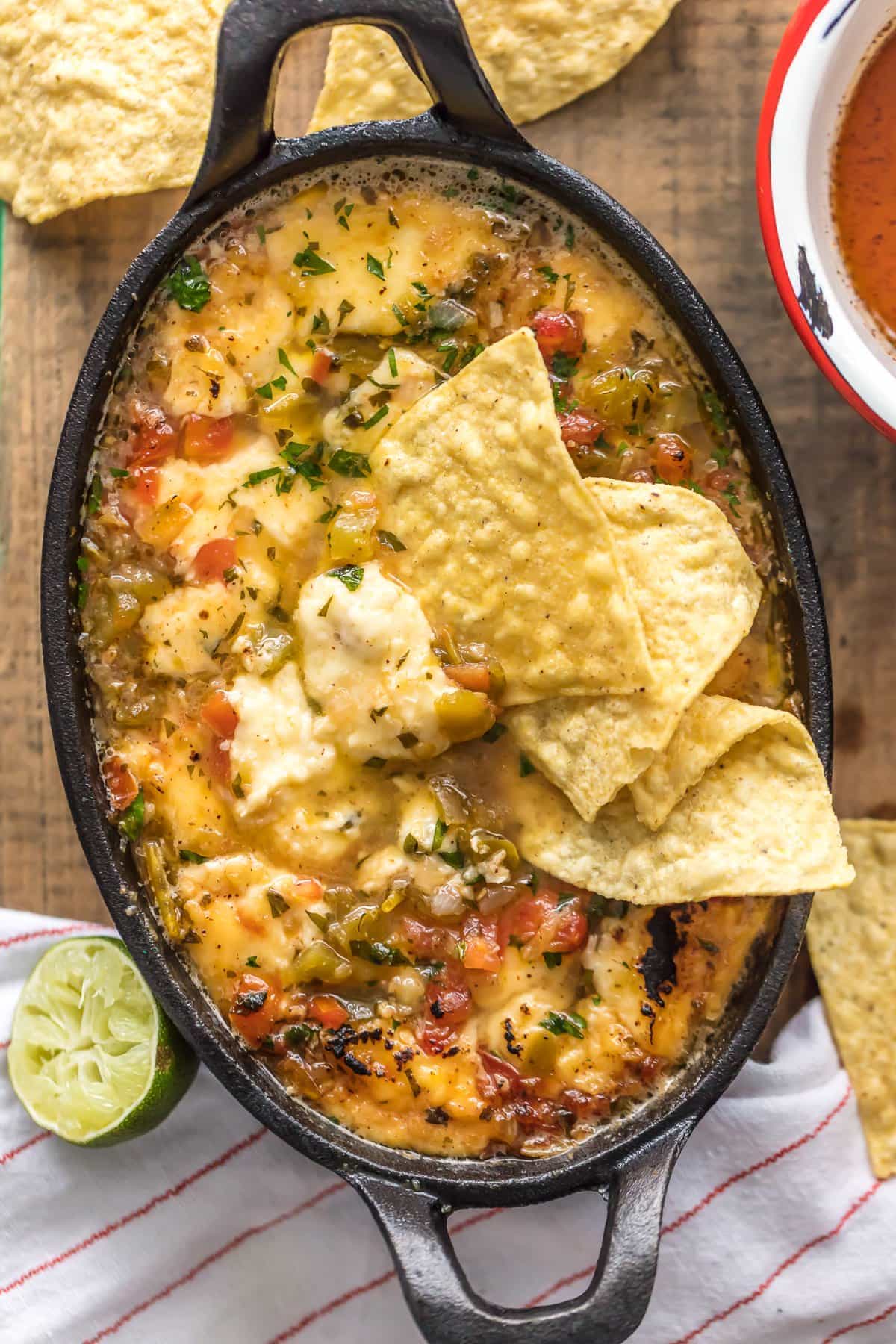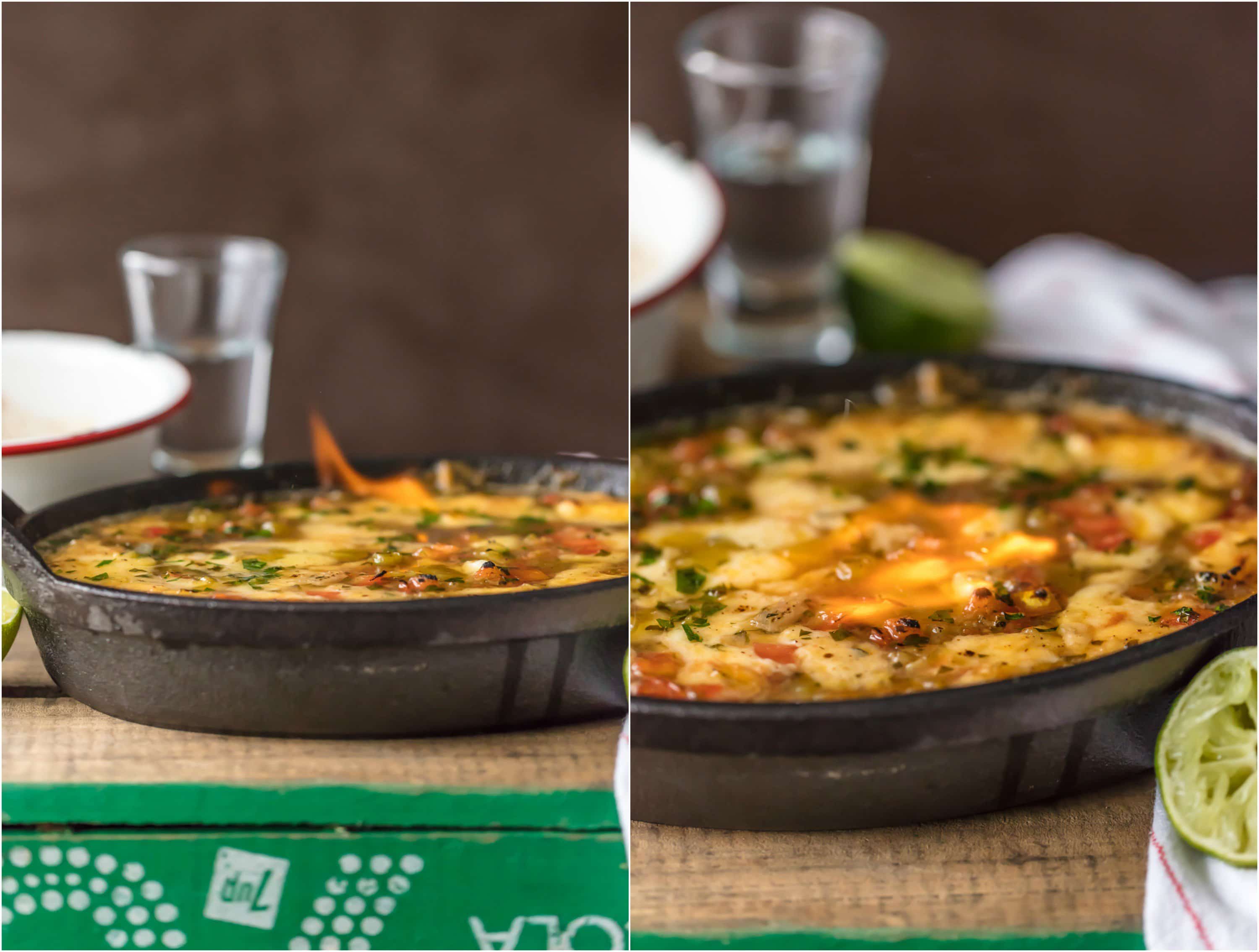 How to Make Flaming Cheese Dip
This flaming cheese dip is so much fun to make, but because it involves fire, be careful! Start by making the simple syrup, then bake the queso, and lastly, pour tequila and light it up.
How to Make Tequila Lime Queso:
Combine sugar, lime juice, and chili powder in a sauce pan; bring to a boil, reduce to simmer for 10 minutes, and set aside when done.
Layer cubes of cheese on the bottom of a casserole dish, pour on pico de gallo & green chiles, then add in the chili lime reduction.
Top with the rest of the cheese and sprinkle on cilantro.
Bake the dip for 15-20 minutes at 350°F.
Remove from the oven and stir.
Now it's time for the fun part! You want to do this while the dip is fresh out of the oven and still hot. Pour the tequila over the top of the dip, and use a kitchen torch or long-arm lighter to set it on fire. The flame will burn out quickly, and then it's time to serve it. Again, BE CAREFUL during this step.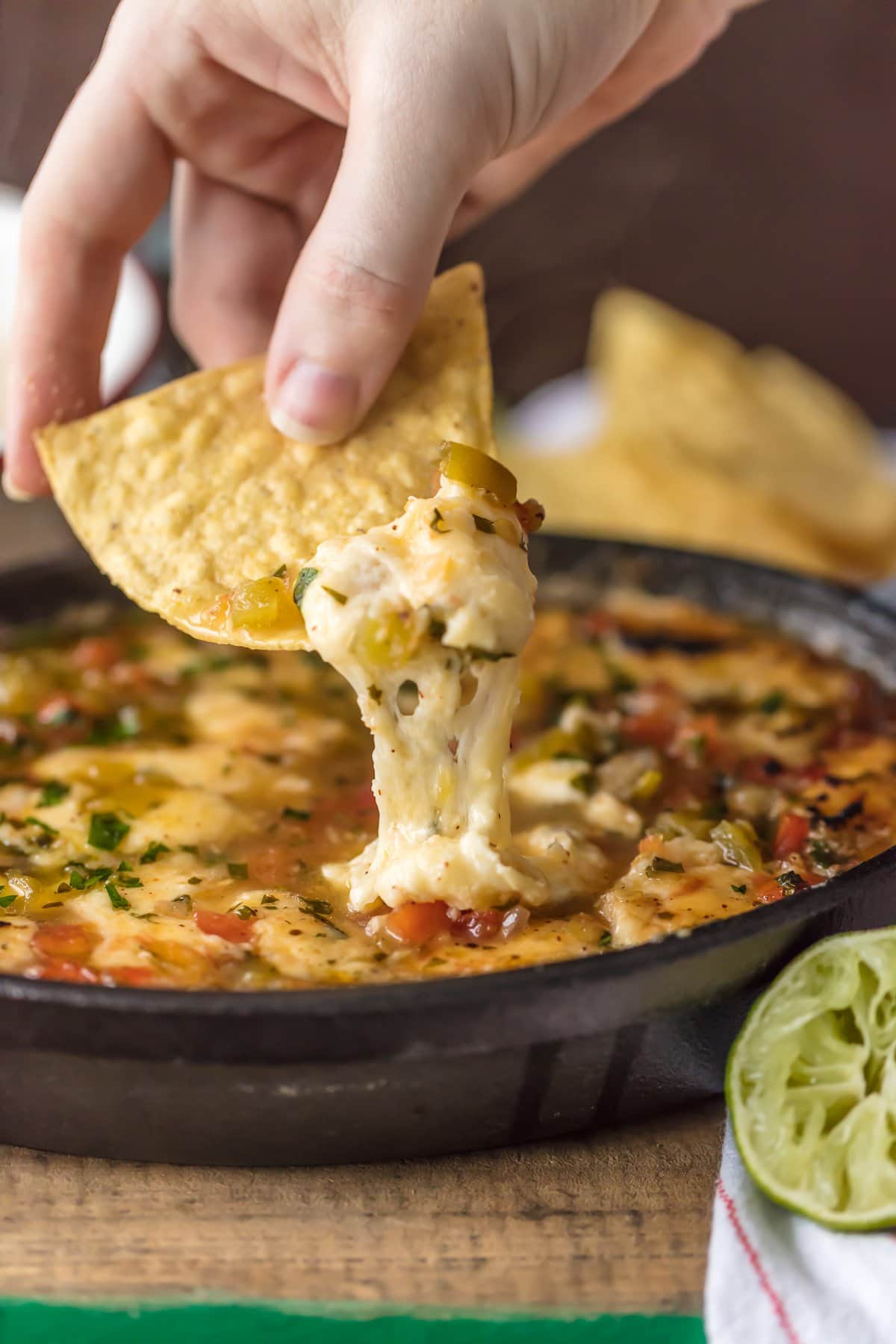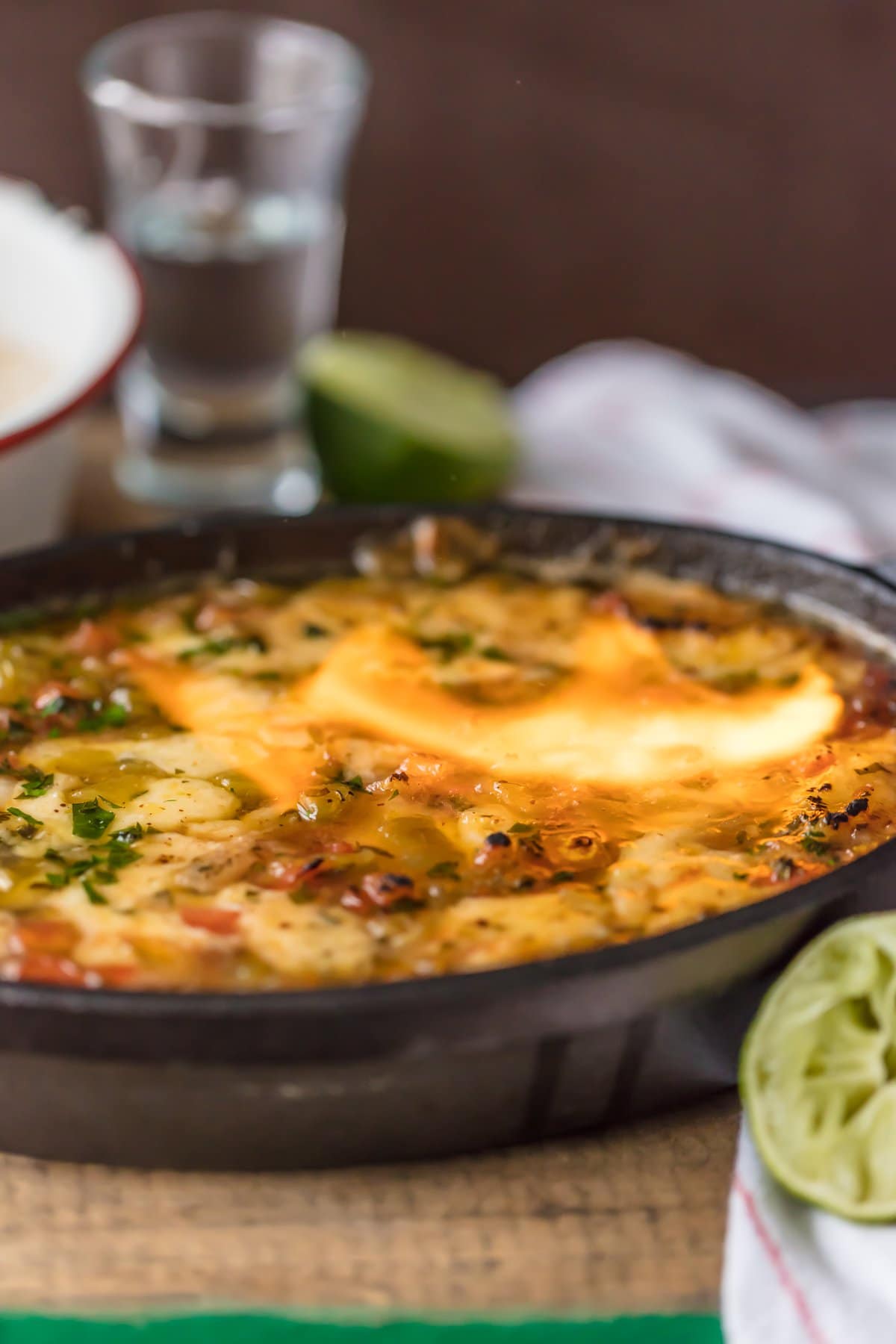 I just love how lighting it all on fire creates an extra flavor dimension. It's such a delicious, semi-charred taste and I simply can't stop thinking about. Tequila Lime Flaming Cheese Dip really takes queso to a whole new level. FOR REAL. You guys better let me know how much you love this! And you better make it for NYE and for the Super Bowl! There's never enough cheese dip!
See the recipe card below for details on how to make Tequila Lime Flaming Cheese Dip. Enjoy!
If you like this flaming cheese dip, you'll love these other cheesy dip recipes too: