PROVOLONE CHEESE baked with walnuts and oven-roasted grapes is an easy, pretty, and delicious appetizer for the holiday season. This easy baked cheese dip is full of flavor, and it only uses 3 INGREDIENTS! I'm obsessed with this provolone cheese dip recipe!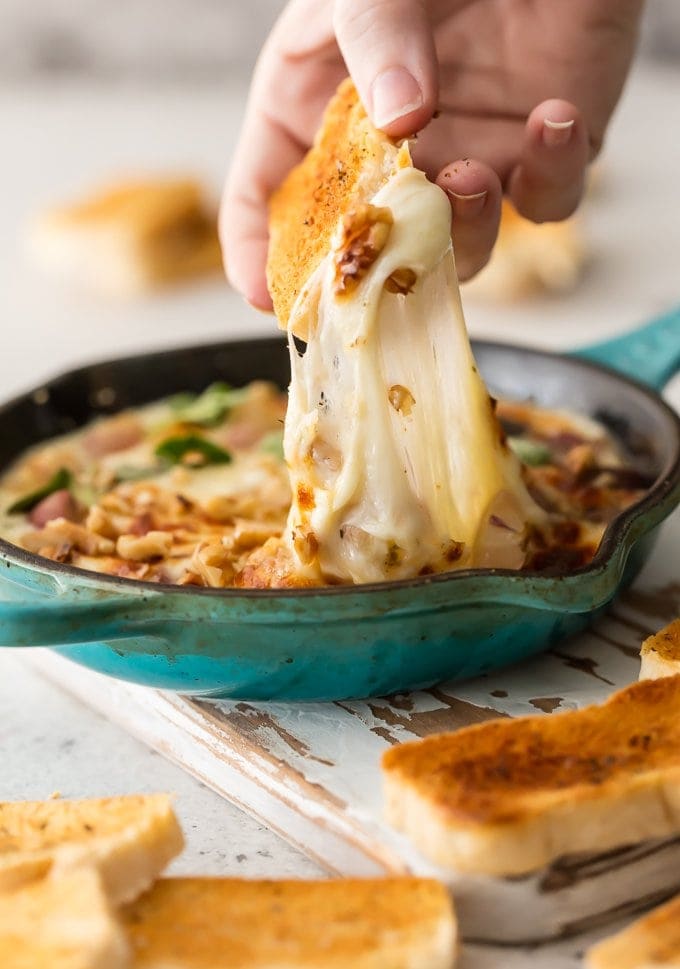 Baked Provolone Cheese Dip
I used Provolone Cheese for this delicious baked cheese dip recipe and added in some walnuts & grapes for a nice full flavor!
I have wanted to make a Baked Provolone Cheese Dip Recipe for SO LONG. I already have plenty of favorite cheese dip recipes (like this white queso, my favorite loaded cheese dip, and this amazing baked brie), but let's be honest…you can never have too much baked cheese dip!
Besides, I've never tried a provolone cheese dip before! YOU GUYS…to think that I've been missing out on this all my life! First of all, baked provolone cheese is just that…the provolone cheese and the oven. It's truly that simple, and you know I just love that. To spice things up a bit, I added sliced red grapes and chopped walnuts into the mix for something a little fruity and a little salty.
I basically wanted a cheese board…but all melted together into one skillet. Is that too much to ask? I think this Baked Provolone Cheese Dip came together so beautifully and with such flavor, I'm OBSESSED! Only 3 ingredients stand between you and this goodness. What are you waiting for?!
Add this Grape & Walnut Provolone Cheese Dip Recipe to your favorite Baked Cheese Dip rotation. With just 3 ingredients, you can make this flavorful cheese dip recipe!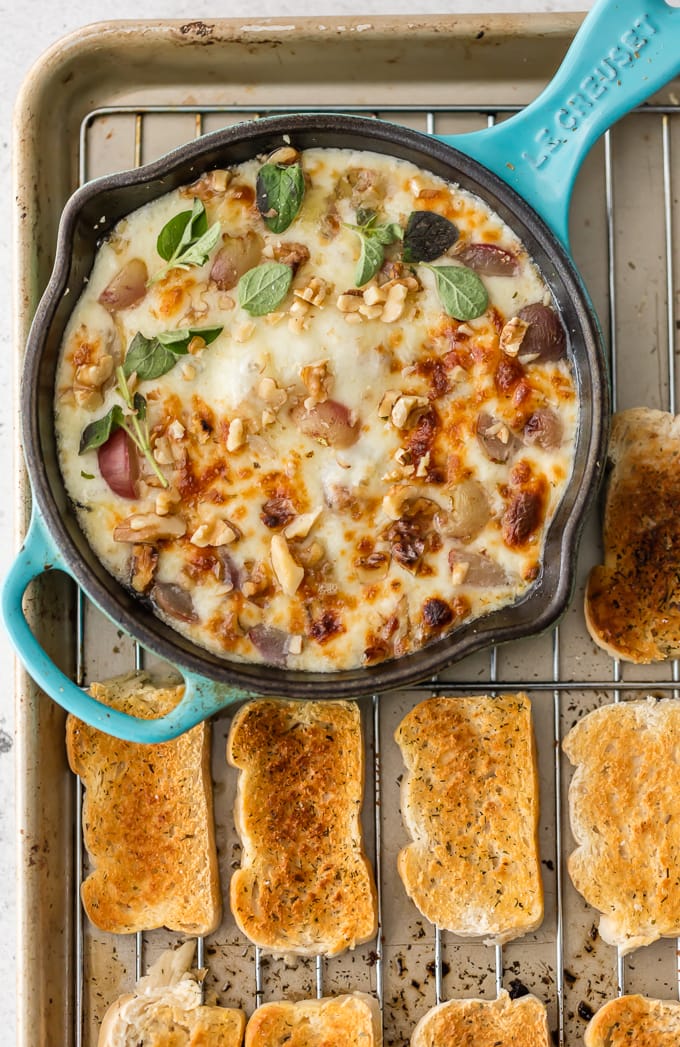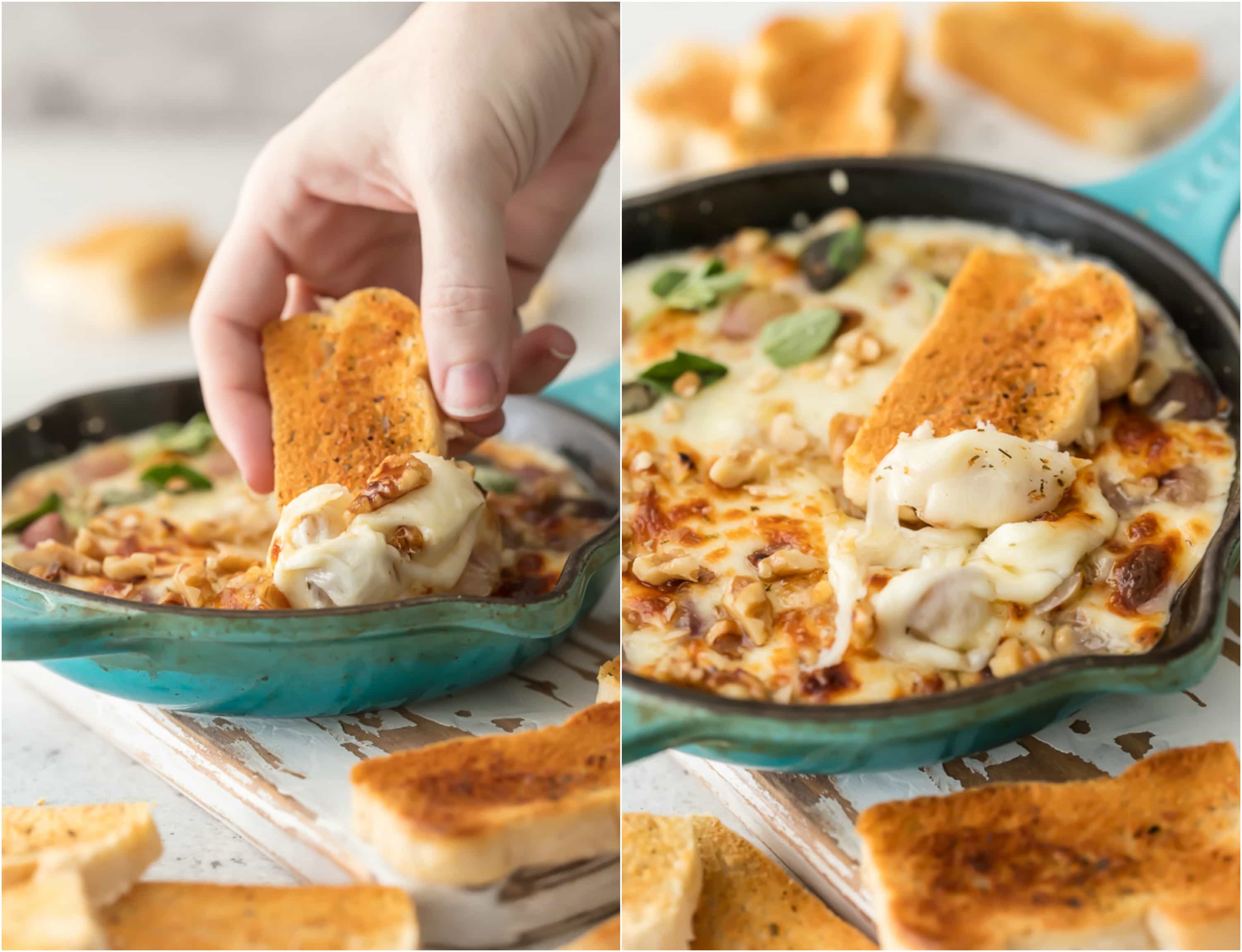 Easy Baked Provolone Cheese Dip
Baked Cheese Dip should be a staple appetizer for any and every holiday or party. You can dip anything in it, like toasty breads, sturdy crackers, or even veggies. And who doesn't want delicious, melty provolone cheese? This baked cheese dip recipe is so quick and easy to make, you can make it for any last-minute gatherings.
I love that you can toast the bread right along with baking your provolone cheese…making this the perfect holiday appetizer that you can make in under 10 minutes start to finish. Did you hear that?! ONLY THREE INGREDIENTS AND ONLY 10 MINUTES TO MAKE! This is perfection, I really do think so. It's toasty, pretty, unique, and amazing. I cannot wait to make this baked cheese dip again and again.
Sweet and Savory
This Grape and Walnut Baked Provolone Cheese Dip recipe wouldn't be complete without the Walnuts baked right into the cheese, and sprinkled on top. Talk about DELICIOUS! I'm so excited to be partnering with California Walnuts this year, and this favorite pretty holiday appetizer is my 2nd of 6 recipes for the year.
Did you know just 1 ounce of walnuts is packed with 4 grams of protein, 2 grams of fiber, and 2.5 grams of plant based omega alpha-linolenic acid (Walnuts are the only nut that contain significant amounts of this beneficial nutrient!)
I love their rich flavor and versatility. You can grind walnuts to use as a flour in baking, toss into a Waldorf Salad, or as an add in to starters like this baked cheese. So much love to go around.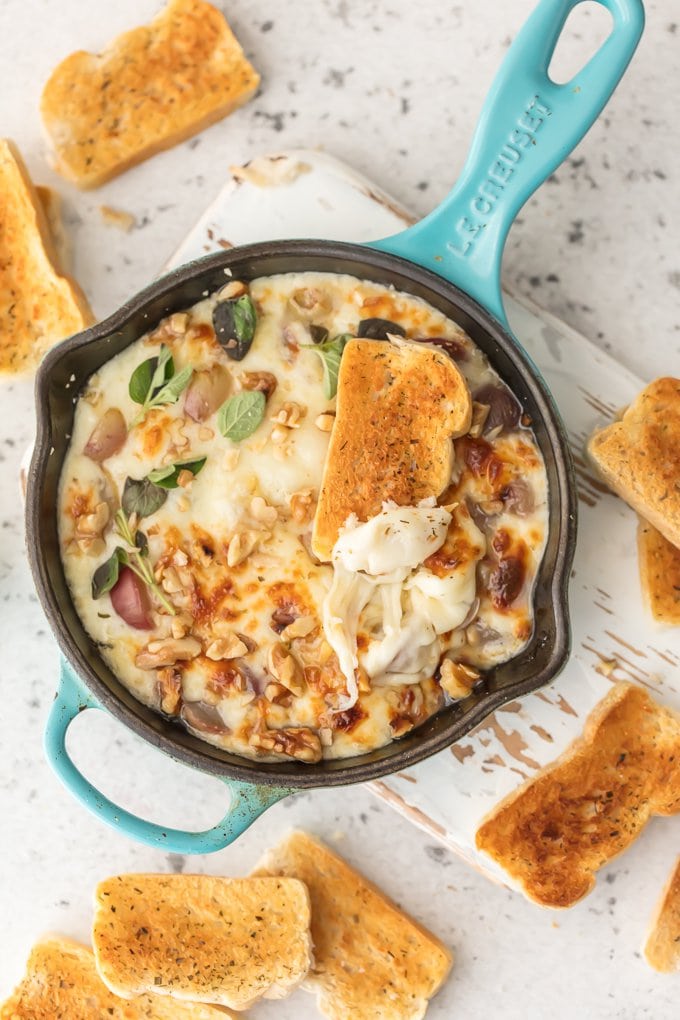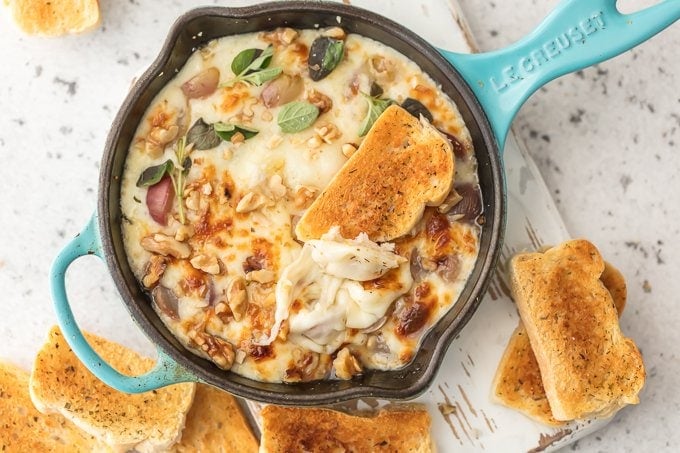 How do you make Provolone Cheese Dip?
Provolone cheese has a nice elasticized texture, which means it does that incredible stringy, stretchy, melty cheese thing. You know what I'm talking about! Provolone cheese is the PERFECT cheese for a baked cheese dip like this, and the flavors really come out when warmed up.
To make this tasty Baked Provolone Cheese Dip, all you need is 3 ingredients:
Provolone Cheese
Fresh Grapes
and Walnuts
Just add the walnuts and grapes into the provolone cheese, broil it, and you're done. That's literally it. (Of course you'll want make some bread for dipping too.) This is one of our favorite hot dip recipes.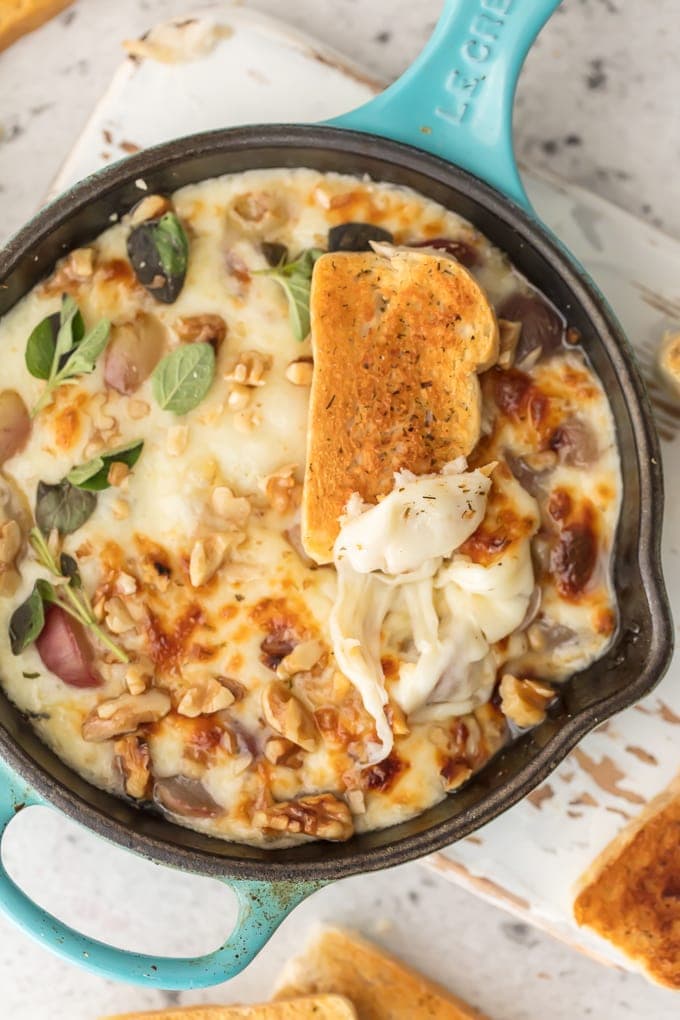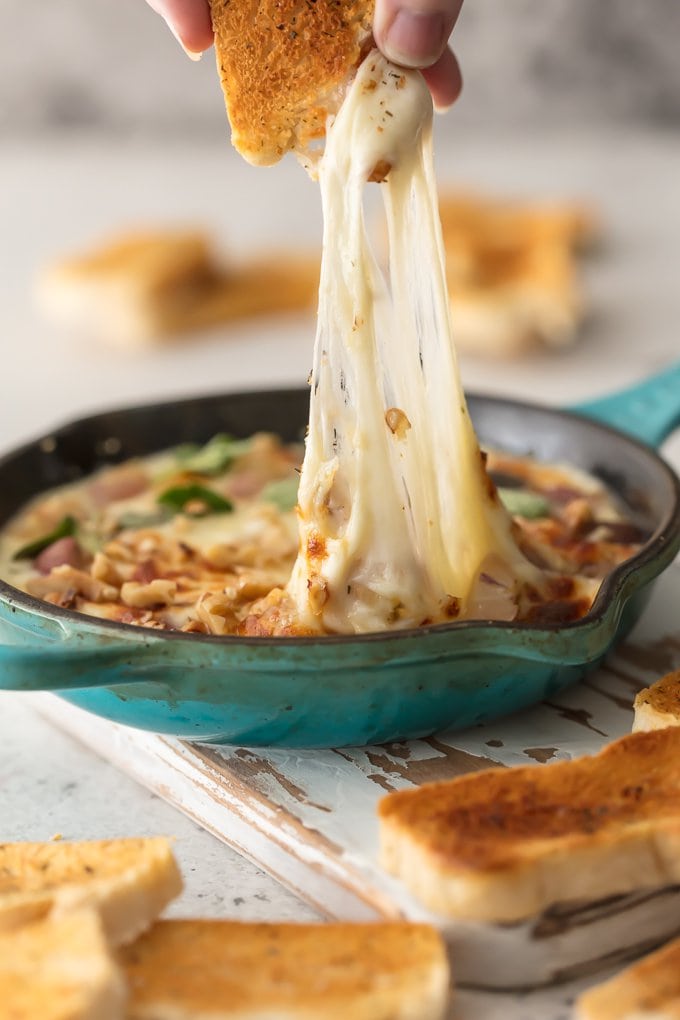 Christmas is in 12 days and I couldn't be more excited. Wait…is this the start of the 12 Days of Christmas?! How did I not put that together before. Hooray! You better celebrate with this Baked Provolone Cheese Dip Recipe. Good thing it only takes 10 minutes!
See the recipe card below for details on How to Make Baked Provolone Cheese Dip with Walnuts and Grapes. Enjoy!
Try these other tasty cheese dip recipes: