Turkey Rub is here to make sure you never serve a bland turkey on Thanksgiving! This simple seasoning blend features sage, rosemary, thyme, paprika, garlic powder, and more. It's the best and easiest way to make sure your turkey always tastes the best!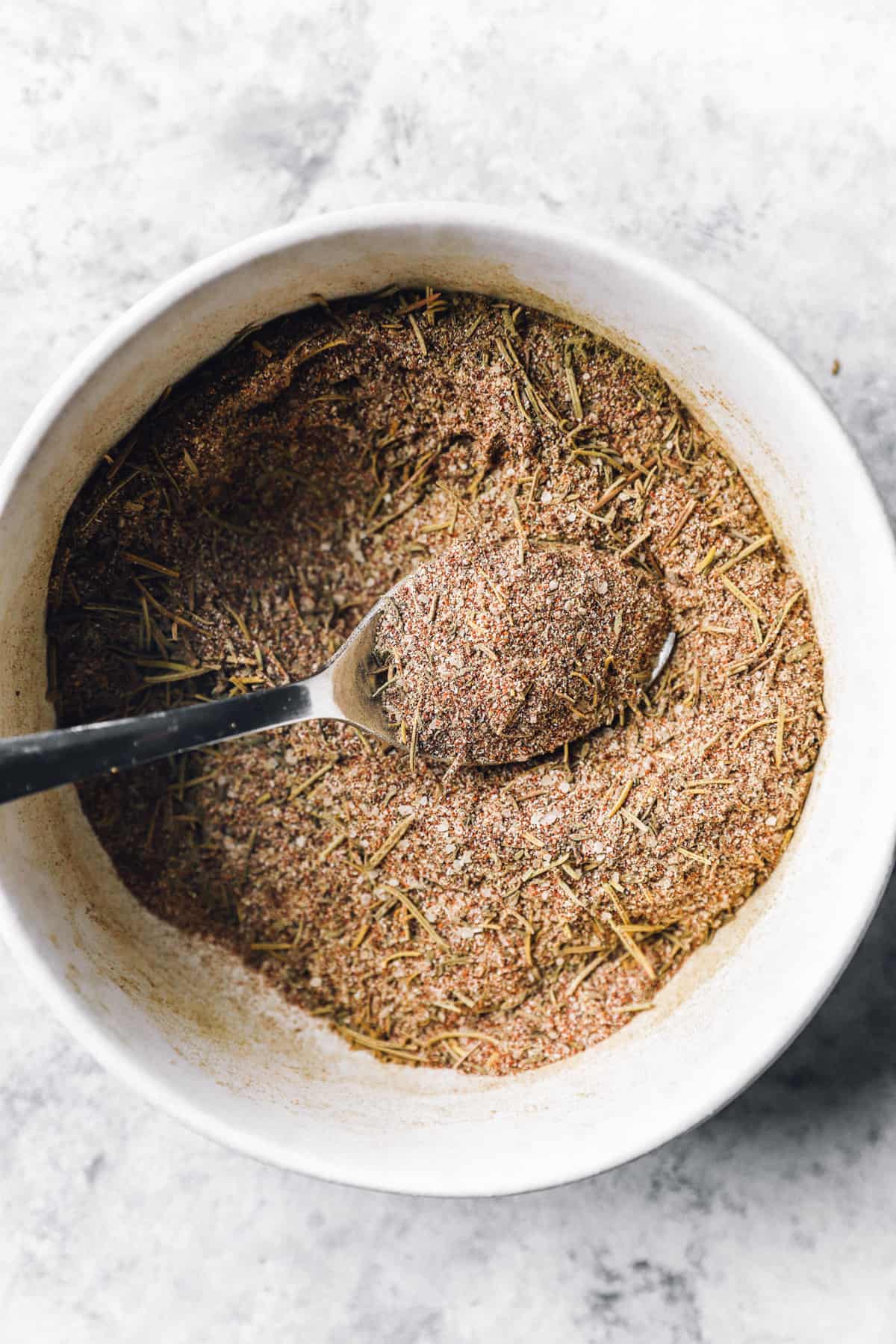 Turkey Seasoning Rub
Why make your own dry rub for your turkey? Because it's the easiest way to make sure you have the best tasting turkey on Thanksgiving!
Just like any homemade seasoning mix, this turkey rub is SO easy to mix together! You just have to combine the herbs and spices in a bowl, and you're done. You probably already have everything you need in your spice cabinet right now, so no need to add to the shopping list.
This mix of ingredients is herbaceous, savory, and just the tiniest bit salty. The way it compliments any turkey is absolutely perfect!
Why You'll Love this Turkey Dry Rub Recipe:
SO EASY: Just mix everything together and use it right away or store it for later. It'll take you under 5 minutes to have ready to go.
FLAVORFUL: The herbs and spices mix together to create one seriously delicious dry rub that will make your Thanksgiving turkey enviable.
TRUSTY: On a busy holiday like Thanksgiving, you're going to need recipes that you can count on. This tried and true turkey rub will never fail you!
Whether you make an whole turkey, turkey legs, or turkey breast, you'll love the way that this simple blend of seasonings enhances the flavor of the meat like you've never tasted before!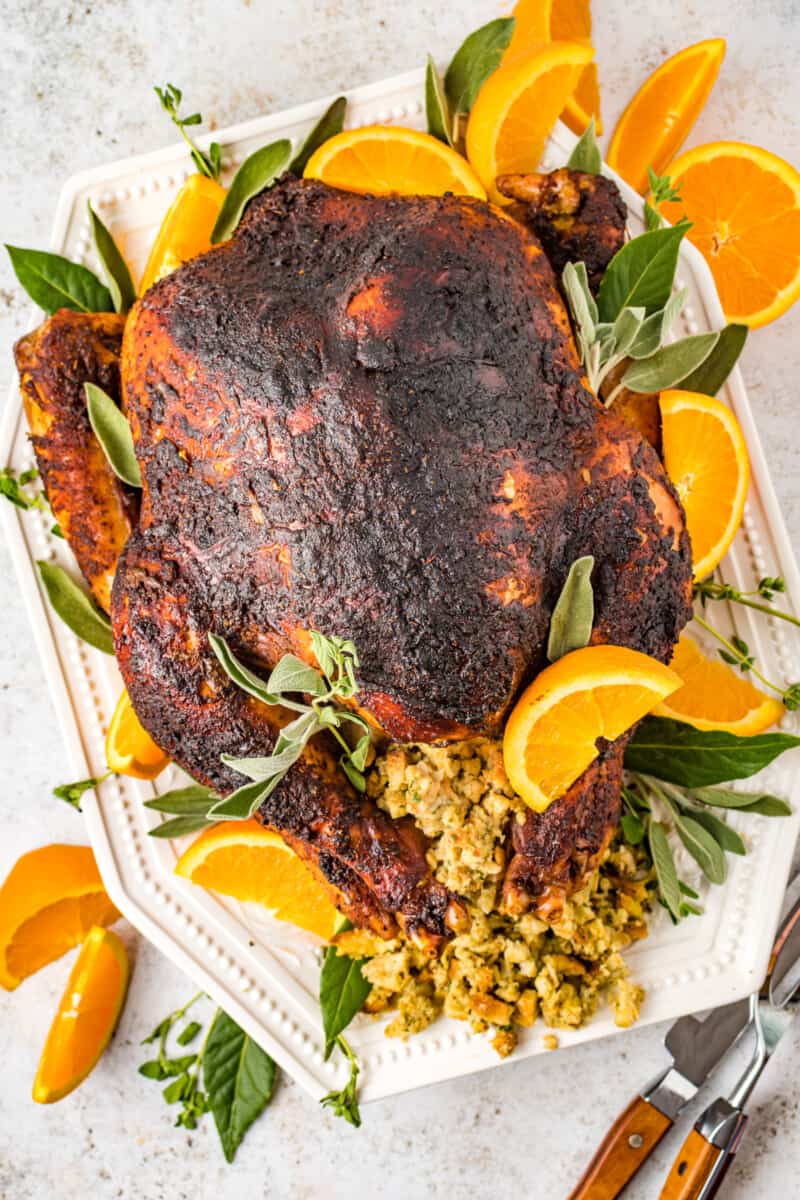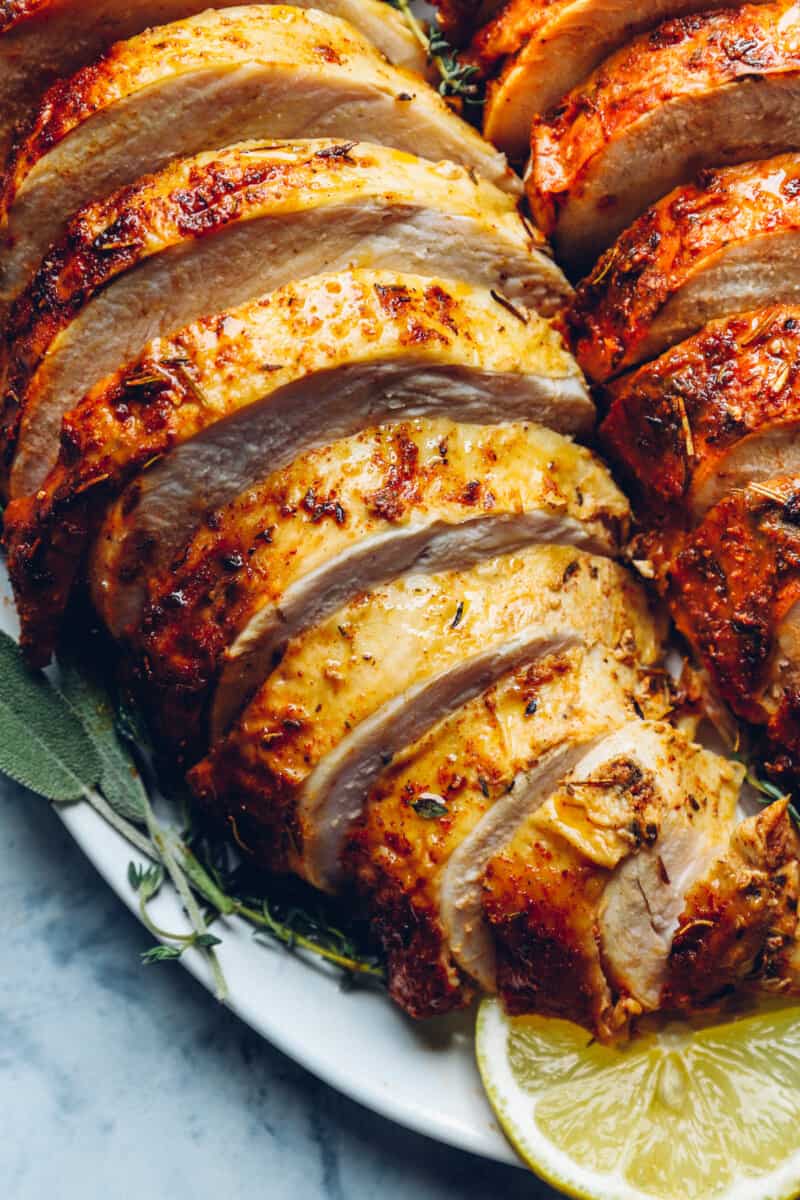 How to Make Turkey Rub
You can jump to the recipe card for full ingredients & instructions!
Mix together all of the measured ingredients in a bowl or jar.
Use immediately or store for later.
To use: simply rub the seasoning blend directly into and under the skin of your turkey before cooking!
On Thanksgiving, it's easy to feel stressed out and overwhelmed with all the cooking. Alleviate some of that pressure by knowing that this rub will make sure your turkey tastes downright delicious every time.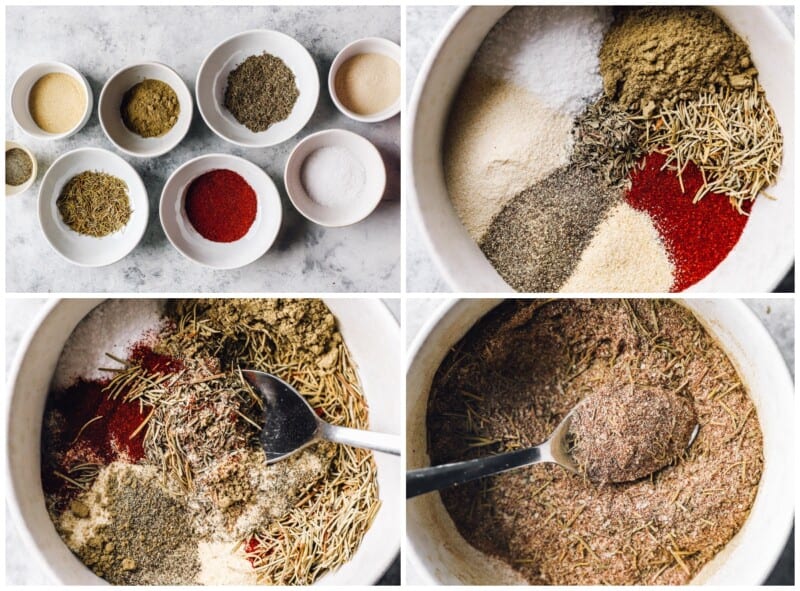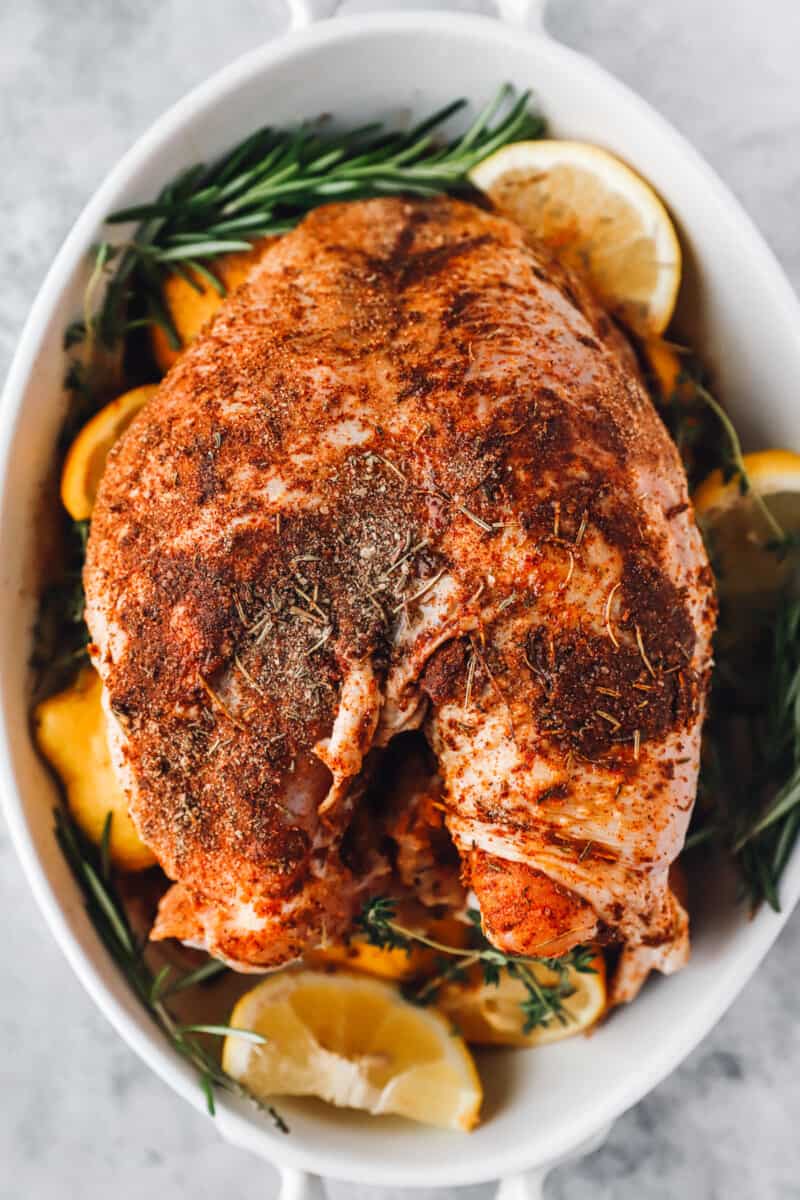 What flavors go well with turkey?
Turkey is a great base for a wide variety of flavors, both sweet and savory. This rub is primarily savory, playing up classic thanksgiving flavors such as sage, rosemary, and thyme. Other flavors that pair well with turkey include brown sugar, maple, basil, lemon, and oregano.
What is the difference between a turkey rub and a turkey dry brine?
A turkey rub is something you add to the turkey right before cooking it to impart flavor, whereas a dry brine is added in advance and is more salt-heavy in order to draw out the turkey's moisture.
How do you use a rub on a turkey?
Generously apply the seasoning to the outside of the turkey, then rub it into the skin and meat. I recommend lifting the skin away from the meat and placing some of the rub between the meat and skin as well.
Can I season a turkey in advance?
Absolutely! You can place the rubbed turkey in the refrigerator loosely covered with plastic wrap for up to 24 hours before you cook it.
How much turkey rub should I use?
You can use as much as you like. Be generous with it! This recipe makes enough rub to coat a large bird.
I don't even remember the last time I prepared a turkey for Thanksgiving without using this rub. It's definitely a holiday staple in my kitchen!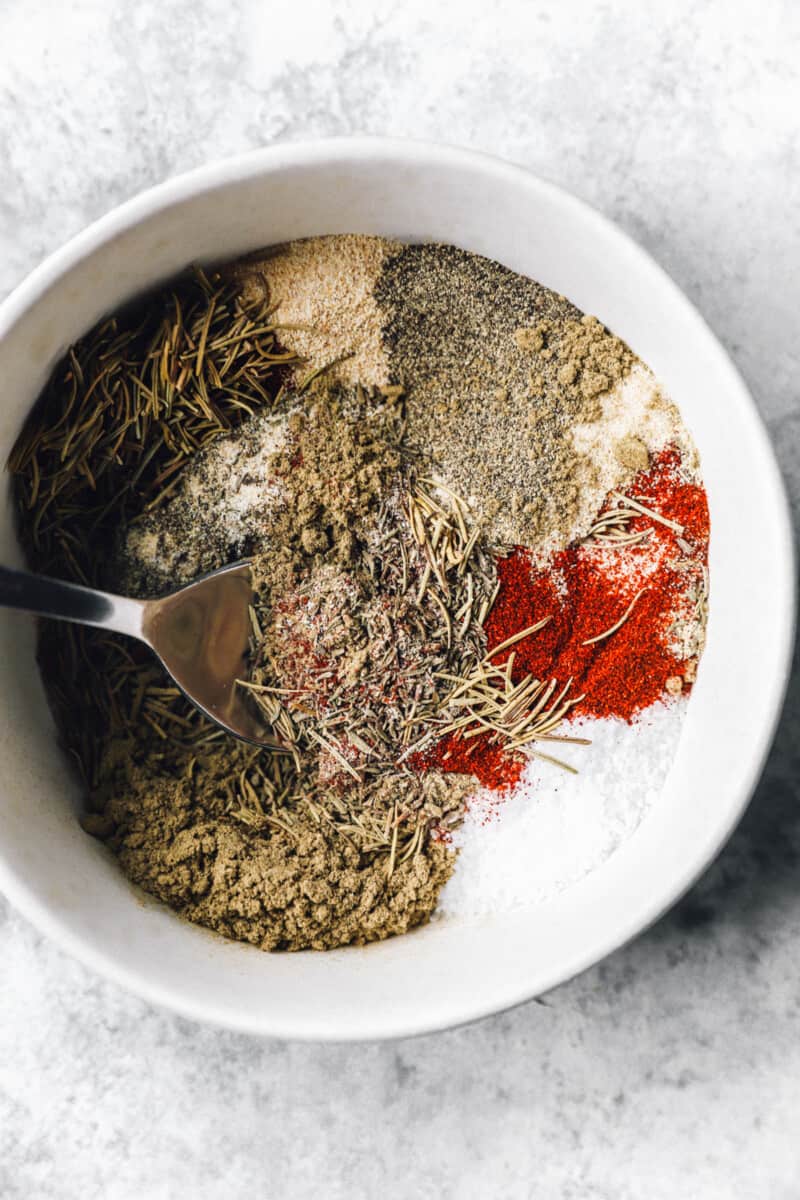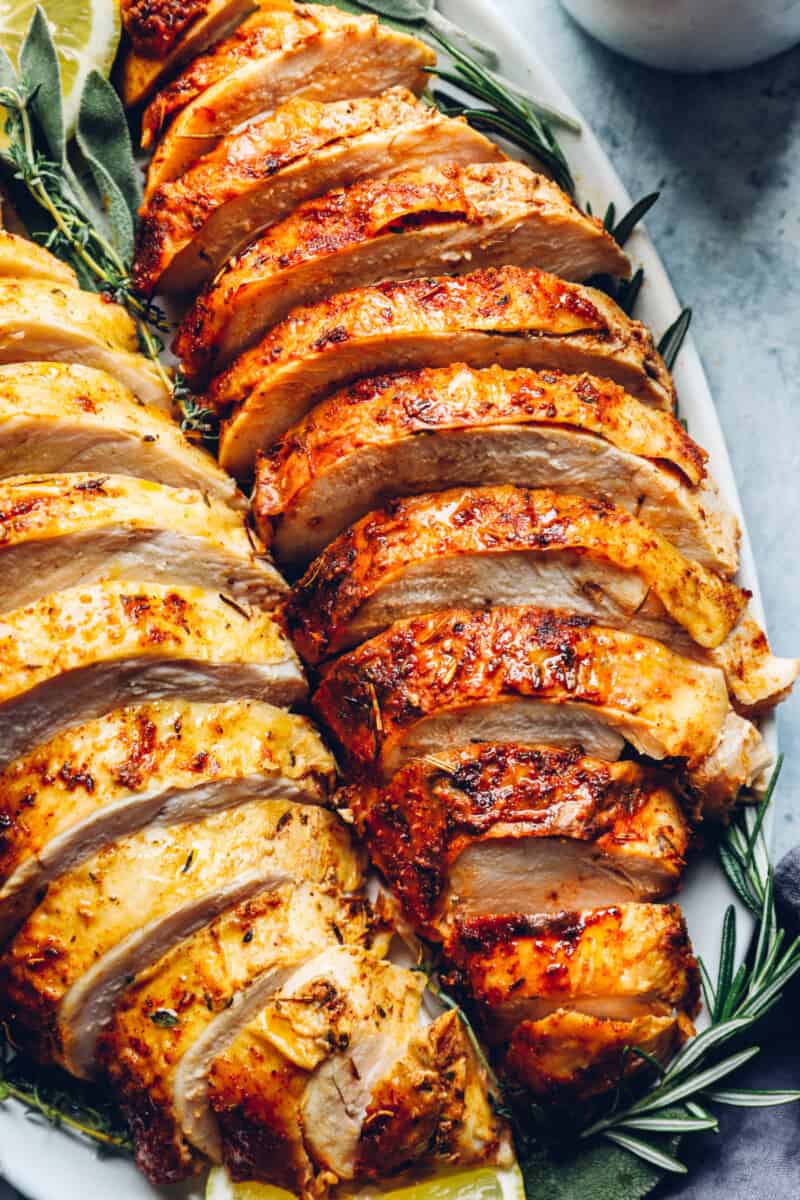 Make Ahead Instructions
This turkey rub can be made up to 6 months in advance of when you plan to use it. You can make large batches of the rub and store it in an airtight container at room temperature for future use.
Storage Instructions
Store leftover turkey rub in an airtight container at room temperature for up to 6 months. Discard any turkey rub that has touched raw turkey. I recommend pouring out a little bit of the rub at a time into a separate bowl to avoid contaminating the entire batch.
Freezing Instructions
Freeze turkey rub in an airtight container for up to 1 year. Use directly from the freezer.
Variations
Feel free to add more herbs, such as basil and oregano.
For a smokier flavor, use smoked paprika instead of regular paprika.
For a spicier rub, add some cayenne pepper. Start with

¼ teaspoon.

Add some brown sugar for a hit of sweetness.
Mix this spice blend with a bit of olive oil or melted butter for a wet rub!
Scaling Up
Easily double this recipe for an extra-large bird. Use:
4 tablespoons kosher salt
4 tablespoons ground sage
4 tablespoons dried rosemary
4 tablespoons dried thyme
4 tablespoons ground paprika
2 tablespoon garlic powder
2 tablespoon onion powder
4 teaspoons ground black pepper
Scaling Down
Easily halve this recipe for a turkey breast. Use:
1 tablespoon kosher salt
1 tablespoon ground sage
1 tablespoon dried rosemary
1 tablespoon dried thyme
1 tablespoon ground paprika

½

tablespoon garlic powder

½

tablespoon onion powder
1 teaspoons ground black pepper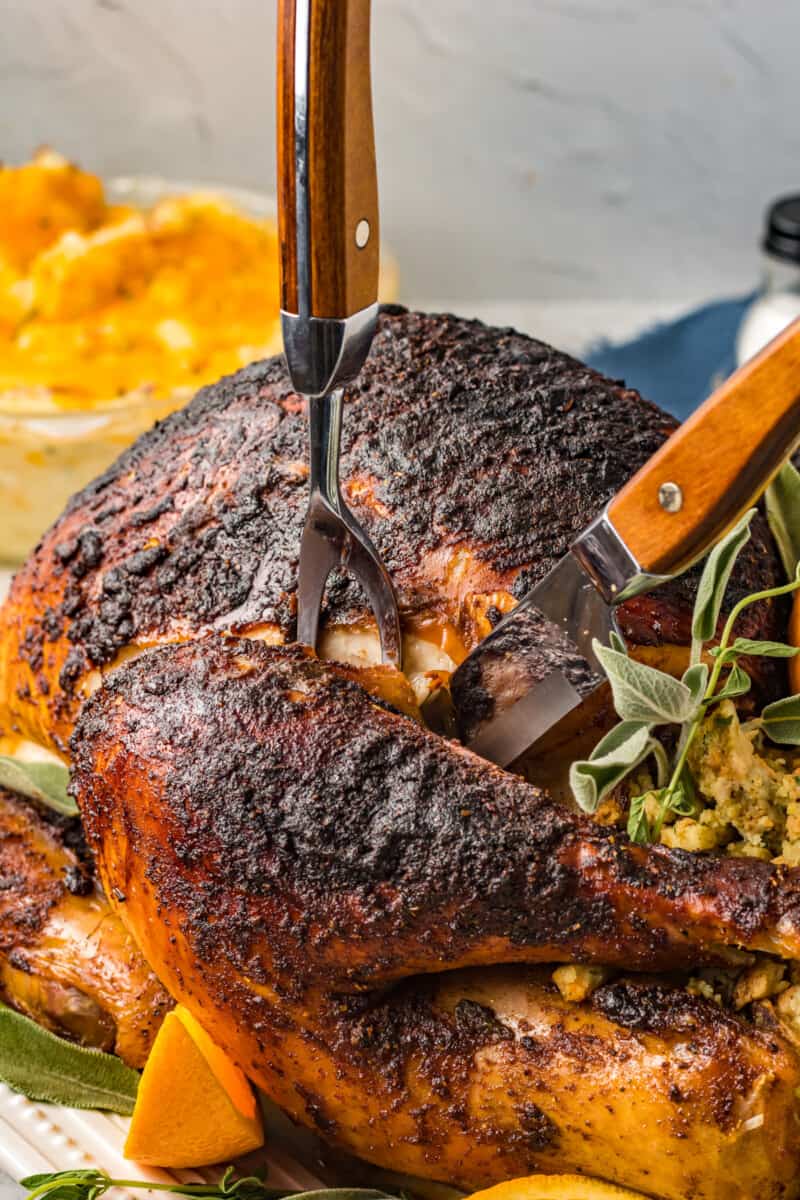 This Thanksgiving, make your turkey the best that it can be with this turkey rub! With a simple handful of dried herbs and savory spices, you can have the best ever seasonings for your turkey. Whether you cook a whole bird or just the breast/legs, you'll love the way this seasoning mix makes it taste!
If you make this recipe be sure to upload a photo in the comment section below or leave a rating. Enjoy! You can also jump to recipe.