This Grilled Turkey recipe has a simple but delicious flavor, and comes off the grill perfectly juicy with crispy skin! Stuff a whole turkey with lemon, onions, and herbs, coat it in butter, then throw it on the grill and let it cook slowly so that the meat gets nice and tender. It'll make a nice change for the holidays!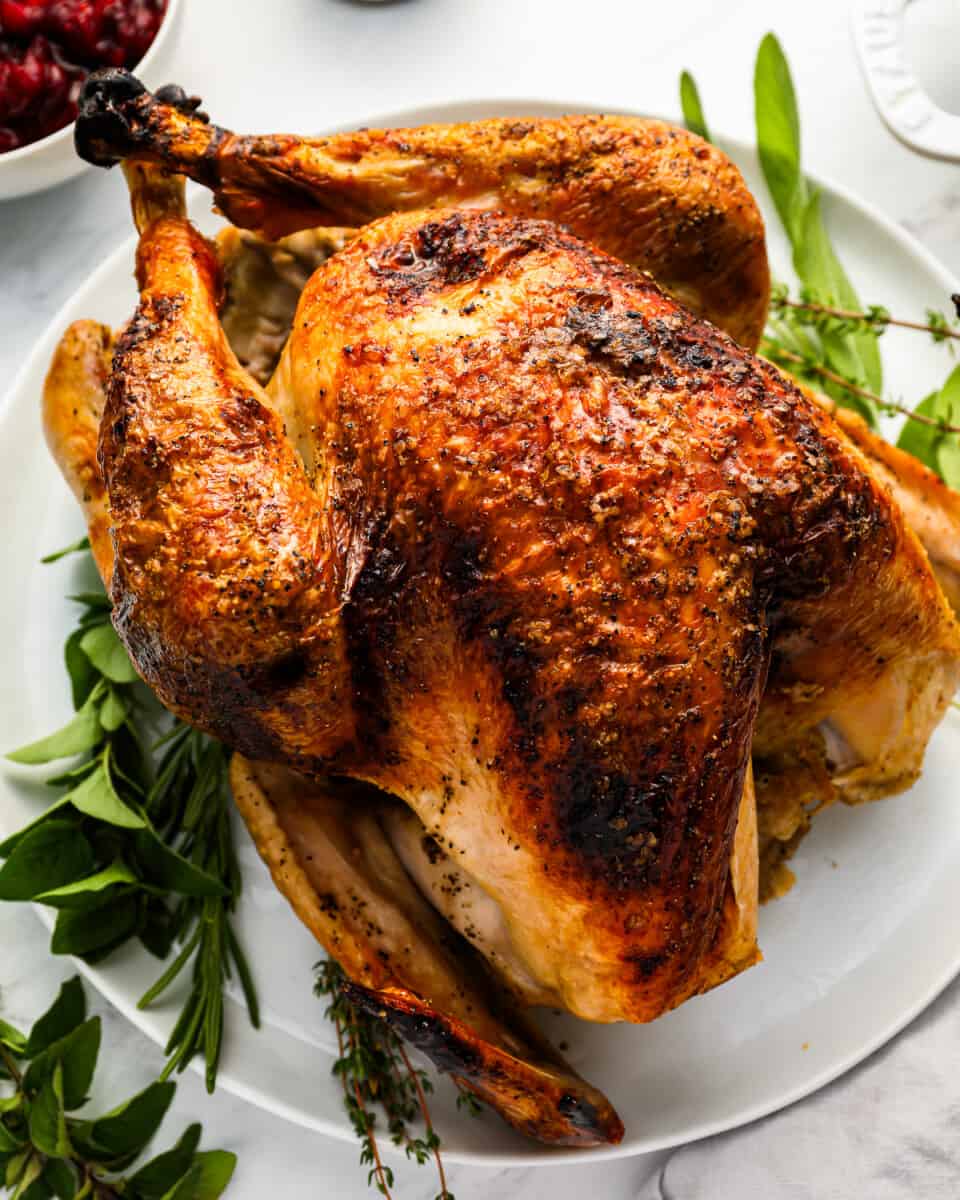 What's in this Grilled Turkey Recipe?
In the mood for something a little different this Thanksgiving? Then it's time you try grilling the turkey! It's simple, flavorful, and sure to be a hit.
Whole Turkey: Plan for about 1–1½ pounds of turkey per person. Be sure to thaw your turkey if it's frozen.
Yellow Onion: Infuses the turkey with a sweet and earthy flavor as it cooks.
Lemon: Infuses the turkey with fresh citrus flavor.
Fresh Herbs: Infuse the turkey with a fresh herbal flavor. We like thyme, rosemary, and sage, but use any fresh herbs you love.
Unsalted Butter: Adds moisture to the turkey and helps the seasonings stick to the skin.
Salt + Pepper: Enhance the natural flavor of the meat.
Chicken Broth: Keeps the turkey moist as it cooks on the grill.
Pro Tip: Feel free to season your turkey with additional spices. Try my favorite turkey rub!
Variations on Turkey on the Grill
I love this simply seasoned turkey, but for even more flavor, try dry brining the turkey first. It'll infuse it with tons of flavor and help the skin get extra crispy on the grill!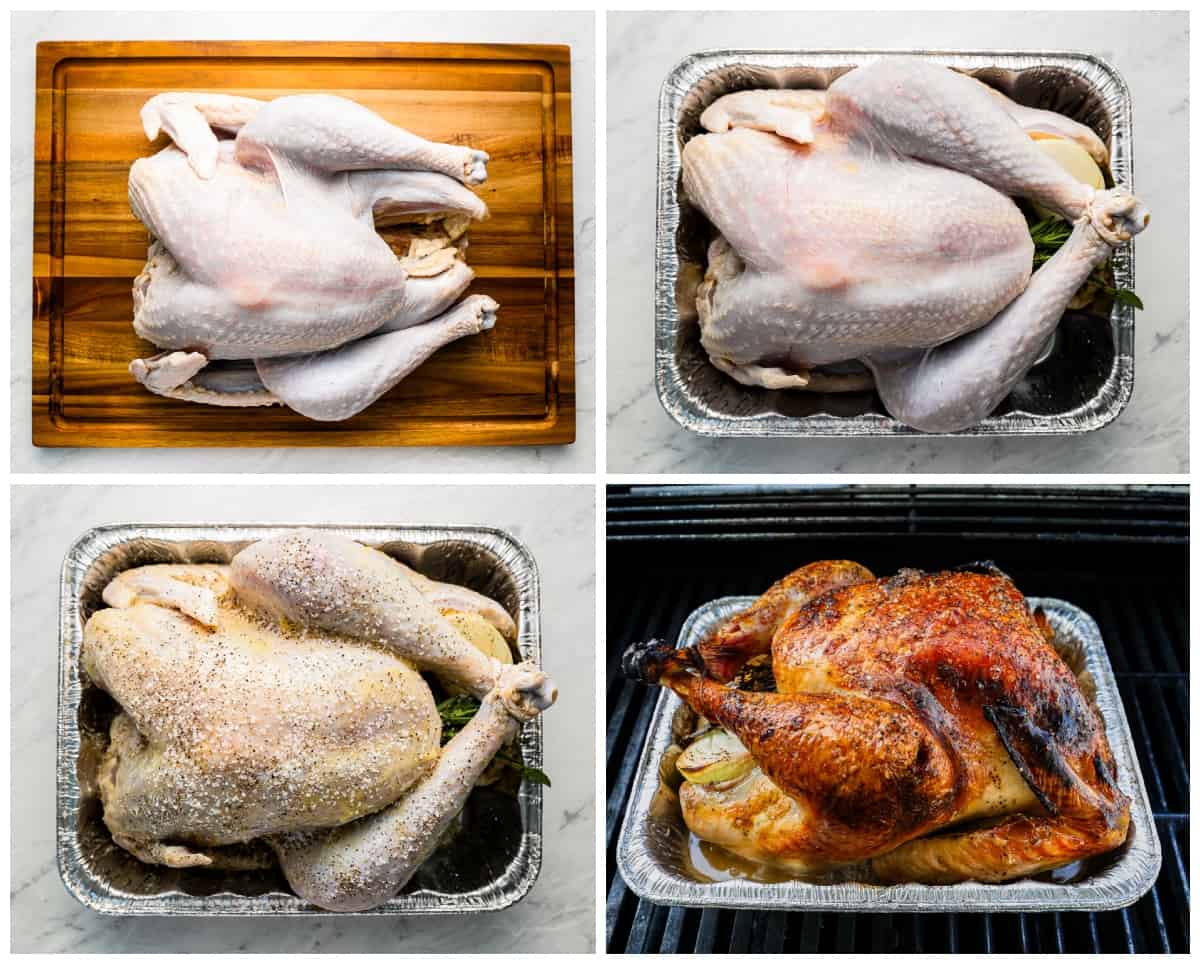 How many hours does it take to grill a turkey?
It takes about 11-12 minutes per pound to grill a turkey. For a 12-pound bird, plan on about 2⅓ hours. Get more info about turkey cooking times.
Does grilling a turkey dry it out?
It certainly can if you're not careful! That's why we place our bird in a roasting pan filled with chicken broth. This helps create steam that keeps the bird moist as it cooks.
How do you keep turkey from sticking to the grill?
We don't place the turkey directly on the grates because it has a tendency to stick (and this would also likely lead to a dry turkey). Place it into an aluminum pan instead!
When grilling a turkey do you cover it with foil?
There's no need to cover the turkey with foil. Just keep the lid of the grill closed any time you're not basting the bird.
Do you flip a turkey when grilling?
There's no need to flip your turkey when grilling, but you certainly can if you like. I prefer not to, since this can lead to rubbery skin.
Is it better to grill a turkey on direct or indirect heat?
Indirect heat is best for cooking the meat slowly and evenly. This helps prevent it from drying out.
How often do you baste a turkey on the grill?
Baste your turkey every 30 minutes!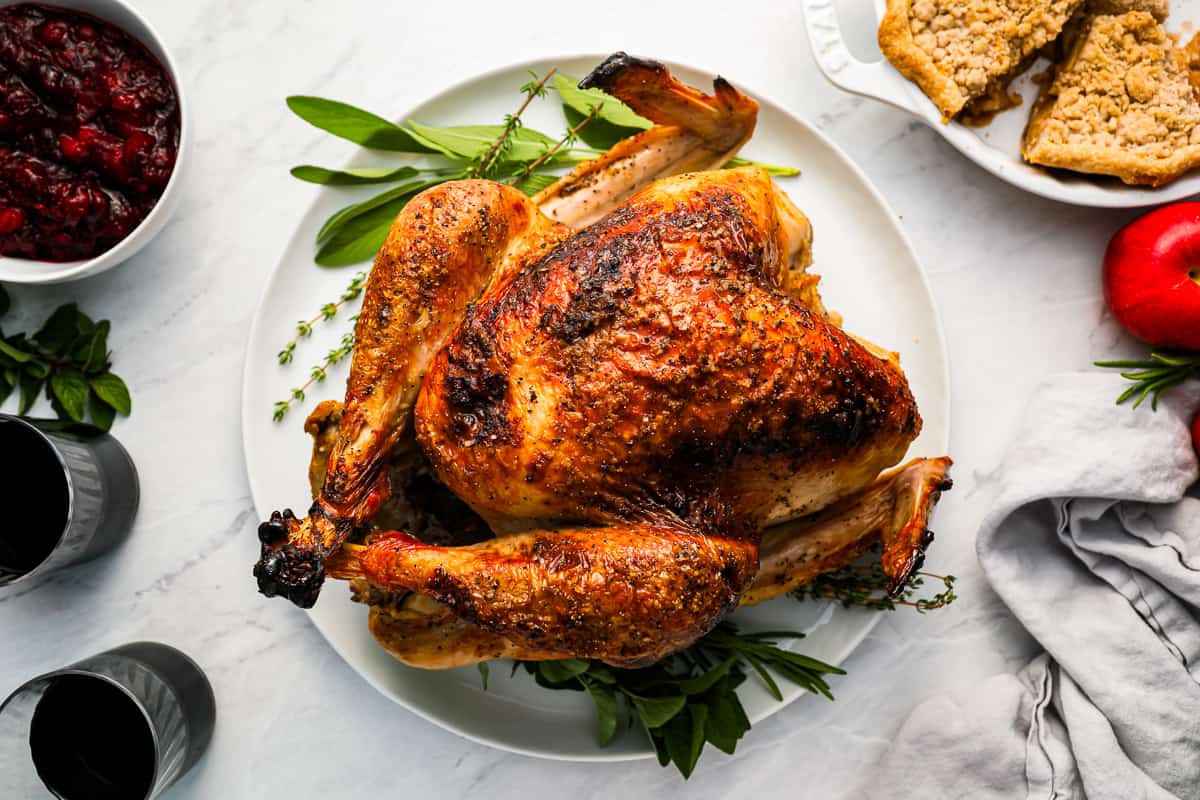 How to Store and Reheat
Store leftover grilled turkey in an airtight container in the refrigerator for up to 3 days. Reheat gently in the microwave or covered with foil in a 300°F oven for 20-30 minutes.
How to Freeze
Freeze turkey in an airtight container for up to 3 months. Let thaw overnight in the refrigerator before reheating. I do not recommend freezing a turkey whole; always cut it into portions first.
Serving Suggestions
Once you're done grilling the turkey, let it rest for 30 minutes before slicing.
Then serve it with Thanksgiving sides, like turkey gravy, mashed potatoes, green bean casserole, and turkey stuffing. Or keep the grill on, and make grilled ranch potatoes, grilled asparagus, or grilled corn on the cob.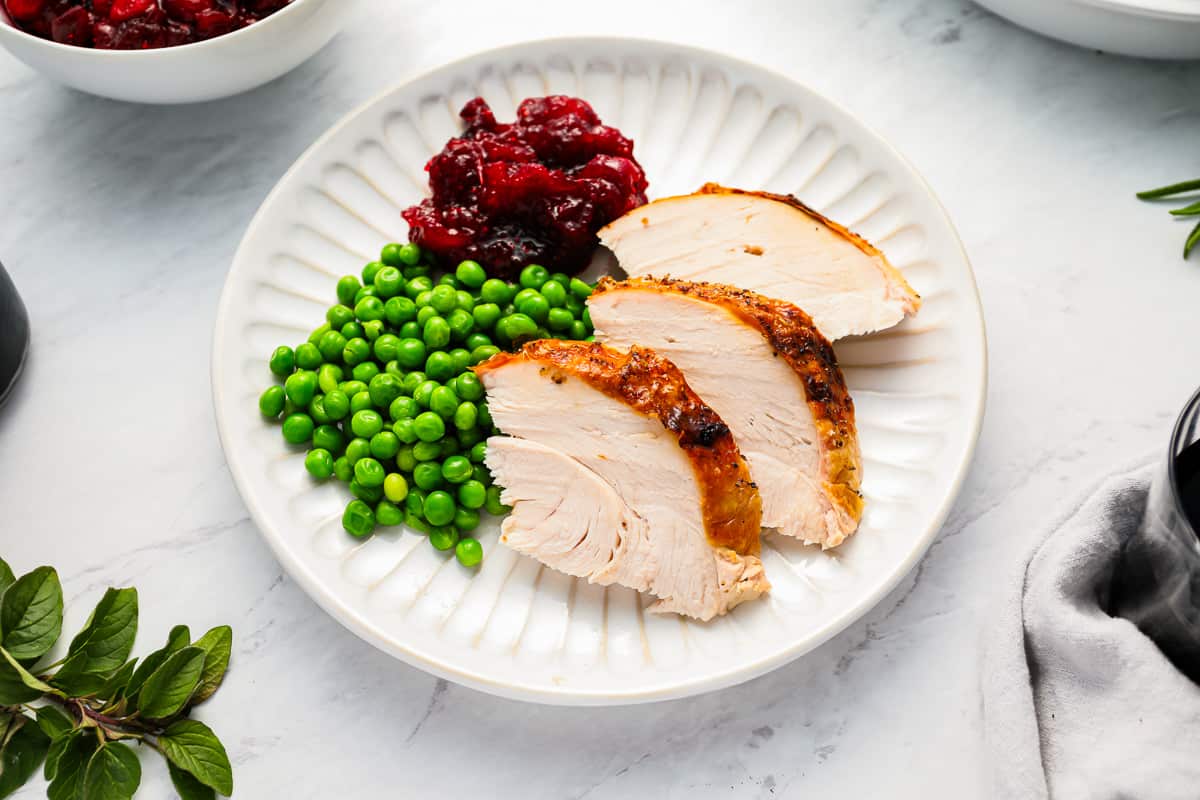 More Whole Turkey Recipes We Love