This year, forget the traditional bird and try a Dry Brined Turkey instead. It's a great way to add flavor and juiciness without using any extra fat or oils. Plus, the brine is really easy to make–all you need is some salt, pepper, and herbs.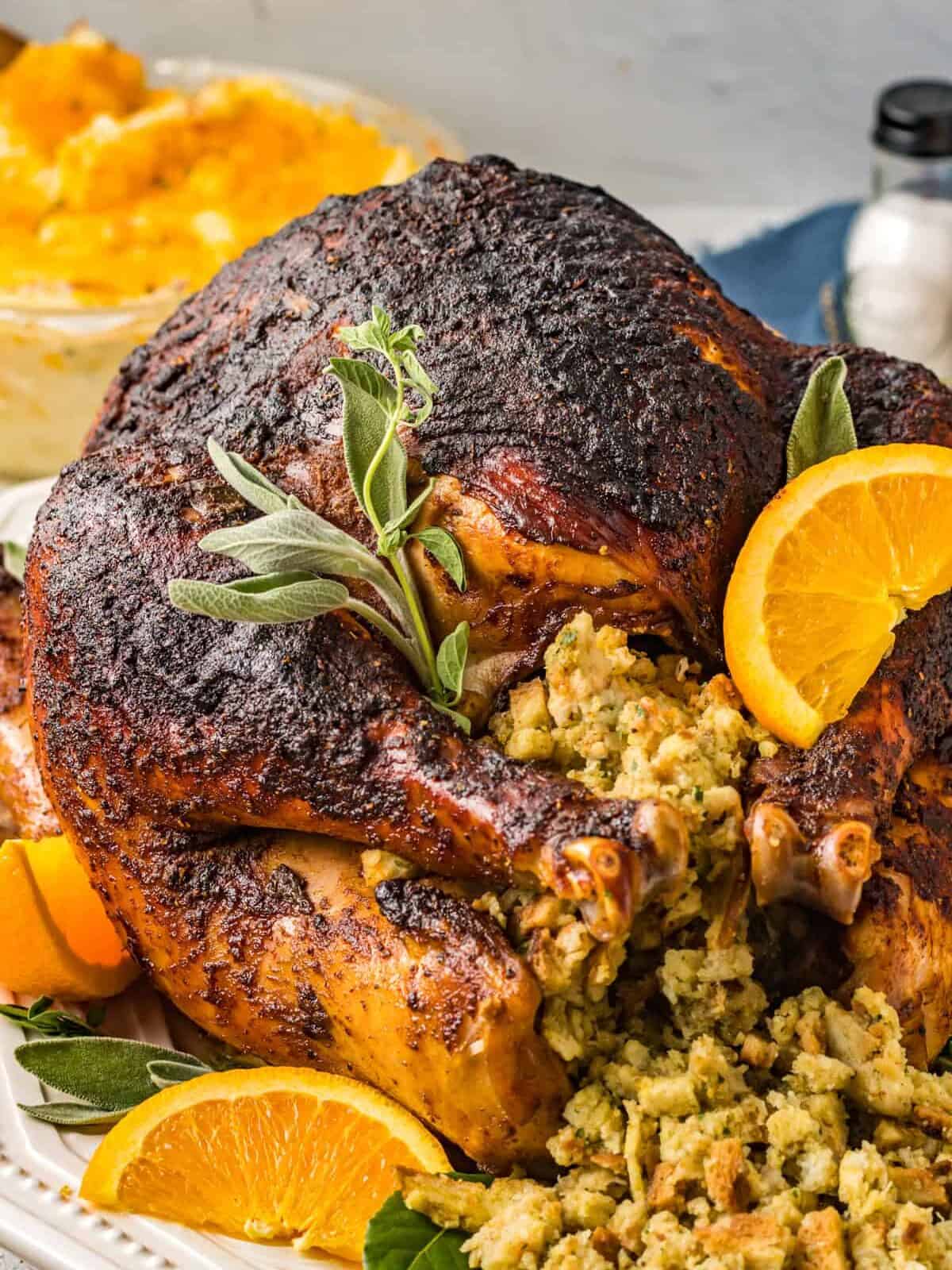 What's in this Dry Brined Turkey Recipe?
This turkey is perfect for those who want to avoid a messy kitchen. The ingredients are simple and easy to find, and the process is quick and straightforward. Best of all, the result is a juicy, flavorful turkey that will have your guests coming back for seconds.
Turkey: Don't use a pre-seasoned, kosher, salt-injected, or self-basting turkey. Using a salt brine on this type of turkey will make it too salty! Make sure your turkey is fully thawed before you brine it.
Butter: Helps the brine stick to the turkey.
Salt: You want to use kosher salt or coarse sea salt; fine or table salt will make your turkey too salty!
Spices: A blend of smoked paprika, chili powder, dark brown sugar, rubbed sage, dried thyme, ground black pepper, and garlic powder makes this turkey sweet and savory.
Onion: Infuses the turkey with an earthy flavor.
Bay Leaves: Infuse the turkey with a
Orange Juice: You can use blood orange or grapefruit juice instead
Pro Tip: To get better penetration and more flavor, apply some of the brine between the meat and the skin.
Variations on Dry-Brined Turkey
Feel free to change up the spices to suit your individual tastes. Onion powder, oregano, or poultry seasoning are all great options. In place of the sage and thyme, try dried basil, dried parsley, Italian seasoning, dried chives, or marjoram. For a spicy dry brine, try adding a bit of cayenne pepper.
What is a dry brine?
A dry brine is a salt rub that is applied to the surface of meat to naturally draw out moisture and create a brine from the natural juices inside the meat. A wet brine, on the other hand, involves submerging the meat in a bucket of salted and seasoned water to add moisture and flavor.
Is dry brining a turkey worth it?
Turkey is notorious for being flavorless and dry. This dry brine method combats both of those issues by giving the herbs and salt time to penetrate the meat, leading to moist, flavorful bird. Plus, it's way less messy than a wet brine!
Can I dry brine a frozen turkey?
No! A dry brine will not penetrate a frozen bird. The best way to thaw a frozen turkey is in the refrigerator in its original packaging. The time it will take to defrost is roughly 24 hours for every 4 pounds of turkey. For a 12-pound turkey, expect to let it defrost for 72 hours (3 days).
What's the best way to apply a dry brine to a turkey?
For the best flavor and penetration, separate the skin from the meat and rub some of the dry brine between the meat and skin.
Can I dry brine a self-basting or saline-injected turkey?
I do not recommend adding more salt to the dry brine for a self-basting or saline-injected turkey. It will make it too salty! You can, however, dry rub the turkey with just the herbs and no salt.
How long does it take to dry brine a turkey?
You can dry brine a turkey for as little as 2 hours to up to 2 days before cooking. For extra crispy turkey skin, leave the dry brined turkey uncovered in the refrigerator for up to 24 hours to dry out the skin before cooking it.
Do you need to rinse turkey after dry brine?
Nope! Leave the brine on to ensure a flavorful turkey.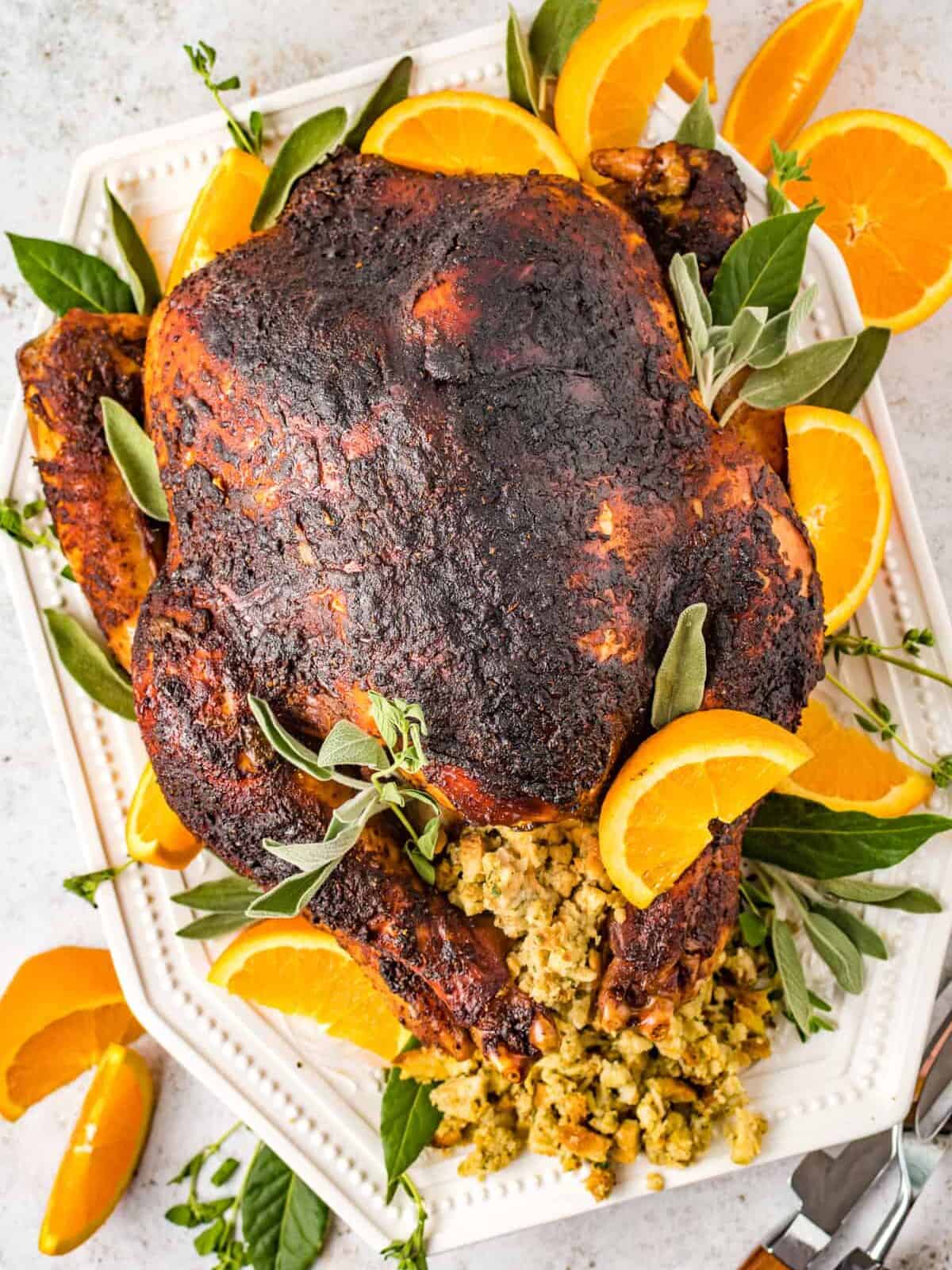 How to Store and Reheat
Store leftover dry brined turkey in an airtight container in the refrigerator for up to 3 days. Reheat gently in the microwave or covered with foil in a 300°F oven for 20-30 minutes.
How to Freeze
Freeze dry brined turkey in an airtight container for up to 3 months. Let thaw overnight in the refrigerator before reheating. I do not recommend freezing turkey whole; always cut it into portions first.
Serving Suggestions
Almost any side will pair perfectly with this dry brined turkey. Feel free to make any of your favorite Thanksgiving sides, like Crockpot Mashed Potatoes, Crockpot Green Bean Casserole. Instant Pot Sweet Potato Casserole, or Sausage Stuffing.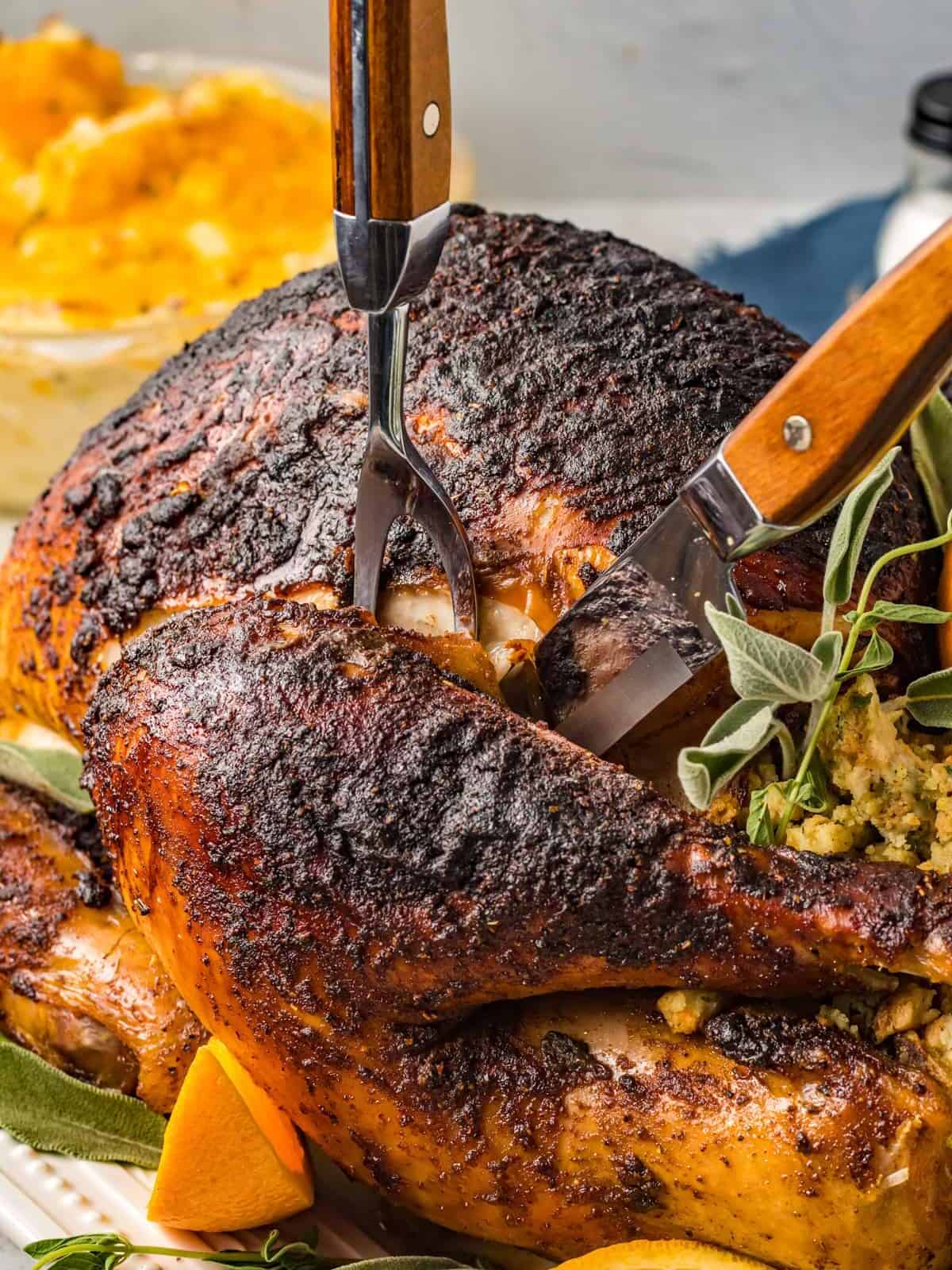 5-Star Review
"This was my first year hosting Thanksgiving and my first ever turkey to cook. I followed the recipe exactly as written and it turned out amazing!!! I will be making it again for Christmas!" – Regina
More Thanksgiving Turkey Recipes We Love