This oven roasted Thanksgiving Turkey Breast is the ideal entree to make when you don't need an entire bird! It's made flavorful with a homemade turkey rub, butter, lemons, and plenty of aromatic fresh herbs. You'll love that it's got plenty of flavor in every tender, juicy bite!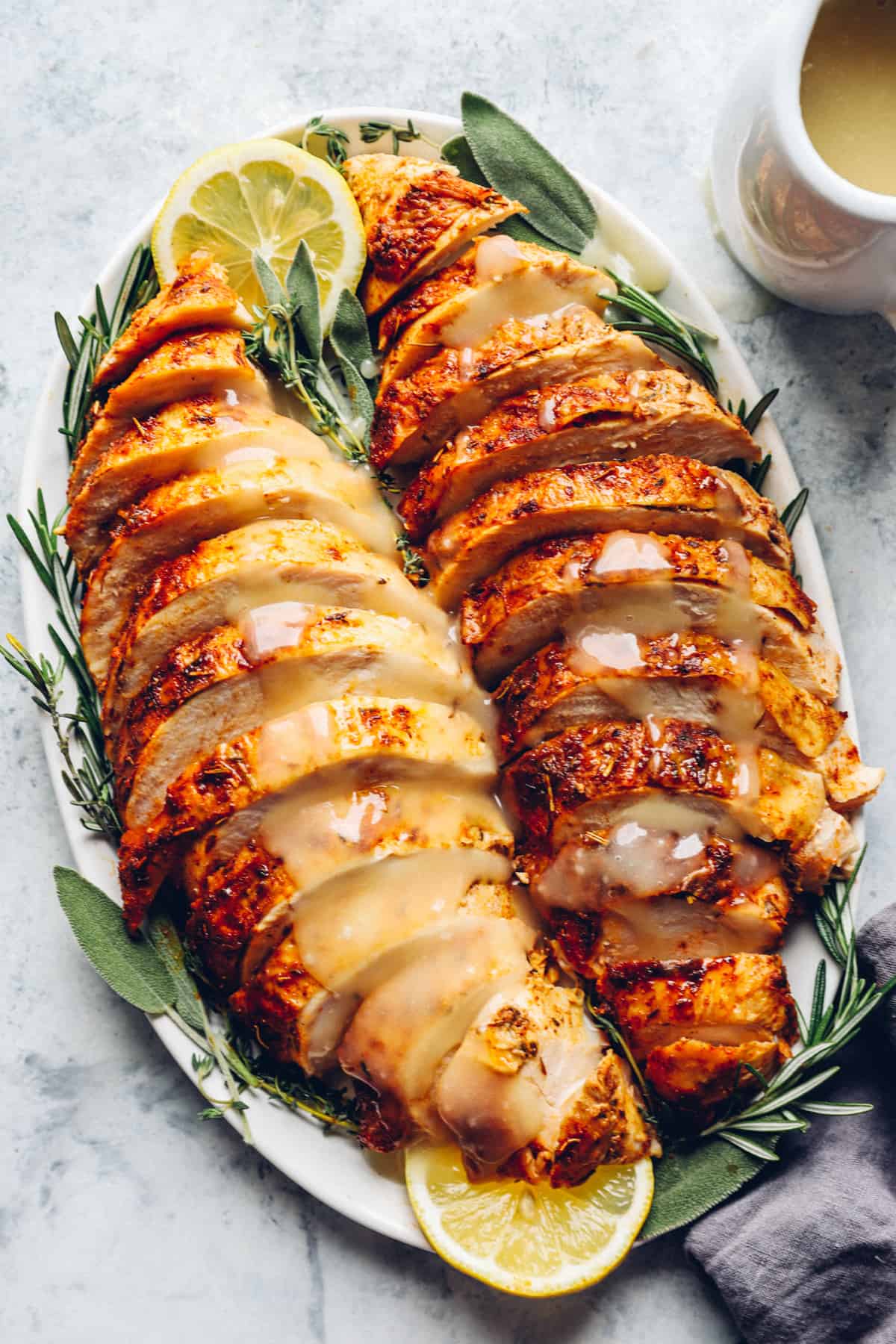 Oven Roasted Turkey Breast
It can be intimidating or even plain unnecessary to cook an entire turkey on Thanksgiving. If you're hosting a smaller gathering of family and/or friends, keep your stress level to a minimum by making this Thanksgiving Turkey Breast instead. It's perfectly portioned for about 6 people, and it's way less maintenance than a whole bird.
We like to keep things simple, yet mouthwatering when it comes to seasoning the meat. Our favorite turkey rub is just perfect, and the medley of fresh sage, rosemary, and thyme finishes it nicely.
Other than that, all you need is a few freshly sliced lemons and softened butter to make your oven roasted Turkey Breast tender, juicy, and flavorful every single time!
Why You'll Love this Thanksgiving Turkey Breast Recipe:
RELIABLE: This tried and true Thanksgiving Turkey Breast recipe is the very definition of reliable. You can't go wrong!
NEVER DRY: We've all had dry turkey before, but that won't be a problem with this recipe. Even roasted in the oven, it always comes out juicy!
EASY TO MAKE: If cooking an entire bird is intimidating to you, this is an excellent recipe to utilize. Cooking turkey breast in the oven is oh so simple!
The way that the herbs lend natural, aromatic flavor to the meat is so incredible. And I really love the fall flavor that the sage brings!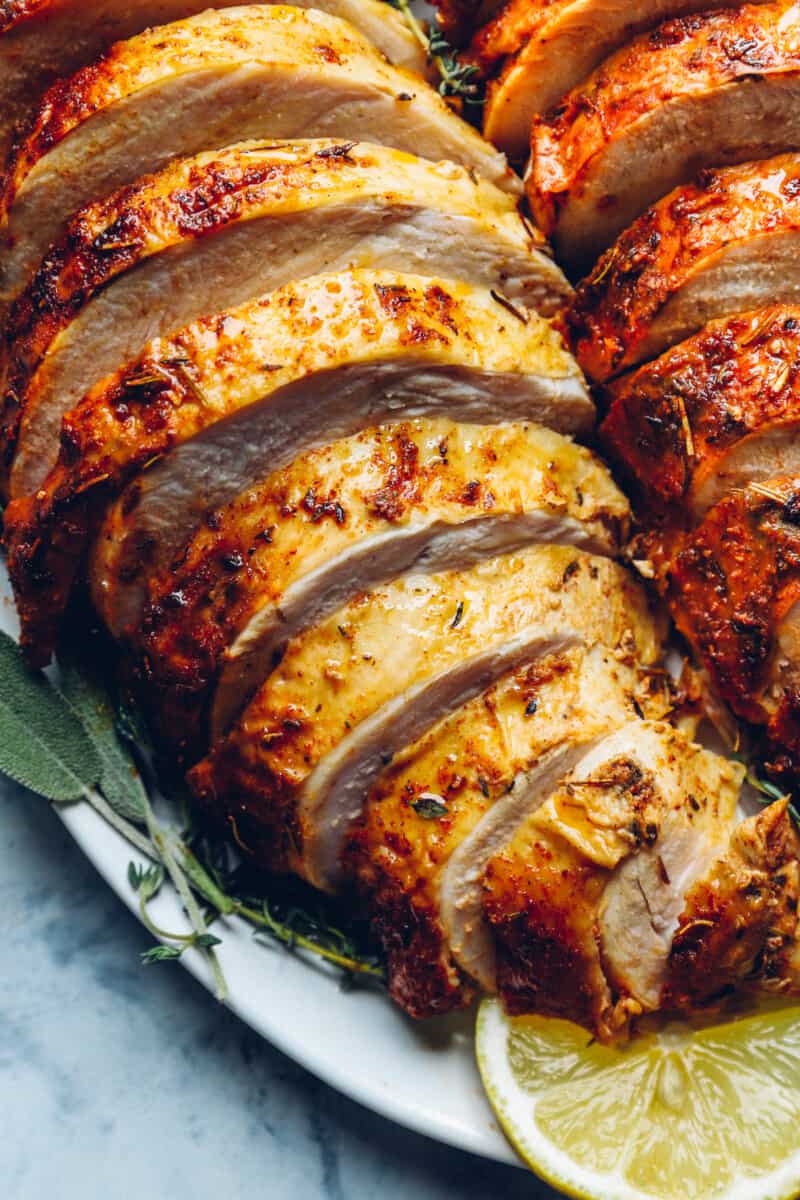 How to Roast a Turkey Breast for Thanksgiving
You can jump to the recipe card for full ingredients & instructions!
Preheat the oven to 325°F.
While that's heating up, place the turkey in a large roasting pan or baking dish.
Use paper towels to gently pat the meat dry.
Mix together the butter and spice rub.
Rub the seasoned butter all over the turkey, including under the skin.
Arrange the lemons and herbs all around the turkey.
Roast the turkey for about an hour and 45 minutes.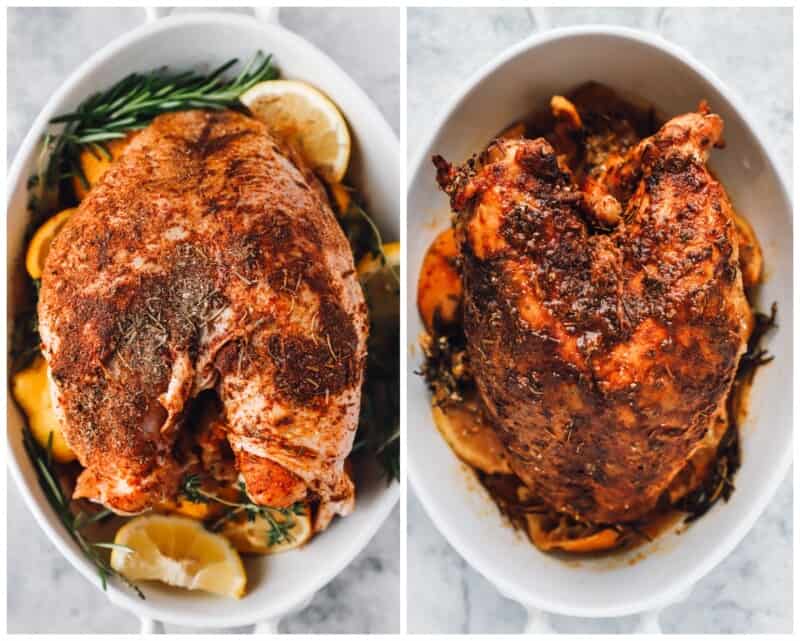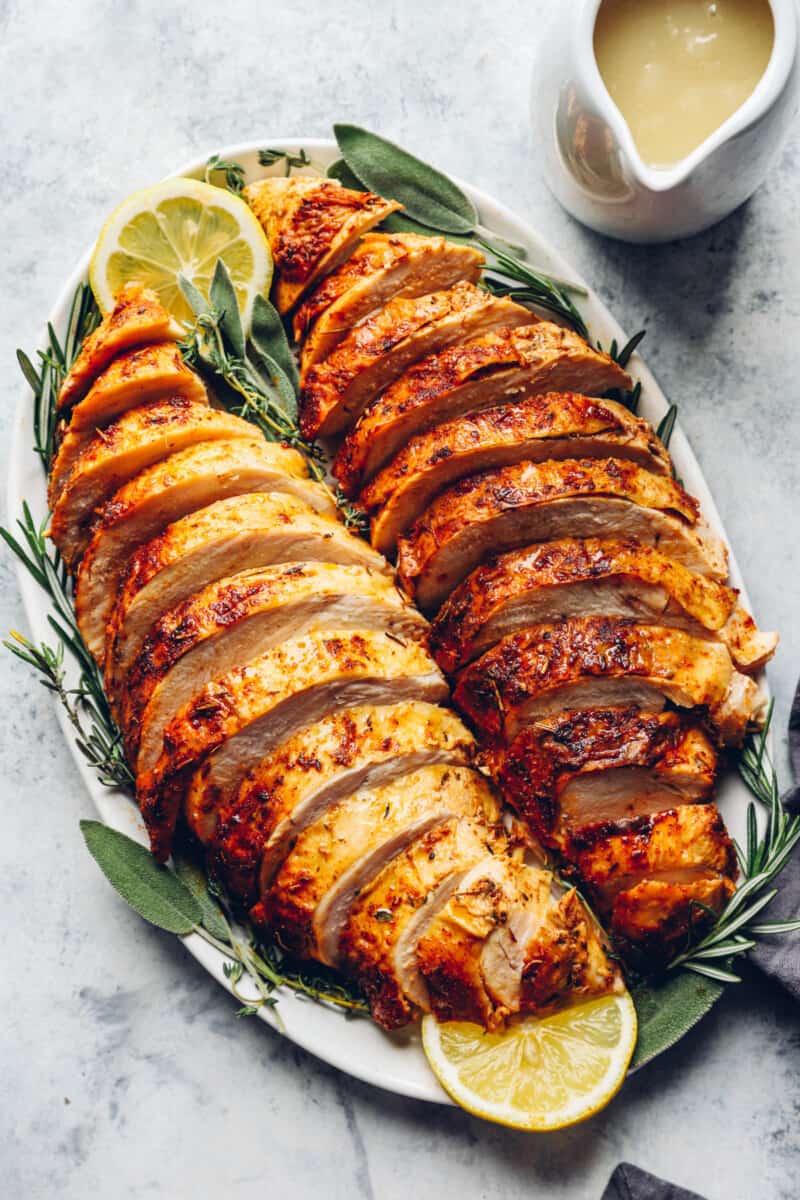 How much turkey breast do I need per person?
Generally, you want to cook about ¾-1 pound of turkey per person. A 6-7 pound turkey breast will feed 6-8 people.
How long does it take to defrost a frozen turkey breast?
Turkey takes about 1 day for every 4-5 pounds to defrost. Defrost the turkey breast in the refrigerator for about 2-3 days, depending upon the size of your breast.
How long should I cook a turkey breast for?
A turkey breast takes about 15-20 minutes per pound to bake. If boneless, it will take about 10-12 minutes per pound. For a 6-7 pound breast, it should take about 1½-2 hours to cook.
What is the internal temperature of a cooked turkey breast?
The internal temperature of a properly cooked turkey breast is 165°F.
How do I keep a thanksgiving turkey breast from drying out?
This turkey breast is extra moist due to the lower oven temperature. However, if you're really worried about it drying out, cover the breast with foil while cooking, then remove the foil in the last 30 minutes to crisp up the skin.
For smaller gatherings, this Thanksgiving Turkey Breast always hits the spot. It pairs perfectly with all of your favorite Thanksgiving side dishes! These creamy mashed potatoes and broccoli cheese casserole are perfect to finish the meal.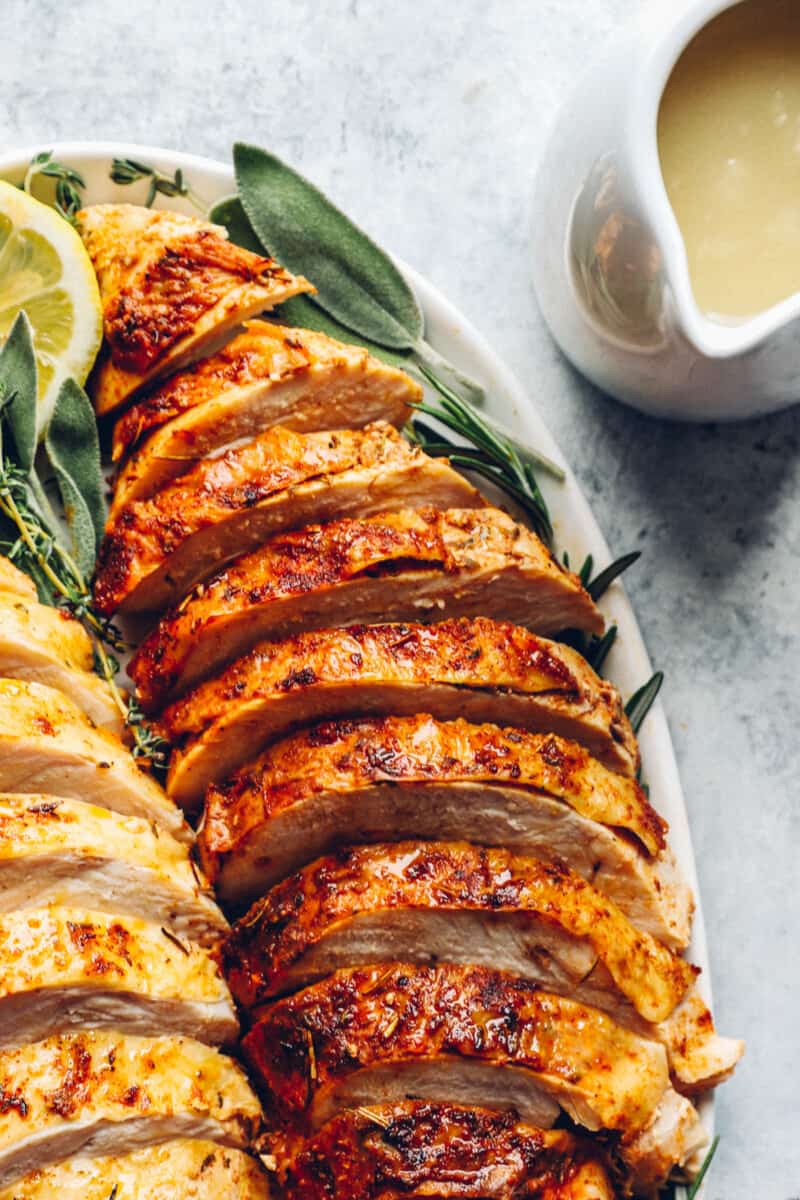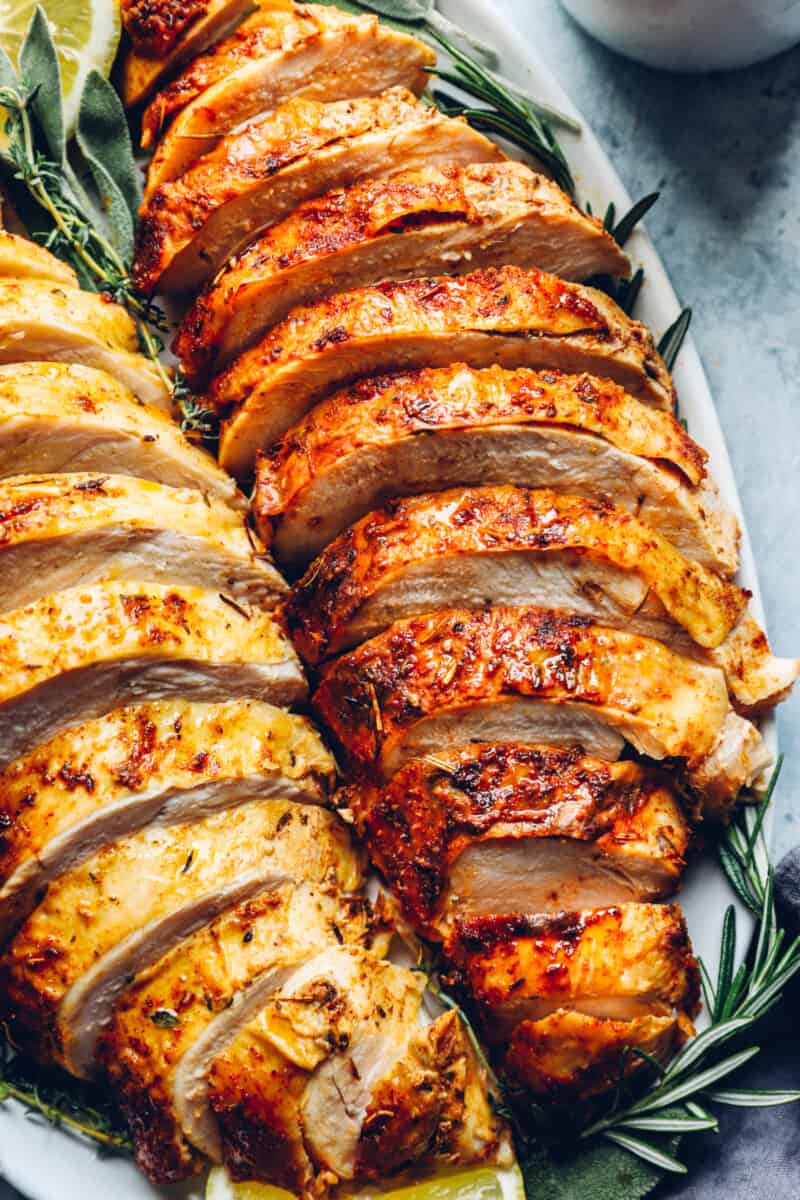 Make Ahead Instructions
You can rub the turkey with the butter and spices up to 1 day in advance of when you plan to roast it. Leave the turkey uncovered in the refrigerator to help create a crispier skin.
Storage Instructions
Store leftover Thanksgiving turkey breast in an airtight container in the refrigerator for up to 3 days. To reheat, place the turkey in a baking pan with some turkey stock or pan drippings and bake at 350°F for about 30 minutes, or until warmed through.
Freezing Instructions
Freeze Thanksgiving turkey breast in an airtight container for up to 3 months. Let thaw overnight in the refrigerator before reheating.
Variations
Instead of turkey rub, you could use an equal amount of:
Make It A Meal
Serve this Thanksgiving turkey breast with classic Thanksgiving sides, such as:
Tips for the Best Thanksgiving Turkey Breast
Adjust the final cooking time based on the weight of your turkey; increase or reduce by 15-20 minutes per pound.
Roast the turkey skin-side-up to allow it to crisp.
Properly cooked turkey breast is 165°F internally.
Tent the turkey with foil while resting to seal in the juices.
Use the leftover pan drippings to make turkey gravy!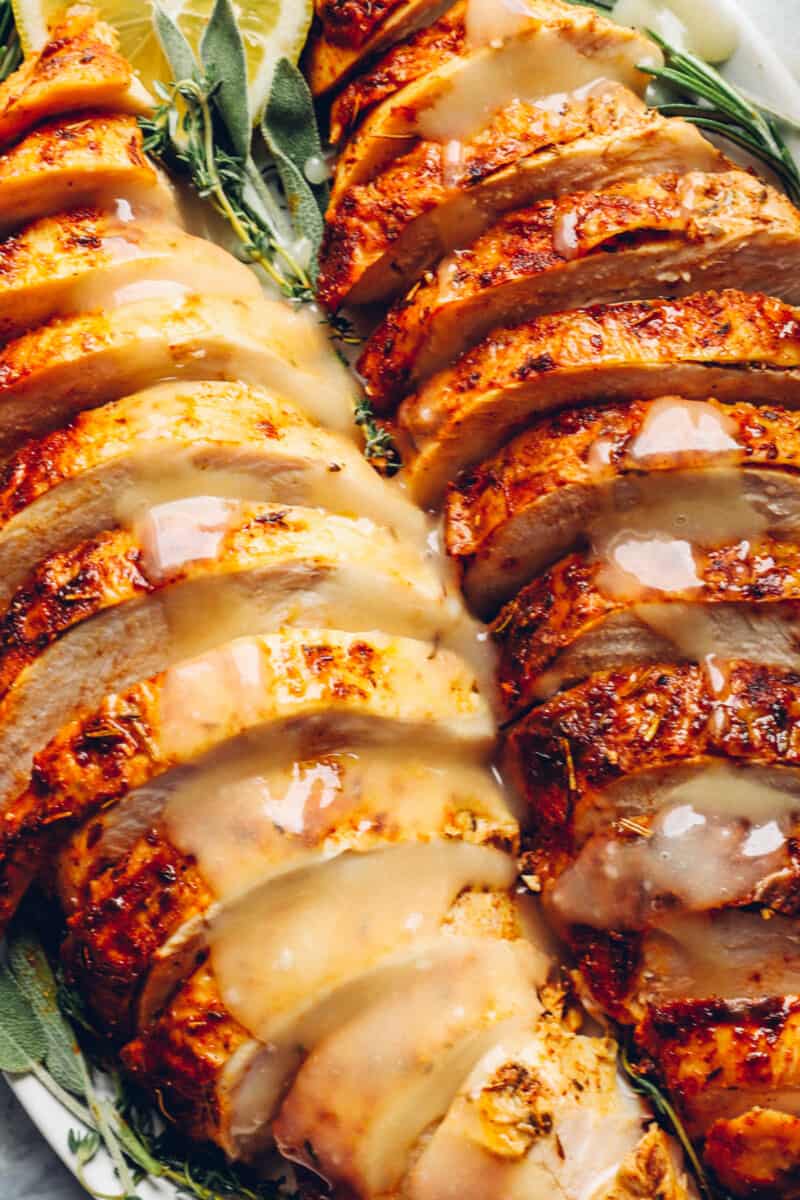 Preheat the oven and turn the game on – it's Thanksgiving! And now, you can still enjoy the day while cooking this roasted Thanksgiving turkey breast. This easy recipe is perfect for both beginner cooks and small families!
If you make this recipe be sure to upload a photo in the comment section below or leave a rating. Enjoy! You can also jump to recipe.