Turkey Burgers are a juicy, tasty, and healthy option when you're craving burgers. These ground turkey patties only require a handful of ingredients, they're simply seasoned, and they only take a few minutes to cook. So skip the beef and add the best turkey burger recipe to your weeknight meal rotation!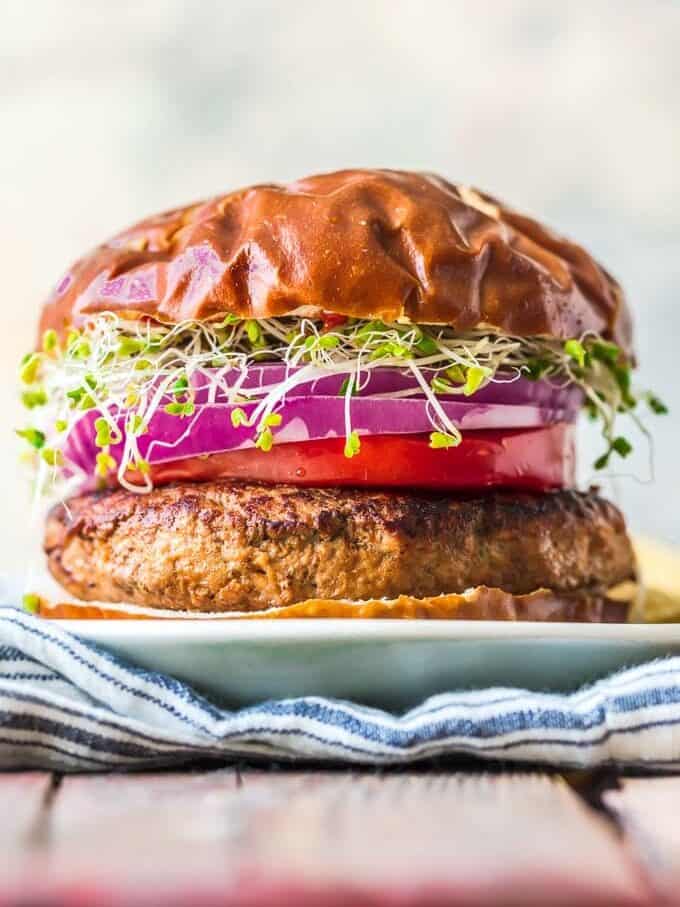 What's in Turkey Burgers
You only need 5 ingredients to make this simple ground turkey burger recipe, and they are so delicious. Add your favorite toppings and you'll have one of the best burgers!
Ground Turkey: Use lean ground turkey to make healthy turkey burger patties.
Worcestershire Sauce: This adds a savory and tangy flavor to the patties.
Ketchup: This helps bind ingredients, and adds tangy and sweet flavor.
Salt & Pepper: You don't need much to season these burgers.
Canola Oil: This is the best oil for cooking burgers in a skillet.
Hamburger Buns: Use any buns you like to serve these.
Pro Tip: If you want to go beyond the simple seasoning, try adding chili powder, garlic and onion powder, red pepper flakes, or Italian seasoning to your turkey patties.
What toppings are best for this turkey burger recipe?
You can add any toppings you like to these easy turkey burgers! Keep it classic with tomato slices, lettuce, onions, mayo, ketchup or mustard, and pickles. Make turkey cheeseburgers by melting a slice of cheddar, pepper jack, colby jack, or swiss on each patty.
Add a healthy twist with baby spinach or a handful of microgreens. Or go gourmet with caramelized onions, sun-dried tomatoes, pesto, sauteed mushrooms, or a simple guacamole.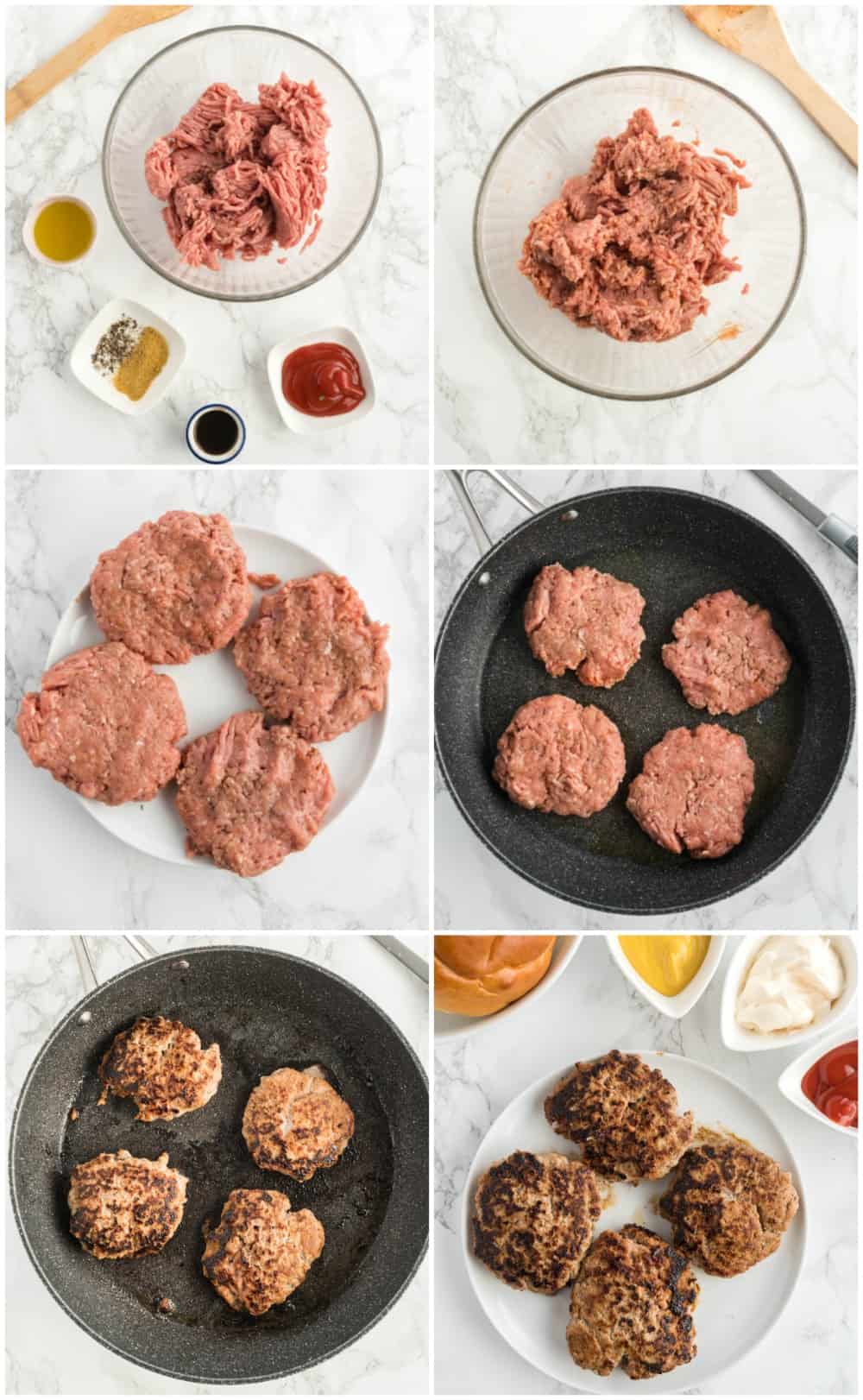 What's the internal temperature for turkey burgers?
Ground turkey should reach an internal temperature of 165F before consuming. Cook these turkey burgers to 160F, and let them rest (off heat) until they reach 165F.
How long do you cook turkey burgers?
Turkey patties will take about 4-5 minutes per side to cook over medium heat.
What seasoning is best for turkey burgers?
I keep the seasoning really simple for these turkey burgers–just salt and pepper! But you can add garlic or onion powder, chili powder, Oregano, cumin, thyme, or any herbs, spices, or seasonings you'd normally use for burgers. This burger seasoning mix works with turkey too!
Are turkey burgers healthier than beef burgers?
Ground turkey is leaner than ground beef, so these will have less fat and calories than your typical beef burger.
Can I grill turkey burgers?
You can use a stovetop grill pan following the recipe card instructions. For an outdoor grill, set it to medium-high heat, and grill the turkey burgers 4-5 minutes per side, or until they reach 160F.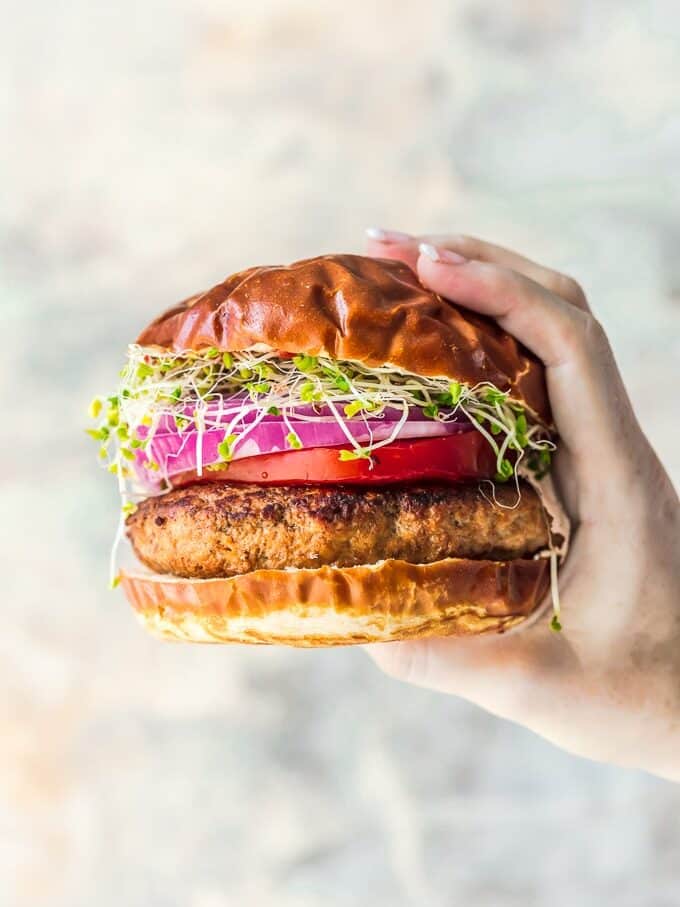 How to Store and Reheat
If you want to make this turkey burger recipe ahead of time, mix ingredients and form the ground turkey into patties according to the recipe card instructions. You can then layer them with parchment paper in an airtight container, and keep them in the fridge until ready to cook (up to 2 days).
Store leftover burgers (patties only) in an airtight container or resealable bag up to 4 days.
Reheat in a skillet or grill pan until fully heated through (they should reach 160F).
How to Freeze Ground Turkey Patties
Freeze turkey burger patties cooked or uncooked. Layer them with parchment paper and store them in a freezer-safe bag. You can wrap them in aluminum foil for additional protection from freezer-burn.
Let them fully defrost in the fridge before cooking or reheating.
Serving Suggestions
Like any good burger recipe, you can serve up turkey burgers with the classic sides, like French fries, potato chips, potato salad, or Air fried tater tots. For some healthier side dishes, try avocado fries, garlic mashed cauliflower, Caprese farro salad, or cheesy baked tomatoes.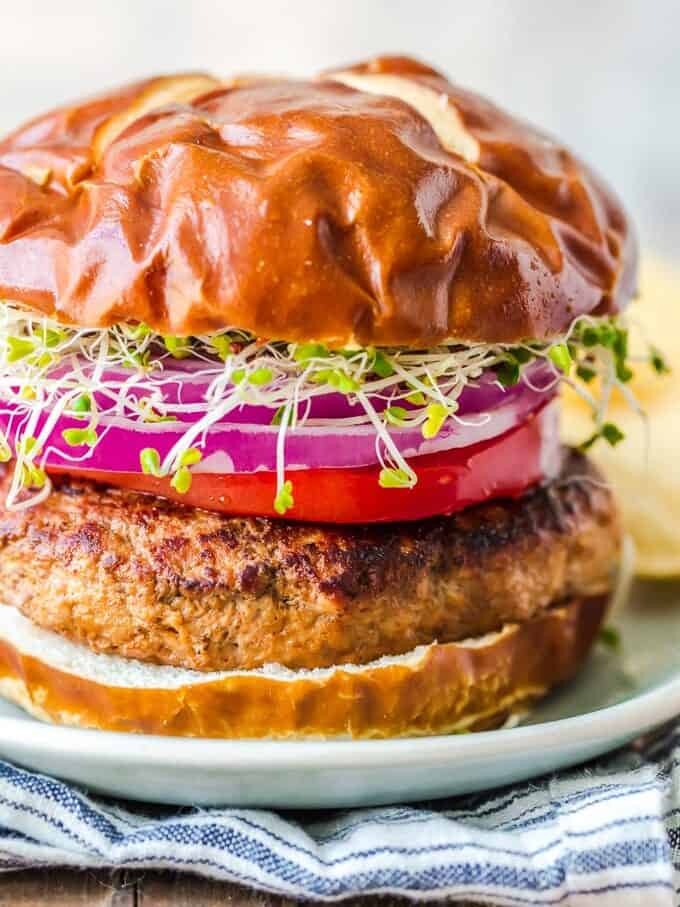 More Burger Recipes We Love