This is the BEST Turkey Burger Recipe. Turkey Burgers are a delicious and healthy burger option to replace ground beef. They're super juicy and flavorful, and they're easy to cook up on the stove. Try this turkey burger recipe instead of the usual beef burgers. You'll be surprised by how tasty they are!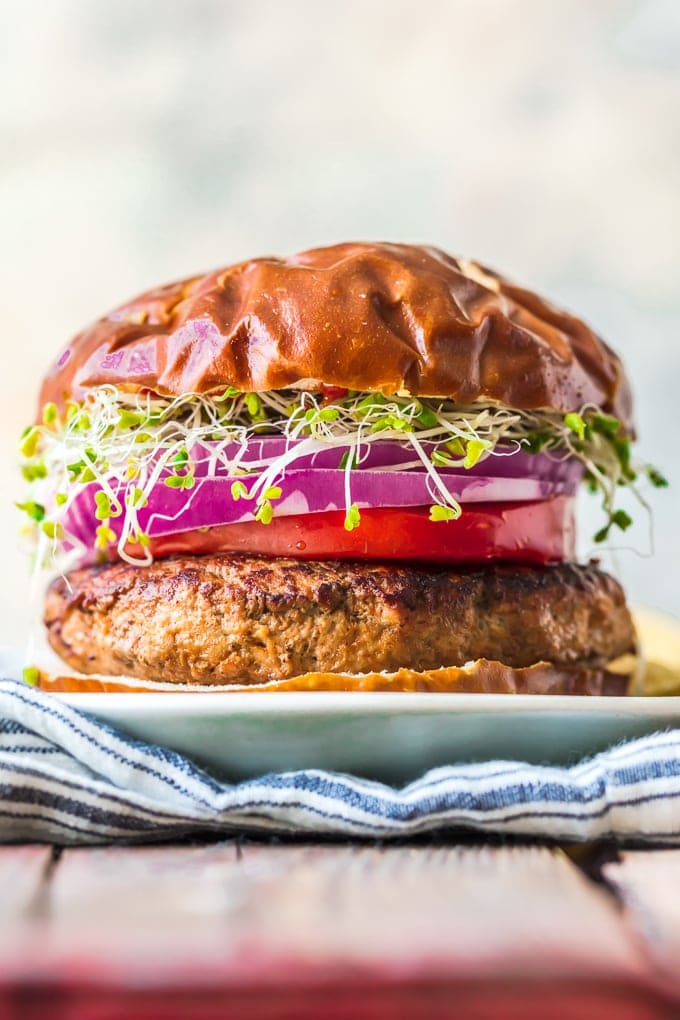 Best Turkey Burger Recipe
Turkey Burgers are a delicious and healthy burger option, and this right here is the BEST turkey burger recipe!
I think I may have come up with the BEST Turkey Burger recipe. Turkey Burgers are a healthy alternative to ground beef burgers. As much as I love hamburgers, it's so nice to switch things up now and then.
Turkey burgers are just as juicy and flavorful as regular burgers, but they're generally much leaner than ground beef.
This Turkey Burger Recipe is easy to make for dinner, summer BBQs, or a nice weekend lunch. Everyone will love these juicy burgers! Just top them up with the usual burger toppings (lettuce, tomatoes, onions, pickles) and you might not even realize they're turkey.
This is by far the BEST Turkey Burger Recipe I've ever tasted! Try these healthy Turkey Burgers instead of using beef.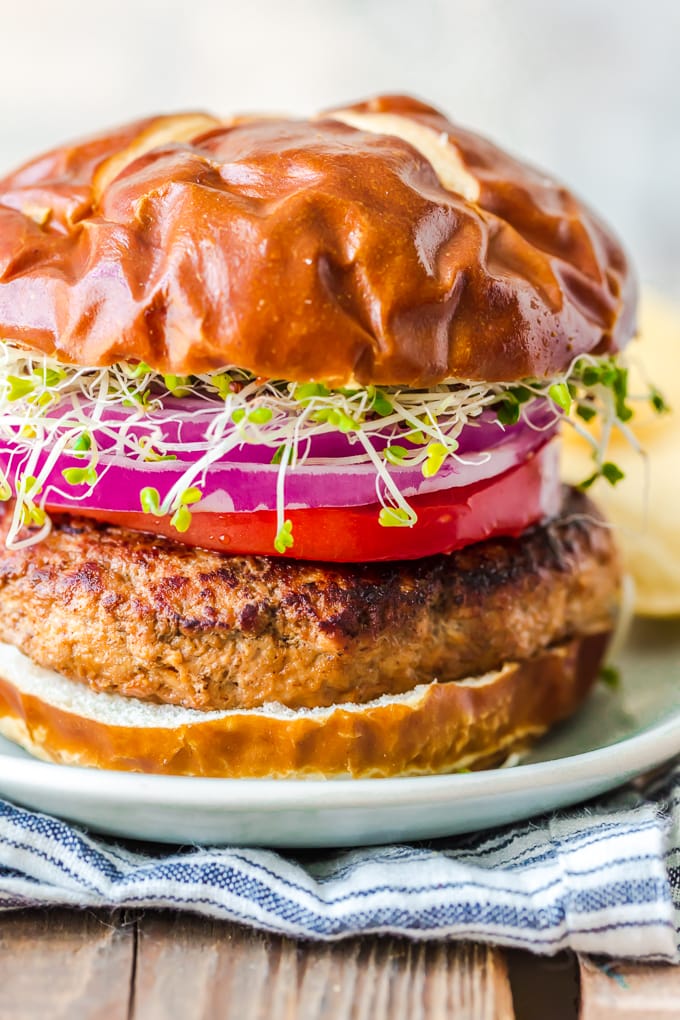 Turkey Burgers
I used to be a bit hesitant to try turkey burgers. I think most of us are used to "real" hamburgers, and it's only recently that these healthier burger options started coming around.
A lot of people think turkey burgers are going to taste weird or different…but I can tell you now that turkey burgers are absolutely delicious!
I wanted to season the best turkey burger recipe and cook it the same way I'd cook a regular beef burger.
Surprisingly, the ground turkey burger tastes very similar to beef, especially when you add on all the toppings and condiments. I love swapping out ground beef for ground turkey for a tasty and healthy burger!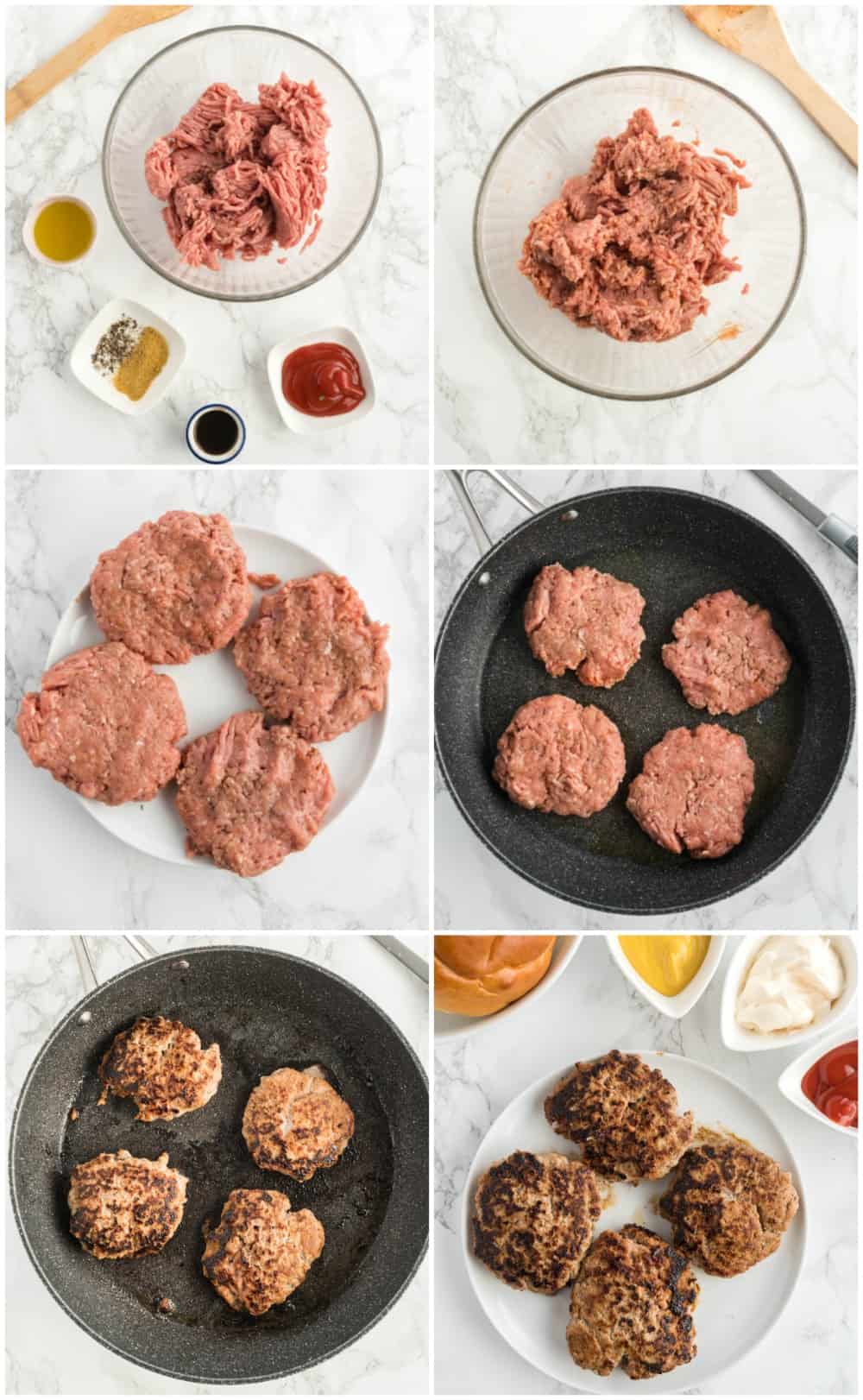 How to Make Turkey Burgers
I wouldn't call this the Best Turkey Burger Recipe if it wasn't easy, because easy recipes are very important to me in the kitchen. I cooked these turkey burgers up on the stove, but you could also bake them in the oven.
Or if you're grilling out this summer, you can even turn this into a grilled turkey burger. But I LOVE how they taste cooked in a skillet. It gives them that juicy fried flavor.
How to Make Turkey Burgers
Combine the ground turkey with the rest of the turkey patty ingredients and mix together
Divide into 4 equal parts & mold into patties (1/4-1/2 inch thick)
Heat nonstick skillet on the stove over medium heat, add canola oil
When oil is hot, place patties onto the skillet
Cook each turkey patty about 4-5 minutes on each side
Once cooked, place on buns and add toppings & condiments
These turkey burgers are so tasty! Serve them with fries or vegetables.
What is the internal temperature for Turkey Burgers?
When you cook turkey of any kind, it should be cooked to an internal temperature of 165F. Just like chicken, you want to make sure that turkey is fully cooked before consuming.
I recommend getting a digital meat thermometer. I've linked one of my favorites in the section below!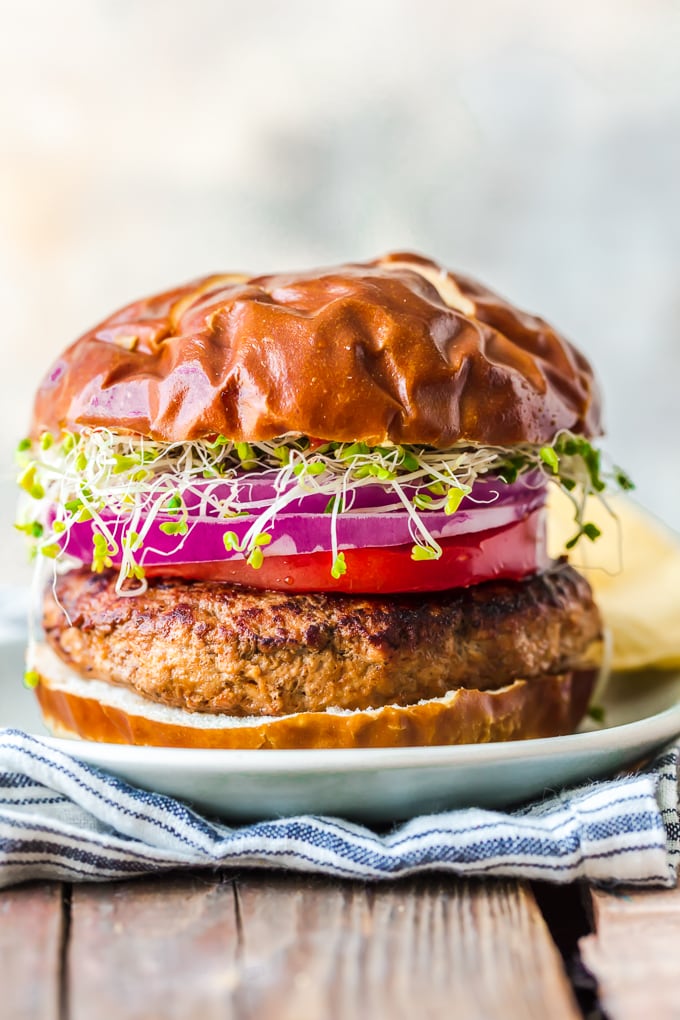 How healthy are turkey burgers?
In general, ground turkey is healthier than ground beef. The main reason for this is that turkey is much leaner than beef (although it will depend on which type of turkey or beef you buy).
That means less fat and less calories. So that makes turkey burgers a healthy alternative to beef burgers. Turkey is still a great source of protein, and it has other nutrients you won't get in beef too.
What seasoning to put in turkey burgers?
Since this is the best turkey burger recipe, we're keeping it very simple and straightforward.
Instead of adding in tons of random ingredients, we're seasoning these turkey burgers with the basics. I used salt, black pepper, and Worcestershire Sauce.
What side dish goes well with turkey burgers?
You can make all the same tasty side dishes for turkey burgers that you'd make for any other type of burger. Cook up all the fries, potato salads, and…well, anything potato goes well with burgers.
You can also make up a simple salad or cook some vegetables if you want to keep that healthy streak going.
Try out some of these recipes with your turkey burgers: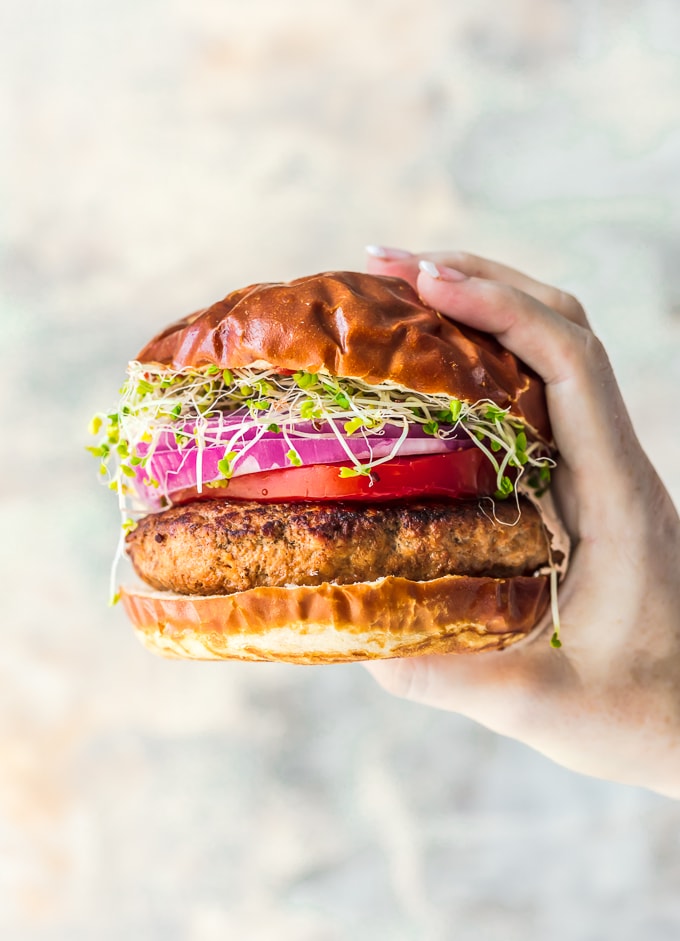 You're going to love these juicy, flavorful, healthy Turkey Burgers. They are perfect for any weeknight dinner or weekend get together. Try the Best Turkey Burger Recipe this weekend!
If you make this recipe be sure to upload a photo in the comment section below or leave a rating. Enjoy! You can also jump to recipe.