Twice Baked Sweet Potatoes are the perfect Thanksgiving sweet potato recipe! They're just like a regular twice baked potato, but they're topped with a pecan, cinnamon, oatmeal, and brown sugar mix to complement the natural sweetness. You'll definitely want this tasty sweet potato side dish on your holiday table!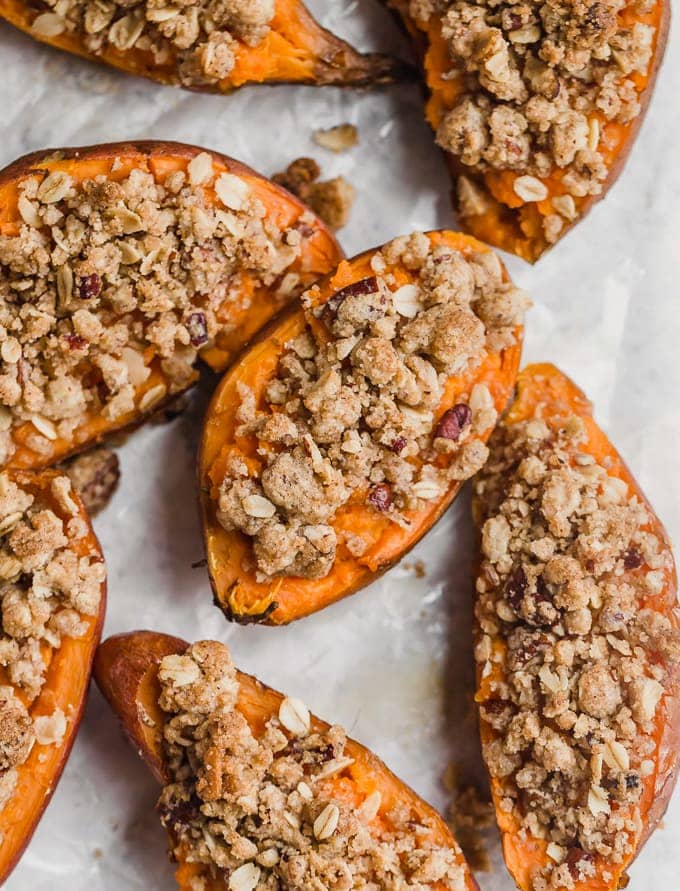 Twice Baked Sweet Potatoes
Twice Baked Sweet Potatoes are one of my favorite Thanksgiving sweet potato recipes! They're so full of flavor, sweet, but not over the top. They are perfect for the holiday table!
These Twice Baked Sweet Potatoes are kind of a dream. Every Thanksgiving meal needs an awesome sweet potato side dish, and this is the perfect one. You can do the traditional Sweet Potato Casserole, Candied Sweet Potatoes, or these Sweet Potato Souffle Cups, but I think these baked sweet potatoes are so fun and so beautiful too.
This Thanksgiving sweet potato recipe is a lot easier than it looks too. Just bake the potatoes, mash up the insides with butter, top them off with the most delicious pecan, cinnamon, oatmeal, mixture, and then bake them a second time. They come out so flavorful and amazing. There is just enough sweetness but they still make a great side dish to the more savory recipes.
Make sure these Twice Baked Sweet Potatoes are on your holiday recipes to make list! You won't be disappointed and neither will your guests. Besides, the more side dishes, the merrier!
These Twice Baked Sweet Potatoes are topped with a tasty pecan, cinnamon, oatmeal, brown sugar mixture. It's the perfect Thanksgiving sweet potato recipe!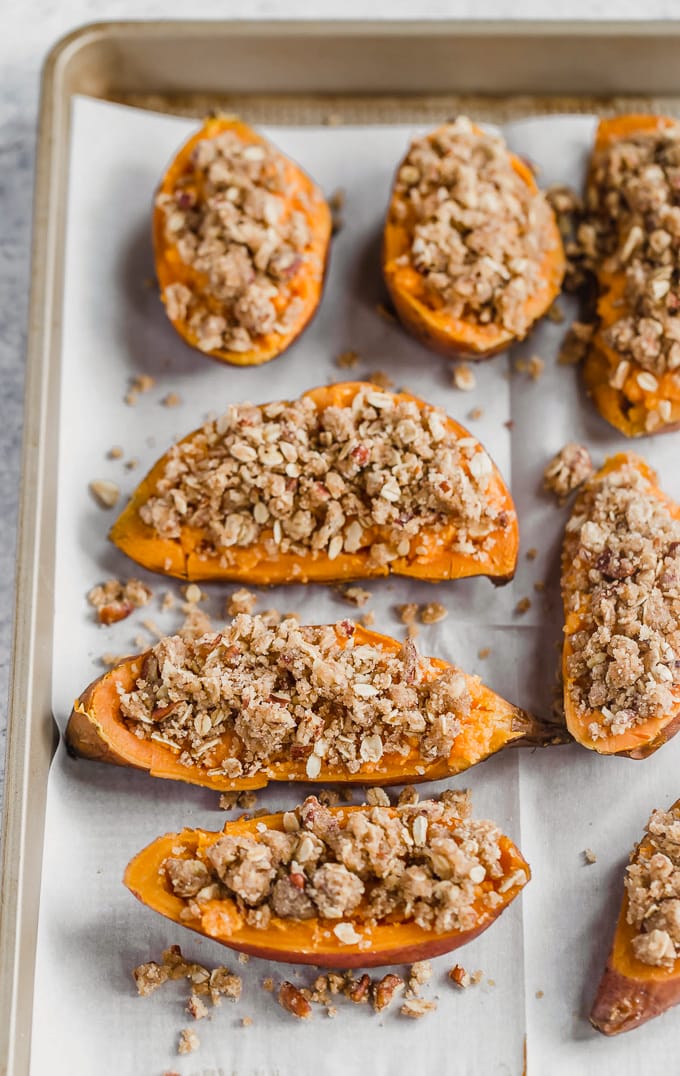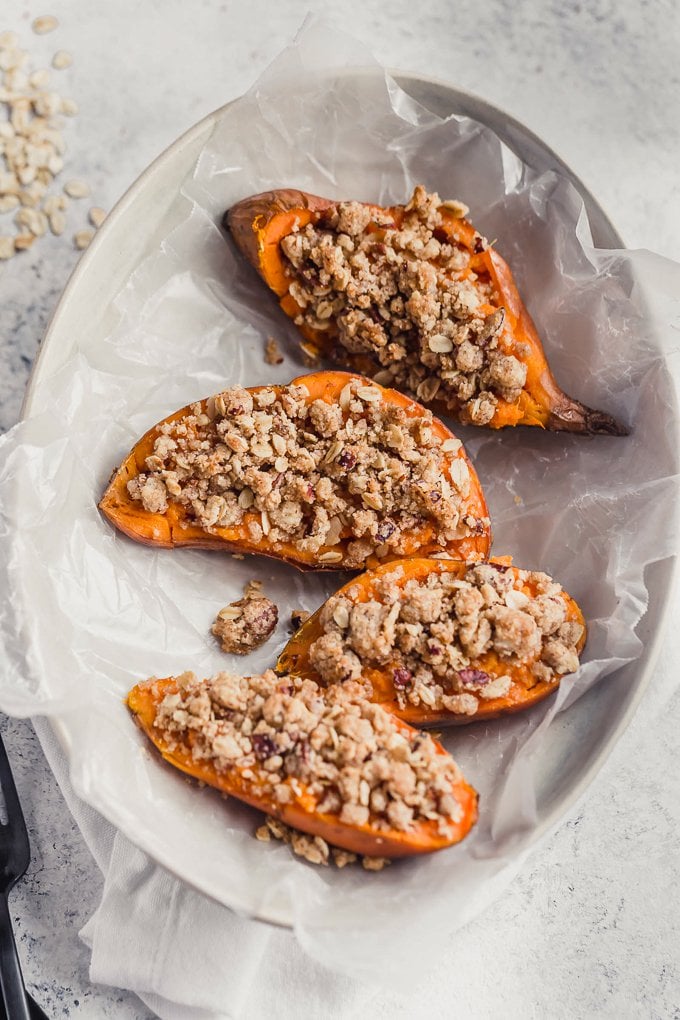 How to Bake a Sweet Potato
Before we bake the sweet potatoes twice, we have to bake the sweet potatoes once…This recipe is specifically for Twice Baked Sweet Potatoes, and you'll find all those instructions below. But we have to start by baking our sweet potatoes before we move on to the mashing and mixing and twice baking, etc. It's really just a part of the prepping step for this recipe, but it's really simple.
How to Bake a Sweet Potato:
Scrub the sweet potatoes and dry them with a paper towel, then use a fork to poke holes all over the potatoes.
Place them on a foil or parchment lined baking sheet, and then bake them in the oven at 375°F for about 30 minutes.
Flip the potatoes and let them bake another 30 minutes.
See how easy that was? Now they're nice and soft, and ready to use. You can start putting together the pecan mixture while the potatoes are still baking. Once they're done, you just have a couple more steps to turn them into the perfect twice baked sweet potatoes!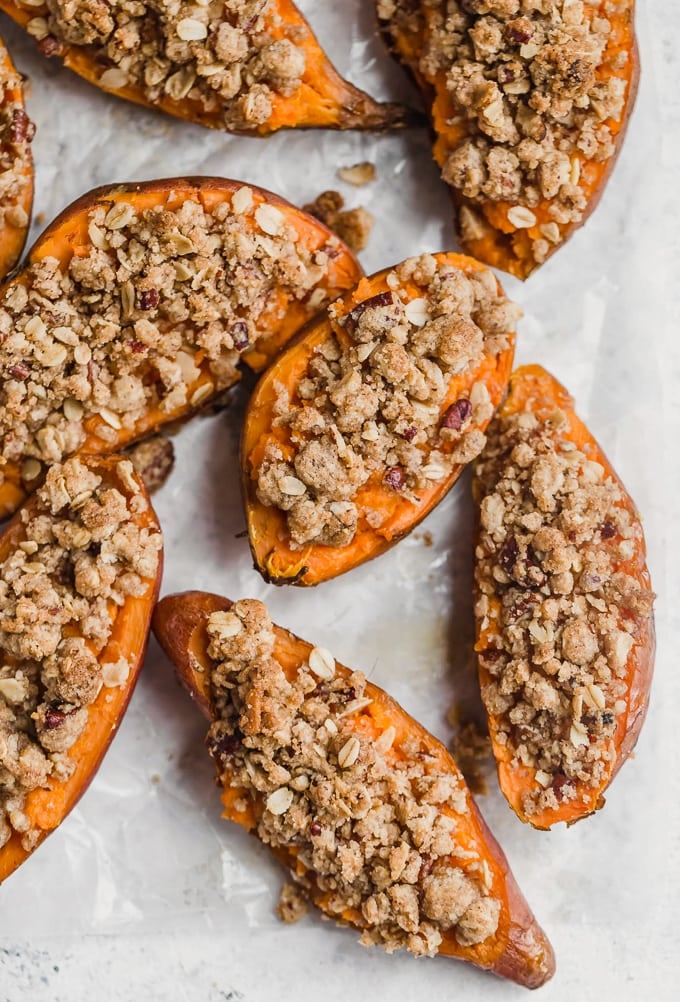 How to Make Twice Baked Sweet Potatoes
This twice baked sweet potatoes recipe is so simple. Once you've got the first round of baking out of the way, the rest is so easy. Just mash, mix, fill, and bake!
Bake the sweet potatoes (as outlined above).
While the sweet potatoes are baking, mix pecans, sugar, flour, cinnamon, oatmeal, & salt, then stir in melted butter. Refrigerate the mixture until ready to use.
When potatoes are done baking, cut them in half lengthwise and scoop out some of the flesh.
Mix and mash the sweet potato with the rest of the butter, plus orange zest & salt.
Fill the sweet potato halves with the sweet potato mixture, then top each one with the pecan mixture.
Place the sweet potatoes back in the oven and bake another 15-20 minutes.
Can you make twice baked sweet potatoes ahead of time?
There are so many dishes to make on Thanksgiving, so I love recipes that you can prep in advance. We were able to prep these twice baked sweet potatoes in the morning, and then bake them right before serving. If you want to do the same, just bake the sweet potatoes, prepare the pecan mixture, mix together the sweet potato filling, and assemble them. Then you can just bake about 20 minutes before meal time.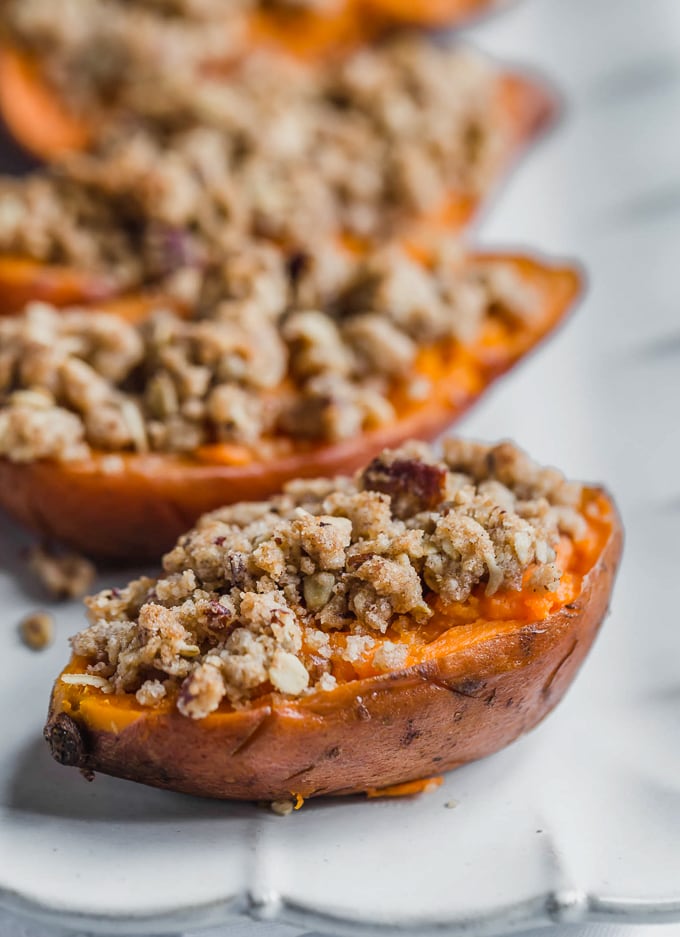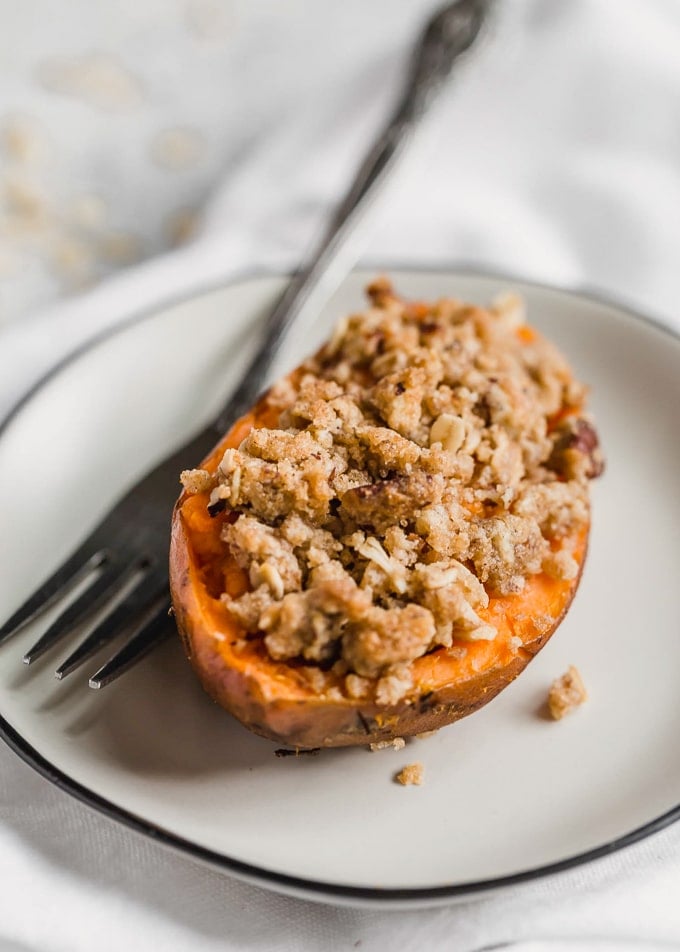 Thanksgiving Sweet Potato Recipes
I really really like sweet potatoes. Last Thanksgiving, I made this sweet potato casserole to take to Pat's family's house. Of course that dish is really good too, but I have to say this is my new favorite Thanksgiving sweet potato recipe! I'm a meat and potatoes kind of girl, so this recipe made me feel right at home. These are just so tasty. They're sweet, but not TOO sweet.
Sometimes I think the sweet potato casseroles with the marshmallow and all that jazz are a tad over the top for the taste buds when eating a super savory meal, but these are just right!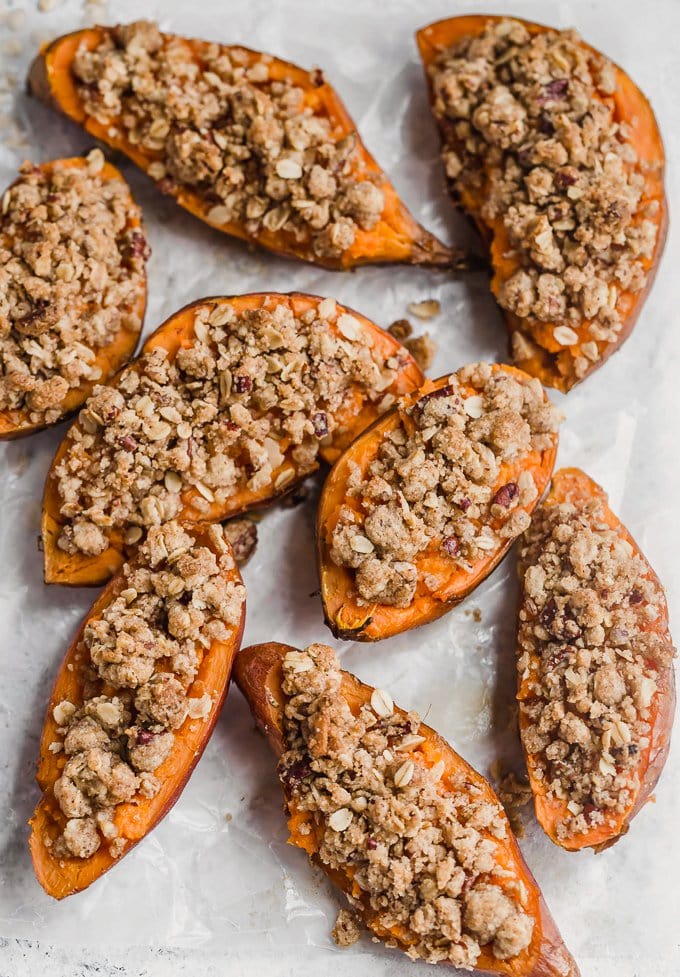 Don't miss out on these amazing Twice Baked Sweet Potatoes! Try them out this year and you'll want to make them a new holiday tradition. Happy Thanksgiving!
See the recipe card below for details on how to make Twice Baked Sweet Potatoes. Enjoy!
Add these other delicious Thanksgiving side dish recipes to your holiday table: