CLASSIC TURKEY STUFFING is a must make for Thanksgiving and Christmas! You cannot go wrong with this classic dressing during the holidays. So much flavor, crunch, and goodness.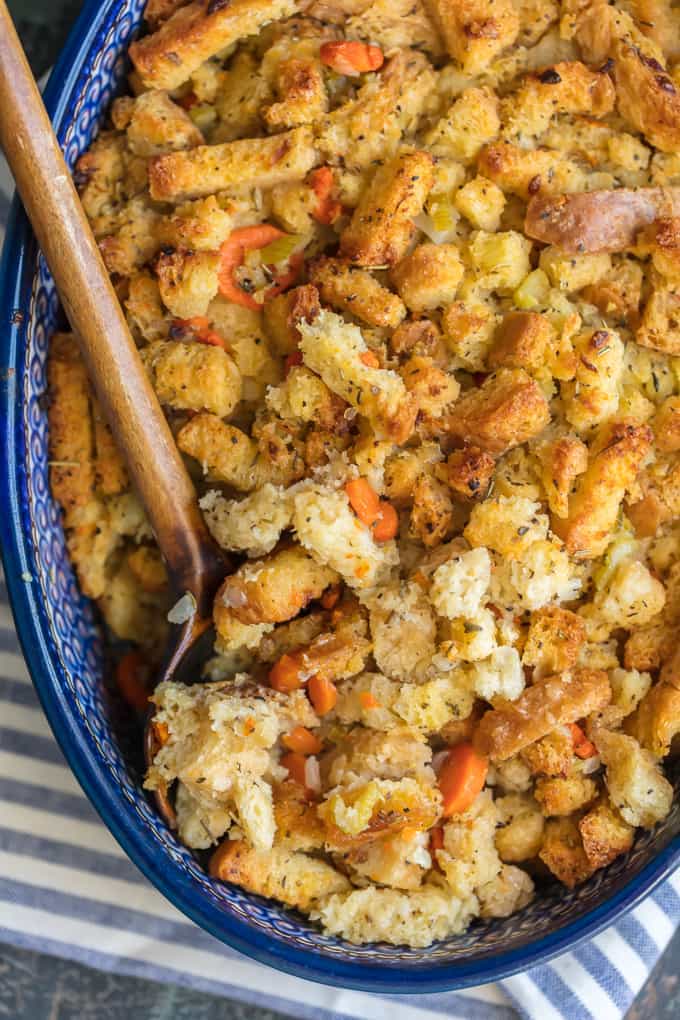 Is it called stuffing or dressing? I never know and I always second guess myself when speaking or writing about Thanksgiving! Mom says it's stuffing when cooked inside a turkey and dressing when cooked separately in the oven, and that makes a lot of sense to me. BUT, I prefer it called stuffing either way (I don't know why) so I'm calling this delicious Thanksgiving side dish Classic Thanksgiving Stuffing.
Yes, it's technically dressing. You can call it whatever you like but I'm pretty confident you'll be calling it delicious and perfect by the end of the holiday season.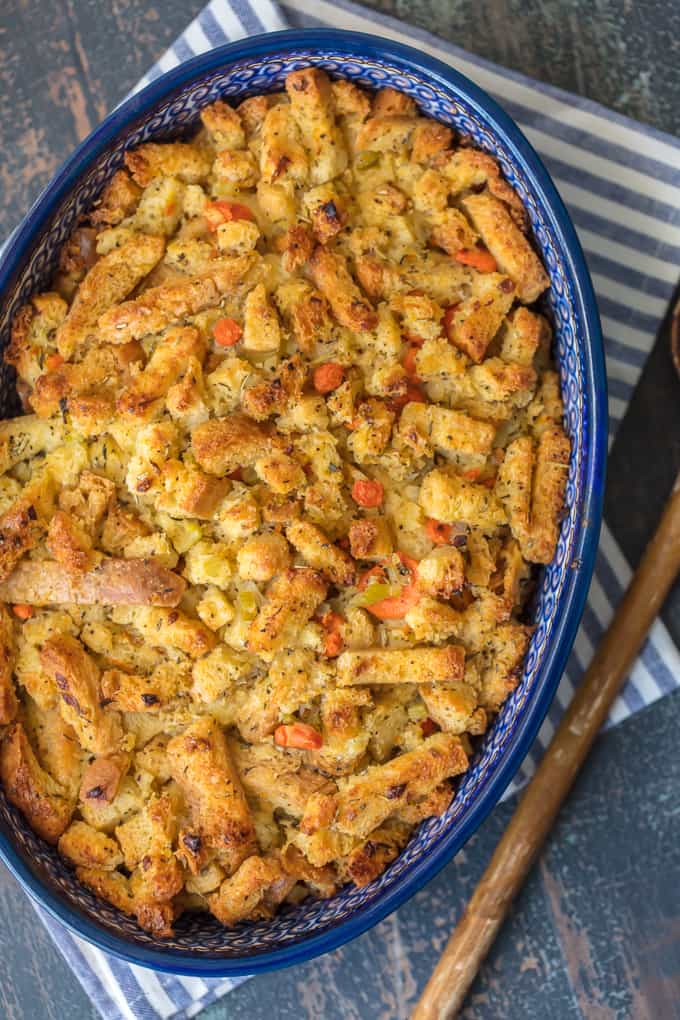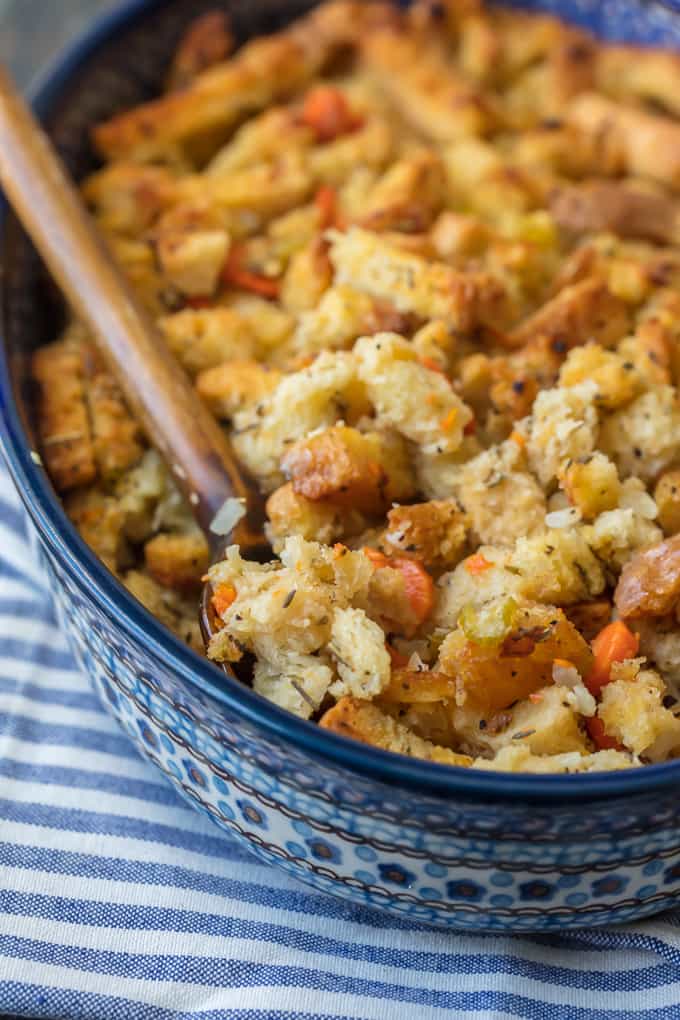 Stuffing is nice when cooked inside a turkey, but that's all too complicated for my liking. Plus I've found that it can get a little sticky and mushy when all cooked together. Cooking the stuffing (dressing?) separately in the oven gets the crispy baked ends on the bread, adds that extra crunch, and keeps things from getting soggy.
Such a delicious, carby, CLASSIC holiday side dish. Every Thanksgiving table needs this Classic Turkey Stuffing.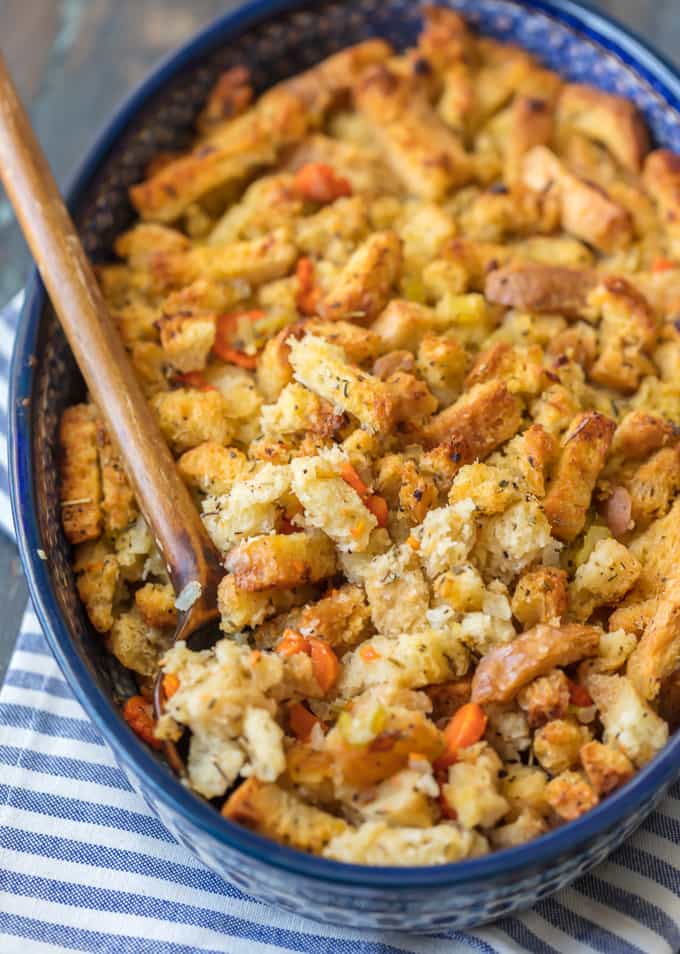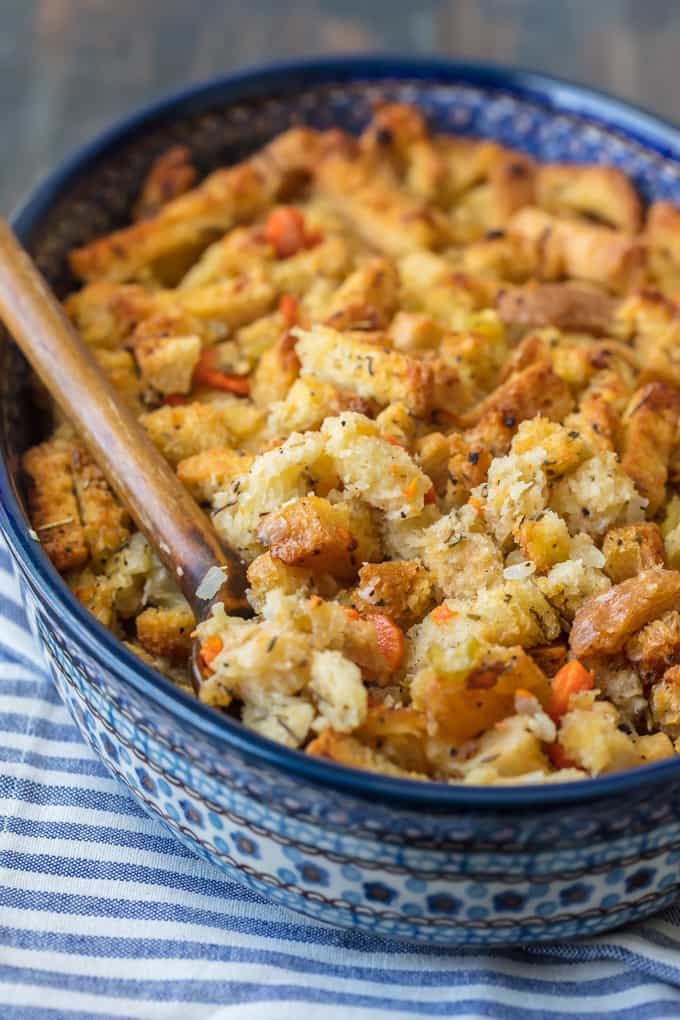 New twists on old recipes are always a fun twist for Thanksgiving and Christmas, but sometimes the traditional recipes are best. Makes you think of home, feel the comfort of years gone by, and compliments the other dishes perfectly. There's a reason recipes like this have been made for years and years. Don't mess with a classic!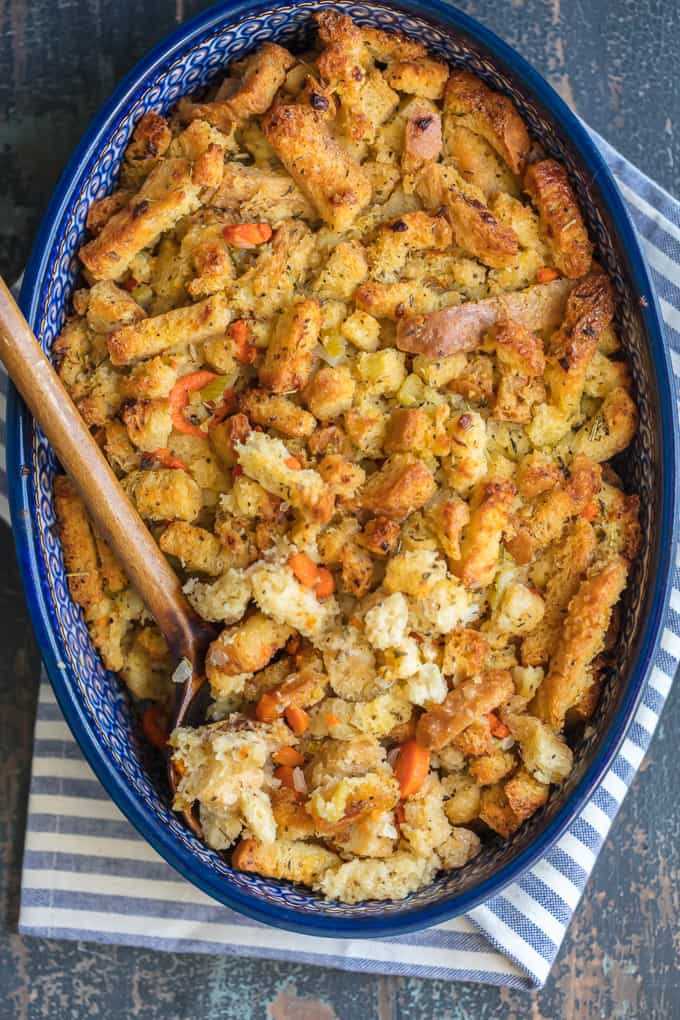 Be sure to check out our other favorite holiday recipes including Brown Sugar Pumpkin Pie, Instant Pot Turkey Breast, and Make Ahead Gravy! Be on the lookout for LOTS more recipes in the coming weeks including Make Ahead Mashed Potatoes, Spiked Cranberry Sauce, and Oatmeal Molasses Rolls!
Happy Thanksgiving <3
Classic Turkey Stuffing
CLASSIC TURKEY STUFFING is a must make for Thanksgiving and Christmas! You cannot go wrong with this classic dressing during the holidays. So much flavor, crunch, and goodness.
Slightly adapted from Tastes of Lizzy T – Grandma's Thanksgiving Turkey Stuffing
15 minPrep Time
40 minCook Time
55 minTotal Time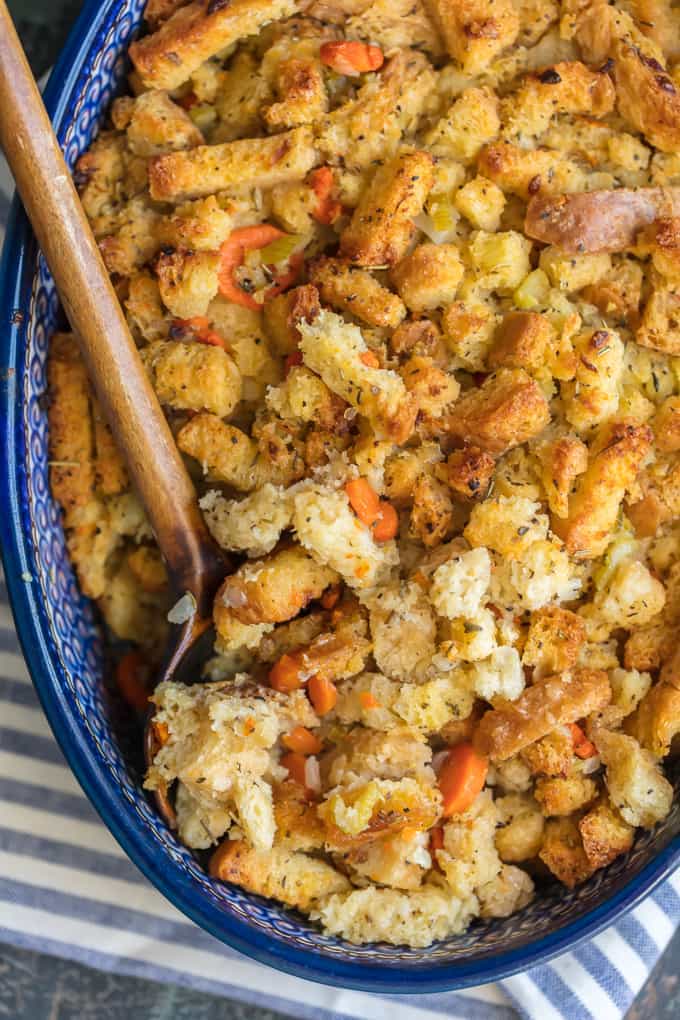 5 based on 2 review(s)
Ingredients
13 cups dry bread cubes *See note
2 tablespoons oil
2 tablespoons unsalted butter
3 carrots, peeled & thin sliced
1 cup chopped celery
1 large yellow onion, diced
1½ cup unsalted butter, melted
1½ teaspoon kosher salt
(NOTE: 2 tablespoons dried poultry seasoning can be substituted for all of the following herbs and seasonings.)
2 teaspoons minced fresh sage
1½ teaspoons minced fresh thyme
½ teaspoon minced fresh marjoram
1 teaspoon minced fresh rosemary
½ teaspoon minced fresh nutmeg
½ teaspoon freshly ground black pepper
1½ cups chicken stock
2 large eggs, lightly beaten
Instructions
Preheat oven to 350°F and spray a 2 quart casserole dish with nonstick spray.
Heat a large skillet over MED-HIGH heat for 1 minute. Add the oil and 2 tablespoons butter, and heat until oil is hot and butter has melted but not burned. Sauté diced carrots and celery 3-5 minutes or until vegetables are just fork-tender. Add diced onion, stir and cook until the onion is translucent.
Place the dried breadcrumbs in a very large mixing bowl and add the cooked vegetables, melted butter, seasonings, and chicken stock. Mix well. Add the eggs and mix well again.
Pour the dressing/stuffing into the prepared dish and bake at 350°F for 30-35 minutes or until edges and are begin to turn golden. **See Note for alternate cooking method.
Enjoy!
*Note: Make the bread cubes 1-2 days prior to making the stuffing. Cut or tear 1-2 large Italian bread loaves into 1" cubes. Allow the cubes to dry out on a baking sheet for 24-48 hours. Toss the cubes a couple of times so they dry out evenly. The stuffing tastes best if the cubes are dry but not too crispy.
**Note: This stuffing can be cooked in a 2-quart casserole dish in the oven or stuffed inside the turkey and cooked. If cooked in the oven, the stuffing (dressing) will be a little drier with crispy edges. If cooked inside the turkey, the stuffing texture will be like soft bread pudding (the turkey stuffing from my youth). If you are cooking a whole turkey breast in an Instant Pot Pressure Cooker, there is enough stuffing to cook it both ways. Just fill the turkey breast cavity with the stuffing and place all the leftover stuffing in a casserole dish to cook. This way, whether your guests are stuffing lovers or dressing lovers; everyone will be happy.
7.6.7
2471
https://www.thecookierookie.com/classic-turkey-stuffing/