This Turkey Stuffing Recipe is a must make for Thanksgiving and Christmas! Your holiday table wouldn't be complete without Homemade Turkey Stuffing and I'm here to show you how to make homemade stuffing! You cannot go wrong with this classic stuffing during the holidays. This Classic Stuffing Recipe has so much flavor, crunch, and goodness.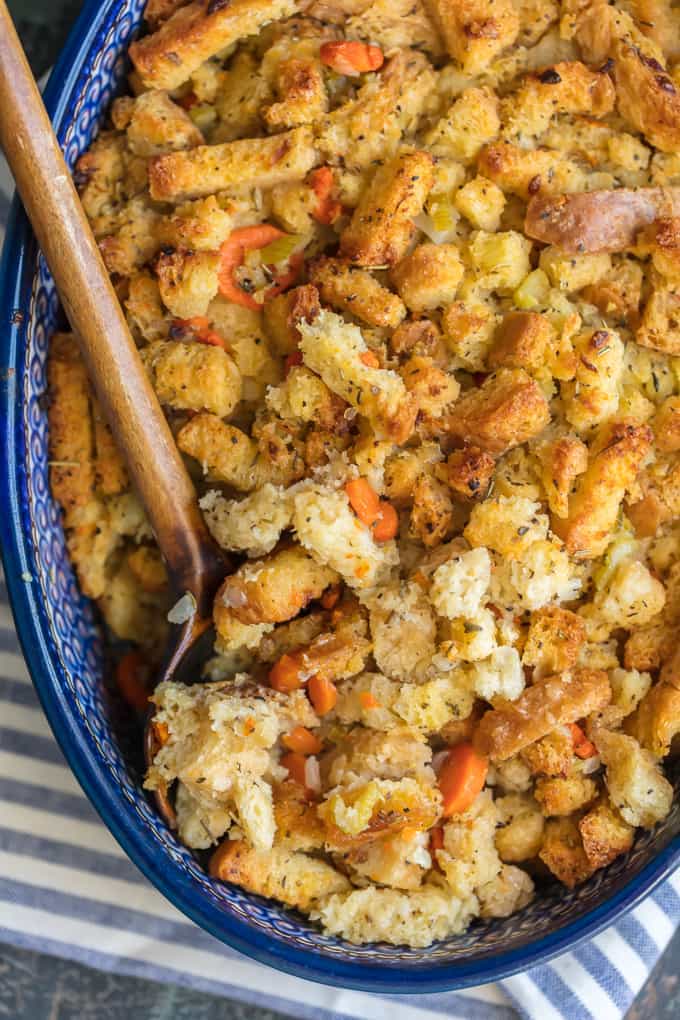 Homemade Turkey Stuffing Recipe
This Turkey Stuffing Recipe should be on every Thanksgiving Table! Learn how to make homemade stuffing with this easy recipe.
I LOVE this Turkey Stuffing Recipe. Is it called stuffing or dressing? I never know and I always second guess myself when speaking or writing about Thanksgiving!
Mom says it's stuffing when cooked inside a turkey and dressing when cooked separately in the oven, and that makes a lot of sense to me. BUT, I prefer to call it stuffing either way (I don't know why) so I'm calling this delicious Thanksgiving side dish Classic Thanksgiving Stuffing.
Yes, it's technically turkey dressing. You can call it whatever you like but I'm pretty confident you'll be calling it delicious and perfect by the end of the holiday season. This Homemade Stuffing Recipe is a winner!
Learn how to make Homemade Stuffing with this easy Turkey Stuffing Recipe. It's the perfect Thanksgiving side dish!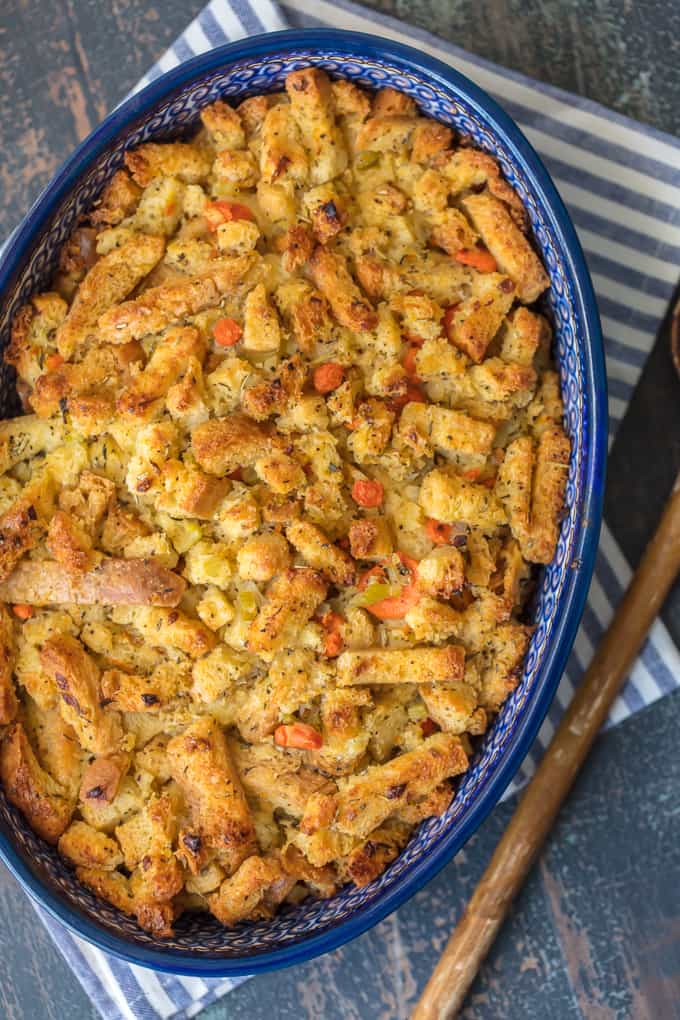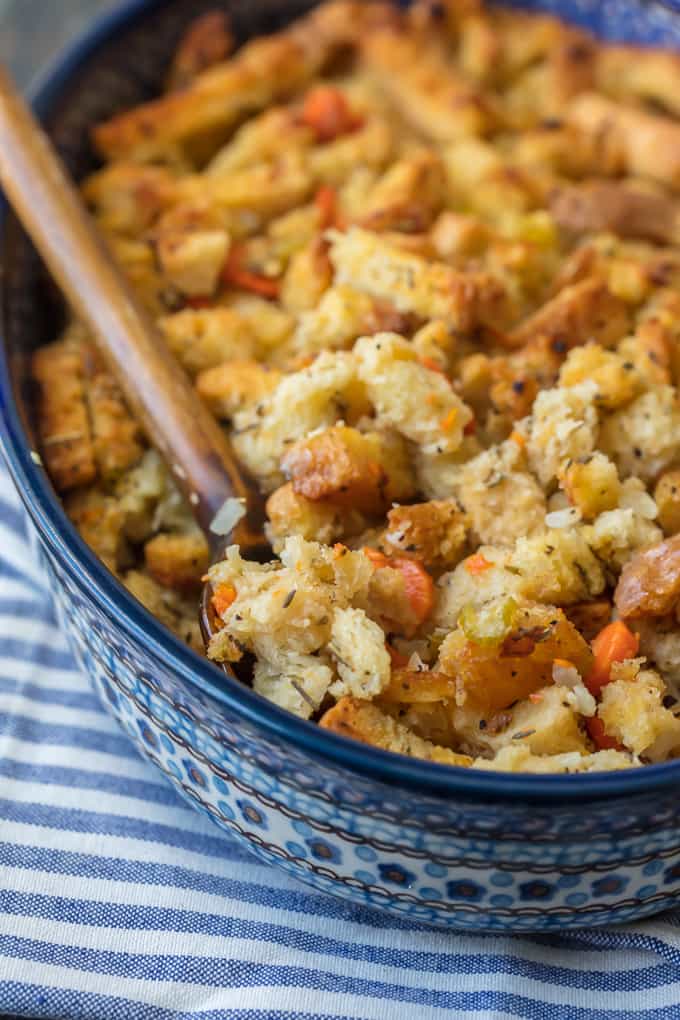 How to Make Turkey Stuffing
Want to know how to make homemade stuffing for Thanksgiving? This Turkey Stuffing Recipe will make it easy!
Homemade Stuffing is nice when cooked inside of a turkey, but that's all too complicated for my liking. Plus I've found that it can get a little sticky and mushy when it's all cooked together.
Cooking the stuffing (dressing?) separately in the oven gets the crispy baked ends on the bread, adds that extra crunch, and keeps things from getting soggy.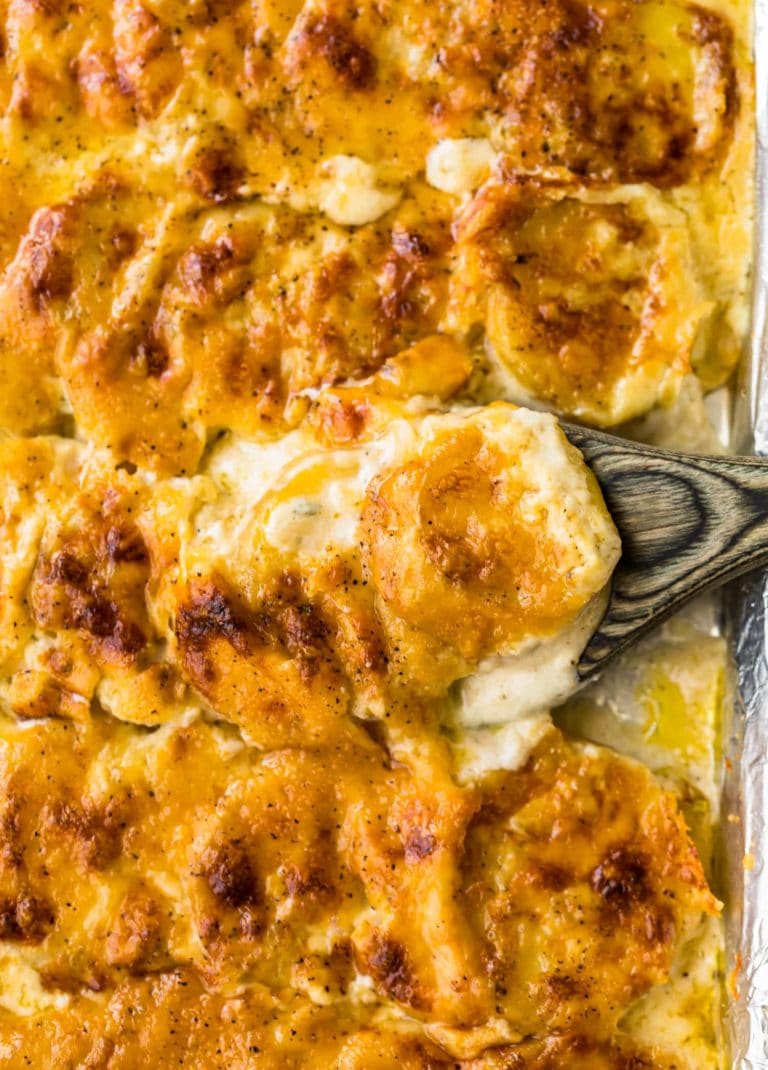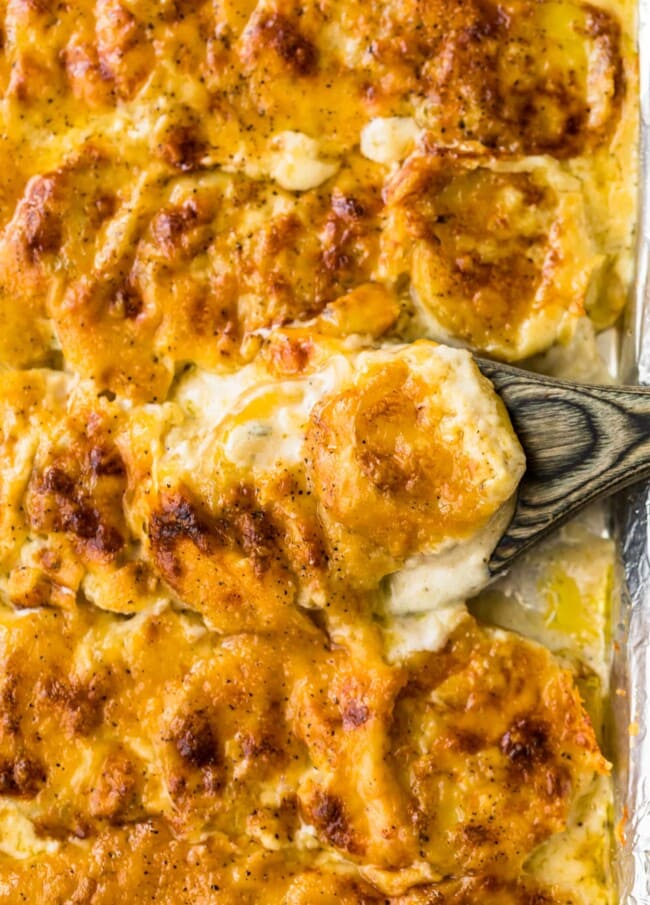 Try ALL the Sides
60+ Holiday Side Dishes
This Thanksgiving we hope you enjoy as many sides as possible with this Roast Turkey Breast!
See Sides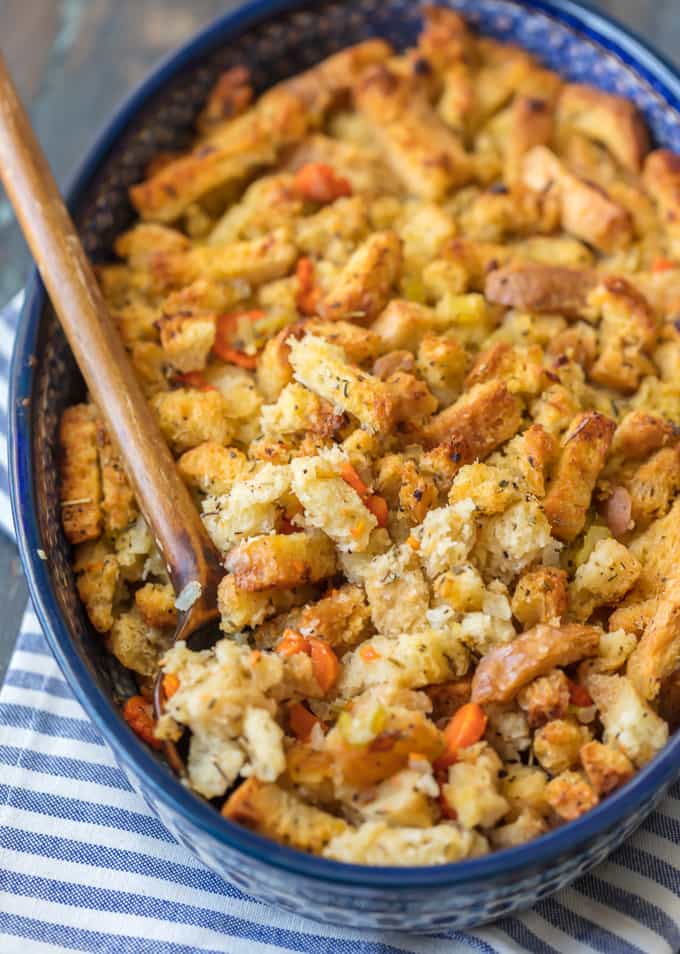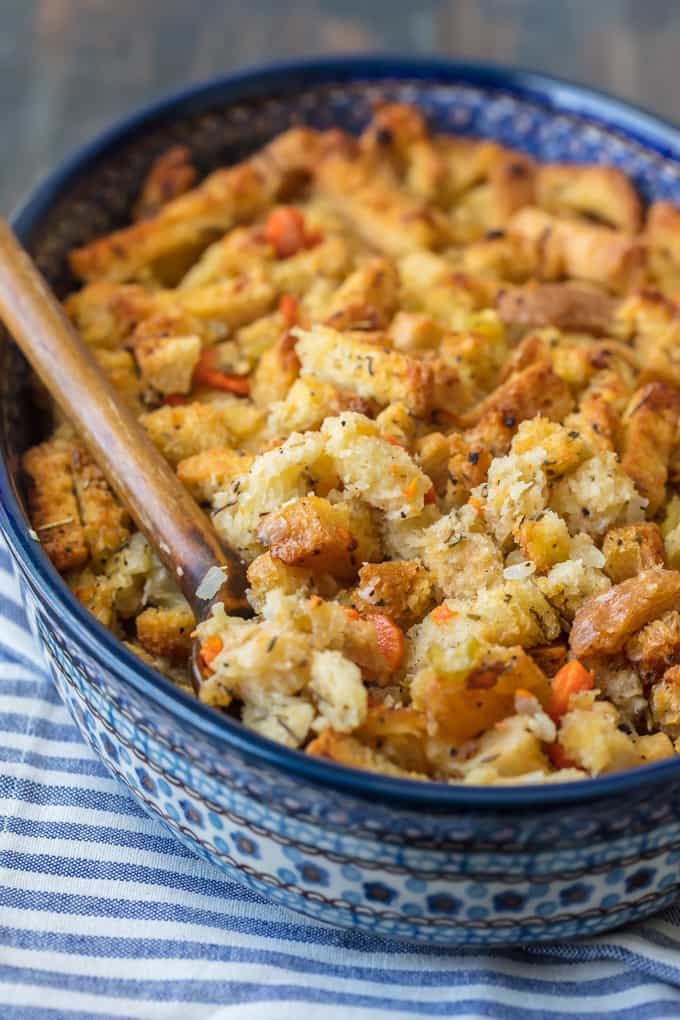 Classic Homemade Stuffing Recipe
This Turkey Stuffing Recipe is so easy and fool proof. It is full of delicious flavors and it's sure to please.
I love putting a new twist on old recipes for Thanksgiving and Christmas dishes, but sometimes the traditional recipes are best. This Classic Stuffing Recipe is proof of that.
This homemade stuffing will make you think of home and feel the comfort of years gone by, plus it perfectly compliments the other holiday side dishes.
There's a reason recipes like this Turkey Stuffing have been made for years and years. No need to mess with a classic!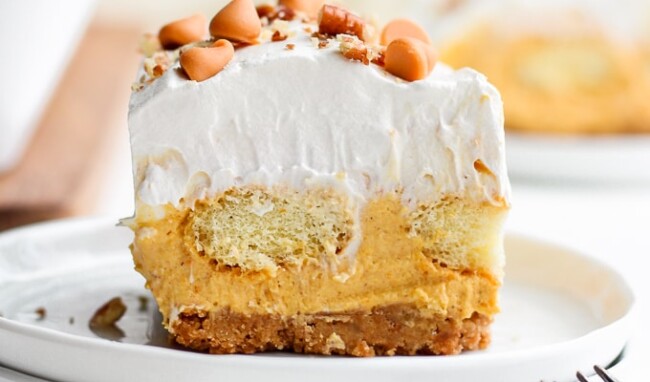 It's not Thanksgiving without Pie!
88+ Thanksgiving Dessert Ideas
Every Thanksgiving table needs an equally amazing dessert table.
See Desserts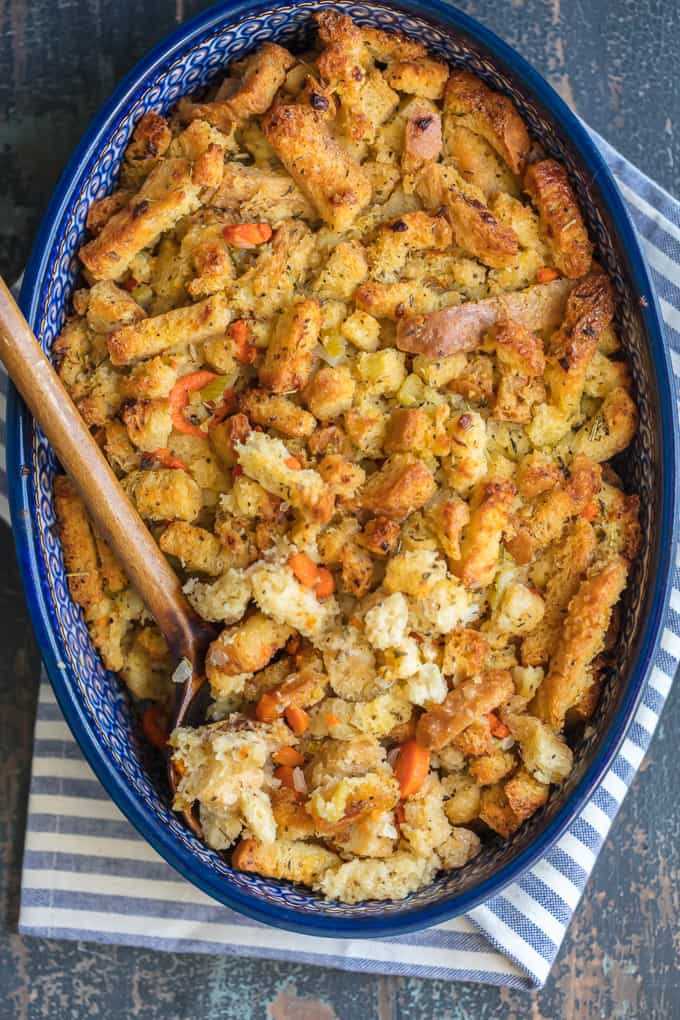 Make this Turkey Stuffing Recipe this year and wow your family with a tasty homemade stuffing recipe.
More Thanksgiving Favorites
This Turkey Stuffing is just one of the dishes that always makes it way to our Thanksgiving table. Try our other favorites as well!
See All
If you make this Homemade Turkey Stuffing Recipe please let us know by uploading a photo in the comments or leaving a rating. Happy Thanksgiving!