Green Bean Casserole is one of those Thanksgiving recipes that you don't need to reinvent. It's absolutely perfect just the way it is, with green beans, cream of mushroom, crunchy fried onions, and some other awesome ingredients. It's exactly what you need for your next holiday meal!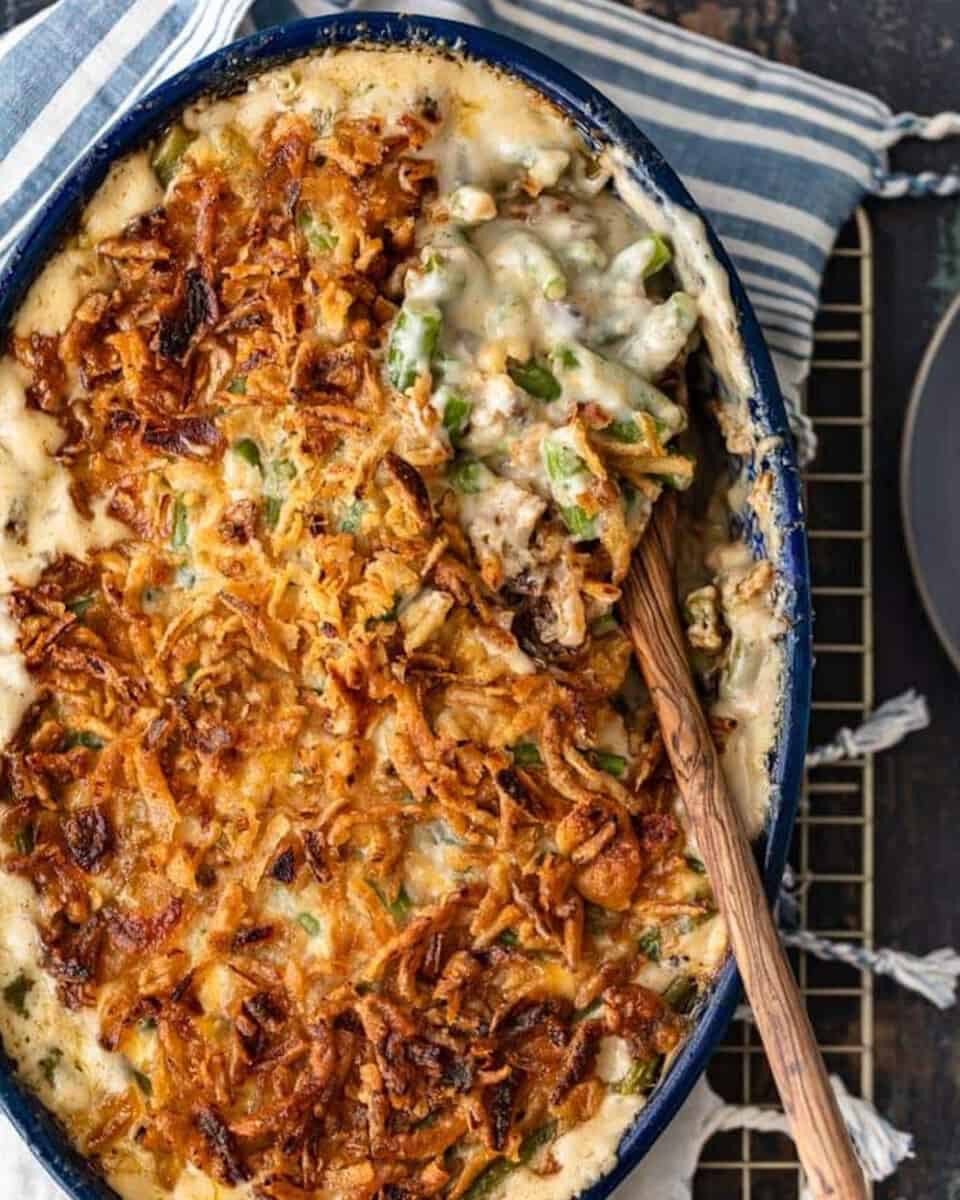 Why We Love This Green Bean Casserole Recipe
This delicious and classic side dish graces our holiday table every year. Here are a few reasons we love to make it:
Creamy. Cream of mushroom soup, milk, and freshly shredded cheddar cheese makes this casserole incredibly rich and creamy.
Crunchy. Crispy fried onions add a wonderful contrast to the creamy beans.
Fresh. We're using fresh green beans in this recipe, and they make all the difference.
Variations on Green Bean Casserole with Fresh Green Beans
I love this classic vegetarian casserole. If you're not strictly vegetarian, though, you can swap one or both cans of cream of mushroom for cream of chicken soup instead. Or try cream of celery! And if you like your food a little spicy, try using crispy fried jalapeños instead of onions!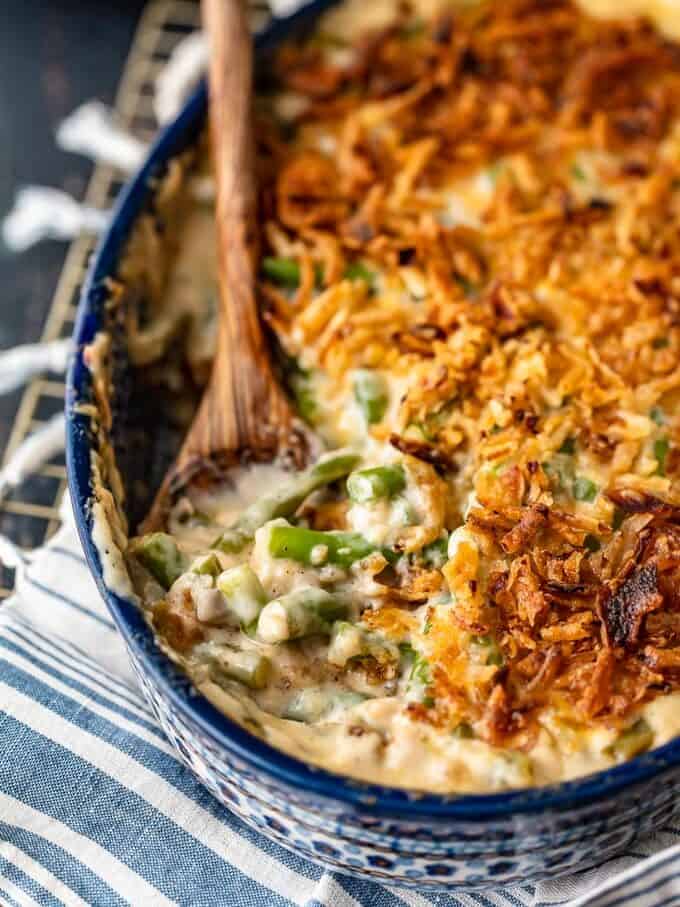 How to Store and Reheat
Store leftover casserole tightly wrapped in plastic wrap in the refrigerator for up to 4 days. Reheat in a 350°F oven for 20-25 minutes, or until warmed through.
How to Freeze
Freeze this casserole tightly wrapped with 2 layers of plastic wrap and 1 layer of aluminum foil for up to 6 months. Reheat directly from frozen for 30-45 minutes, or until warmed through and crisp on top.
Serving Suggestions
Serve this casserole as part of your Thanksgiving feast with turkey, gravy, mashed potatoes, stuffing, sweet potatoes, and a good roll.
Can you make green bean casserole ahead of time?
Sure! Assemble the casserole, leaving the onions off the top, then cover with foil and refrigerate. When ready to bake, set the baking dish out at room temperature while the oven preheats.
How do you keep green bean casserole from getting mushy?
To keep this casserole from getting mushy, make sure not to overcook your green beans. You want to blanch them for just a few minutes. If you like them more crisp, feel free to undercook them a little bit before adding them to the casserole.
Why is my green bean casserole so watery?
If your casserole is runny, it's likely that your beans were not properly dried. Be sure to pat them well with towels to dry as much as possible after blanching.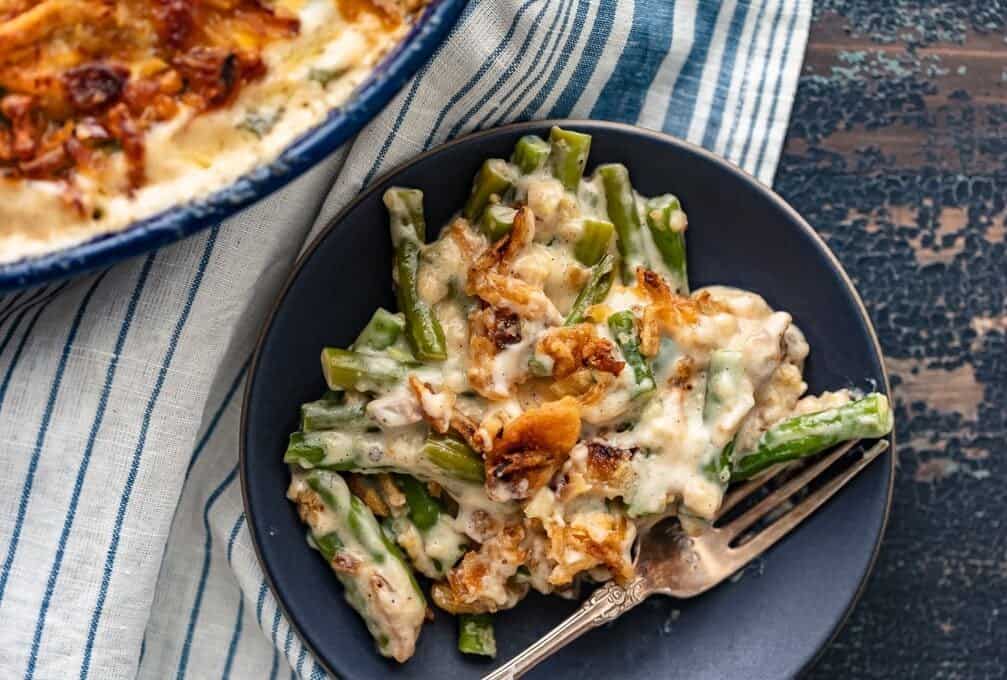 More Green Bean Casserole Recipes We Love
How to Make Green Bean Casserole Step by Step
Prep and Cook the Beans: Preheat your oven to 425°F and adjust the oven rack to the middle position. Spray a 9×13-inch casserole dish with nonstick spray and set aside. Trim 2 pounds of fresh green beans and cut them into 2-inch pieces. In a large Dutch oven, bring 4 quarts of water to boil. Add 2 tablespoons of table salt and the prepared beans, stir, and cook the beans until barely crisp or soft (depending on personal preference), 7-10 minutes.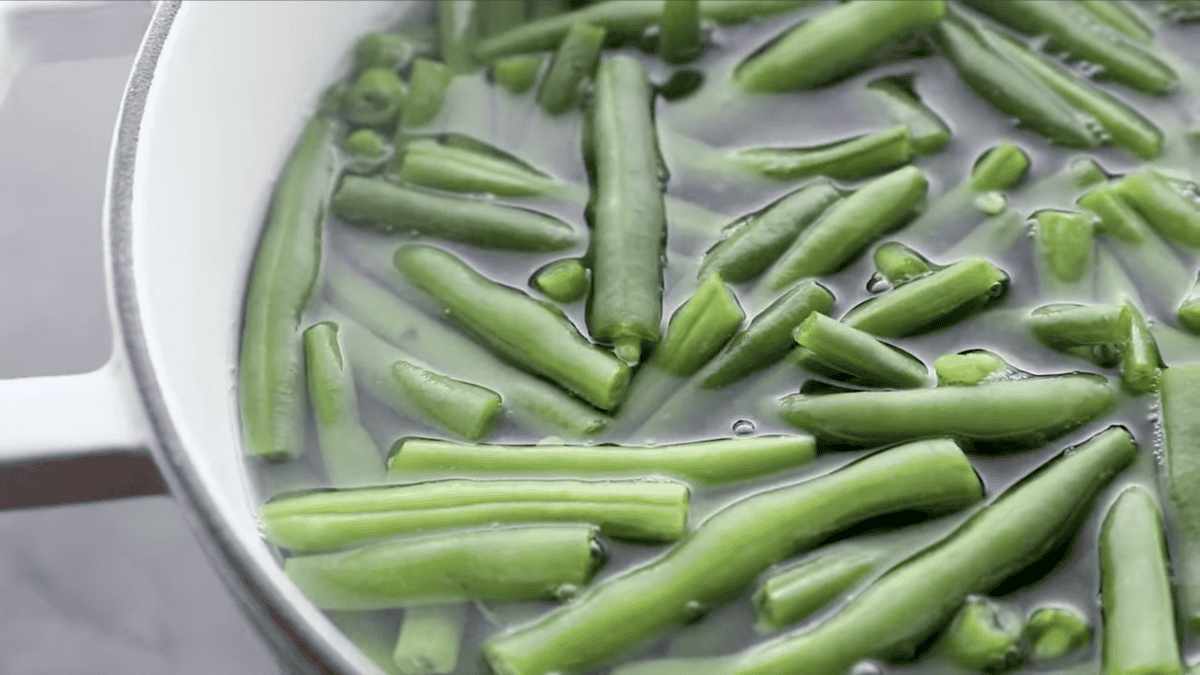 Chill the Beans: While the beans cook, fill a large bowl with ice water and set aside. When the beans have finished cooking, drain them in a colander and immediately plunge them into ice water to stop cooking.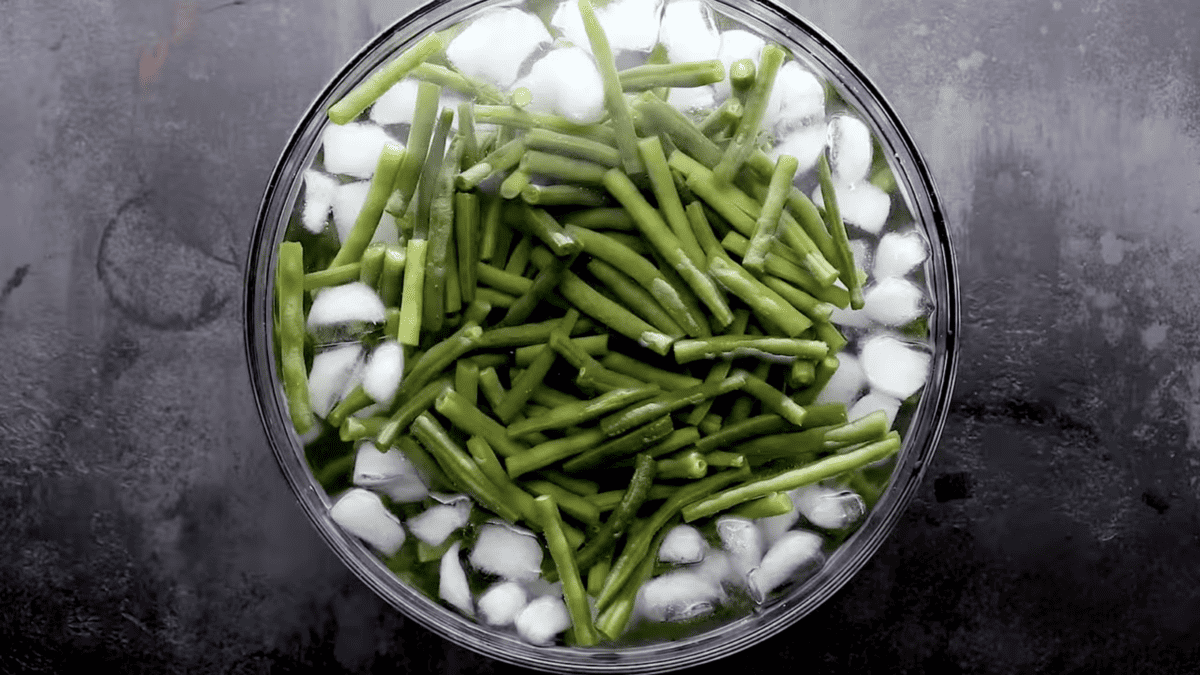 Dry The Beans: Once the beans have cooled, spread them over paper towels and pat them to dry.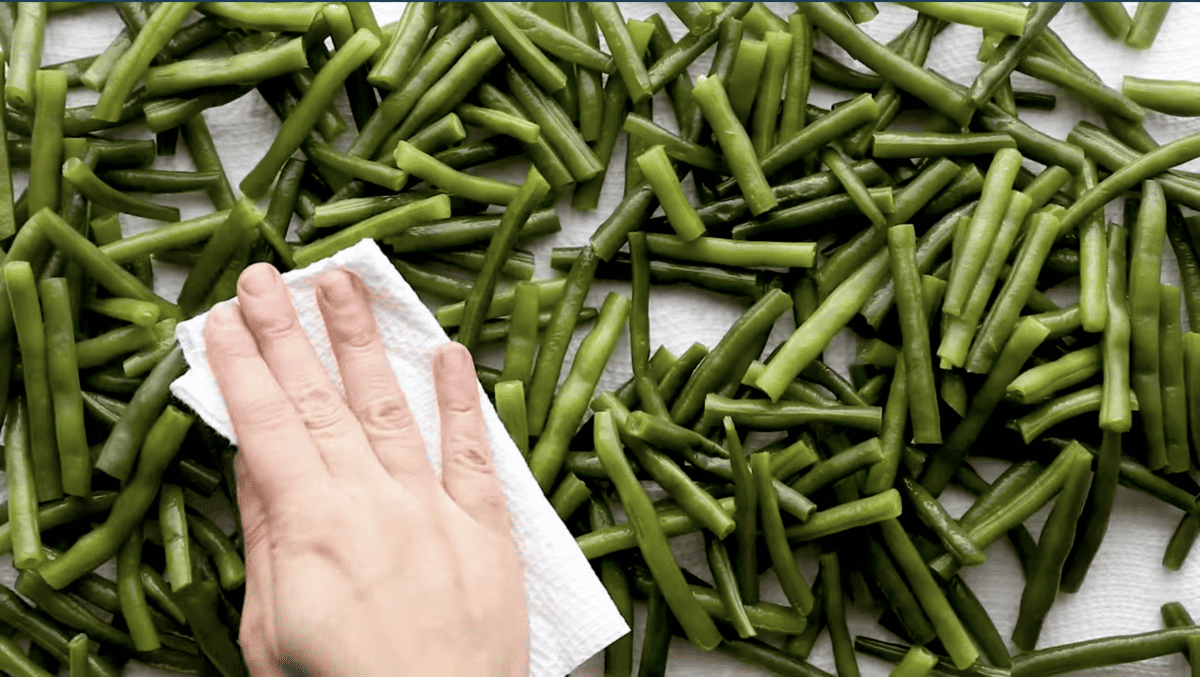 Make the Sauce: In a large bowl, combine 21 ounces of cream of mushroom soup, ¾ cup of milk, 1 teaspoon of low-sodium soy sauce, 2 cups of freshly shredded cheddar cheese, and 1 cup of crushed fried onions.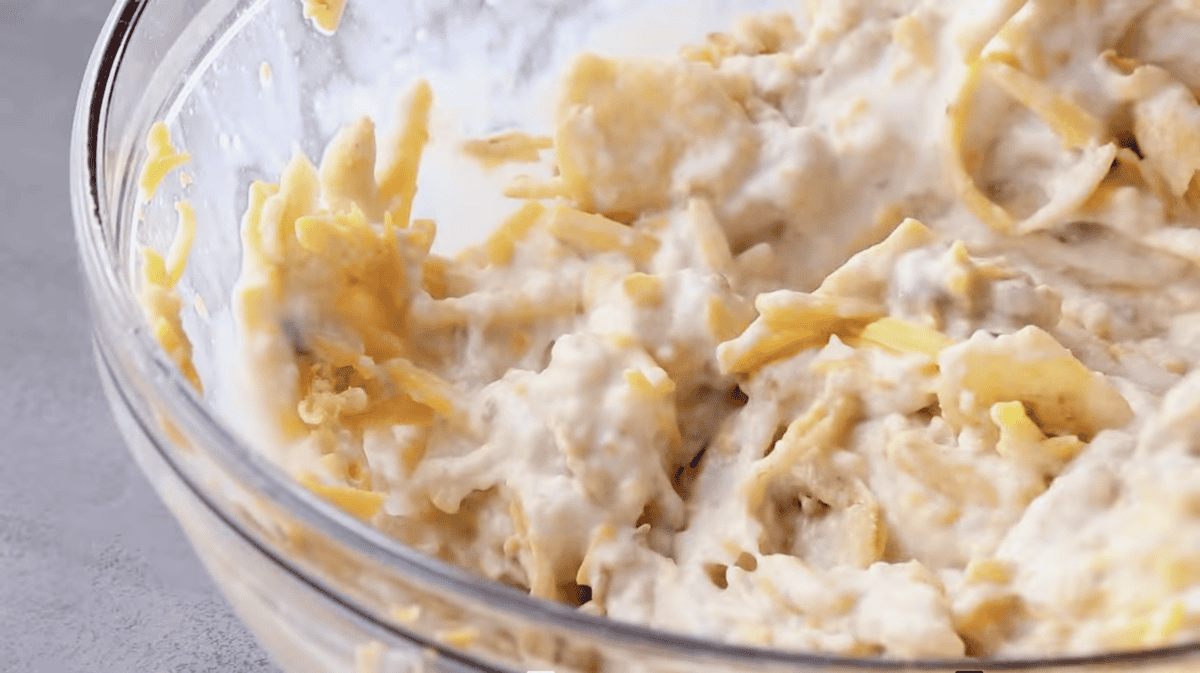 Add the Beans: Add the beans to the sauce mixture and stir to coat evenly. Season the mixture with kosher salt and freshly ground black pepper to taste.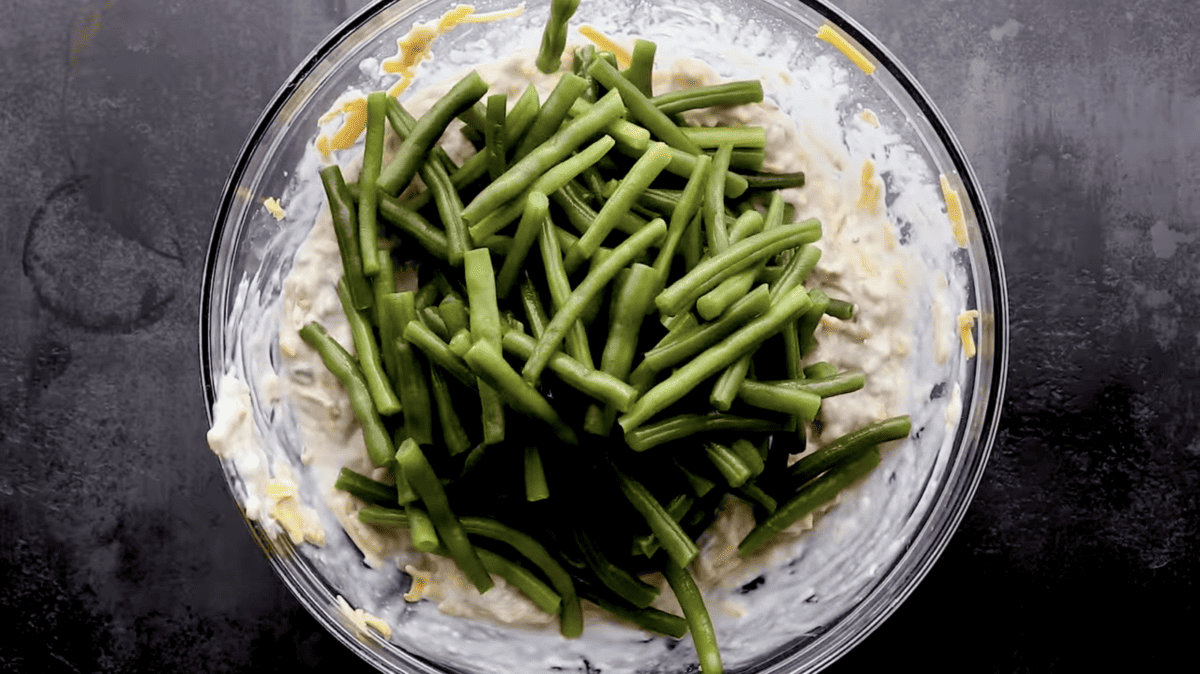 Bake the Beans: Pour the green bean mixture into the prepared baking dish and bake in the preheated oven for 20 minutes.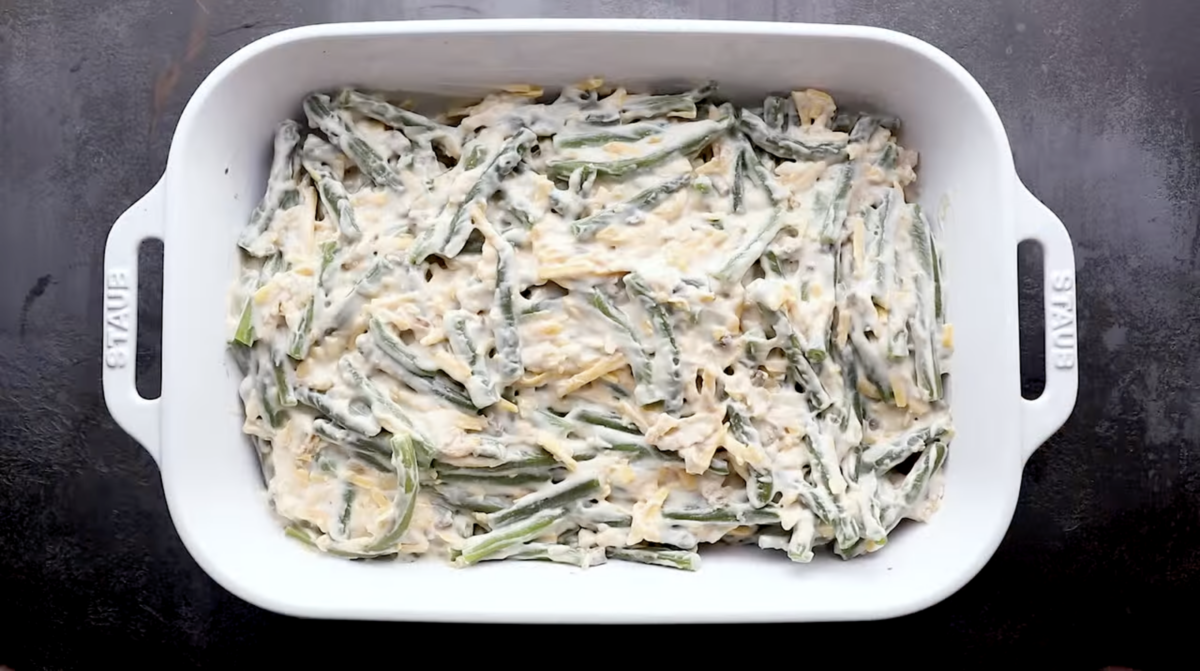 Reduce the Temperature: Remove the casserole from the oven, reduce the oven temperature to 350°F, and sprinkle the top of the beans with the remaining 2 cups of fried onions. Continue to bake for an additional 20-25 minutes, or until the top is golden brown and the casserole is bubbly.