Classic Green Bean Casserole is one of those Thanksgiving recipes that you don't need to reinvent. It's absolutely perfect just the way it is, with green beans, cream of mushroom, crunchy fried onions, and some other awesome ingredients. This green bean casserole recipe is exactly what you need for your next holiday meal!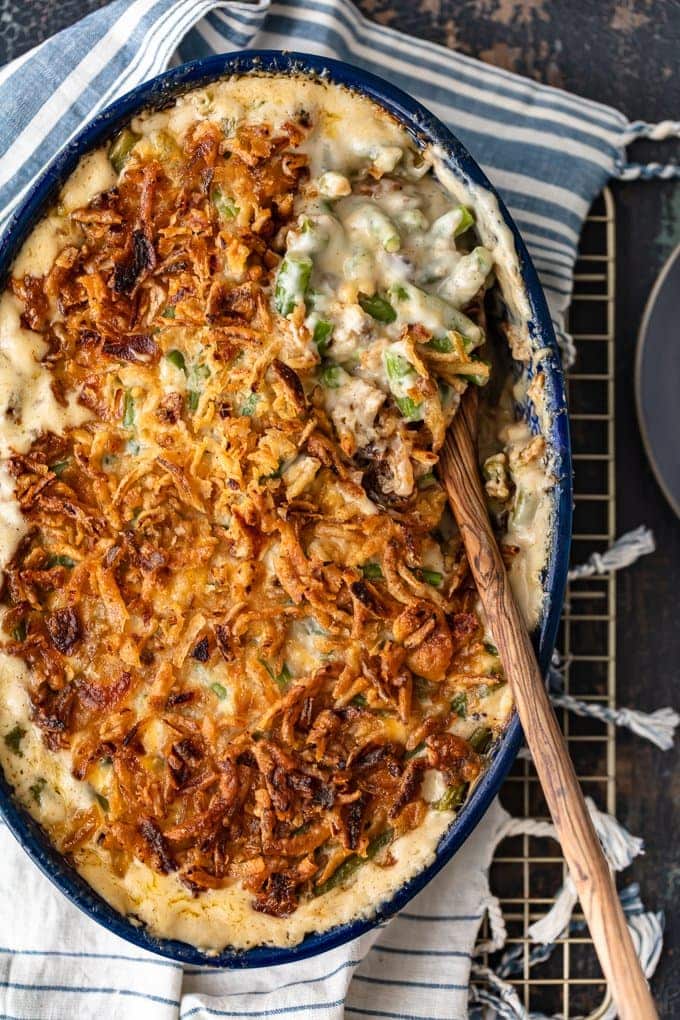 Classic Green Bean Casserole
This Classic Green Bean Casserole recipe should ALWAYS be on on your holiday table. If there's one Thanksgiving recipe not to skip, it's this one!
It's not Thanksgiving without a classic green bean casserole. I know I have a lot of Thanksgiving side dishes here that I tell you to ABSOLUTELY make for the holidays, but there is no arguing on this one. The table would be empty without this delicious green bean casserole recipe. I know I'd be disappointed if it weren't there…
A casserole made up of green beans, cream of mushroom soup, milk for the creaminess, a hint of soy sauce for a bit of a kick, a sprinkle of cheese, and topped off with those crunchy, amazing fried onions. It's warm, it's creamy, it's bubbly, and it is the most delicious Thanksgiving dish of all!
Of course, classic green bean casserole is perfect for Christmas and Easter too. Or any night if you ask me…but this classic Thanksgiving recipe is the quintessential side dish for the biggest feast of the year!
This Classic Green Bean Casserole recipe is the absolute must make Thanksgiving side dish!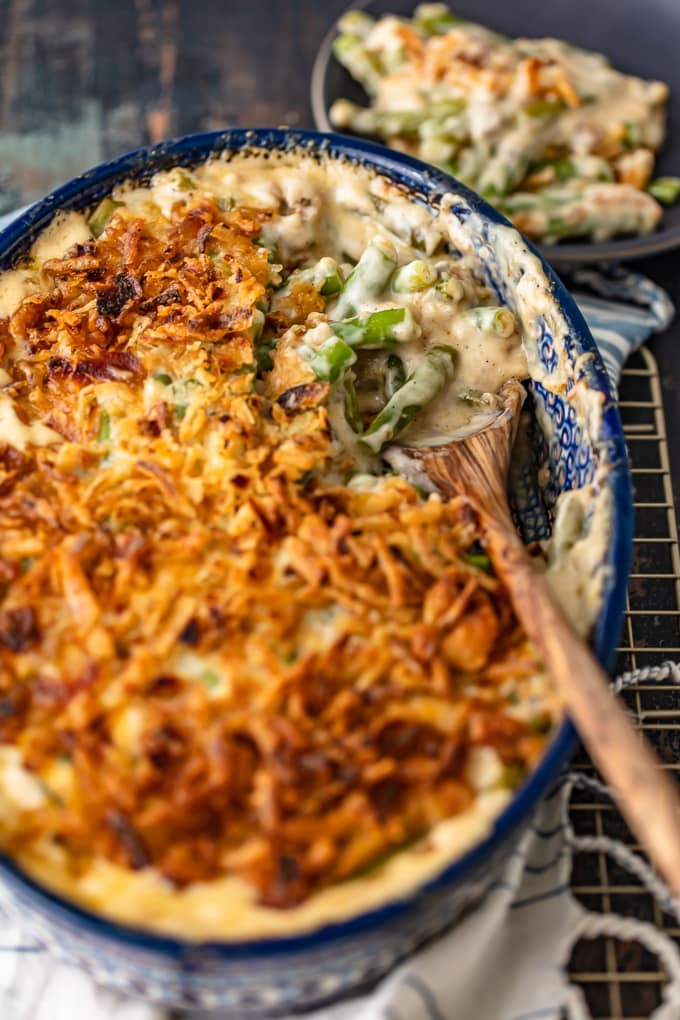 Best Green Bean Casserole Thanksgiving Recipe
Nothing says Thanksgiving like classic green bean casserole! What would the big holiday feast be without it? It has the perfect combination of flavors AND textures, and I can never get enough of this Thanksgiving recipe. Sure, you have to have your turkey, your mashed potatoes, your stuffing, your sweet potatoes, a good roll, and ideally about a million more side dishes. But the meal won't be complete without the green beans!
This is the best green bean casserole recipe because it's an absolute classic that can't be beat. With the creamy soup, the green beans, and the crispy onions…YUM!
Green Bean Casserole Ingredients
Why do I love this dish so much? Because classic green bean casserole has the PERFECT mix of ingredients, flavors, and textures. A vegetable side dish that is creamy, crispy, crunchy, savory, and THIS amazing? Yes please! We don't mess with the classics (too much), so we're staying true to the ingredient list.
Green Beans
Milk
Shredded Cheddar Cheese
Crispy Fried Onions
Salt & Pepper
We're using fresh green beans in this recipe, and they make all the difference. Of course canned will do in a pinch, but fresh beans give it such a beautiful color, flavor, and crispness. You can also substitute half & half or heavy cream for the milk to make it even creamier.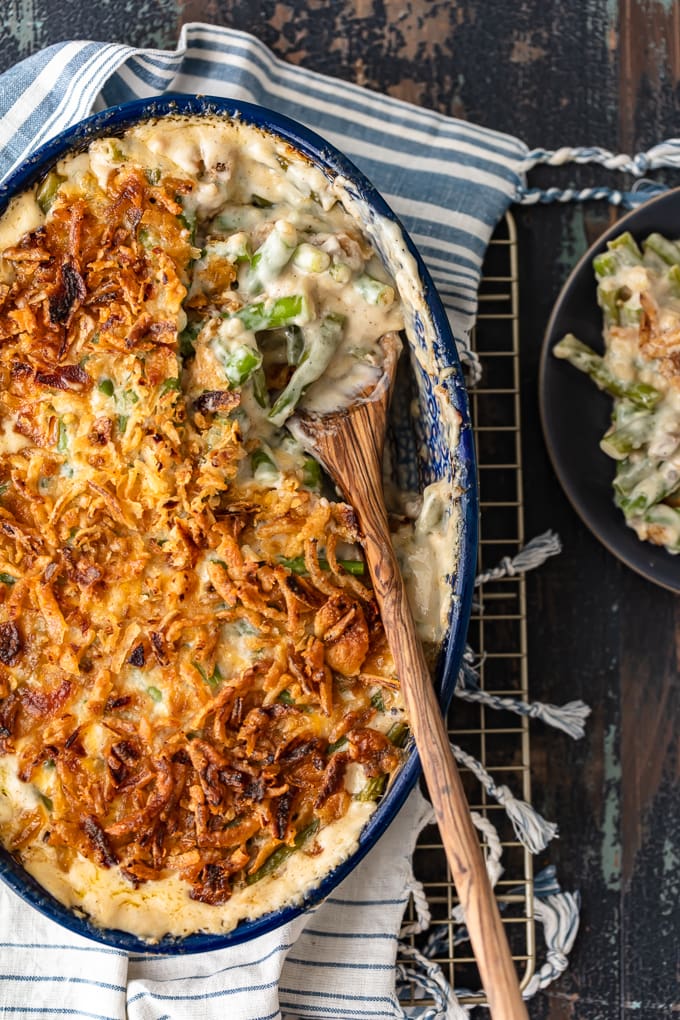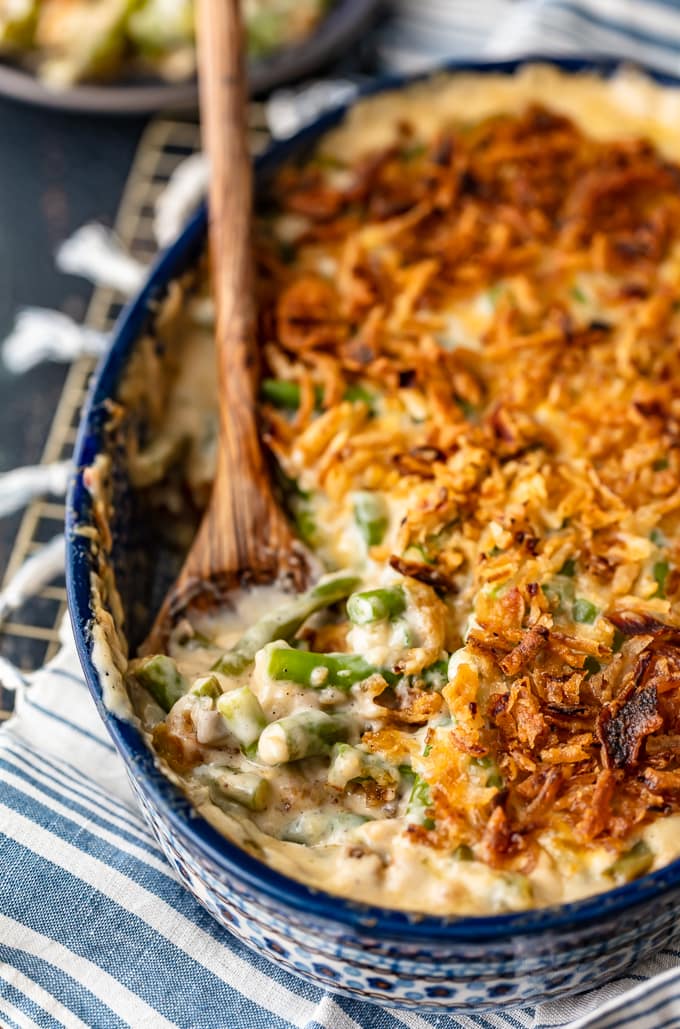 How to Make Green Bean Casserole
Classic Green Bean Casserole is such an easy recipe to make for Thanksgiving. Casseroles always are easy, right? Just another thing to love about this dish!
Boil water in a dutch oven, then add salt & fresh green beans.
Cook green beans about 7-10 minutes, until they start to lose their crispness.
While the beans cook, fill a large bowl with ice water for blanching.
When the beans are cooked, drain and then immediately submerge them in the ice water to stop them from cooking any more.
Spread them out on paper towels and pat dry.
Mix mushroom soup, milk, soy sauce, shredded cheese, and fried onions in a bowl. Then stir in the green beans evenly. Season with salt & pepper.
Pour green bean mix into baking dish, and cook 20 minutes at 425°F.
Take the green bean casserole out of the oven and reduce the oven temperature to 350°F.
Sprinkle the rest of the fried onions on top of the beans beans and bake another 20-25 minutes.
This classic green bean casserole recipe will come out hot and bubbly. So fresh, so creamy, so delicious! That crunch of those fried onions wows me every time!
Be sure to watch the video to see the step by step process!
How to Reheat Green Bean Casserole
Leftover green bean casserole can be saved in the refrigerator for up to a few days after making it. While it is one of those dishes that just tastes best when fresh, all hope is not lost with these Thanksgiving leftovers! To reheat green bean casserole, you'll definitely want to bake it again instead of using the microwave.
But the real trick to making it last is in the crunchy fried onions. Add fresh ones into and on top of the casserole when reheating to give it that crunchy texture that makes it so amazing.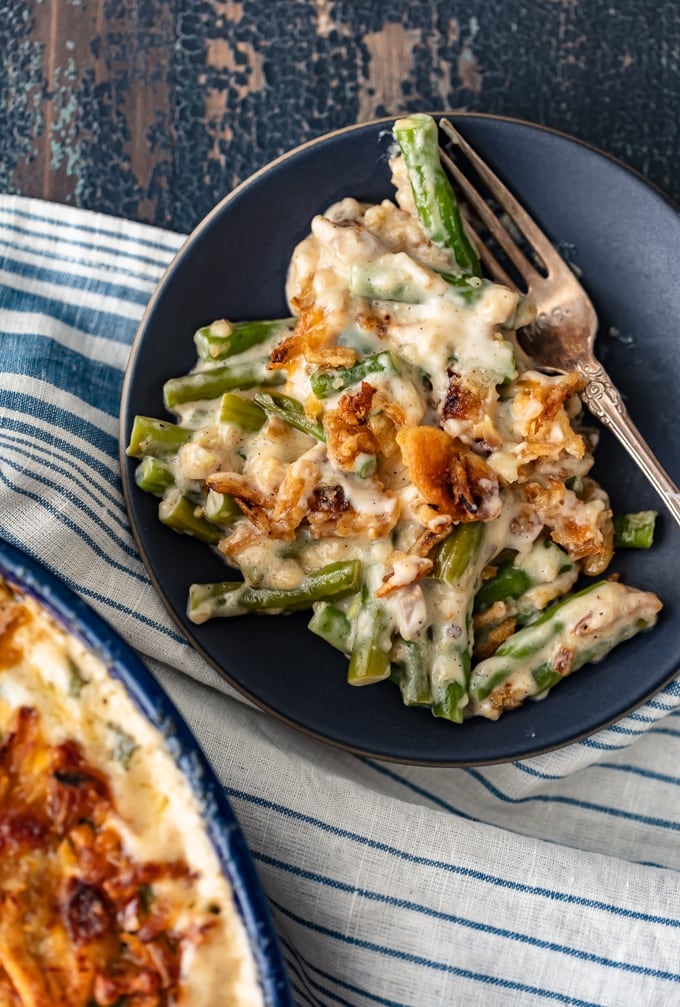 This Classic Green Bean Casserole Recipe will never disappoint! It's a classic for a reason, and we're going to keep it that way. This Thanksgiving recipe is everyone's favorite, and definitely needs to be on your table.
Need to free up oven space? Try this slow cooker green bean casserole or Instant Pot green bean casserole instead.
Watch the Video and See the recipe card below for details on how to make Green Bean Casserole. Enjoy!
If you like this classic green bean casserole recipe, try these other top Thanksgiving sides: