Wow your Thanksgiving guests with MINI SWEET POTATO SOUFFLE CUPS! It doesn't get cuter than wonton cups stuffed with sweet potato souffle and topped with toasted marshmallows.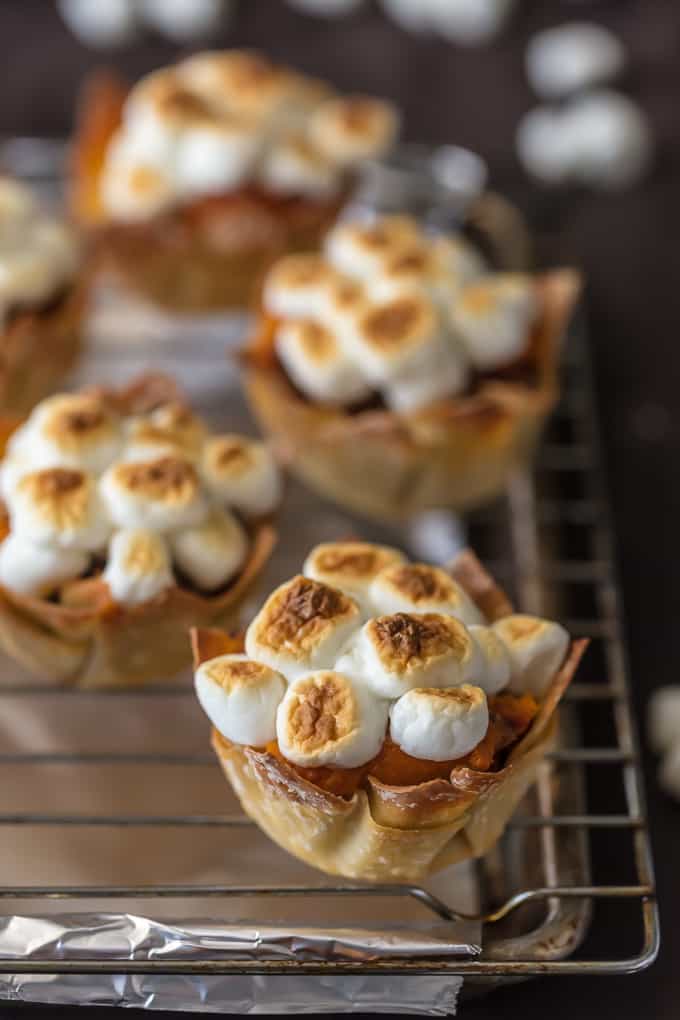 Mom and I are always trying to think up cute and new recipes for our fave holiday, THANKSGIVING! A sweet potato casserole is of course a must for Thanksgiving, but it's fun to jazz it up a bit and come up with something unexpected. These super cute wonton cups are stuffed with our favorite easy sweet potato casserole and topped with broiled marshmallows. MINI SWEET POTATO SOUFFLE CUPS! Sweet, fun, cute, tasty, AWESOME! Be sure to make enough for everyone to have at least two. Or more like four. They're addicting!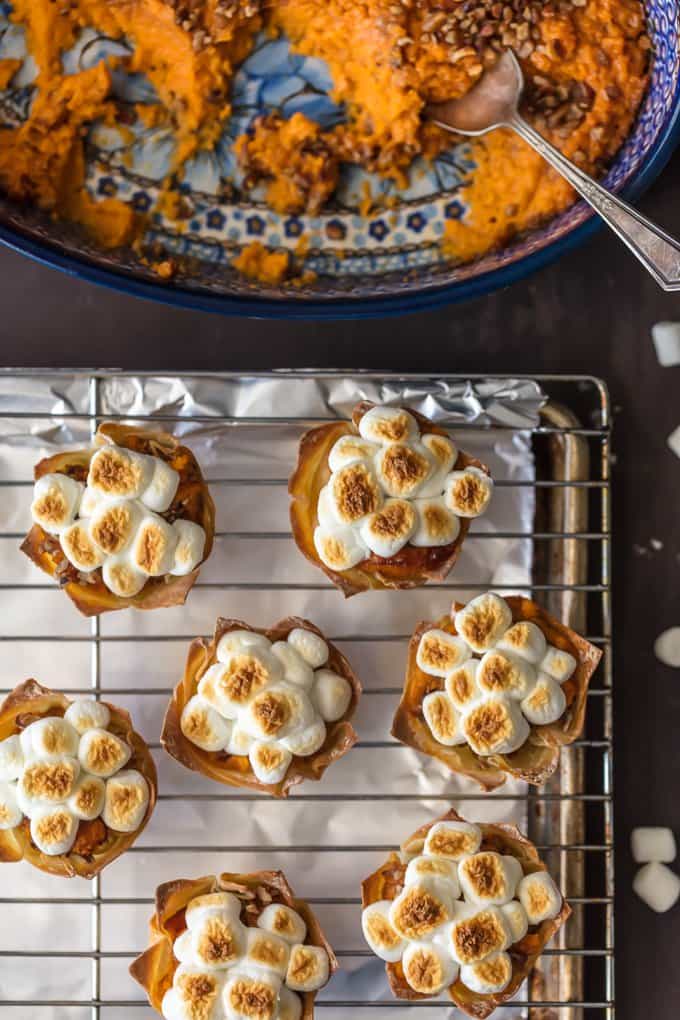 Most Thanksgiving menus are as much about entertaining as they are the actual eating. Of course you want everything to be delicious, but you also want to leave your guests talking about how beautiful everything was, and the more unique, the more they'll chat. They're sure to remember these Mini Sweet Potato Souffle Cups and ask you for the recipe. You can claim it as your own, I'm so totally okay with that.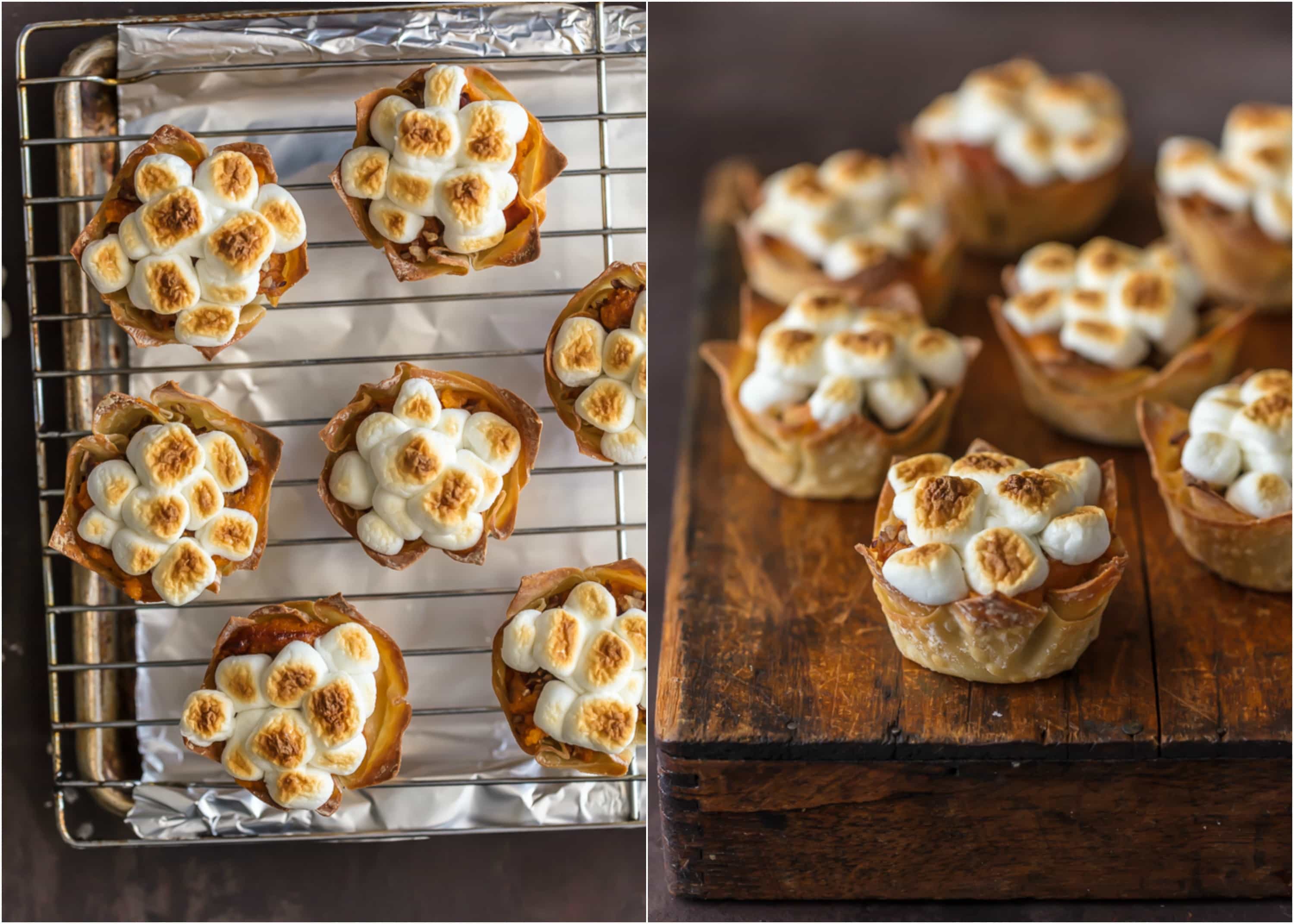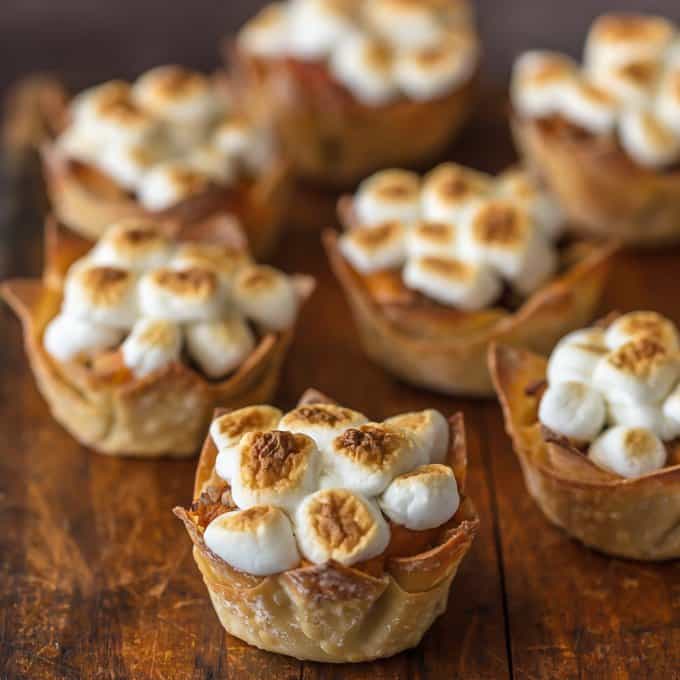 We have so many fun Thanksgiving recipes coming your way in the next couple weeks, but I have to admit this is one of my favorites. We had so much fun making it, and I hope you love it as much as we do. We aim to make your holiday both EASY and amazingly yummy.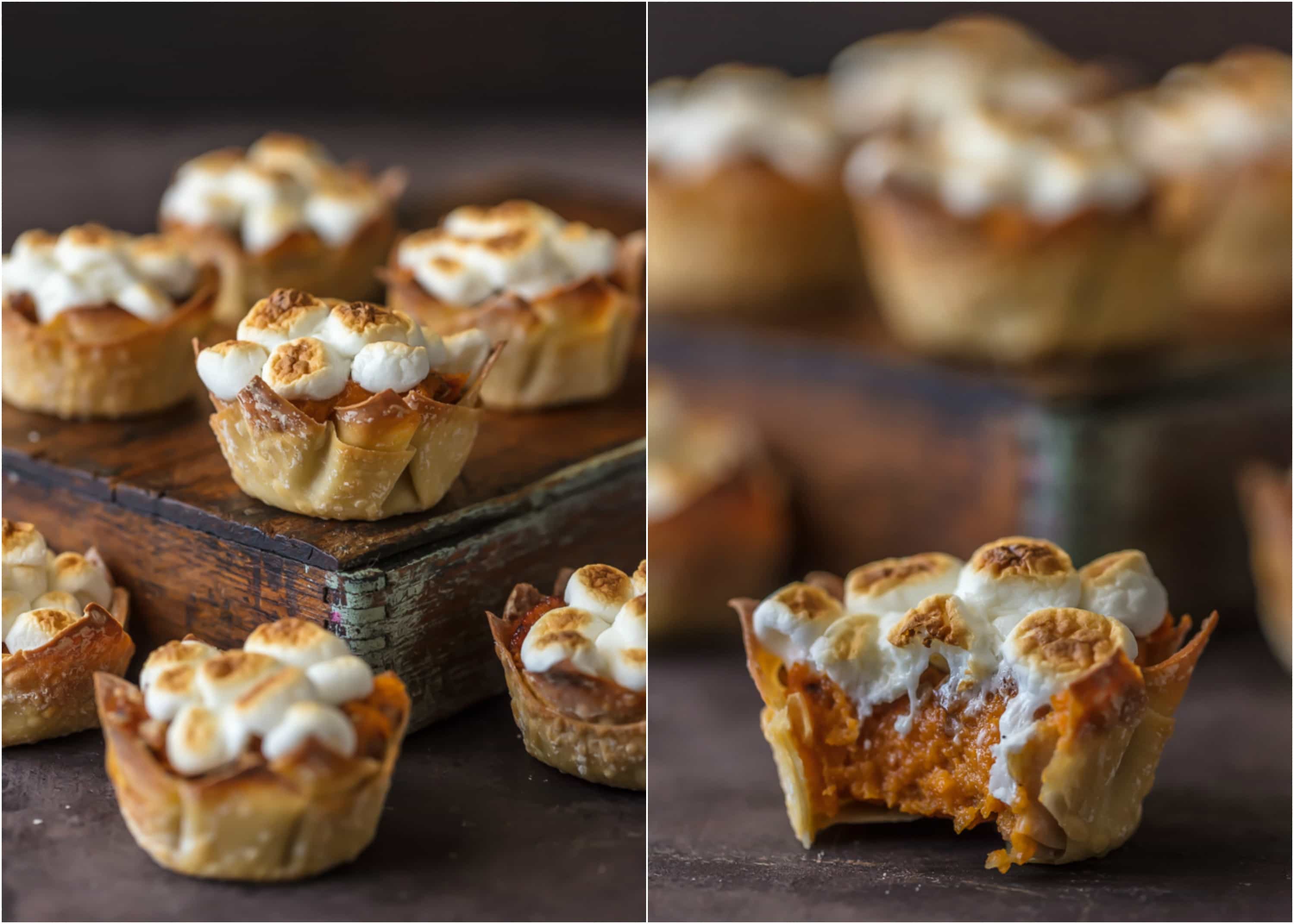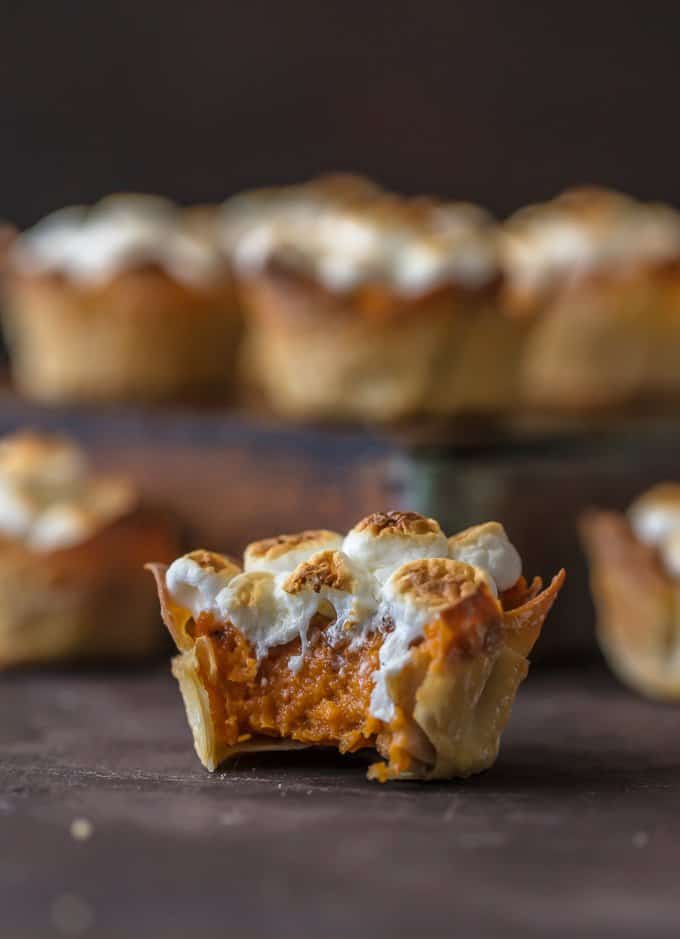 Enjoy!
Mini Sweet Potato Souffle Cups
15 minPrep Time
1 hr, 30 Cook Time
1 hr, 45 Total Time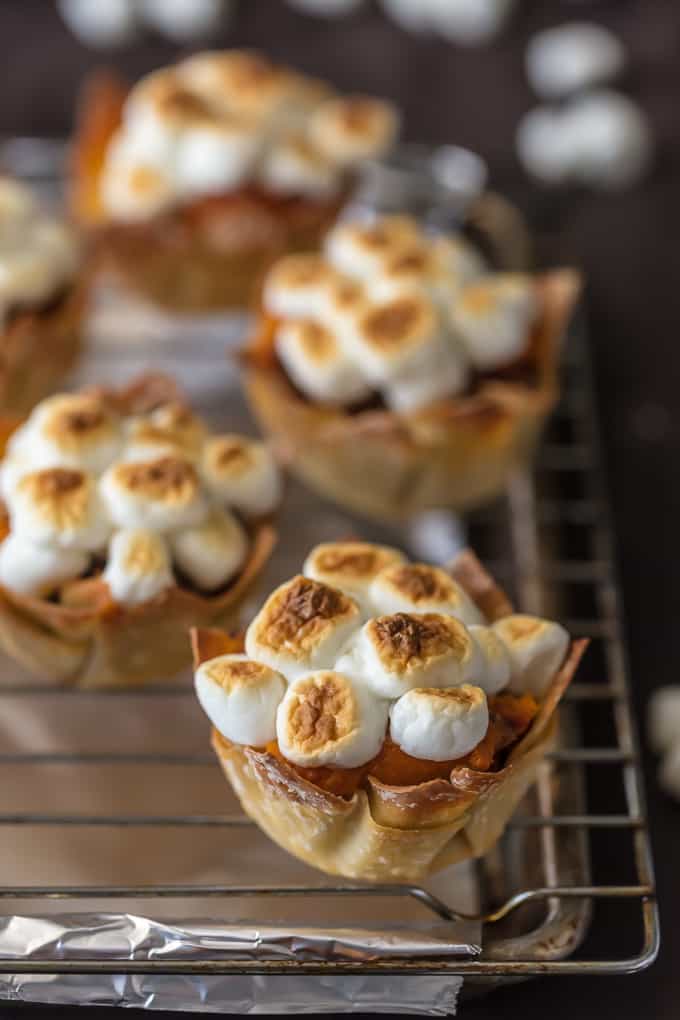 5 based on 1 review(s)
Ingredients
For the Wonton Cups:

1 package wonton wrappers
1 tablespoon vegetable or olive oil

For the Sweet Potato Casserole:

3½-4 pounds fresh sweet potatoes (4 cups, mashed)
¼ cup light brown sugar
¼ cup evaporated milk or cream
2 tablespoons butter, unsalted & softened
2 tablespoons orange juice
1 teaspoon vanilla extract
½ teaspoon salt
½ teaspoon orange zest, grated
½ teaspoon ground cinnamon
¼ teaspoon freshly ground nutmeg
pinch of ground mace, optional
pinch of ground cloves

Toppings:

¼-½ cup pecans, chopped and toasted
3 cups miniature marshmallows
Instructions
For the Wonton Cups:

Heat oven to 350°F and spray a muffin tin with cooking spray. Press one wonton wrapper in each muffin cup. Be sure to press around the bottom edges and flay out the corners to make a defined cup. Lightly brush each wonton with olive oil and lightly salt. Bake 8-9 minutes or until slightly golden brown. Remove from oven, let cool 3 minutes in the pan, and transfer cups to a cooling rack to cool completely. The Wonton Cups can be made up to 48 hours in advance and kept in an airtight container.

For the Sweet Potato Casserole:

Preheat oven to 400°F and line a large baking sheet with foil. Spray the foil with cooking spray.
Spray a 2-quart baking dish with cooking spray.
Bake the sweet potatoes on the prepared baking sheet 45 minutes–1 hour until the potatoes are fork-tender. Set potatoes aside until cool enough to handle (approximately 15 minutes). The potatoes will still be hot. Place a paper towel in each hand then hold the potato on each end. Twist the potato in opposite directions to easily remove the skin. Discard the skin. Repeat until all potatoes are skinned. Mash the potatoes until smooth. (A potato ricer works well and will also remove any stringy fibers.)
In a large bowl, combine the mashed potatoes with all the other casserole ingredients (except the toppings) and mix until all ingredients are incorporated. Pour the sweet potato mixture in the prepared baking dish and sprinkle with the toasted pecans. Bake 40-45 minutes or until sweet potatoes casserole is bubbly around the edges and set in the middle. If the pecans begin to burn, cover very lightly with foil. Transfer dish to a cooling rack to cool 5 minutes.

For Assembling the Sweet Potato Wonton Cups:

Preheat oven to Broil.
Fill a muffin tin or tins with prepared wonton cups and fill each cup with sweet potato casserole (be sure to get pecans in each cup). Cover the tops with marshmallows. Place the filled muffin tins on the upper-third rack, under the broiler, and cook until the marshmallows are golden.
Remove from the oven and transfer to a serving platter.
Enjoy!
*Note: The sweet potato casserole can be cooled, covered and refrigerated (up to two days ahead) until ready to assemble the wonton cups.
7.6.7
2462
https://www.thecookierookie.com/mini-sweet-potato-souffle-cups/