Sweet Potato Souffle is a Thanksgiving classic. I like to put a spin on classics, and that's where these Mini Sweet Potato Souffle Cups come in. Wow your Thanksgiving guests with these adorable and delicious treats! It doesn't get cuter than Wonton cups stuffed with sweet potato souffle and topped with toasted marshmallows. Yum!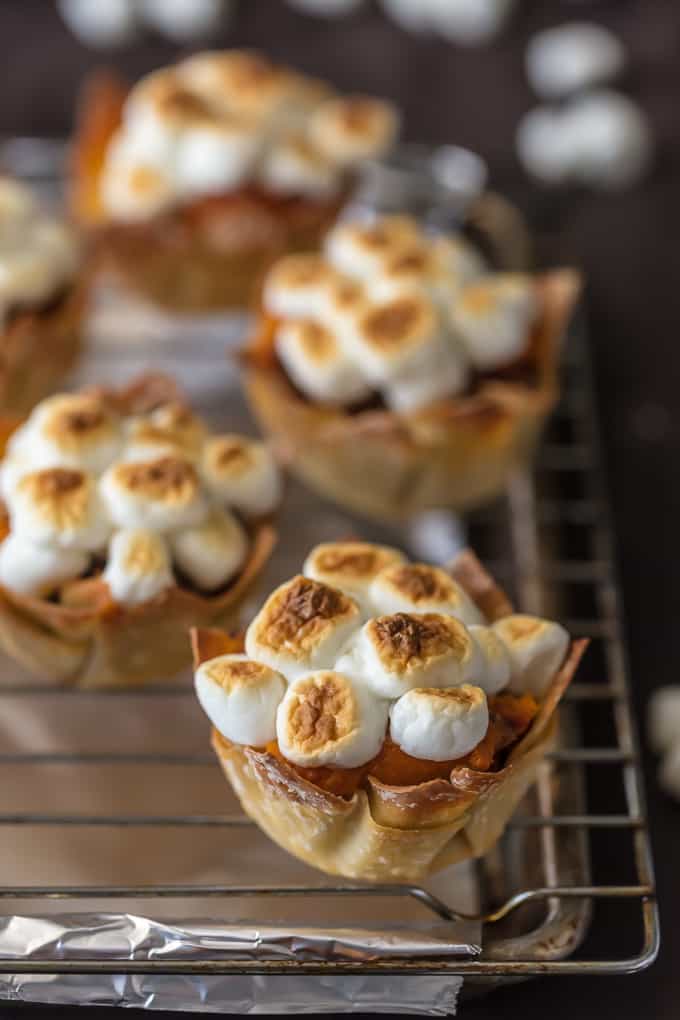 Easy Sweet Potato Cups
Sweet potato souffle cups are a creative twist on a Thanksgiving classic. They're so cute and so delicious!
Sweet Potato Souffle is a major Thanksgiving classic. Mom and I are always trying to think up cute and new Thanksgiving recipes for our favorite holiday! A sweet potato casserole is of course a must for Thanksgiving, but it's fun to jazz it up a bit and come up with something unexpected. That's why we came up with these Mini Sweet Potato Souffle Cups.
These super cute wonton cups are stuffed with our favorite easy sweet potato casserole and topped with broiled marshmallows. You get all the traditional flavors but in a fun cupcake-like presentation. They are sweet, fun, cute, tasty, and totally AWESOME! Be sure to make enough for everyone to have at least two. Or more like four. They're addicting!
These mini sweet potato souffle cups are the perfect Thanksgiving recipe to add to your holiday table. Traditional is great, but don't be afraid to spice things up with a new version of your favorite recipes.
These Mini Sweet Potato Souffle Cups are a fun and cute twist on a classic Thanksgiving recipe!
Mini Sweet Potato Souffle Recipe
This mini Sweet Potato Souffle Recipe will wow your guests. Most Thanksgiving menus are as much about entertaining as they are about actually eating. Of course you want everything to be delicious, but you also want to leave your guests talking about how beautiful everything was. And the more unique, the more they'll chat!
Your guests are used to all the classic Thanksgiving recipes, so surprise them with something different. You can keep the traditional flavors of a sweet potato casserole while still making something completely new and fresh. Of course these wouldn't be complete without the toasted marshmallows on top, and they look extra pretty too.
Your Thanksgiving guests will definitely remember these Mini Sweet Potato Souffle Cups and they'll probably ask you for the recipe too. You can claim it as your own, I'm so totally okay with that.
How to Make Sweet Potato Souffle Cups
These mini sweet potato souffles take some time to put together, but they are well worth it! They make such great Thanksgiving appetizers, and they're just so cute.
Here's a quick overview of the recipe:
Make the Wonton Cups – Mold wonton wrappers into the cups of a muffin tin. Bake for about 8-10 minutes then let them cool.
Make the Sweet Potato Souffle Filling – Bake whole sweet potatoes. Once they're cooked, remove the skin and mash them up. Mix the mashed potatoes with the rest of the casserole ingredients, and pour the mixture into a baking dish. Bake for 40-45 minutes at 400°F.
Assemble the Sweet Potato Souffle Cups – Place wonton cups into a muffin tin. Fill each cup with the sweet potato casserole and top with mini marshmallows. Cook the mini cups under the broiler.
Both the wonton cups and the sweet potato filling can be made a couple of days ahead of time. This will really help cut down on prep time on Thanksgiving. Just make the cups and the filling, then store them in the refrigerator. On the day of, you can jump straight to assembling the mini souffle cups.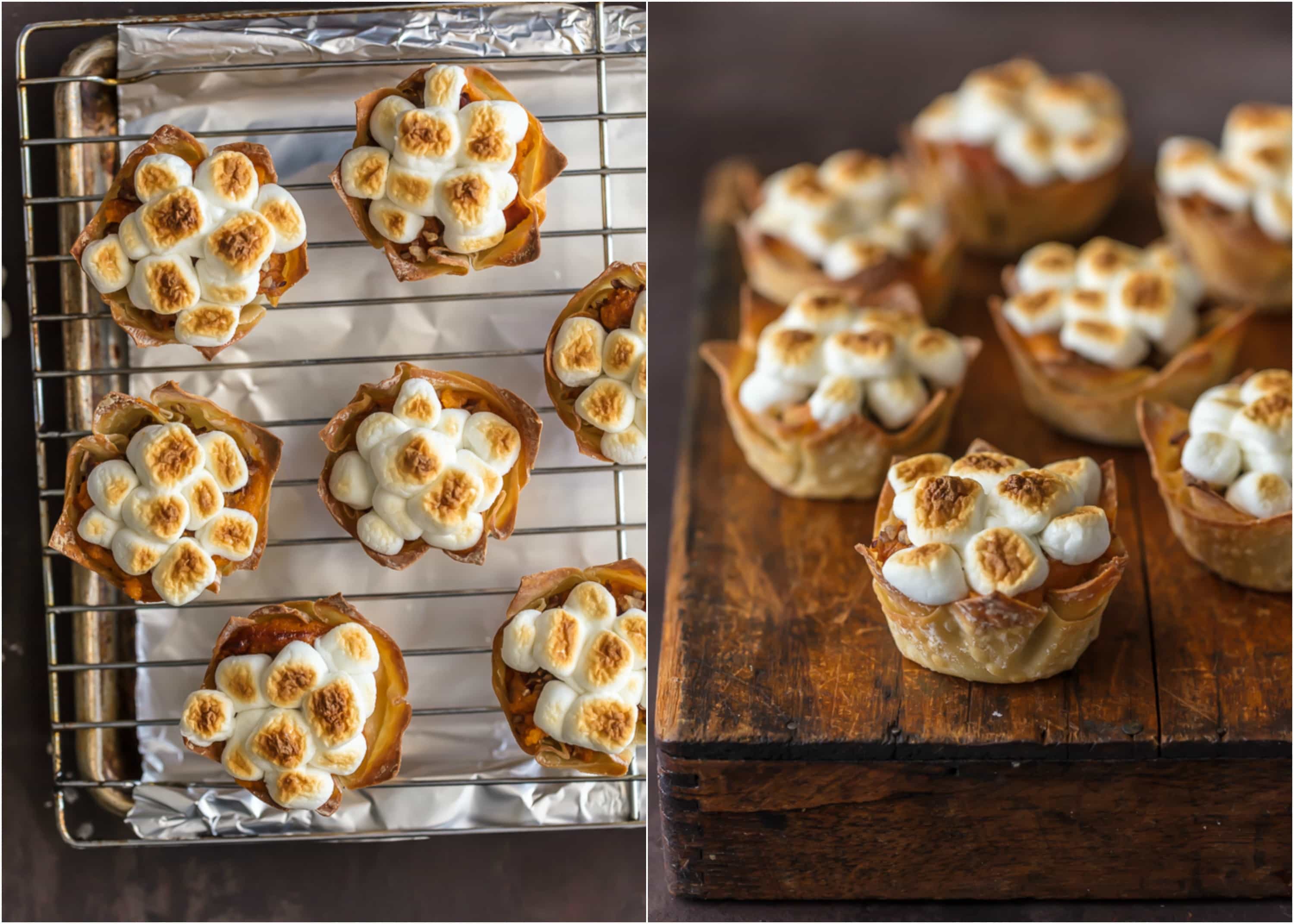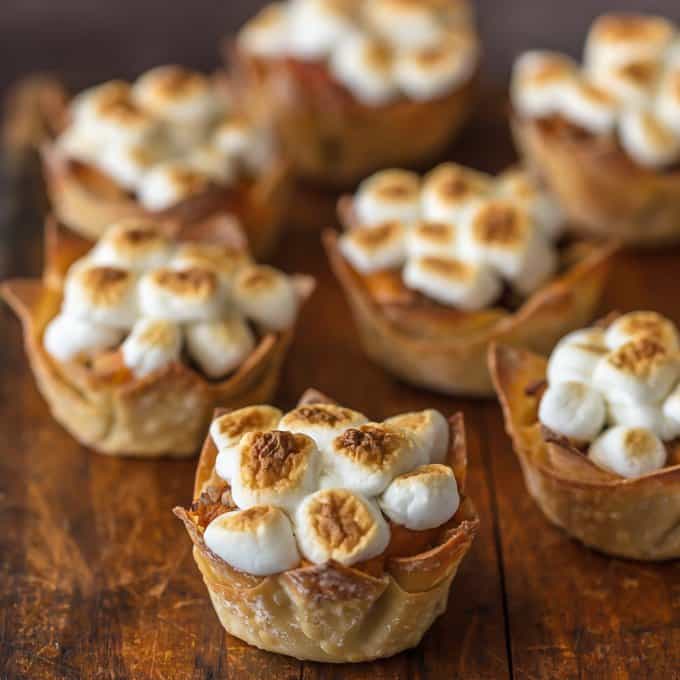 Fun Thanksgiving Recipes
As a food blogger, it should come as no surprised that my favorite holiday is the one that centers around FOOD! I love coming up with fun Thanksgiving recipes that are interesting and delicious. It's a good challenge to find ways to turn traditional recipes into something different.
We have so many fun Thanksgiving recipes coming your way in the next couple weeks, but I have to admit this sweet potato souffle is one of my favorites. We had so much fun making it, and I hope you love it as much as we do. We aim to make your holiday both EASY and amazingly yummy.
Here are some more awesome Thanksgiving Recipes to try out: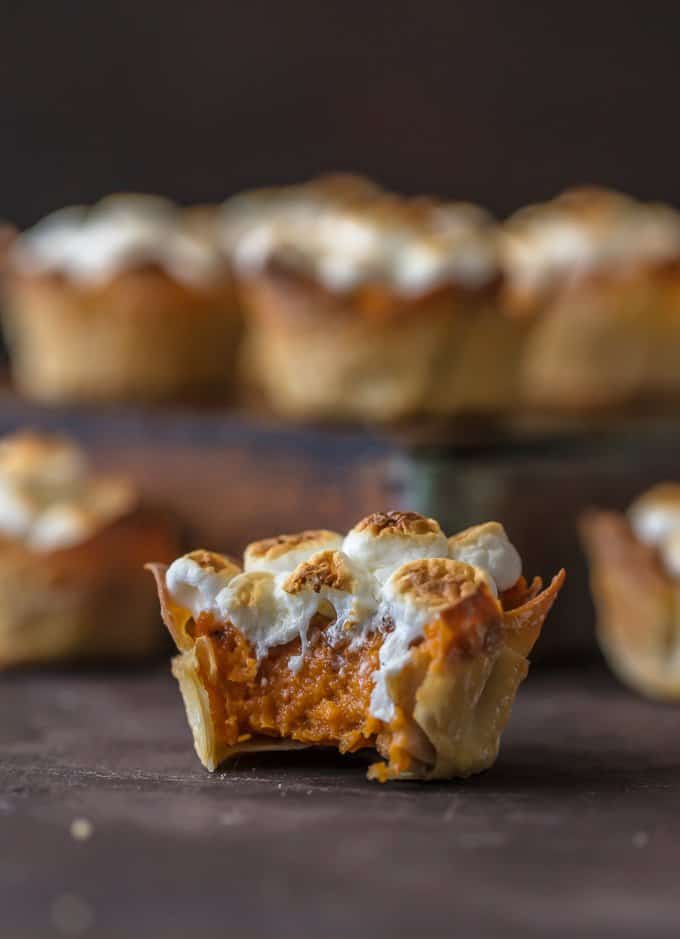 These Mini Sweet Potato Souffle Cups are going to be the perfect addition to your Thanksgiving table. They're the perfect mix of traditional and creative, so give them a try next holiday.
See the recipe card below for details on How to Make Sweet Potato Souffle Cups. Enjoy!
Want more sweet potato recipes? Try these favorites: