Broccoli Cheese Rice Casserole is a creamy, cheesy, flavor-filled side dish perfect for holidays or any weeknight dinner. This green rice casserole is filled with rice, broccoli, and cheese, and water chestnuts add that extra crunch. Cheesy broccoli and rice casserole is one of my favorite recipes to serve on Thanksgiving because it's so easy, and you can make it ahead of time too!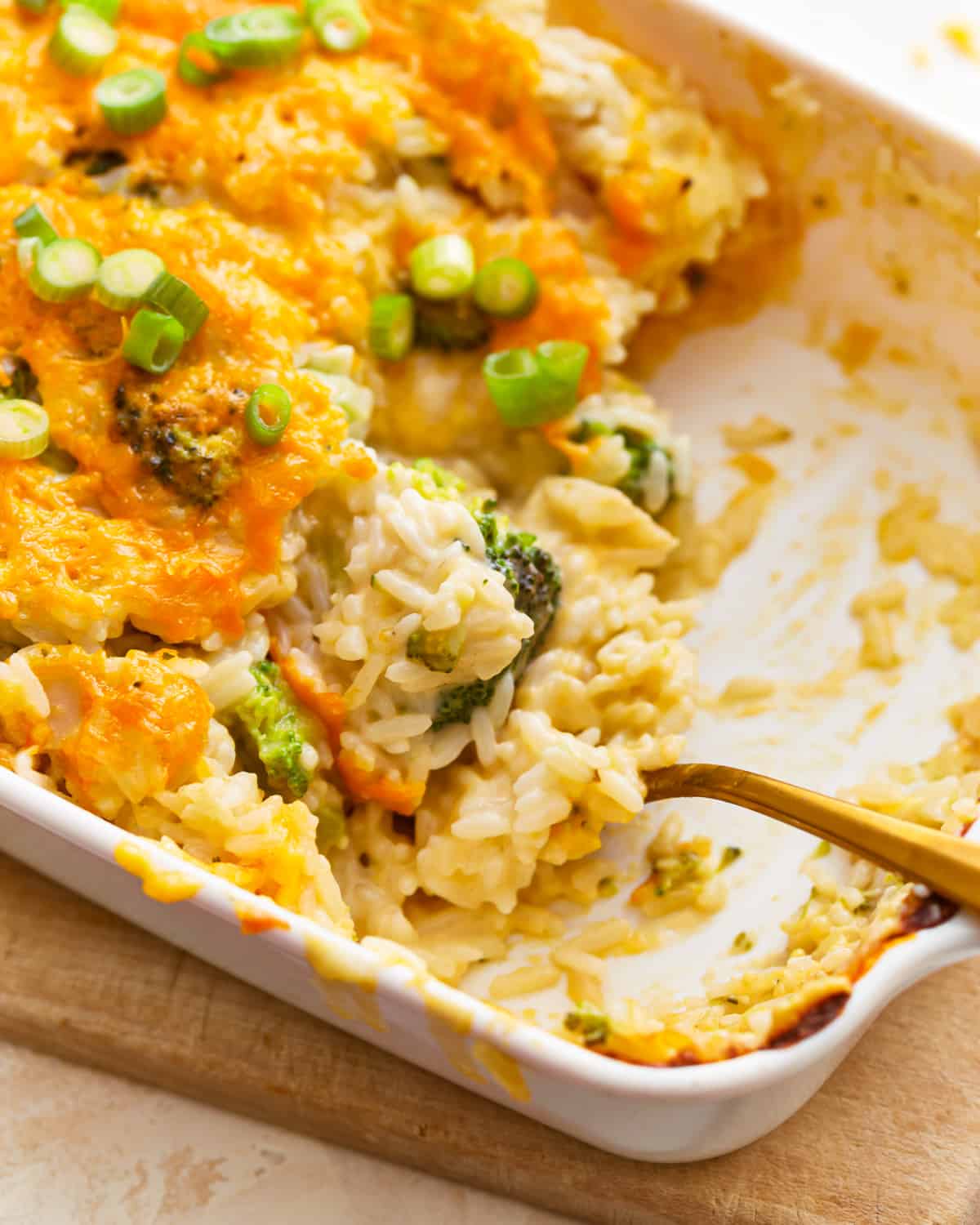 What's in Broccoli Rice Cheese Casserole?
Casseroles of all kinds are my favorite, and this cheesy broccoli and rice casserole is at the top of the list. It's a total crowd-pleaser, it's cheesy, rice-y, and broccoli-y…what's not to love?
Frozen Broccoli: No need to thaw; simply cook according to the instructions on the package, and it's ready to use! You can also steam fresh broccoli if you prefer. You'll need about 4 cups.
Minute Rice: Another time-saving ingredient! Of course, you can cook some white rice from raw if you prefer, but I love this easy method!
Water Chestnuts: Add a delightful crunch to this casserole.
Cream of Mushroom Soup: Adds a rich and creamy texture and an umami flavor.
Milk: Adds moisture and creaminess.
Velveeta: Creates a smooth, velvety texture and infuses this casserole with so much cheesy flavor.
Cheddar Cheese: Enhances the overall cheesy flavor of the casserole.
Pro Tip: Try cream of chicken or cream of celery soup for a slightly different flavor!
Variations on Green Rice Casserole
There are tons of ways to change up this cheesy casserole to suit your tastes. For a full meal, try adding some cooked diced chicken, ham, tuna, or crumbled bacon. You could also add more veggies, like roasted mushrooms or steamed cauliflower.
For a spicy casserole, try adding some diced jalapeños, red pepper flakes, or a dash of hot sauce. And for a bit of crunch, top with crushed Ritz crackers or Panko breadcrumbs mixed with melted butter.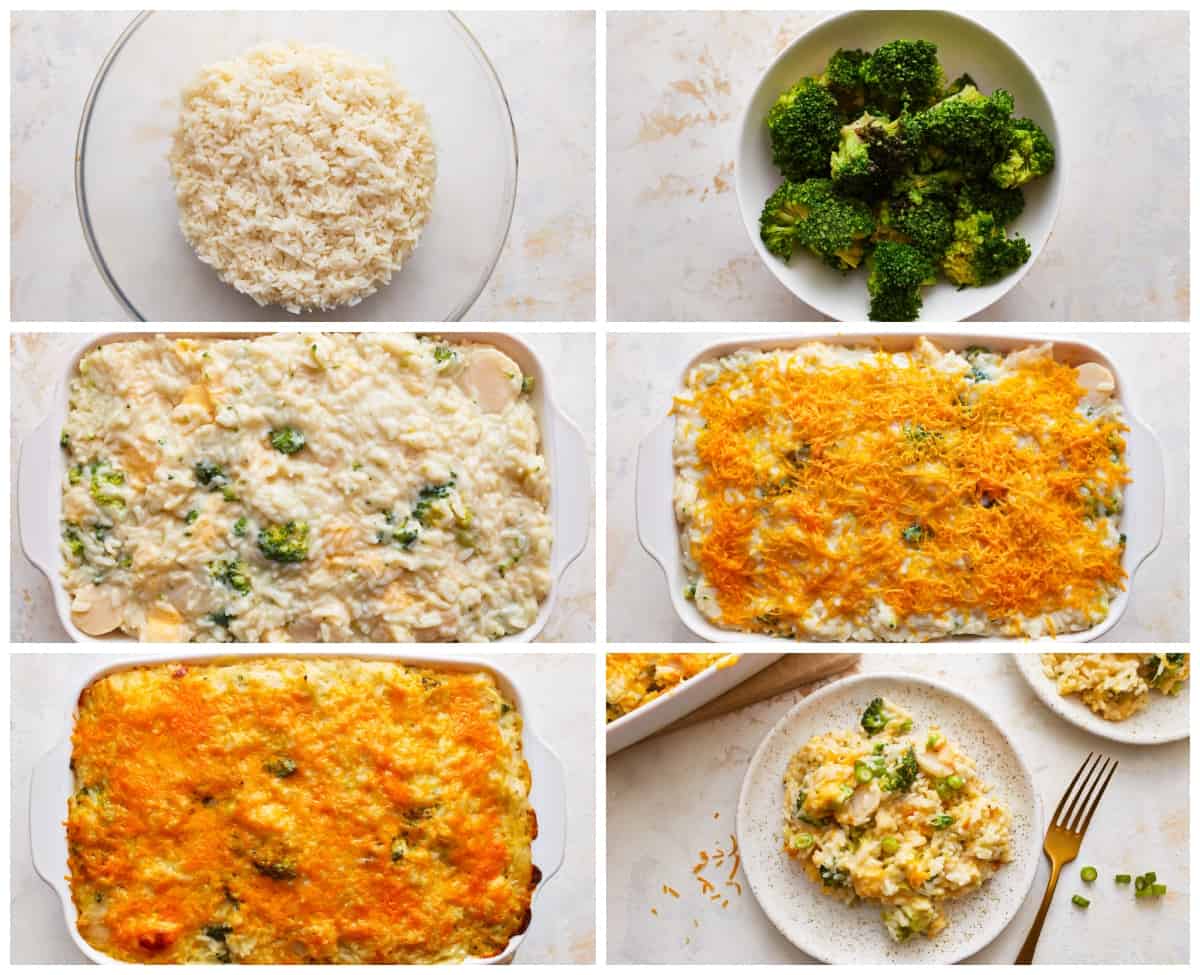 Is it better to use fresh or frozen broccoli in a casserole?
You can use either! It's important to blanch the broccoli before adding it to the casserole, though, so that it doesn't end up undercooked.
How do you cook frozen broccoli so it's not mushy?
Frozen broccoli can be steamed or boiled. Just make sure to follow the directions carefully and take care not to overcook it!
Does rice need to be cooked before adding to casserole?
Yes! That's why we're using minute rice to save on prep time.
How do you keep rice from getting mushy in a casserole?
Make sure not to overcook the casserole, and don't cover it with foil while it bakes!
Why is my broccoli casserole soupy?
If your casserole is soupy, it is likely that the broccoli as not drained well enough. You may want to gently squeeze the broccoli in a towel to remove excess moisture.
Can you freeze cooked rice casserole?
You sure can! It will keep well for up to 3 months.
Is it better to freeze casseroles cooked or uncooked?
I personally prefer to freeze this casserole uncooked, then bake it straight from frozen the day of for about an hour. However, you can also freeze it fully cooked and simply defrost before reheating.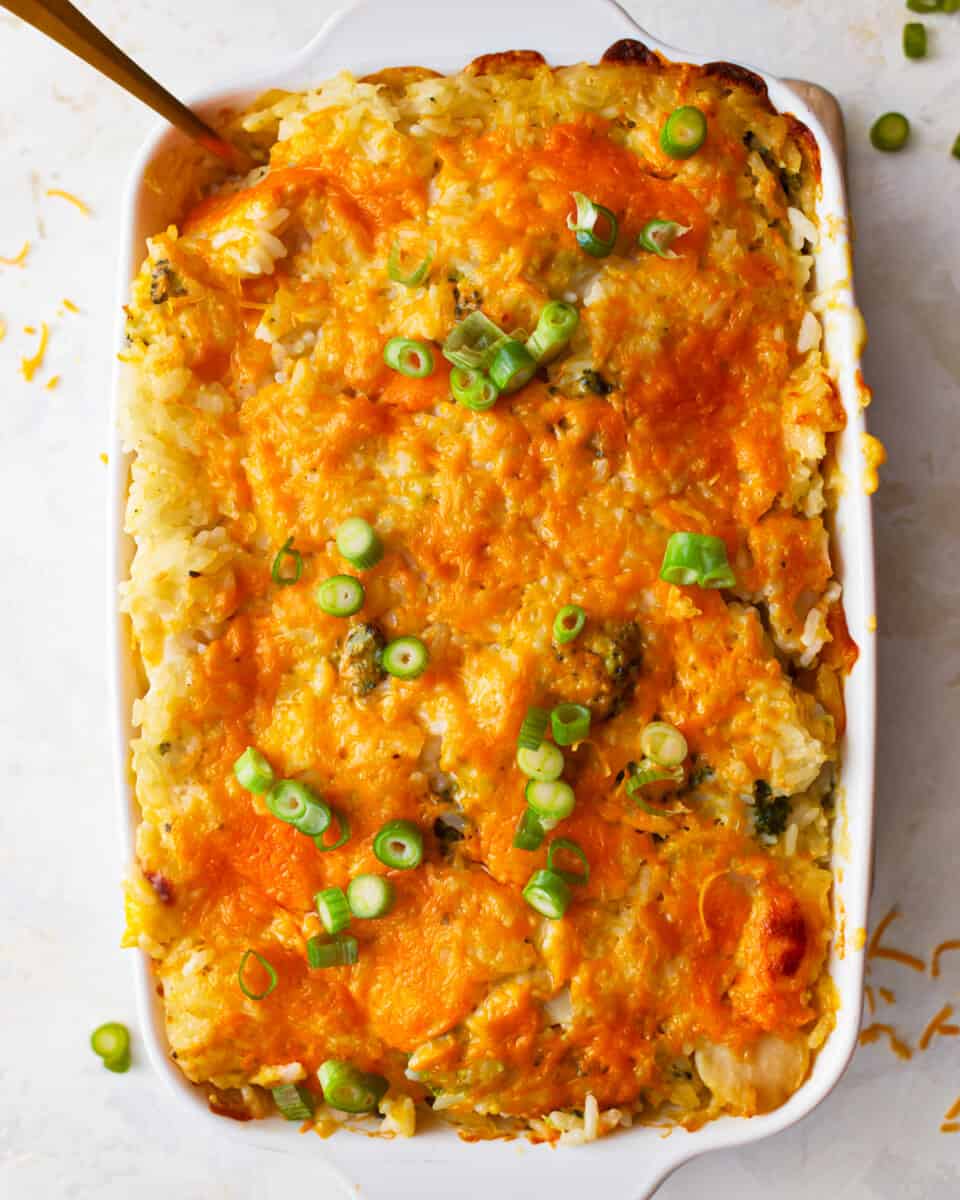 How to Store and Reheat
Store leftover broccoli cheese rice casserole tightly covered with foil in the refrigerator for up to 5 days. Reheat in a 350°F oven for 20-25 minutes or in the microwave in 30-second increments until warmed through.
How to Freeze
Freeze this green rice casserole baked or unbaked tightly wrapped in 2 layers of plastic wrap and 1 layer of aluminum foil for up to 3 months. Bake directly from frozen (remove the plastic wrap first!) for about 1 hour or let the fully cooked casserole thaw overnight in the refrigerator before reheating.
Serving Suggestions
I especially love this warm cheesy broccoli and rice casserole on Thanksgiving because it complements all the other foods so perfectly. Mashed potatoes, turkey, creamed corn, fresh dinner rolls… Yum!
It's also great with a regular weeknight meal, like oven baked fried chicken, baked Caesar chicken, beef tenderloin, Salisbury steak, or smoked pork chops.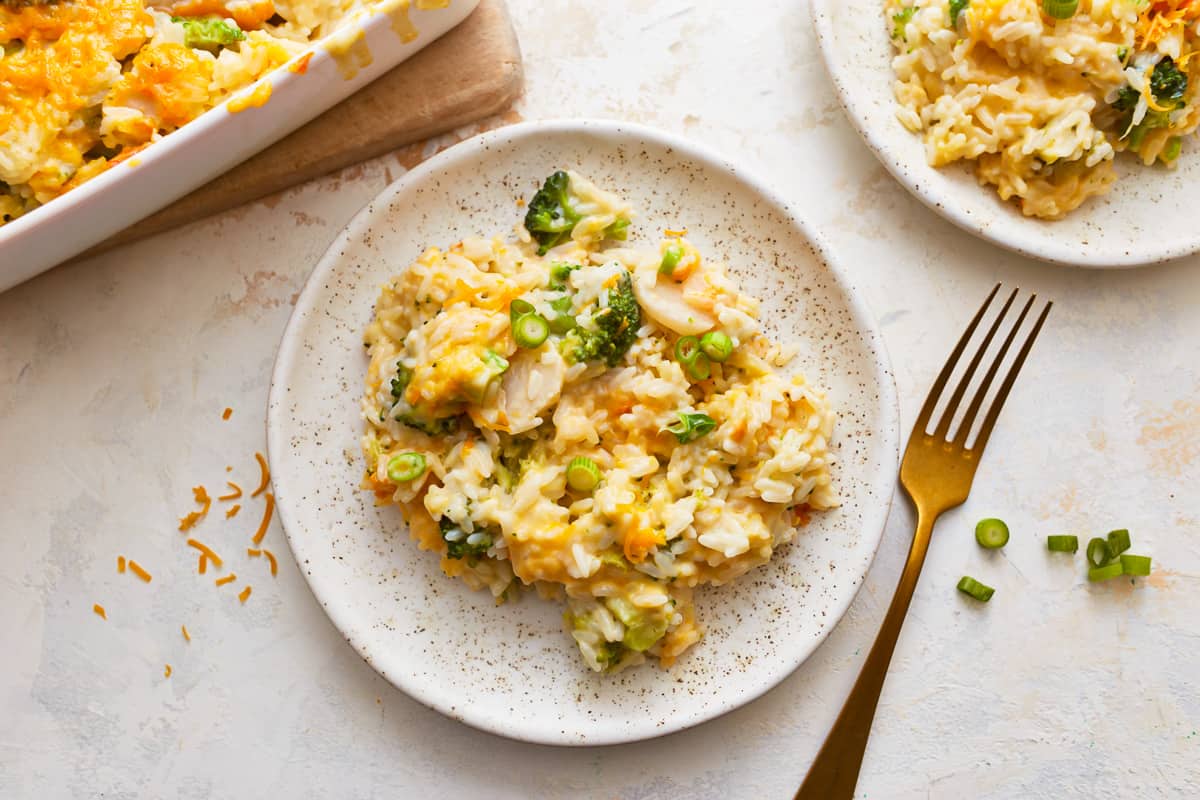 More Broccoli Casserole Recipes We Love