The Perfect Baked Sweet Potato is easy to achieve. So if you're wondering how to bake sweet potatoes, then you've come to the right place! Find out how long to bake sweet potatoes, plus my favorite SIMPLE way to eat them (with butter and cinnamon sugar!).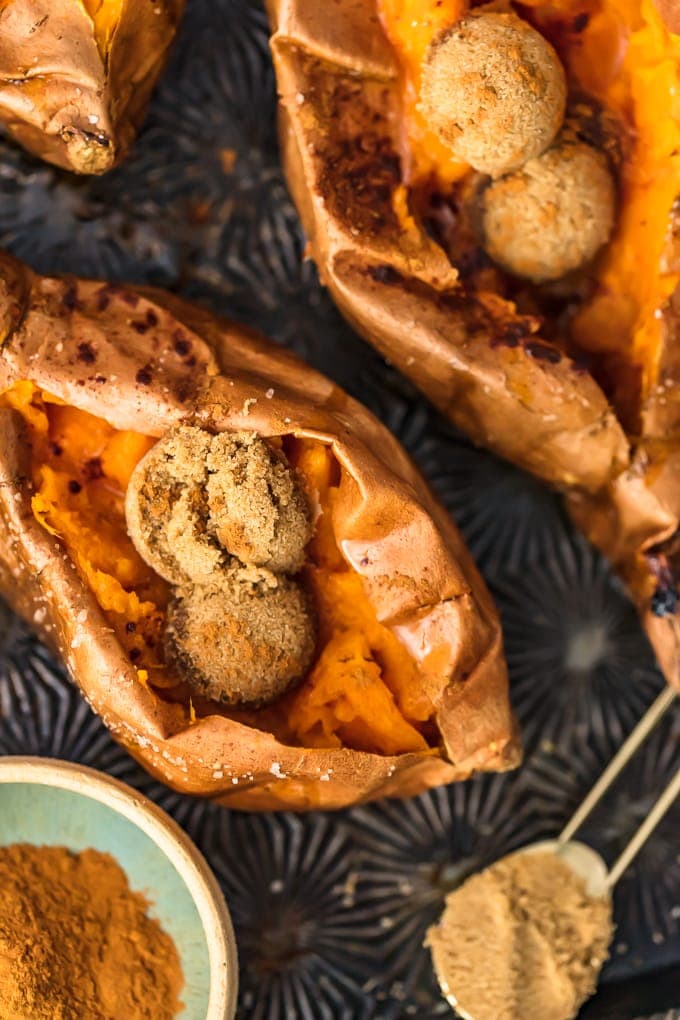 Baked Sweet Potato Recipe
Sweet Potatoes are a staple during Thanksgiving and the rest of the holiday season. They're just so amazing! Maybe it's the orange-y color that makes us all think of autumn, or maybe it's the incredibly delicious, sweet flavor. It's such a simple vegetable, but it makes all the difference this time of year. The Thanksgiving table would seem empty without it.
A simple baked sweet potato is one of the easiest ways to get them on the holiday table. I've shown you how to cook a baked potato before, but this is a little different. Today I'm showing you how to bake SWEET potatoes. Their natural flavor goes a long way, so you don't need to add on a bunch of toppings. We're keeping it simple with a bit of butter, cinnamon, and sugar.
This is the PERFECT baked sweet potato recipe, and it's so easy to make!
Need to know how to bake sweet potatoes? Or how LONG to bake sweet potatoes? Keep reading!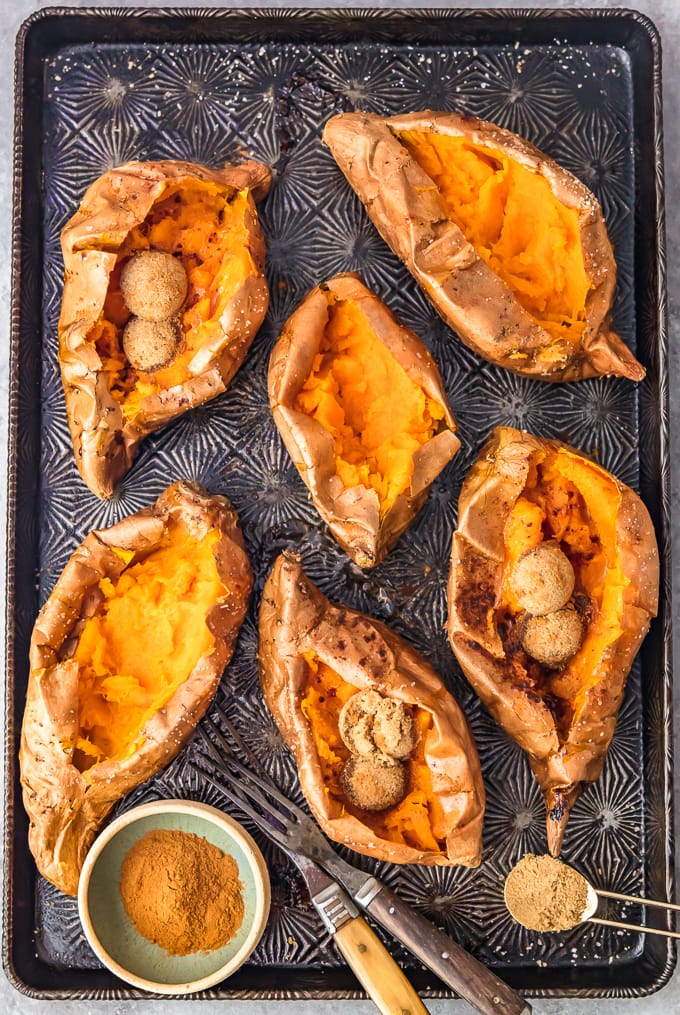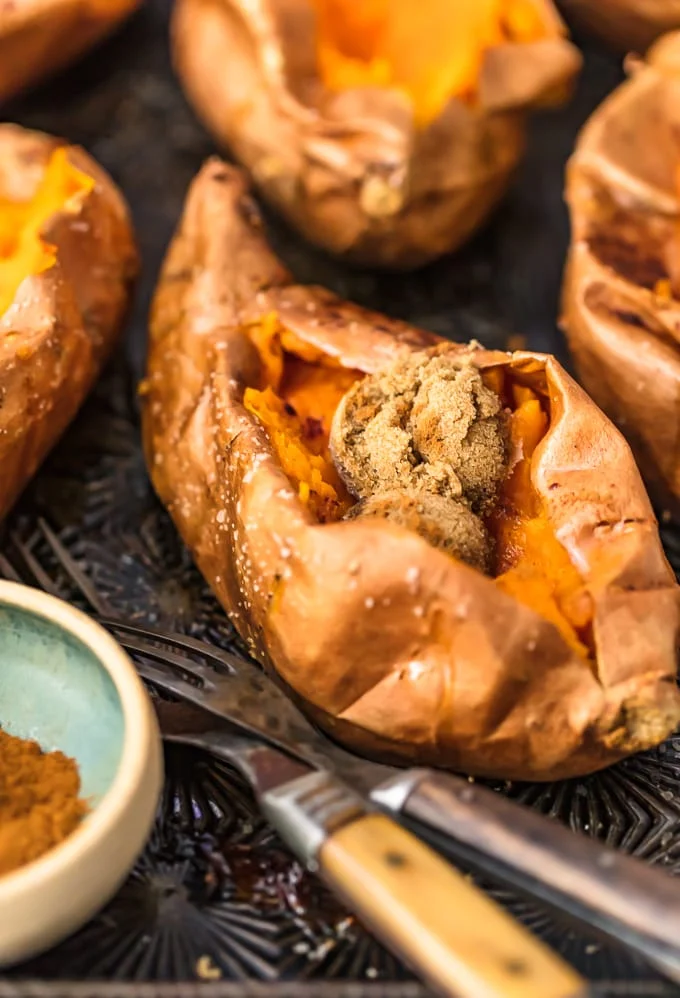 How to Bake Sweet Potatoes
It's super easy to make baked sweet potatoes. A simple process for simple flavor. Here's how to bake sweet potatoes:
Preheat the oven to 350°F
Rinse and scrub the sweet potatoes
Use a fork to prick holes all over the potatoes, and place them on a baking sheet
Drizzle olive oil and rub it over the potatoes to coat them
Sprinkle just a bit of salt over the potatoes (if you don't want the added salty flavor to balance out the sweet, you can skip the salt)
Bake 45-60 minutes
How long to bake sweet potatoes
How long to bake sweet potatoes will vary slightly based on which temperature you bake at, and all ovens will vary slightly. For this recipe, we are baking sweet potatoes for about 45-60 minutes at 350°F. The best way to check if your potatoes are fully cooked through is to just use a fork. The skin will be easy to pierce when it's done cooking, and they will be soft.
The good news is that it's hard to overcook a sweet potato, so it's better to give it a few more minutes if you're not sure.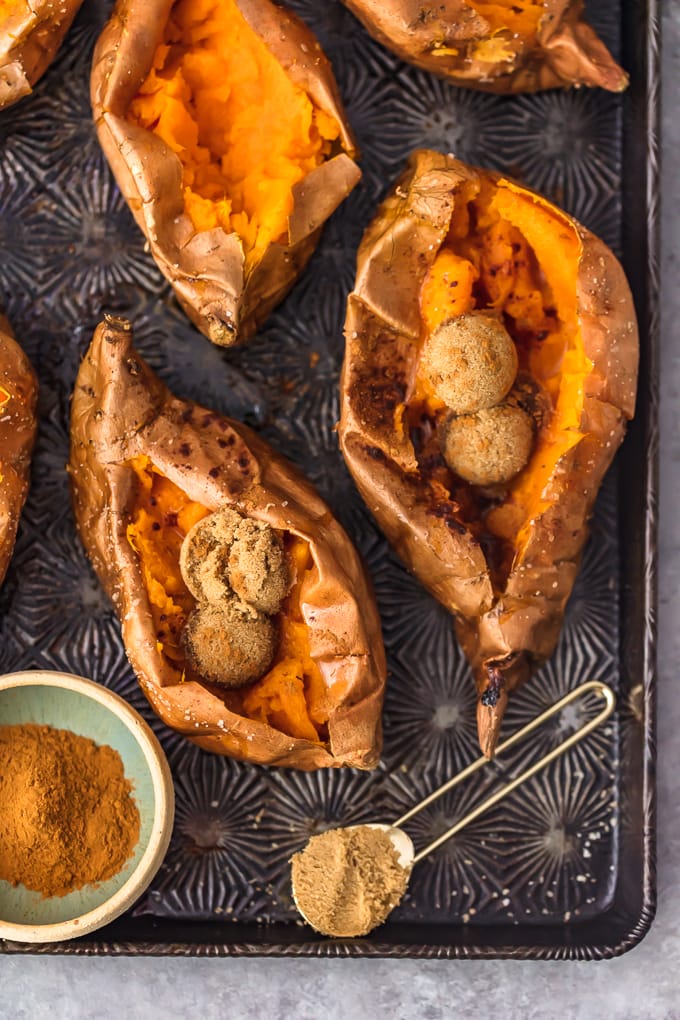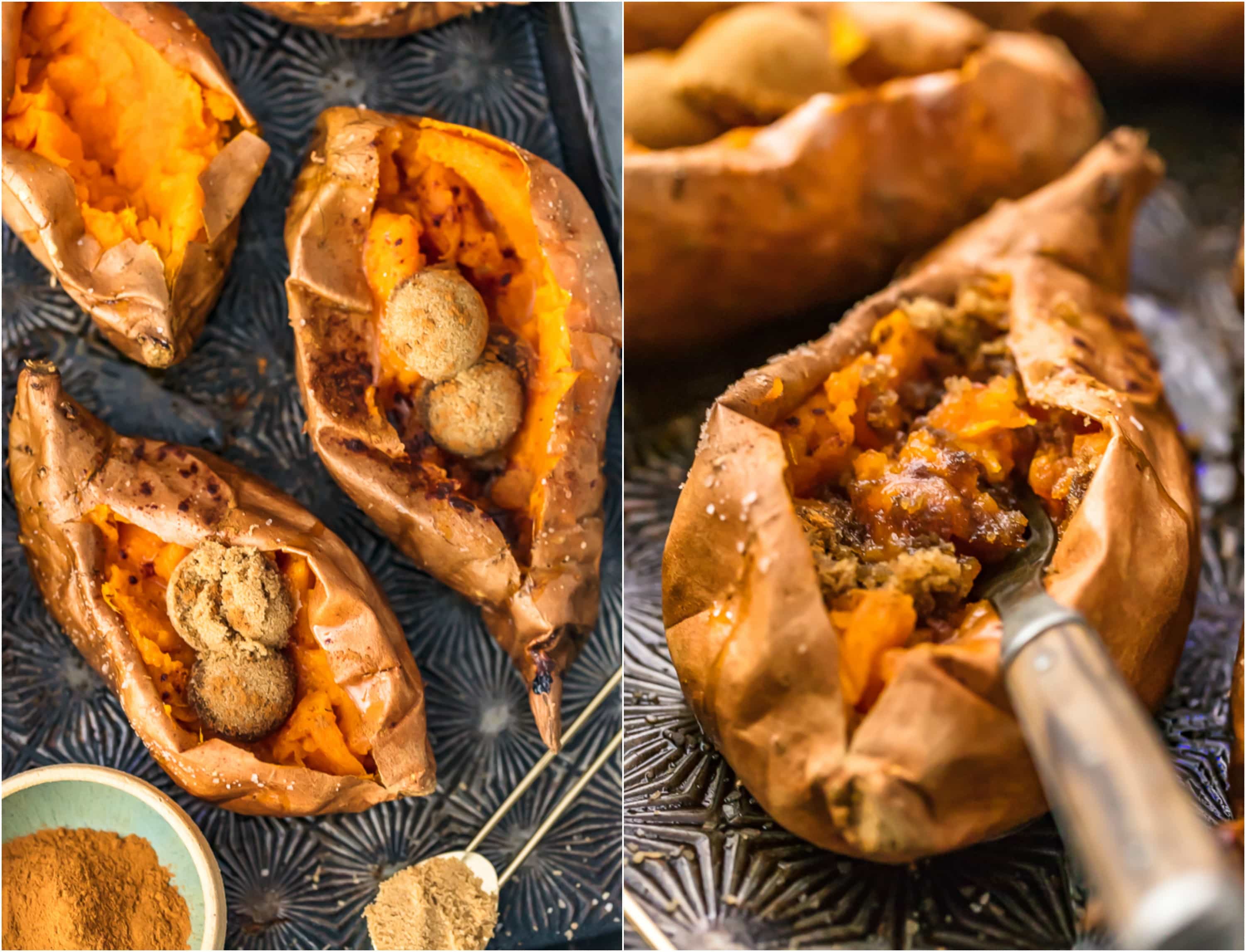 How to make the Perfect Baked Sweet Potato
Making the perfect baked sweet potato is about more than just sticking it in the oven and knowing how long to bake it. Sure, that stuff is important. But what makes this the BEST baked sweet potato is the simple additions to create the most amazing flavor.
Sweet potatoes are naturally sweet, so they don't need much to make them taste amazing. Once the potatoes are baked, you just need to add a couple of things to finish them off.
First, slice the sweet potatoes from end to end, and give them a squeeze to really open them up.
Drizzle the melted butter inside (I used salted butter, but you can use unsalted butter if you prefer).
Then add 1 tablespoon of brown sugar and just a pinch of cinnamon to each potato.
YUM! The baked sweet potato with cinnamon sugar makes all the difference. It's so delicious and it makes the perfect side dish to any meal.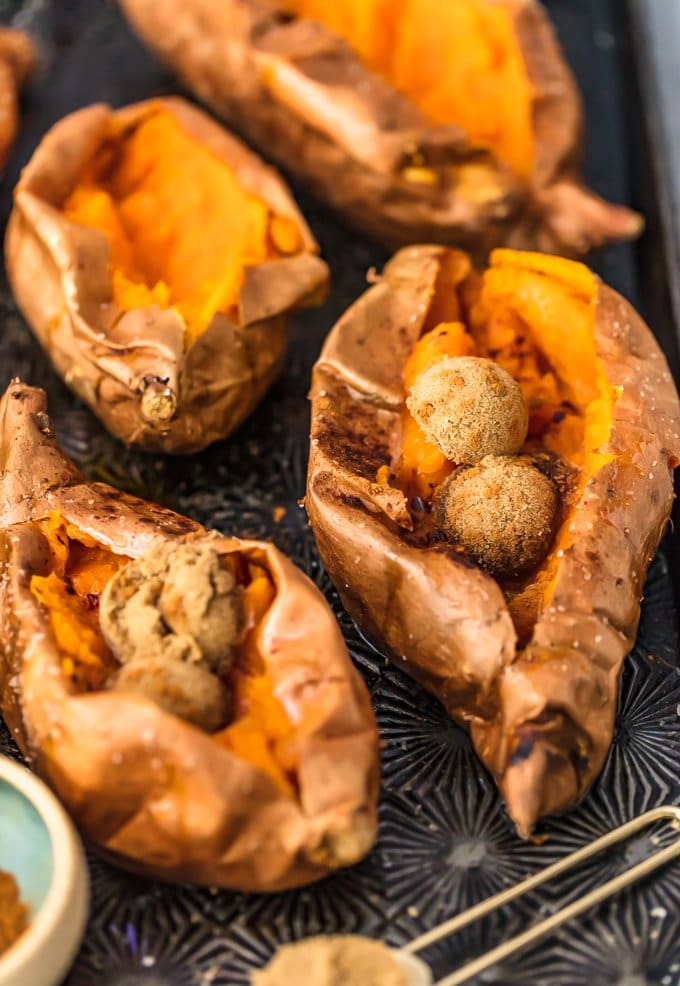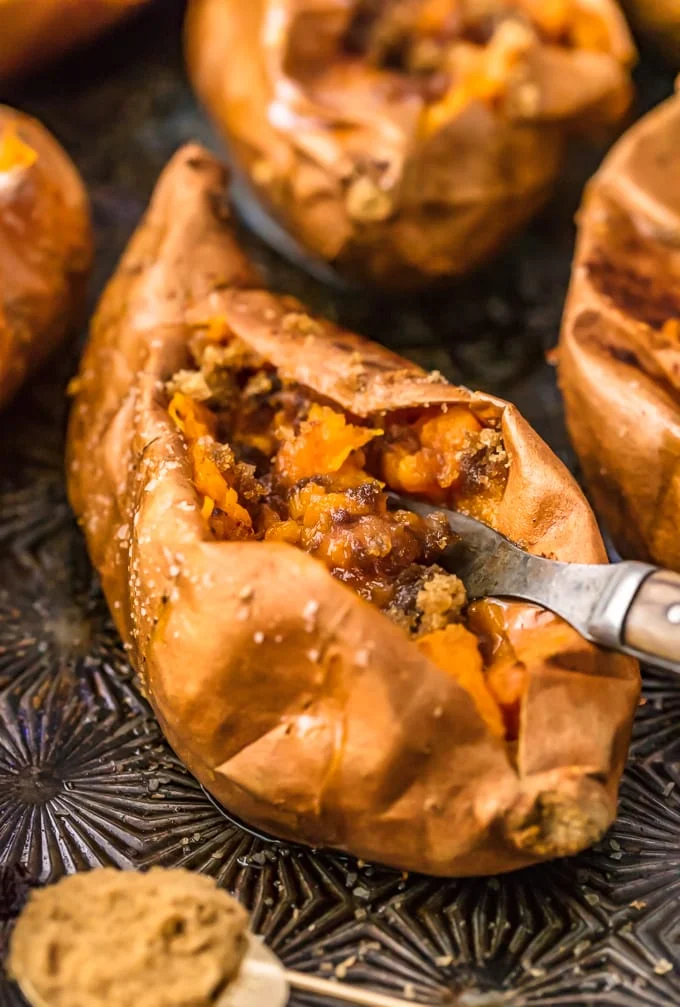 Baked Sweet Potato with Cinnamon Sugar
The cinnamon sugar topping really takes these baked sweet potatoes up a notch. Call me crazy, but I could almost eat one of these as a dessert because they are just the right level of sweet! Mixing the brown sugar and cinnamon straight into the potato flesh along with the butter turns it into the most delectable little treat.
Best Sweet Potato Recipes
This simple baked sweet potato is just the beginning! Whether you're looking for something to add to the holiday table, or just a simple side dish for any meal, sweet potatoes are the answer! There are so many ways to eat them. And because they're sweet, they make some of the best desserts too.
Try some of the best sweet potato recipes: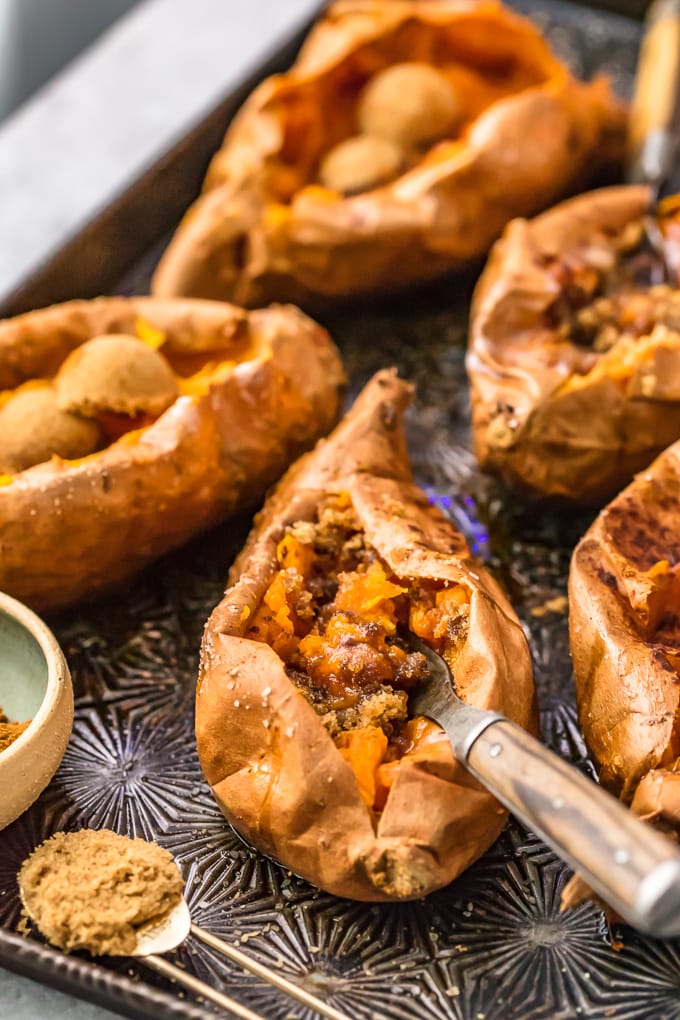 Now that you know how to make the perfect baked sweet potato, you're all set! Make these on Thanksgiving, Christmas, or any time you need a delicious, simple side dish.
See the recipe card below for details on how to make baked sweet potatoes. Enjoy!
If you like this recipe, try some of these other Thanksgiving and Christmas sides: