Candied Sweet Potatoes are a must on Thanksgiving! These baked candied sweet potatoes are SO EASY and only contain 4 INGREDIENTS. This easy candied sweet potatoes recipe is simply delicious, the perfect holiday recipe.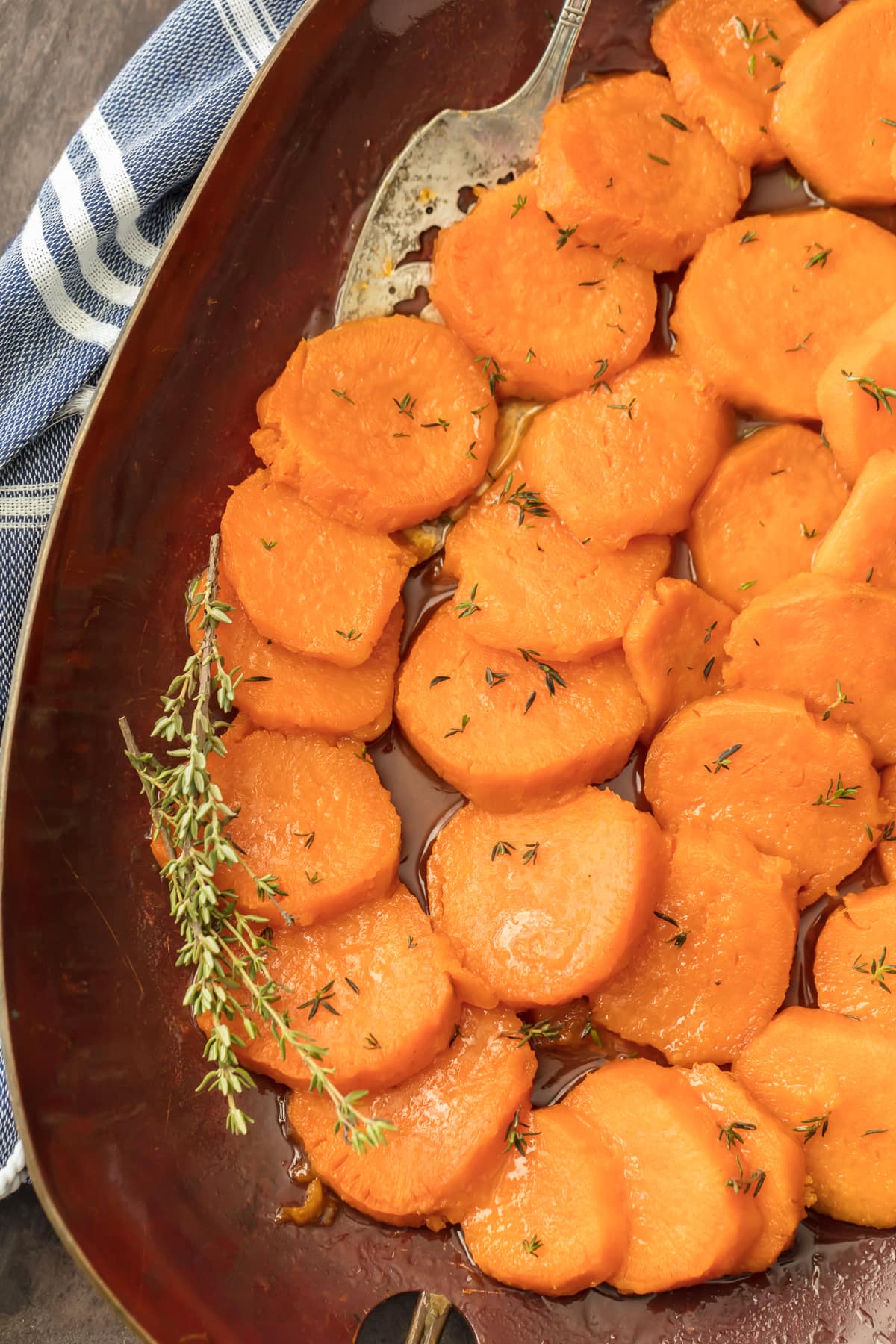 Candied Sweet Potatoes
Candied Sweet Potatoes are a simple and classic Thanksgiving side dish. This baked candied sweet potatoes recipe is so easy and so flavorful!
Is everyone loving the absolute barrage of Thanksgiving recipes we have been bringing you lately? It's all thanks to my mom, Susie. She could tell I was behind on things and kind of flailing about, not having ANY Thanksgiving recipes ready to post. So she has come over for the past two weeks to help me SO MUCH.
I can't thank her enough, and you should thank her too because she is a recipe GOLD MINE. She's an incredible cook. Where I am slowly learning my way around a kitchen, she is a natural. We never lacked delicious home cooked meals growing up, and now she is helping our family to have the same!
These BAKED CANDIED SWEET POTATOES have only 4 INGREDIENTS (that's right) and are just so perfect for Thanksgiving. Every Thanksgiving table needs a solid sweet potato recipe, and this is just the ticket! It's so easy and so full of flavor. They'll be right at home on the holiday table.
This Baked Candied Sweet Potatoes Recipe is the perfect Thanksgiving side dish. So easy and so delicious!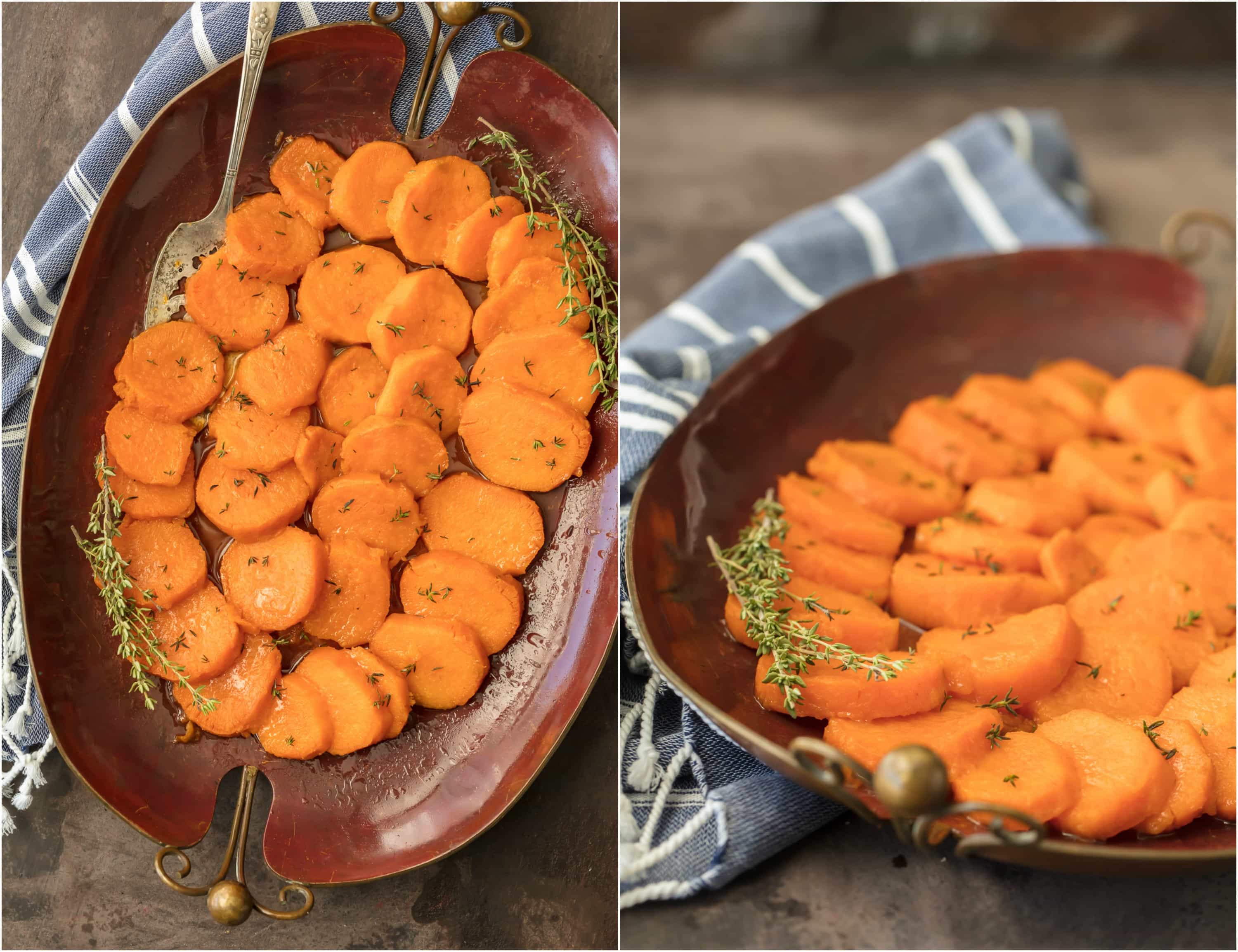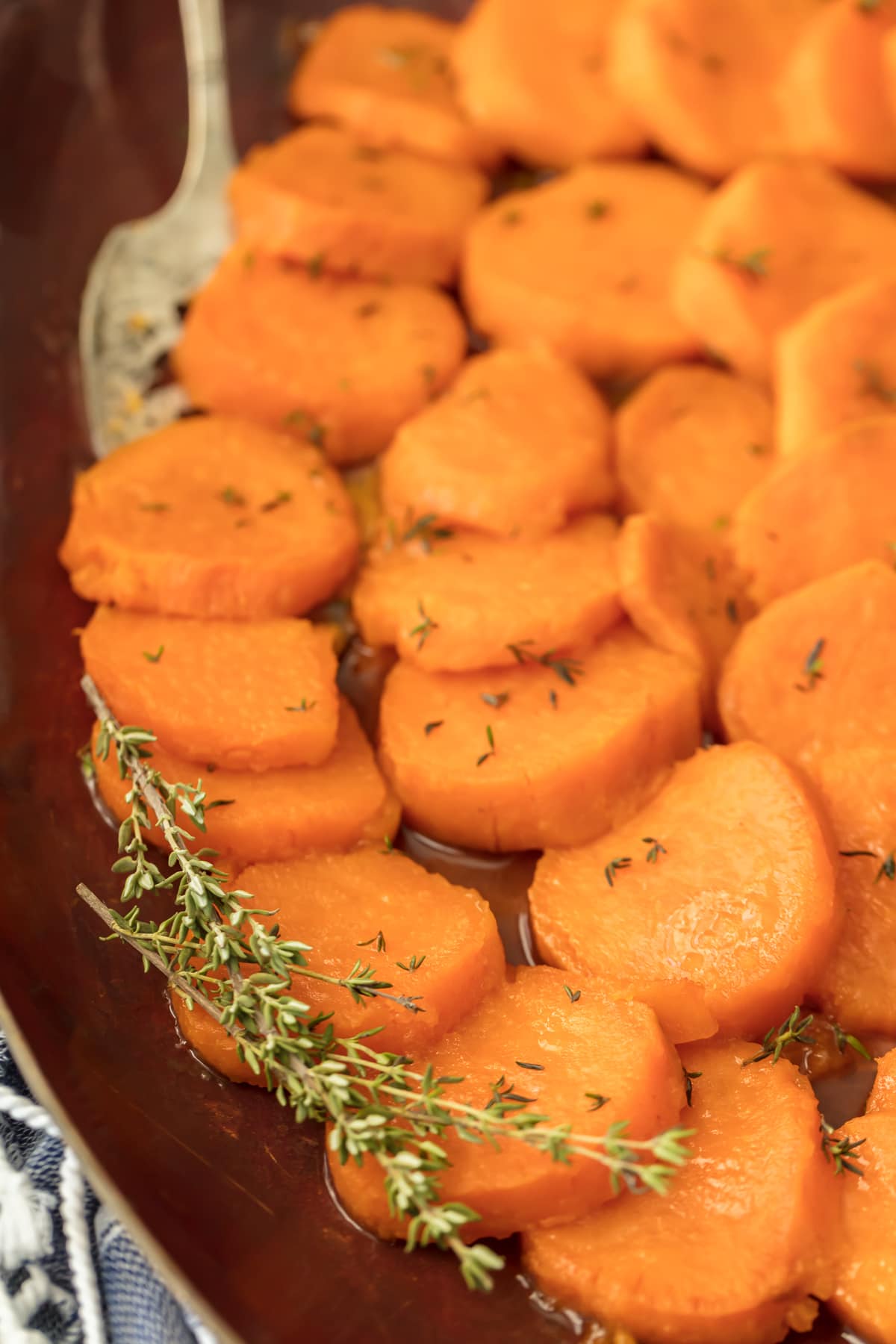 Easy Baked Candied Sweet Potatoes
There are lots of great sweet potato recipes out there. I have made sweet potato enchiladas, loaded sweet potato skins, and so many more. But this Baked Candied Sweet Potatoes recipe is truly the easiest version I have ever come across. Just oh so simple, tasty, and perfect.
There's no need for fuss around a Thanksgiving table. Sometimes the simple recipes allow the flavors of ALL the food to come through. And you know there will be A LOT of food on our table!
How to Make Candied Sweet Potatoes
This baked candied sweet potatoes recipe is just so easy, I can't get over it. Simple recipes are the best around the holidays, because they taste amazing but they don't require all of the hassle and stress. Side dishes should definitely be uncomplicated, and these sweet potatoes are an easy win.
How to make Baked Candied Sweet Potatoes:
Boil sweet potatoes whole, for about 30-45 minutes. Then drain and let cool.
Peel potatoes and cut into 1/2 inch slices.
Place sweet potato slices onto the baking dish.
Melt butter on the stove and mix in sugar and salt, then pour glaze over the potato slices.
Baked sweet potatoes for 25-30 minutes at 450°F.
It couldn't be simpler! These tasty candied sweet potatoes are baked to perfection, covered in the most delicious glaze. These HAVE to be served at Thanksgiving; you won't regret it!
Can you boil sweet potatoes with skin on?
Yes! You can boil sweet potatoes whole, with the skin still on. Peel and slice them after boiling, when they are soft and easier to handle.
How do you make glaze for sweet potatoes?
Making the glaze for these candied sweet potatoes is simple. Just melt butter in a saucepan, then whisk in a bit of sugar and salt. This smooth, rich glaze tastes so good poured over the baked sweet potatoes!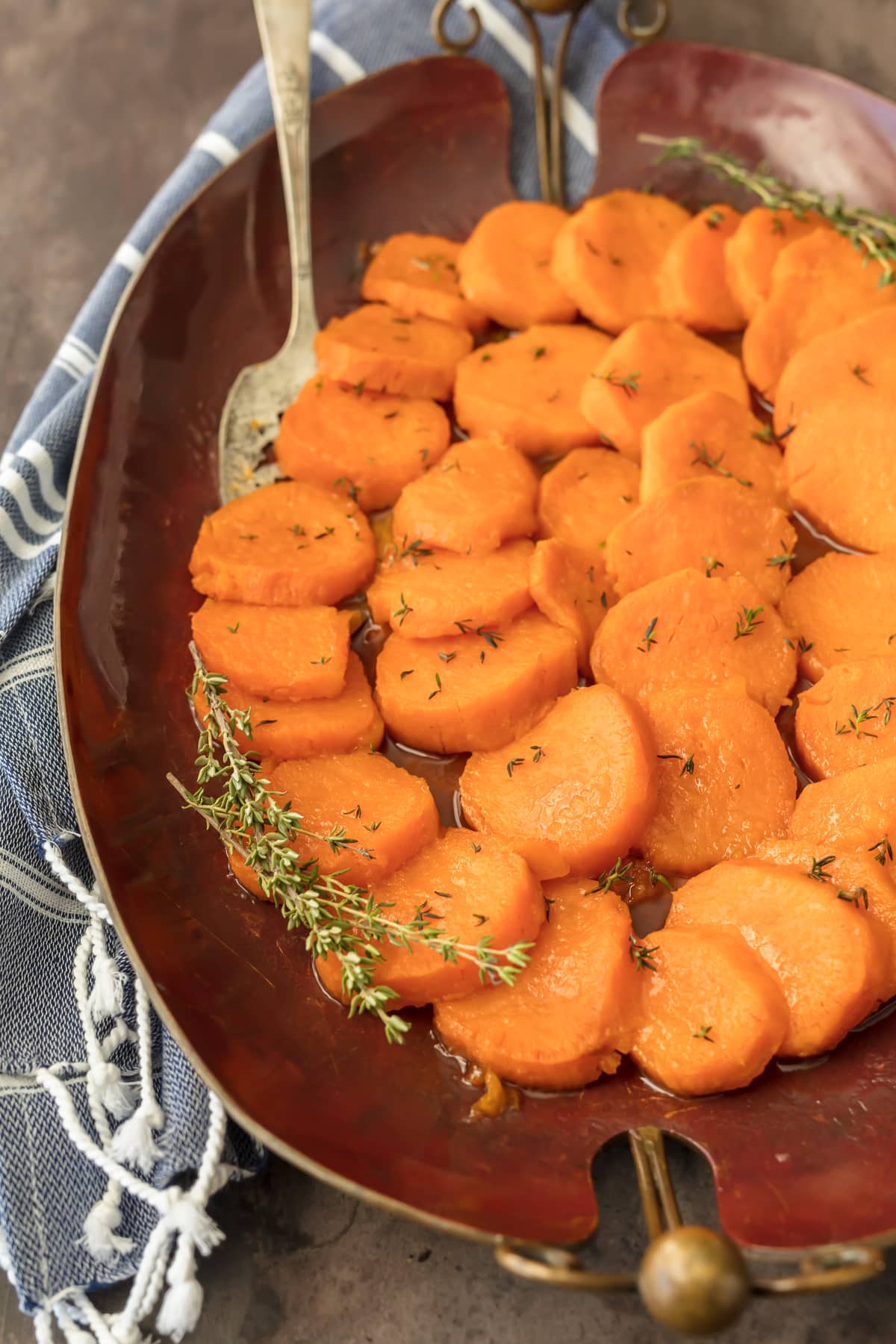 If you enjoy simple recipes as much as we do, then these Baked Candied Sweet Potatoes are the recipe for you! Serve them up along with your other holiday favorites. They're a great Christmas side dish too. Happy Thanksgiving!
See the recipe card below for details on how to make Candied Sweet Potatoes. Enjoy!
If you like this candied sweet potatoes recipe, you'll love these other easy Thanksgiving recipes too: