This old-fashioned Candied Sweet Potatoes recipe only requires 3 ingredients, so it's super easy to make! Slices of sweet potatoes are coated in a sweet and buttery glaze, then baked in the oven until soft and mouth-wateringly delicious. This classic sweet potato side dish is a must for Thanksgiving!
What's in this Candied Sweet Potatoes recipe?
You only need 3 basic ingredients to make candied sweet potatoes (plus a pinch of salt). It's such an easy recipe, and sure to please everyone at the table.
Sweet Potatoes: This vegetable is the star of this side dish.
Butter: Use salted butter to make the "candy" mixture–it creates a rich and buttery sauce!
Powdered Sugar: I prefer confectioner's sugar for the sauce because it's light and doesn't get grainy.
Salt: Just a pinch to balance the flavors.
Pro Tip: Boil the potatoes whole, then peel and slice after they've cooled.
Variations on Baked Candied Sweet Potatoes
These easy candied sweet potatoes are such a simple recipe–you don't need much to make them taste good! But if you like, you can add some other ingredients into the sauce, like vanilla extract, maple syrup, or orange zest. You can also sprinkle something on top before baking, like cinnamon (or nutmeg or allspice), chopped pecans, or fresh rosemary or thyme.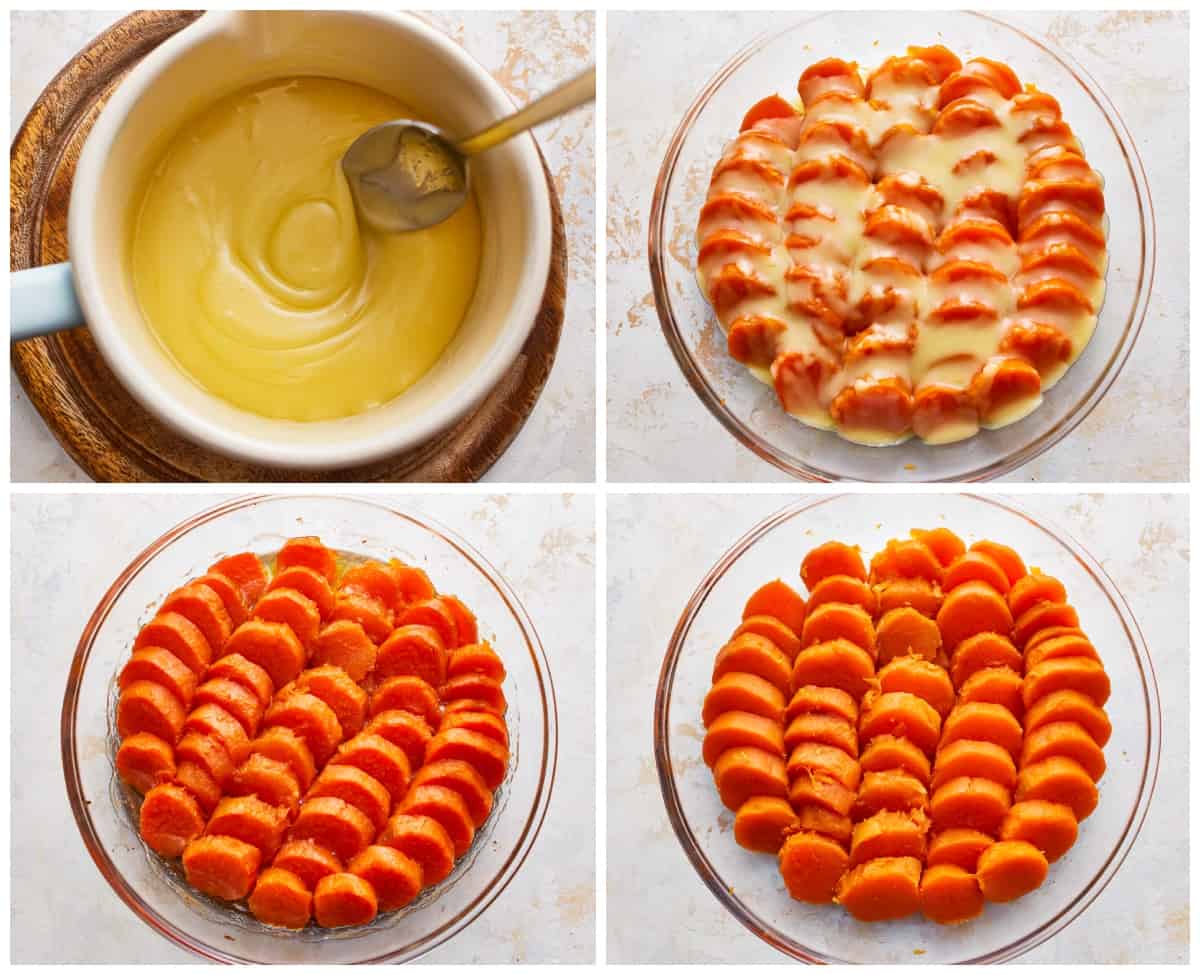 What are candied sweet potatoes?
Slices of sweet potatoes are cooked in a glaze, made of butter and sugar, that gives them a "candied" effect, like caramelization. They taste rich, buttery, and sweet.
Can you boil sweet potatoes with skin on?
Yes! You can boil sweet potatoes whole, with the skin still on. Peel and slice them after boiling, when they are softer and easier to handle.
How do you make the candy glaze for sweet potatoes?
Making the glaze for these candied sweet potatoes is simple. Just melt butter in a saucepan, then whisk in a bit of sugar and salt until everything is fully melted and combined.
How long do you bake candied sweet potatoes?
This sweet potato recipe only takes 25-30 minutes to bake in the oven at 450°F. Boiling them first keeps the oven-time down!
How thick should I slice sweet potatoes for this recipe?
Cut the sweet potatoes into 1/2 inch slices. This is the perfect thickness to make them soft and tender–thicker and they'd need to cook longer, thinner and they'll get too mushy.
Are candied sweet potatoes and candied yams the same thing?
Yams are a different type of potato, with white flesh and brown skin. However, sweet potatoes are often sold as "yams", so in North America, you'll likely end up with the same thing. That means candied yams are often the same thing as candied sweet potatoes.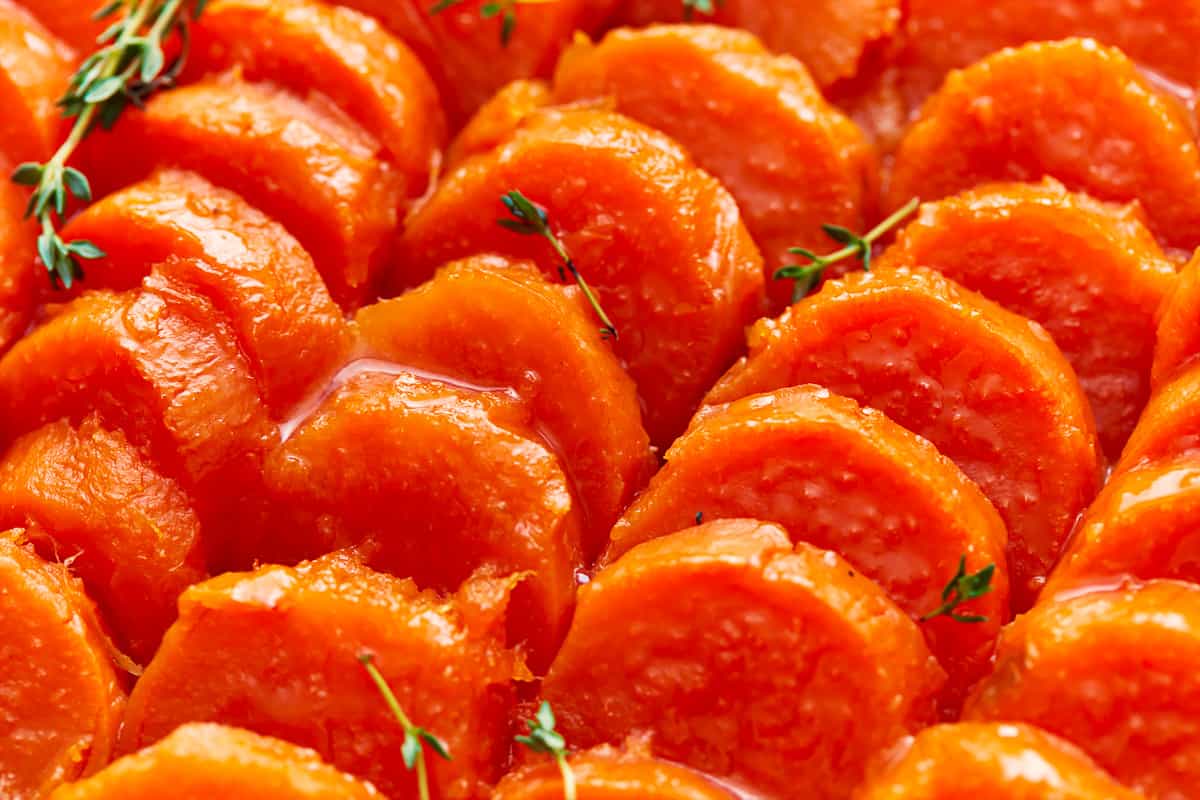 How to Store and Reheat
Store leftover candied sweet potatoes in an airtight container in the refrigerator for up to 5 days. Reheat in a 350°F oven covered with foil for 20-30 minutes, or until warmed through.
How to Freeze
Freeze these candy sweet potatoes in an airtight container or Ziplock bag for up to 3 months. Let thaw overnight in the refrigerator before reheating.
Serving Suggestions
These baked candied sweet potatoes are a classic Thanksgiving side dish that pairs beautifully with Thanksgiving turkey, stuffing, homemade cranberry sauce, green bean casserole, creamed corn, ambrosia salad, and the rest of your holiday favorites.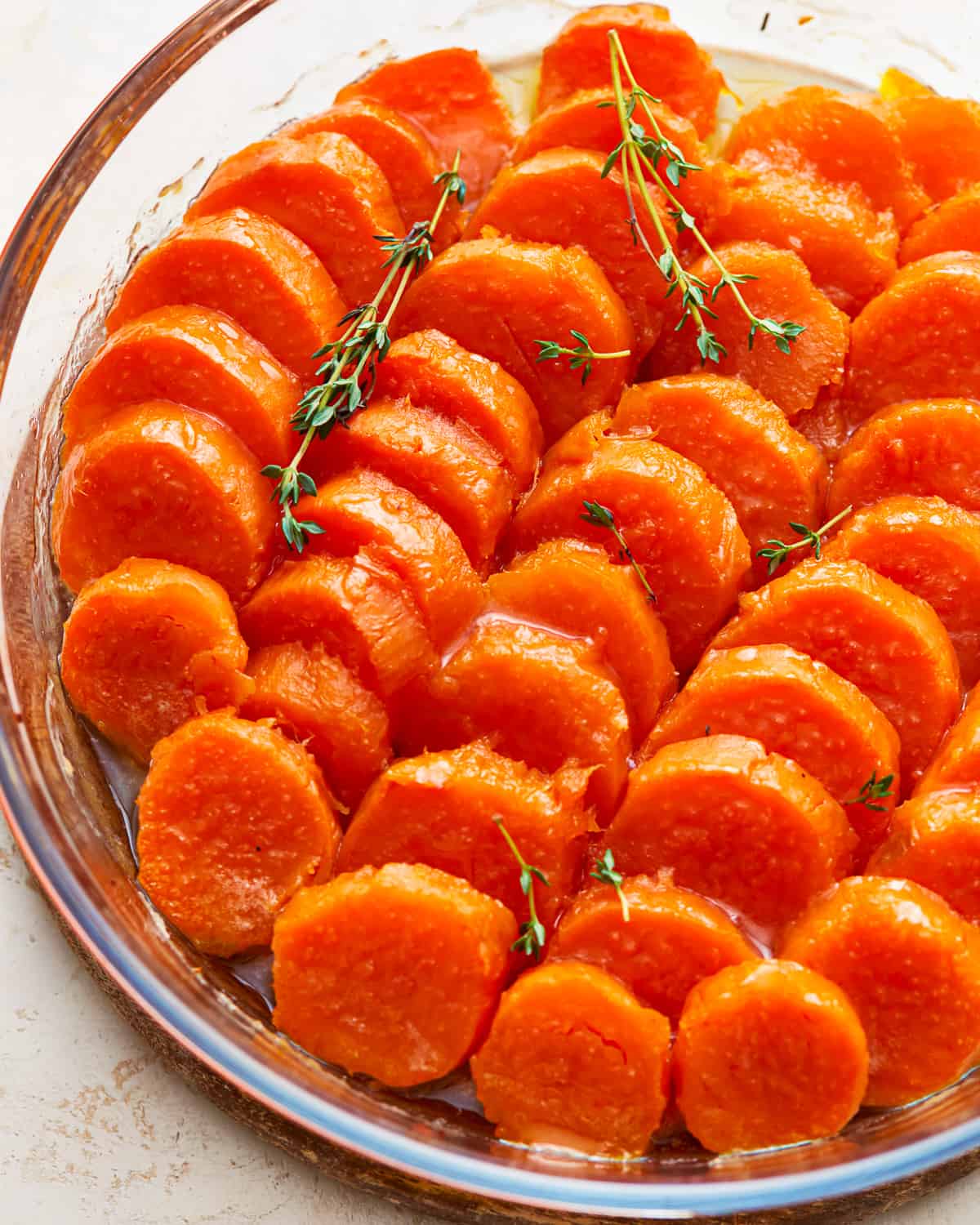 More Sweet Potato Recipes for Thanksgiving