Keto Coffee is the perfect way to start your day if you're following a low-carb or keto diet. This Vanilla Keto Coffee Recipe makes it SUPER EASY to make ketogenic coffee in a pinch!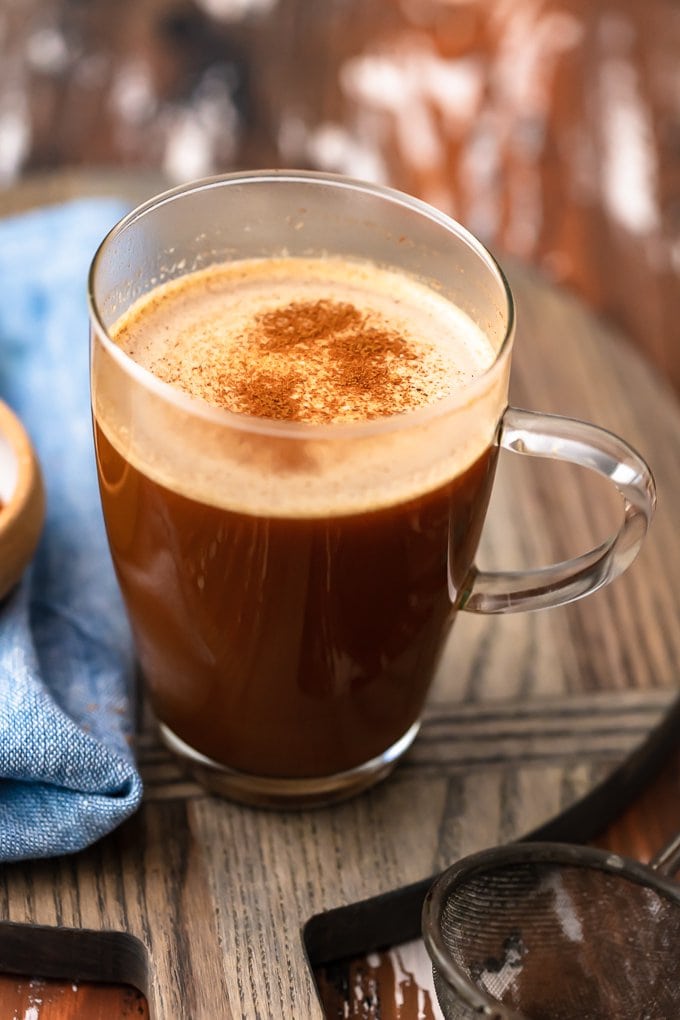 Keto Coffee Recipe
Keto Coffee is a great start to any day. Make it even better by adding some extra flavor in there too! This Vanilla Keto Coffee Recipe is super delicious and super easy to make.
This tasty ketogenic coffee is the perfect drink for anyone on the keto diet. And even if you're not, you'll love the flavor of this stuff.
The benefits of this coffee drink are more energy, a good source of healthy fats, and less cravings throughout the day (which can help you lose a few pounds if you find yourself getting hungry every time you have a cup of coffee).
So basically, it's coffee plus a bunch of awesome low carb benefits. What could be better than that?
It's never been easier to make Keto Coffee than it is with this simple recipe!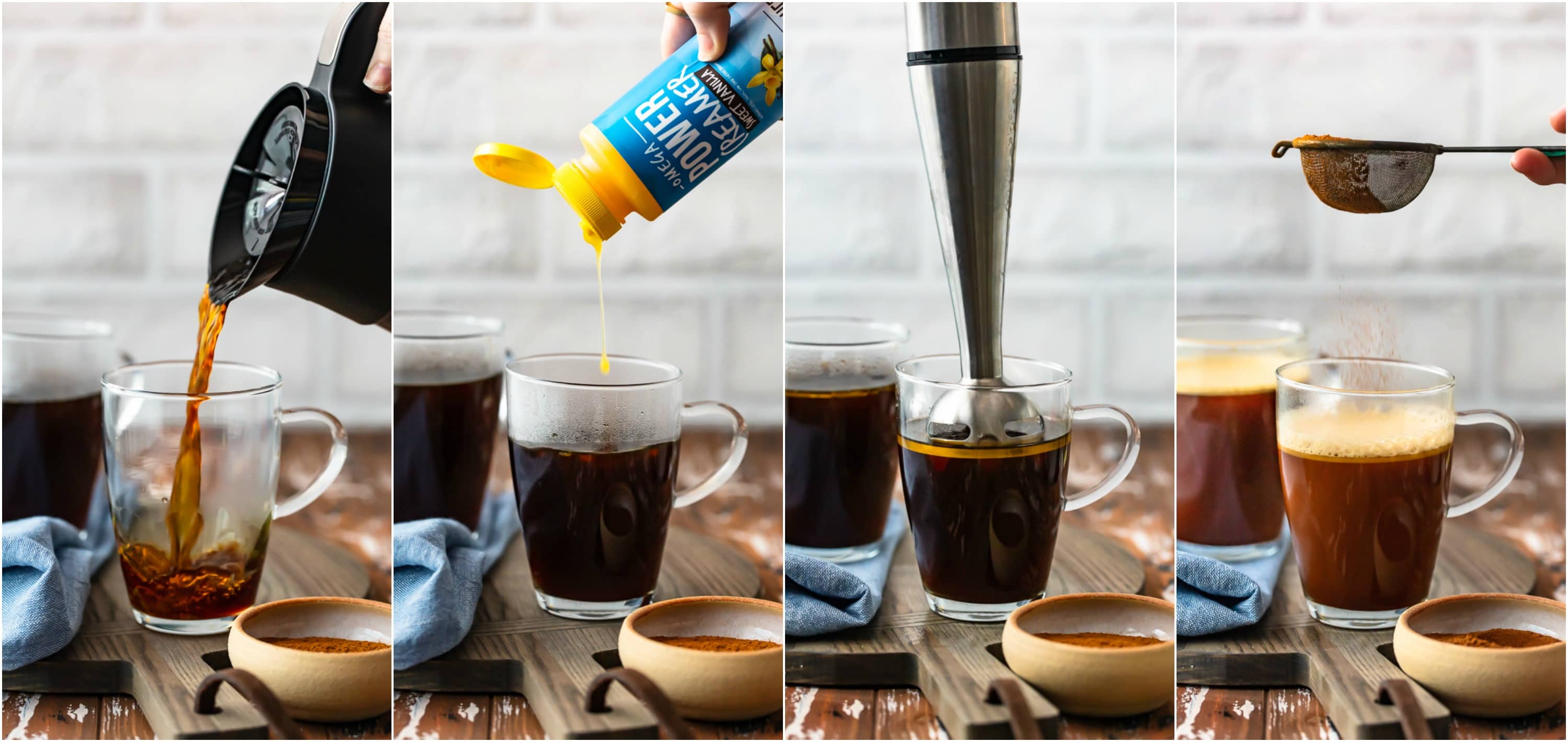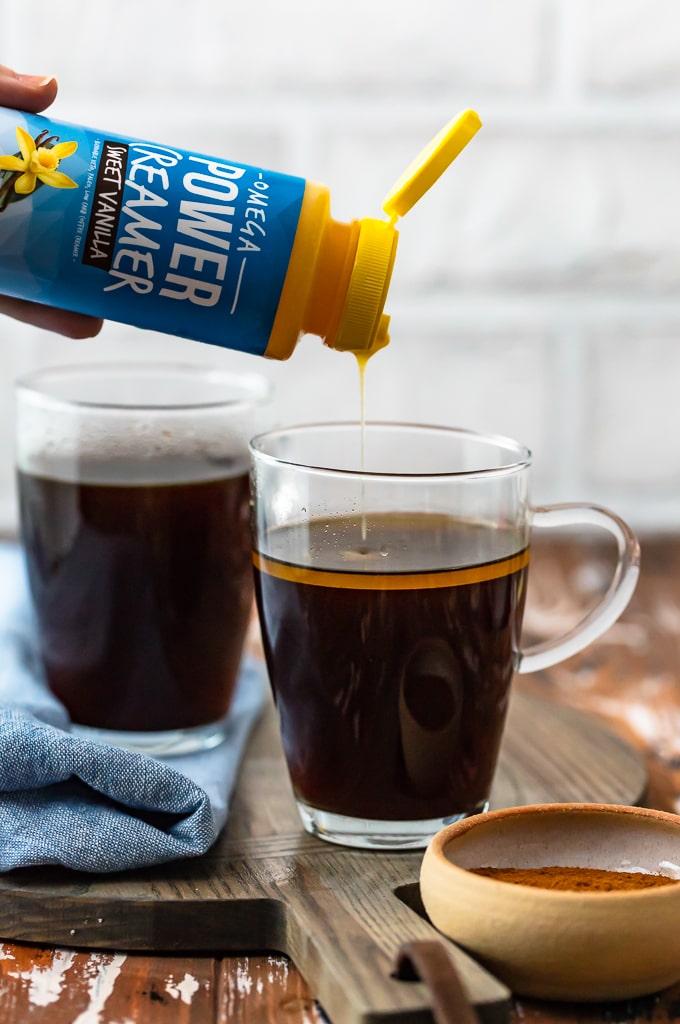 Keto Coffee Creamer
Omega PowerCreamer is the perfect easy add-in to make your morning Low Carb Coffee, or Keto Coffee! Rarely have I been THIS EXCITED about a new product that comes my way. I am so excited to share it with you, and I hope you give it a shot.
When I've made Keto Coffee Recipes in the past, I've always had to buy all of the ingredients separately. That's a pain, but also pricey. Omega has put everything together in one handy bottle AND made 4 delicious flavors; Original, Vanilla, Cinnamon, and Cacao!
Making Vanilla Keto Coffee using this Low Carb Coffee Creamer instead of purchasing everything separately is literally as simple as blending together strong coffee with Vanilla Omega PowerCreamer. I sprinkled with a dusting of ground cinnamon for a delicious bakery taste, but even that is optional.
All you need is two ingredients and you're well on your way to the perfect low carb morning…super charged! Click here to learn more about PowerCreamer or click HERE to check out flavor and buying options!!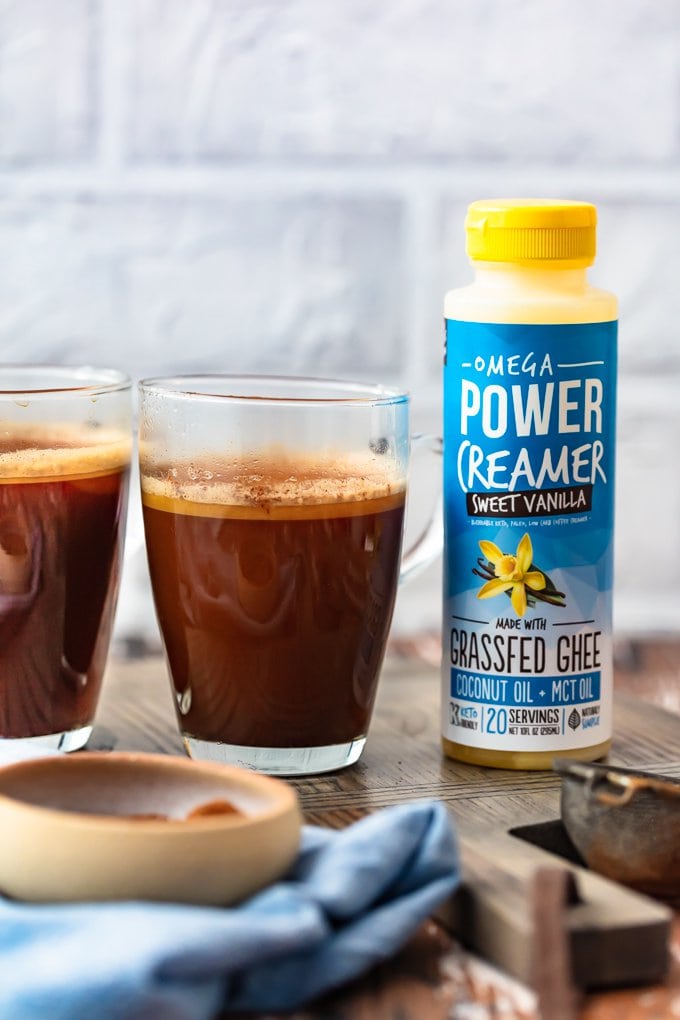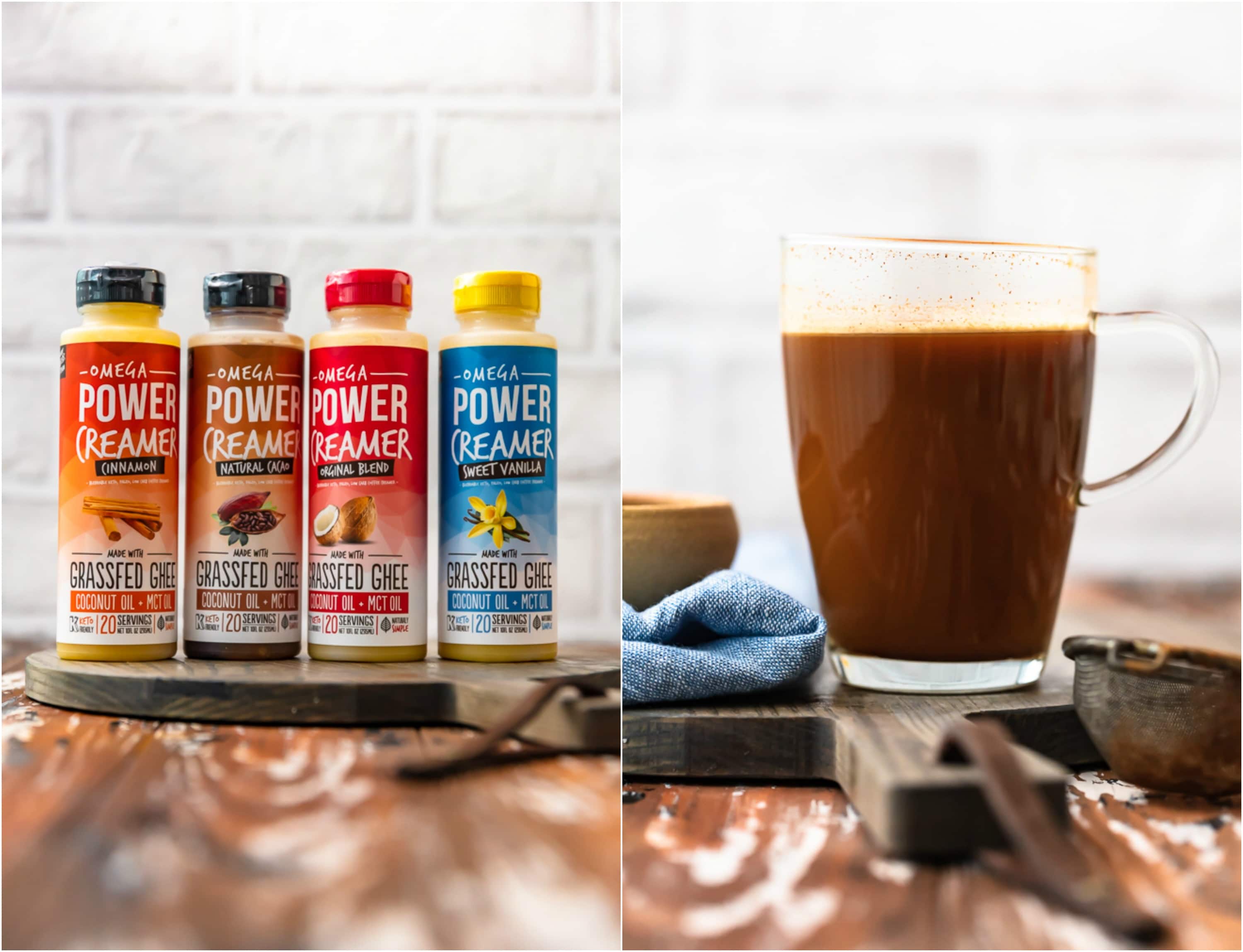 What is Ketogenic Coffee?
Ketogenic coffee is a type of coffee drink specifically geared towards people following the Ketogenic Diet (aka keto). The low carb diet focuses on high-fat, low-carb, with moderate amounts of protein.
This encourages the body to burn fat instead of carbohydrates. So if you're on a ketogenic diet, you need to get most of your calories from healthy fats in order to give your body energy.
Keto Coffee fulfills this need perfectly! It includes either butter or ghee, as well as MCT Oil. These added ingredients turn regular coffee into the perfect way to start your day. You've got your delicious morning coffee AND it's filled with healthy fats.
What are the benefits of drinking keto coffee?
There are a lot of benefits to drinking Keto Coffee versus regular coffee. One of the main draws for people is the sustained energy that it provides. The caffeine in coffee often leads to a burst of alertness right away, but is quickly followed by a crash. The butter/ghee and MCT oil help to give you more energy that lasts a lot longer.
Another benefit of ketogenic coffee is the supply of healthy fats that keep you feeling full. Regular coffee makes your stomach feel empty, which often leads to food cravings. So this could help you lose a bit of weight if you struggle with food cravings after drinking your morning coffee.
What is MCT Oil?
The main wonder of Keto Coffee is the MCT Oil! Basically, it's a type of saturated fatty acids that are found in coconut oil and palm oil. It's easy to blend into liquids, and it has no taste or smell. The great thing about MCT oil is that is provides clean, sustained energy, it supports healthy digestion, and it can suppress hunger.
What's especially great about the Omega Power Creamers is it has all the ingredients inside already, MCT Oil, Coconut Oil, Grass fed Ghee, PLUS natural flavors, to make things super simple (and MUCH cheaper than buying it all separately). I'm obsessed!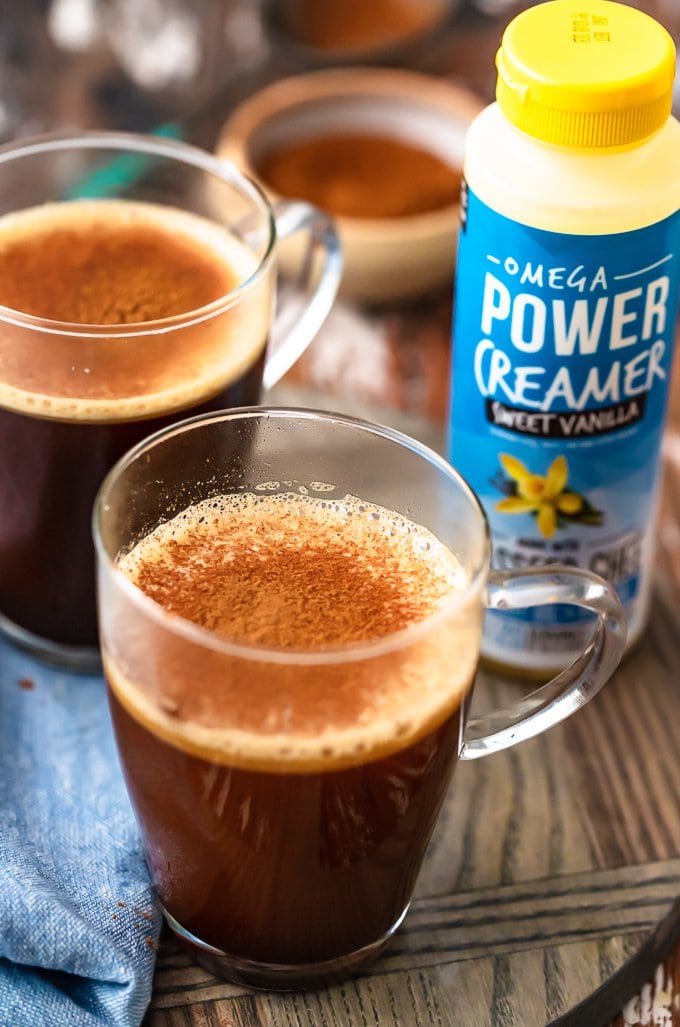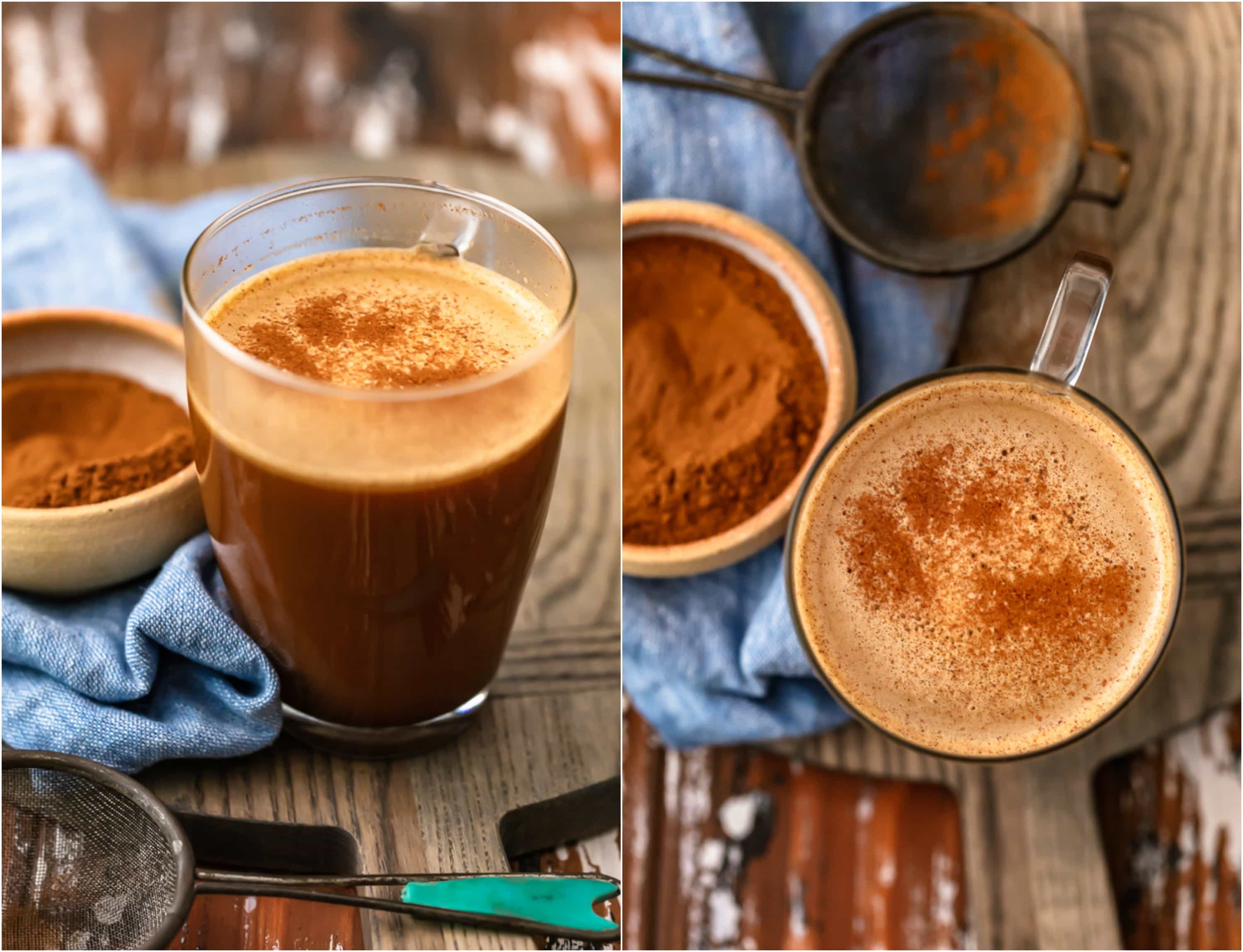 How to Make Keto Coffee
Making Keto coffee usually requires mixing in butter (or ghee) and MCT oil. Check my Bulletproof Coffee recipe here to see the typical way to make it. But for this Vanilla Keto coffee recipe, I wanted to make it EVEN EASIER. I love that this recipe makes it easy to mix in the ghee, MCT oil, AND extra flavor all at once.
So just brew your coffee, add in the creamer, use an immersion blender to mix it, and then top it off with a bit of cinnamon for a final kick!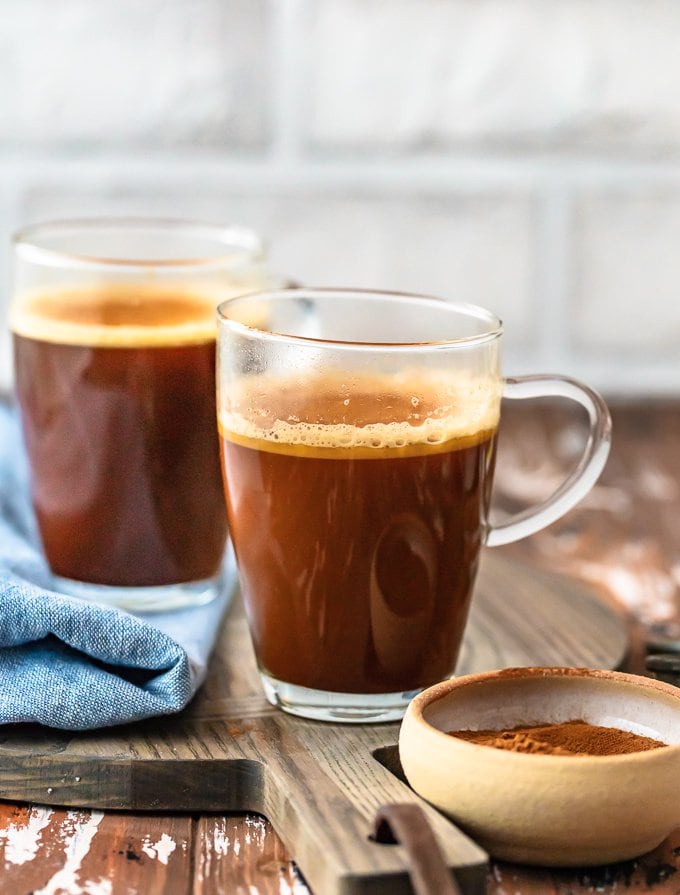 I know you guys are going to love this Vanilla Keto Coffee recipe as much as I do. And I know you're going to LOVE how easy it is. Mornings have never been simpler!
If you like this ketogenic coffee recipe, try our other favorite caffeinated recipes too:
If you make this recipe be sure to upload a photo in the comment section below or leave a rating. Enjoy! You can also jump to recipe.