This Caramel Frappuccino Recipe is everything you need to wake up refreshed. I used to head to McDonald's or Starbuck's almost every morning for my frozen coffee but now I have learned how to make a Caramel Frappe and home and it's so much better, both in taste and calories! This Frozen Caramel Frappe Recipe is a must make for any caffeine junky.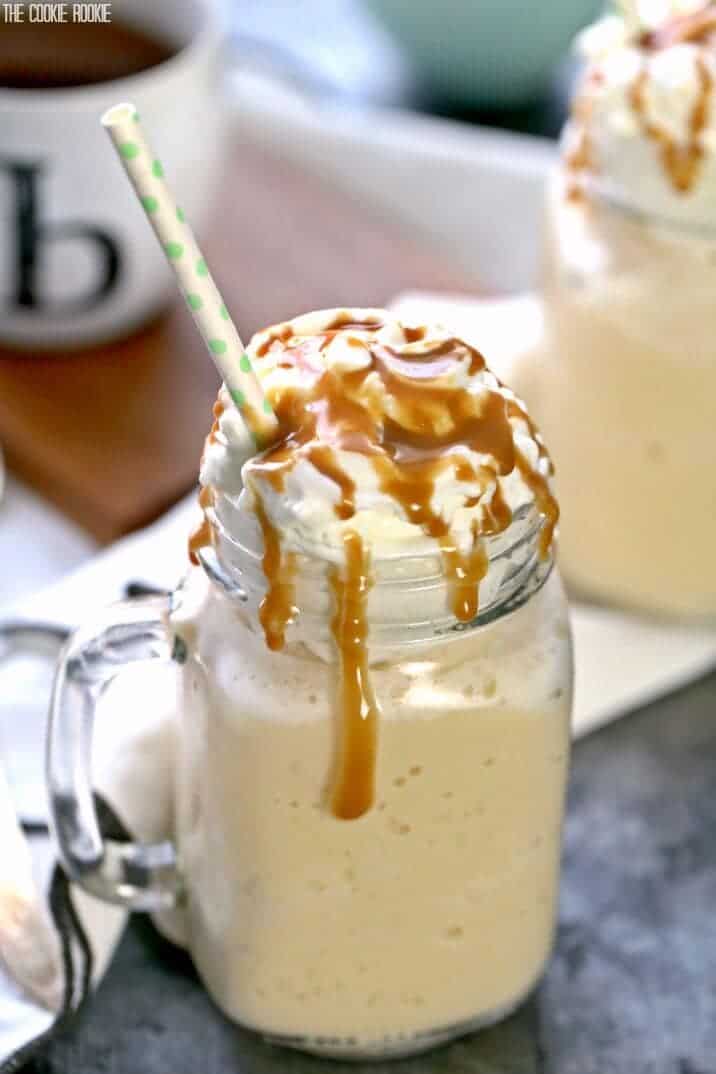 Homemade Caramel Frappe
A Caramel Frappuccino is the best way to start your morning.
This Caramel Frappuccino Recipe is my favorite breakfast! Is there any better way to start a day than with a Starbucks Frappuccino?? Talk about addicting. When I used to work in accounting, there was a Starbucks about a mile from my office. It was like a magnetic draw. SO hard to stay away. BUT ALL THE FAT AND SUGAR. Not worth it! This Homemade Caramel Frappe is easy, delicious, and FAT-FREE AND SUGAR-FREE!! Hallelujah!
Now that I know How to Make a Caramel Frappe at home, I'll never buy one from Starbucks or Mcdonald's again. This creamy, dreamy frozen cappuccino is the ultimate way to wake up, and stay awake. Are you ready for this Caramel Frappe Recipe?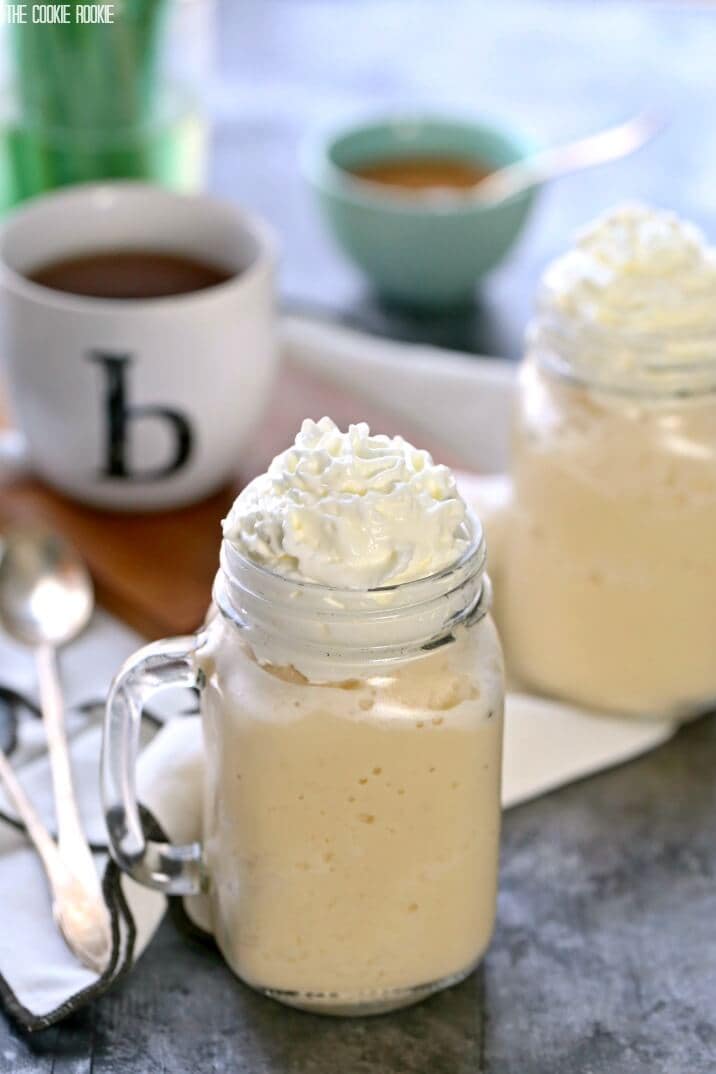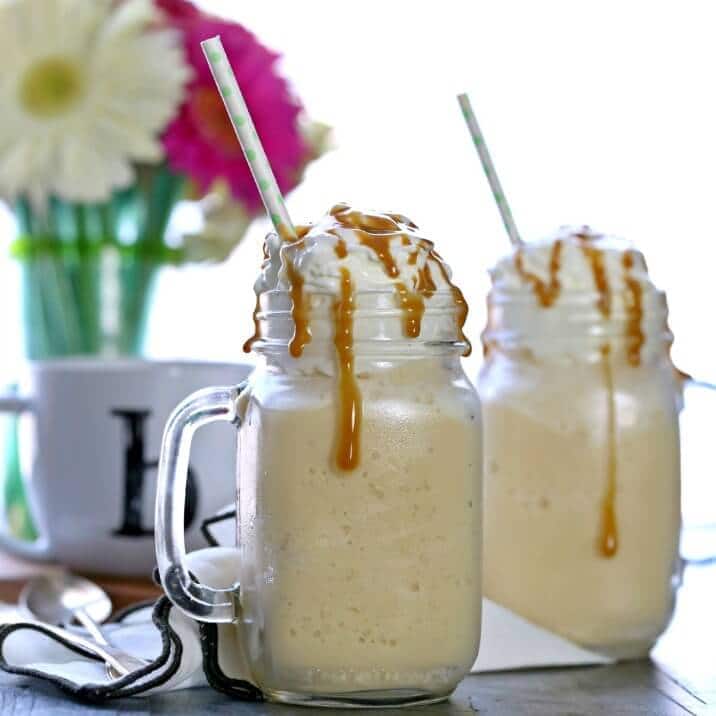 Skinny Frappuccino
We have made our Homemade Caramel Frappe Recipe fat-free and sugar-free but you can make it as indulgent as you'd like.
We love Caramel Frappuccino but don't love all the calories. Our version of a Caramel Frappe is under 100 calories! Is this Heaven? This Caramel Frappuccino Recipe is so creamy and yummy you'll never notice the difference. Your waistline will though! And they're made with just a few ingredients and in minutes!! Intrigued?? You need to make a Homemade Caramel Frappe asap.
If fat-free isn't your thing, you can you all full-fat ingredients. The sky is the limit. You can also use different flavored creamers to create a Frappuccino in any flavor under the sun! This is such a fun and versatile recipe.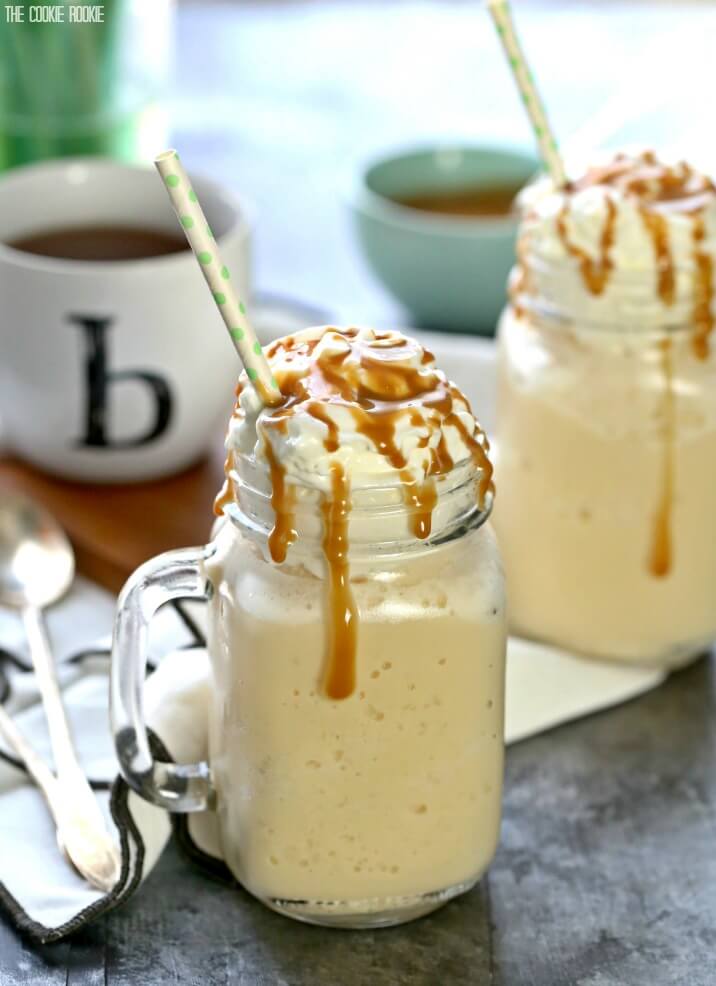 Easy Homemade Frappe
I need caffeine every morning before I start my day, so this Homemade Caramel Frappuccino is perfect for me.
I'm one of those people that needs a mug that reads "But First, Coffee". You should know not to speak to me before I've had at least 1.5 cups of caffeine. I love how this Skinny Caramel Frappe Recipe is the jolt of strong coffee I need with a creamy delicious caramel flavor. It's blended with ice so it's just perfect for the warmer parts of the year. It's like drinking a dessert for breakfast! I go back and forth between loving my Homemade Iced Coffee, Thai Iced Coffee, and this Caramel Frappe for my favorite morning brew. It's so hard to decide!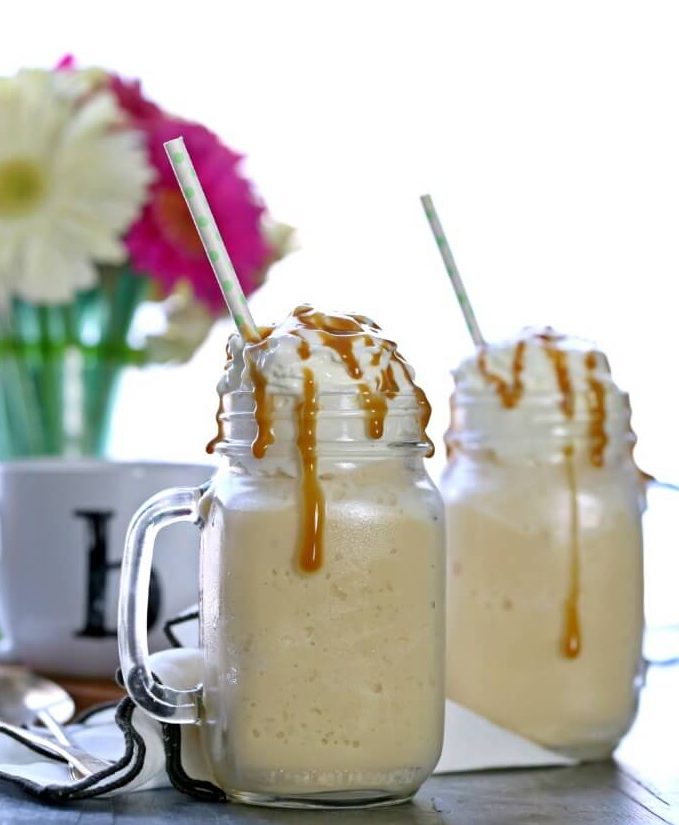 Starbucks vs Homemade Caramel Frappe
A Caramel Frappuccino from Starbucks costs between $3 – $7.
You can make a Caramel Frappe at home for so much less! Think of the possibilities. Cost savings galore!
A Grande Caramel Frappe from Starbucks has around 270 calories.
Our Skinny Homemade Caramel Frappe has under 100 calories!!! ROCK ON! I love this recipe.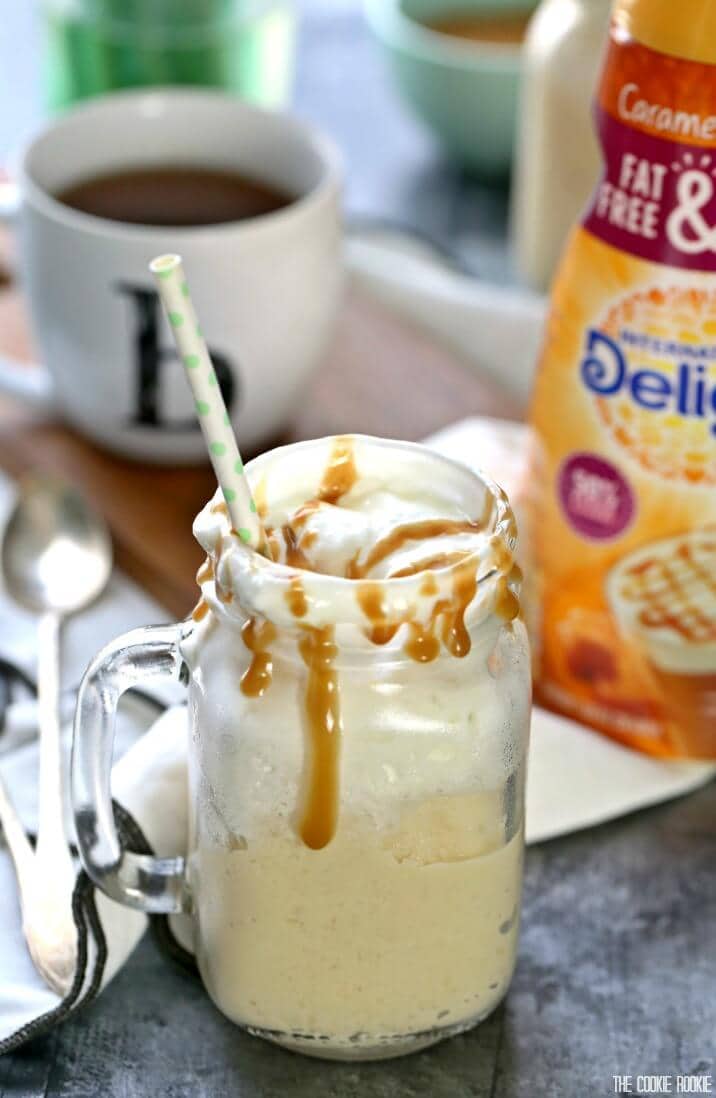 If you hate mornings and love coffee, this Frozen Caramel Frappe is for you! Let me know how you like it, and let me know if you come up with any amazing flavor combinations!
See the recipe card below for full details on How to Make a Caramel Frappuccino. Enjoy!
Try some of our other favorite coffee recipes:
AROUND THE WEB: Want to try other blended drinks in the morning? We love these: Mango Smoothie, Glowing Skin Smoothie, The Best Green Smoothie.