Creamy Cheesy Artichoke Dip baked onto toasted bruschetta. The perfect appetizer! These Creamy Artichoke Bruschettas are creatives bites, great any party or potluck.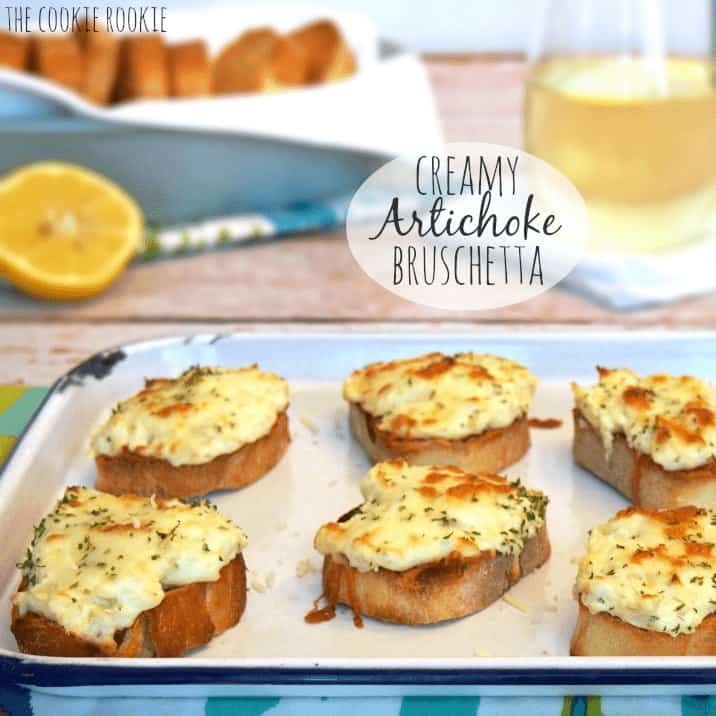 I'm a dip lover. That really shouldn't surprise you. I'm always on the lookout for the next delicious, creamy, cheesy dip to add to my growing arsenal of dips. Dips are my go-to appetizer to take to any party or get together. I just can't get enough. So why not spread a dip on some crispy bread – say hello to the Creamy Artichoke Bruschetta!
Why this is so good
Creamy, cheesy, garlic goodness in every bite!
A delicious twist on the classic bruschetta.
Easy to make, perfect for parties.
If you love artichoke dip then this is for you!
Ingredients
Cream Cheese – make sure it is softened. I used reduced fat, works great.
Bread – French bread is the perfect shape for these bites. Cut into medium slices.
Mayonnaise – I used mayo with olive oil, fewer calories than regular mayo.
Sour Cream – light sour cream work really well and keeps the calories lower.
Artichoke Hearts – canned and marinated, make sure they are drained well and chopped.
Cheese – Parmesan and mozzarella, shredded.
Garlic – minced cloves and garlic salt.
Parsley – fresh/chopped.
How to make Creamy Artichoke Bruschettas
Be sure to scroll to the bottom for the full recipe
Bake sliced bread until crispy, set aside. Mix cream cheese, mayo, sour cream, garlic, chopped artichokes, garlic salt, parsley and cheese. Then scoop the mix onto each slice of bread and broil for 5 mins
Enjoy!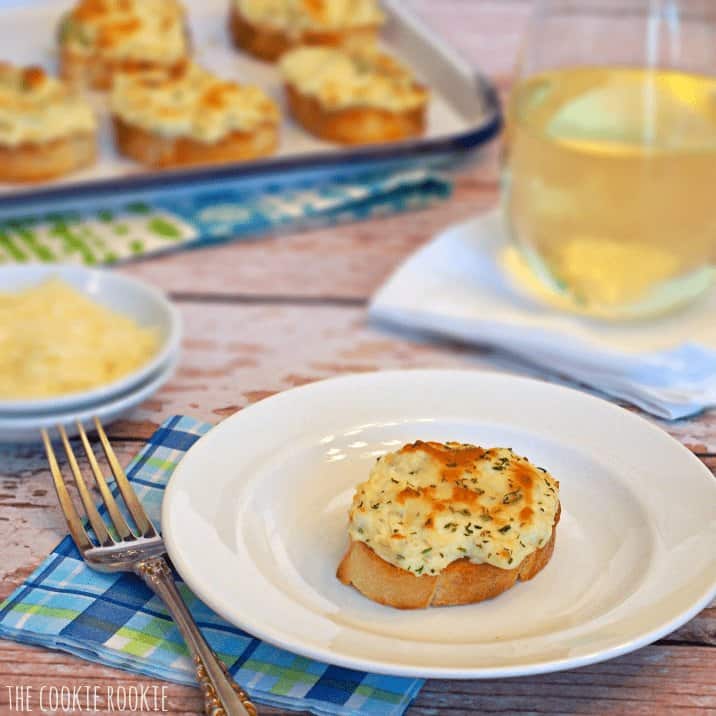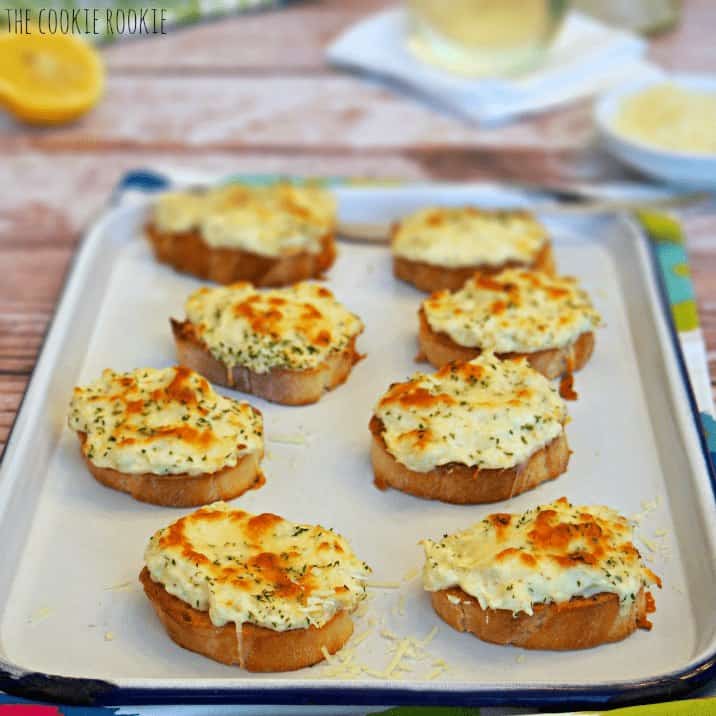 Creamy Artichoke Bruschetta
When I saw that Love Grows Wild was genius enough to BAKE her delicious dip right on top of crispy toasted bread…I knew she was on to something. Brilliant. Delicious. Game Changer.
There is no better way to eat hot Artichoke Dip than with toasted bread…so why not combine the two? Cheesy and Creamy Artichoke Bruschetta is the perfect appetizer to take to parties, make for your next BBQ, or have waiting for your husband when he gets home from school (That's what I did…and he was VERY excited!!).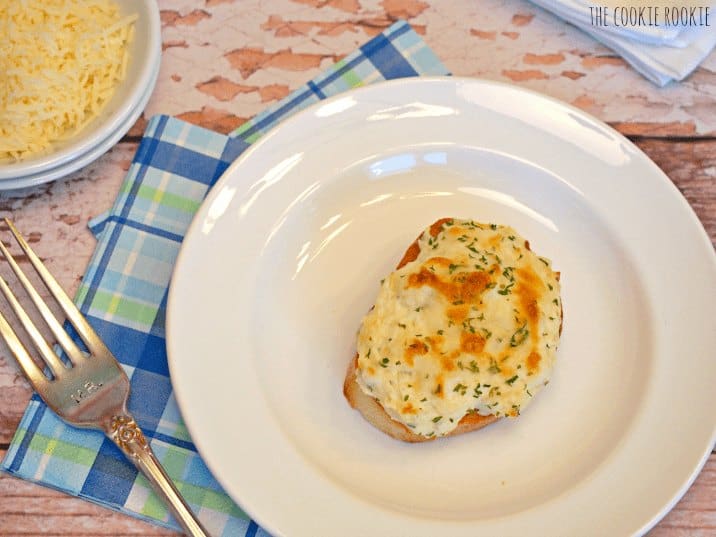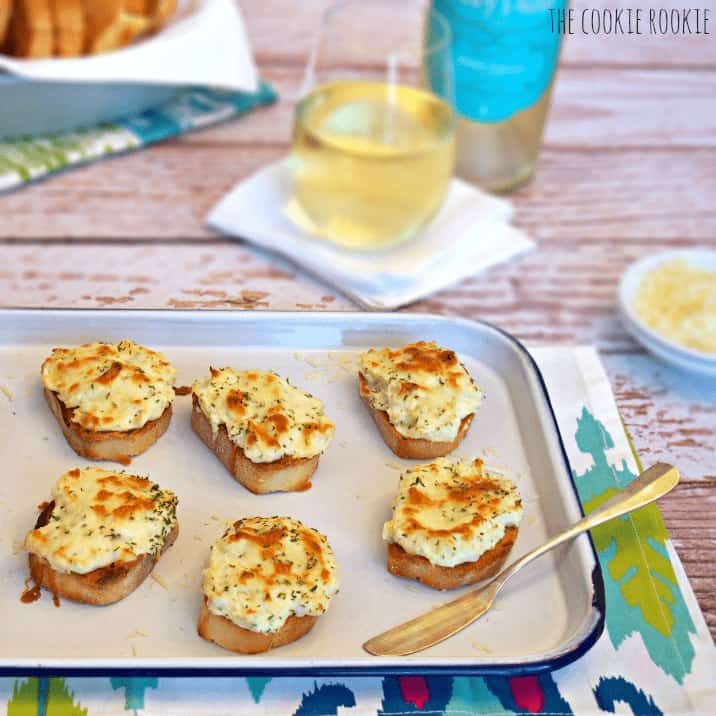 A delicious hot dip
The bruschetta spread is also great as a normal dip. If you choose to make it that way, follow the instructions below but just bake in a baking dish for around 20 minutes until the cheese is bubbly and delicious. Total yum. Enjoy!
Can I make these ahead of time?
Yes you can. Even though these are supposed to be served immediately, fresh and hot, you can store leftovers in a container in the fridge and heat as needed. They taste delicious even the next day.
The toaster oven is a great method of reheating bruschetta. It takes it back to the melty cheese and crisp edges of the bread and as long as you keep an eye on it, won't over cook it.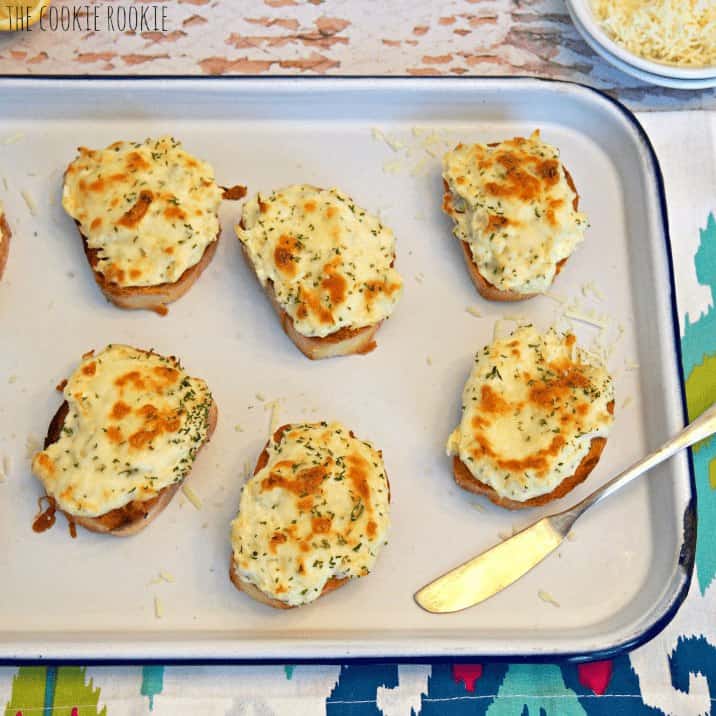 Top Tips
Slice the bread at an angle for maximum surface area.
Don't be shy when spreading your topping on the bread!
Don't be afraid to try different flavor combinations. Adding sun dried tomatoes or roasted red peppers to the mixture before spreading adds even more flavor.
The artichoke dip can also be made into a dip. Bake for around 15 mins.
Gently rub the clove over the bread slices, for an extra garlic hit.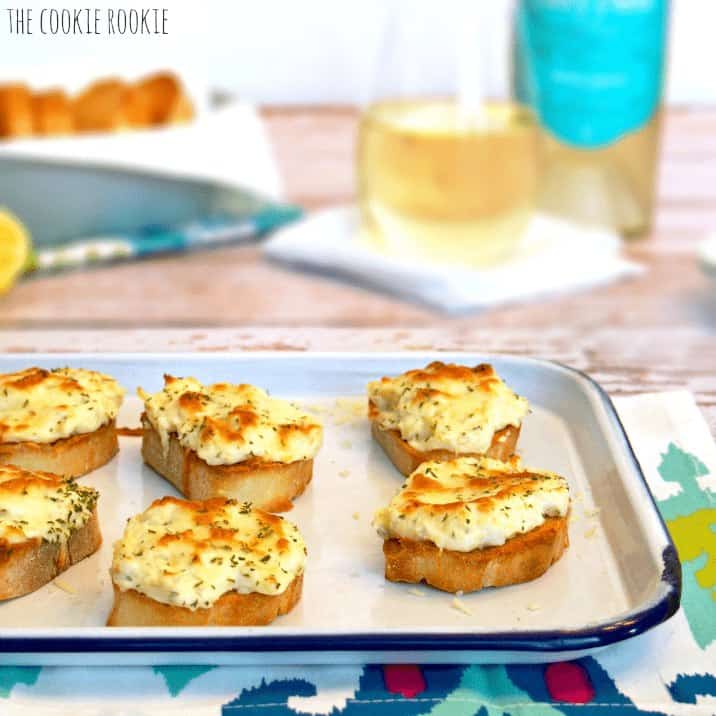 Check out these other delicious appetizers
Have you tried this Creamy Artichoke Bruschetta? Feel fre to leave a star rating and I'd love to hear from you in the comments below!