This colorful Rainbow Cake is a moist vanilla cake with creamy vanilla buttercream frosting that hides a surprise—there's a rainbow inside! Layers of brightly-colored cake stack up to make a magical dessert. No need to go hunting, this birthday cake brings all that beauty right to your plate.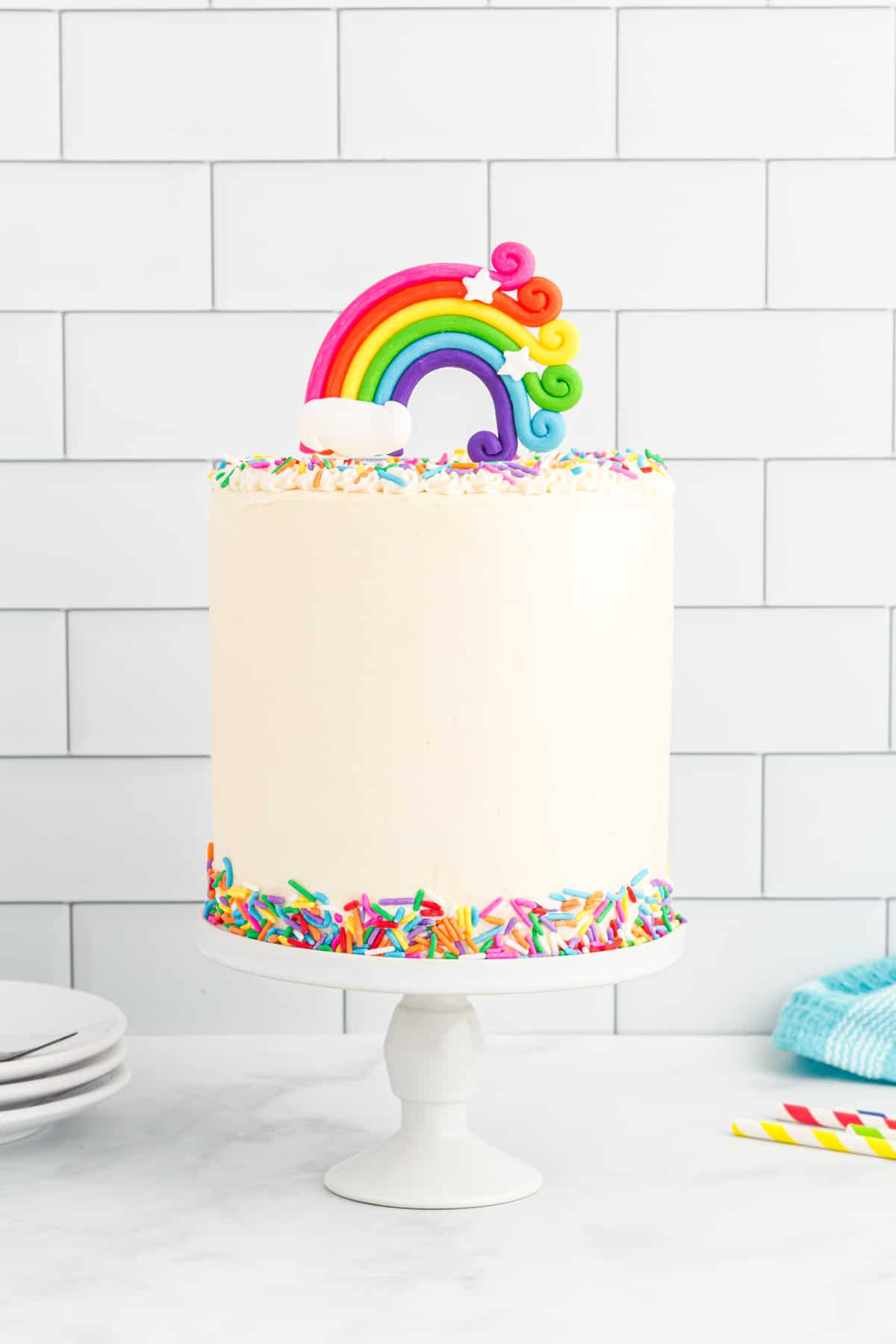 What's in Rainbow Birthday Cake?
This Rainbow Cake is made with all the classics—butter, sugar, eggs, and your favorite vanilla extract. And the magic ingredient for those vibrant colors? Gel food coloring!
Flour: All-purpose flour is best for this cake recipe.
Sugar: Use granulate sugar to add sweetness.
Leavening: Use both baking soda and baking powder to make this cake rise.
Salt: Just a bit to balance the sweetness.
Buttermilk: Let the buttermilk sit at room temperature, so it mixes well with the other ingredients. This creates an incredibly moist cake.
Butter: Unsalted butter that's just starting to melt is the sweet spot. Make sure you have enough for the vanilla frosting too!
Eggs: Large eggs work best.
Vanilla: Pure vanilla extract gives this white cake its classic flavor.
Food Coloring: Those vibrant rainbow colors have to come from somewhere! Start with one or two drops, then add more to get your desired shade.
Pro Tip: No buttermilk? That's okay! You can get that tangy flavor from a combo of common pantry ingredients. Try mixing a tablespoon of white vinegar (or lemon juice) with one cup of milk to create the perfect substitute.
Variations on Rainbow Layer Cake
There are so many fun ways to decorate the outside and the top of the cake! I love the simple white frosting with rainbow sprinkles to hint at the surprise to come! You could also opt for an ombre effect, with each color corresponding to the colorful layers inside.
Garnish with rainbow sprinkles or make a crumb coat with the crumbled-up leftover cake pieces from leveling the cakes. Or have even more fun and swirl all of the frosting colors together for a tie-dye look!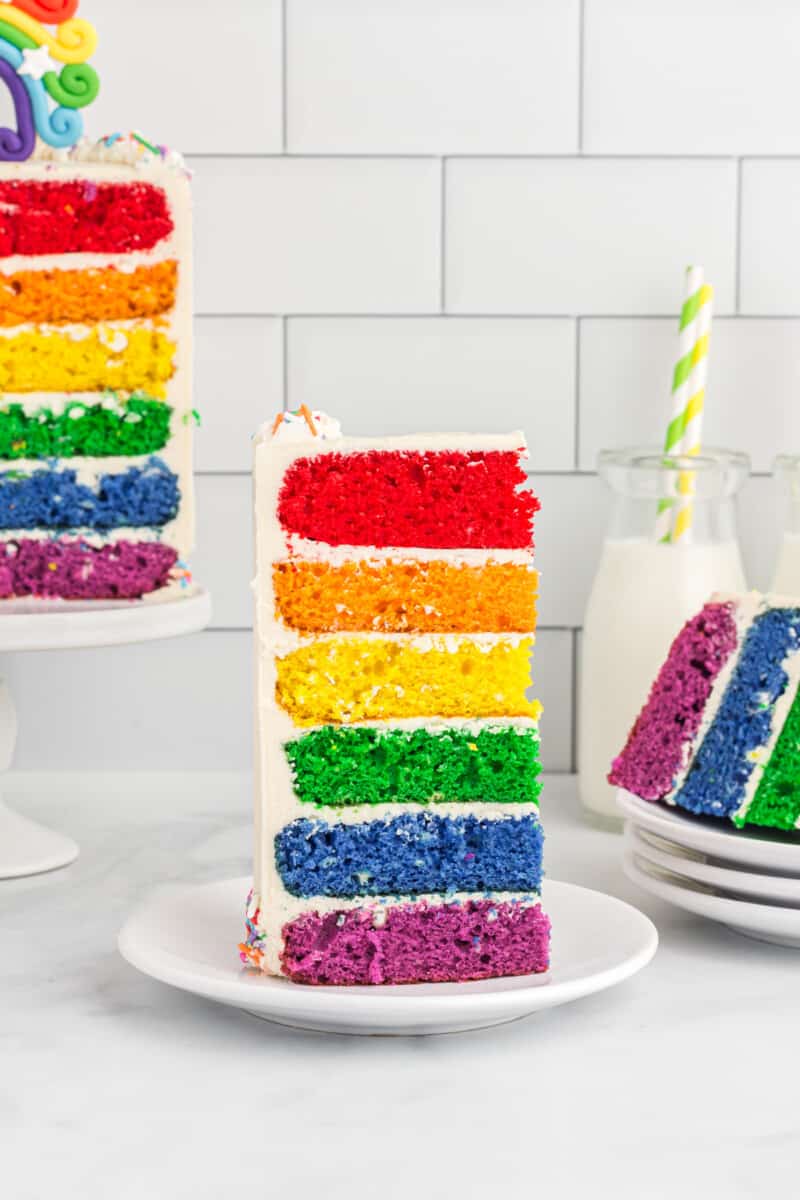 What does rainbow cake taste like?
While the rainbow cake is a visual feast, it's actually quite a simple cake. This cake is made with vanilla cake and vanilla buttercream frosting. You could certainly change up the flavor if you like, but I adore the simplicity.
Can I make a rainbow cake with a boxed cake mix?
Sure! Simply swap the cake recipe for a prepared 15.25-ounce box of white cake mix, then color with food coloring and assemble in the order of the rainbow. Follow the baking instructions on the box for the best results.
Do I need 6 cake pans to make a rainbow cake?
Nope! While 6 round cake pans would be ideal, you can do it with just 2 round cake pans. You'll just need to bake 2 layers at a time and wipe out any cake remnants between each layer. I recommend starting with lighter colors first to avoid color bleeding.
How do I get my rainbow cake to be vibrant?
The type of food coloring used is important. For these bright colors, I used the brand Chefmaster Liqua-gel in the colors: super red, neon brite orange, lemon yellow, leaf green, neon brite blue, and neon brite purple.
Why is my rainbow cake dry?
A dry cake can be caused by 2 things. You may have measured the ingredients incorrectly, or you might have overmixed the cake batter. It's important to spoon and level your ingredients if you're not using a kitchen scale, and it's important to have a light hand when mixing the cake batter.
Can I make the rainbow cake into rainbow cupcakes?
Yes! Prepare the cake batter and pour it into the wells of a cupcake tin, filling ¾ full, and bake for 15-20 minutes, or until a toothpick inserted in the center comes out clean. Frost and enjoy!
Where can I get that cute cake topper?
I got that cake topper on Amazon!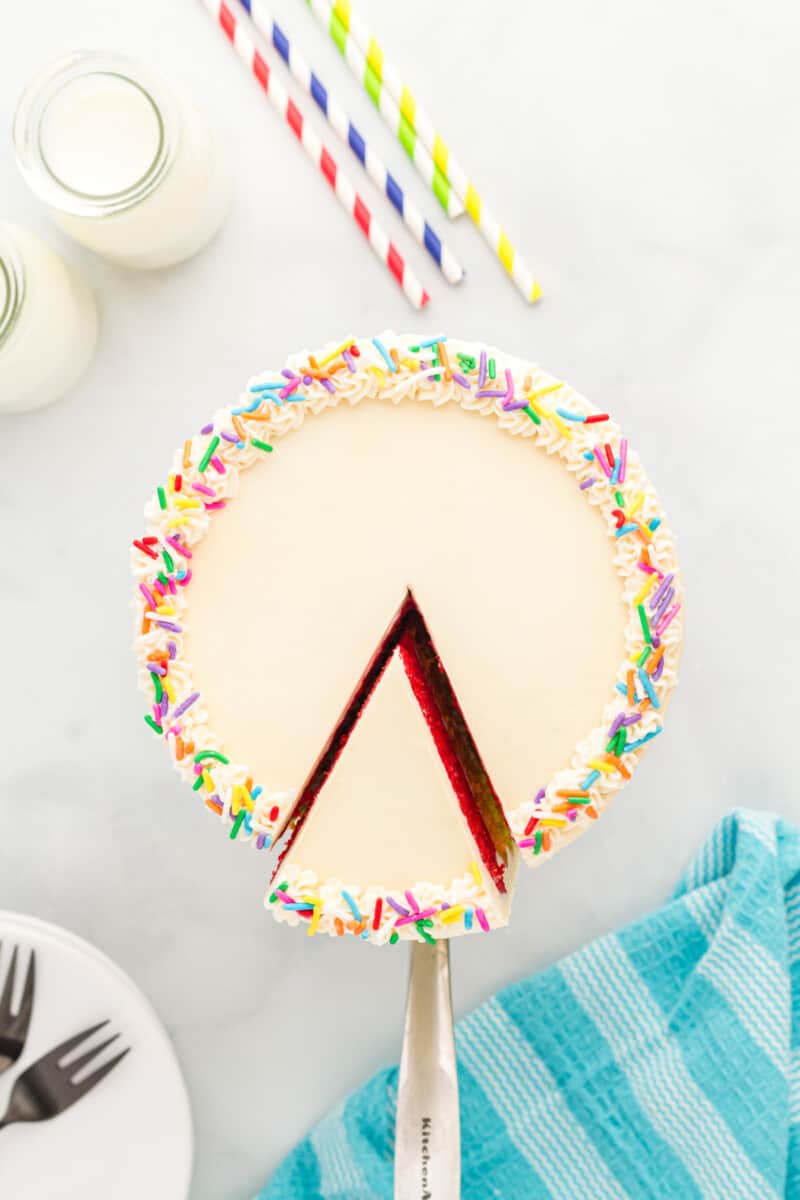 How to Make Ahead and Store Rainbow Theme Cake
The cake layers can be baked in advance, wrapped in plastic, and stored for up to 2 days at room temperature, or up to 3 months in the freezer. Let the cake layers defrost at room temperature.
The buttercream frosting can be stored in an airtight container in the refrigerator for up to 1 week. Let come to room temperature before coloring and using.
Store leftover slices of rainbow cake tightly wrapped in plastic wrap or covered with a cake dome at room temperature for up to 2 days or in the refrigerator for up to 4 days.
How to Freeze
Freeze the rainbow cake whole or cut it into individual slices tightly wrapped in plastic wrap for up to 1 month. Let thaw overnight in the refrigerator before enjoying.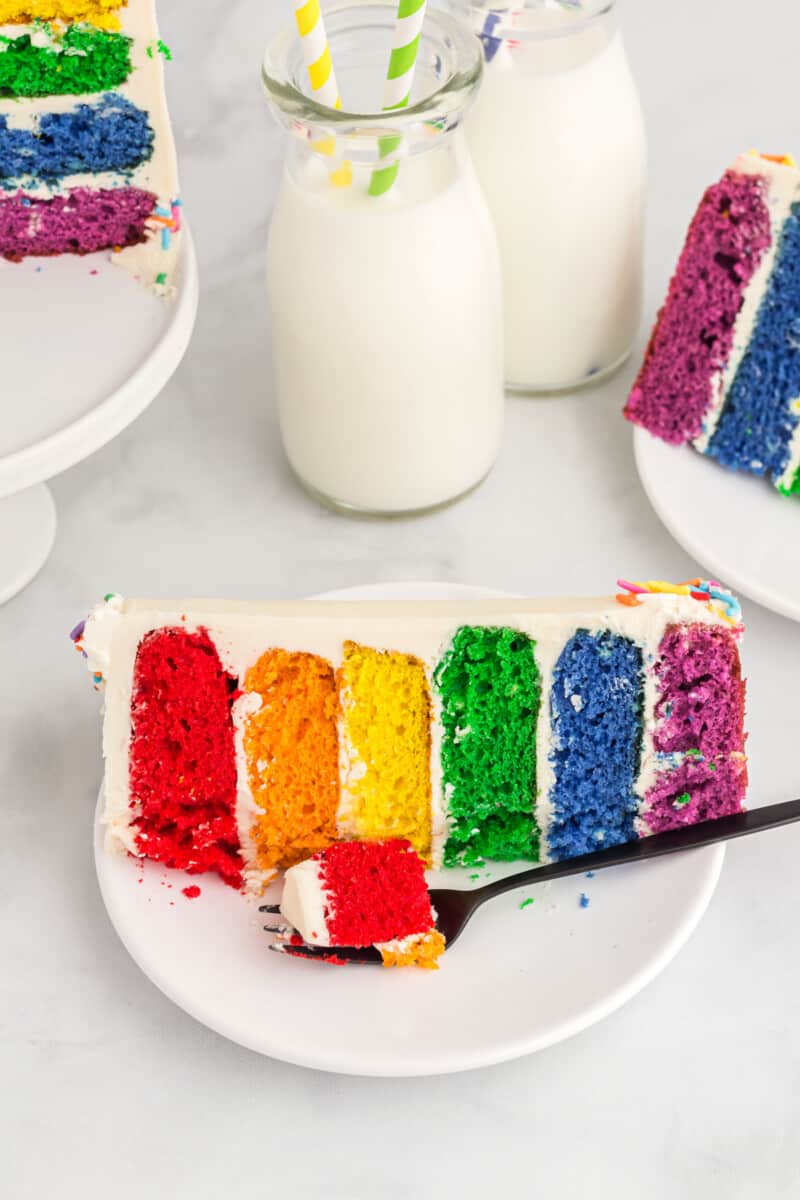 More Layer Cake Recipes We Love