Rack of Lamb is an elegant option for holidays and special occasions. This delicious Herb Crusted Rack of Lamb recipe is simple yet filled with incredible flavor! The Mint Yogurt Sauce is the perfect complement to the savoriness of this dish. Try this roast rack of lamb for a beautiful Easter Dinner!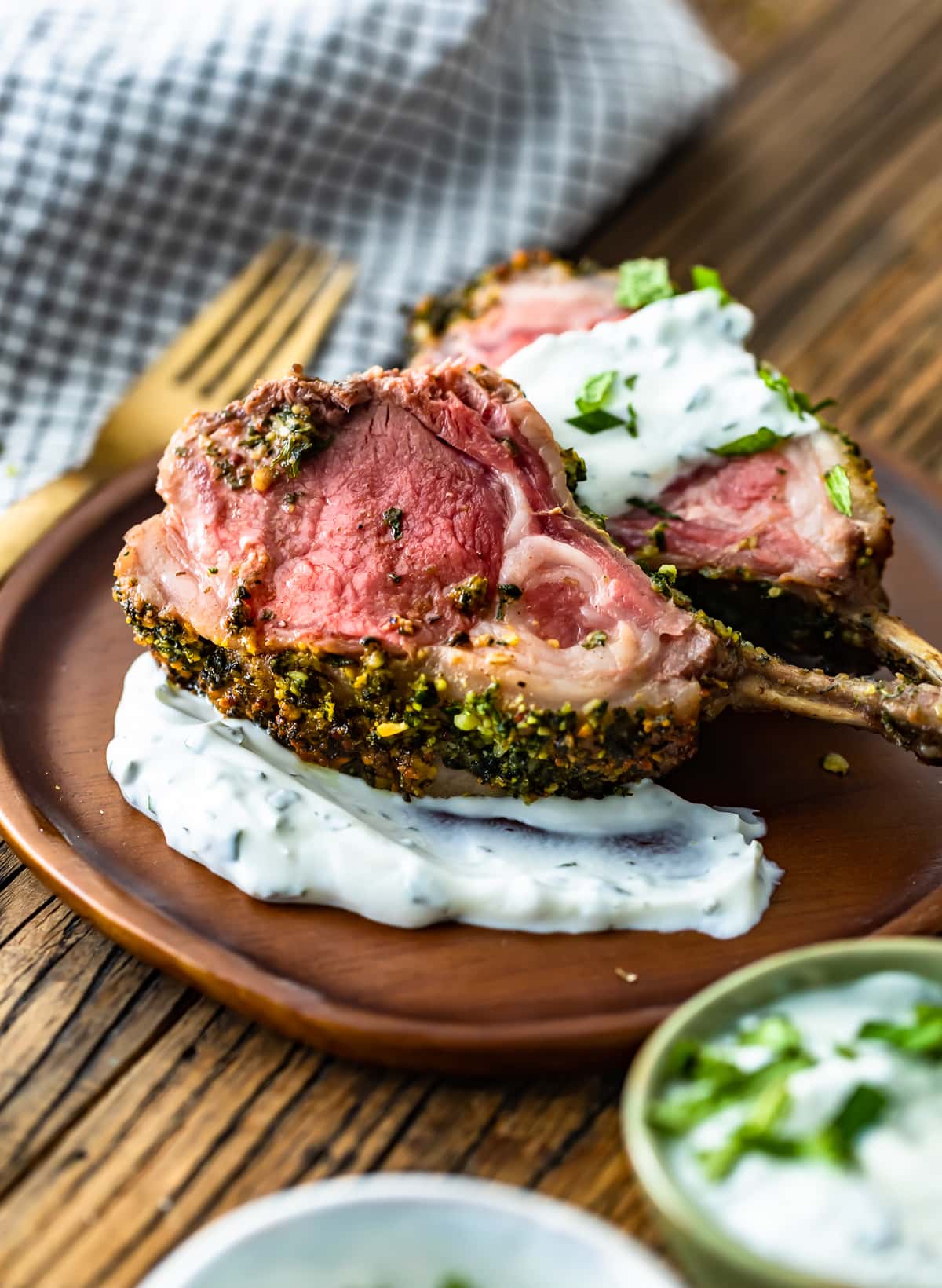 Rack of Lamb Recipe
This Herb Crusted Rack of Lamb recipe is a beautiful holiday recipe fit for a feast! Try it out for Easter, Christmas, or any special occasion.
I consider lamb to be a special occasion kind of meat. Sure, you can eat it any time, but one look at this Frenched rack of lamb, and you'll assume it's special no matter what. Just look at how beautiful this is; it deserves to be the center of a feast!
This flavorful Herb Crusted Rack of Lamb recipe is pretty AND delicious. And while it looks intimidating, it's actually quite simple to make. Trust me, once you learn how to cook rack of lamb in the oven, you won't be stressing about this dish. All you really need to do is make the herb mixture to season the meat, and then let it roast!
Serve this along with the cool and creamy Mint Yogurt Sauce for even more flavor! Add a few side dishes and you have the perfect Christmas or Easter Dinner (or any special occasion you can think of).
Make this delicious roast rack of lamb for Easter, Christmas, or any special holiday!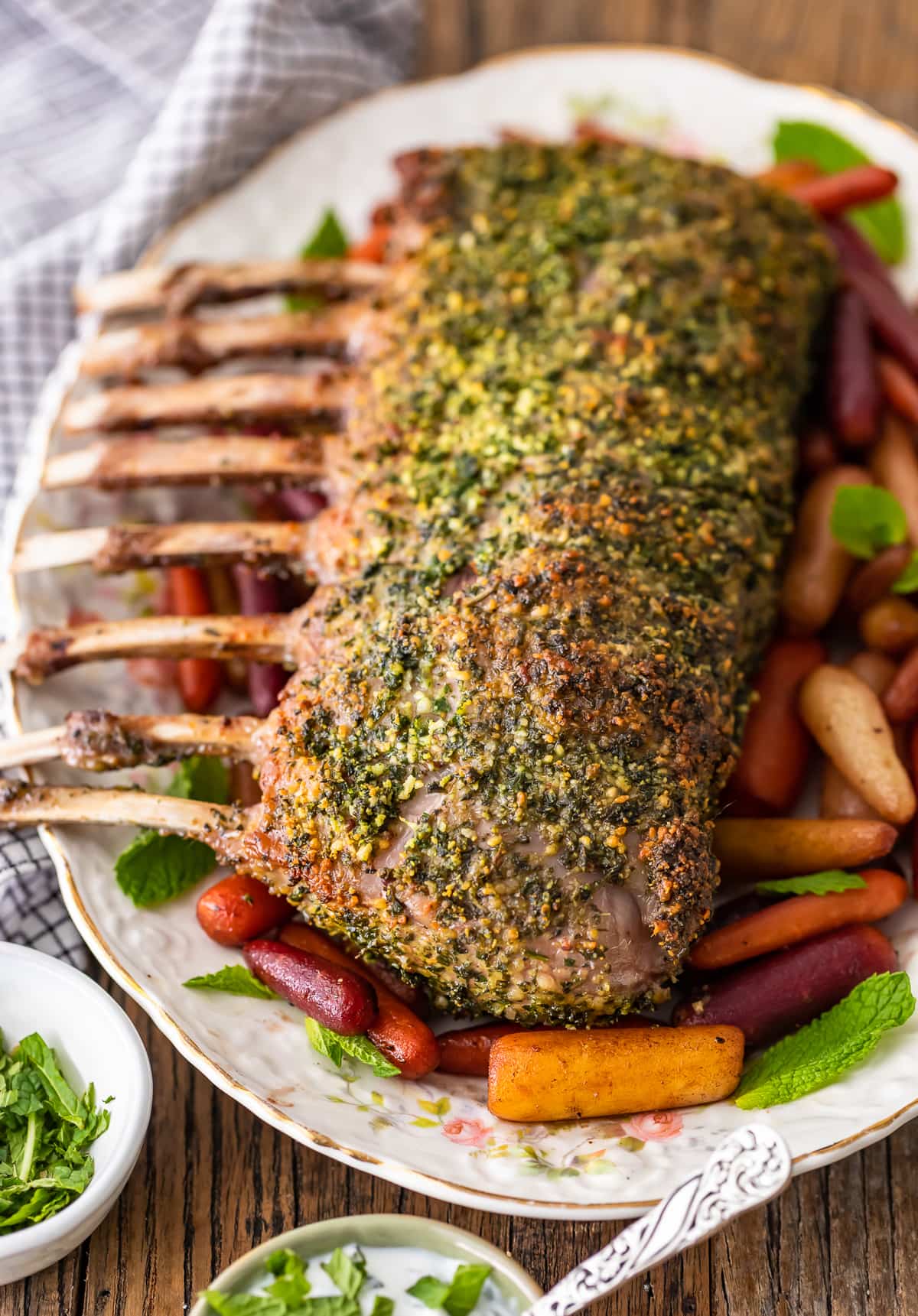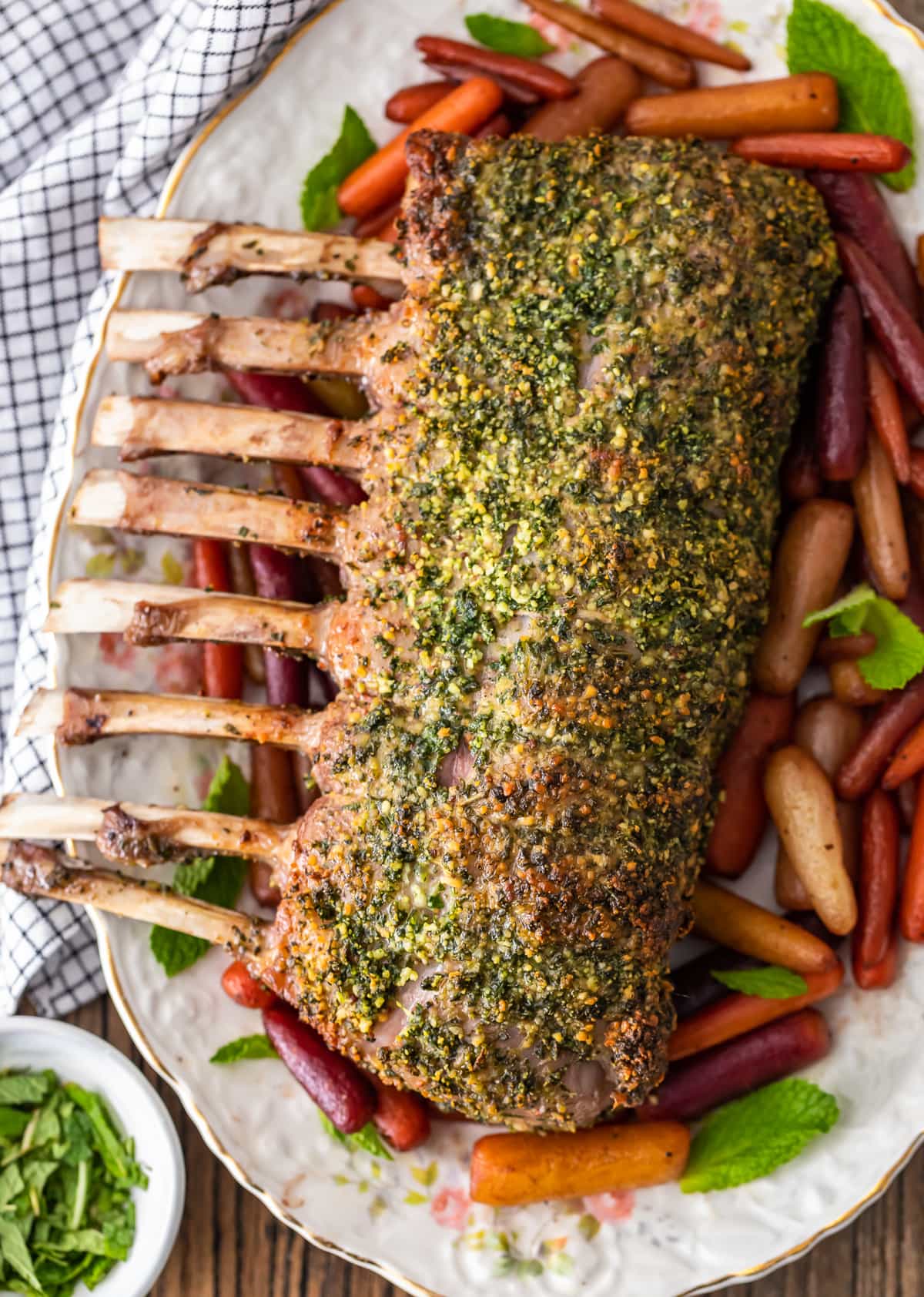 Herb Crusted Rack of Lamb
This herb crusted rack of lamb (inspired by Gordon Ramsay's recipe) has such a nice flavor, and it's the herb mixture that gives it that simple yet wonderful taste. This Panko breadcrumb mixture is made up of ingredients that give it a light and savory flavor, a perfect complement to the lamb.
Herb Crust Ingredients:
Basil
Parsley
Thyme
Garlic
Butter
Salt
Parmesan Cheese
Panko Breadcrumbs
The ingredients are combined in a food processor to create a nice coarse texture, and then pressed into the rack of lamb before roasting in the oven.
What is a Frenched Rack of Lamb?
A "Frenched" rack of lamb is a method of trimming the meat. This means that some of the meat and fat is trimmed off the ends (usually about two inches), exposing the rib bones. You can see in the photos how the meat is concentrated on one end, while the other is bare. You can find lamb like this at the store or butcher, so no need to trim it yourself (although you can).
Mint Yogurt Sauce
This mint yogurt sauce is the perfect accompaniment for the herb crusted rack of lamb. The cool, creamy Greek Yogurt Sauce has a nice balance between minty and savory. Add a dollop to each rib, or serve it on the side. The sauce really adds the right touch to this dish!
What's in it?
Greek Yogurt
Fresh Mint Leaves
Garlic
Salt & Pepper
Lemon Juice
Cayenne Pepper (optional, but gives it a slight hint of spice)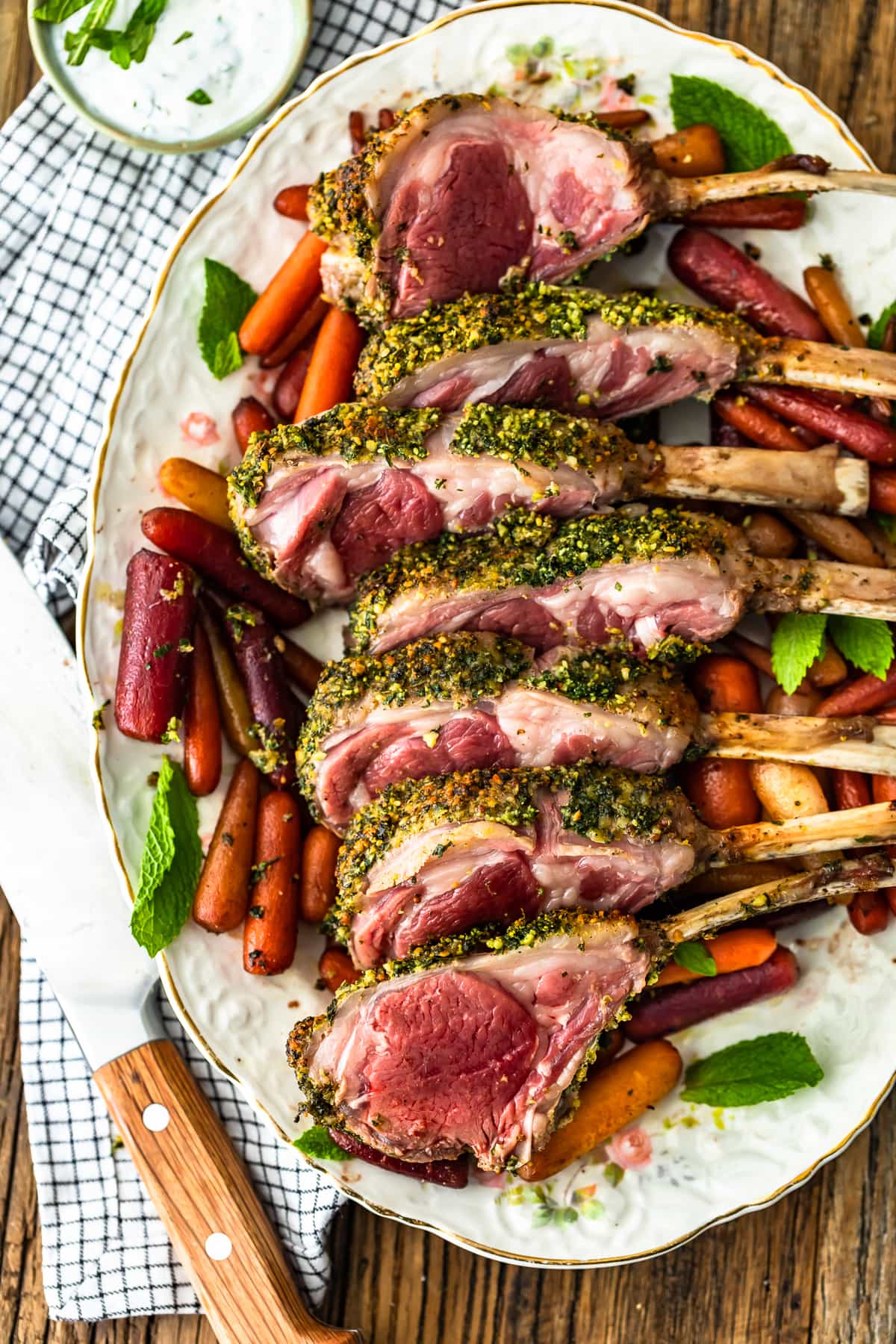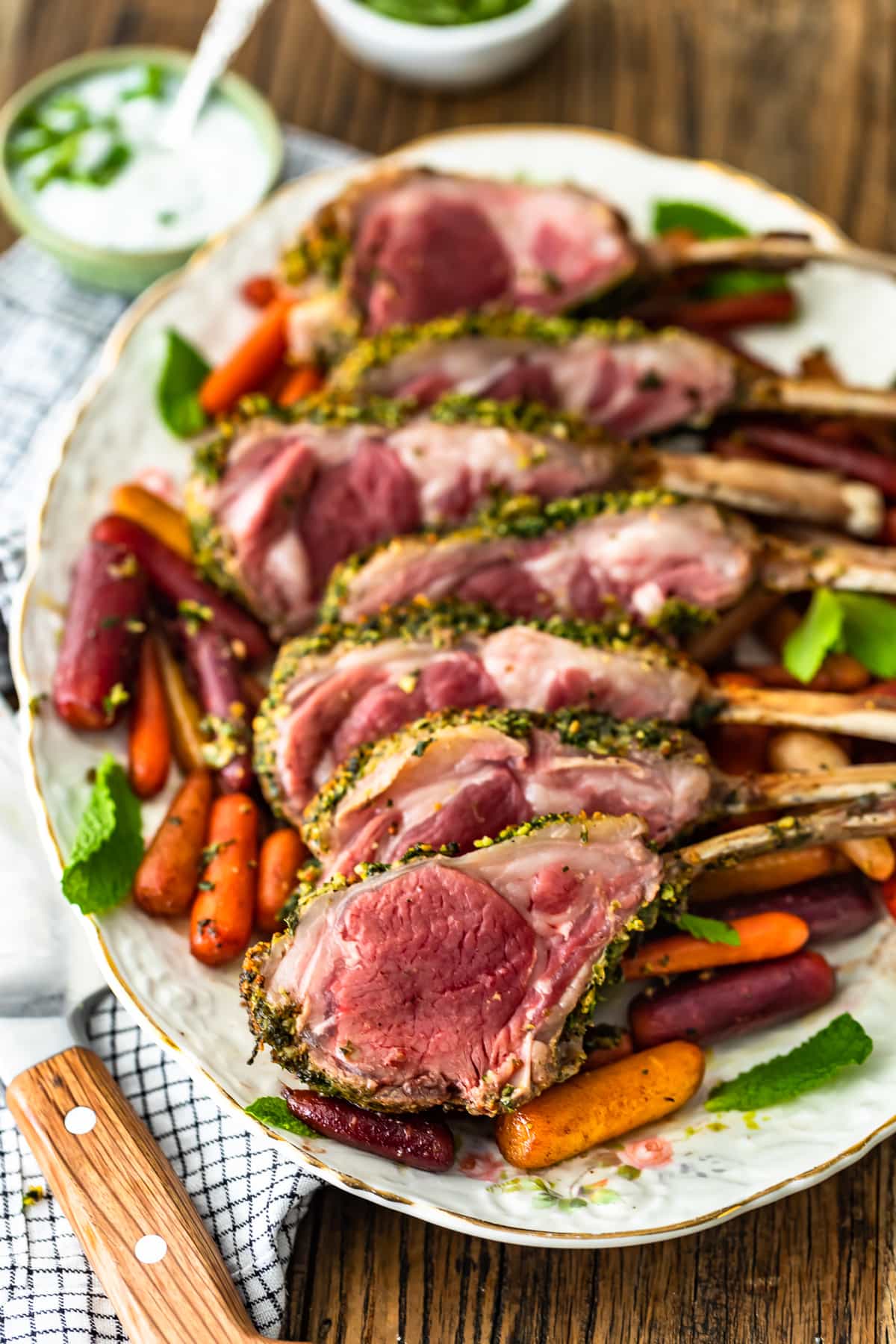 How to Cook Rack of Lamb in the Oven
This isn't typically the kind of recipe I'd label as "easy", but it really is quite simple! All you have to do is make the "herb crust" mixture, press it into the lamb, and then let it roast. This recipe does require some time and patience, but there's really not much to it.
How to Make Herb Crusted Rack of Lamb:
Remove rack of lamb from the refrigerator 1 1/2 hours before cooking. This is an important step because the meat needs to be at room temperature before roasting to make sure it cooks evenly. Prepare the meat according to the instructions right away, but let it sit before cooking.
Line a baking sheet with aluminum foil and place the lamb on it. Brush it with oil and Dijon Mustard, then season with salt and pepper.
To make the crust, add basil, parsley, thyme, butter, garlic, salt, Parmesan, and Panko breadcrumbs into a food processor. Pulse about 6-8 times until it creates a coarse mixture, where everything is fully combined.
Now press that mixture into the lamb meat. Let it sit out for the full 1 1/2 hours before cooking.
Preheat the oven to 450°F while the lamb sits out, about 15-30 minutes before roasting.
Wrap the bones in foil and place the rack with the bones curving upward.
Roast lamb for about 20-25 minutes (read below for information on internal temperature).
After removing the lamb from the oven, cover it fully with aluminum foil and let it rest for about 15 minutes.
Cut the rack into individual ribs, and serve with the Mint Yogurt Sauce! Be sure to read the recipe card for more detailed instructions.
Rack of Lamb Temperature
The official "safe" internal temperature for lamb (according to the USDA) is 140-145°F, which is medium/medium-well. However, most people prefer to eat rack of lamb a bit more rare than that. Lamb is one of those meats that is okay to serve on the rare side. Cooking it to 125-130°F will leave the insides pink (medium-rare), which is typically fine and safe to eat. However we do prefer (and recommend) cooking it to 135-145°F.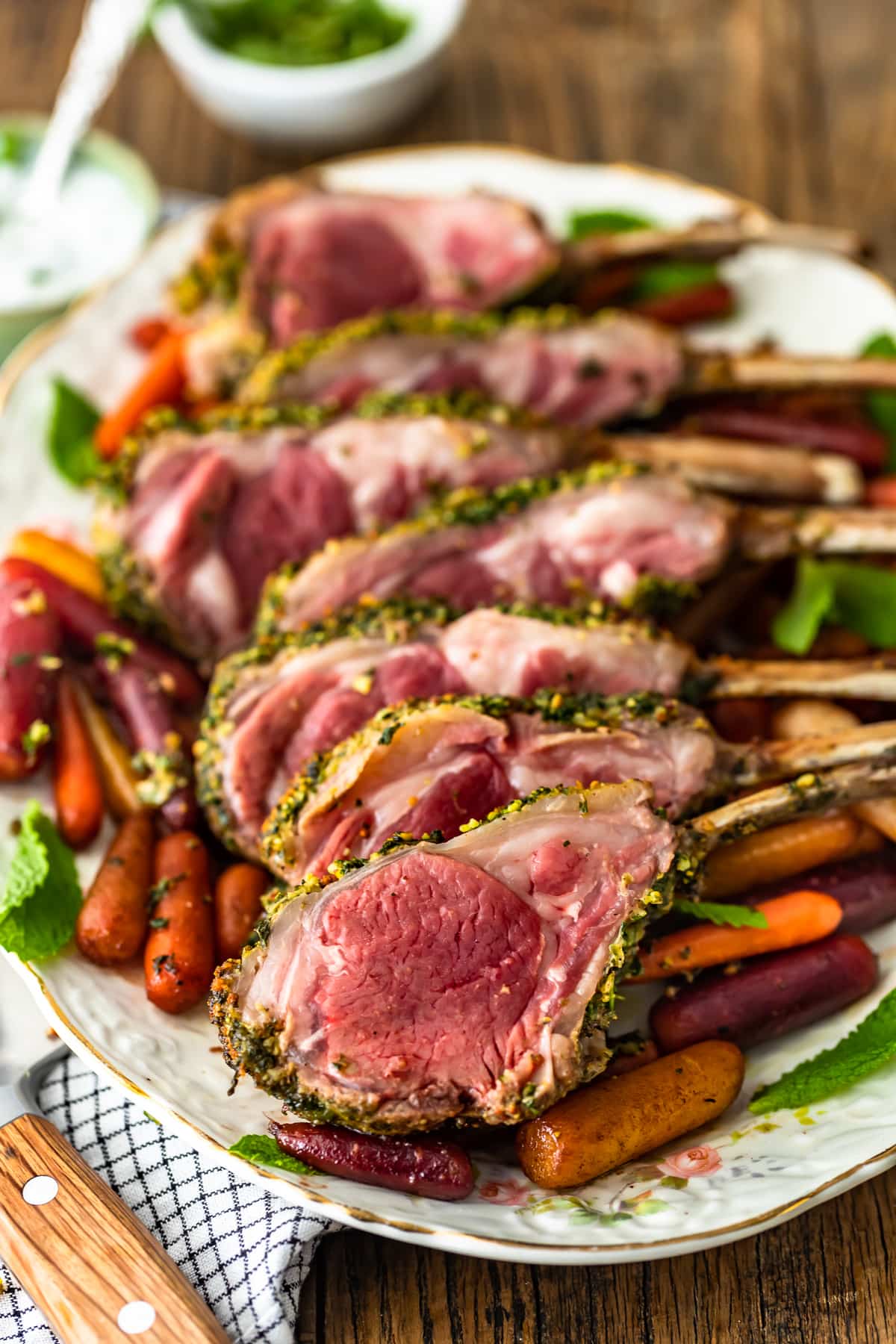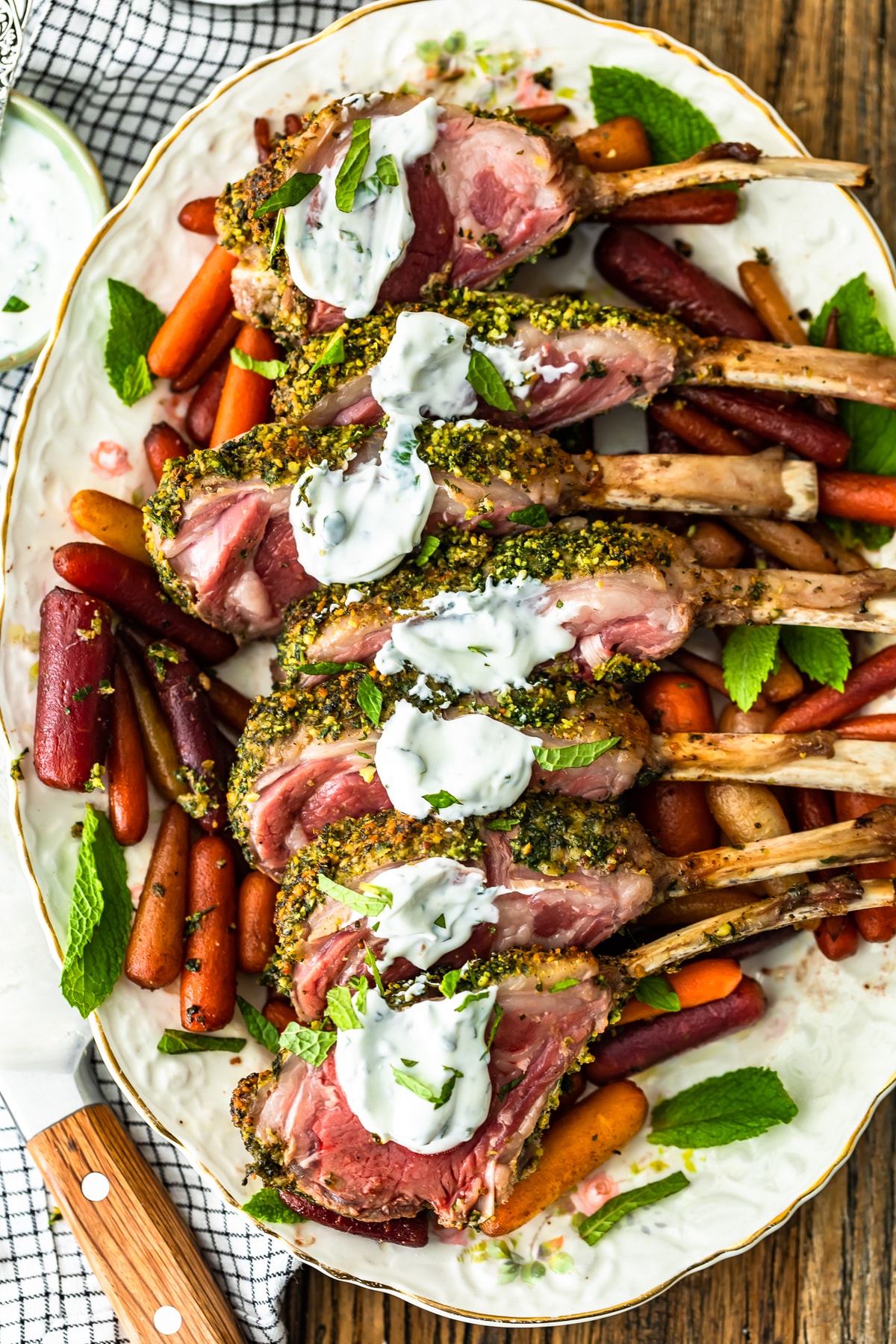 Best Side Dishes for Rack of Lamb
There are so many great side dishes you can serve with this roast rack of lamb recipe. Roasted carrots are a great option, but so many veggie sides will work perfectly. This is the kind of main dish made for feasts, so plan to make plenty of sides to go with it.
Here are some of my favorite side dishes for rack of lamb:
Easter Dinner Ideas
This Herb Crusted Rack of Lamb recipe is absolutely a special occasion kind of dish. Sure, you can serve it any time you like, but it's so beautiful, so elegant, it really deserves to be saved for holidays and big feasts. You could serve it on Christmas or Thanksgiving (a nice change from the usual turkey and ham), but it's really perfect for one holiday in particular. Lamb is a great Easter Dinner idea, especially when accompanied by lots of vegetables, salads, and sides.
Make your Easter Sunday a little more special with this special dish!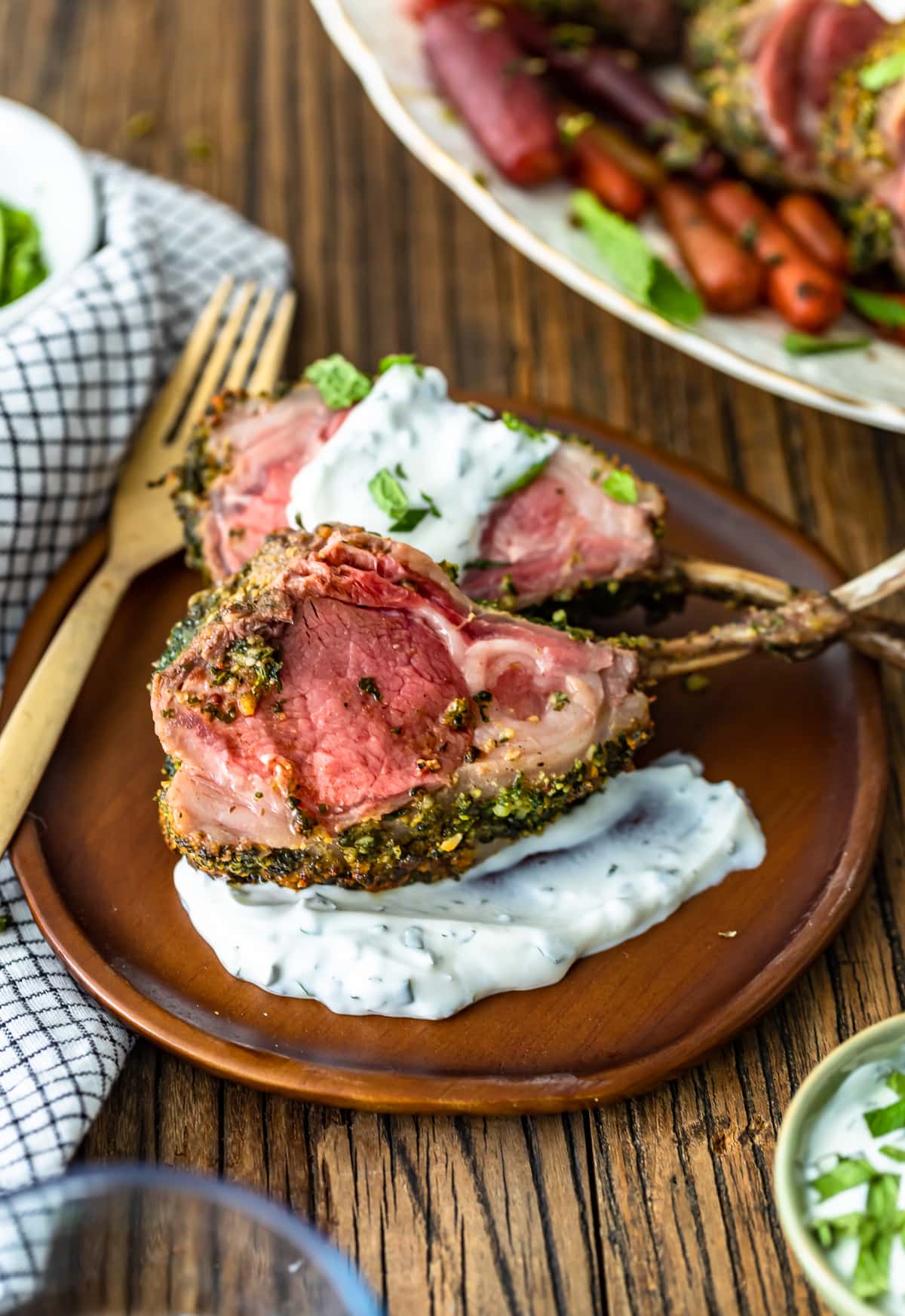 This dish will make the most beautiful meal for holidays. I hope you love it too!
See the recipe card for details on how to cook rack of lamb. Enjoy!
If you like this recipe, try these other beautiful main dishes: