This simple Grilled Zucchini Recipe is the best side dish for BBQs, cookouts, and all your summer favorites. Strips of summer squash are marinated in a savory, herb-y mixture, then grilled to perfection in minutes. Get your veggies in with this flavorful, healthy, and easy-to-make recipe!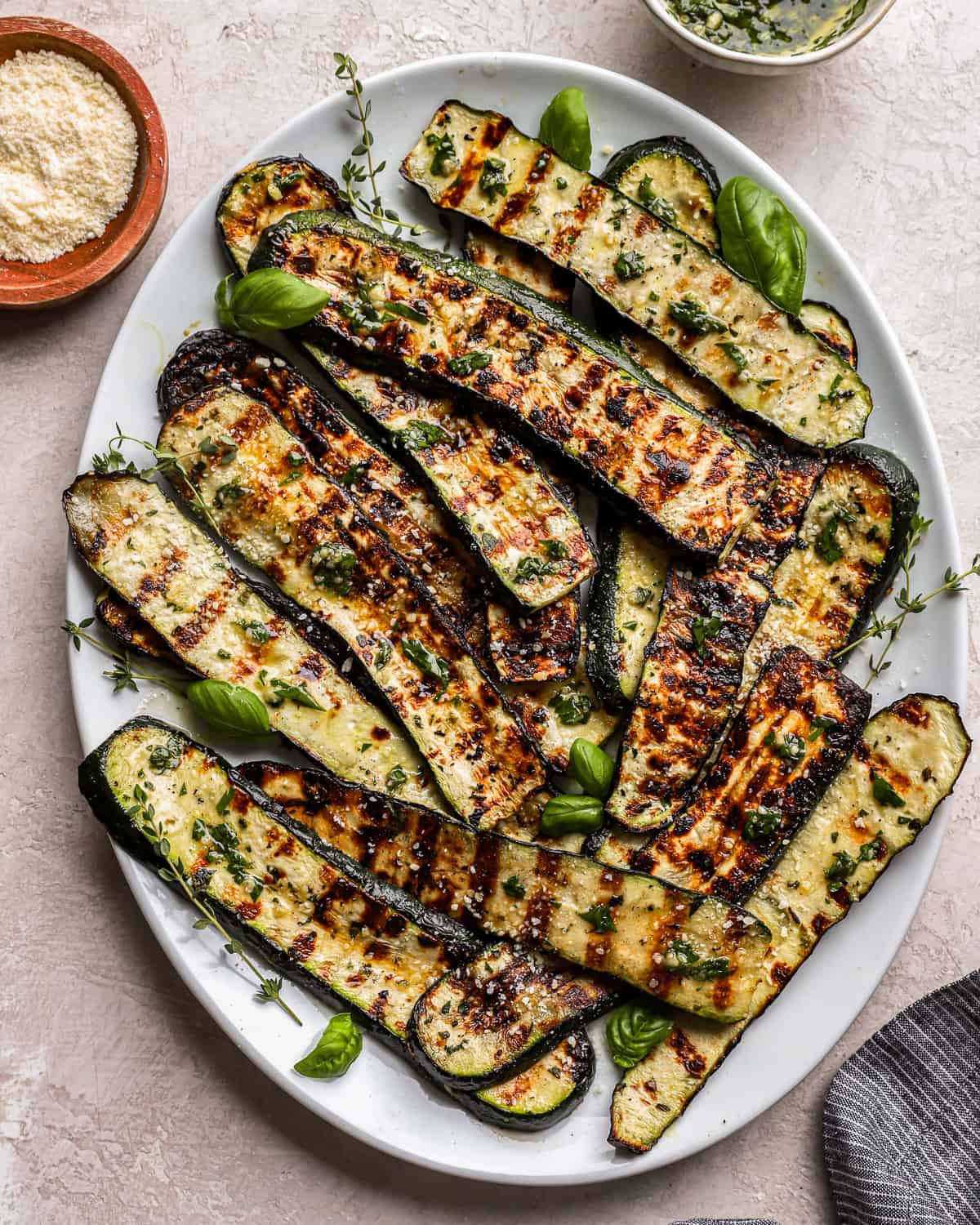 What's in this Grilled Zucchini Recipe?
Kick your meek and mild zucchini up a notch with some tasty herbs and spices with this easy grilled vegetable recipe!
Zucchini: You'll want to get large zucchini so that you can get lots of thick slices out of it. This recipe also works well with yellow squash and other summer squashes.
Olive Oil: This common cooking oil helps the zucchini cook without burning or sticking.
Fresh Herbs: I used basil, thyme, and parsley, but any combination of fresh herbs will work.
Garlic: Adds a pungent, earthy flavor.
Spices: Onion powder, kosher salt, and ground black pepper enhance the natural flavor of the zucchini.
Pro Tip: Oil the zucchini, not the grill, to prevent sticking!
Seasoned Zucchini on the Grill
The easiest way to change up the flavor of this grilled zucchini is to switch out the fresh herbs in the marinade for your favorites. Sage, rosemary, cilantro, oregano, dill are all great options. You can also swap the onion powder for your favorite seasoning blend, like Creole seasoning, blackened seasoning, Italian seasoning, or herbs de Provence.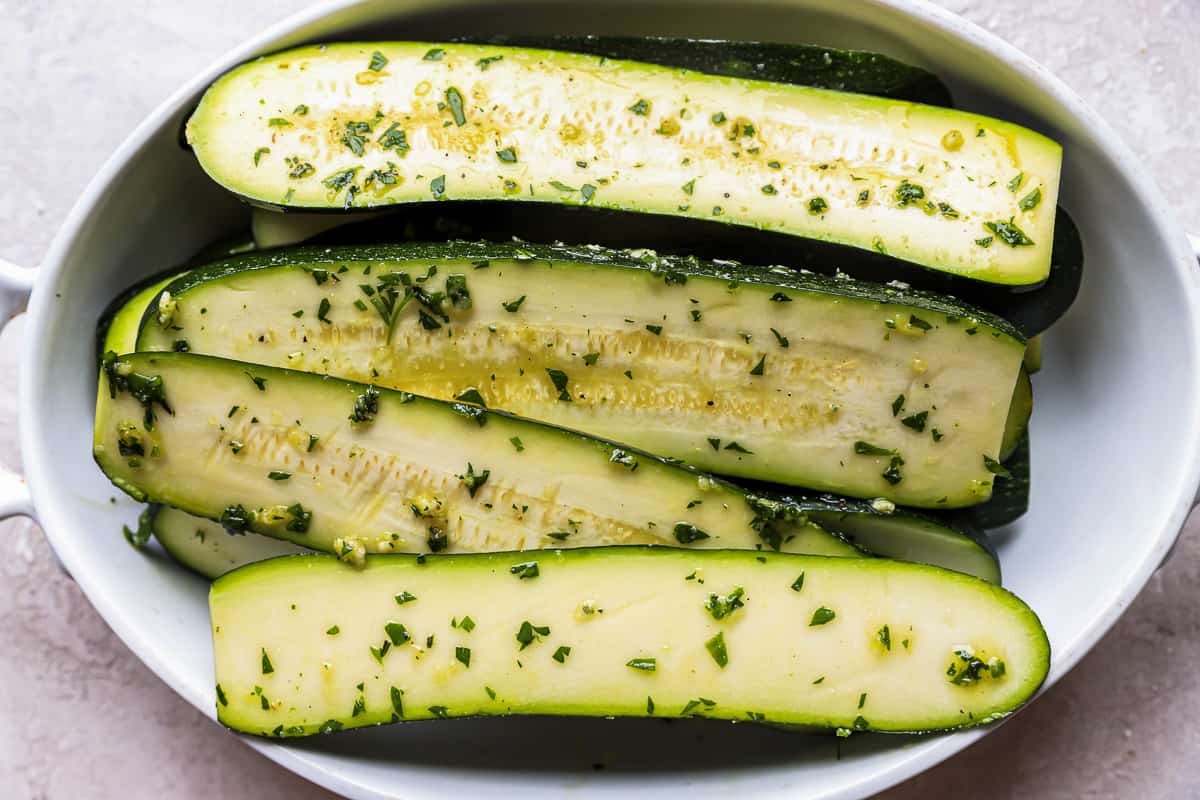 How do you cut zucchini for grilling?
I like to cut my zucchini lengthwise into thick strips, but you can also quarter it lengthwise into sticks, or slice it crosswise into thick discs.
Is it best to peel zucchini before cooking?
There's no need to peel zucchini before cooking it. In fact, the skin contains a lot of nutrients!
Should you salt zucchini before grilling?
There's no need to salt zucchini before grilling, as it cooks so quickly, we don't need to worry too much about excess moisture. Instead, add salt to the marinade to infuse it with flavor.
How do you keep zucchini from getting soggy when cooking?
To keep zucchini from getting soggy, be sure to preheat the grill and don't overcrowd the zucchini. We want plenty of room for air to circulate and evaporate that excess water.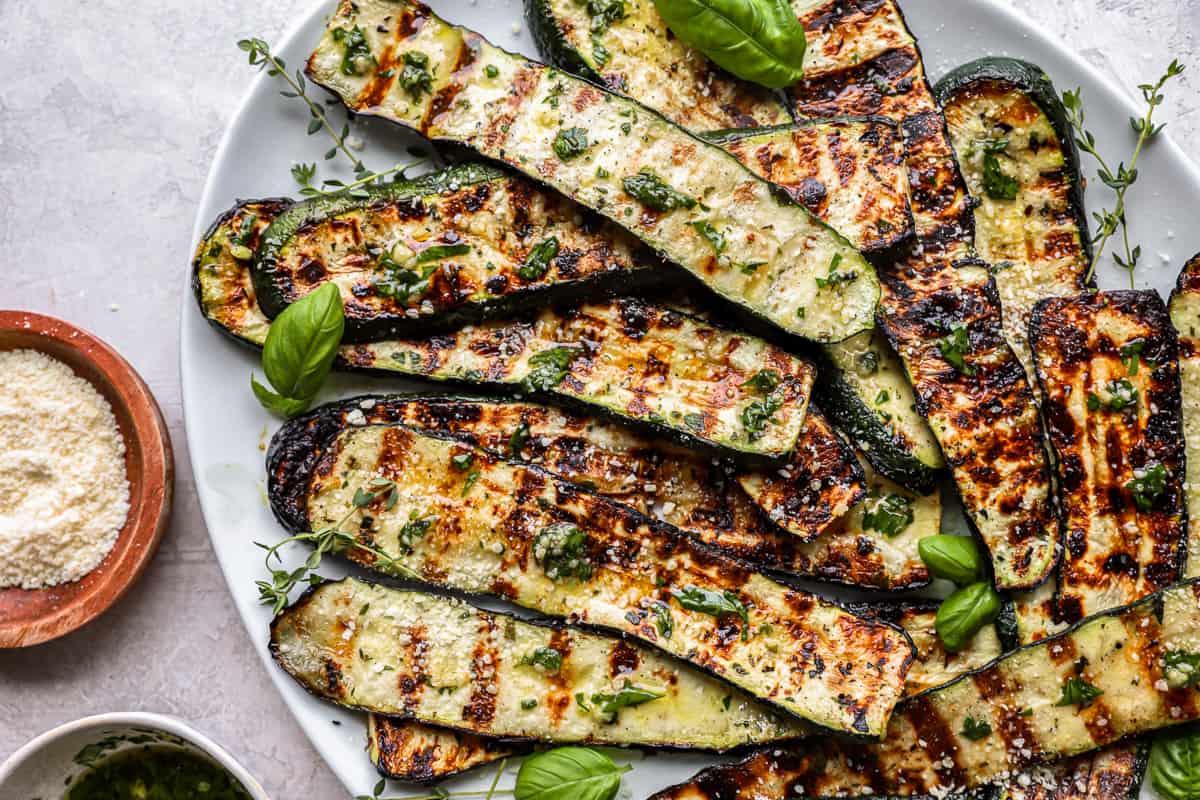 How to Store and Reheat
Store leftover grilled zucchini in an airtight container in the refrigerator for up to 5 days. Reheat on a medium grill, wrapped in foil; or in a 350°F oven for 5-7 minutes, until warmed through.
How to Freeze
Freeze grilled zucchini in an airtight container or Ziplock bag for up to 3 months. Let thaw overnight in the refrigerator before reheating. Keep in mind that frozen zucchini will become quite mushy once thawed.
Serving Suggestions
If you need a healthy side dish this summer, throw your zucchini on the grill along with any of your favorite grilled chicken recipes! Pair it with grilled ribeye, grilled pork chops, grilled ribs, marinated grilled chicken, pesto shrimp, grilled hamburgers, or grilled salmon. Add a side of grilled ranch potatoes or grilled potato wedges for a complete meal!
This summer veggie would also make a great appetizer served with dips (like aioli) or drizzled with balsamic glaze.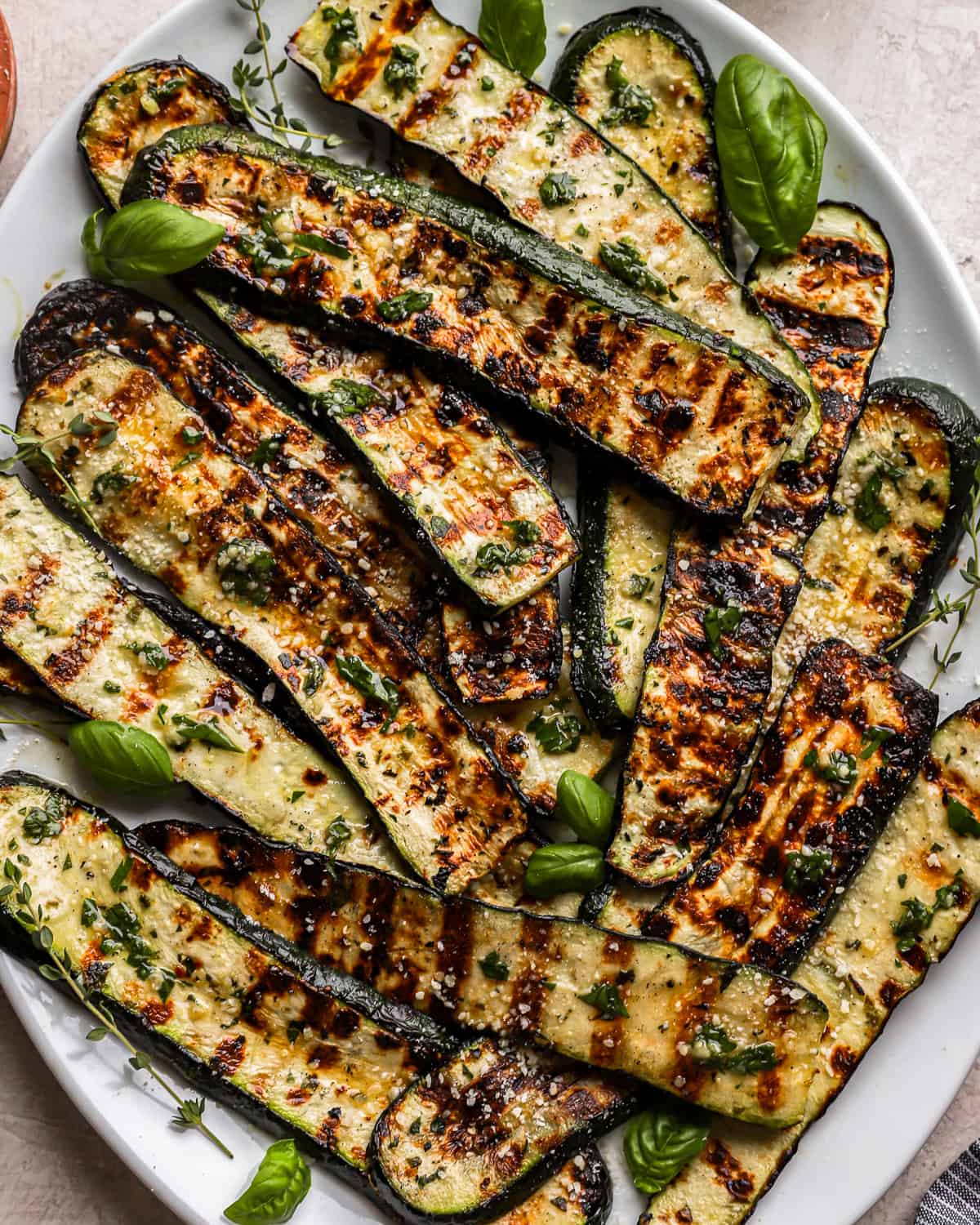 More Zucchini Recipes We Love