Stuffed Tomatoes are a simple side dish or appetizer you can make for all occasions. Filled with cheese, zucchini and spinach, and then topped with bread crumbs, this stuffed tomato recipe is all kinds of delicious. It's the perfect veggie side dish!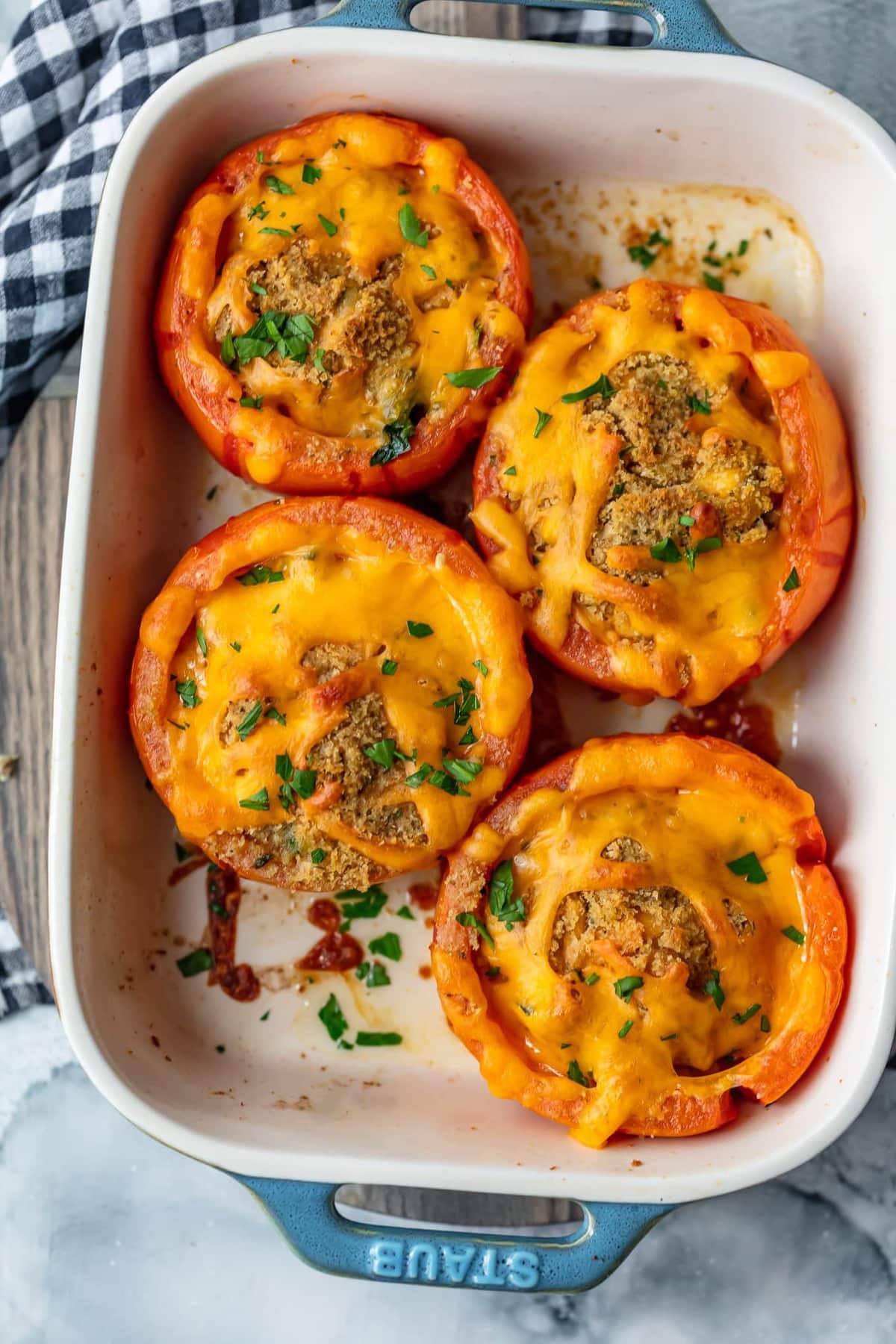 Stuffed Tomatoes
Stuffed Tomatoes are filled with flavor and so easy to make. Zucchini and tomatoes, cheese and spinach, all rolled up into one delicious dish. Yum!
I'm sure most of you have tried stuffed peppers before, but guess what? You can make stuffed tomatoes too! It's the same concept, but all those delicious ingredients get stuffed and baked inside of juicy tomatoes instead. They're super cheesy and super tasty.
This stuffed tomato recipe is filled with lots of cheese, zucchini, and spinach, and then a layer of flavorful bread crumbs is baked on top to add the finishing touch. You know I love my cheesy recipes, so this one is a real winner. It makes a great veggie side dish to add to any meal, but it also works as a fun appetizer to serve while your family is catching up in the kitchen around the holidays.
Pair these cheesy stuffed tomatoes with Spinach Stuffed Chicken Breast, any pasta dish, or serve them as an app along with Mozzarella Stuffed Meatballs and Italian Nachos. You really can't go wrong with something this good!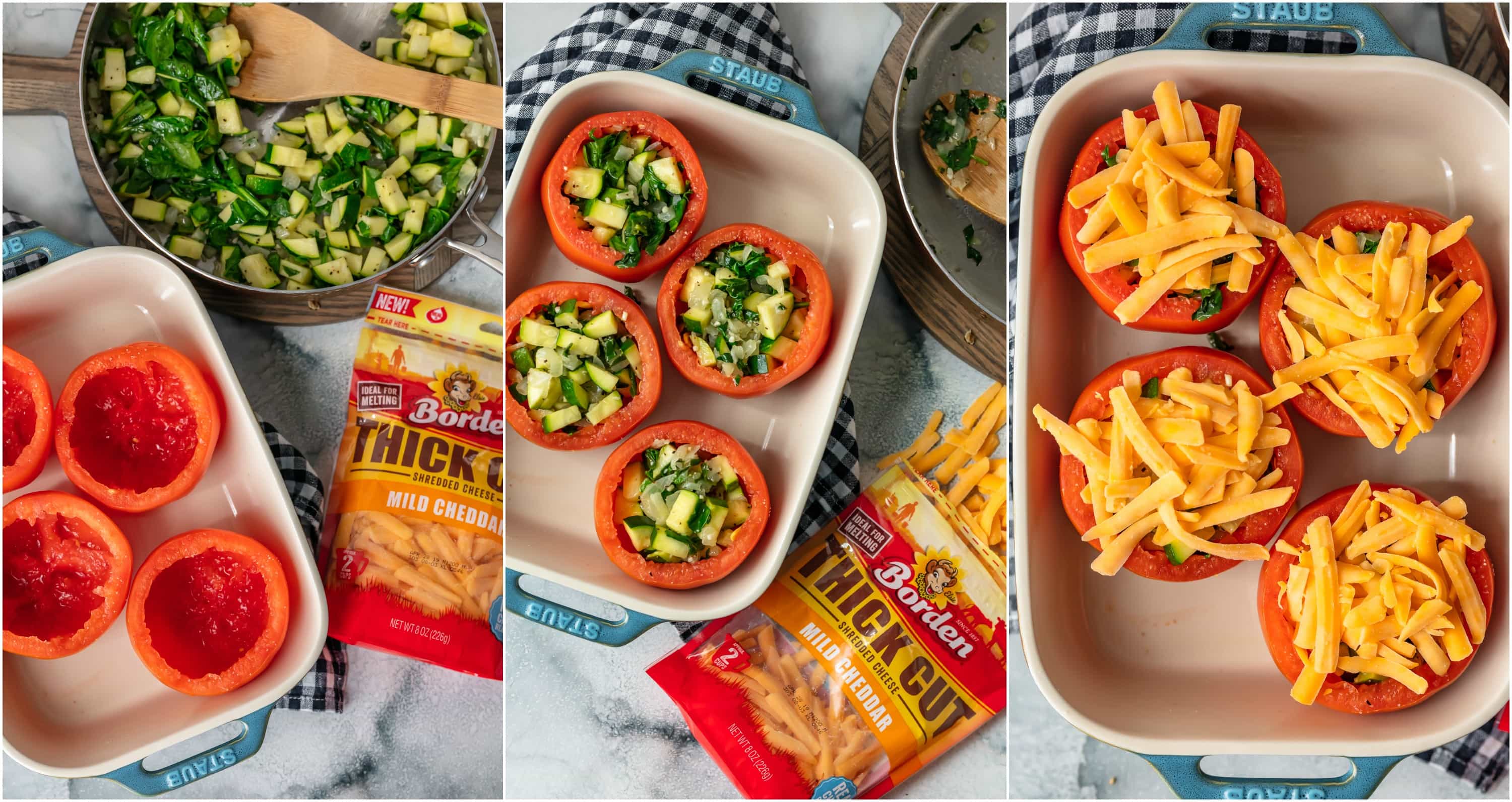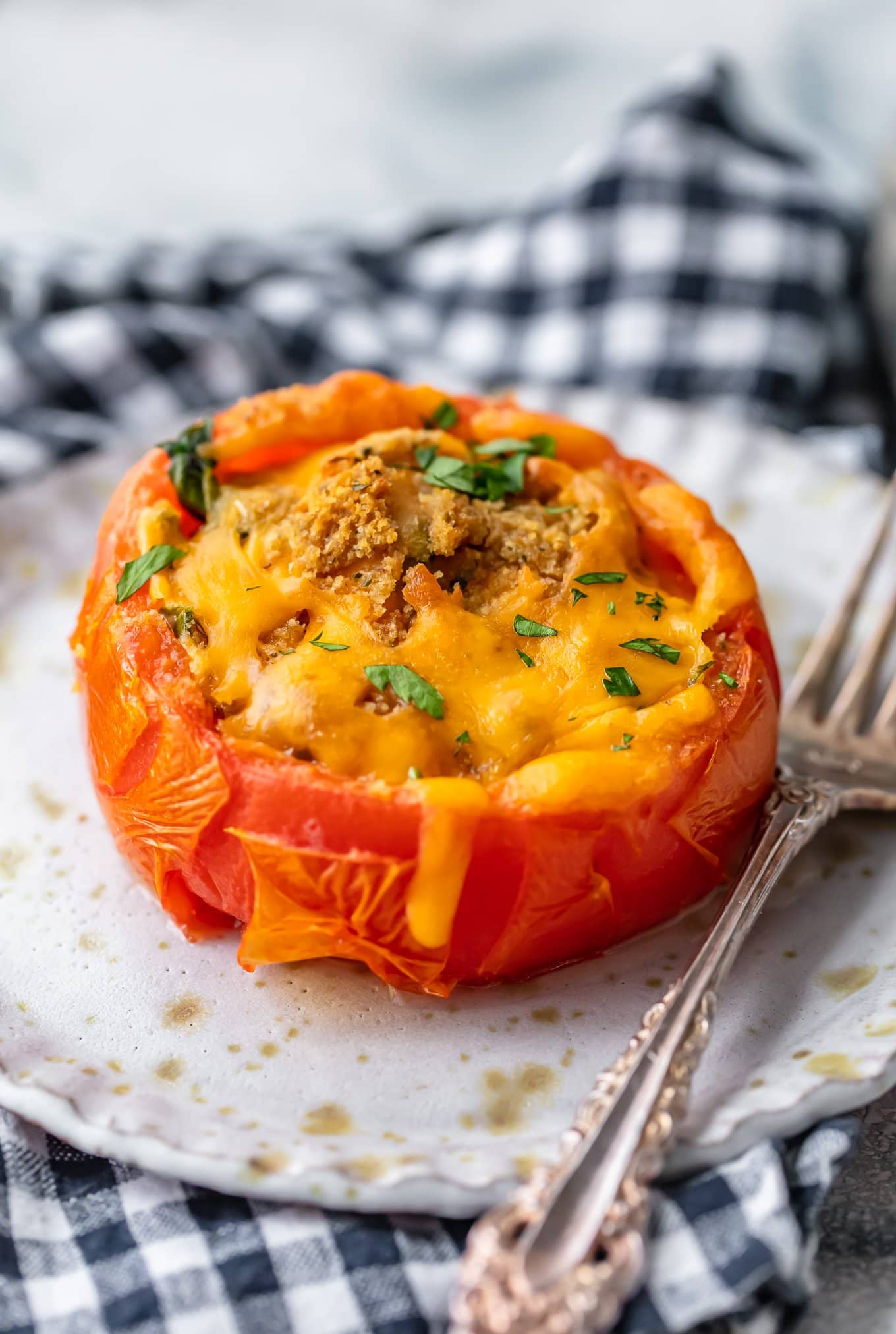 Easy Stuffed Tomato Recipe
Zucchini and tomatoes make a great pair in this amazing stuffed tomato recipe. Baking cheese, zucchini, and spinach directly into the juicy tomato shells is kind of genius if you ask me. All the flavors blend together so well, and it all just melts in your mouth. Yum!
How to make Cheesy Stuffed Tomatoes
These stuffed tomatoes are super easy to make. Prep is a breeze, and then you can just let them bake up to perfection on their own. All you have to do is make the filling, stuff it inside the tomatoes, and set them inside the oven. So easy! You can do this with any tomato you like, but you'll definitely want to use a larger variety (like Beefsteak Tomatoes) so that you can stuff that filling in.
Here's a quick overview (check the recipe card for more detailed instructions):
Cut off the tops of the tomatoes (about 1 inch), and then scoop out the insides. Do this part carefully to avoid cutting through the outer skin.
Cook the zucchini and onion in a skillet for just a few minutes, then added in the spinach and let it wilt.
Place tomatoes in a baking dish and fill them with cheese, then the zucchini mixture, then more cheese. Top each one off with the breadcrumbs.
Bake the stuffed tomatoes for about 30 minutes at 350°F.
I love how warm and cheesy and delicious these babies are after cooking. Let them cool slightly before serving, and then dig in!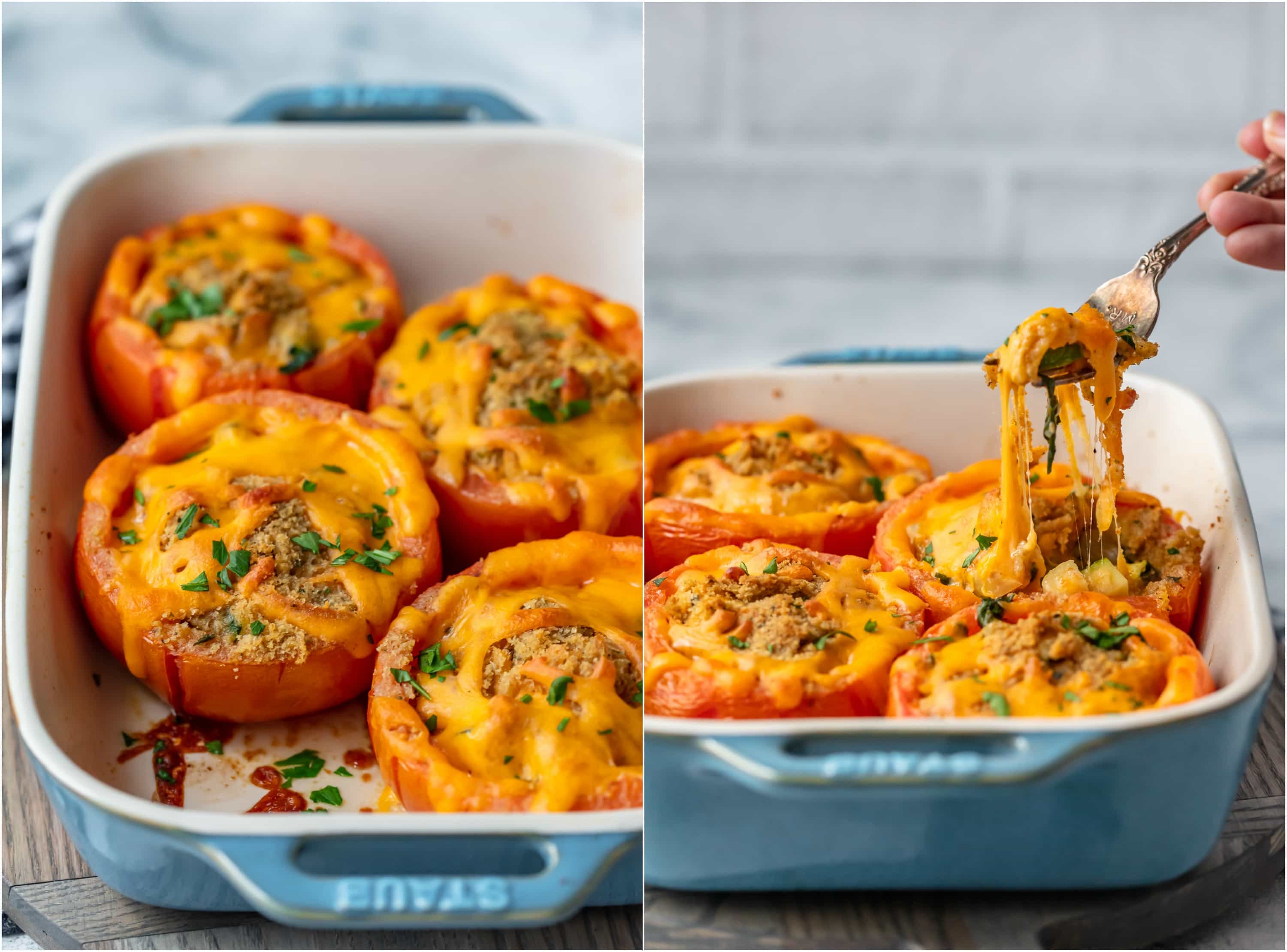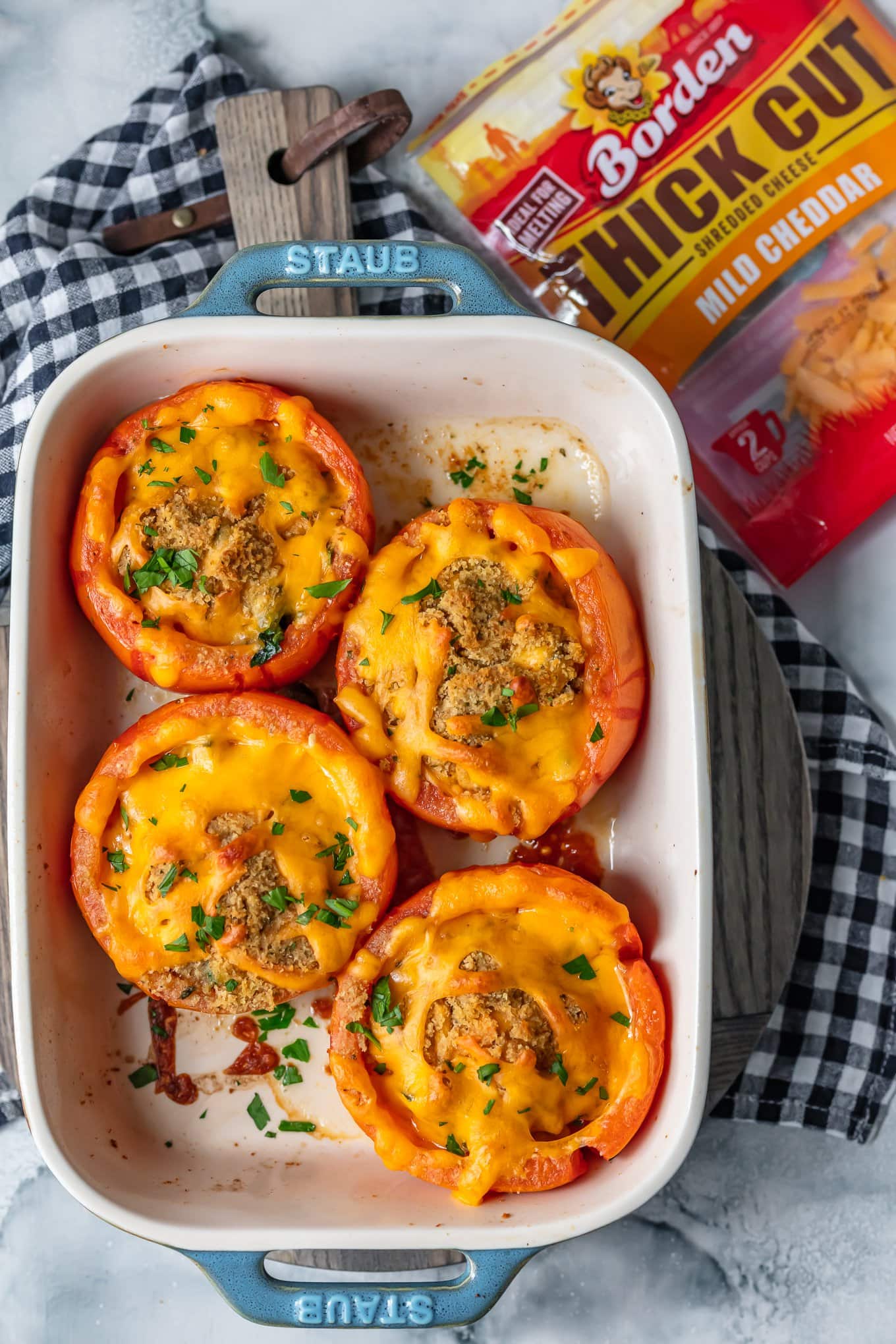 Baked Tomatoes Stuffed with Veggies, Cheese, and more!
For this recipe, I chose to make things simple and delicious by using Borden® Cheese Thick Cut Shreds!! I've been using Borden® Cheese for years, and some of my favorite recipes include my Baked Cheeseburger Sliders, Cheesy Pigs in a Blanket, and Warm Crab Artichoke Dip.
Using Borden® Cheese Thick Cut Shreds come in 4 amazing variations; Mild Cheddar, Sharp Cheddar, Mozzarella, and 4 Cheese Mexican Blend. I'm obsessed with them all, and for someone who loves a very cheesy and melty recipe, these shreds are utterly perfect.
Using the Thick Cut Mild Cheddar in this recipe makes everything more melty, creamy, and unbelievably tasty. I can't wait to try some of these new thick cut shreds in some of my favorite queso recipes!
Using Borden® Cheese in these Cheesy Stuffed Tomatoes takes things from good to great. Borden® is known for their quality ingredients and flavorful products, and I know you're going to love it as much as I do!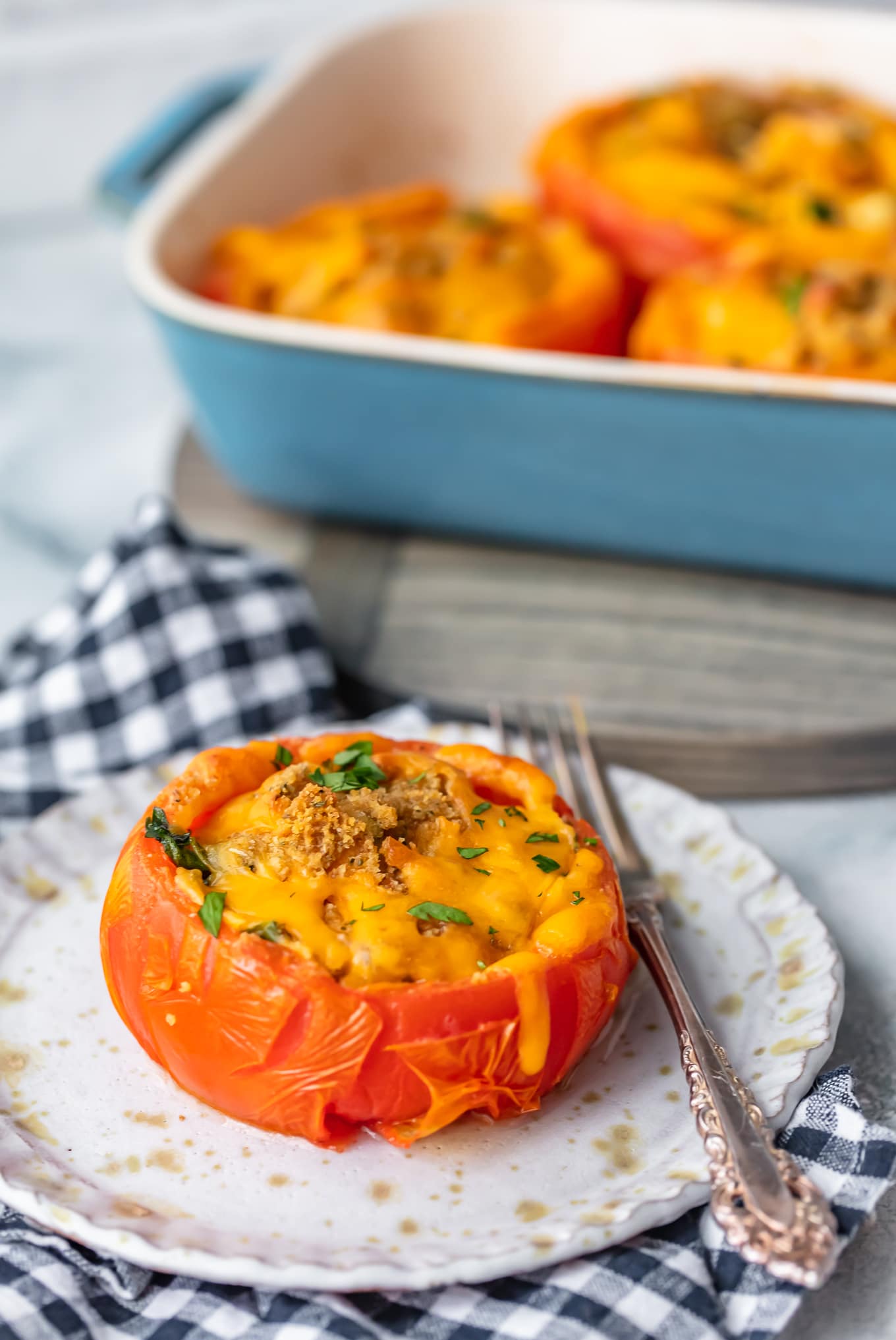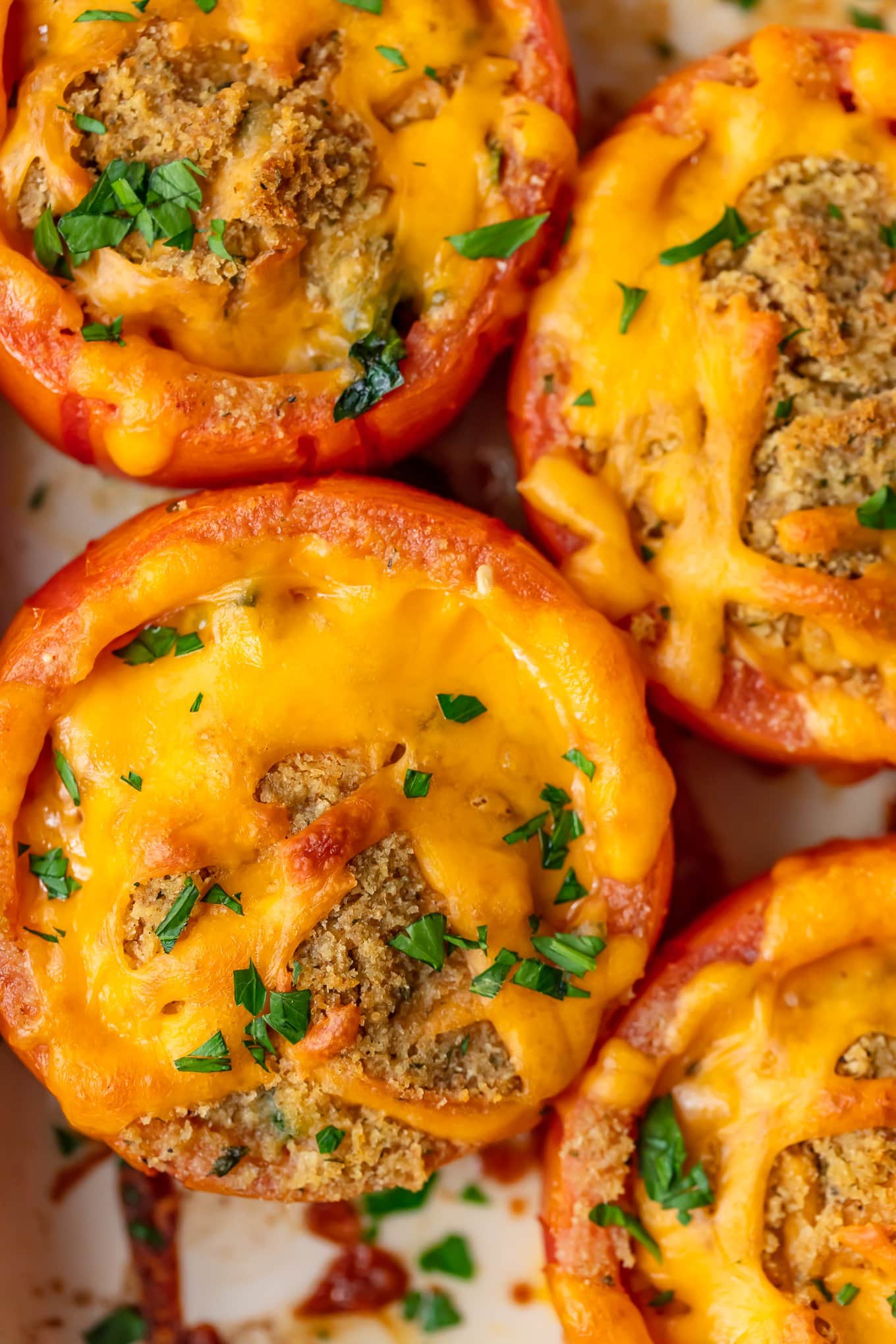 Can you freeze stuffed tomatoes?
If you need to save any leftover tomatoes, you can freeze them for later. Wrap each on individually, first in foil and then in plastic wrap. Place them all in a resealable bag or freezer-safe container. Freeze them up to 1 month. When ready to eat them, let the tomatoes thaw completely in the refrigerator, and then bake.
Easy Veggie Side Dishes
This cheesy stuffed tomato recipe makes a great side dish! It's easy, it's stress-free, and it's so tasty. It's just one of many veggie side dishes here, but it's quickly becoming a favorite. Turns out tomatoes, veggies, and cheese is the perfect combination!
Try some other favorite side dishes: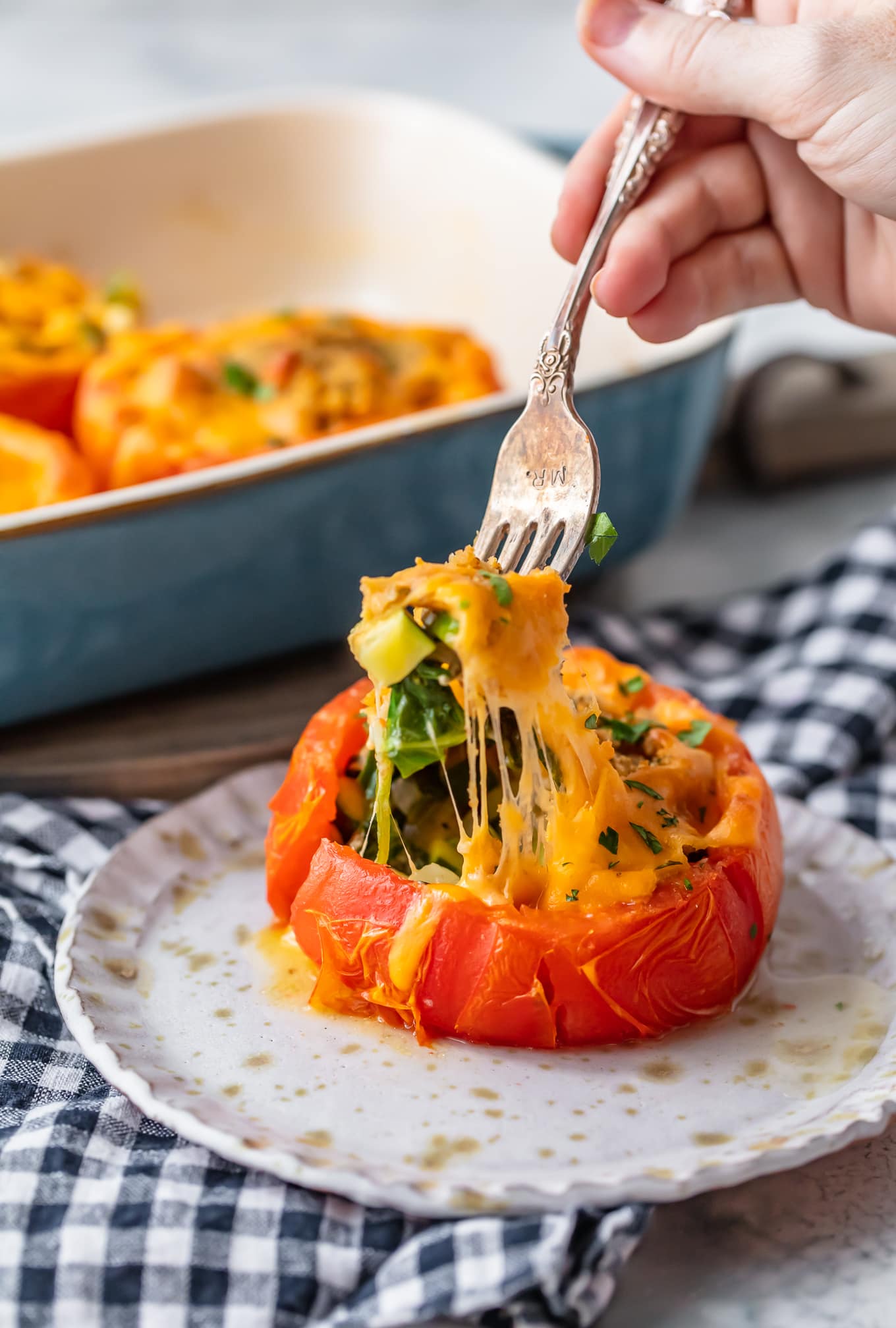 You guys are going to love these cheesy tomatoes just as much as I do. Easy and cheesy are my favorite things, so this recipe fits right in with all of my other favorites. Serve them with dinner, serve them as an appetizer, or just make these the main course and devour them all!
See the recipe card below for details on how to make Cheesy Stuffed Tomatoes. Enjoy!
If you like this stuffed tomato recipe, try these other tasty tomato dishes: