Stuffed Tomatoes are a simple side dish or appetizer you can make for all occasions. Filled with cheese, zucchini, and spinach, and then topped with bread crumbs, this stuffed tomato recipe is all kinds of delicious. It's the perfect veggie side dish!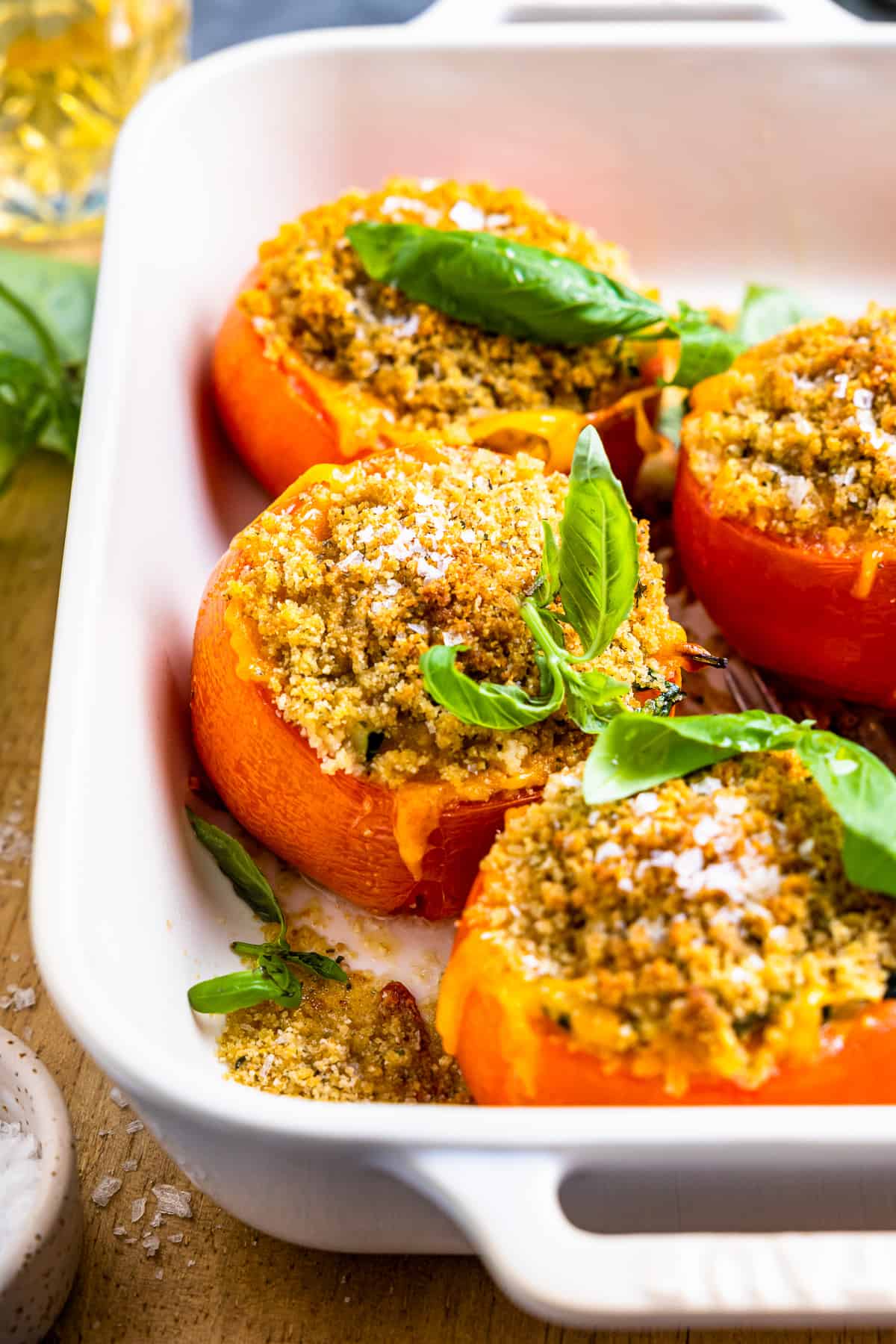 What's in this Stuffed Tomato Recipe?
I'm sure most of you have tried stuffed peppers before, but guess what? You can make stuffed tomatoes too! It's the same concept, but all those delicious ingredients get stuffed and baked inside juicy tomatoes instead. They're super cheesy and super tasty.
Tomatoes: You can do this with any tomato you like, but you'll definitely want to use a larger variety (like Beefsteak Tomatoes) so that you can stuff that filling in.
Garlic Salt: Draws out moisture and flavors the tomatoes at the same time!
Olive Oil: Helps the veggies to cook without burning.
Garlic: Adds delicious earthy flavor.
Zucchini: A delicious filling for these tomatoes. Summer squash would also work!
Yellow Onion: Adds earthiness and sweetness!
Baby Spinach: The perfect healthy addition!
Salt + Pepper: To taste.
Cheddar Cheese: For this recipe, I chose to make things simple and delicious by using Borden® Cheese Thick Cut Shreds!! I've been using Borden® Cheese for years, and using the Thick Cut Mild Cheddar in this recipe makes everything more melty, creamy, and unbelievably tasty.
Italian Breadcrumbs: Pre-seasoned breadcrumbs make this dish come together quickly and easily!
Variations on a Stuffed Tomato
You can stuff a tomato with so many different things! Try different veggies, like mushrooms, bell peppers, or broccoli. Add some cooked rice for a heartier filling or cooked some ground beef, pork, or chicken for some protein. Top with the cheese of your choice (mozzarella, Provolone, Colby, etc.) and plain or Panko breadcrumbs!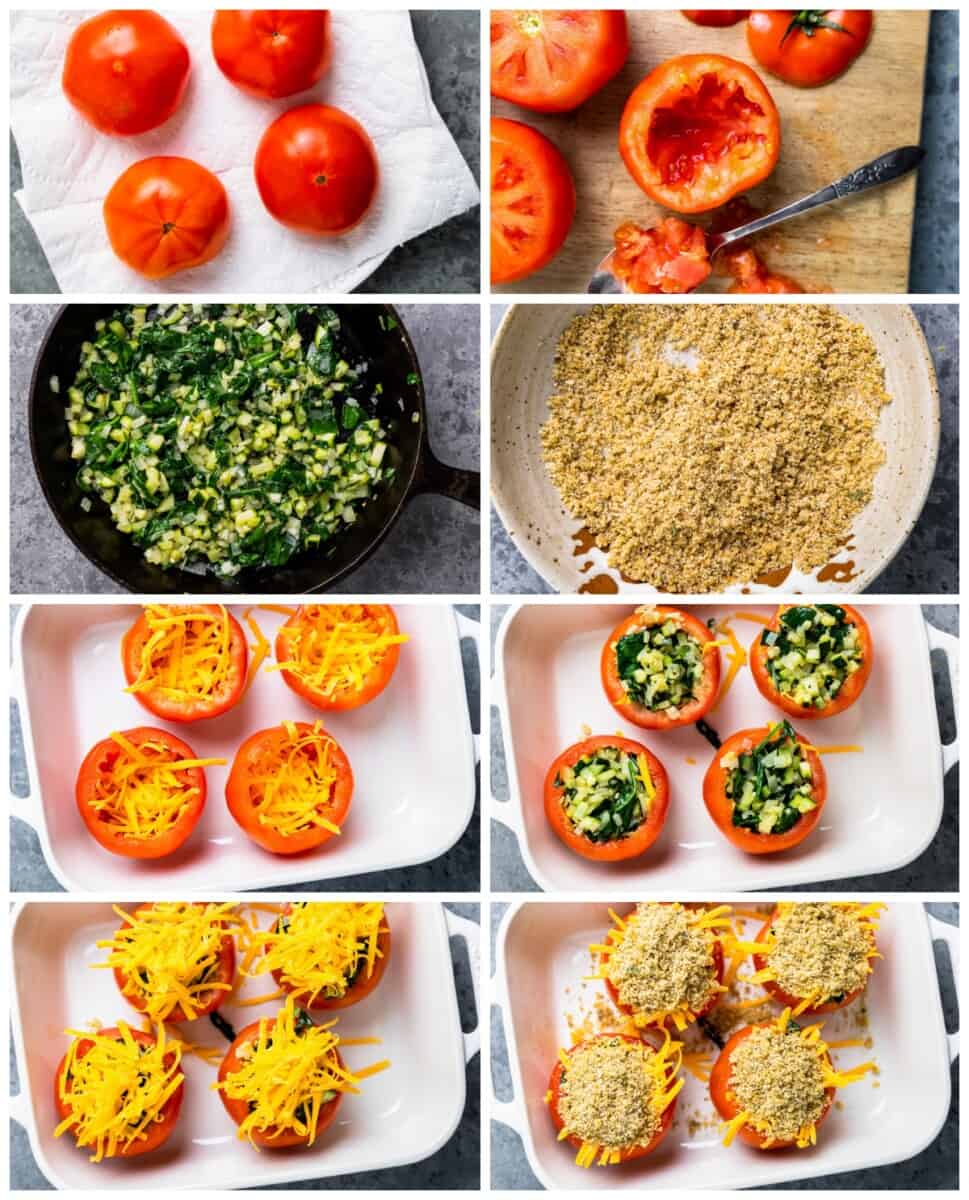 What is the best cheese for stuffed tomatoes?
answer (note. these questions should be chosen due to what people are asking on google. they already know what the recipe is, so these questions are more about how to make the recipe. essentially, answering "how", not "what". some good examples are what temperature to cook, what pasta to use, how to tell when its done, etc.
How can I tell when stuffed tomatoes are finished cooking?
Stuffed tomatoes are finished cooking when the tomatoes are tender but not mushy, and the cheese is melty and bubbling.
Can I make these in the air fryer instead?
Absolutely! Simply air fry them at 360°F for 8-10 minutes!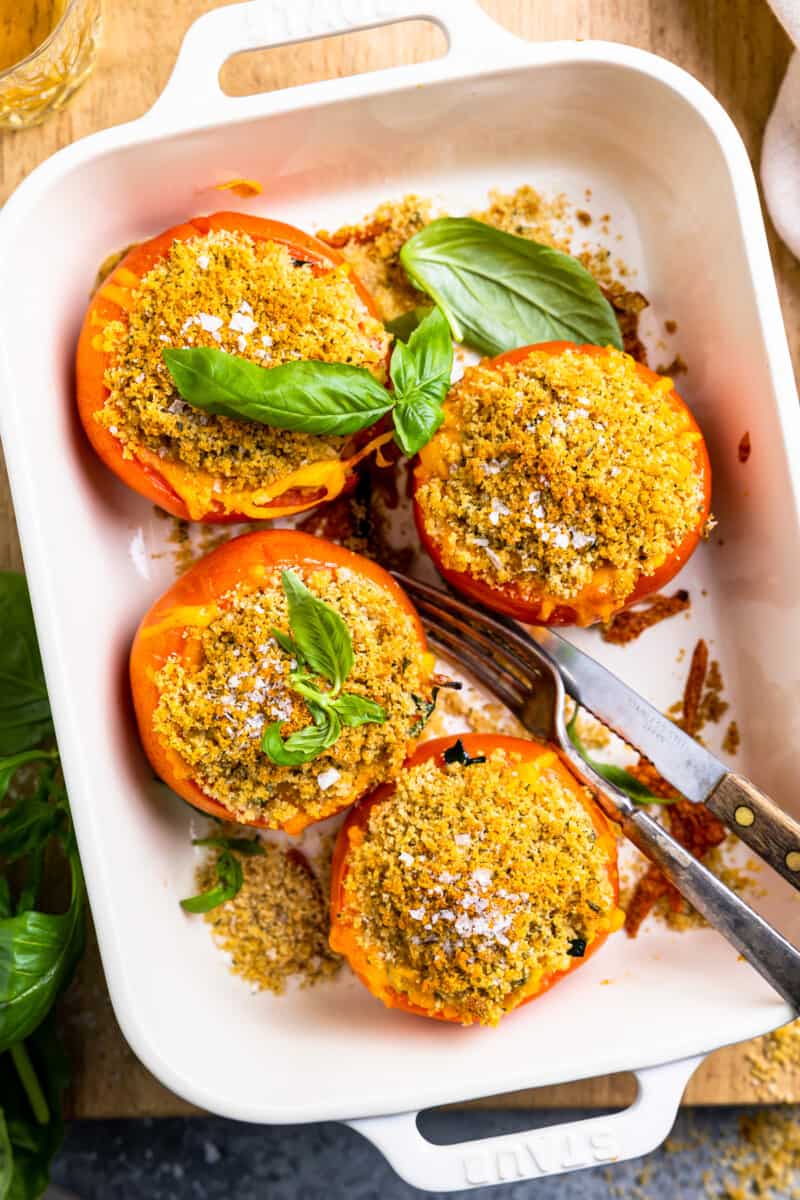 How to Store and Reheat Baked Stuffed Tomatoes
Store leftover stuffed tomatoes in an airtight container in the refrigerator for up to 4 days. Reheat in a 350°F oven for 10-15 minutes, or until warmed through!
How to Freeze Vegetarian Stuffed Tomatoes
If you need to save any leftover tomatoes, you can freeze them for later. Wrap each on individually, first in foil and then in plastic wrap. Place them all in a resealable bag or freezer-safe container. Freeze them up to 1 month. When ready to eat them, let the tomatoes thaw completely in the refrigerator, and then bake.
What to Serve with Stuffed Baked Tomatoes
This cheesy stuffed tomato recipe makes a great side dish! It's easy, it's stress-free, and it's so tasty. It's just one of many veggie side dishes here, but it's quickly becoming a favorite. Turns out tomatoes, veggies, and cheese is the perfect combination!
Pair these cheesy stuffed tomatoes with Spinach Stuffed Chicken Breast, any pasta dish, or serve them as an app along with Mozzarella Stuffed Meatballs and Philly Cheesesteak Nachos. You really can't go wrong with something this good!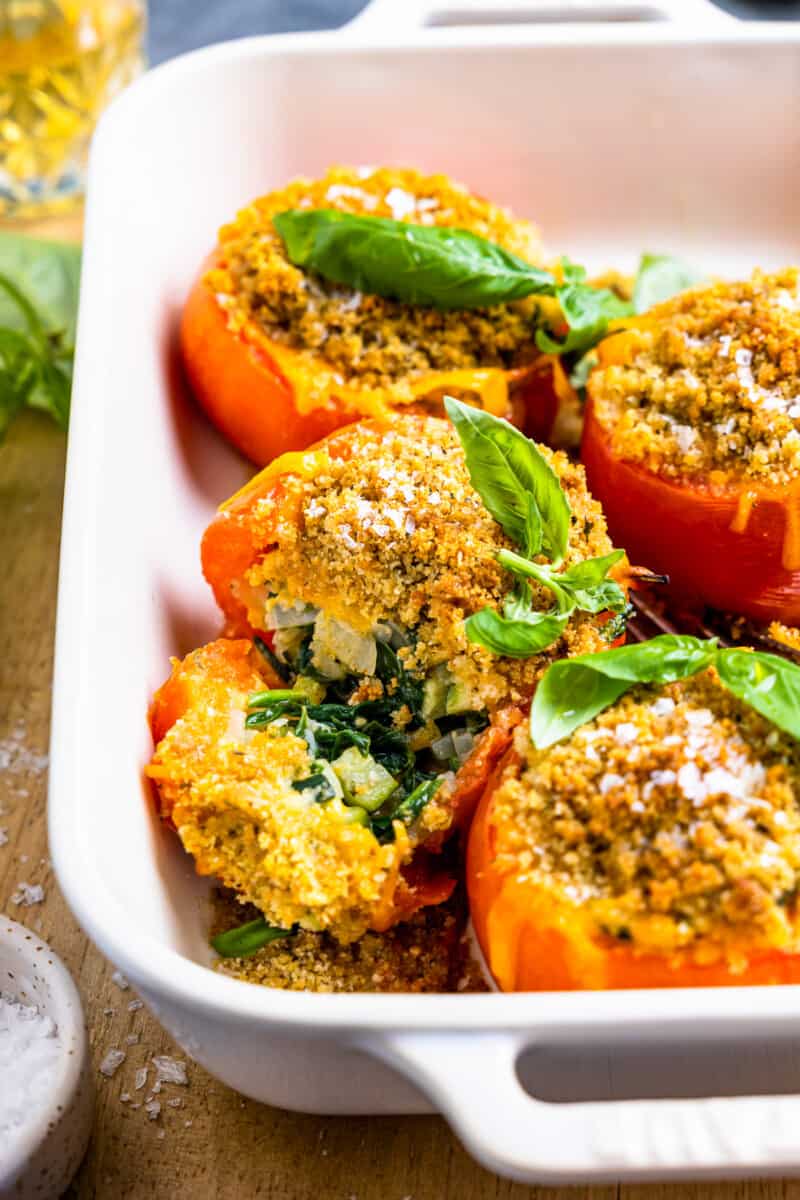 More Tomato Recipes We Love