This PIZZA ON A STICK is always a hit with both kids and adults. We made ours pepperoni, but you can do any flavor combination! So fun and EASY!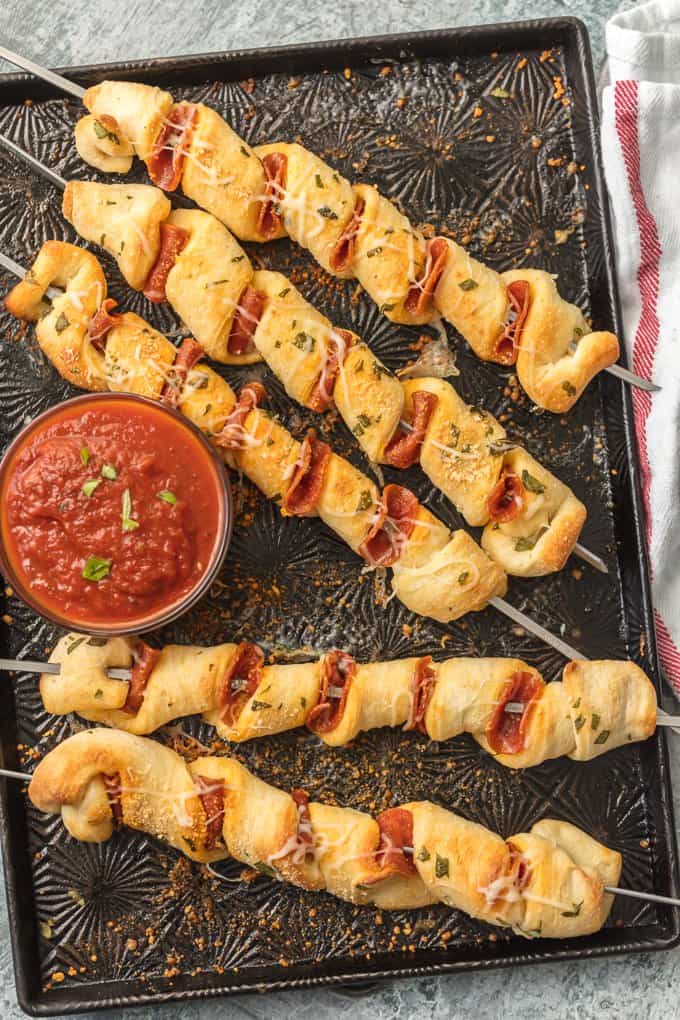 Easy appetizer alert!! You know around here I have a thing for SIMPLE recipes that taste amazing and come together in a flash. This recipe for PIZZA ON A STICK is fun, oh so easy, customizable, and loved by all. We chose to make ours with pepperoni and basil, but you could layer on whatever toppings you love best. These would be great for Super Bowl parties, holiday get togethers, or just a dinner at home with the kiddos. Adults and children will both love these and be asking for more.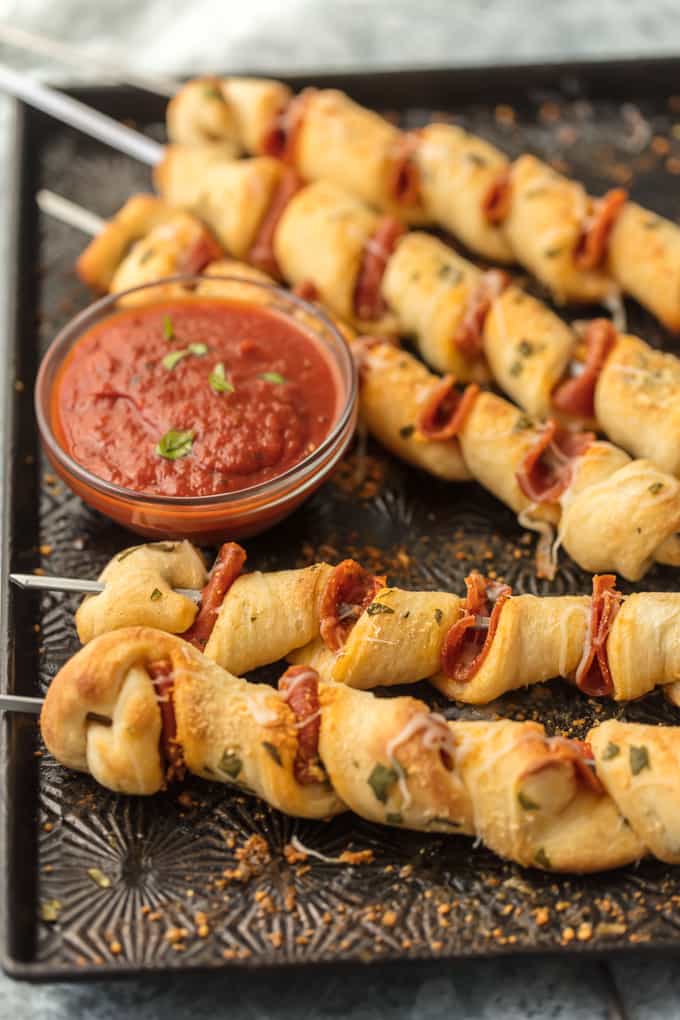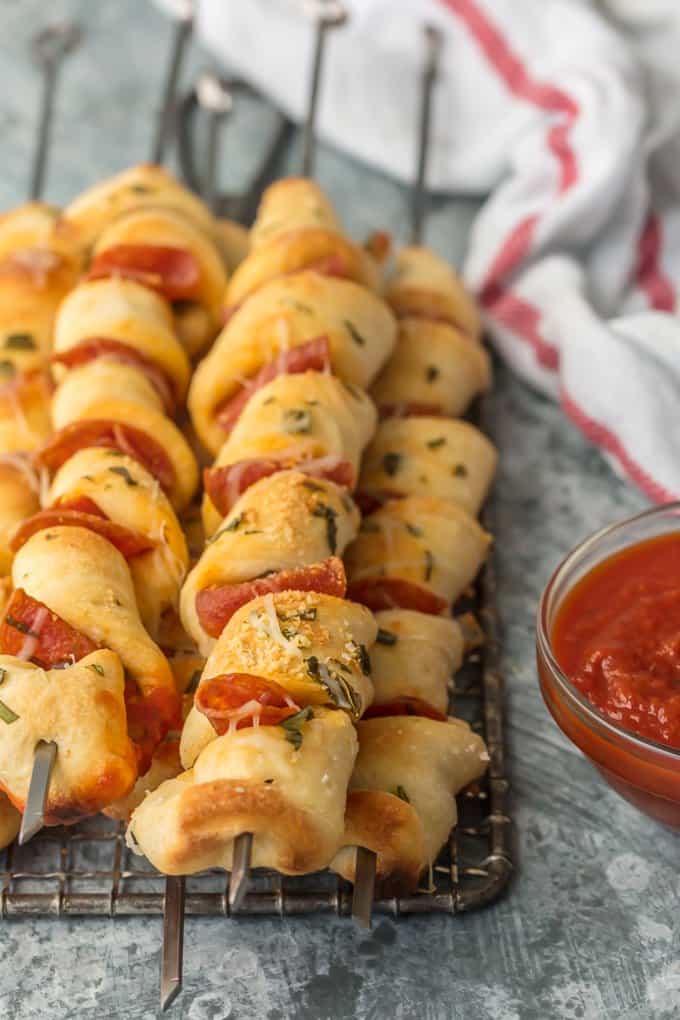 I have a feeling in a couple years this will be one of Henry's favorite recipes. It's so fun to make these with kids and let them pick the ingredients. We love to dip ours in marinara…the more the better. Although we added garlic butter to the dough itself, we didn't add a sauce. I think it's more fun to dip dip dip. That way you get the amount that you want. Also makes these no mess in the oven. Win win!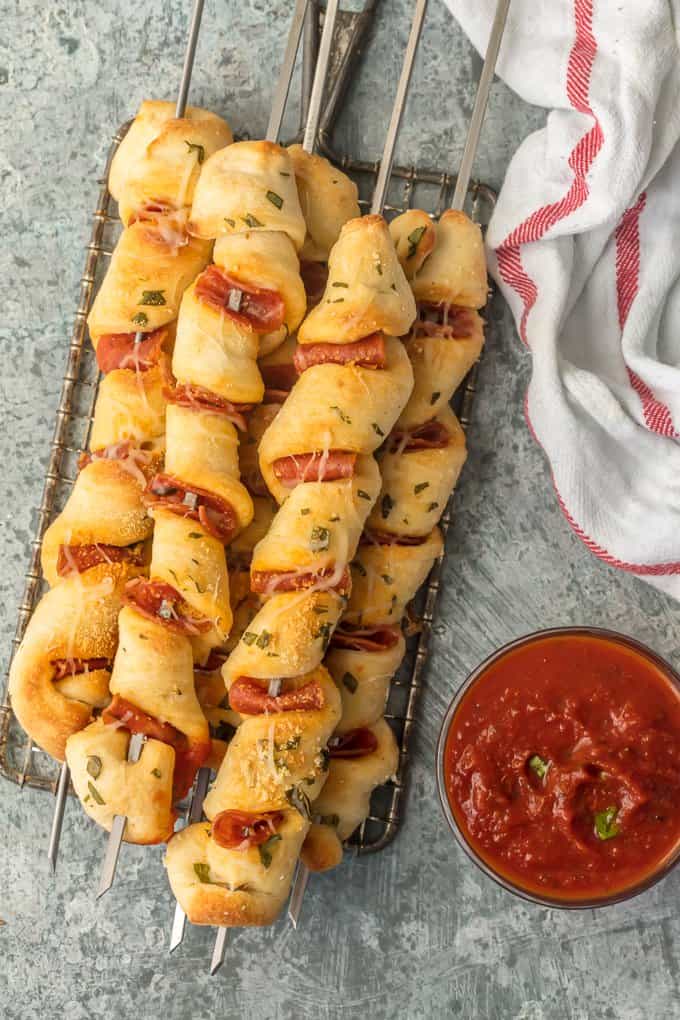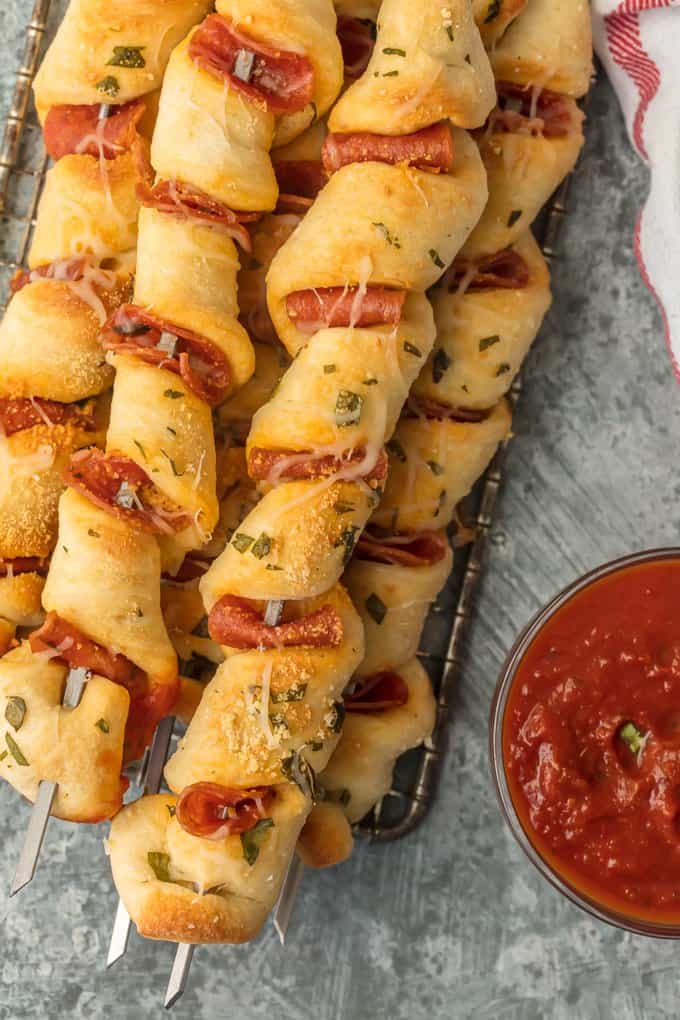 Isn't this Pizza on a Stick just too fun and cute? I have a feeling this will be making it into your dinner rotation in no time. They're great served hot but also pretty tasty served cold. They can be sent with lunch! (although I might remove that dangerous skewer before sending) :) For us the dough keeps its shape even off of the skewer which is extra fun and safe for kids. Cute cute cute. Pizza on a Stick is the ultimate fun easy recipe the entire family will devour.
Hope you enjoy as much as we do! Happy Hump Day!
Pizza on a Stick
This PIZZA ON A STICK is always a hit with both kids and adults. We made ours pepperoni, but you can do any flavor combination! So fun and EASY!
15 minPrep Time
12 minCook Time
27 minTotal Time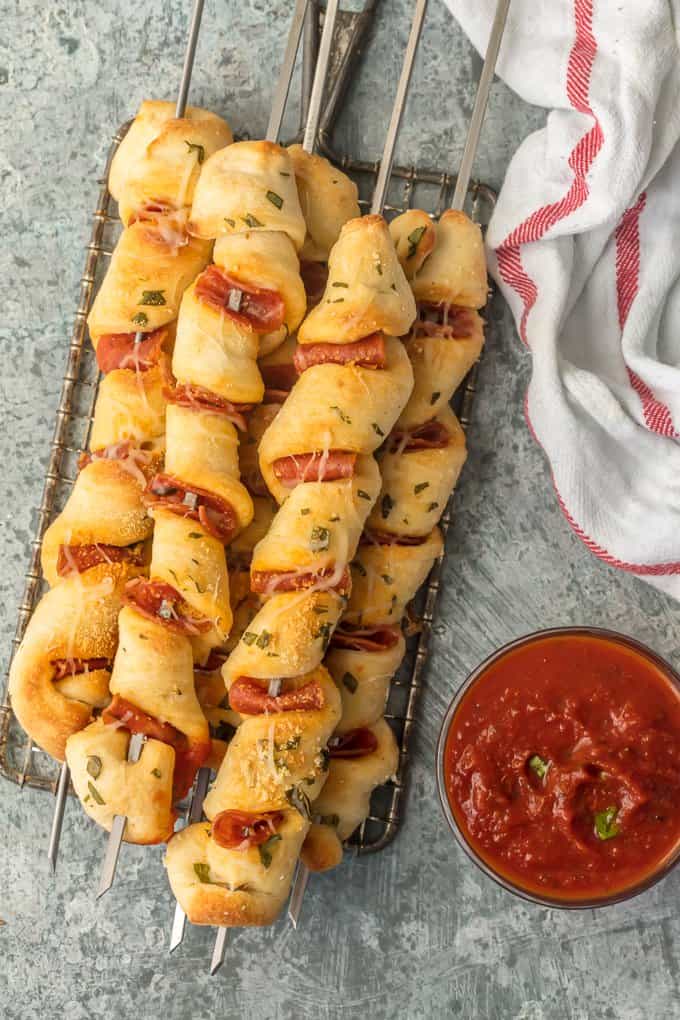 4.7 based on 7 review(s)
Ingredients
1 package mini pepperoni slices
1 tube (13.8 oz.) refrigerated pizza crust; Pillsbury works well
¼ cup unsalted butter, melted
¾ teaspoon garlic salt
1 tablespoon chopped fresh basil
1 cup shredded Mozzarella cheese
¼ cup grated Parmesan cheese
1 cup Pizza sauce
Instructions
Soak 10 bamboo skewers in warm water at least 30 minutes or use metal skewers.
Preheat oven to 400°F and cover a baking sheet with aluminum foil. Spray the foil with cooking spray.
Unroll pizza dough onto a lightly floured countertop. Mix together melted butter, garlic salt & basil. Brush dough lightly with garlic basil butter.
Cut dough, lengthwise, into 1-inch wide strips.
Thread 5-7 mini pepperoni slices on each skewer. Be sure to leave enough space between each slice for the pizza dough.
Starting at one end of a dough strip, pierce the dough with the pointed end of the skewer. Spiral-wrap the dough strip around the pepperoni on the skewer, allowing the meat to peak through. Wrap the end of the dough strip around the bottom of the skewer to fasten. Press the dough together on each end to be sure it sticks on the skewer.
Place skewers on the prepared baking sheet and brush the tops with more of the garlic basil butter. Bake 10-12 minutes or until pizza dough is light golden brown.
Remove from oven and sprinkle with mozzarella cheese. Allow the cheese to melt (place back in the hot oven, if necessary) and serve with pizza sauce.
Enjoy!
Note: Additional toppings may be added or substituted. If adding sausage or hamburger chunks, par-cook meats before adding them to the uncooked pizza sticks. The sticks only cook for 10-12 minutes, so raw meat doesn't have time to fully cook. Also, if adding raw vegetables, it's a good idea to par-cook them before adding.
Additional pizza ingredients: Italian sausage or hamburger chunks, sweet peppers, onion, tomatoes, chicken chunks, pineapple, red onion, mushrooms, zucchini slices, black or green olives, mini mozzarella balls (if covered with the dough), cooked potato chunks, par-cooked bacon pieces, ham, Canadian bacon, fresh basil leaves. Topped with other cheese such as: cheddar, Gruyere, Swiss, Smoked Gouda, White Cheddar, Mexican Blend, Italian Blend, Parmigiano-Reggiano. …so many options. Be creative.
7.6.7
2452
https://www.thecookierookie.com/pizza-on-a-stick/