PIZZA STICKS are always a hit with both kids and adults. There's nothing quite as fun as Pizza on a Stick! We made pepperoni pizza sticks, but you can do any flavor combination! These are so fun and EASY for snacks or party appetizers!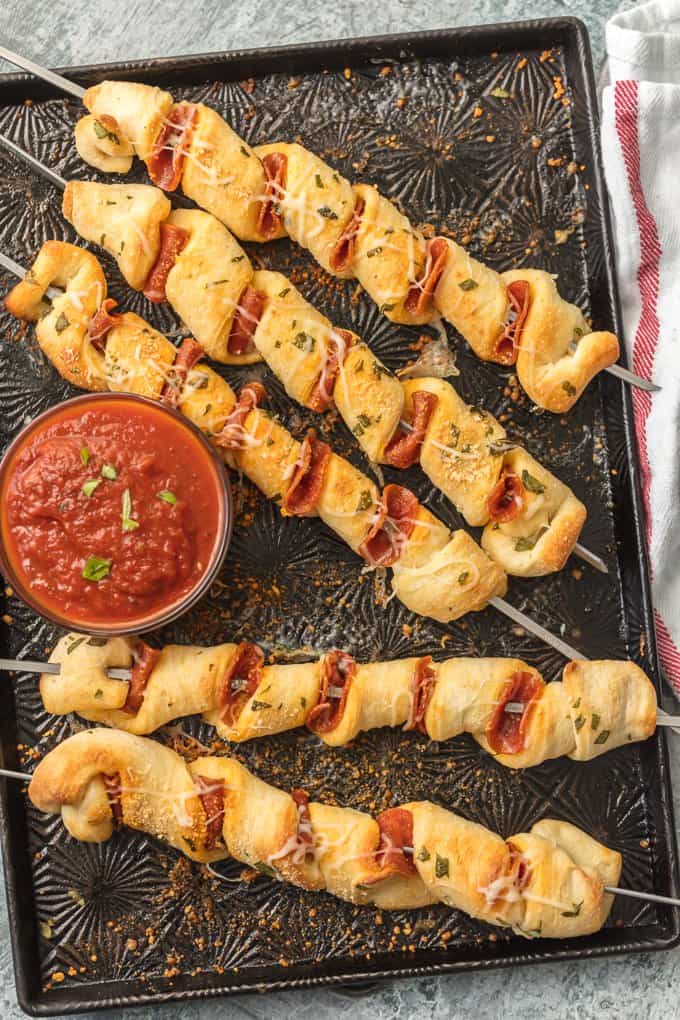 Easy Pizza Sticks Recipe
Pizza Sticks are a fun and creative way to eat pizza. Pepperoni pizza on a stick is the perfect snack or party appetizer!
Pizza sticks are so genius. Talk about an easy appetizer alert!! You know around here I have a thing for SIMPLE recipes that taste amazing and come together in a flash. This recipe for pepperoni pizza on a stick is fun, oh so easy, customizable, and loved by all. These are one of my favorite kid-friendly Super Bowl appetizers!
We chose to make our pizza sticks with pepperoni and basil, but you could layer on whatever toppings you love best. Pizza Sticks would be great for Super Bowl parties, holiday get togethers, or just a dinner at home with the kiddos. Adults and children will both love these and be asking for more!
Pizza Sticks are such a fun way to eat pizza! Pepperoni Pizza on a Stick is the perfect appetizer for game day, kid's parties, or even just for a tasty snack.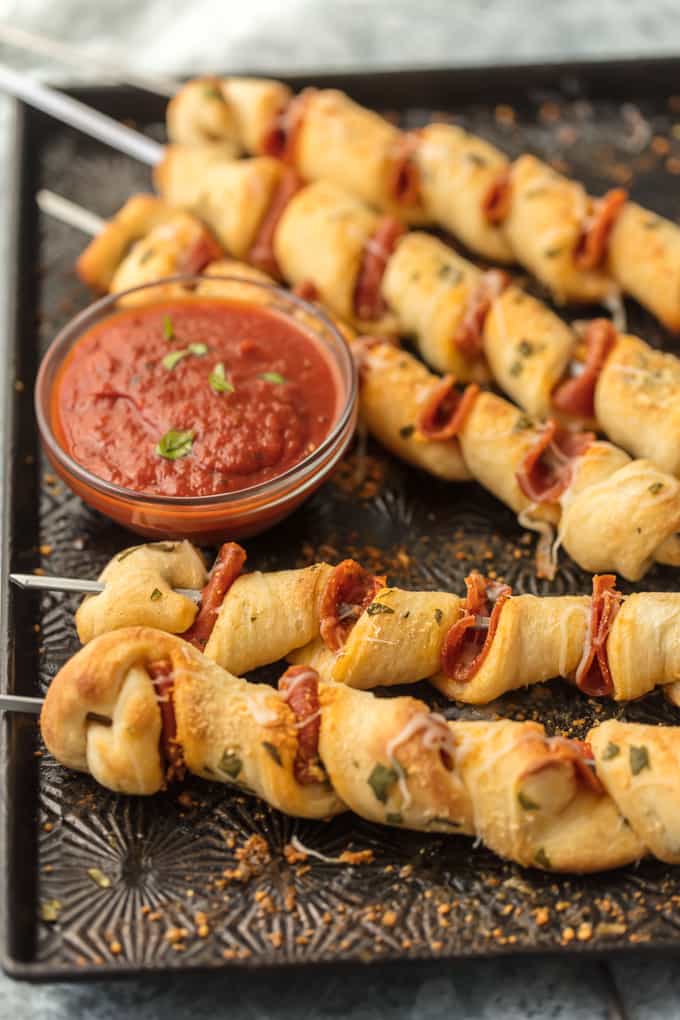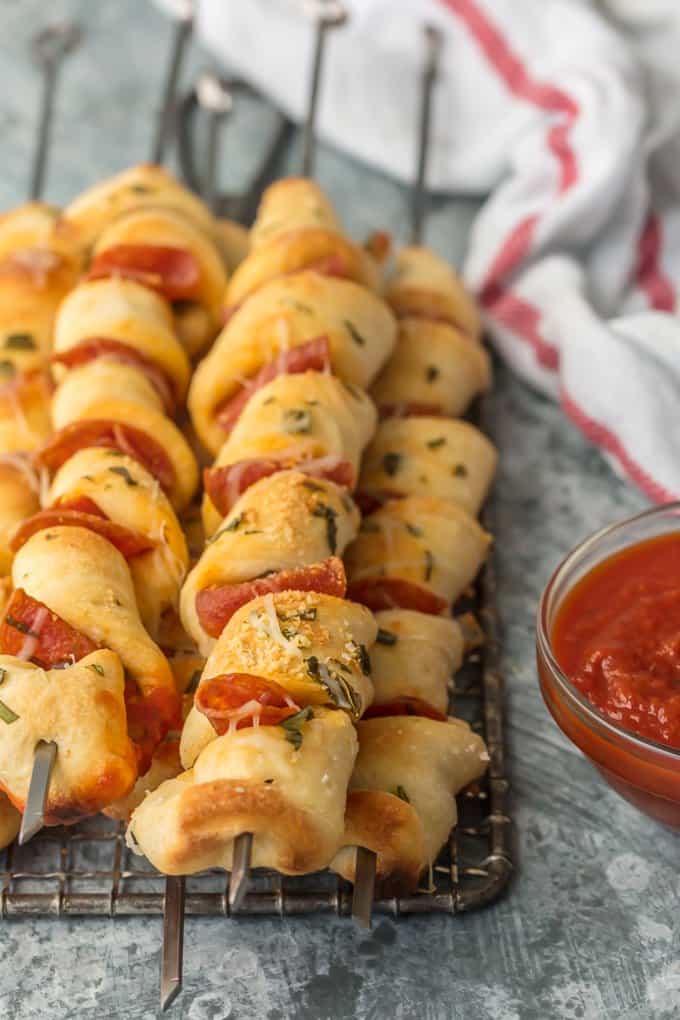 Pizza Sticks are so easy and fun for kids
I have a feeling that in a couple years, this pizza sticks recipe will be one of Henry's favorite recipes. It's so fun to make these with kids and let them pick the ingredients. We love to dip ours in marinara…the more the better! Although we added garlic butter to the dough itself, we didn't add a sauce. I think it's more fun to dip dip dip. That way you get the amount that you want. It also makes these no mess in the oven. Win win!
How to Make Pizza Sticks at Home
These tasty Pizza Sticks are so easy to make. You'll be able to make these for any party with no hassle. Pizza on a Stick really is the most genius appetizer out there!
How to Make Pizza Sticks:
Start with pizza dough on a lightly floured counter top
Mix together melted butter, garlic salt, & basil, & brush the dough with the mixture
Cut the dough into 1-inch strips
Add mini pepperoni slices onto the skewers
Wrap the dough around the skewers & pepperoni in a spiral motion
Bake the pizza sticks for 10-12 minutes
Sprinkle with mozzarella cheese at the end
You'll end up with these fun and delicious little pizza sticks appetizers. Serve with plenty of dipping sauce! See the recipe card for full instructions.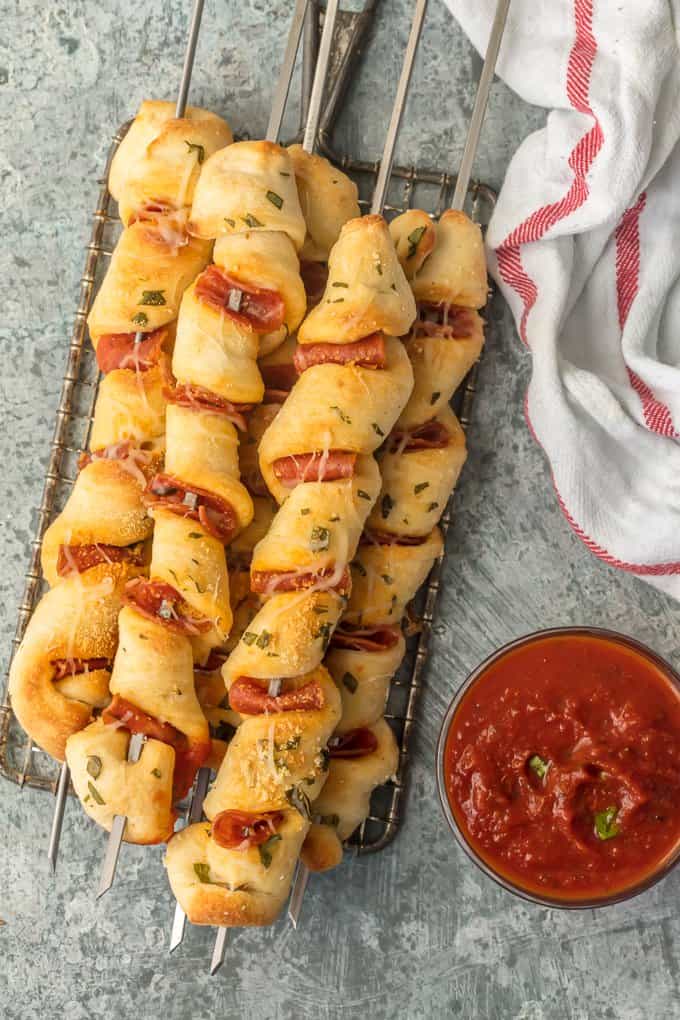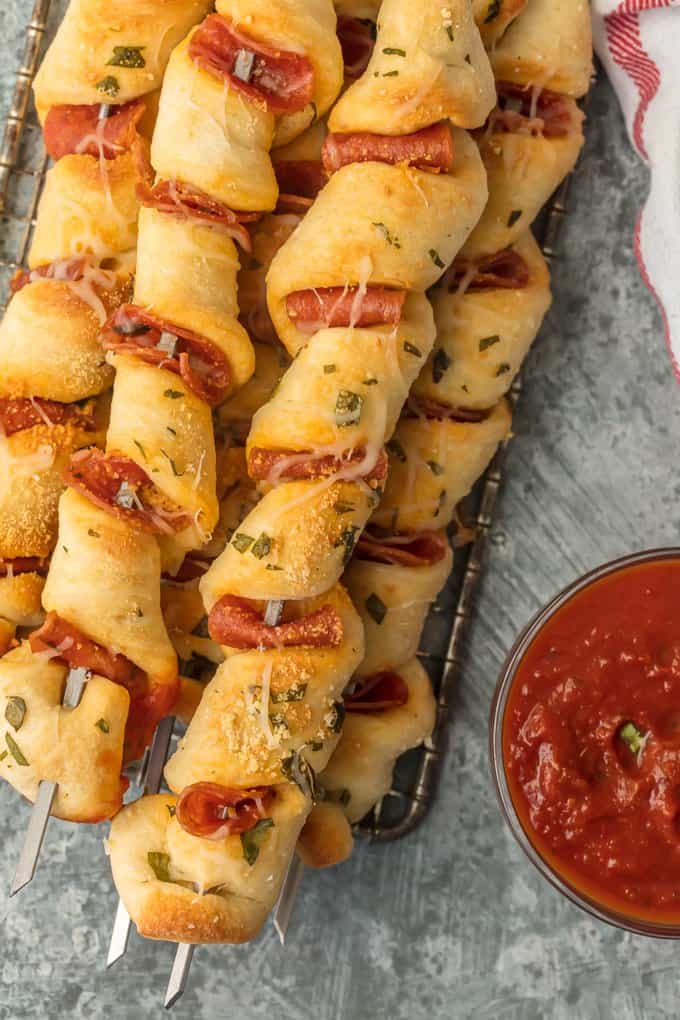 Aren't these Pizza Sticks just too fun and cute? I have a feeling this will be making it into your dinner rotation in no time. They're great served hot but also pretty tasty served cold. They can be sent with lunch! (although I might remove that dangerous skewer before sending) For us the dough keeps its shape even off of the skewer which is extra fun and safe for kids. Cute cute cute. Pizza on a Stick is the ultimate fun easy recipe the entire family will devour.