Inspired by the latest Tik Tok trend, this Blueberry Baked Oatmeal is all kinds of delicious! Perfect for a hearty and healthy breakfast, it comes together in minutes and bakes beautifully in the oven.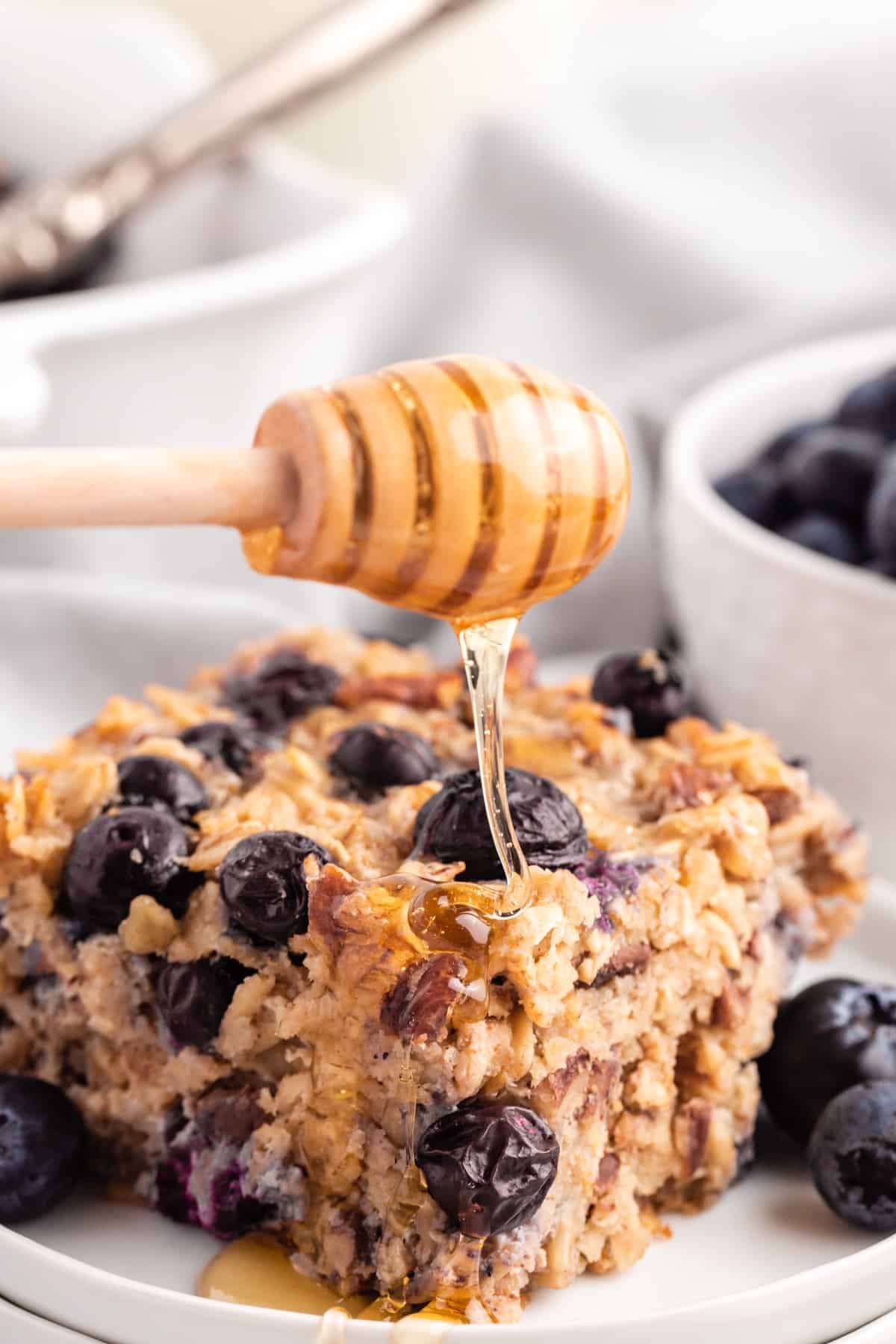 Blueberry Baked Oatmeal Recipe (Tik Tok Sensation!)
I'm a sucker for Tik Tok and addicted to all of the new and exciting recipes that pop up on there! Just like Folded Tortillas Quesadillas and Baked Feta Pasta, this new trend has been a total hit in our house!
Studded with blueberries, sweetened with brown sugar, and loaded with old-fashioned oats, this is a wholesome and hearty breakfast to enjoy any morning of the week.
Thanks, Tik Tok!
Why You'll Love this Baked Oatmeal:
MAKE AHEAD: Make a big batch of baked oatmeal on the weekend to enjoy throughout the week. Mornings are a breeze and it reheats wonderfully!
KID-FRIENDLY: This oatmeal recipe is a hit with my whole family, kids included.
GLUTEN-FREE: This is a quick and easy naturally gluten-free breakfast recipe (if using certified GF oats) that everyone will love.
Your kitchen will smell amazing while this blueberry oatmeal bakes! This is such an easy and delicious recipe to make for Easter brunch or Christmas morning too.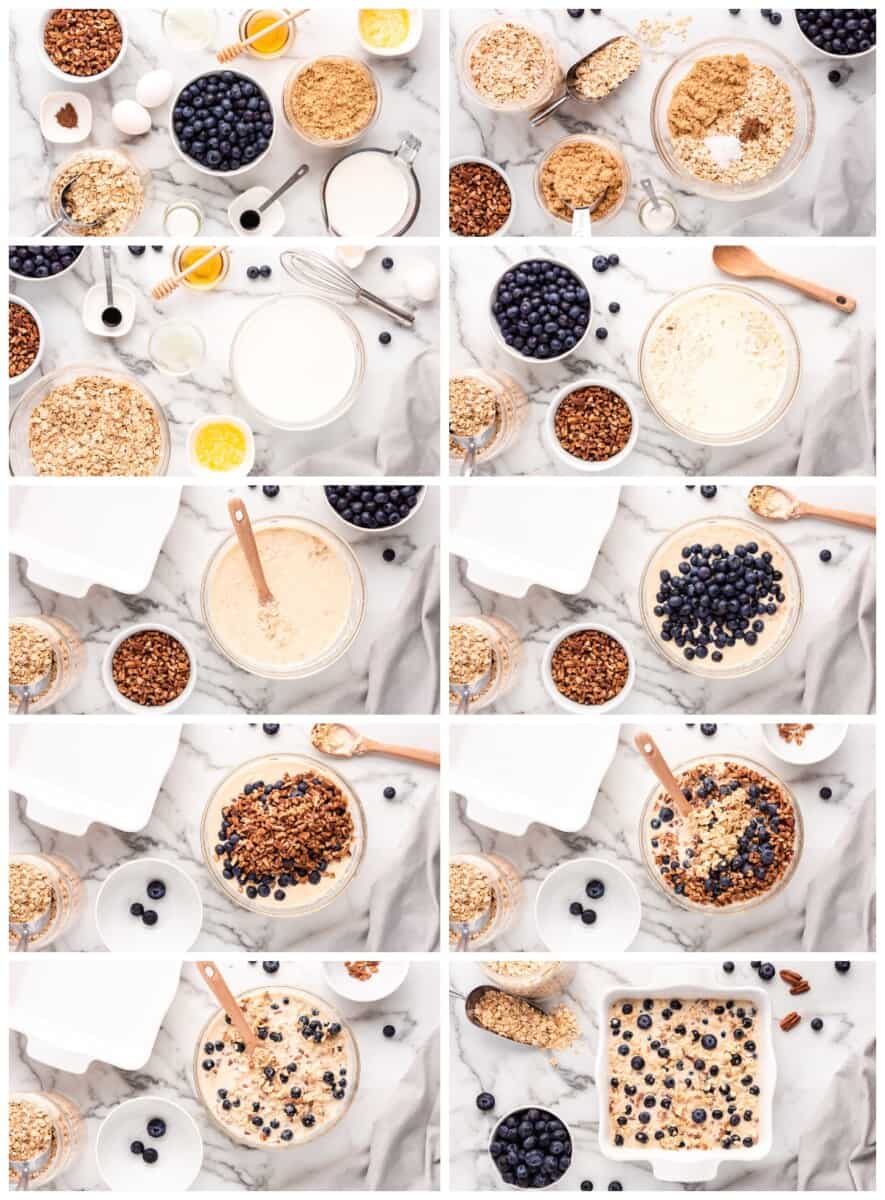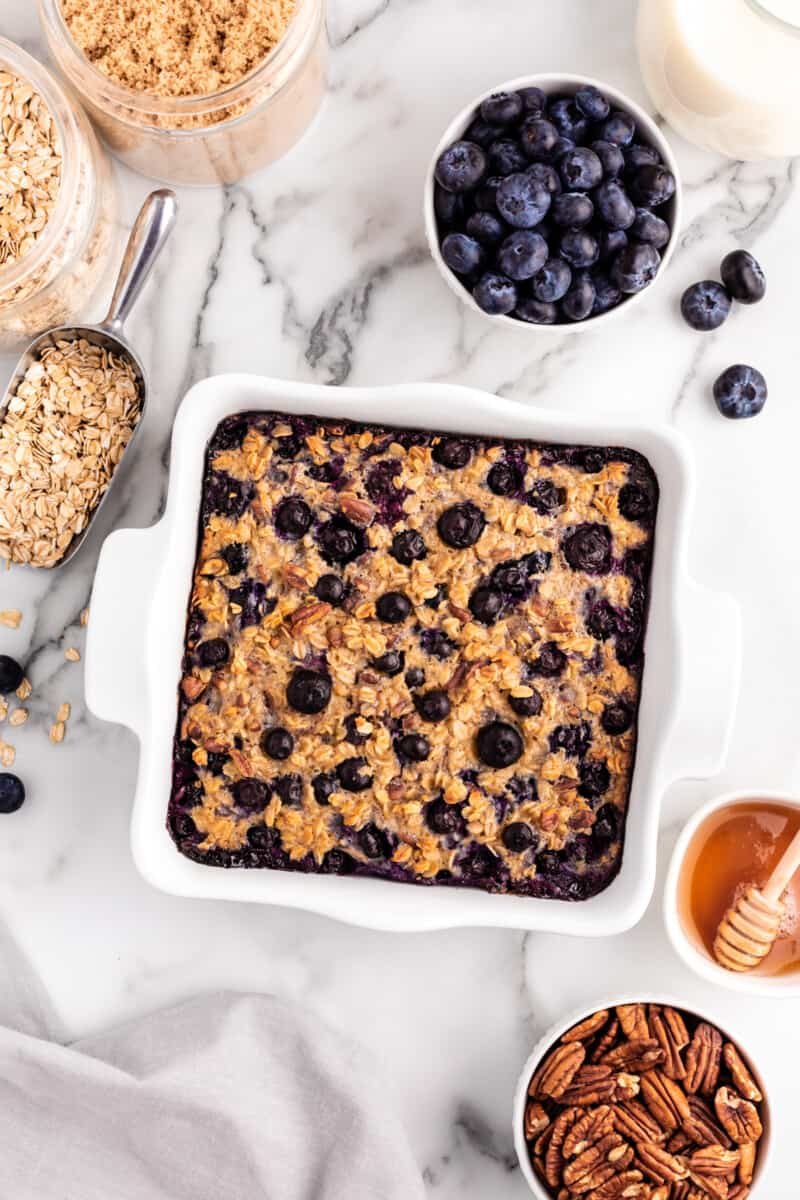 How to Make Blueberry Baked Oatmeal
You can jump to the recipe card for full ingredients & instructions!
Mix the dry ingredients together.
Mix the wet ingredients together.
Combine the wet and dry ingredients.
Fold in the blueberries and pecans.
Transfer to a baking dish and bake.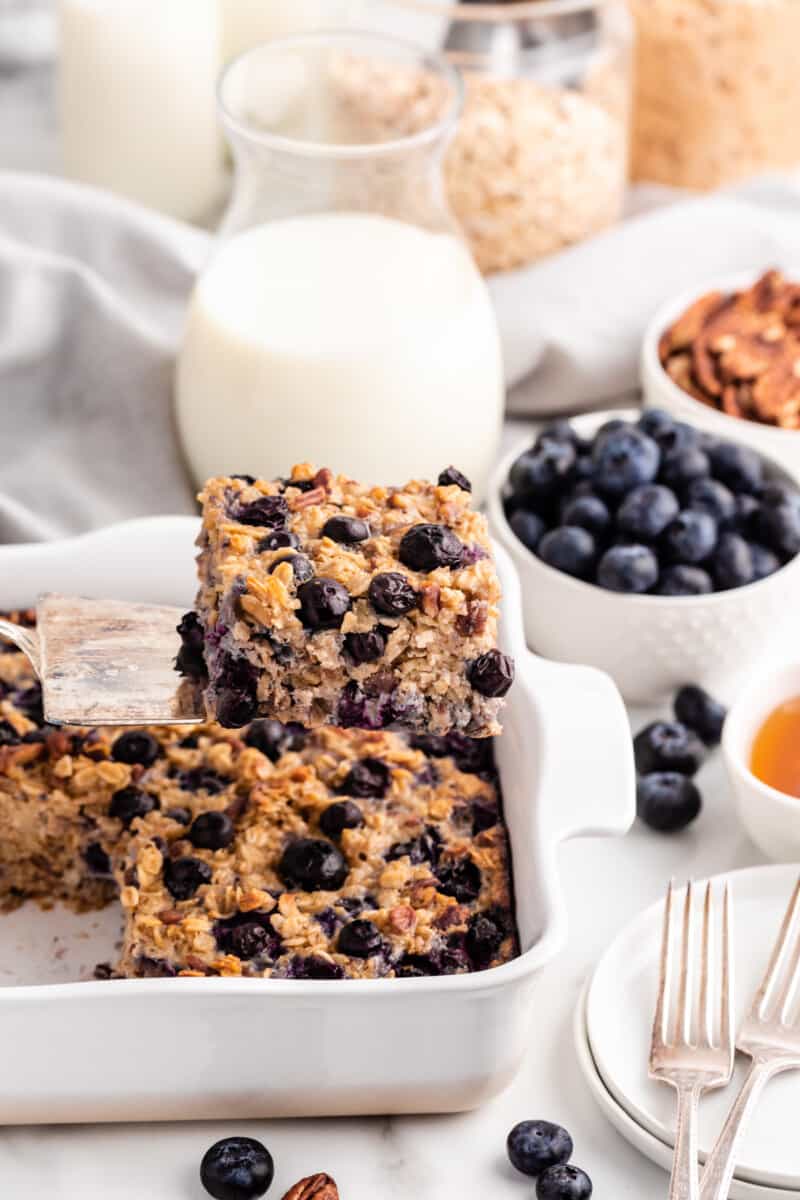 What kind of oats should I use?
Without a doubt, old-fashioned oats (rolled oats) are the way to go for this blueberry baked oatmeal recipe. Steel-cut oats will be too tough and quick oats will be too soggy.
Can I use nondairy milk instead?
Absolutely. Instead of half-and-half, use the same amount of your favorite non-dairy milk like oat, almond, or soy milk. It won't taste as rich but it will still be delicious.
Can I make baked oatmeal ahead of time?
This is a wonderful recipe to make ahead of time! Let the oatmeal cool to room temperature and store in an airtight container in the refrigerator for up to 5 days.
What is the best way to freeze baked oatmeal?
Wrap cooled baked oatmeal squares individually in plastic wrap and place into an airtight container in the freezer for up to 3 months. Thaw squares overnight in the refrigerator.
Serving Suggestions
Enjoy a plain square of blueberry oatmeal or top it with:
Maple syrup or honey
Fresh berries
Yogurt
Peanut butter or almond butter
Sprinkle of cinnamon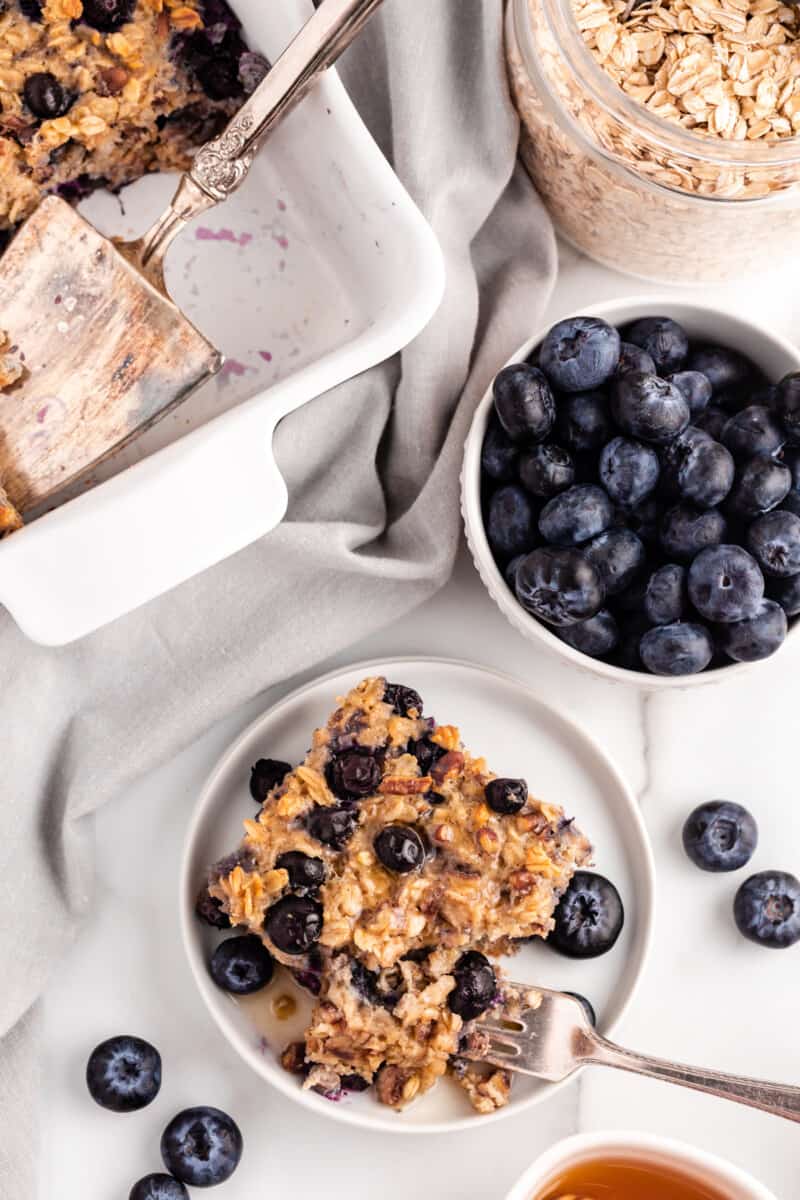 Tips!
Add a pinch of cinnamon for a little something extra!
For an even texture throughout, make sure all of the ingredients are well mixed before spreading into the baking dish.
Let the oatmeal completely cool before storing.
Warm, cozy, and creamy, this baked oatmeal is the ultimate morning comfort food.
Is this recipe gluten-free?
If you use certified gluten-free oats, yes, this is a naturally gluten-free recipe.
What other kinds of fruit can I use?
Instead of blueberries, diced apples, pears, or strawberries are wonderful additions. Delicate berries like raspberries and blackberries could fall apart, so I recommend using 1 cup of blueberries and 1 cup of raspberries or blackberries.
Can I leave out the nuts?
Yes. Simply omit the nuts or replace the pecans with an equal amount of chopped walnuts or almonds.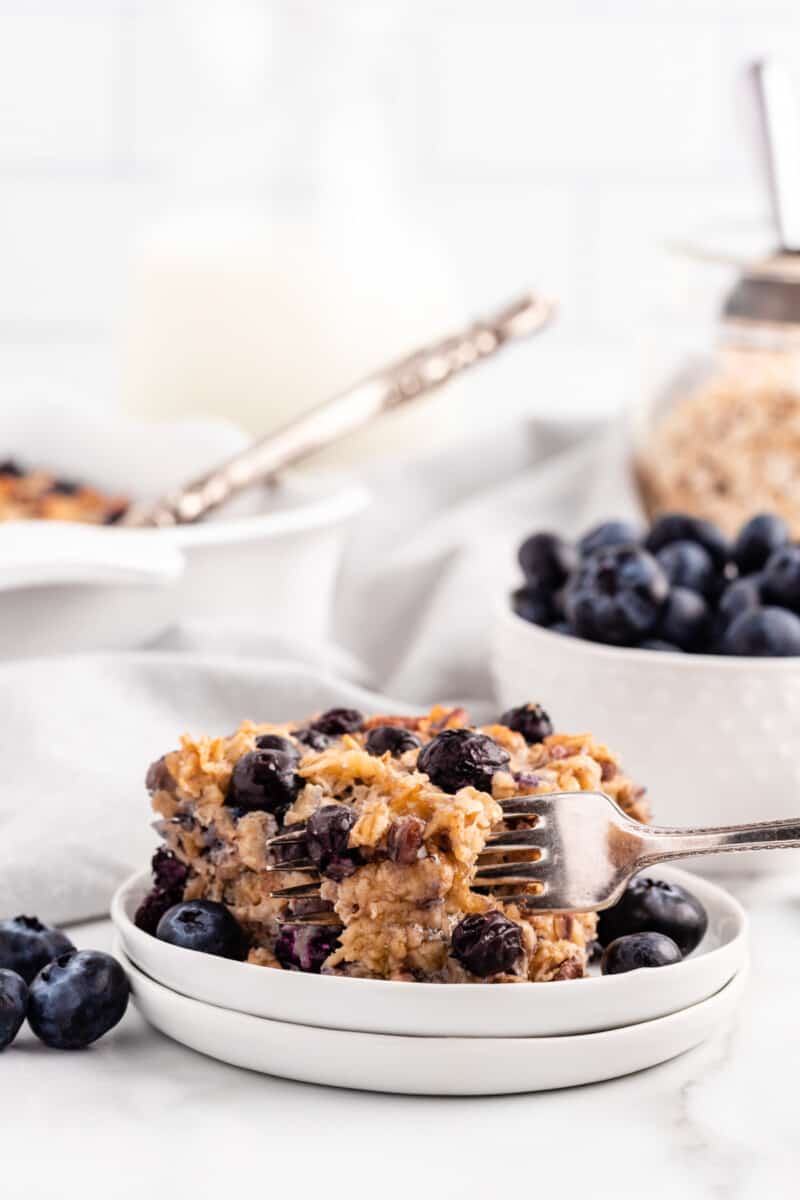 This blueberry baked oatmeal might be one of my favorite Tik Tok recipes to date. It's filling, satisfying, and totally easy to make!
If you make this recipe be sure to upload a photo in the comment section below or leave a rating. Enjoy! You can also jump to recipe.