Tender chicken strips coated in a delicious and crispy breading, these Copycat Raising Cane's Chicken Fingers come with an addictive Creole sauce. Plus they are so easy to make. No deep fryer? No problem!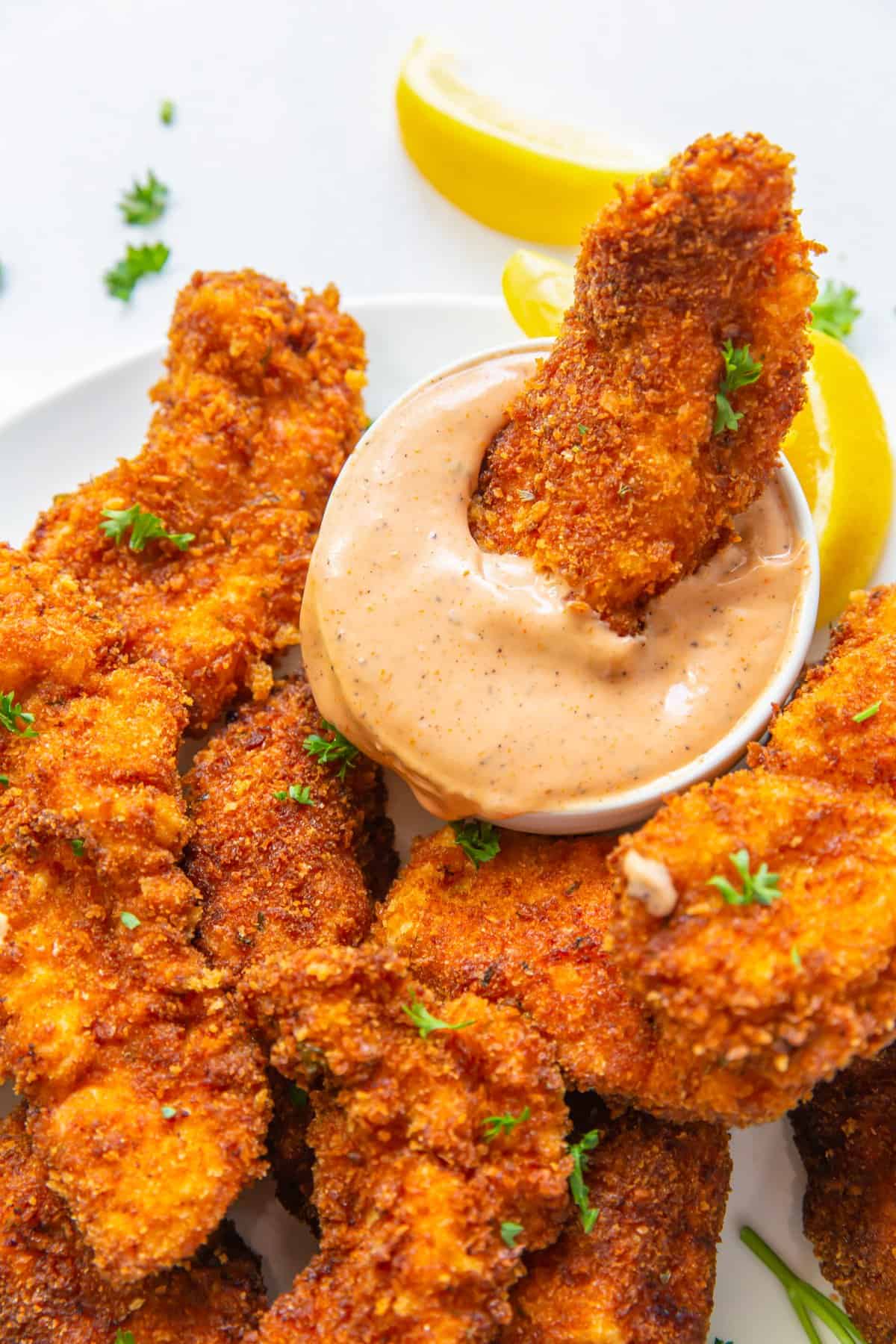 Copycat Cane's Chicken Strips
Raising Cane's is famous for the most wonderfully crisp and delicious chicken strips, and this recipe serves up awesome copycat strips! Fried in vegetable oil, these juicy strips come out golden brown and delicious, they are utterly addictive!
You can deep fry these beauties or use a large walled pan like a Dutch oven.
Looking for more chicken recipes? Why not also try my Crockpot Chicken Fajitas and my Baked BBQ Chicken!
Why You'll Love this Chicken Fingers Recipe:
Homemade Dipping Sauce: Made with mayo, ketchup, creole seasoning, and Worchester sauce – make a big batch of this, it'll go quick!
Seasoned Breading: The crispy coating is so delectable! Made with paprika, onion powder, garlic, and breadcrumbs. Plus it has the perfect crunch!
This is such an easy party food recipe, you'll be coming back to it again and again!
Trademark Note: In the spirit of transparency, I want to note that some of this recipe is a copycat version of a trademarked product. Raising Cane's is a proprietary brand that I want to acknowledge and give credit to.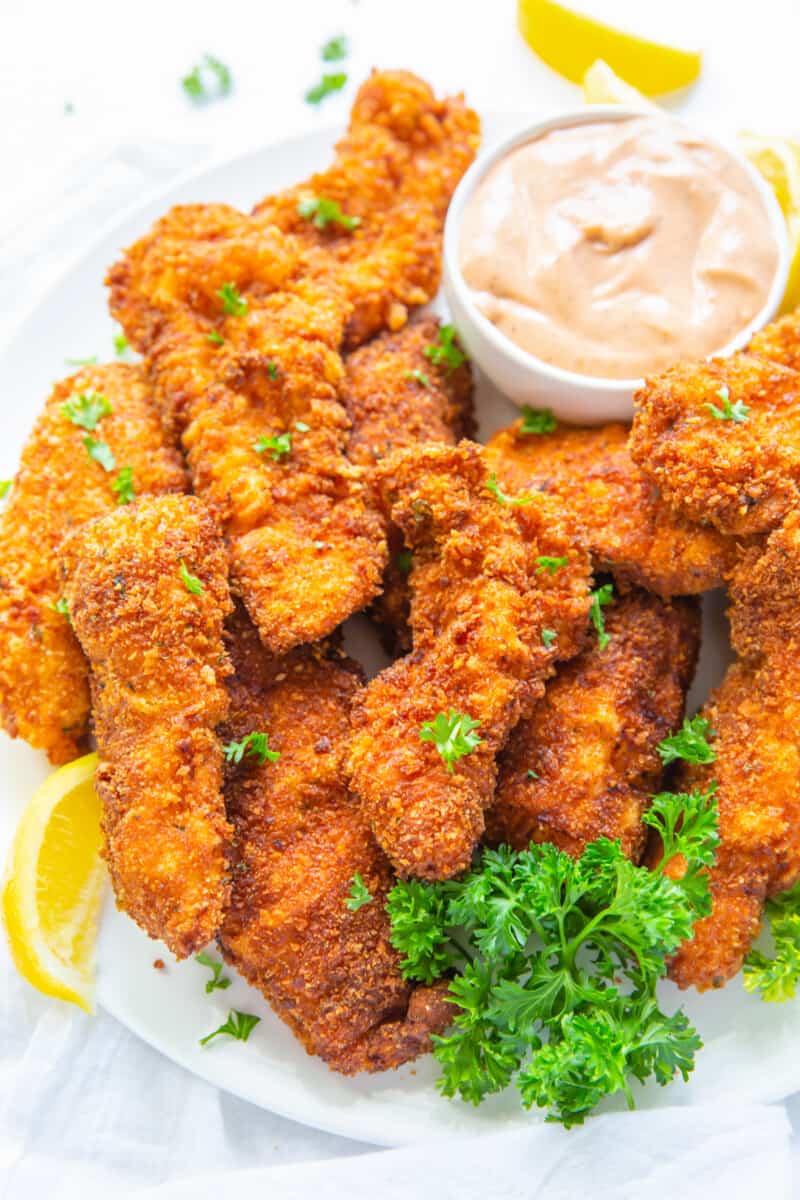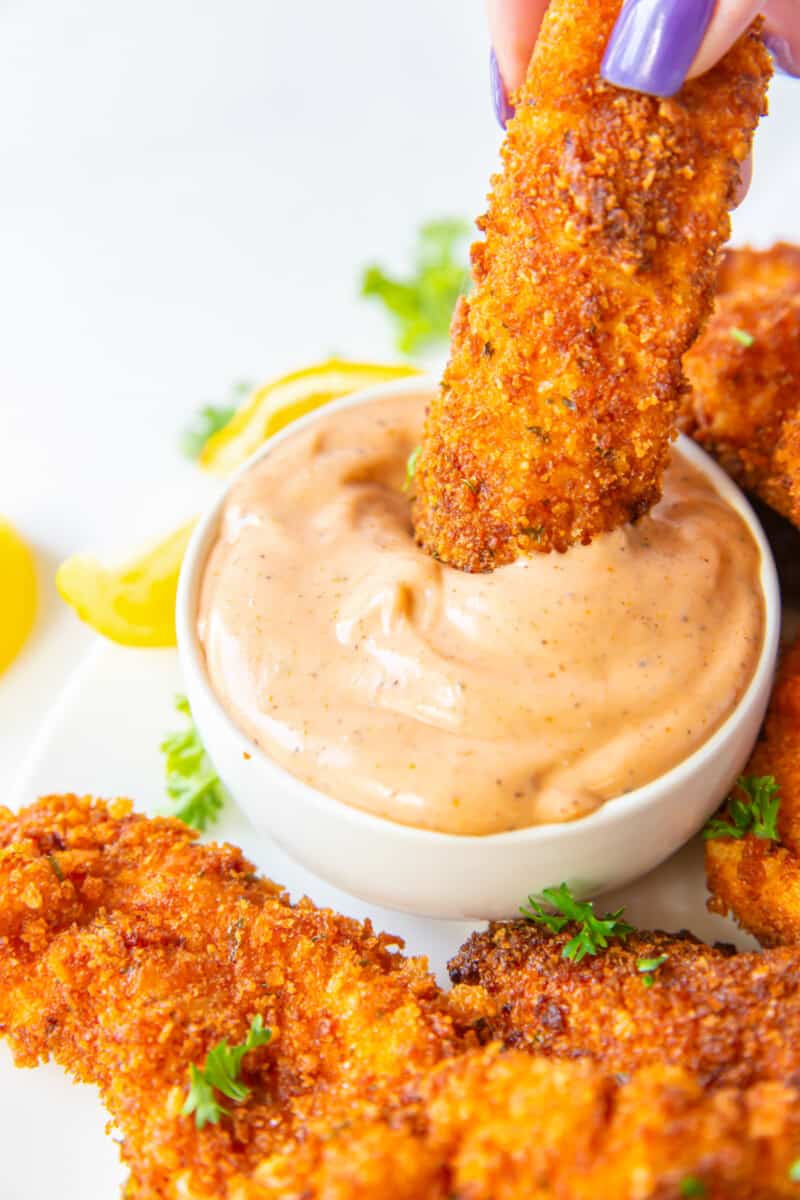 How to Make Raising Cane's Chicken Fingers
You can jump to the recipe card for full ingredients & instructions!
Cut your chicken breasts into strips.
Using a zip-top bag, coat your chicken in the buttermilk marinade. Place in fridge overnight.
Whisk your sauce ingredients in a small bowl and refrigerate overnight.
When ready, dredge your chicken in egg then coat in your breadcrumb mix.
Working in batches fry the chicken strips.
Serve with the sauce and enjoy!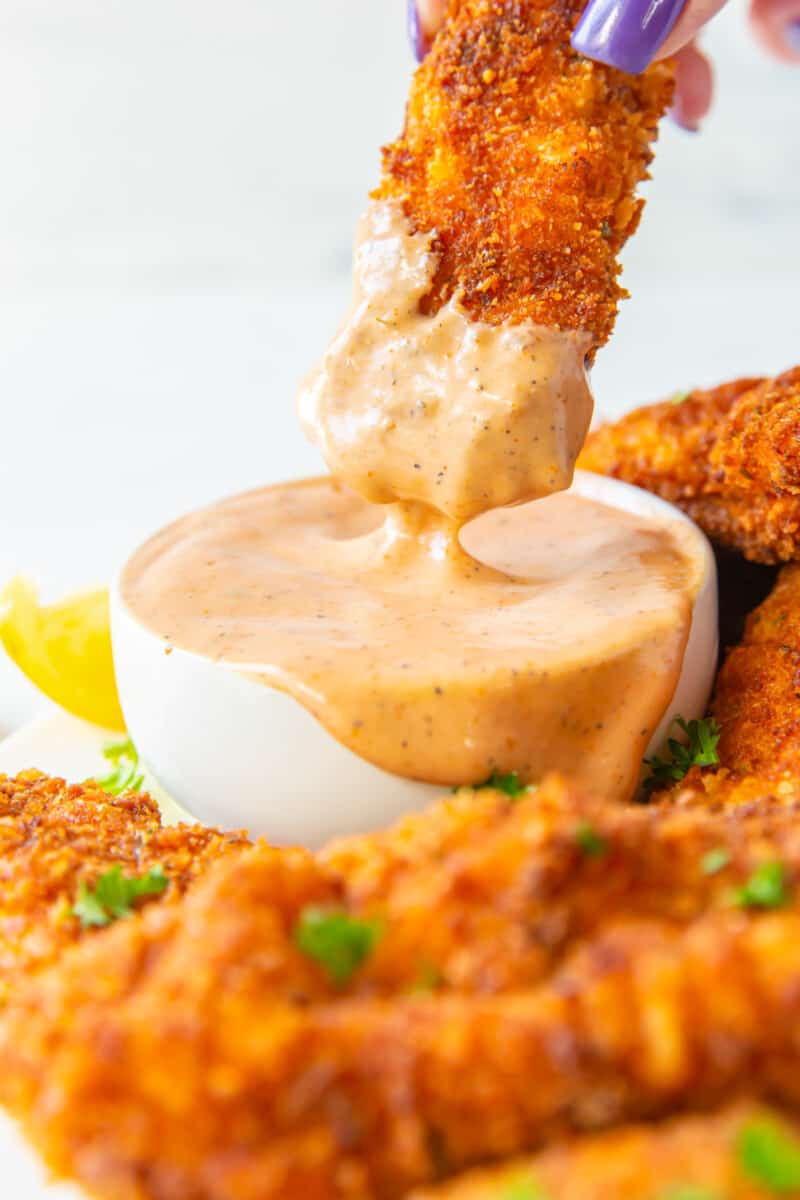 What is Creole seasoning?
Creole seasoning is a spice blend commonly used in Southern recipes that includes paprika, garlic, onion, oregano, basil, thyme, cayenne, and more. It's what gives this Raising Cane's chicken its unique and recognizable flavor.
Can I use chicken tenders instead of chicken breasts?
Absolutely! Chicken tenders are a great way to save prep time in this recipe.
How can I fry chicken without a deep fryer?
Instead of using a deep fryer, use a Dutch oven or other deep pot. Heat the oil to 350°F and fry the chicken, increasing and reducing the heat as needed to maintain 350°F.
Can I make these chicken fingers without buttermilk?
The buttermilk's acidity is essential for tenderizing the chicken fingers. To make your own buttermilk, measure 1 cup of milk, remove 1 tablespoon of it, and mix in 1 tablespoon of lemon juice or white vinegar. Let this mixture sit for 5 minutes before using in the recipe.
Do the sauce and chicken really need to refrigerate for 24 hours?
This time in the refrigerator allows the sauce flavors to mingle and the chicken to tenderize. At a minimum, refrigerate the sauce for at least 6 hours and let the chicken marinate for at least 2 hours.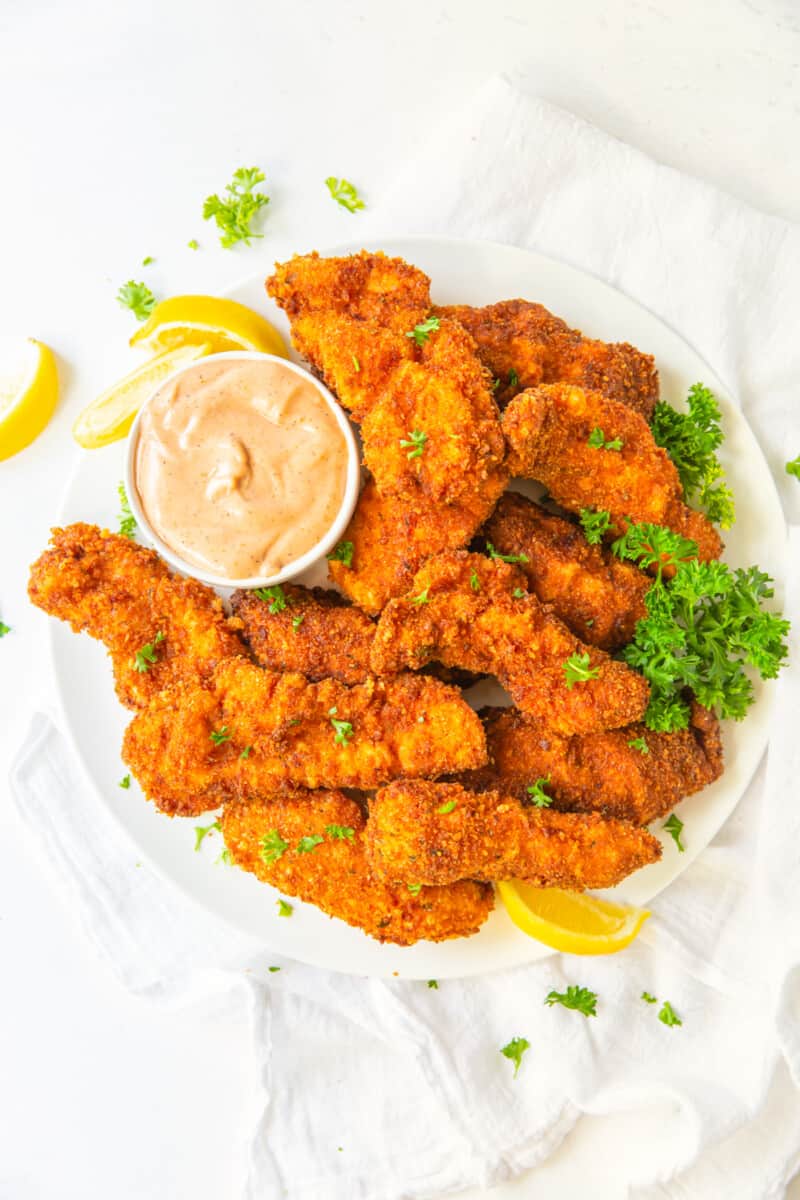 Make Ahead Instructions
For best results, give yourself 2 days to make these chicken fingers. Prepare the marinade and sauce on day 1, refrigerate overnight, and fry the chicken on day 2. Serve immediately for super crispy chicken.
Storage Instructions
Store leftover chicken fingers in an airtight container in the refrigerator for up to 3 days. Store leftover sauce in an airtight container in the refrigerator for up to 10 days.
Freezing Instructions
To freeze, arrange the cooked chicken tenders on a baking sheet and and freeze until hard, about 1-2 hours. This ensures that the tenders do not stick together. Transfer to an airtight container or zip-top bag and store in the freezer for up to 2 months. Allow to thaw overnight in the refrigerator before reheating.
How to Reheat Chicken Fingers
For extra crispy leftover chicken, store the chicken separately from the sauce. When ready to reheat, remove the chicken from the refrigerator 20 minutes prior to baking. Heat oven to 400°F and set a wire cooling rack onto a baking sheet. Place the chicken pieces on the rack and bake for 20 minutes, or until they reach an internal temperature of 165°F.
What to Serve with Chicken Fingers
For a classic meal, serve copycat Raising Cane's chicken fingers with fries, Texas toast, and coleslaw. For a healthier alternative, try baked sweet potato fries or serve the chicken fingers atop a crunchy salad.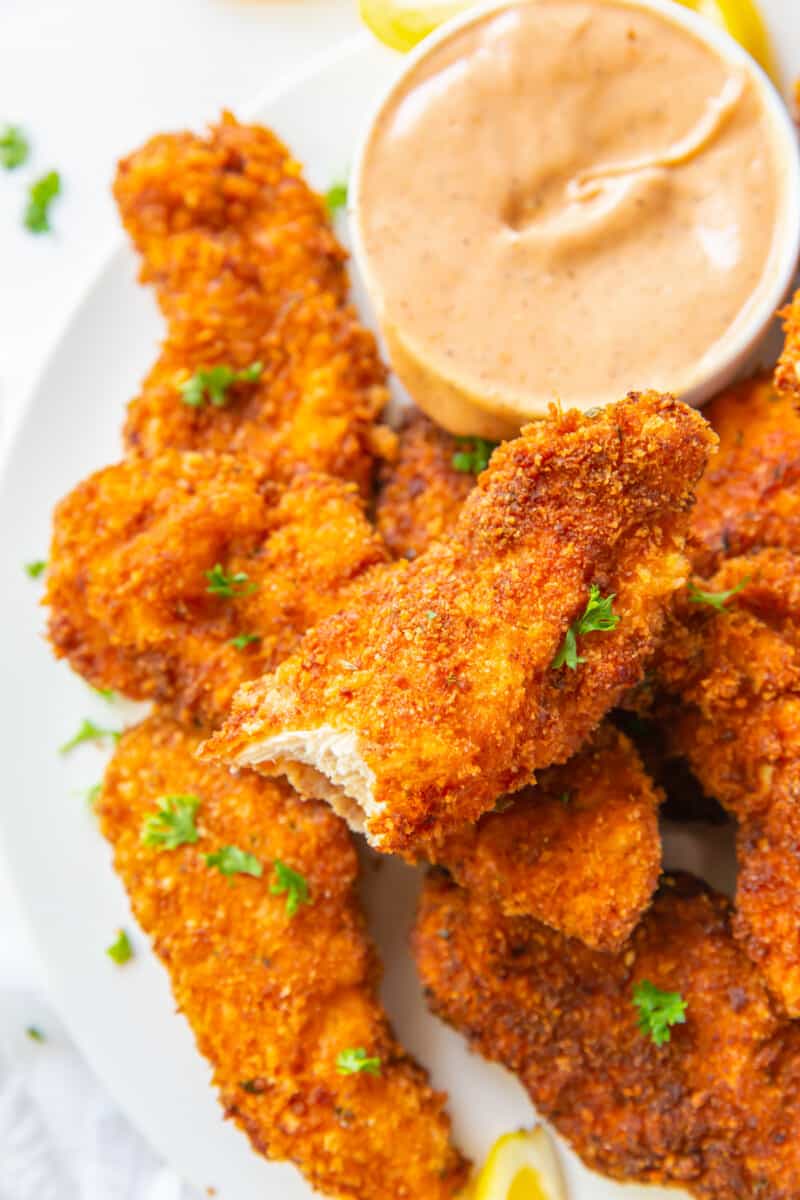 Chicken strips made tender from a buttermilk marinade and then coated with a super crunchy, seasoned breading – accompanied by an additive creole dipping sauce – what's not to love! This is such an easy chicken recipe, the perfect party food – made for game day and good times!
If you make this recipe be sure to upload a photo in the comment section below or leave a rating. Enjoy! You can also jump to recipe.