With juicy steak, eggs cooked to your liking, and easy recipe variations and customization, this classic Steak and Eggs recipe is a great way to change up an ordinary breakfast with some Southwest flavor!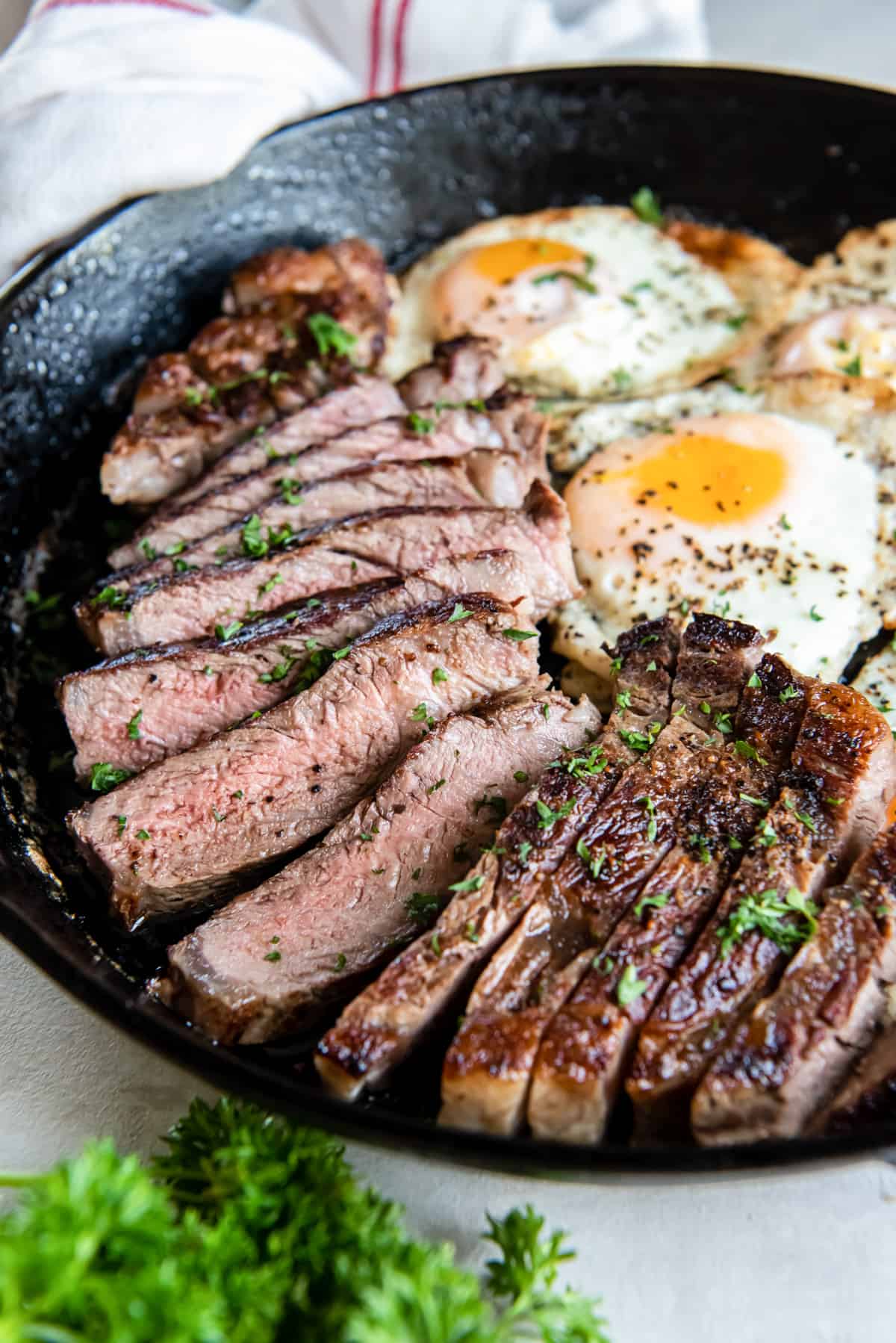 What's in a Steak and Eggs Breakfast?
Steak and eggs is a simple dish, but it's important to choose high-quality ingredients for the best results. Here's a rundown:
Steak: Choose whatever steak you like! I used ribeye, but some other great options include chuck eye, sirloin, New York strip, porterhouse, or T-Bone.
Eggs: I like to use large eggs, but you could also use medium.
Pro Tip: Use thin-cut steak; it'll cook faster and more evenly.
Variations on Steak and Eggs
Try making steak and eggs with fluffy scrambled eggs instead! Take it one step further and try it with loaded scrambled eggs to bring the Southwest flavor!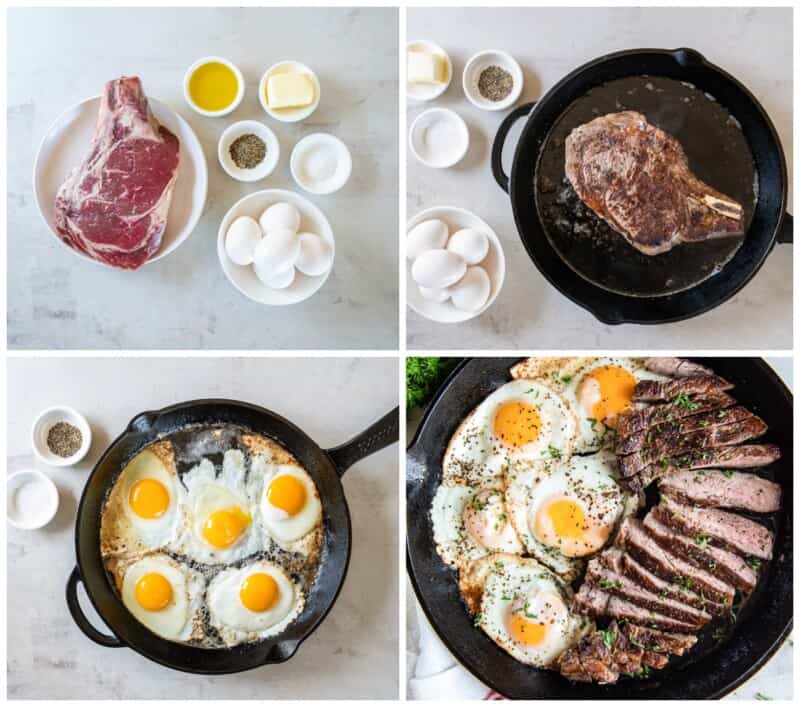 Is steak and eggs healthy?
Both steak and eggs are high in protein, healthy fats, and vitamins and minerals. However, they are also both high in cholesterol. As with anything, I recommend enjoying steak and eggs in moderation.
What's the best cut of steak for steak and eggs?
The best cut for steak and eggs is your favorite cut. I used ribeye for mine, but chuck eye is a great (and less expensive) cut. Just go for relatively thin steaks so that they cook evenly.
Can I cook steak and eggs in the same pan?
You can cook them in the same pan, just not at the same time because they cook at different rates.
Should I marinate steak before cooking it?
There's no need to marinate this steak before you cook it. However, if you'd like to marinate your steak, you can do so overnight before cooking it!
How can I tell when the steak has finished cooking?
The best way to tell when the steak is cooked to your liking is to use an instant-read thermometer. For rare steak, the proper internal temperature is 125-130°F; for medium-rare, 130-140°F; for medium, 140-150°F; for medium-well, 150-160°F; and for well-done, 160-165°F.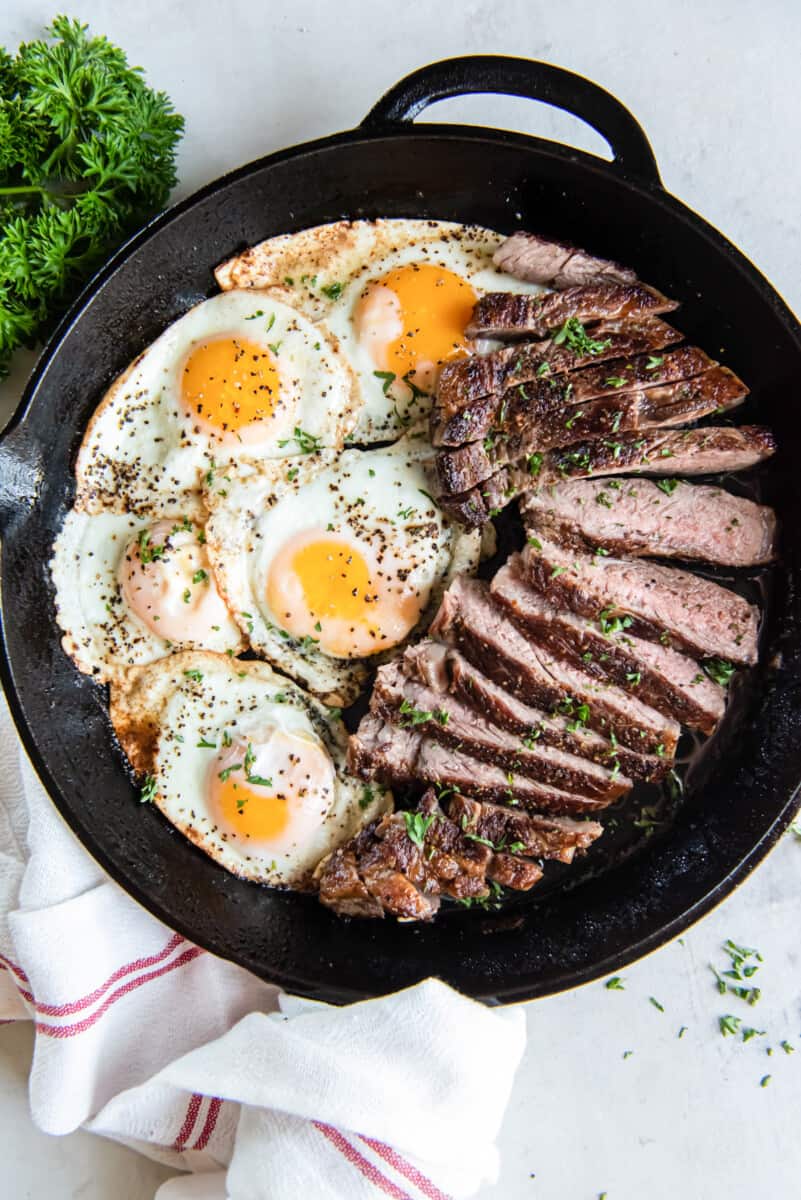 How to Store and Reheat Eggs and Steak
Store leftover steak and eggs in an airtight container in the refrigerator for up to 3 days. Reheat gently in the microwave, covered, on 50% power until warmed through. I recommend reheating the steak and eggs separately, as the eggs will cook much more quickly than the steak.
How to Freeze Steak and Eggs Dinner
The steak can be frozen in an airtight container for up to 3 months. Let thaw overnight in the refrigerator before reheating. I do not recommend freezing the eggs.
What to Serve with this Steak and Eggs Recipe
Steak and eggs is a great base recipe to really make your own! Top your steak and eggs with mustard cream sauce, garlic aioli, or hollandaise sauce. For even more Southwest flavor, serve this meal along with some salsa, chimichurri, salsa verde, or pico de gallo for a fresh, spicy twist. Enjoy your eggs and steak with classic breakfast or dinner sides, such as home fries, baked potatoes, mashed potatoes, roasted vegetables, or a side salad.
This makes a great brunch dish for Mother's Day, Father's Day, or for anyone who loves steak!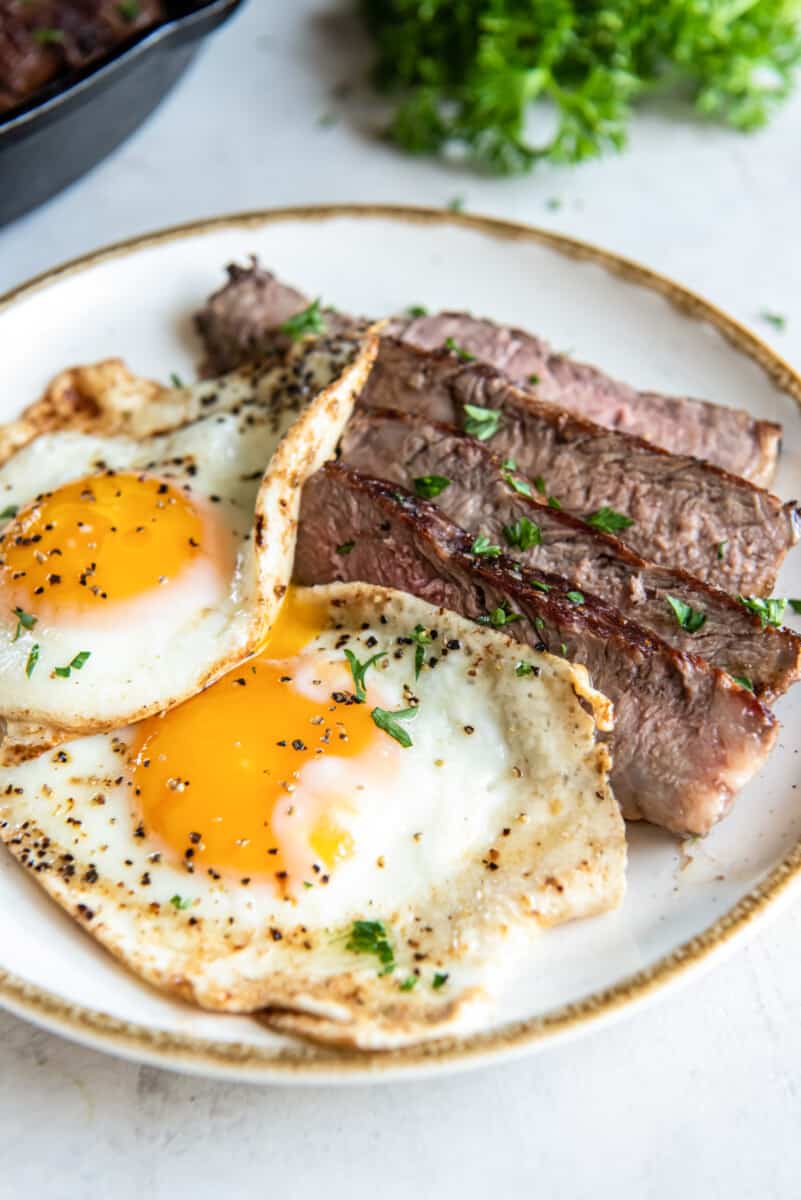 More Hearty Breakfast Recipes We Love