PEACHES AND CREAM OVERNIGHT FRENCH TOAST is good enough (and easy enough) to make me want to wake up early! That's saying something…
If you have read Cookie Rookie for a while, you know I'm not a morning person.  I may not be a morning person, but I am DEFINITELY a brunch person.  This Peaches & Cream Overnight French Toast is a brunch dream come true!
Brunch is the perfect meal for people like me.  On an ideal day, I would love to sleep in until 10 9, but that doesn't mean I want to miss out on all of the great food and festivities! Brunch is the best of both worlds.  The best of breakfast and lunch, served at the perfect time of day!  When I hear brunch, I usually think of mornings spent with friends, mimosas, laughter, and delicious eats.  I was inspired by this recipe on MyRecipes.com and just knew I had to try it. Immediately.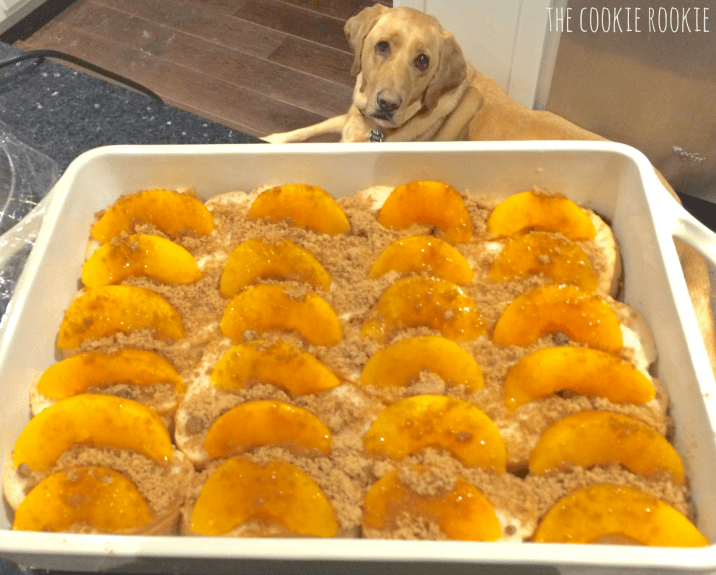 I love that this is a recipe you can pretty much make the night before.  Perfect for the night owls like me.  Prep the recipe, let it sit in the fridge overnight (absorbing all of the delicious flavor),  wake up at whatever time you see fit, and bake to perfection.  Not a bad deal at all!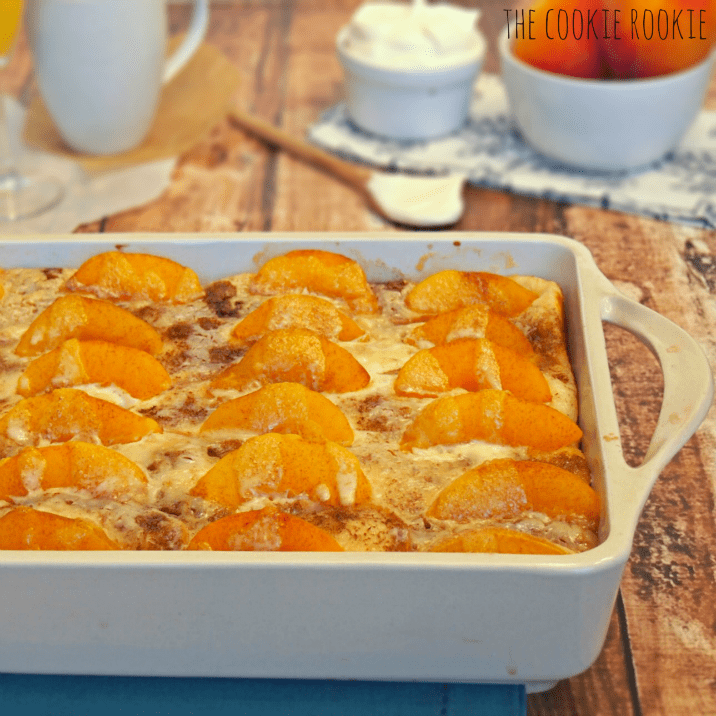 Hello Gorgeous!  If that doesn't make you want to get up and face the day, I don't know what will!
When I got married, we had a ladies brunch the day before the wedding.  I hadn't fully found my cooking passion, so we had it catered from Panera (I know, I know.  As a food blogger, I'm ashamed!!!).  It was delicious, but I do wish I had made a recipe like this instead.  I could have served it with the perfect matching mimosa (that I also discovered too late) and fully coordinated with the wedding colors! Oh well, next time.  Wait…no…just kidding.  Well maybe if we have a daughter, next time I'll be more prepared! :)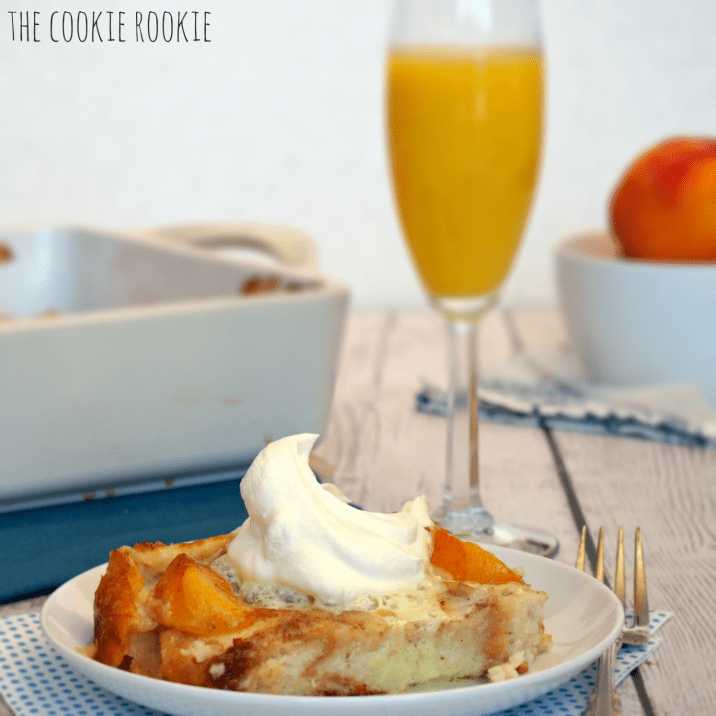 ProFlowers is running a really fun Brunch Campaign, and I was so honored to be asked to get involved and bring a great brunch recipe to the table.  They have such a creative blog filled with recipes, party ideas, and of course bright and beautiful flowers for every occasion.  They have put together an awesome checklist for the perfect brunch, from the decorations down to the menu.  I just wish I would have gotten a copy back in September before the wedding!! They have thought of everything!! Be sure to look up their checklist through the pink link above and add your favorites to the mix! I can't wait to try some of their recipes.  I think the monkey bread they have listed might be the death of me!
What are your go-to brunch recipes? I would love to try them! Happy Summer Brunching! Enjoy :)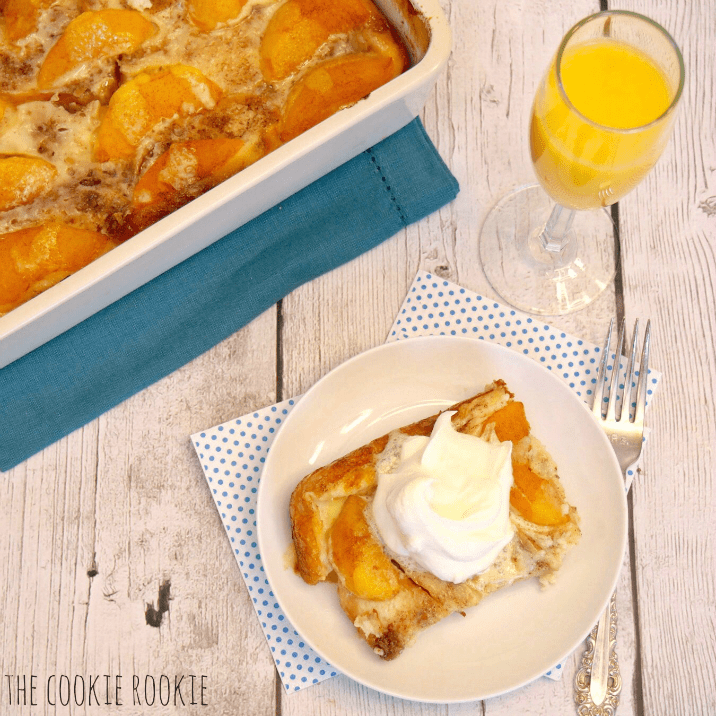 the cookie rookie
Yields 8
Peaches & Cream Overnight French Toast
Peaches and Cream Overnight French Toast Bake is the perfect easy brunch meal! Yum :)
20 minPrep Time
55 minCook Time
1 hr, 15 Total Time
Ingredients
1 8-oz. loaf French bread, sliced into thick slices
1.5 cups eggwhites (I use All Whites Brand) (or 8 large eggs)
2 cups skim or almond milk
1/4 cup sugar
1 teaspoon pure vanilla extract
2 19-oz. bottles sliced peaches, no sugar added; drained
1/2 cup packed dark brown sugar
1/2 teaspoon cinnamon
1 cup heavy cream
1 cup vanilla cool whip (optional)
Instructions
Spray a 9-by-13-inch baking dish.
Arrange bread in a tight, flat layer in dish. The bread should be as close together as possible.
In a small bowl, mix together brown sugar and cinnamon. Set aside.
In a large bowl, whisk eggs with milk, sugar and vanilla until blended and pour over bread.
Arrange peaches on top of bread and sprinkle with the brown sugar and cinnamon.
Cover tightly and refrigerate for at least 8 hours.
Remove baking dish from refrigerator 30 minutes before baking.
Preheat oven to 350°F. Pour cream into a small pan; bring to a boil over high heat. Reduce to low heat and simmer until reduced by half, about 10-12 minutes.
Drizzle over peaches and bake, uncovered, until casserole is lightly browned on top and just cooked through, 50 to 55 minutes.
Let stand for 10 minutes before serving.
Serve with vanilla cool whip if you're feeling sassy :)
7.6.4
2099
https://www.thecookierookie.com/overnight-french-toast/

JOIN OUR MAILING LIST
TO GET COOKING!
Subscibe to recieve all the latest, greatest, and EASIEST recipes sent straight to your email inbox. If we post something yummy, you'll be the first to know.