This Peaches & Cream Overnight French Toast is a brunch dream come true! This delicious french toast casserole is good enough (and easy enough) to make me want to wake up early! That's saying something…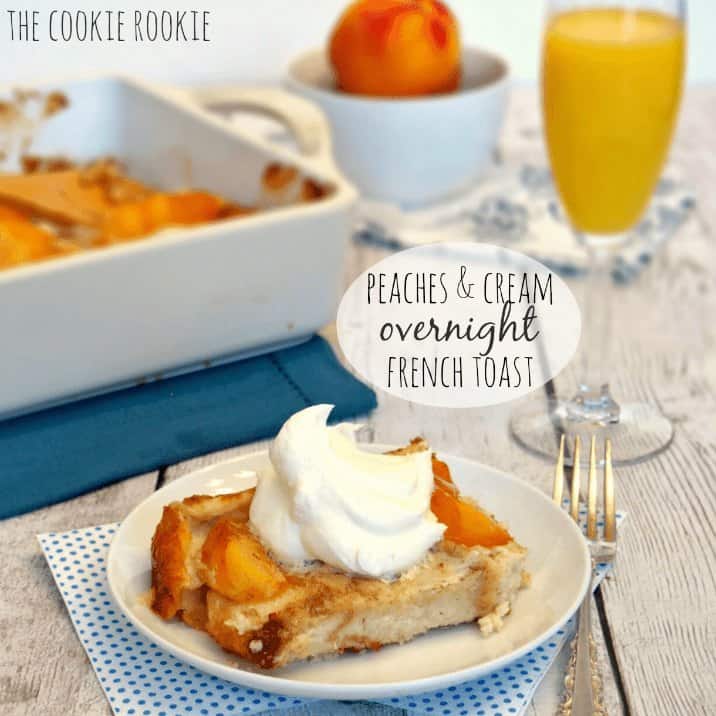 This simple overnight Peaches and Cream French Toast Casserole with fresh peaches, with a brown sugar and cinnamon topping, is sure to brighten up anyone's morning! Why stop there? This would be an awesome summer dessert too.
Why this is so good
A great brunch dish that's sweet with a wonderful texture from the french toast.
So easy to make, most ingredients you'll likely have already.
Bursting with bright peaches, it looks so inviting, perfect for get-togethers.
Rests overnight, so it's packed with flavor.
Ingredients
Bread – French bread, cut into thick slices.
Egg Whites – I use All Whites Brand. Or you can use 8 large eggs.
Skim Milk – or almond milk.
Vanilla Extract – go for pure.
Peaches – use sliced bottled peaches, with no added sugar.
Dark Brown Sugar
Cinnamon
Heavy Cream
Cool Whip – optional
How to make Overnight French Toast
Be sure to the bottom for the full recipe
In a baking dish, arrange bread in a flat layer. Then, in a large bowl, mix brown sugar and cinnamon. In another large bowl, whisk eggs with milk, sugar and vanilla, then pour over the bread. Lay the sliced peaches on the bread and sprinkle with the brown sugar and cinnamon mix.
Refrigerate for at least 8 hours. Remove 30 mins before cooking. In a pot heat your cream, the drizzle over the peaches. Then bake the casserole for about 50 mins.
Let stand for 10 mins and serve.
Enjoy!
An easy French toast Casserole
French toast casseroles are so versatile, easy, and great for feeding a hot breakfast to a crowd. You can do them savory or sweet, and you can even make them the night before and bake them when you are ready in the morning. Overnight French toast is studded with juicy, ripe, peaches and a sugary cinnamon topping.
Overnight French toast
I love that this is a recipe you can pretty much make the night before. Perfect for the night owls like me. Prep the recipe, let it sit in the fridge overnight (absorbing all of the delicious flavor), wake up at whatever time you see fit, and bake to perfection. Not a bad deal at all!
Can I freeze it?
Yes! It's a great dish for holidays and if you are going to be elbow deep in other tasks, you can make this days in advance. Prepare the entire French toast bake in advance, and store it in the freezer. Let thaw overnight in the refrigerator and rewarm it in the oven just before serving.
Top Tips
You can use peaches in water or syrup. Just make sure they are drained fully.
To Store. Place leftovers in an airtight storage container in the refrigerator for up to 3 days.
To Reheat. Gently rewarm French toast in the oven at 350 degrees F until hot.
Serve with cool whip, homemade whipped cream is divine too.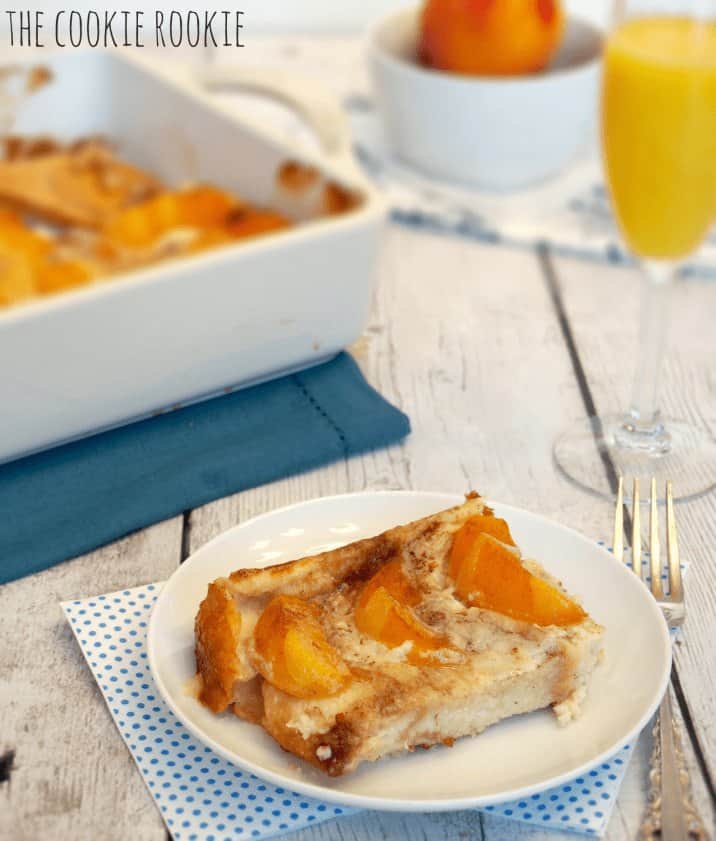 Check out these other delicious brunch recipes
Have you tried this Overnight French Toast recipe? Feel free to leave a star rating and I'd love to hear from you in the comments below!