Overnight French Toast is the perfect recipe for easy breakfasts! This deliciously sweet peach french toast casserole recipe can be made the night before, so all you have to do is put it in the oven when you wake up! It's great for holidays, brunch, or any time you have guests.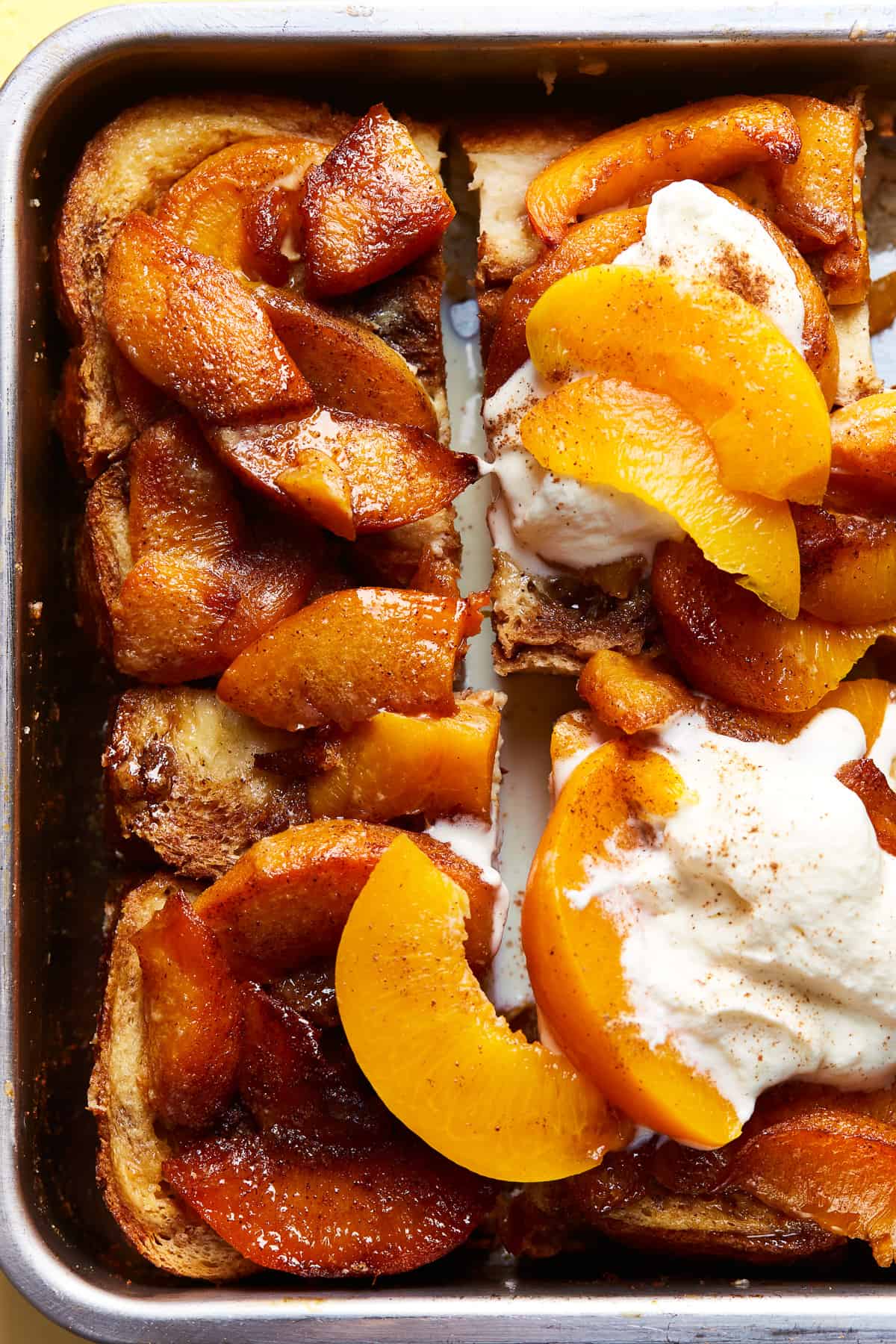 Peach French Toast Casserole
Peaches and cream is a classic flavor combination that everyone is sure to love. Mix that in with this super easy overnight french toast recipe, and you've got the perfect breakfast!
This simple peach French toast casserole is sure to brighten up anyone's morning. Combine delicious peaches with a brown sugar and cinnamon topping. Yum!
This baked french toast is a great dish to make ahead of time. Prep it the night before, bake in the morning, and it's ready to eat!
Why You'll Love this Overnight French Toast Recipe:
MAKE AHEAD BREAKFAST: Any breakfast I can prepare the night before gets a win in my book. Much better than waking up early to cook!
EASY:

This peach french toast bake is really easy to assemble

. Let the oven do all the work!
GREAT FOR GUESTS: An overnight breakfast casserole is just the thing to serve when you have guests. You can impress everyone with a delicious breakfast to wake up to!
This overnight french toast recipe is topped with peaches and cream for a sweet, summer-inspired flavor that everyone will love!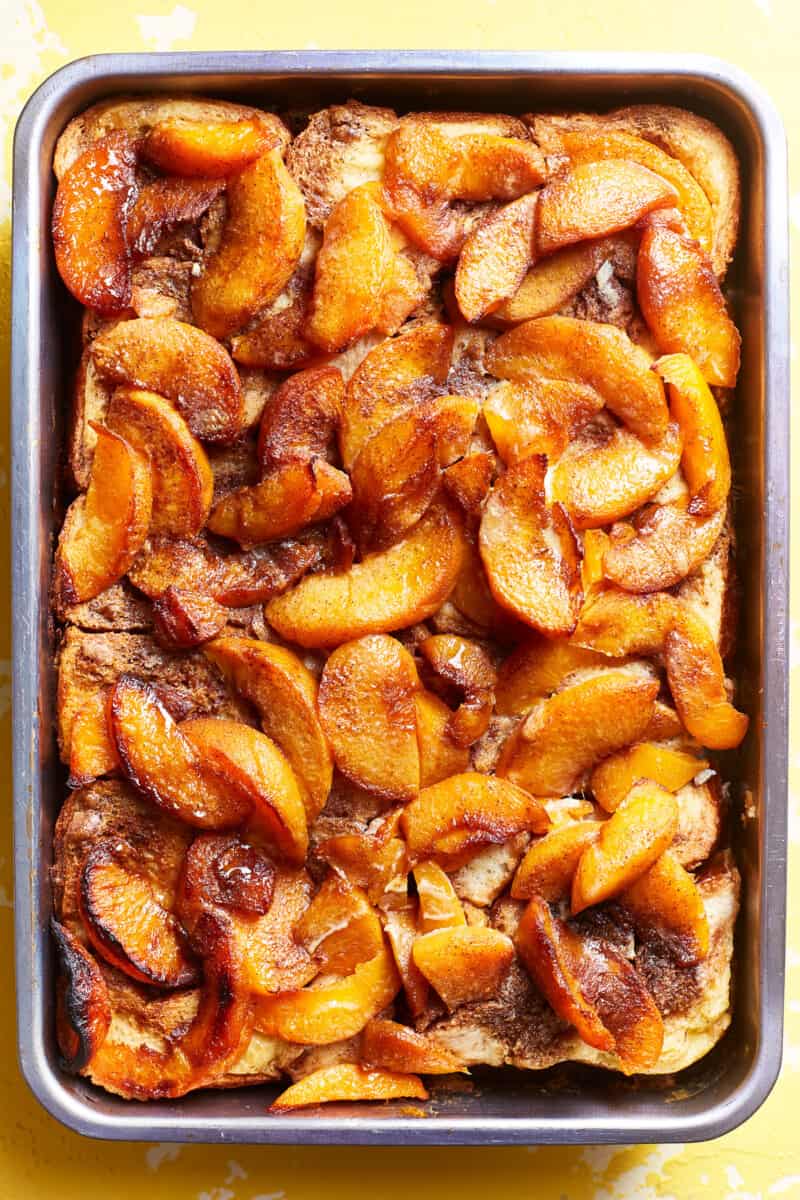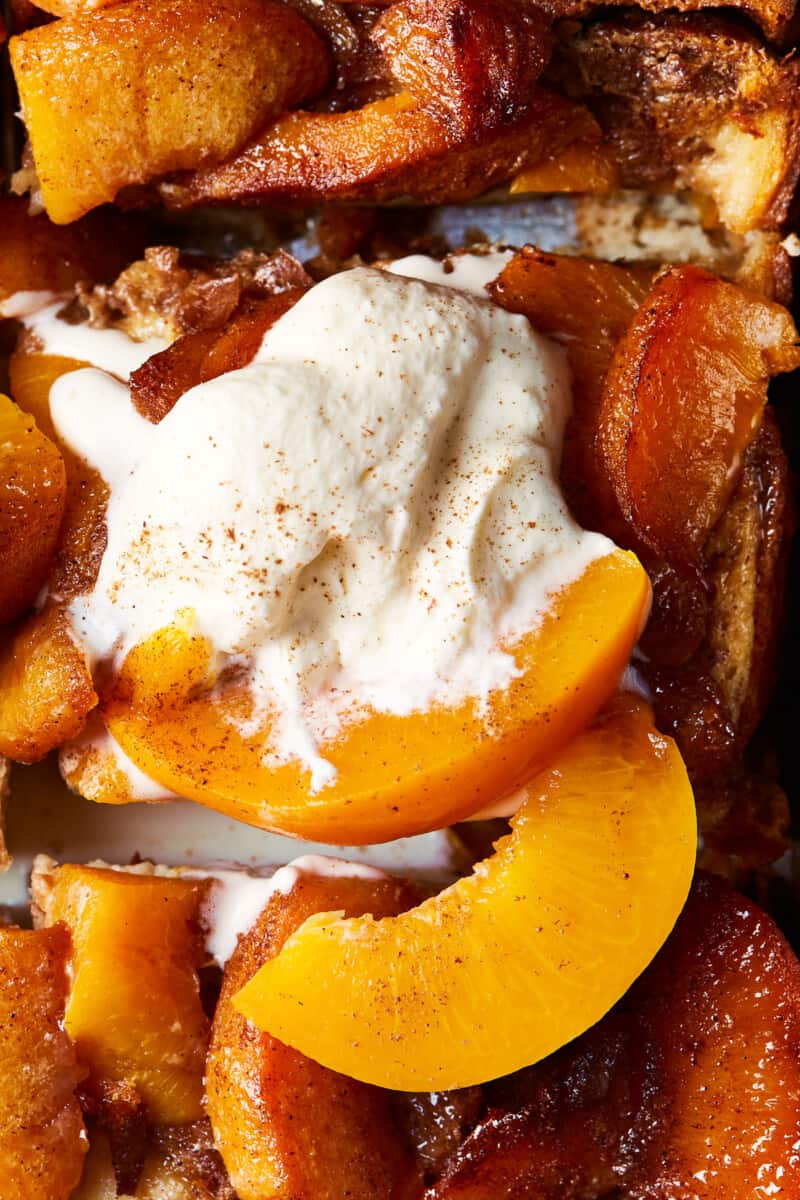 What is overnight French toast?
Overnight French toast is versatile, easy, and a great way to feed a hot breakfast to a crowd. You can make them savory or sweet, and you can make them the night before and bake them when you are ready in the morning.
The French toast part is made from thick slices of bread soaked in an eggy batter. And the overnight part is the fact that the casserole needs to stand for at least 8 hours before baking. This particular overnight peach French toast casserole is studded with juicy peaches and a sugary cinnamon topping.
Ingredients
Bread: Use thick slices of French bread for the best texture.
Egg Whites: Form the base of the custard. You can use a container of egg whites, or separate the whites yourself from 8 large eggs.
Milk: You can use skim milk or almond milk.
Vanilla Extract: Adds a warm, vanilla flavor.
Peaches: I recommend using sliced jarred peaches, with no added sugar. Fresh and frozen peaches won't work quite as well.
Dark Brown Sugar: Adds sweetness.
Cinnamon: Adds warmth.
Heavy Cream: Forms the base of the sauce.
Whipped Topping: Optional but this is a great way to finish off the peach french toast for serving!
How to Make Overnight French Toast
You can jump to the recipe card for full ingredients & instructions!
Make a flat layer of bread slices in the baking pan.
Whisk liquid ingredients and pour over the bread.
Top with peaches and sprinkle on the topping.
Cover and chill overnight in the refrigerator (at least 8 hours).
In the morning, set the french toast casserole out on the counter while preheating the oven.
Bake until cooked through, then serve and enjoy!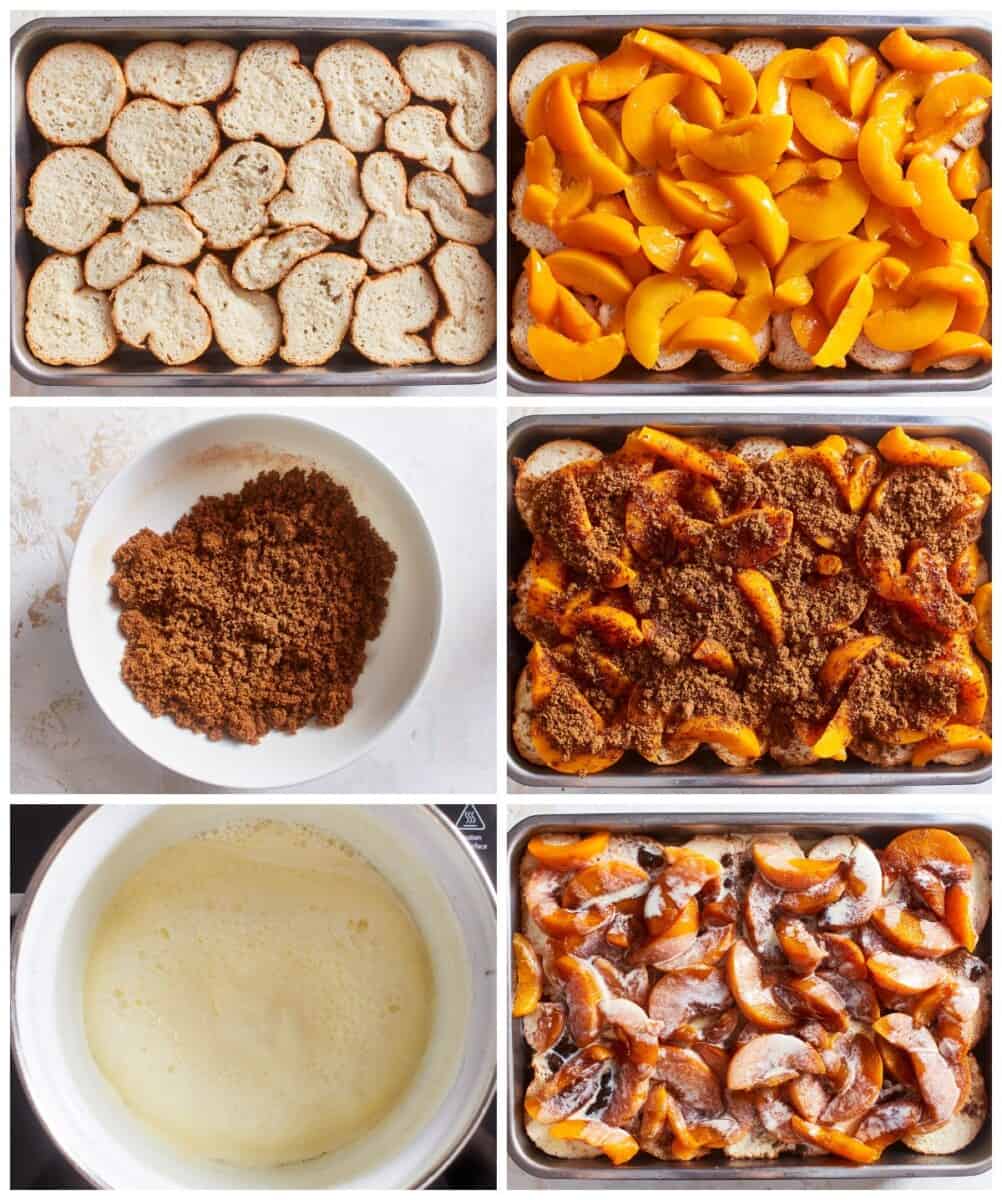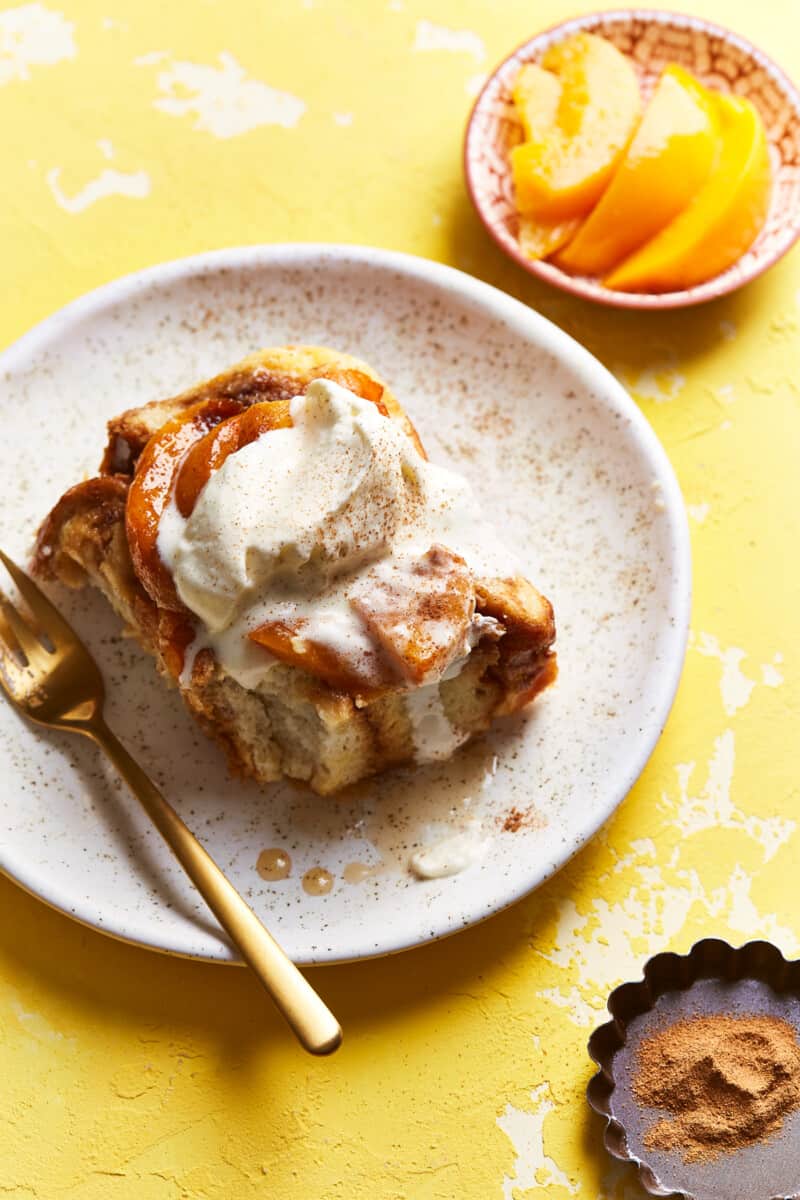 Can you bake French toast instead of frying?
Yes! Pan-frying multiple slices for a crowd of people can be really time-consuming. Instead, bake a french toast casserole, and you can feed everyone without the hassle!
How long do you bake overnight french toast?
This casserole takes about 50 minutes to bake in the oven at 350°F. The main thing you want to check is that it has cooked and warmed all the way through. You don't want any runny eggs left behind.
Why is my baked French toast soggy?
We use thick slices of a hearty French bread here for a reason: it does a better job of soaking up the egg mixture than other types of bread. If the bread is too soft or light, it could end up soggy.
Can I use another fruit instead of peaches?
Other types of stone fruit (like plums and apricots) could be easily substituted here.
Yes! This make-ahead french toast bake is also freezer-friendly. It's a great dish for holidays and if you are going to be elbow-deep in other tasks, you can make it days in advance.
Prepare the entire casserole as instructed, bake it, and then freeze it. Make sure it's tightly wrapped in aluminum foil (two layers).
Thaw it overnight in the refrigerator and reheat it in the oven just before serving.
Can I use fresh or frozen peaches?
Fresh or frozen peaches aren't the best choice for overnight french toast. Canned or jarred peaches have already been cooked, so they're much softer and won't turn brown when they are chilled overnight. So for this peach french toast recipe, I recommend sticking with the jarred kind.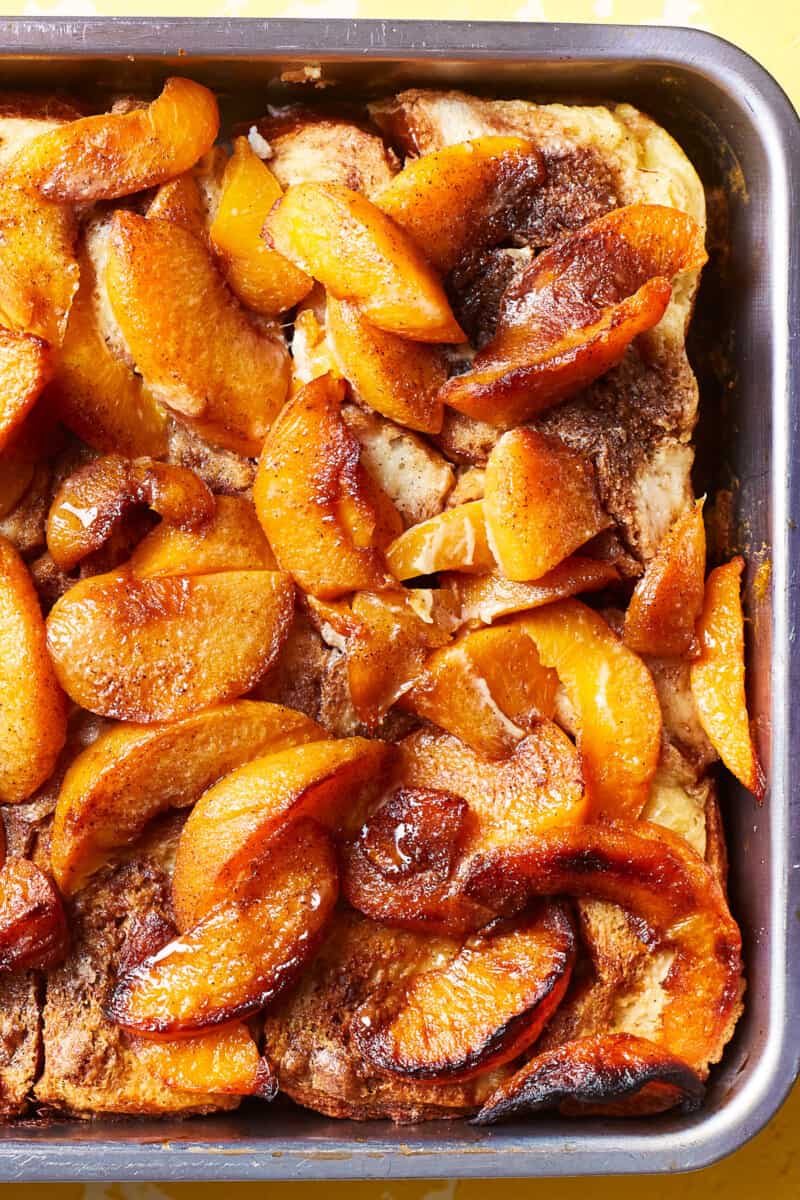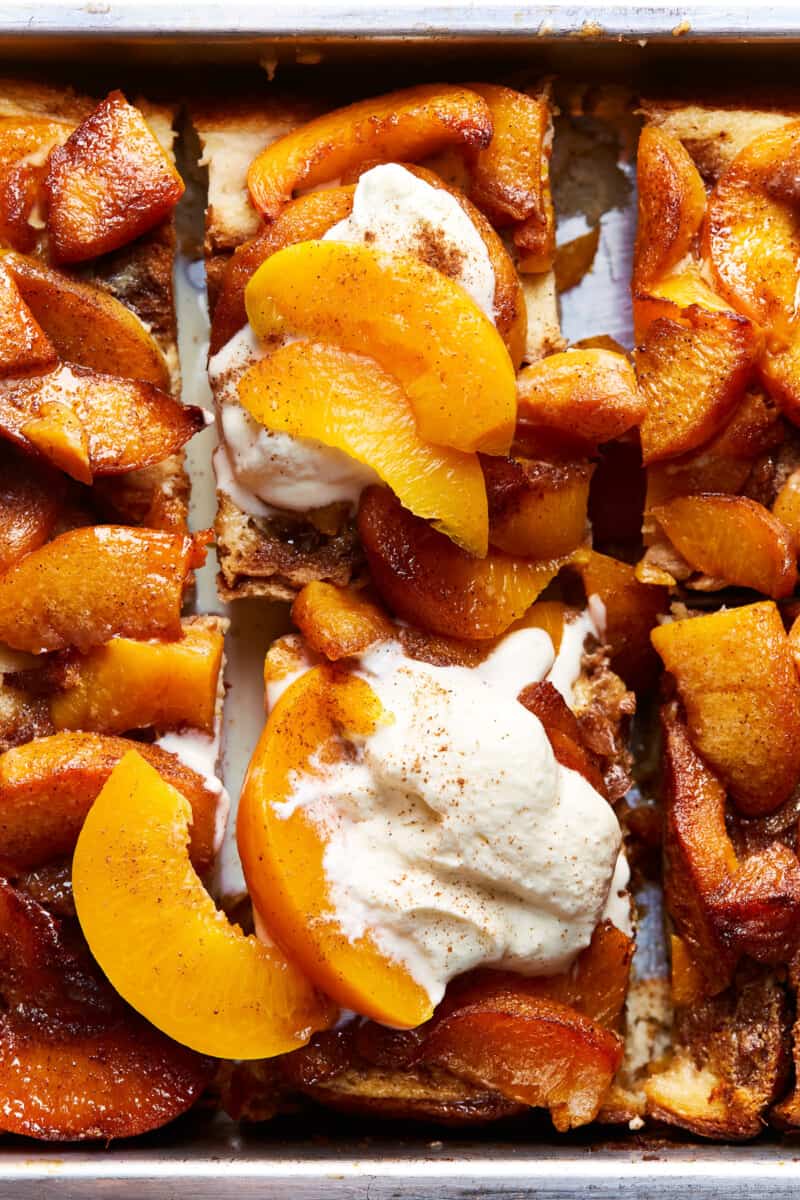 Tips!
Be sure to spray the baking dish with nonstick spray before you start.
When layering in the bread, you want as little space as possible between pieces.
Cover the dish with a tightly fitting lid, plastic wrap, or aluminum foil before refrigerating it.
Let the casserole come to room temperature while you preheat the oven. It's best if it's not super cold when it goes in.
Bake french toast uncovered. If it starts to get too brown, you can cover it for the last few minutes.
You can use peaches in water or syrup. Just make sure they are drained fully. Fresh peaches won't work in this recipe because they require more time to bake and soften.
Place leftovers in an airtight container in the refrigerator for up to 3 days.
To reheat, gently warm peach French toast in the oven at 350 degrees F until hot.
This overnight french toast recipe is just so easy and convenient. And topped off with peaches and cream, it's incredibly delicious!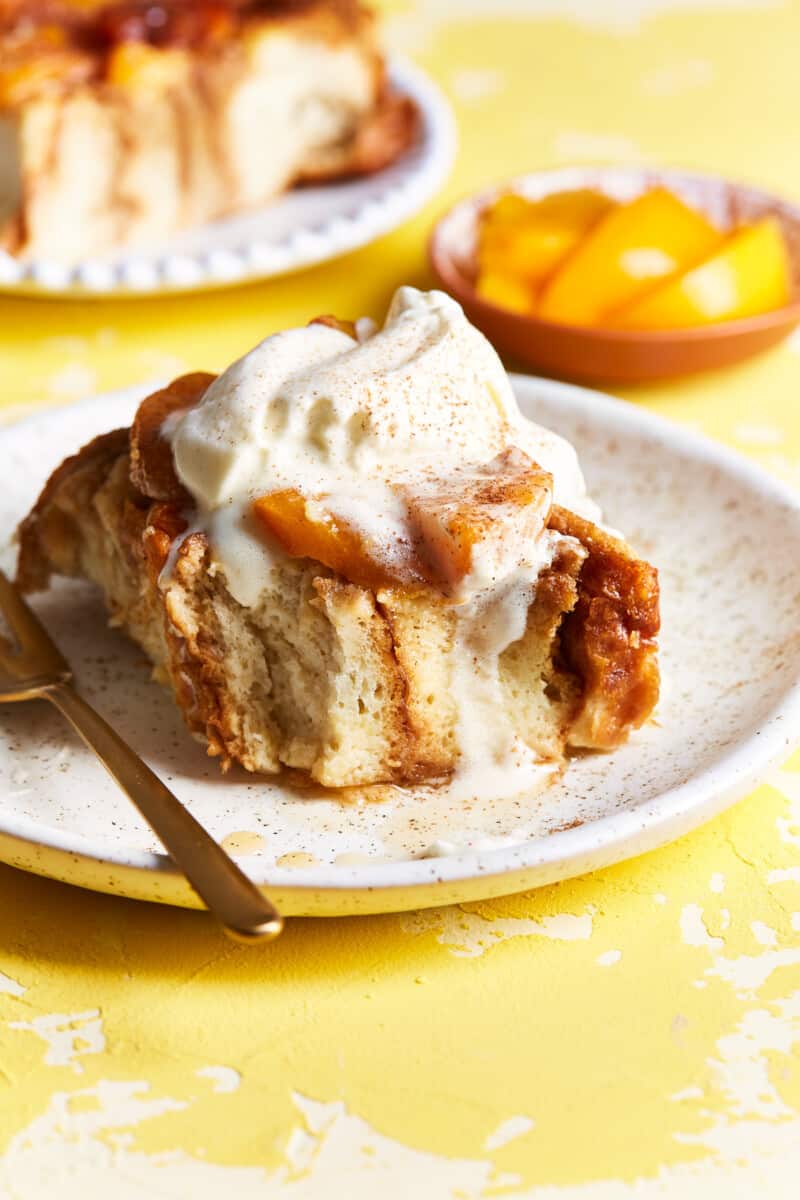 This peaches and cream overnight French toast casserole is sure to be a hit! The kids will love how sweet and creamy this French toast bake recipe is, and it will wow any guests who might be staying over. Serve it up for a nice Easter brunch, a Christmas breakfast, or just to say hello to the weekend!
If you make this recipe be sure to upload a photo in the comment section below or leave a rating. Enjoy! You can also jump to recipe.