CHEESY MIGAS are a family favorite breakfast recipe for Christmas morning! This Tex-Mex migas recipe is made up of scrambled eggs, lots of cheese, veggies, tortilla chips, and so much more. It's an easy skillet breakfast the entire family will love!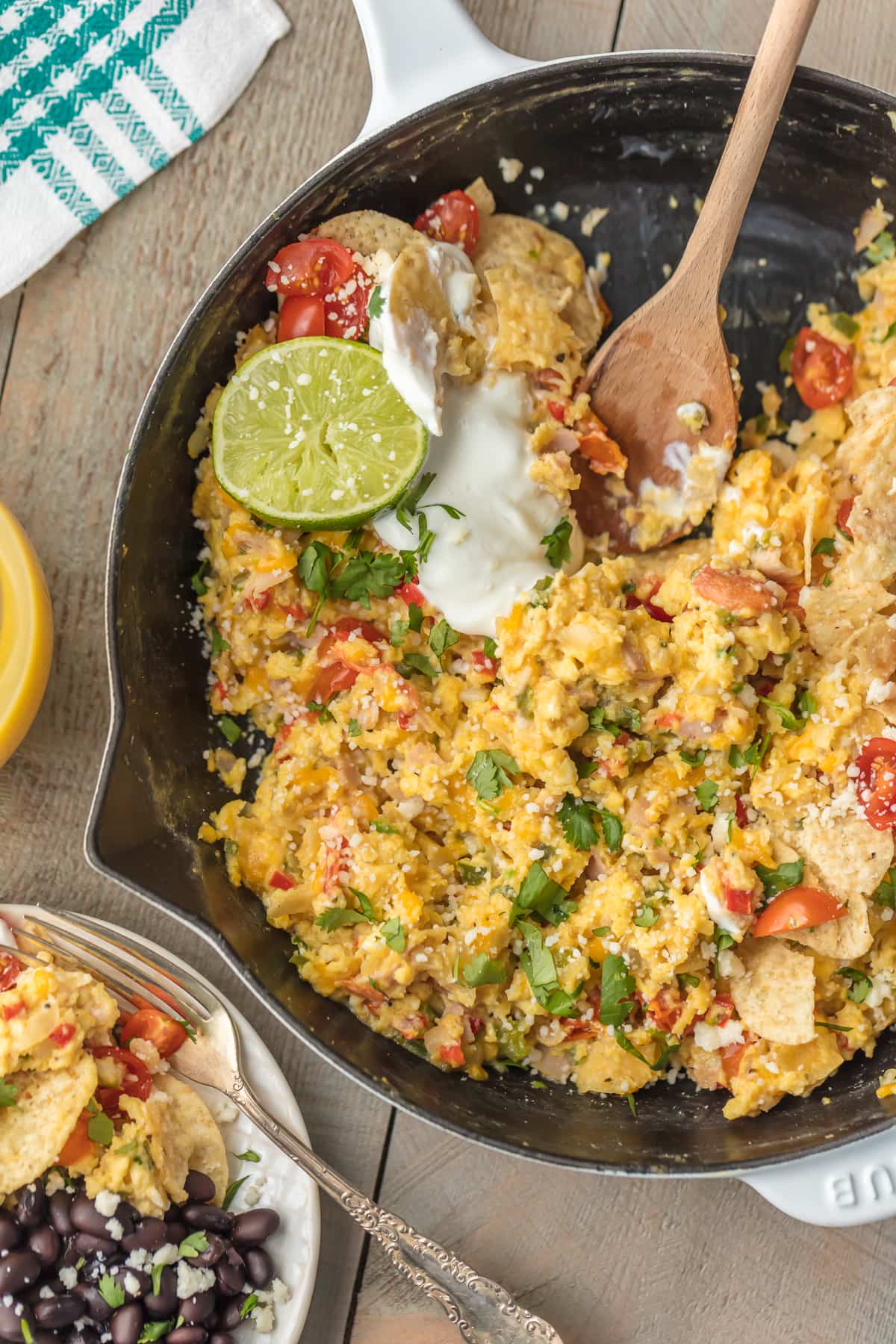 Easy Migas Recipe
Migas are the perfect skillet breakfast recipe to serve on Christmas, or any time really. This cheesy migas recipe is loaded with all of the best ingredients in true Tex-Mex fashion!
CHEESY MIGAS have long been one of my very favorite breakfast recipes. It's Tex-Mex comfort food for breakfast, and what could be better than that! My Great Aunt Lily had these perfected.
She served it to us with her famous Aunt Lily's Orange Juice (almost like a morning orange julius!), and I still remember how good it tasted even though I was a child. My mom picked up where Lily left off and made sure to make this Migas recipe for us more often than not.
We are a lucky family because my mom's cooking is second to none. These Cheesy Migas are always on the list for Christmas morning, and I know if you make it for your family they will love it just as much as we do!
You guys also know I love a one pot skillet recipe, so these are kicked up even another notch because there is only one pan to clean. Thank you Christmas morning! No one wants to wait to open presents while you scrub dishes. Make one pan recipes for the holidays. Bottom line.
This Cheesy Migas recipe is loaded with all of the best Tex-Mex ingredients.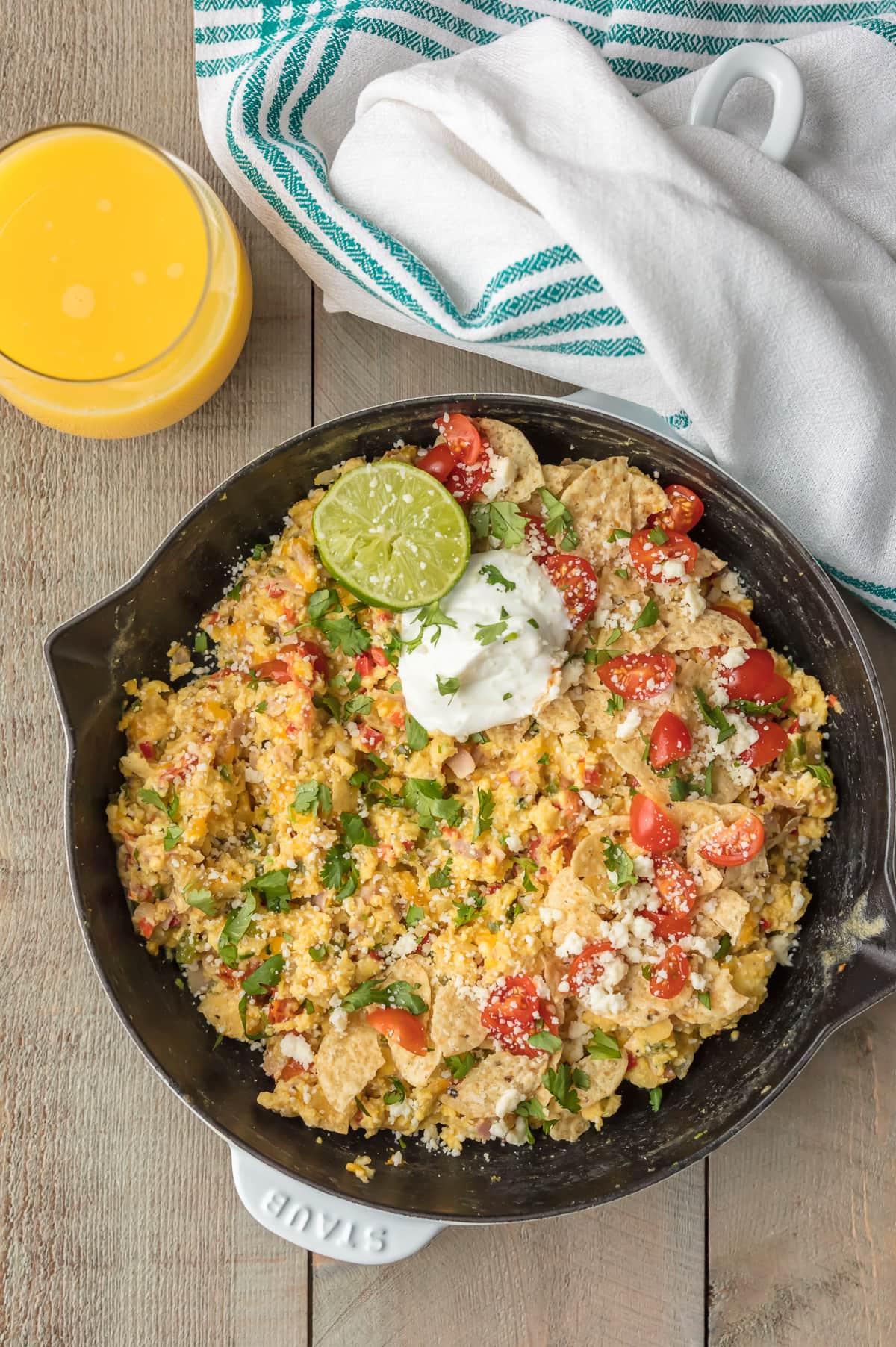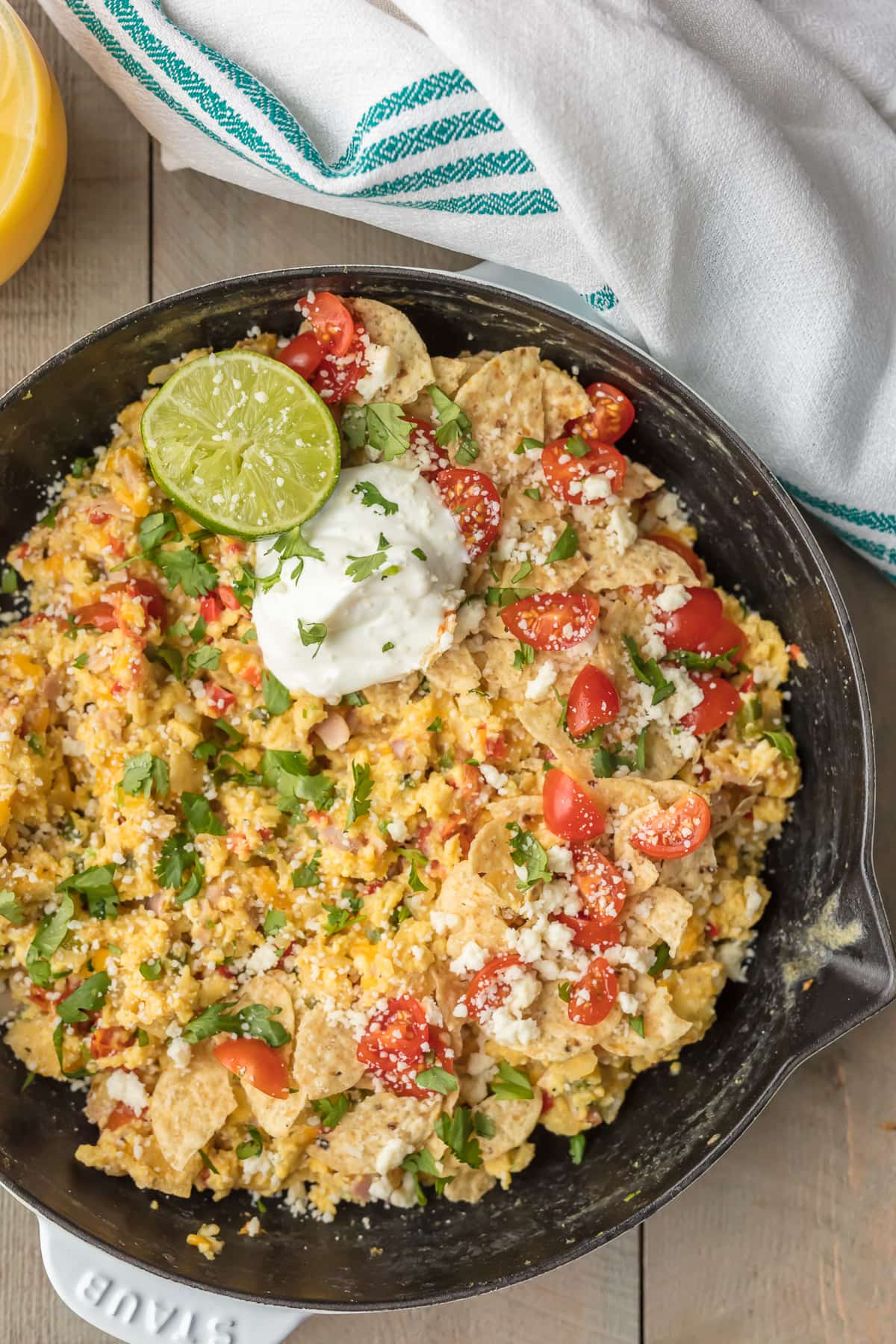 What are Migas?
Migas are basically scrambled eggs on crack…in the best way possible. It's a traditional Mexican breakfast dish that mostly consists of fried tortilla strips mixed with eggs.
This Tex-Mex version is loaded with veggies, ham, lots of CHEESE, tortilla chips, and so much more. Did I mention cheese? I added both shredded cheese and creamy velveeta to make this recipe absolutely to die for.
What's in Migas?
Tortillas (or Tortilla Chips)
Peppers
Onions
Jalapenos
Tomatoes
Ham
Cilantro
Cheese, Cheese, Cheese
How to Make Migas
This one pan skillet breakfast is such an easy thing to throw together in the mornings. It's filled with tons of delicious ingredients, but it's so simple to make.
It's the perfect thing to serve for Christmas breakfast, because you can make it quick, everyone will love it, and then you can move on to the other fun activities (opening gifts) of the day.
How to Make Migas:
Heat butter and oil in a skillet over medium-high heat.
Add green peppers, red peppers, jalapenos, and onions. Saute until onions are translucent.
Switch heat to low, then add eggs, milk, and black pepper. Stir until eggs start to set.
Add ham, tomatoes, cilantro, and crushed tortilla chips.
Stir until eggs are almost set and then remove from heat.
Add shredded cheese, Velveeta, and Cojita cheese, and stir until the cheese melts.
To serve, scoop the eggs onto a plate and sprinkle with more cheese and crushed tortilla chips. We also like to top them with sour cream and more cilantro.
Feel free to add in your other favorite things, like maybe salsa, pico de gallo, avocado. Migas are great when served with black beans, or you could even serve them with refried beans.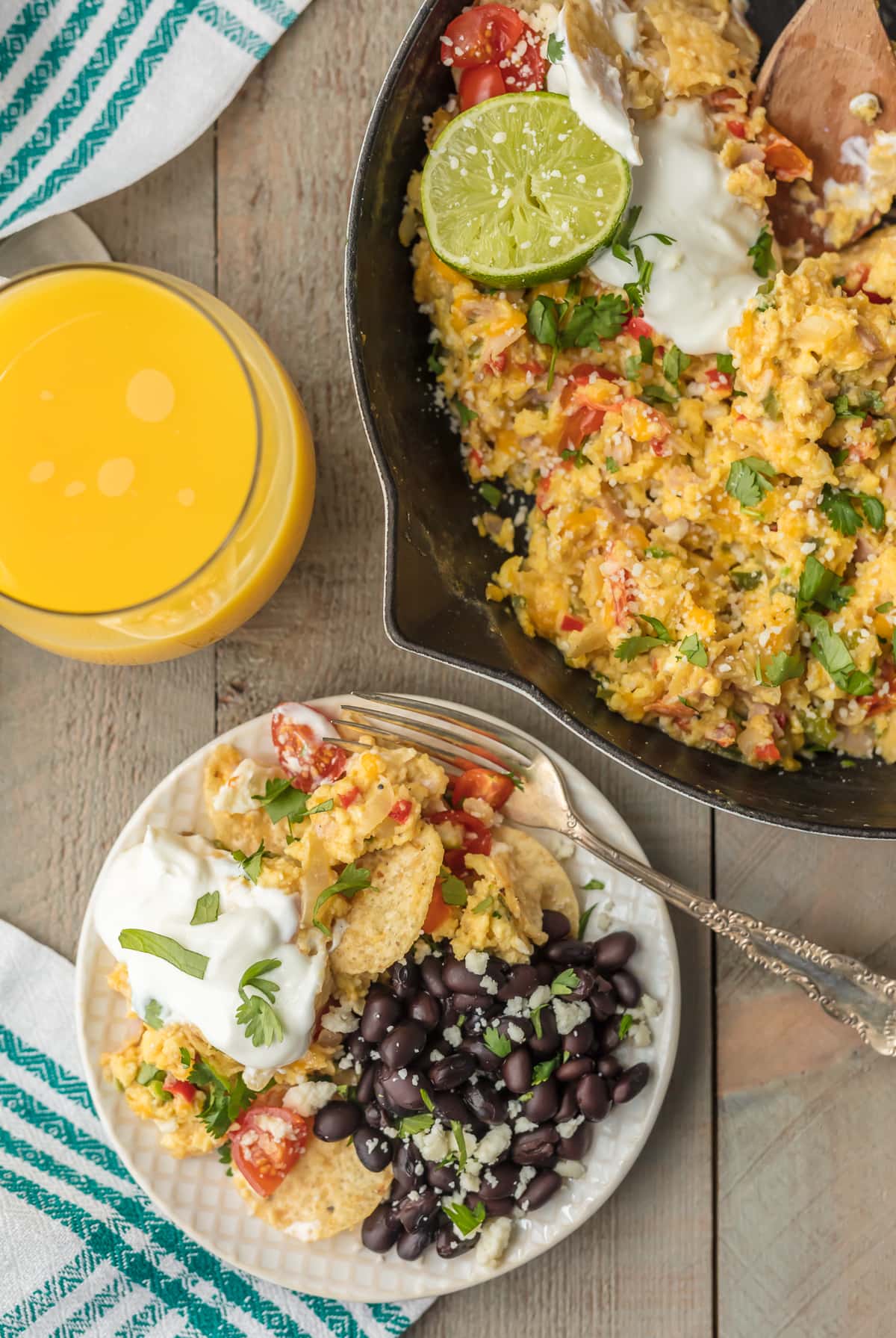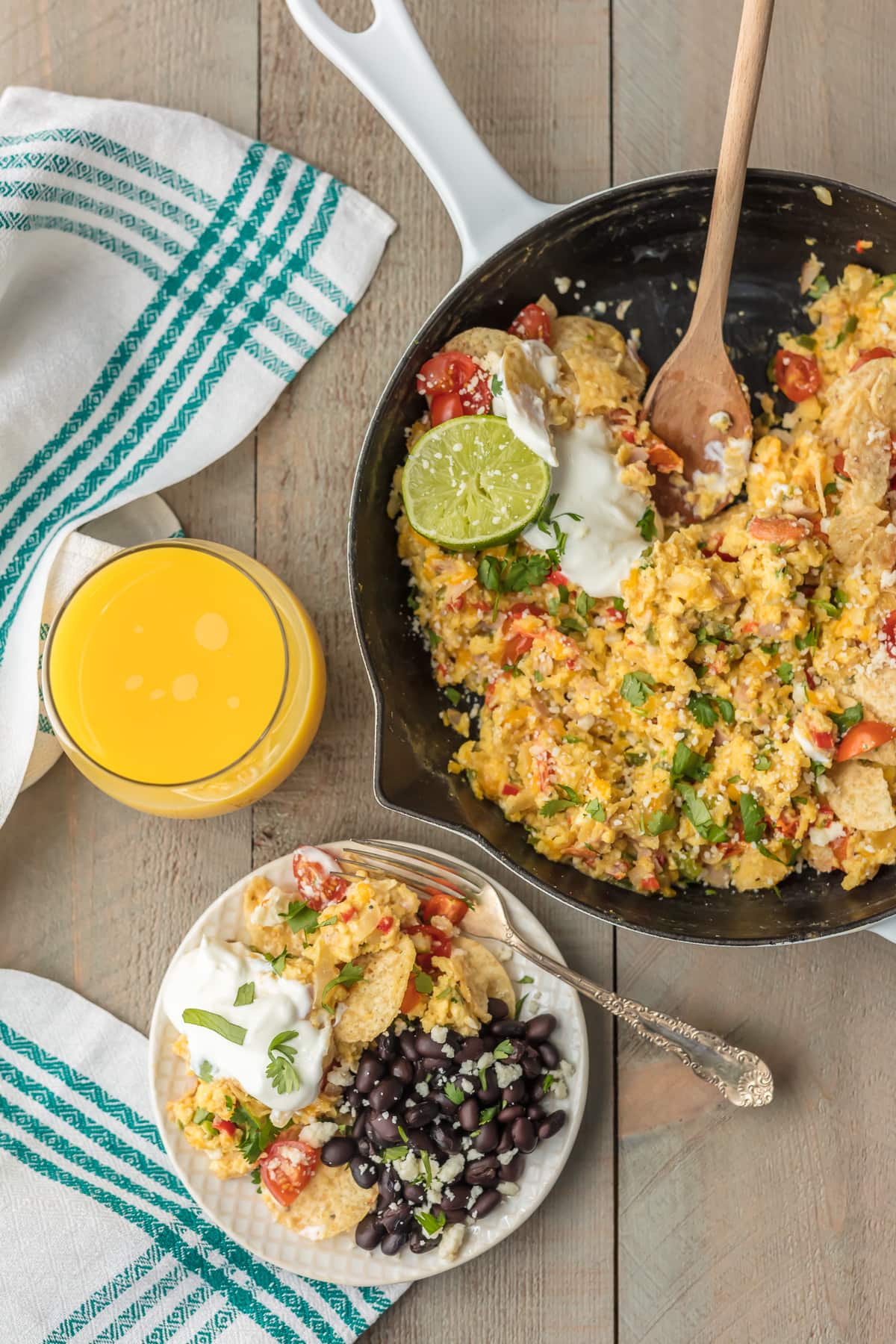 If this isn't the most perfect breakfast I just don't know what is! Eggs, cheese, all my favorite ingredients, cooked and served in one skillet. It's simple, it's delicious, and it's sure to please the whole family. Cheesy Migas for the win!
See the recipe card below for details on how to make this Cheesy Migas recipe. Enjoy!
If you like this recipe, try these other favorite EASY breakfast recipes: