Beef Wellington is a classic around the holidays. This dish is perfect to serve on Christmas and special occasions throughout the chilly seasons. Show your love and appreciation for your family this holiday season with a dish they won't soon forget!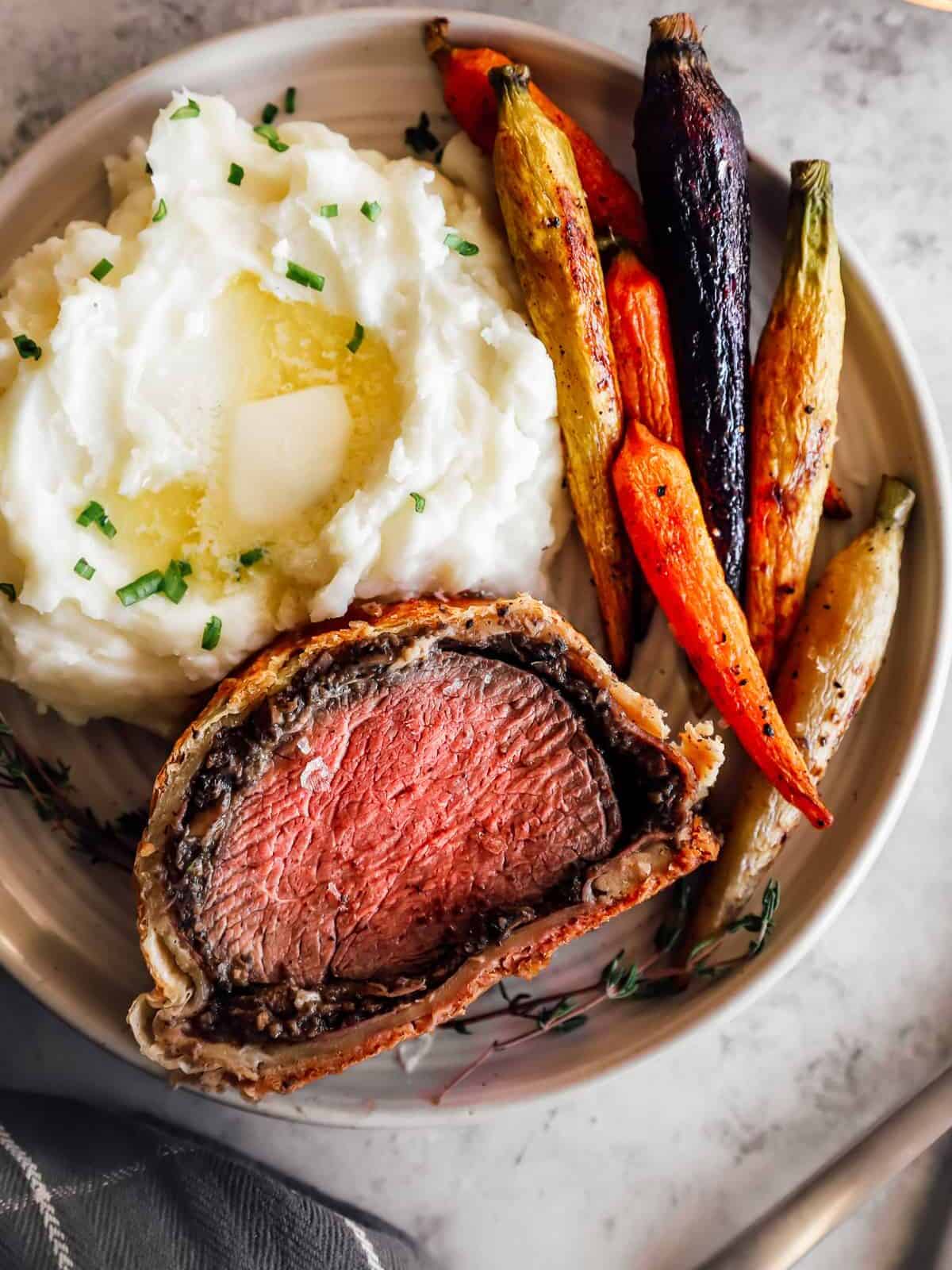 Why We Love This Beef Wellington Recipe
Juicy. Beef tenderloin is the perfect lean cut of beef for this recipe, and the duxelles help seal in moisture.
Flavorful. The combination of beef, spiced mushrooms, and salty prosciutto creates a flavor sensation.
Easy. Use frozen puff pastry for an easy, time-saving hack!
Variations on Wellington Beef
This classic dish is easy to change up based on ingredients you have on hand and/or personal preferences. You can use pork tenderloin instead of beef or a blend of different mushrooms, like shiitake, oyster, and portobello, for a more complex flavor.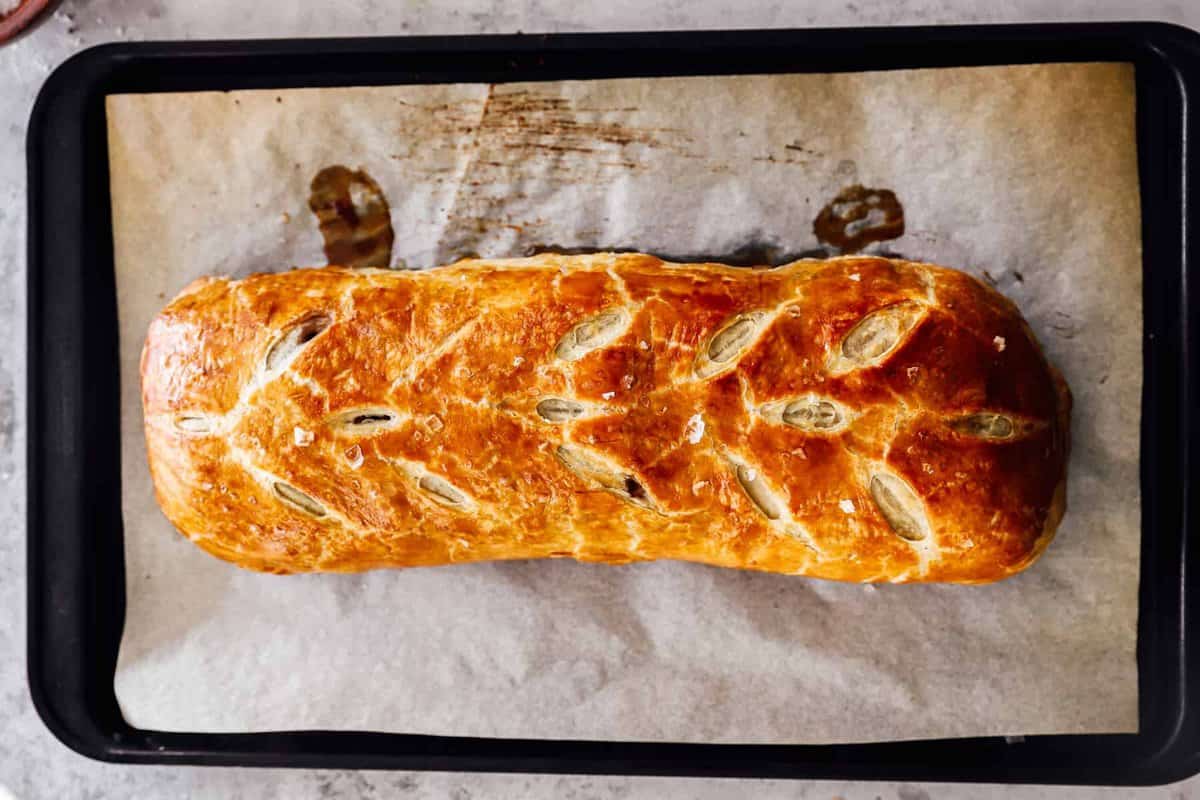 How to Store and Reheat
Store leftover fully-cooked beef Wellington in an airtight container in the refrigerator for up to 2 days. Reheat in a 275°F oven for 10-12 minutes, until warm or microwave on 50% power in 30-second increments until warmed through.
How to Freeze
Freeze before baking for best results. You can freeze the Wellington for up to 3 days. Allow it to thaw overnight in the refrigerator before baking.
Serving Suggestions
Serve each tender cut of this beef Wellington alongside a variety of sides, including well-known holiday recipes such as cranberry sauce, mashed or sweet potatoes, sautéed vegetables, and more!
What is beef Wellington?
Beef Wellington is a hearty dish made from steak coated with a paté made from mushrooms and thinly sliced ham wrapped in puff pastry and baked.
What's the best cut of meat for beef Wellington?
Beef Wellington is made from a whole beef tenderloin fillet. You may need to visit a butcher in order to find one large enough.
Why do you chill beef Wellington before cooking?
Chilling the meat ensures that the beef doesn't overcook before the puff pastry on the outside has a chance to brown.
How do I stop my beef Wellington having a soggy bottom?
Once the beef is fully cooked, rest it on a wire rack so that the heat can escape quickly. This will help avoid a soggy bottom.
Why did my beef Wellington fall apart?
Wellington can fall apart if you cut the slices too small. I recommend making your slices about 1 inch thick for the best results.
Can you overcook Beef Wellington?
Yes, you absolutely can! I recommend investing in an instant-read thermometer to ensure your Wellington is not overcooked. For medium-rare, you want it to be 130°F internally, and for medium, cook to 140°F.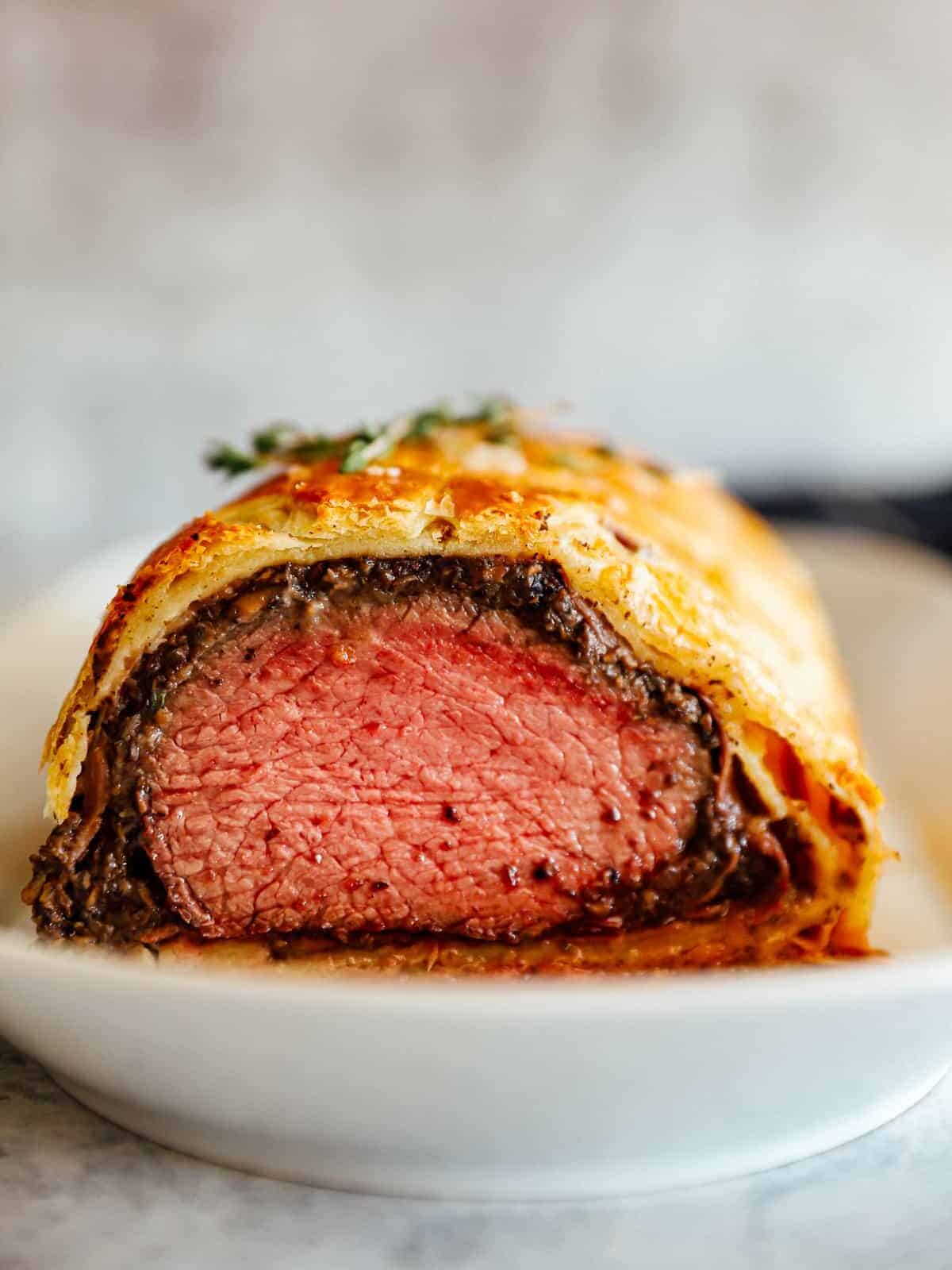 More Beef Tenderloin Recipes To Try
How to Make Beef Wellington Step by Step
Prep the Beef: Trim the excess fat from a 3-4 pound beef tenderloin. Use kitchen twine to tie up the tenderloin, spacing each tie about 1 inch apart. Season generously with salt and pepper.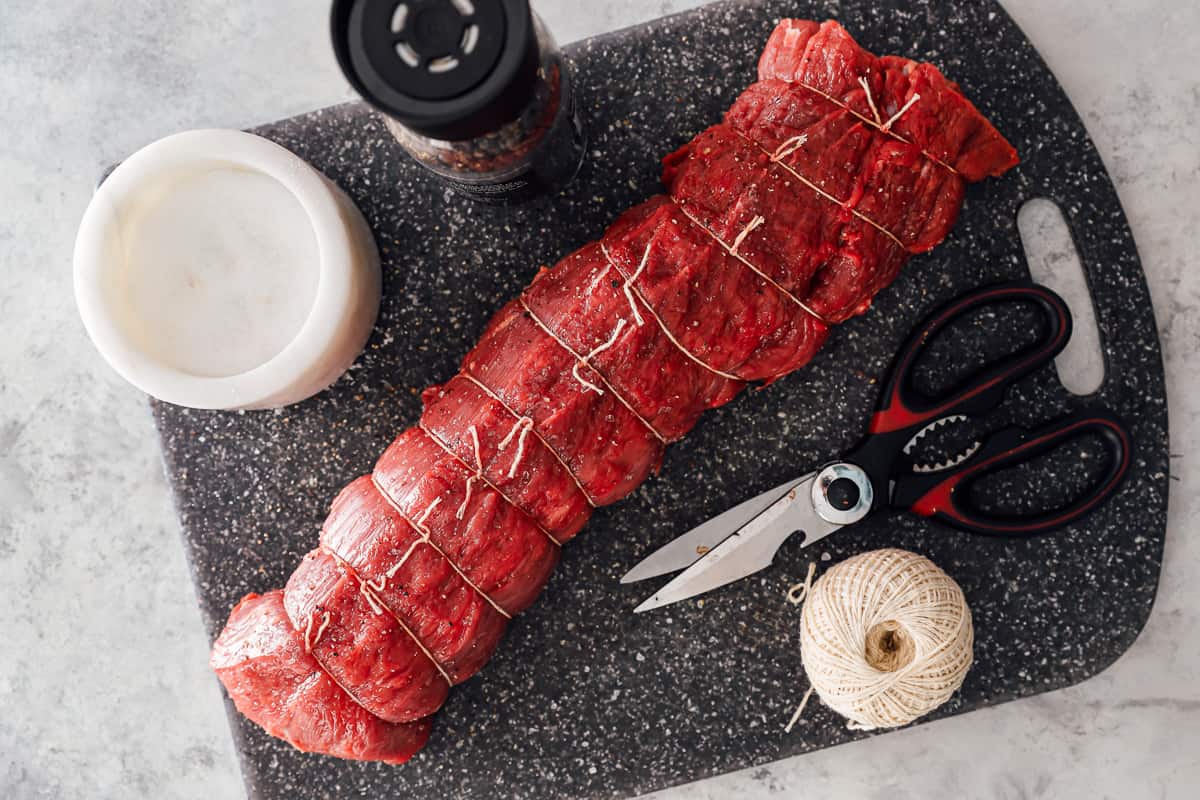 Sear the Beef: Heat 2 tablespoons of oil in a large skillet set over medium-high heat. Once heated, add in the tenderloin, searing on all sides until browned and crispy, but not cooked through. Transfer to a plate to rest.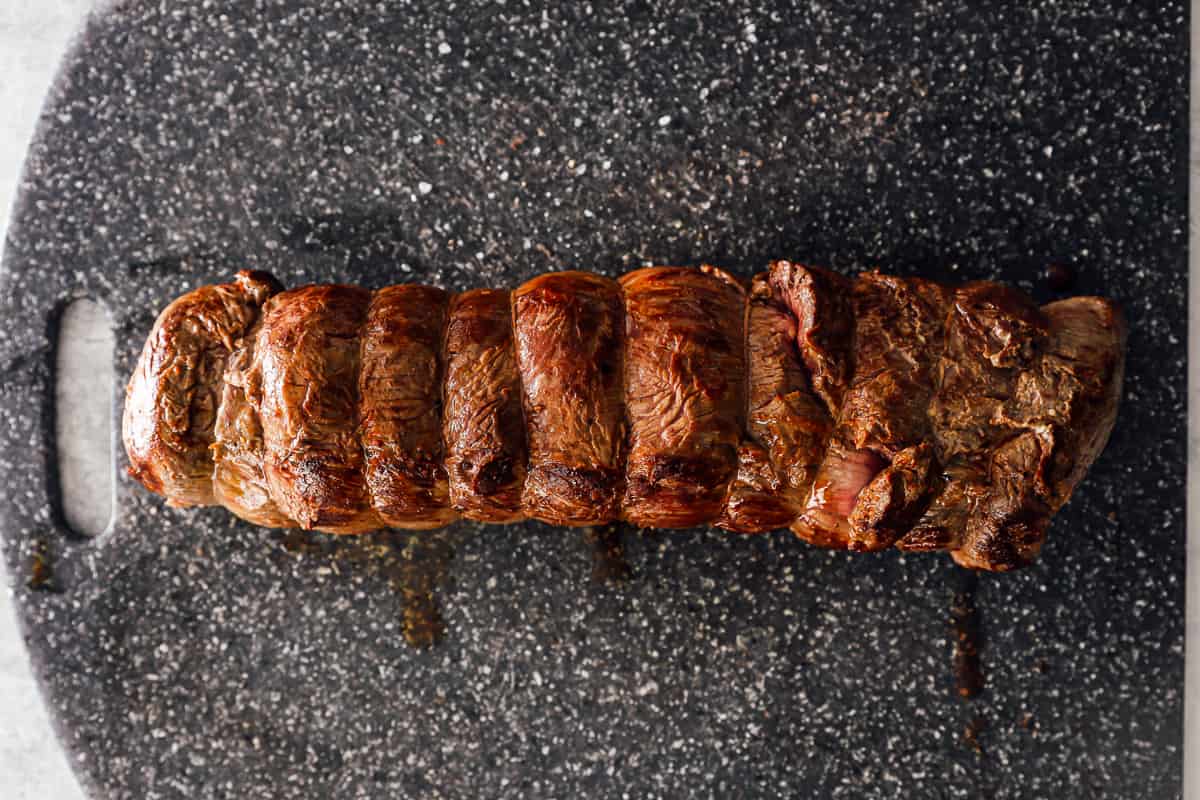 Brush with Mustard: Combine 2 tablespoons of Dijon mustard and 2 cloves of minced garlic in a small dish. Once the tenderloin is no longer hot, cut off the twine, and gently pat the tenderloin dry with a paper towel. Rub the Dijon mustard all over the tenderloin covering it completely. Set aside for now.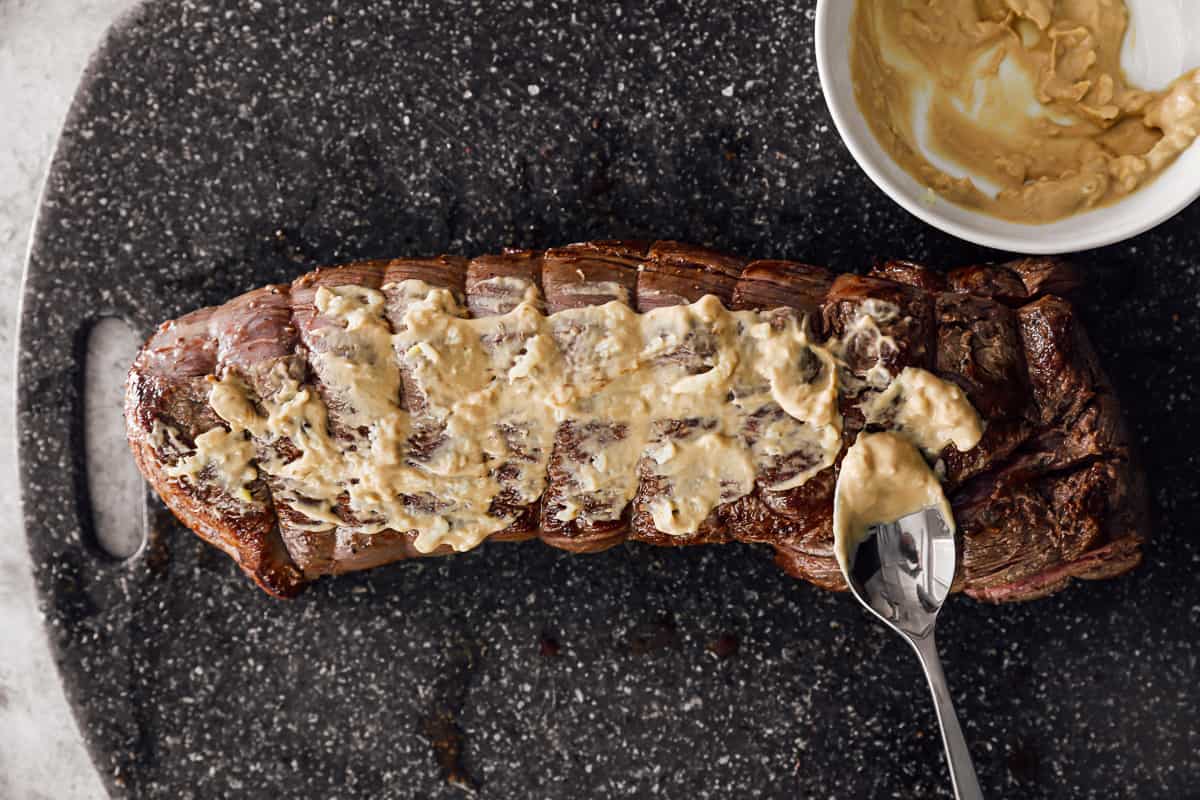 Make the Duxelles: In the same skillet, heat the remaining 1 tablespoon of olive oil. Add in ½ onion finely chopped and sprinkle with ½ teaspoon of kosher salt and ¼ teaspoon of ground black pepper. Once softened, add 1 pound of finely chopped cremini mushrooms. Continue cooking and stirring until the mushrooms are browned. Add in ⅓ cup of red wine. Use a wooden spoon to scrape up the brown bits from the bottom of the pan. Continue cooking until the excess liquid is absorbed, then add in 2 tablespoons of all-purpose flour, 1 sprig of chopped fresh rosemary, and 4 sprigs of chopped fresh thyme, and continue to cook until the mixture is thick and has a paste-like texture.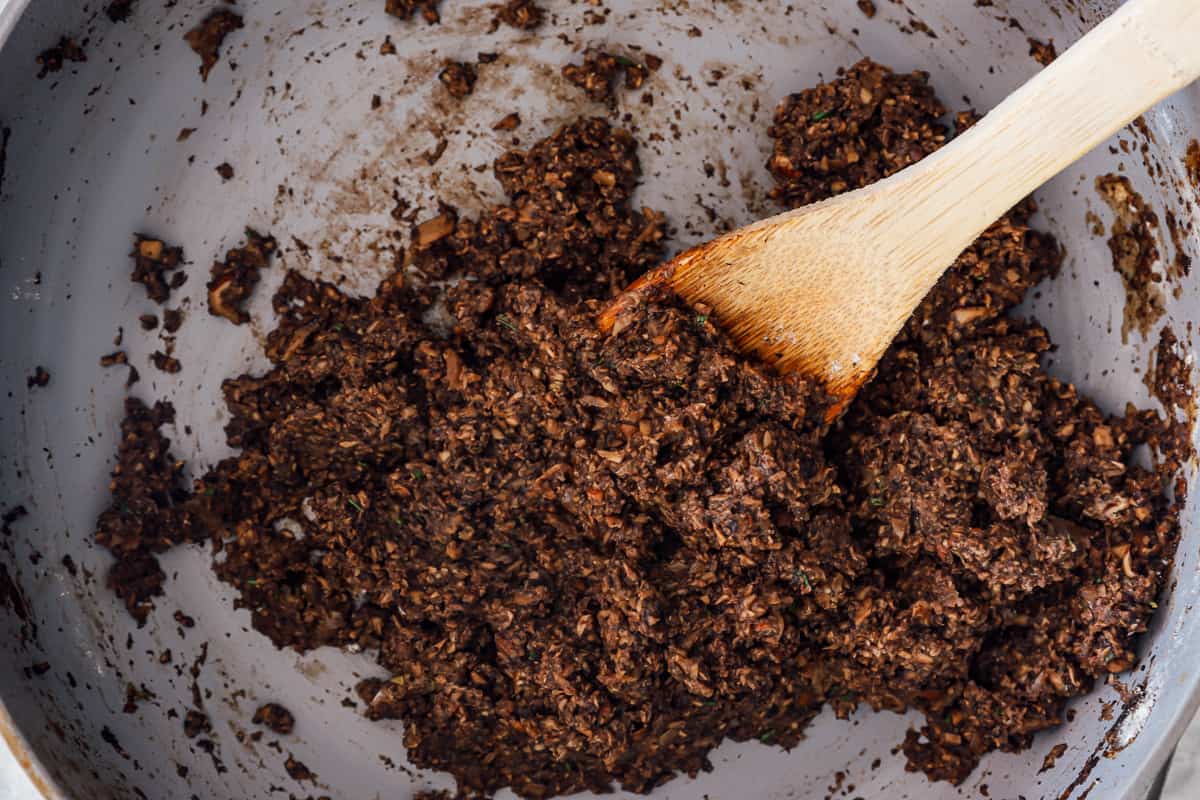 Begin Layering: Place a large piece of plastic wrap on the counter. Arrange 10 prosciutto slices on the plastic wrap in 2 rows of 5 slices. Use a spatula to spread the mushroom mixture onto the prosciutto.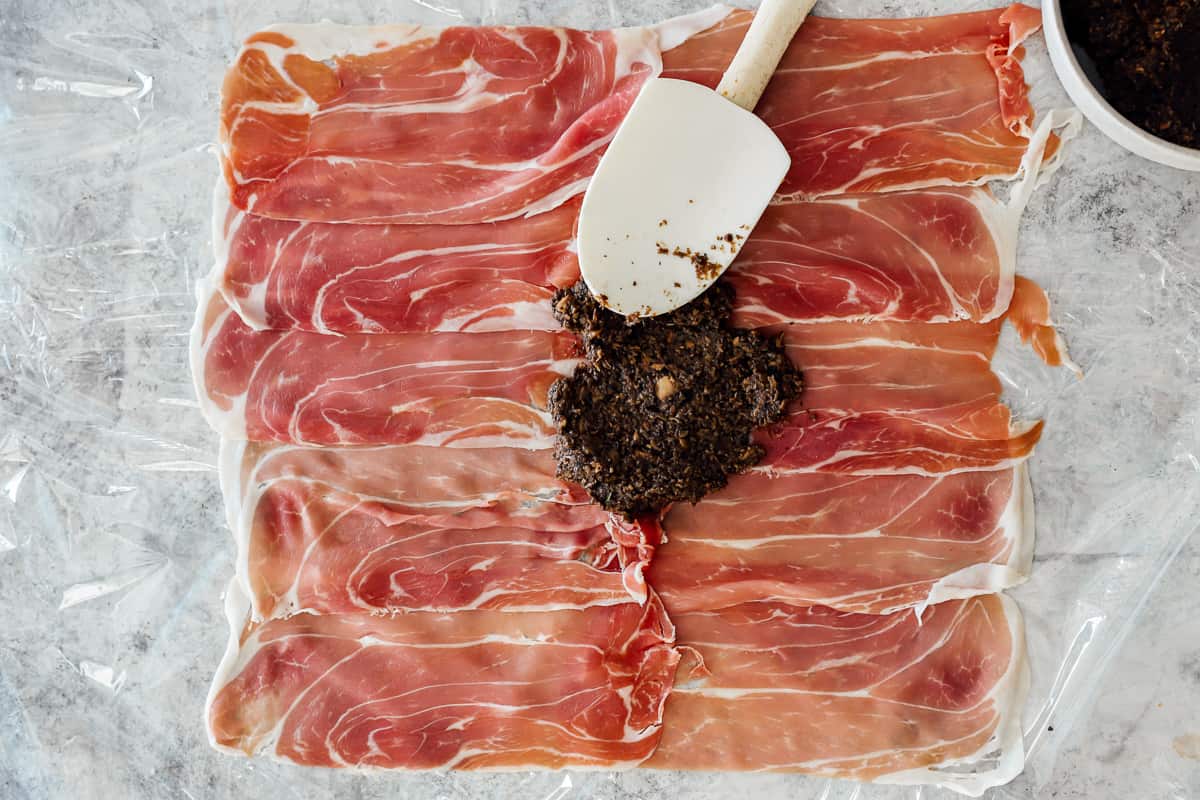 Wrap the Beef: Place the beef tenderloin horizontally at the bottom of the prosciutto. Roll the prosciutto and beef up into a tight roll. Wrap in the plastic wrap.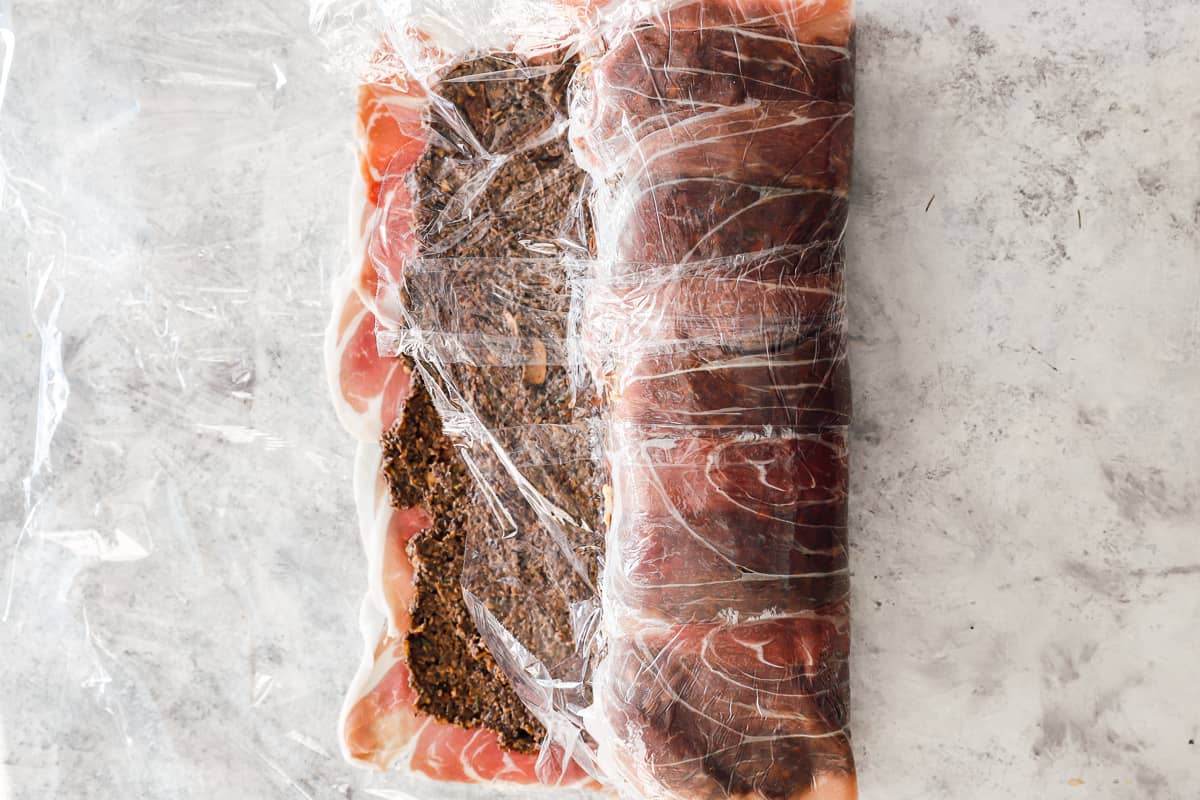 Roll in Pastry: Preheat your oven to 425°F. On a floured surface, pinch the 2 sheets of puff pastry together and roll out into a large rectangle. Unwrap the tenderloin and place it horizontally at the bottom of the puff pastry. Roll the pastry over the beef. Pinch the ends of the pastry together and tuck any excess pastry underneath.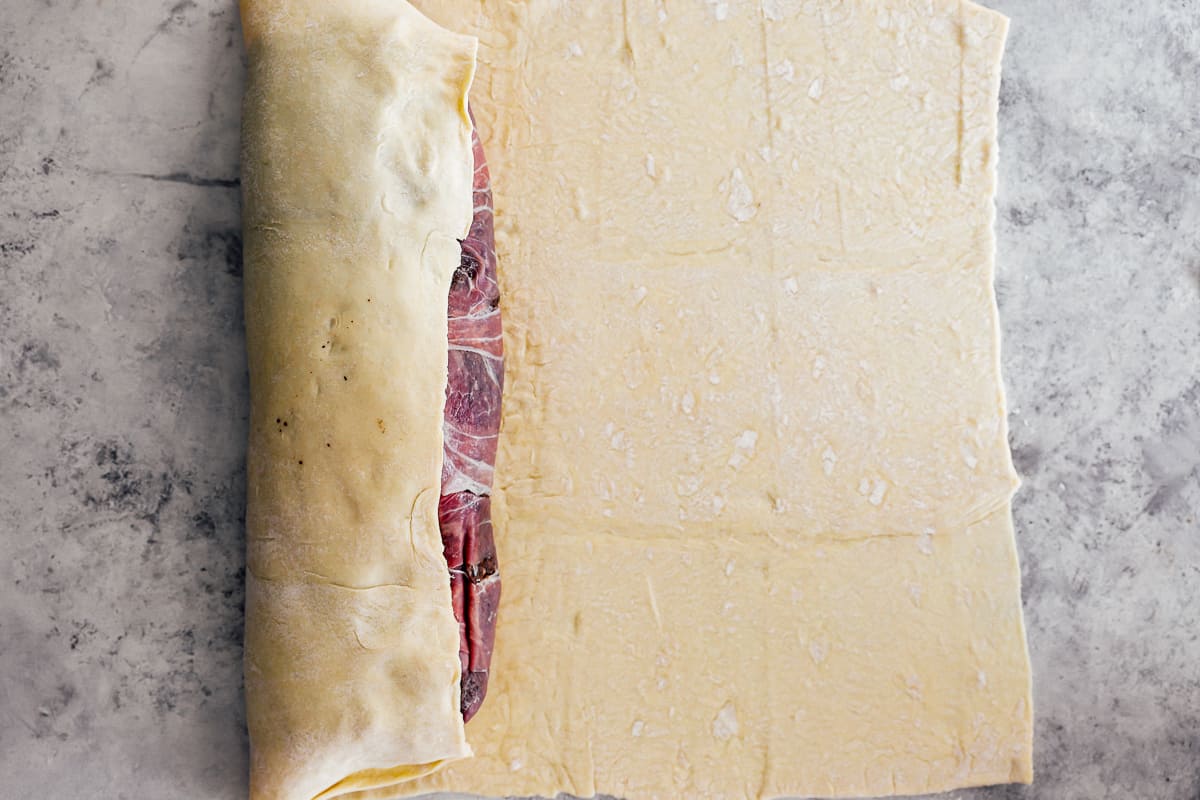 Chill the Meat: Place the pastry-wrapped tenderloin, seam side down, on a baking sheet. Chill in the refrigerator or freezer for 20 minutes.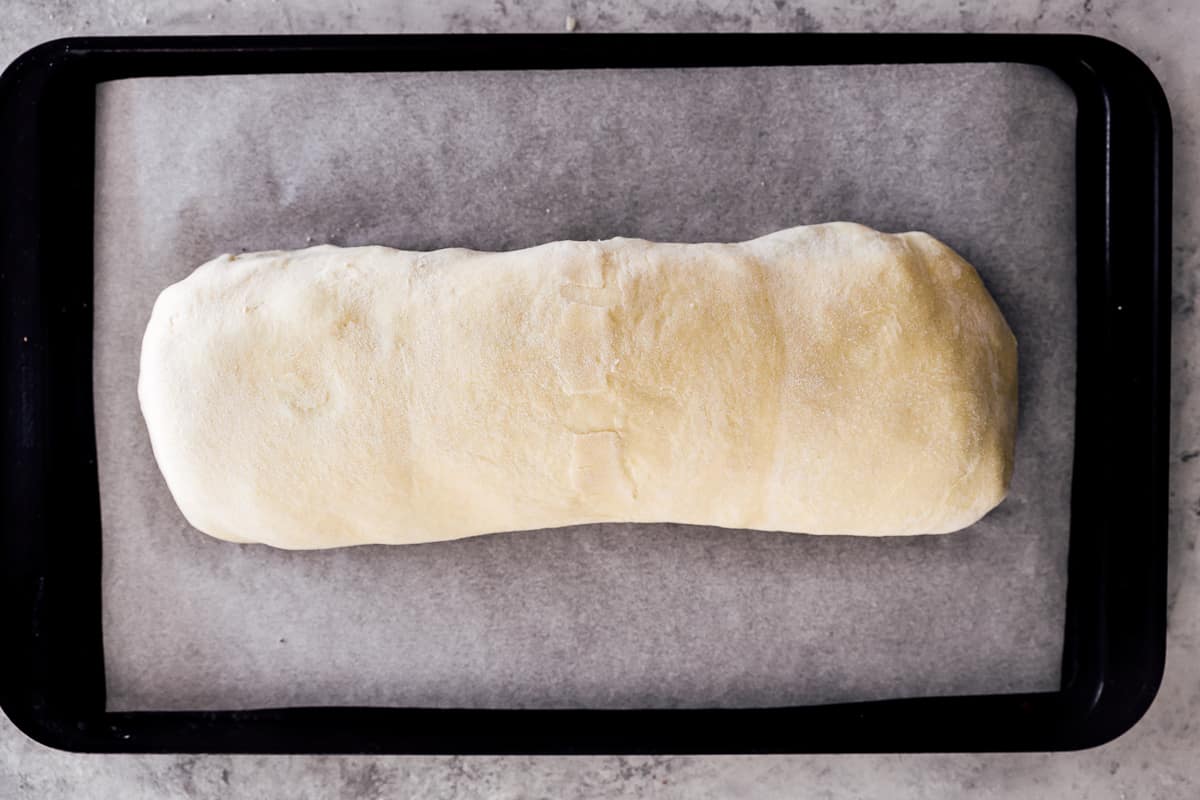 Score the Pastry: Score the pastry by cutting small slits on the top. Brush the sides and top of the pastry with the beaten egg. Sprinkle with sea salt.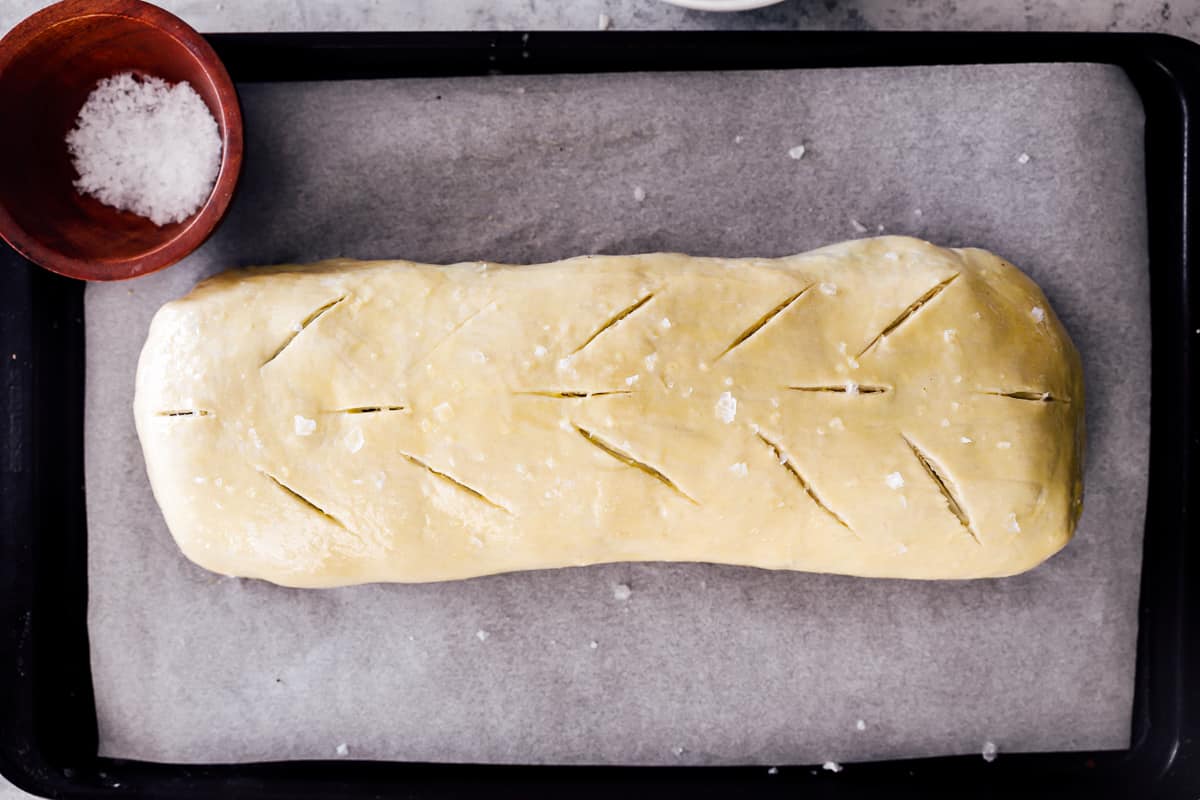 Bake the Wellington: Transfer to the oven to bake for 35-40 minutes, until the puff pastry is golden brown and the beef is cooked to your liking. If you notice your puff pastry browning too fast during the cooking process, loosely cover it with foil. Use a meat thermometer to check the temperature. For medium rare, cook to 130°F, and for medium, cook to 140°F. Once baked, place the wellington on a wire rack to allow heat and moisture to escape and prevent a soggy bottom.