Beef Wellington is a classic around the holidays. This dish is perfect to serve on Christmas and special occasions throughout the chilly seasons. Show your love and appreciation for your family this holiday season with a dish they won't soon forget!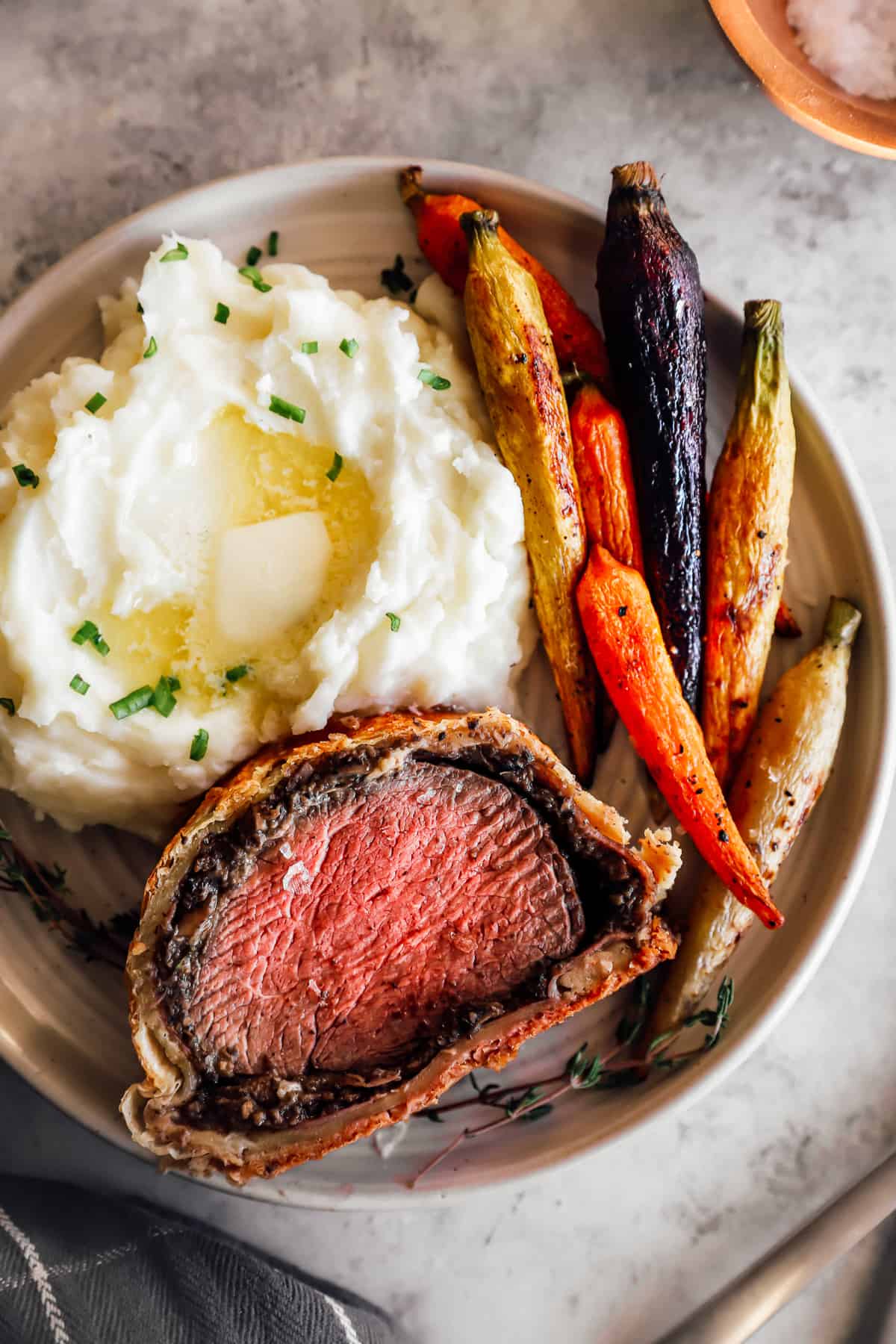 What's in this Beef Wellington Recipe?
Juicy beef tenderloin wrapped in a mushroom, herb, and spice mixture, then wrapped in salty prosciutto, and finally wrapped in buttery puff pastry, makes this delicious dish well worth the effort!
Beef Tenderloin: A tender and lean cut of beef, typically the center-cut portion, that's the perfect size and shape for wrapping.
Salt + Pepper: Enhances the natural flavor of the beef and mushrooms.
Olive Oil: Helps sear the tenderloin and cook the duxelles (mushroom mixture) without burning.
Dijon Mustard: Adds a tangy kick and helps hold the mushroom duxelles in place.
Garlic + Onion: Add an earthy and slightly sweet flavor to the mushrooms.
Cremini Mushrooms: Used to make the duxelles, a paste that adds moisture and flavor.
Red Wine: Adds depth of flavor to the duxelles.
All-Purpose Flour: Helps thicken the duxelles into a workable paste.
Rosemary + Thyme: Add a fresh and herbaceous flavor to the mushrooms.
Prosciutto: Wraps around the beef and duxelles to protect the pastry from getting soggy.
Frozen Puff Pastry: Forms a crispy, flaky outer layer!
Egg: Helps create as shiny, golden crust on the pastry.
Pro Tip: Cut the beef and pastry into smaller squares for individual wellingtons!
Variations on Wellington Beef
This classic dish is easy to change up based on ingredients you have on hand and/or personal preferences. You can use pork tenderloin instead of beef or a blend of different mushrooms, like shiitake, oyster, and portobello, for a more complex flavor.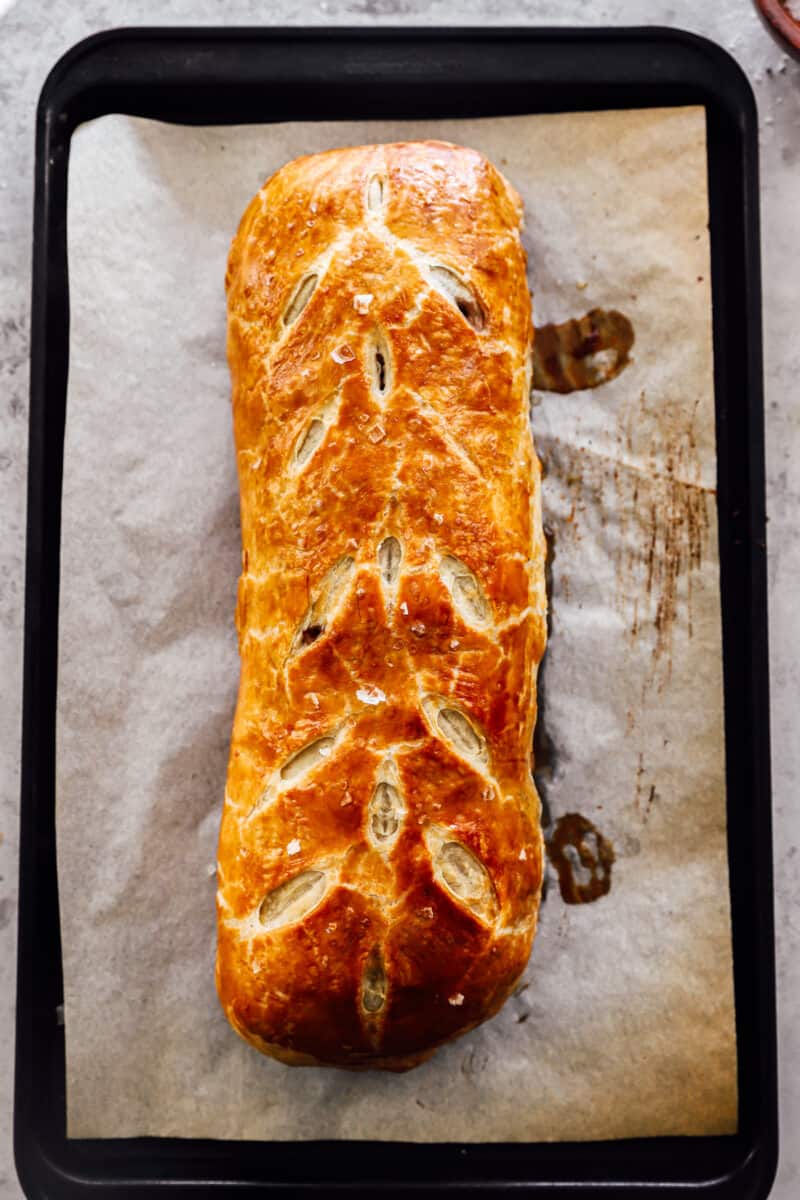 What is beef Wellington?
Beef Wellington is a hearty dish made from steak coated with a paté made from mushrooms and thinly sliced ham wrapped in puff pastry and baked.
What's the best cut of meat for beef Wellington?
Beef Wellington is made from a whole beef tenderloin fillet. You may need to visit a butcher in order to find one large enough.
Why do you chill beef Wellington before cooking?
Chilling the meat ensures that the beef doesn't overcook before the puff pastry on the outside has a chance to brown.
How do I stop my beef Wellington having a soggy bottom?
Once the beef is fully cooked, rest it on a wire rack so that the heat can escape quickly. This will help avoid a soggy bottom.
Why did my beef Wellington fall apart?
Wellington can fall apart if you cut the slices too small. I recommend making your slices about 1 inch thick for the best results.
Can you overcook Beef Wellington?
Yes, you absolutely can! I recommend investing in an instant-read thermometer to ensure your Wellington is not overcooked. For medium-rare, you want it to be 130°F internally, and for medium, cook to 140°F.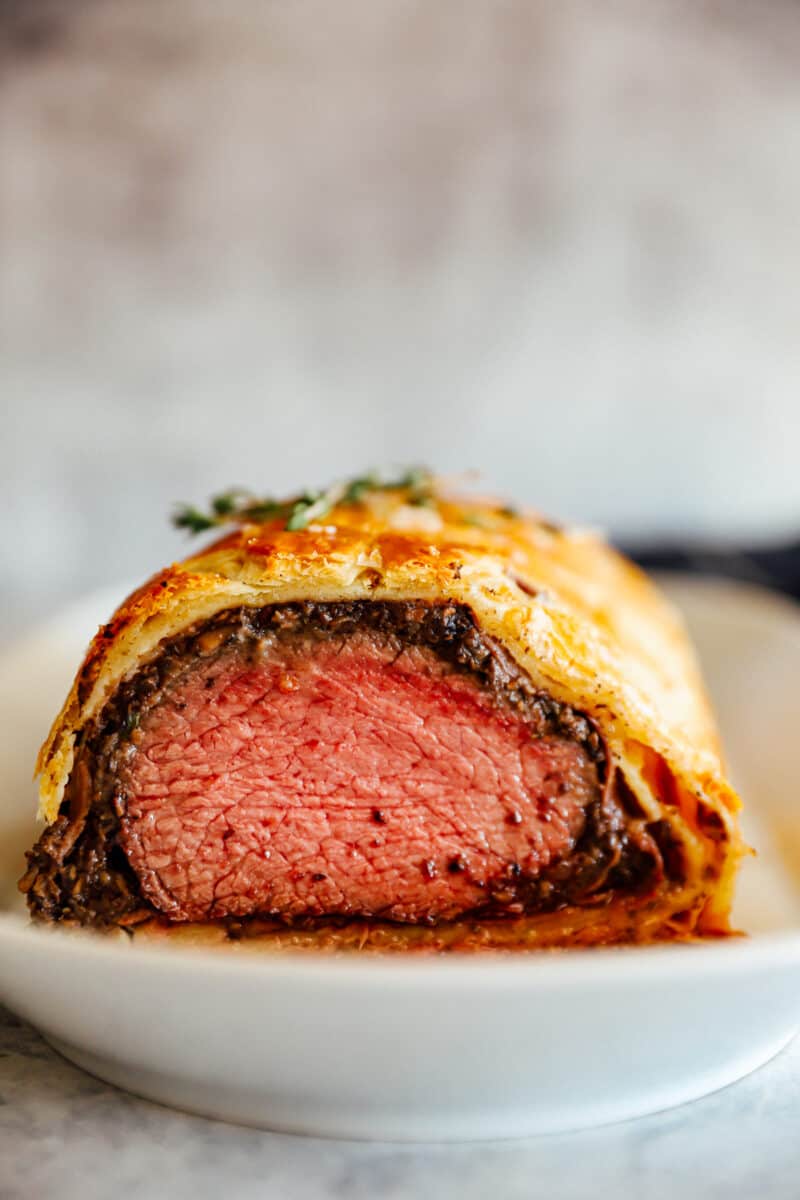 How to Store and Reheat
Store leftover fully-cooked beef Wellington in an airtight container in the refrigerator for up to 2 days. Reheat in a 275°F oven for 10-12 minutes, until warm or microwave on 50% power in 30-second increments until warmed through.
How to Freeze
Freeze before baking for best results. You can freeze the Wellington for up to 3 days. Allow it to thaw overnight in the refrigerator before baking.
Serving Suggestions
Serve each tender cut of this beef Wellington alongside a variety of sides, including well-known holiday recipes such as cranberry sauce, mashed or sweet potatoes, sautéed vegetables, and more!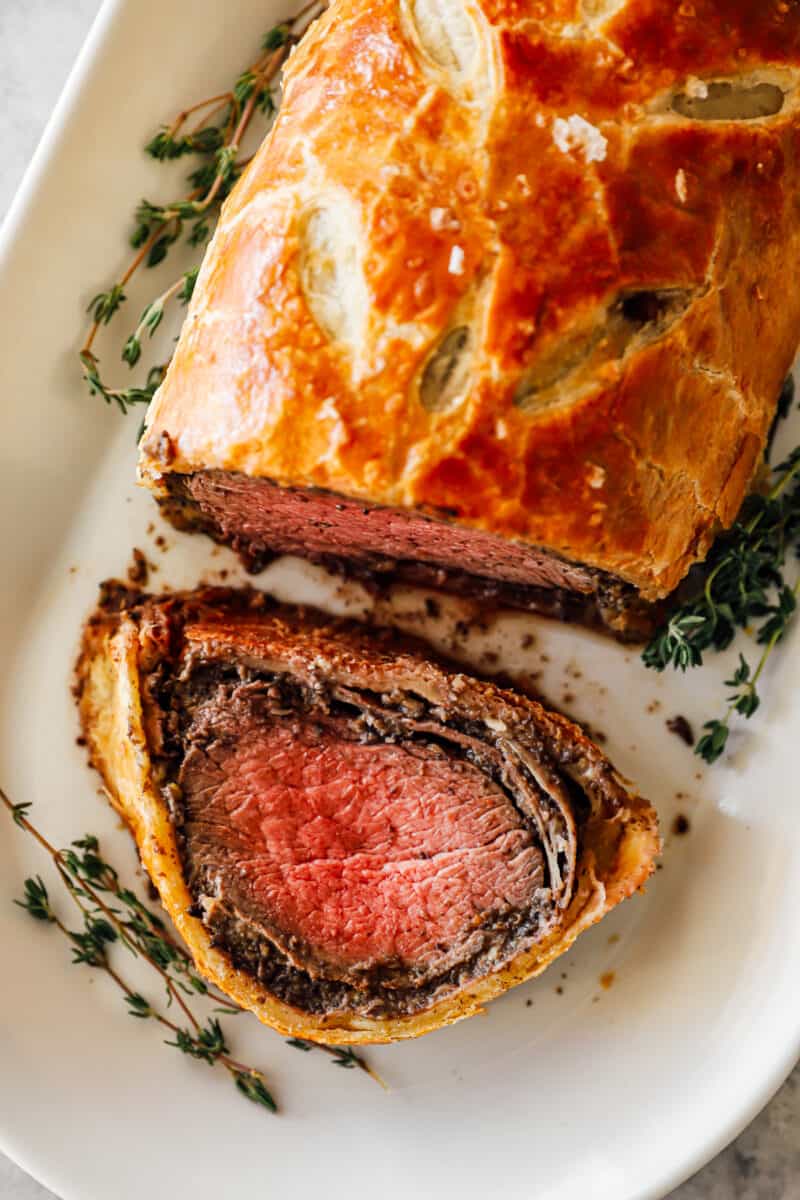 More Beef Tenderloin Recipes We Love