Traditional Beef Wellington recipes are classic around the holidays. This dish is perfect to serve on Christmas and special occasions throughout the chilly seasons. Show your love and appreciation for your family this holiday season with a dish they won't soon forget!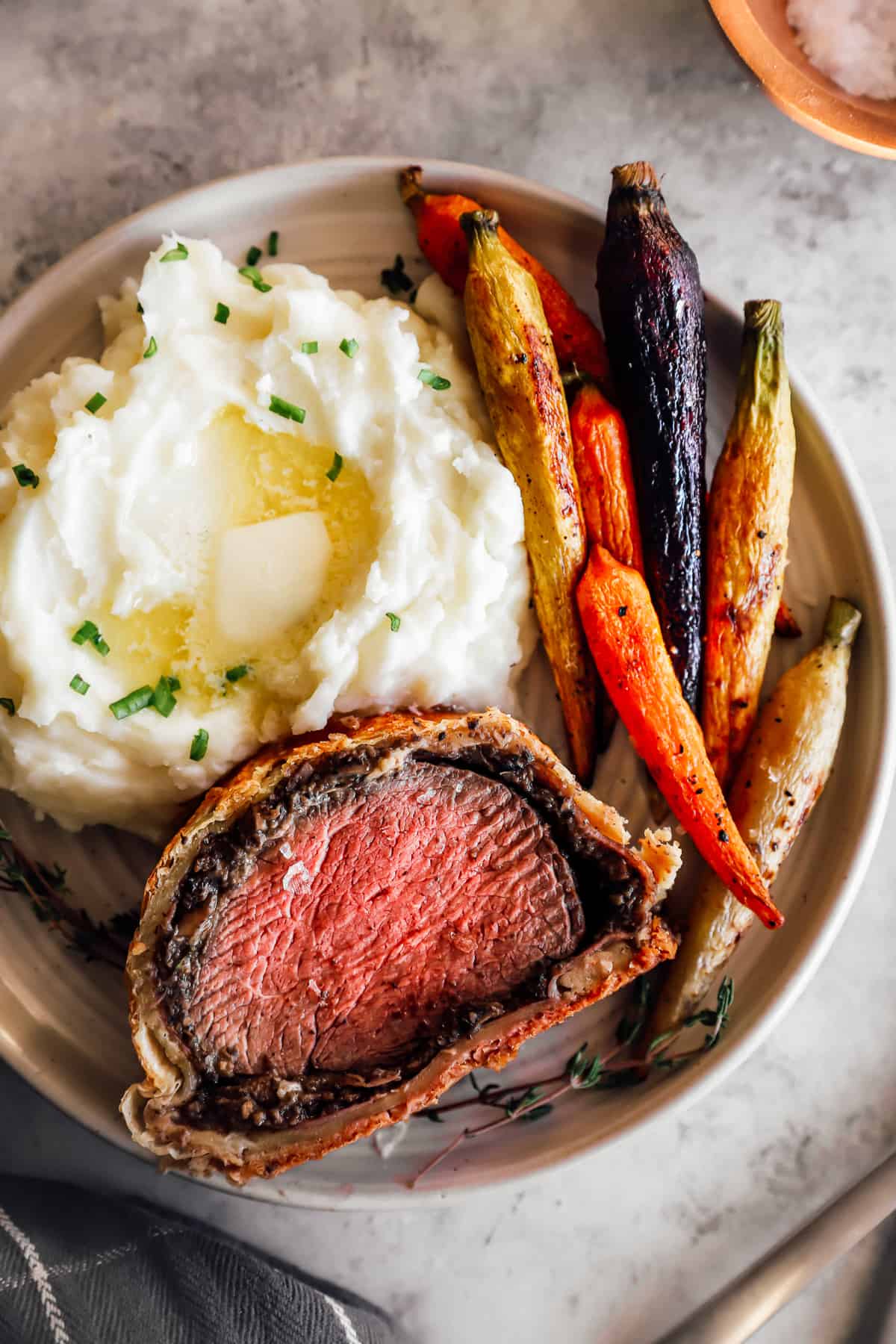 Easy Beef Wellington
This dish may seem intimidating for some, but this Easy Beef Wellington recipe includes simple step-by-step instructions and notes to make your holiday cooking stress-free! Once you've tried this dish, it's sure to become a holiday favorite and impress friends and family.
Why You'll Love this Beef Wellington Recipe:
So good: Juicy beef tenderloin wrapped in a mushroom, herb, and spice mixture, then wrapped in salty prosciutto, and finally wrapped in buttery puff pastry, makes this delicious dish well worth the effort!
Perfect for making together: Although this recipe has simple instructions, there are a few additional steps than most recipes; because of this, making this dish with friends or family is a great holiday activity.
Whether you're experienced in the kitchen or new to this type of recipe, any home cook can make this Easy Beef Wellington. This recipe walks you through all of the steps to make your holiday cooking simple without any fuss.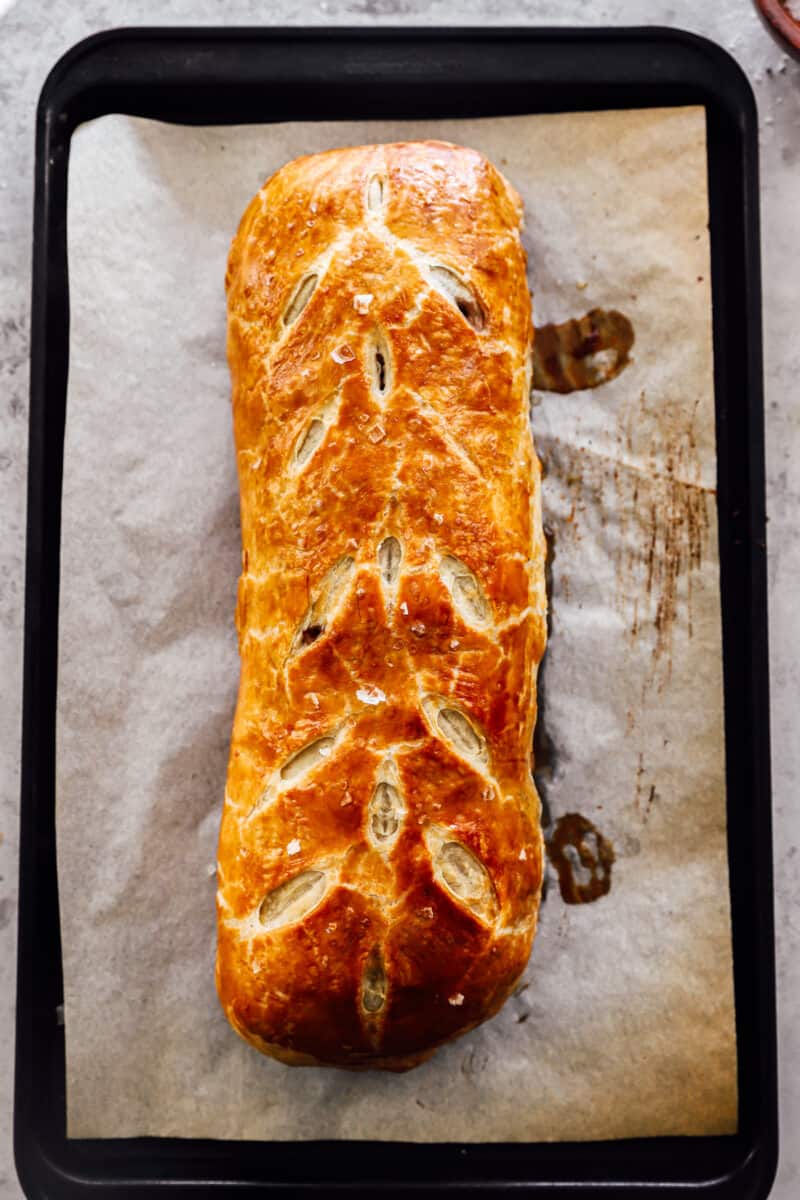 How to Make Beef Wellington
You can jump to the recipe card for full ingredients & instructions!
Trim, tie up, and season the tenderloin.
Sear the tenderloin until brown then set aside.
Make the garlic mustard mixture, then rub it into the beef.
Cook the onions and mushrooms, then add in the red wine, and finally add the rest of the ingredients and cook until it creates a paste-like texture.
Spread mixture onto the prosciutto slices, then wrap them around the beef.
Wrap the beef in puff pastry and let it chill.
Then bake until fully cooked through.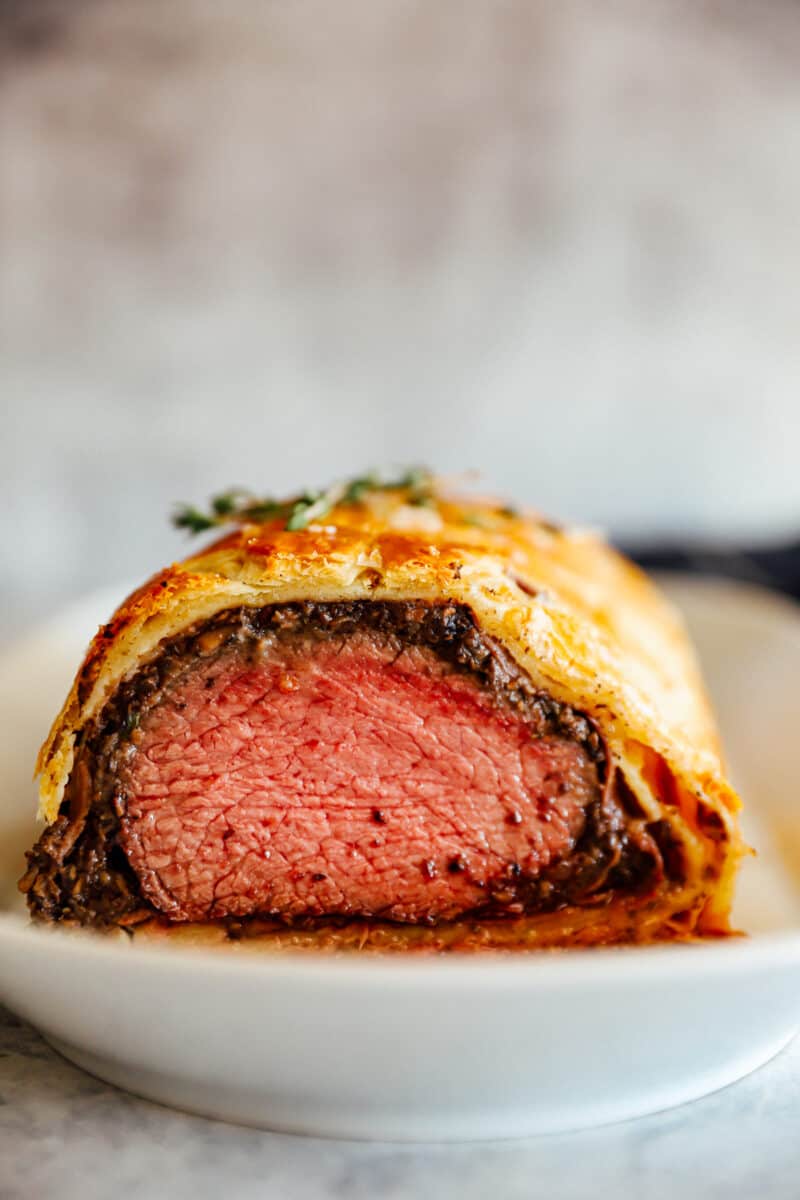 What is beef wellington?
Beef wellington is a hearty dish made from steak coated with a paté made from mushrooms and thinly-sliced ham wrapped in puff pastry and baked.
Who invented beef wellington?
Beef wellington is believed to have originated in England in the 1800s when the Duke of Wellington had a victory at Waterloo in 1815.
Is beef wellington hard to make?
Beef wellington is not exceptionally difficult to make, but it can be finicky, so it's best to follow the recipe exactly.
What's the best cut of meat for beef wellington?
Beef wellington is made from a whole beef tenderloin fillet. You may need to visit a butcher in order to fine one large enough.
How long does beef wellington take to cook?
Beef wellington should take about 35-40 minutes to cook, but this could vary depending on the size of the tenderloin you choose.
What's the proper temperature for beef wellington?
For a medium-rare wellington, you want it to be 130°F internally, and for medium, cook to 140°F.
Serving Suggestions
Serve each tender cut of this beef wellington alongside a variety of sides, including well-known holiday recipes such as cranberry sauce, mashed or sweet potatoes, sautéed vegetables, and more!
Gravy sauce
Sides of vegetables such as green beans, peas, or salad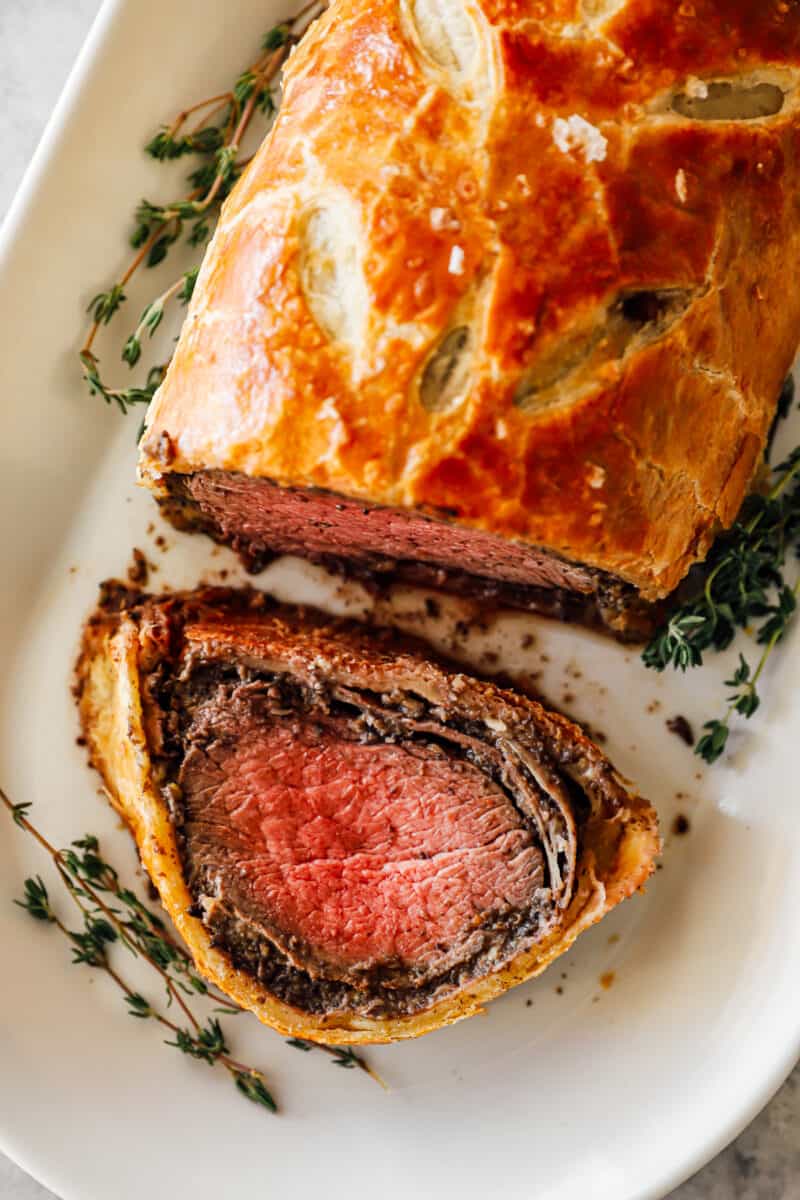 Make Ahead Instructions
You can prepare the mushroom/veggie mixture up to 2 days in advance of when you plan to bake the wellington. Store them in an airtight container in the refrigerator until ready to use.
You can prep the entire beef wellington up to step 7, then wrap it in plastic wrap and store it in the refrigerator overnight. Continue with the recipe the next day.
Storage Instructions
Store leftover beef wellington in an airtight container in the refrigerator for up to 2 days. Reheat in a 275°F oven for 10-12 minutes, until warm or microwave on 50% power in 30-second increments until warmed through.
Freezing Instructions
Freeze beef wellington before baking for best results. You can freeze the wellington for up to 3 days. Allow it to thaw overnight in the refrigerator before baking.
Tips for the Best Beef Wellington
Let the beef rest in the refrigerator for 10-15 minutes between each stage of wrapping to help it keep together better.
Make sure to cook off as much moisture as possible from the mushroom mixture to prevent soggy pastry.
To help the meat stick to the puff pastry better, you can brush it with egg wash before wrapping.
Take care not to wrap the puff pastry too tightly.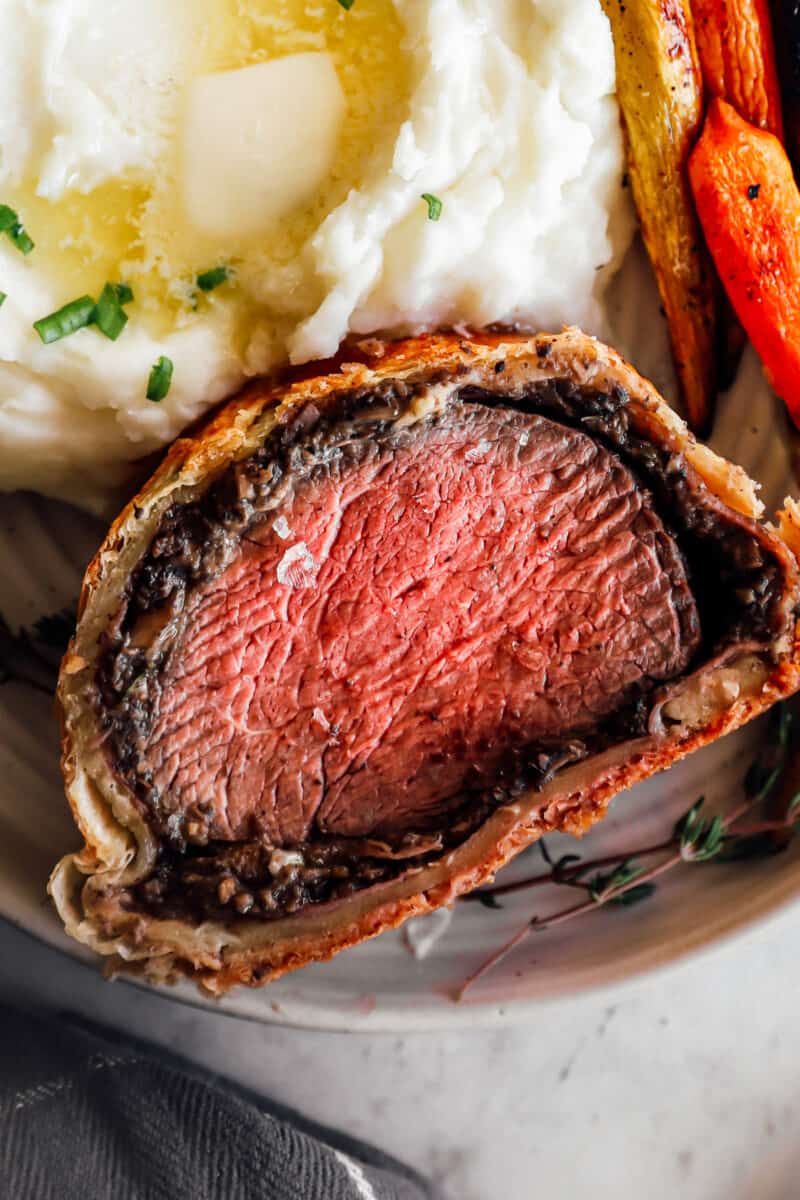 Beef Wellington is a delicious and savory recipe that's made to be shared with friends and family. Make this recipe for Christmas, special occasions, or a holiday dinner party!
If you make this recipe be sure to upload a photo in the comment section below or leave a rating. Enjoy! You can also jump to recipe.