This air fryer beef tenderloin is an easy and impressive meal you can make without an oven! Crisp on the outside and juicy on the inside, this beef tenderloin is seasoned with garlic and herbs, then cooked until perfectly medium-rare.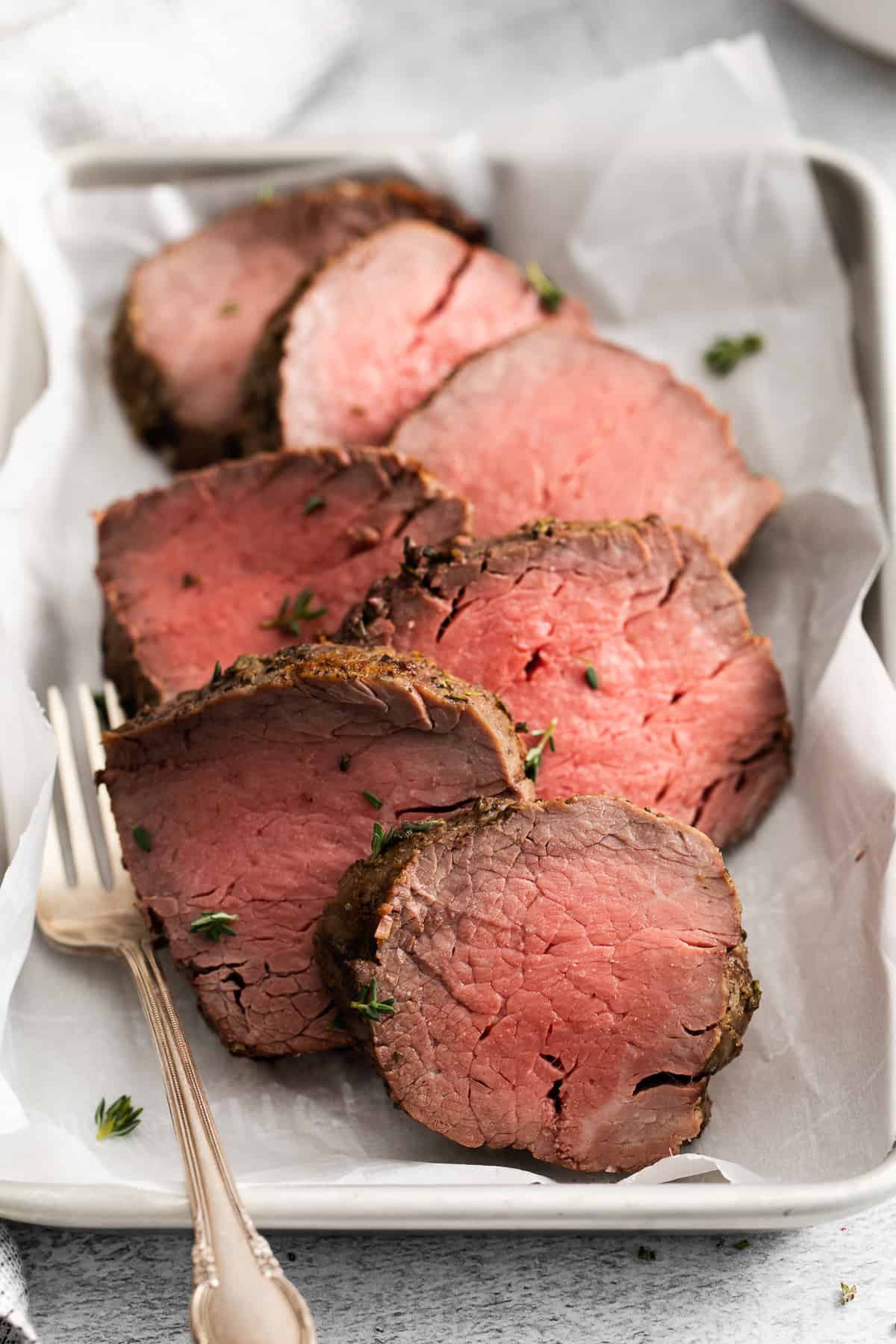 Beef Tenderloin in the Air Fryer
Want to make a fancy dinner but a little low on time? This air fryer beef tenderloin recipe will not disappoint! That's right, you can make a beef tenderloin steak in an air fryer that's just as juicy and delicious as on the stove or grill.
In just 20 minutes, you'll have an easy weeknight meal or a show-stopping main course for any holiday meal, potluck, or special occasion!
Why You'll Love this Beef Tenderloin Recipe:
Quick and Easy: This easy air fryer recipe requires minimal dishes, uses simple ingredients, and can be made in a pinch.
Top-Notch Taste: Anyone who tries this beef tenderloin roast will find it so good, they won't believe it was made in an air fryer!
Great for Entertaining: This recipe will make serving for large crowds a breeze. It's just as easy as it is impressive!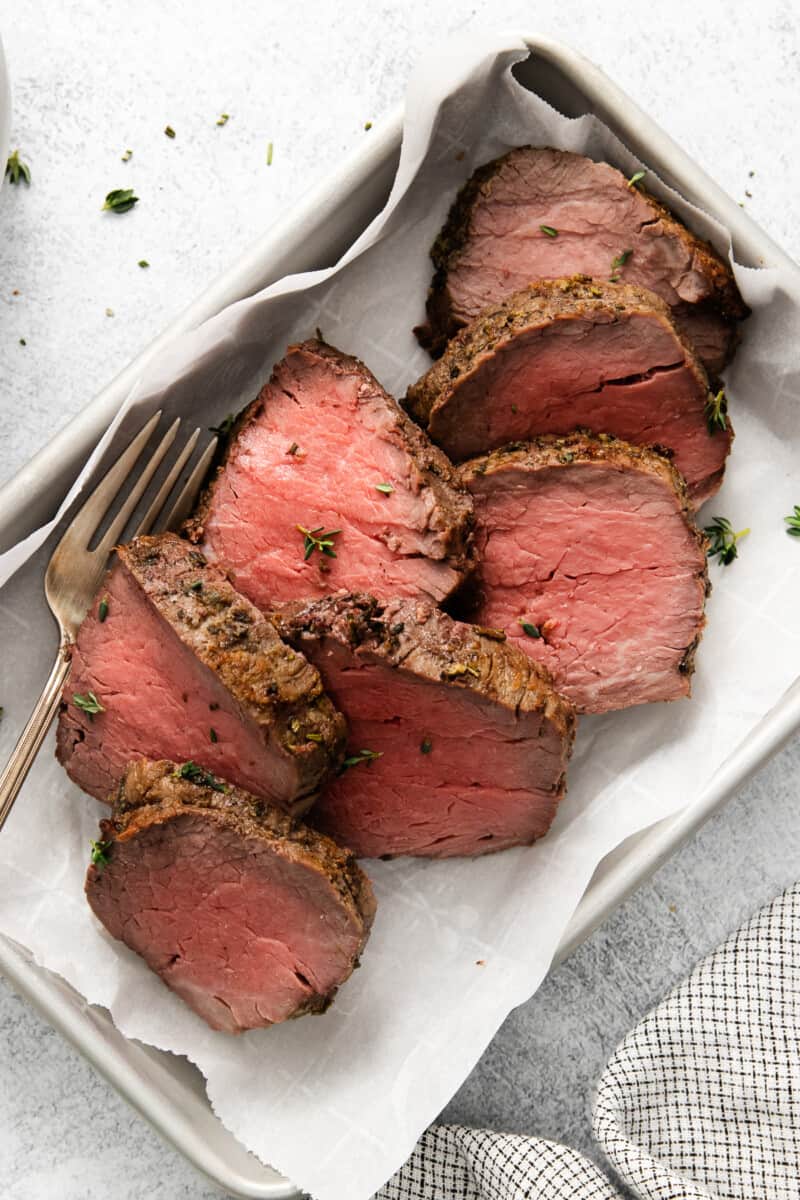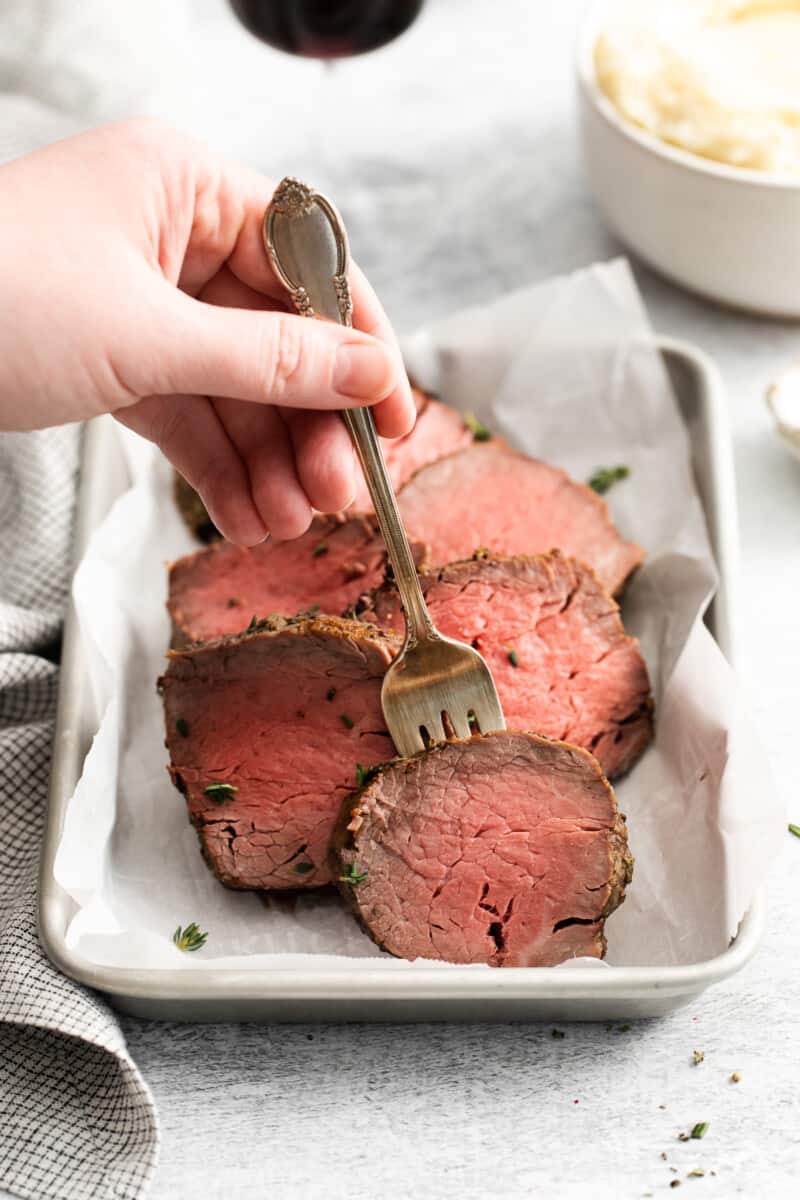 How to Cook Beef Tenderloin in an Air Fryer
You can jump to the recipe card for full ingredients & instructions!
First, bring the tenderloin to room temperature as instructed (in the recipe card).
In a small bowl, stir together the ingredients for the seasoned butter mixture.
Pat the beef dry with a paper towel, then rub the compound butter evenly over every side.
Place it in the air fryer and cook according to the instructions below.
Cover with foil and allow it to rest for 10 minutes before slicing. Serve with your favorite sides, and enjoy!
Recipe Notes
Beef: Beef tenderloin will cook more evenly if it is trimmed and tied (when the silver skin and fat have been removed and the tenderloin has been tied with butcher's twine into an even thickness). You can ask your butcher to do this for you if you don't want to do it yourself.
Butter: Helps lock in the juices of the tenderloin and create a crisp exterior crust.
Garlic: Adds a bit of earthy bite to the tenderloin. I recommend grating it (rather than mincing it) because no one wants to end up with a bite of raw garlic on the outside of their tenderloin.
Salt and Pepper: Help the tenderloin taste its best! I highly recommend kosher salt and freshly cracked black pepper.
Herbs: I'm using rosemary, thyme, and sage! If you can only use one, just use 2 teaspoons of minced rosemary. Make sure to use fresh herbs instead of dried!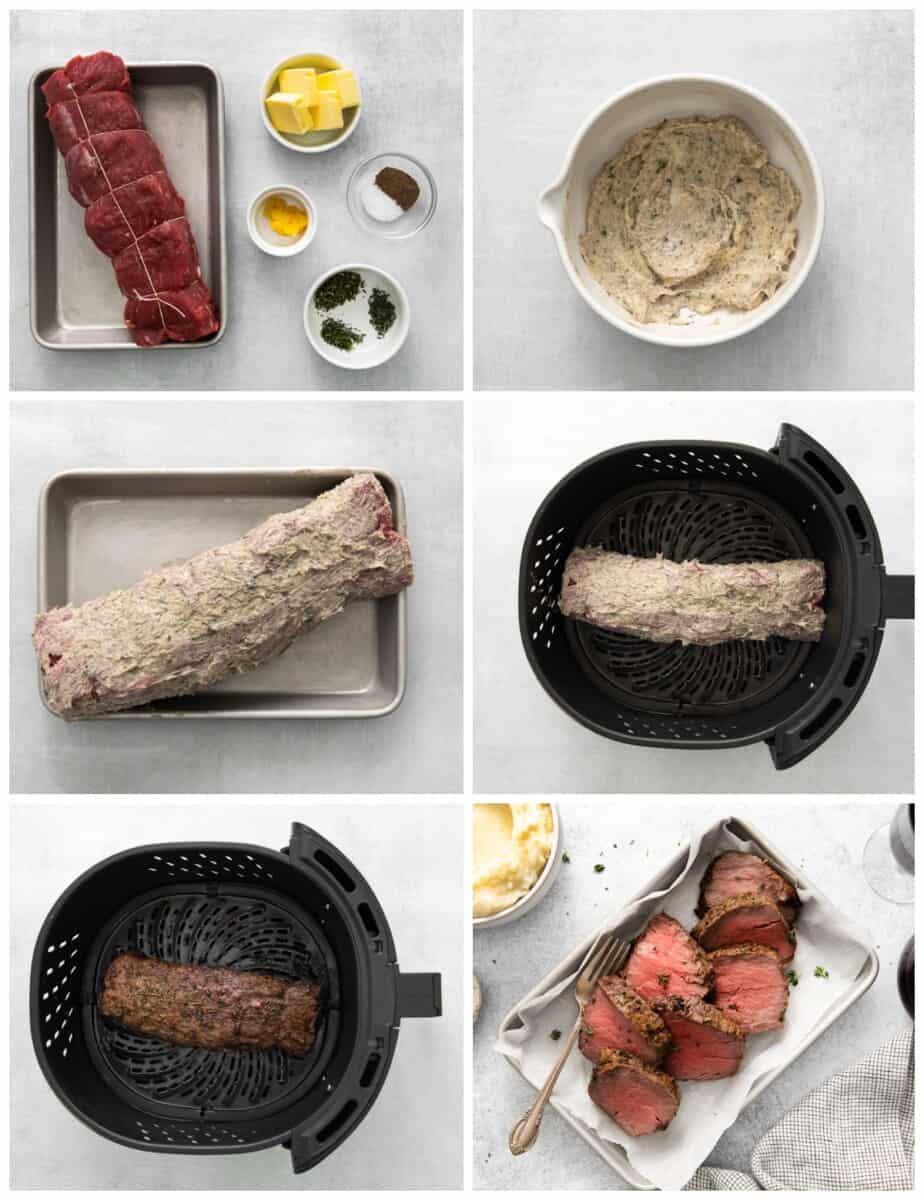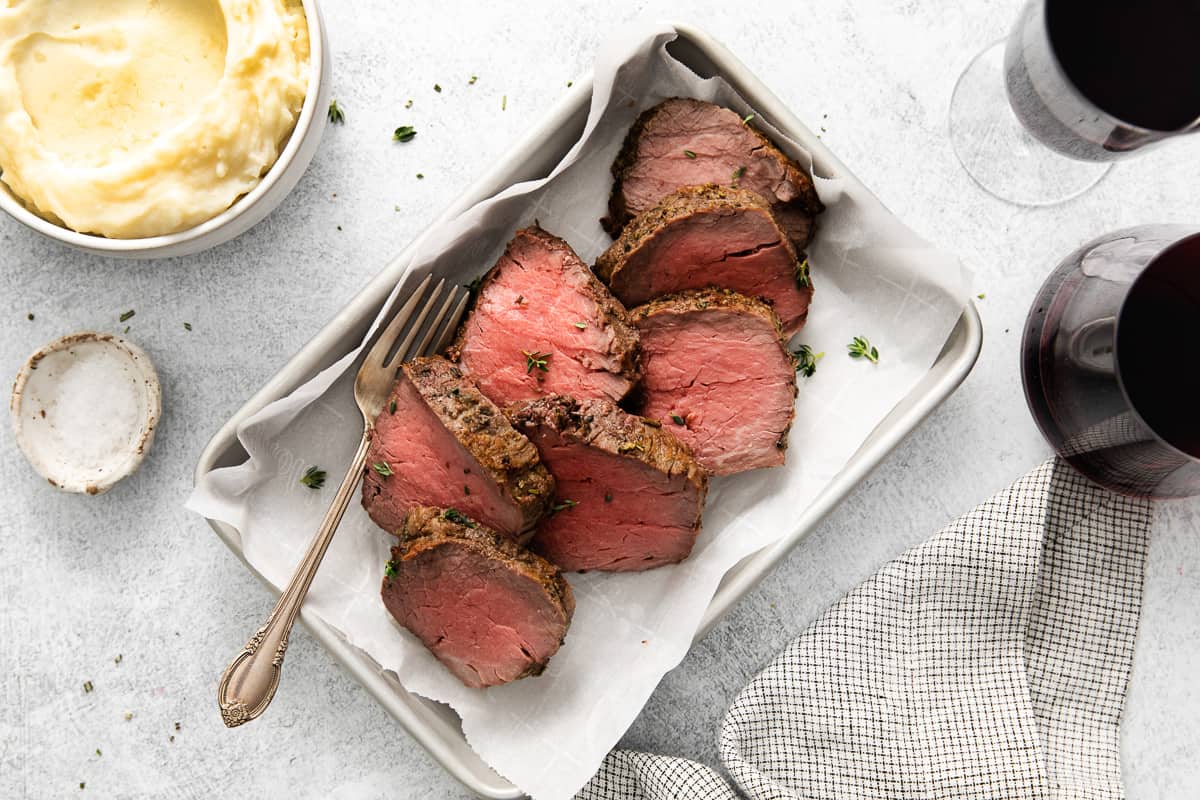 What is beef tenderloin?
The tenderloin is an oblong muscle that extends along the rear portion of the spine. It is extremely tender and delicious!
Do I have to bring beef tenderloin to room temperature before cooking it?
Yes! Cold beef will cook unevenly and lose more moisture than beef that has been brought to room temperature. Giving it that extra time will make it extra juicy!
How long does it take to cook beef tenderloin in an air fryer?
That depends on the size of the tenderloin and how you prefer to have it cooked. A general rule is to cook beef tenderloin for 8-10 minutes per pound.
What temperature should beef tenderloin be?
Beef tenderloin should be cooked to your personal liking. For medium-rare, it should be 135-140°F internally; for medium, 150°F; and for well-done, 160°F. I always recommend cooking beef tenderloin no more than medium for the most tender meat, though!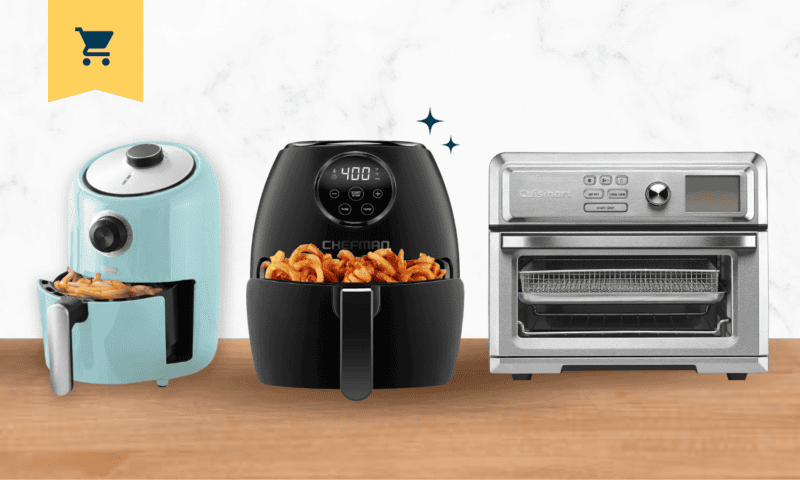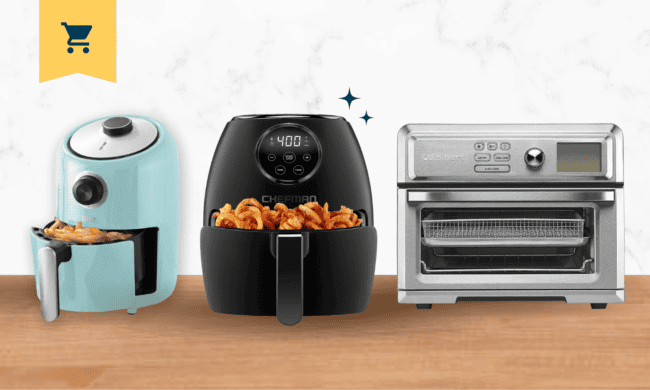 Best Small Air Fryers
We have reviewed our top 6 Small Air Fryers! Get reviews, pros, cons, and prices!
Top Small Air Fryers
Expert Tip
Your cooking time may vary depending on how you like your red meat cooked. For medium-rare, the internal temperature should reach 135-140°F, then 150°F for medium, and 160°F for well-done.
Having an instant-read thermometer hand will help you avoid undercooking or overcooking your tenderloin. However, any cooking thermometer will work!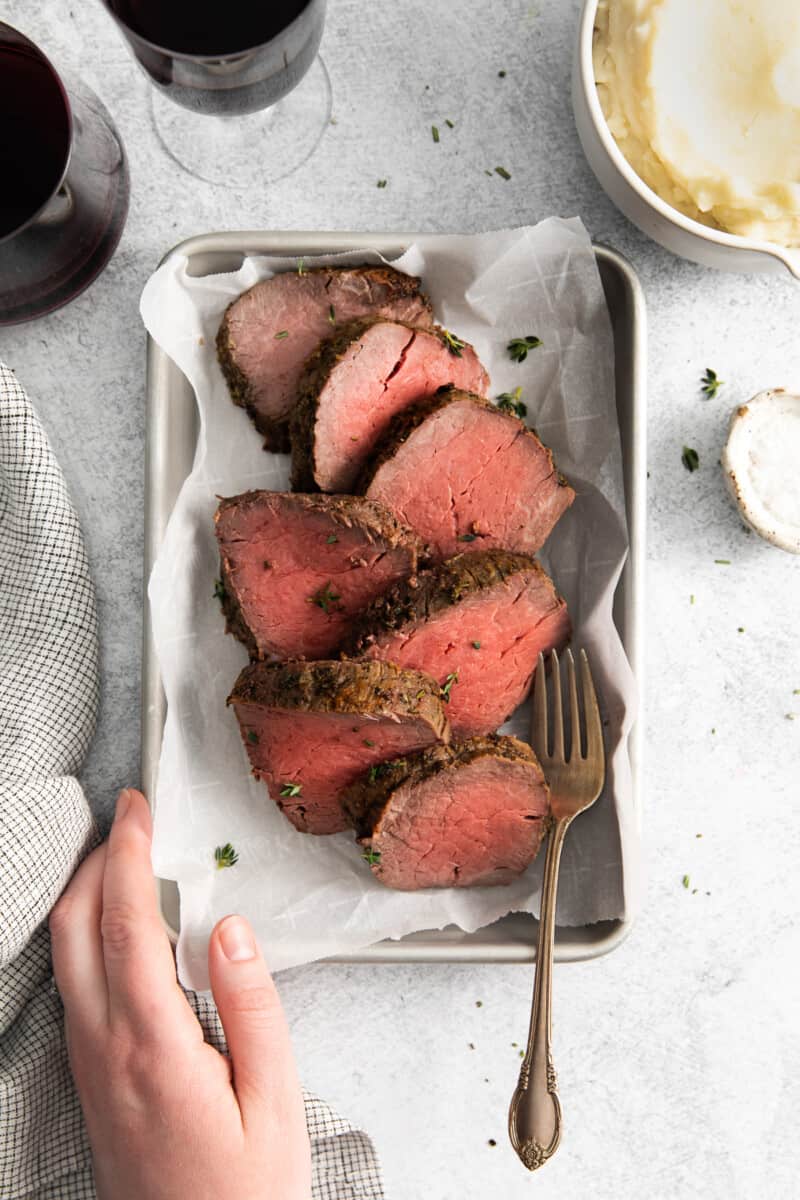 Make Ahead Instructions
You can prepare the compound butter up to 1 week in advance of when you plan to use it. Store the compound butter in an airtight container in the refrigerator until ready to use.
You can trim and tie the beef tenderloin up to 1 day in advance of when you plan to cook it. Store the beef tightly wrapped in the refrigerator until ready to cook.
Storage Instructions
Store leftover air fryer beef tenderloin in an airtight container in the refrigerator for up to 3 days. Reheat thinly sliced in a 350°F air fryer for 3-5 minutes, or until heated through.
Freezing Instructions
Freeze air fryer beef tenderloin whole or in individual slices in an airtight container for up to 3 months. Let thaw in the refrigerator overnight before reheating.
Substitutions
If you can only use one herb, just use 2 teaspoons of minced rosemary. Make sure to use fresh herbs– not dried!
Tips for the Best Air Fryer Beef Tenderloin
Choose a cut that is well-marbled for the juiciest, most flavorful tenderloin.
Use fresh herbs for the best flavor.
Letting the beef come to room temperature will allow it to cook more evenly, leading to a juicier tenderloin.
Preheat the air fryer for a few minutes before cooking to allow the beef to cook more evenly.
I suggest cooking the tenderloin anywhere between a medium-rare or medium temperature for the most tender roast.
Let the tenderloin rest for at least 10 minutes before cutting to seal in the juices.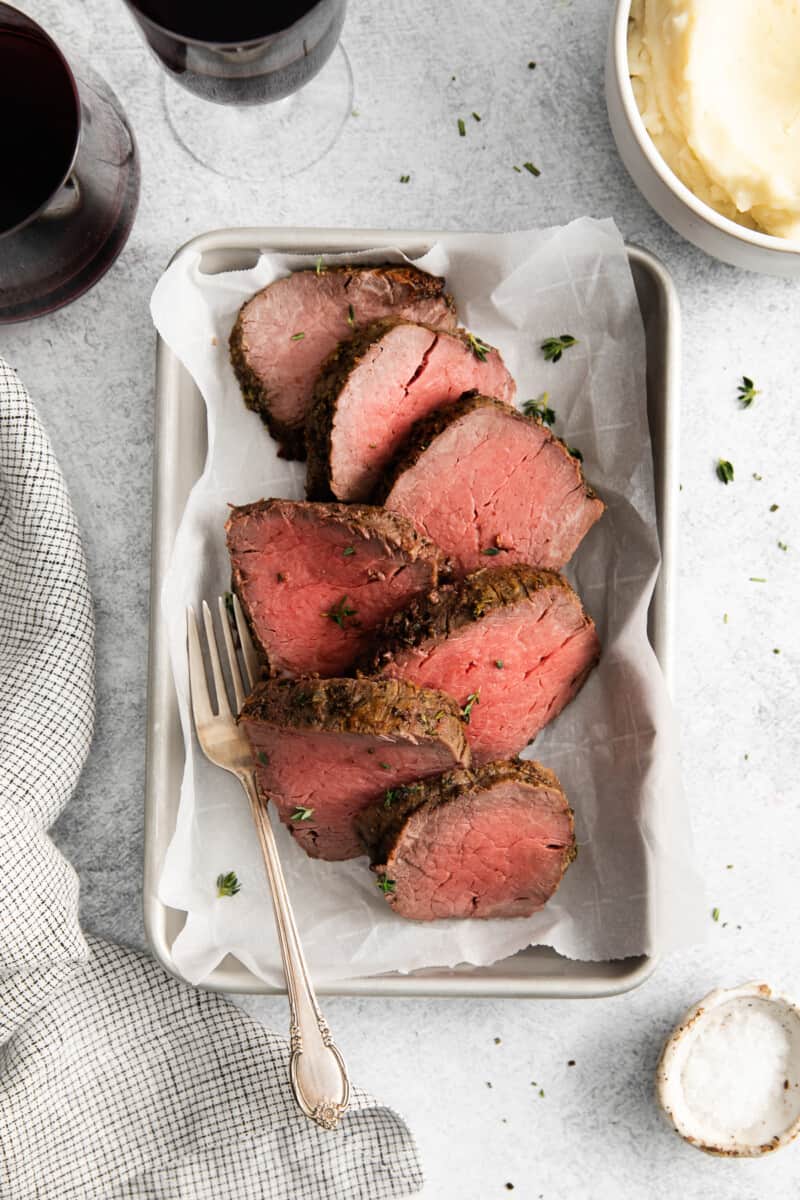 There you have it! The easiest way to make a beef tenderloin, right in your Air Fryer. We recommend serving this lean with some red wine for the ultimate fine dining experience. Enjoyed this recipe? Let us know in the comments below!
If you make this recipe be sure to upload a photo in the comment section below or leave a rating. Enjoy! You can also jump to recipe.