Take the stress out of Christmas day with this delicious Christmas Beef Tenderloin. This sheet pan beef tenderloin is cooked with red potatoes and mushrooms for a fuss-free roasted dinner that everyone will love. Finish off the meal with the delicious creamy blue cheese sauce.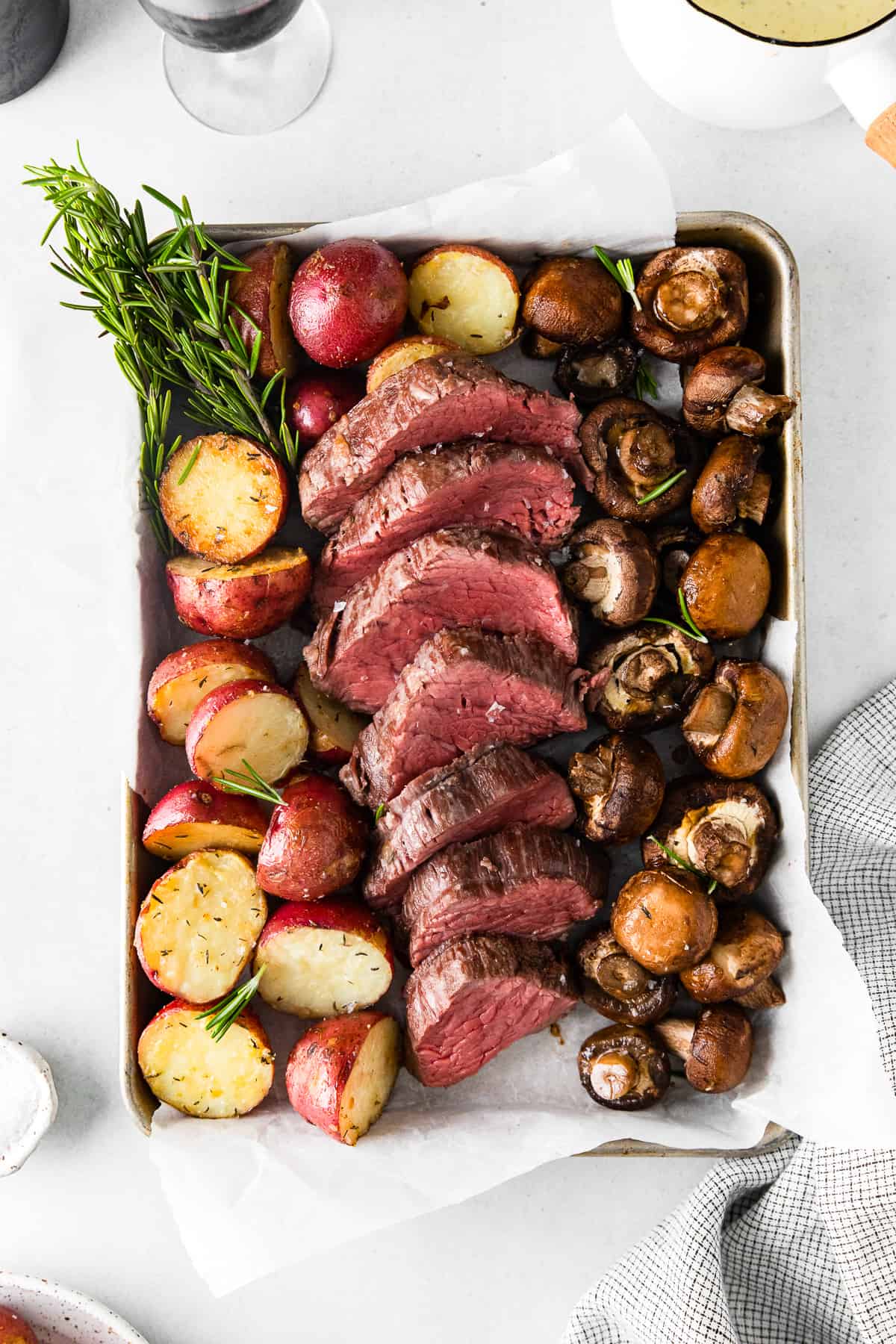 What's in Beef Tenderloin Christmas Dinner?
This sheet pan Christmas dinner with beef tenderloin is a fuss-free and foolproof method of getting a delicious dinner on the table to feed hungry mouths. This recipe serves four, so it's a great option if you are enjoying a more intimate celebration this year.
Beef Tenderloin:

I prefer to buy my beef tenderloins trimmed and tied (with the silver skin and fat removed and the beef tied into an even log)– just ask your butcher and they can help you find one!

Olive Oil: Helps the beef and vegetables brown without burning.
Salt + Pepper: The best way to flavor beef tenderloin– they lock in the flavor of the meat and enhance it's natural meatiness.
Baby Red Potatoes: Instead of red potatoes, try baby golden, fingerling, or sweet potatoes.
Garlic Powder + Thyme: Add delicious flavor to the potatoes- you can also add them to the mushrooms if you prefer.
Cremini Mushrooms: Instead of cremini mushrooms, try button or shitake mushrooms, sliced portobello would also work well.
Butter + Flour: Create a roux that thickens the sauce.
Fresh Garlic: Adds an earthy flavor and pungent aroma to the sauce.
Heavy Cream: Adds richness to the sauce and helps the cheese melt.
Blue Cheese: Instead of Roquefort (blue cheese), stilton or gorgonzola cheese would also be delicious.
Pro Tip: Never cook beef tenderloin past 140°F; otherwise, it will become tough and dry!
Variations on Beef Tenderloin for Christmas Dinner
The beef is simply seasoned, but you could add additional seasonings like garlic powder or paprika if you like.
If you're not a fan of mushrooms, try adding a different veggie, such as eggplant or zucchini!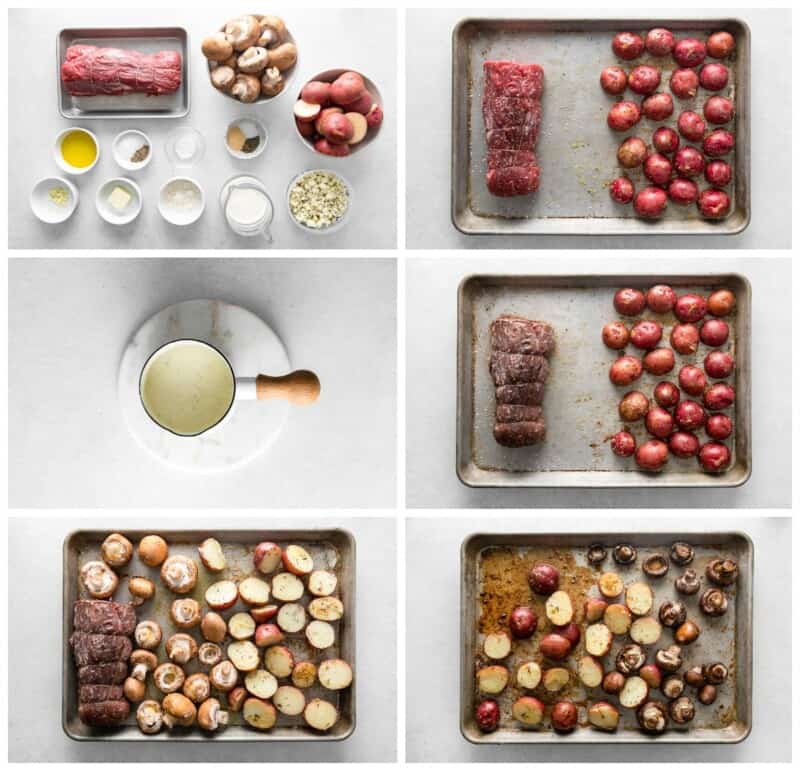 What is the best cut of beef for Christmas dinner?
In my opinion, you just can't beat beef tenderloin. It's so tender and delicious– totally worth splurging for the holiday!
How big of a beef tenderloin do I need for 4 adults?
Plan on 6-8 ounces of meat per person.
Which cooking method is best for beef tenderloin?
Oven-roasting is my favorite method for cooking beef tenderloin, so this sheet pan meal is a no-brainer!
What temperature should I cook the beef tenderloin to?
I highly recommend using a meat thermometer to measure the done-ness of your beef tenderloin. For medium-rare, remove the beef from the oven at 115°F and let it rise to 125°F while resting. For medium, remove the beef from the oven at 120°F and let it rise to 130°F while resting.
Why is my beef tenderloin tough?
If you overcook this cut of meat, it will turn out dry and tough. I recommend only cooking it to rare or medium-rare (never past 140°F).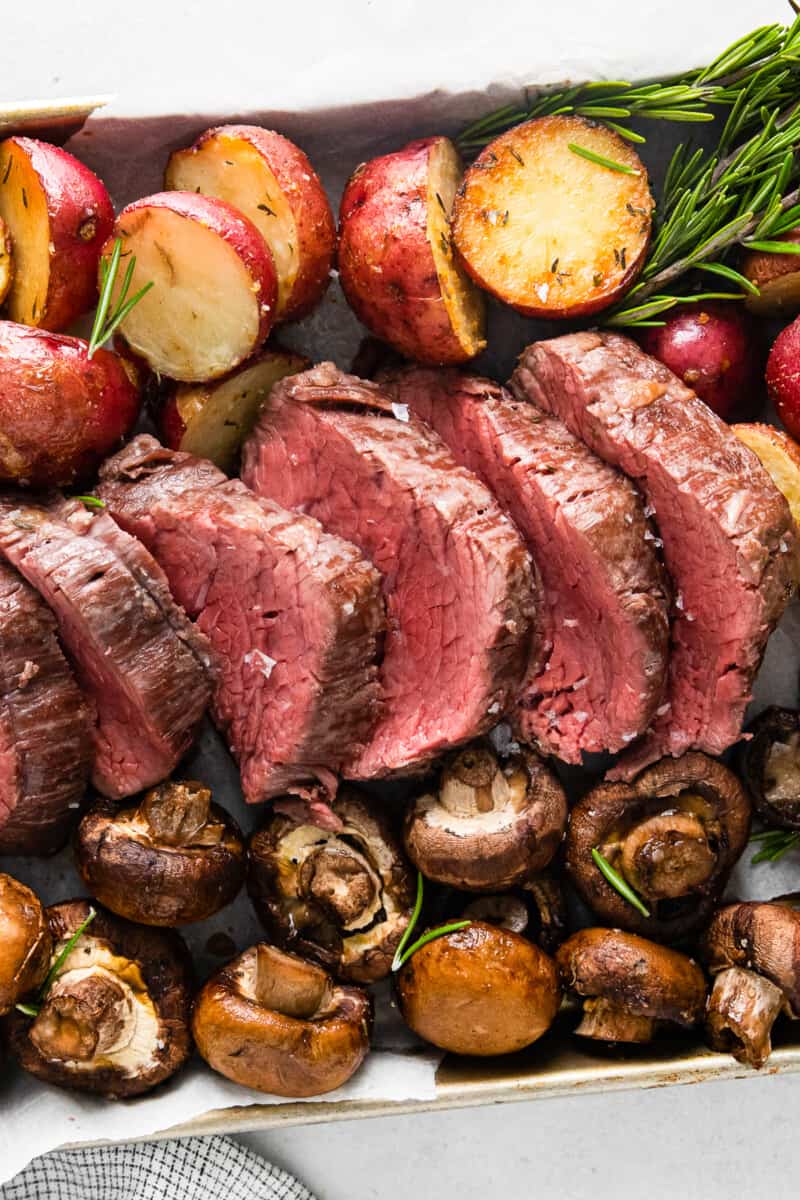 How to Store and Reheat
Store leftover Christmas beef tenderloin covered in the fridge for up to 2 days. The beef can be enjoyed cold in sandwiches, or heated up in the oven covered with foil at 360°F until warmed through.
How to Freeze
Freeze sheet pan beef tenderloin in an airtight container or Ziplock bag for up to 3 months. Let thaw overnight in the refrigerator before reheating.
Serving Suggestions
This sheet pan Christmas dinner is a whole meal by itself, but you can easily serve it up alongside other Christmas favorites like Turkey Gravy, Roasted Maple Bacon Brussels Sprouts, Red Wine Glazed Carrots, or Mashed Sweet Potatoes.
More Sheet Pan Meals We Love