This Crockpot Beef Tenderloin melts in the mouth and takes minimal effort to make! Serve up with my easy béarnaise sauce, for a delicious meal. It's perfect for the holidays and special occasions.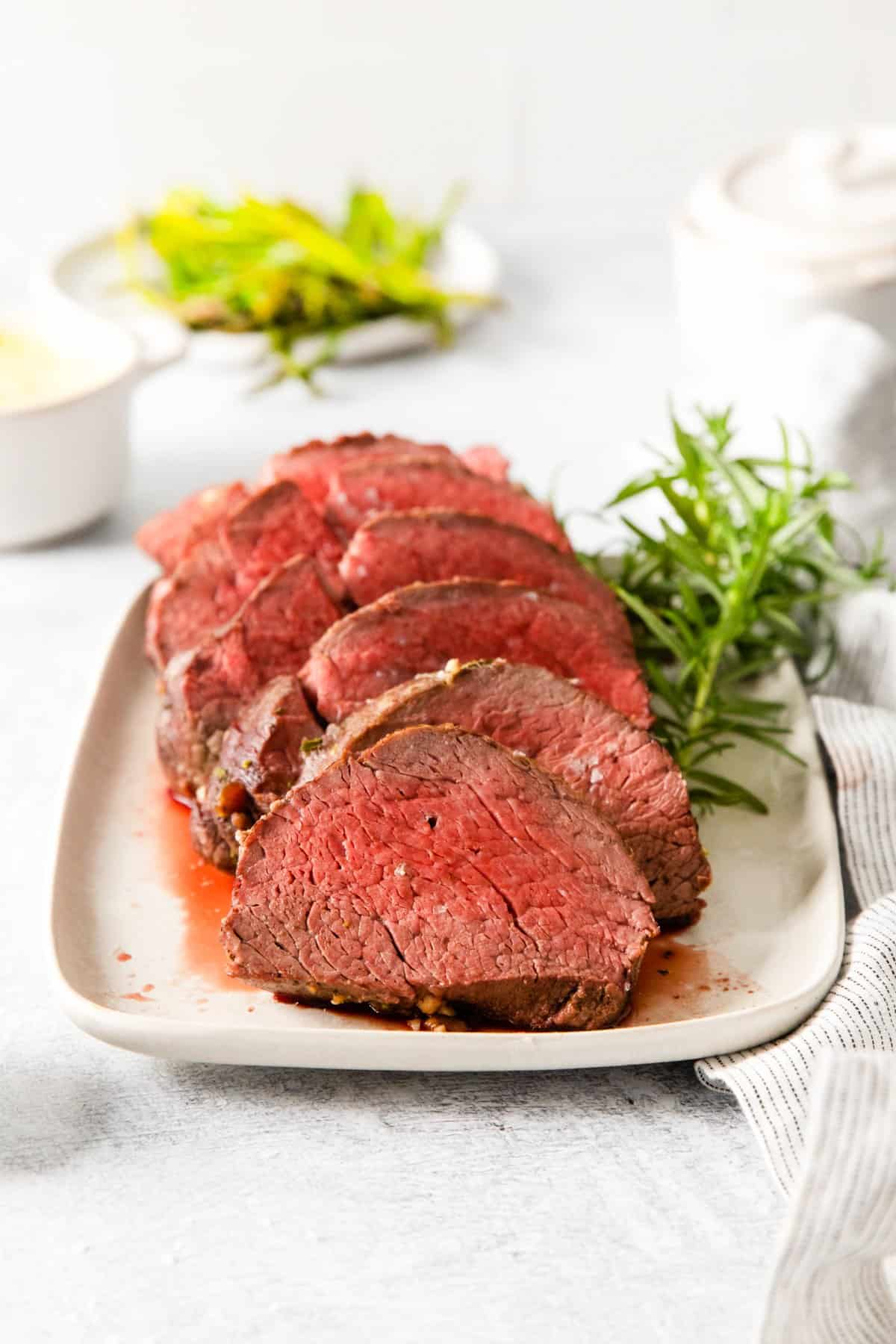 What's in this Crockpot Beef Tenderloin Recipe?
Beef tenderloin is a fantastic cut, but can turn out dry and chewy if not cooked properly. This slow cooker beef recipe gives you tender, flavorful tenderloin every time! This is an easy showstopper, perfect for dinner parties and holidays!
Beef Tenderloin: A great cut of meat, but the key is to not overcook it, as it can become dry if cooked past medium-rare. You can trim and tie the tenderloin yourself but it is much easier to have a good butcher do it for you!
Garlic + Rosemary: The perfect complement to beef tenderloin! The key is strong, aromatic flavors, so make sure you go for fresh herbs.
White Wine Vinegar: The base of béarnaise. It adds a subtle acidity and sweetness. I do not recommend substituting another vinegar.
Shallot: Adds a subtle onion flavor to the béarnaise. Again, make sure to mince it small! No one wants a big bite of shallot in their sauce.
Dijon: Adds a bit of zing to the sauce to help cut through the richness. It also helps prevent the sauce from curdling.
Egg Yolks: Add richness and help thicken the sauce.
Unsalted Butter: Gives the sauce substance and richness, plus delicious butter flavor! No need to clarify it for this recipe.
Tarragon: The main flavor in béarnaise. It has a subtle anise flavor and pairs deliciously with beef. Don't skip it!
Pro Tip: You can use 1½ teaspoons of dried tarragon in place of fresh.
Variations on Slow Cooker Beef Tenderloin
If you prefer a more Dijon-forward sauce, leave out the lemon and the sauce will be more mustard-herb. For a more subtle flavor (closer to a true béarnaise), add the juice of half of a lemon (about 1-2 tablespoons) and whisk to combine.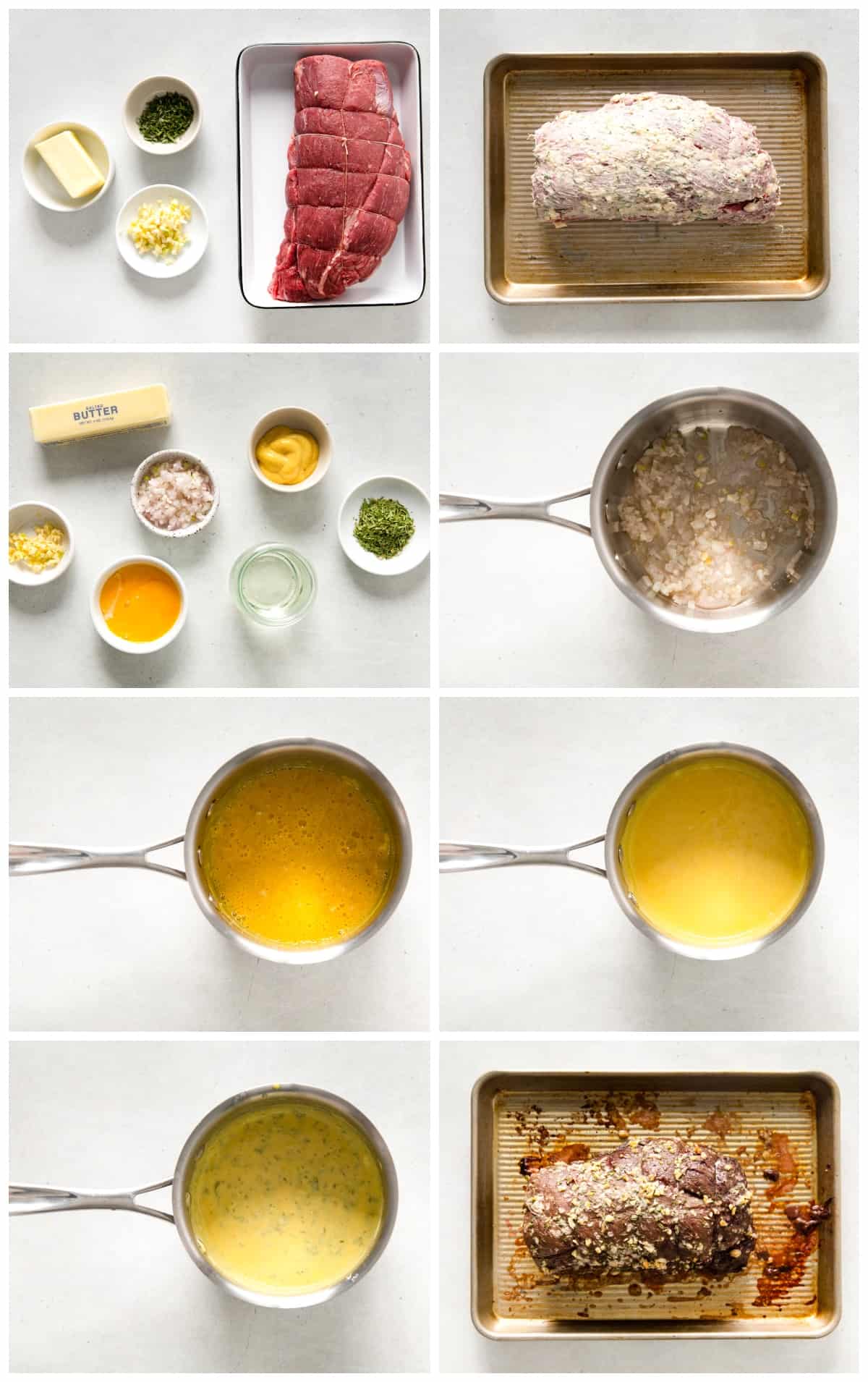 Is beef tenderloin a good cut of meat?
Beef tenderloin is widely regarded as the most tender cut of beef. It's important not to overcook beef tenderloin, though, as it can become tough and dry if cooked past medium-rare. The crockpot is a great way to cook tenderloin low and slow.
Does beef go tough in the slow cooker?
Without enough liquid or cooking time, beef can turn out tough in the slow cooker. Make sure to add plenty of beef broth and check the temperature often towards the end of the cook time.
Is it best to cook beef tenderloin on high heat or low heat?
I recommend cooking this beef on low heat in the crockpot to ensure that it doesn't cook too quickly and turn out tough.
What's the ideal temperature for beef tenderloin?
Beef tenderloin is best served at medium-rare or below. Rare beef is usually cooked to 125-135°F, and medium-rare is up to 140°F. Feel free to download my meat temperature chart for easy reference!
Can I make crockpot beef tenderloin in the oven?
Yes! Preheat the oven to 285°F, season the beef, and cook on a rimmed baking sheet for 50-60 minutes, or until the beef registers 115°F internally. Cover tightly with foil and allow it to rest for 10 minutes while you prepare the sauce.
Why is my beef tenderloin tough?
If your tenderloin is tough, it's likely that either the heat was too high or the beef is overcooked. I recommend cooking on low heat and not letting the meat get above 140°F.
What's the difference between a hollandaise and a béarnaise sauce?
The main difference between a hollandaise and a béarnaise is flavor. The base of the sauce is the same, but a béarnaise sauce includes tarragon and shallots in a wine reduction.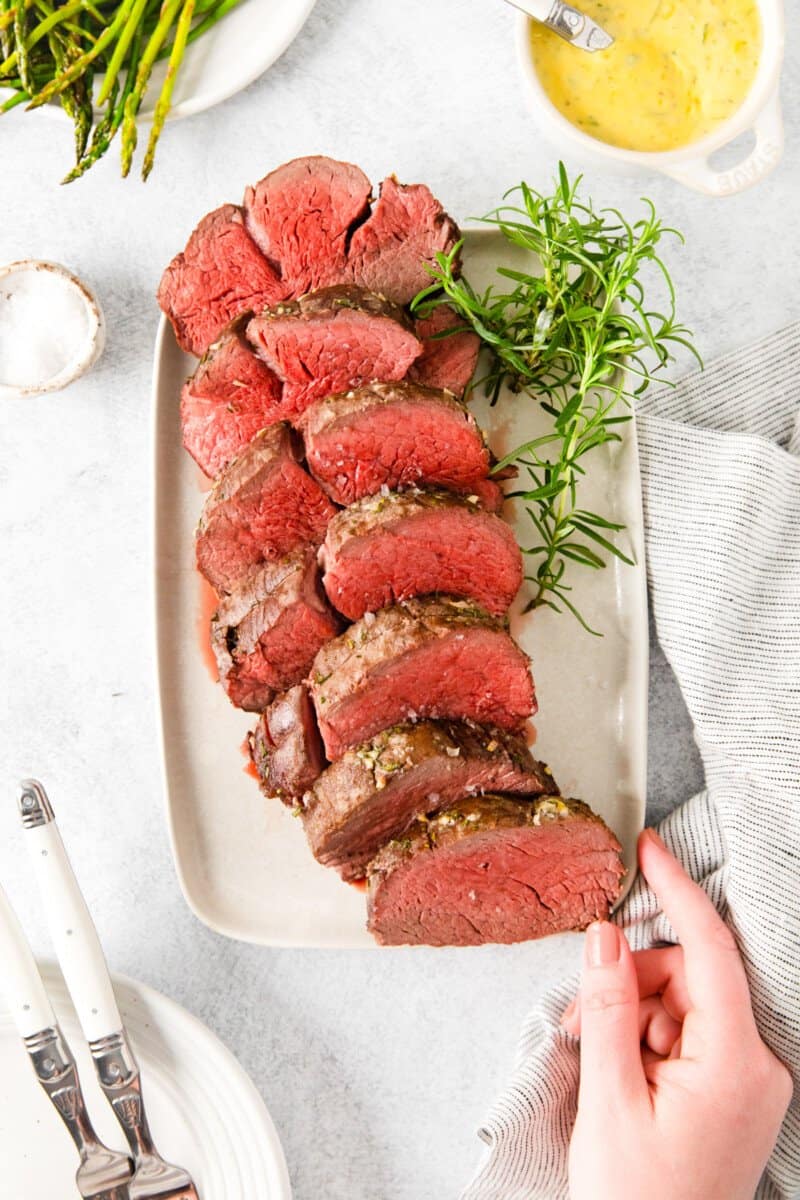 How to Store and Reheat
Store leftover crockpot beef tenderloin in an airtight container in the refrigerator for up to 3 days. Store leftover béarnaise sauce in the refrigerator for up to 2 days. Reheat béarnaise sauce gently in a saucepan set over medium-low heat, and whisk in 1 egg yolk to restore the emulsion.
How to Freeze
Freeze crockpot beef tenderloin in an airtight container for up to 3 months and béarnaise sauce in a Ziplock bag for up to 1 month. Allow beef and sauce to thaw overnight in the refrigerator before reheating.
Serving Suggestions
You can serve this delish dish with a multitude of yummy sides, like Three Cheese Asparagus Gratin, Garlic Mashed Cauliflower, Air Fryer Mushrooms, Classic Green Bean Casserole, or Chantilly Potatoes.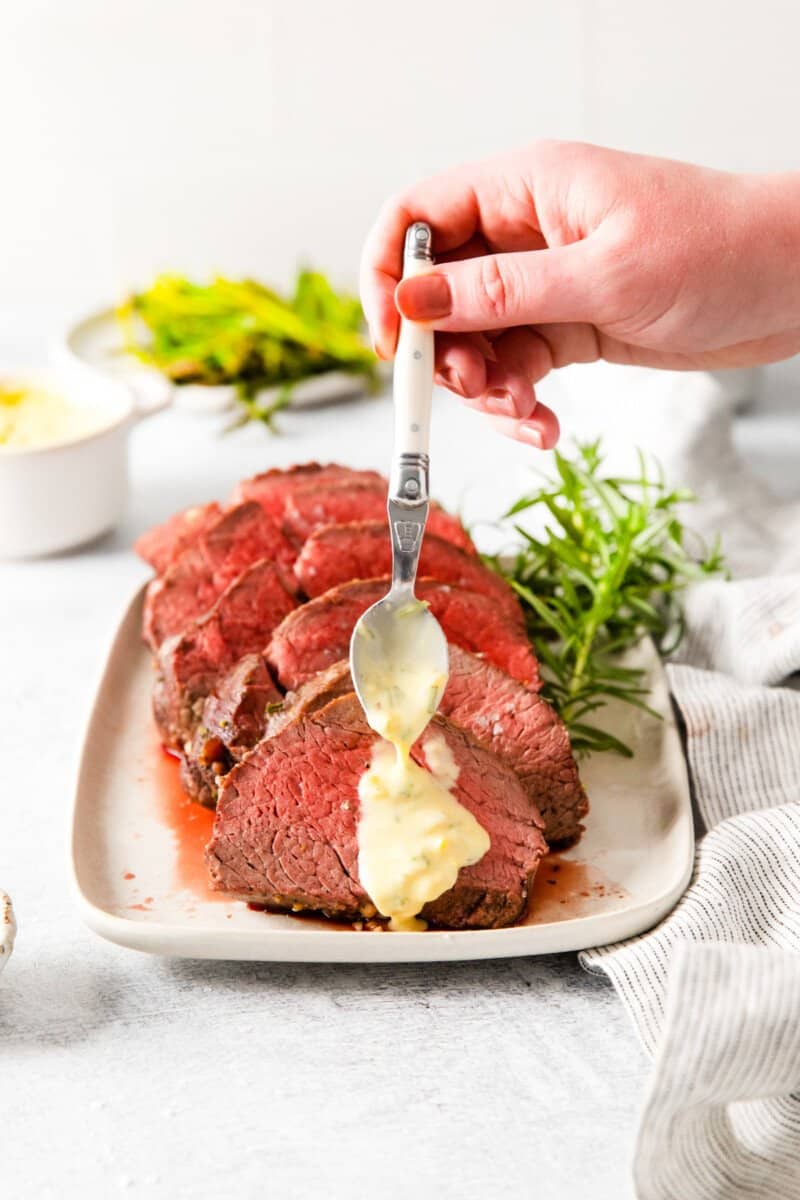 More Beef Tenderloin Recipes We Love