This Crockpot Beef Tenderloin melts in the mouth and takes minimal effort to make! Serve up with my easy Béarnaise sauce, for a delicious meal. It's perfect for the holidays and special occasions.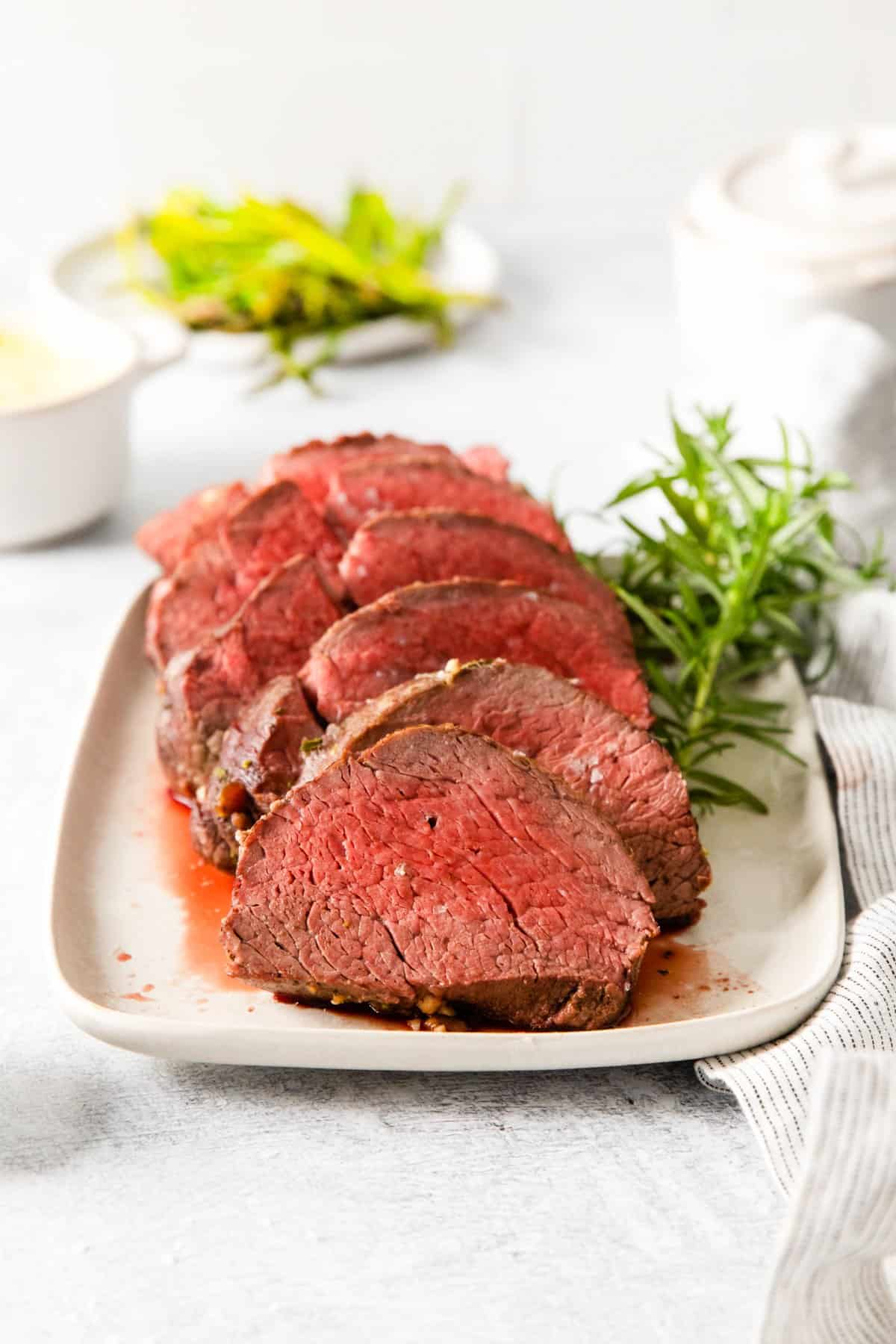 Beef Tenderloin with Béarnaise Sauce
Beef tenderloin is a fantastic cut, but can turn out dry and chewy if not cooked properly. This slow cooker beef recipe gives you tender, flavorful tenderloin every time! This is an easy showstopper, perfect for dinner parties and holidays!
Looking for more holiday mains? Why not also try my Brown Sugar Pineapple Ham and my Herb Crusted Rack of Lamb Recipe with Mint Yogurt Sauce.
Why You'll Love this Beef Tenderloin Recipe:
Tender: Cooked low and slow in the crockpot, this beef tenderloin has a brown crust and is perfectly pink middle!
Savory: Cooked in garlic, herbs, and beef broth, this easy dish is packed with savory flavors!
Easy: Season and sear the beef then pop it in the crockpot, done! And the homemade Béarnaise sauce is a breeze to make – easy all around!
Cooking the beef in a crockpot locks in all the flavors and distributes them evenly, delivering full-on taste in every bite!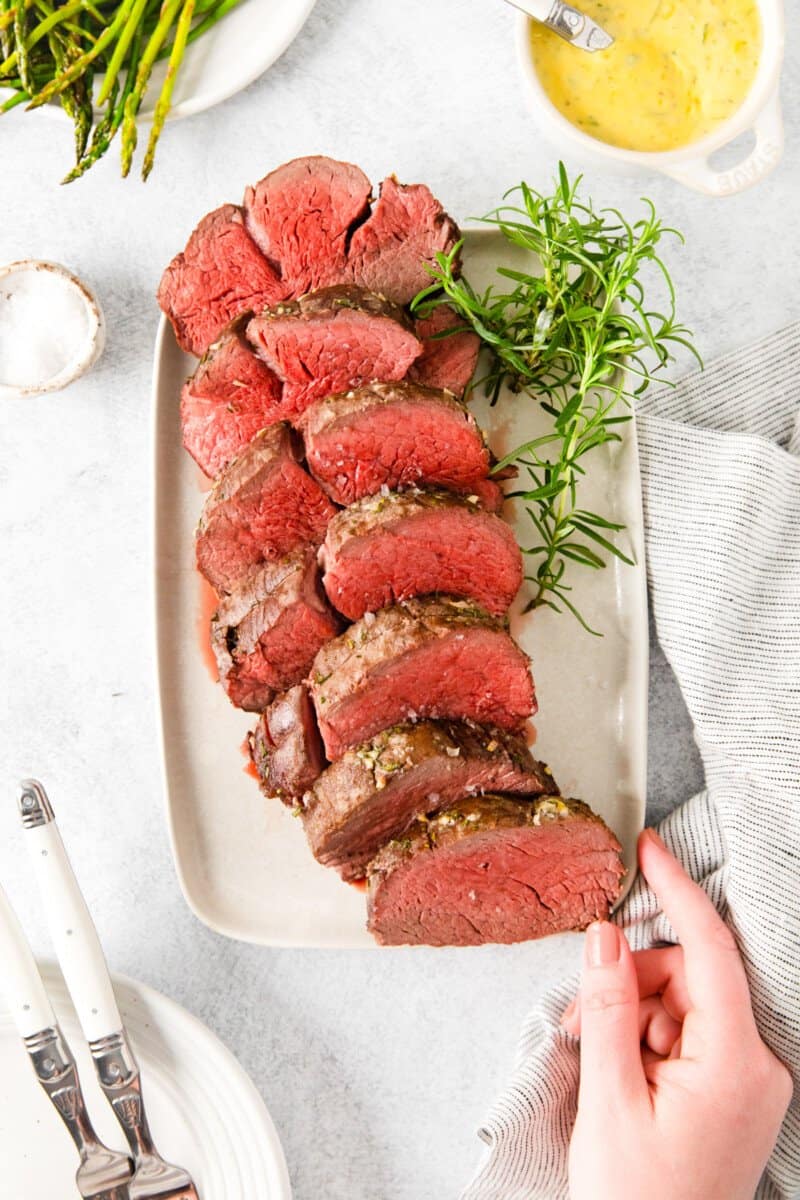 How to Make Crockpot Beef Tenderloin
You can jump to the recipe card for full ingredients & instructions!
Sear the seasoned tenderloin in a large skillet.
Transfer the beef to the crockpot and cook on low for 3-6 hours.
Mix your sauce ingredients in a saucepan and simmer for 1-2 minutes.
Allow the beef to rest for 10 minutes, then serve with the sauce.
Ingredient Notes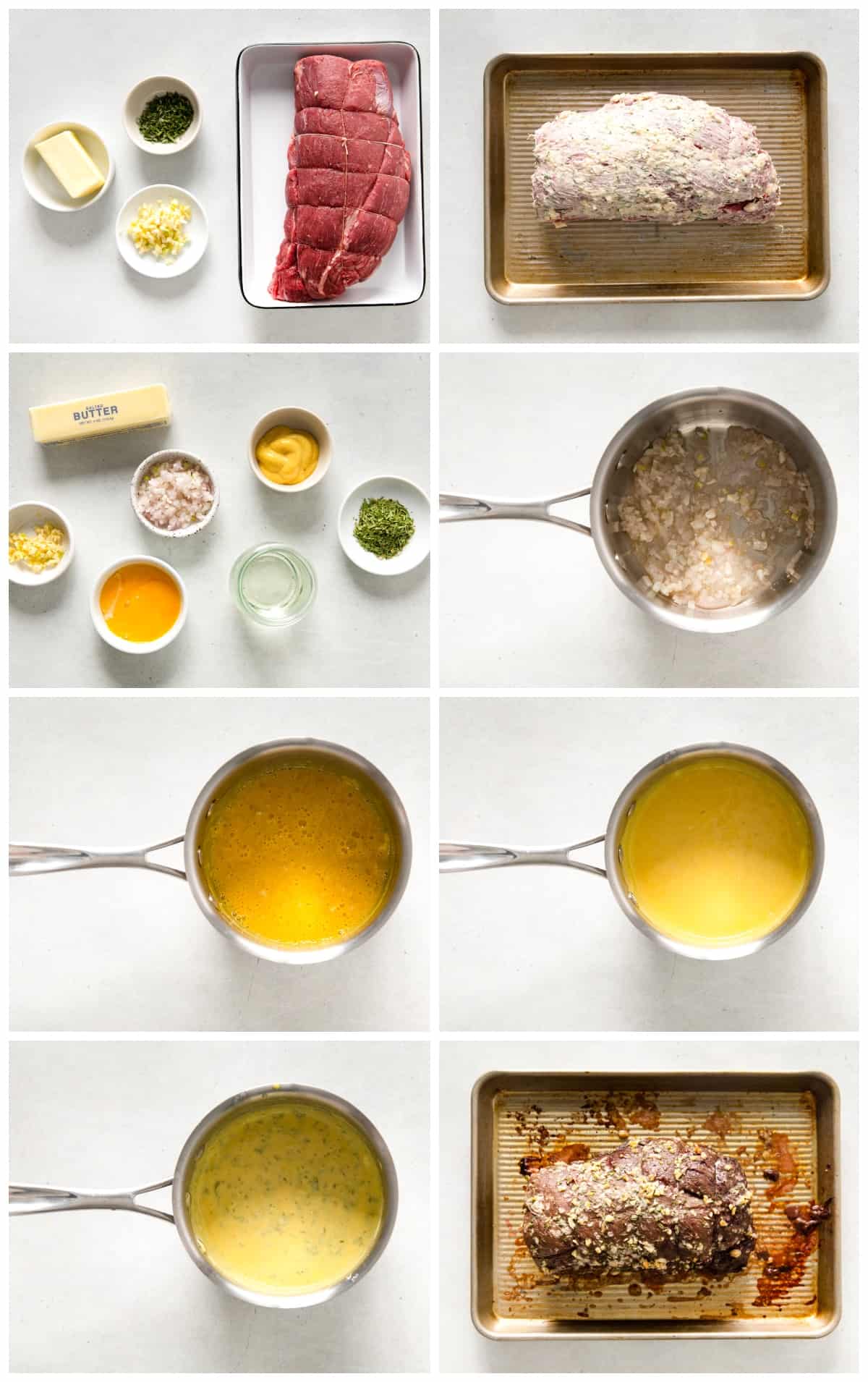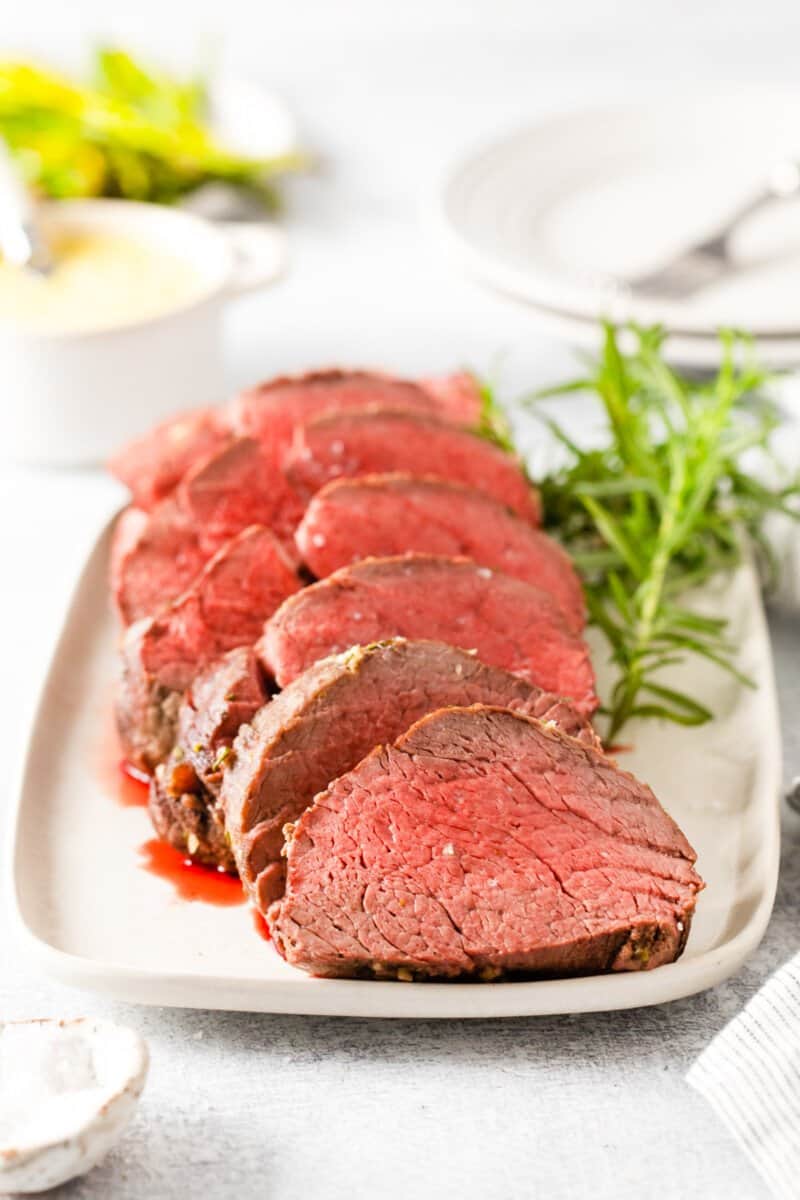 Is beef tenderloin a good cut of meat?
Beef tenderloin is widely regarded as the most tender cut of beef. It's important not to overcook beef tenderloin, though, as it can become tough and dry if cooked past medium-rare. The crockpot is a great way to cook tenderloin low and slow.
Can I make crockpot beef tenderloin in the oven?
Yes! Preheat the oven to 285°F, season the beef, and cook on a rimmed baking sheet for 50-60 minutes, or until the beef registers 115°F internally. Cover tightly with foil and allow it to rest for 10 minutes while you prepare the sauce.
What's the ideal temperature for beef tenderloin?
Beef tenderloin is best served at medium-rare or below. Rare beef is usually cooked to 125-135°F, and medium-rare is up to 140°F. Feel free to download my meat temperature chart for easy reference!
What's the difference between a hollandaise and a bearnaise sauce?
The main difference between a hollandaise and a bearnaise is flavor. The base of the sauce is the same, but a Bearnaise sauce includes tarragon and shallots in a wine reduction.
Serving Suggestions
You can serve this delish dish with a multitude of yummy sides. Here are some favorites:
If you're looking for an easy, impressive, and delicious holiday main, look no further!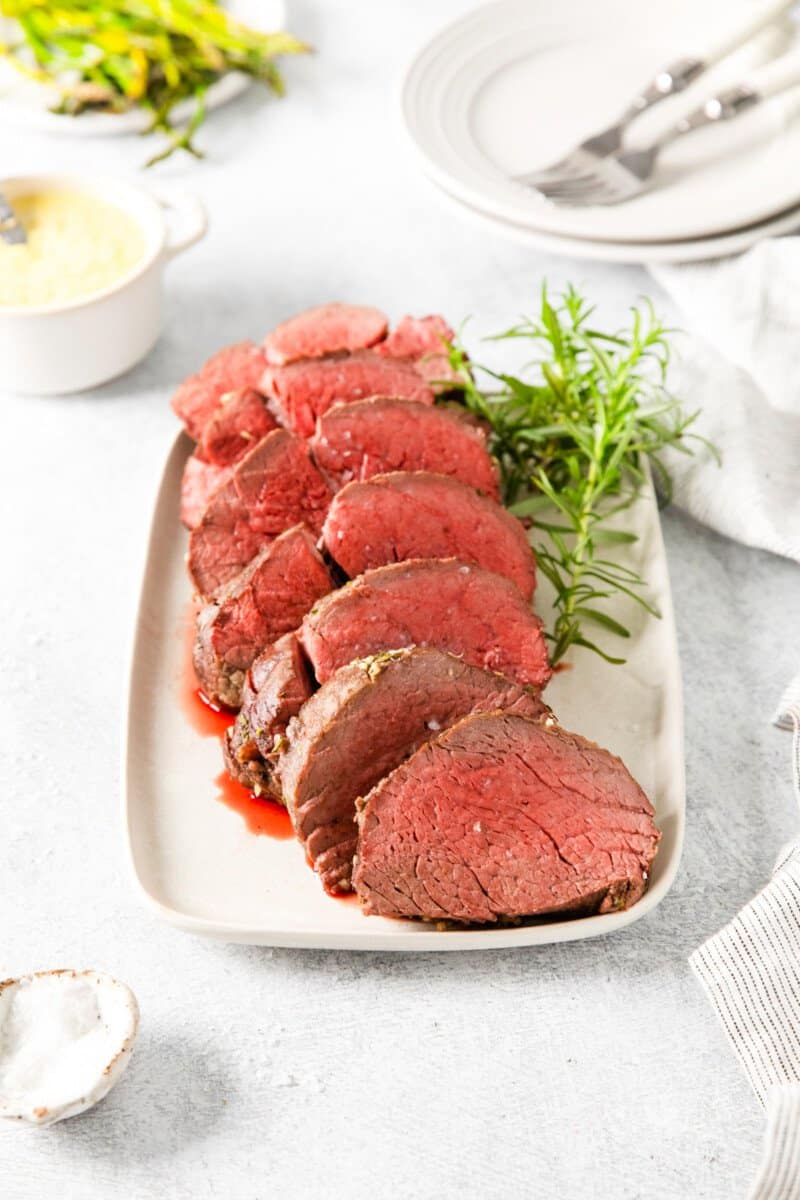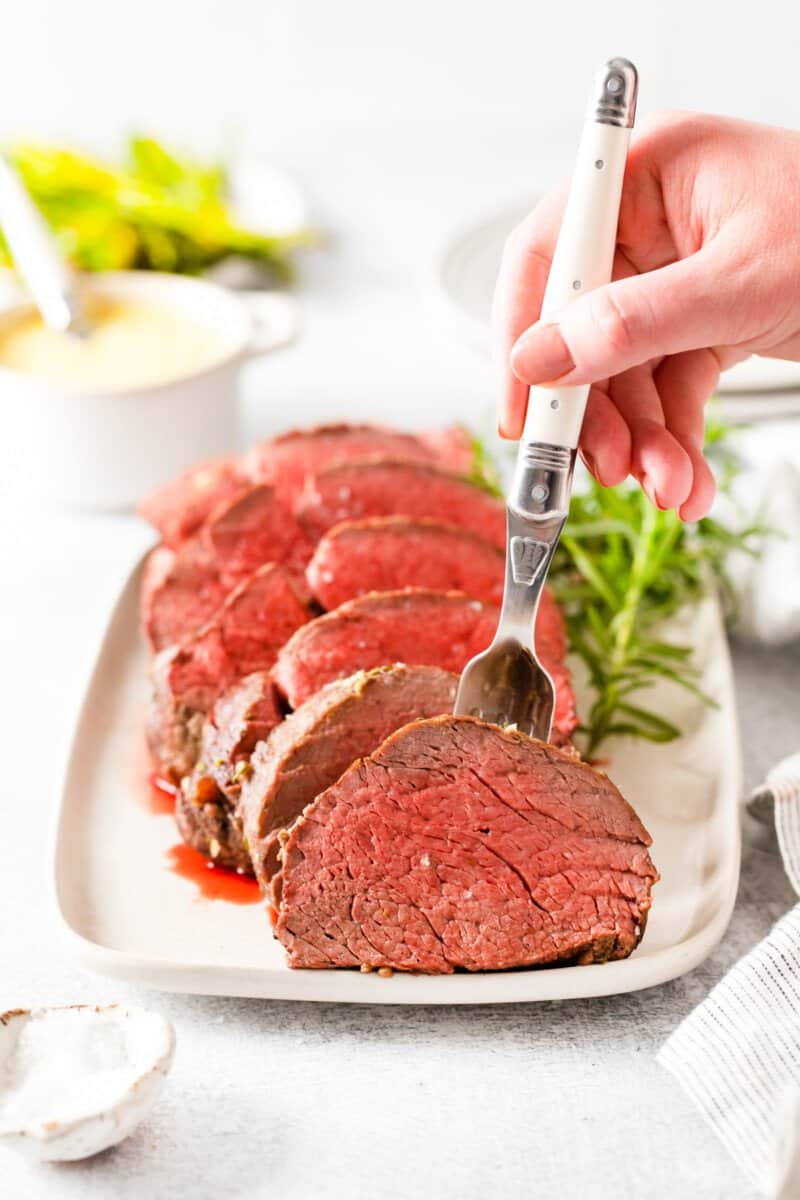 Storage Instructions
Store leftover crockpot beef tenderloin in an airtight container in the refrigerator for up to 3 days. Store leftover bearnaise sauce in the refrigerator for up to 2 days. Reheat bearnaise sauce gently in a saucepan set over medium-low heat, and whisk in 1 egg yolk to restore the emulsion.
Freezing Instructions
Freeze crockpot beef tenderloin in an airtight container for up to 3 months and bearnaise sauce in a Ziplock bag for up to 1 month. Allow beef and sauce to thaw overnight in the refrigerator before reheating.
Is Your Bearnaise…
Too thin?
If your bearnaise sauce is not thickening, you likely added the butter a bit too quickly. This is easily fixed, though! Rinse out a mixing bowl with hot water. Put in a teaspoon of lemon juice and a tablespoon of the runny bearnaise sauce. Beat with a wire whisk for a moment until the sauce creams and thickens, then stir back into the runny sauce.
Too thick?
If the sauce becomes too thick, add 1 tablespoon of very hot water and whisk to combine. Keep adding hot water until you achieve your desired consistency.
Curdled?
If the sauce seems curdled, use the above instructions for a sauce that is too thin.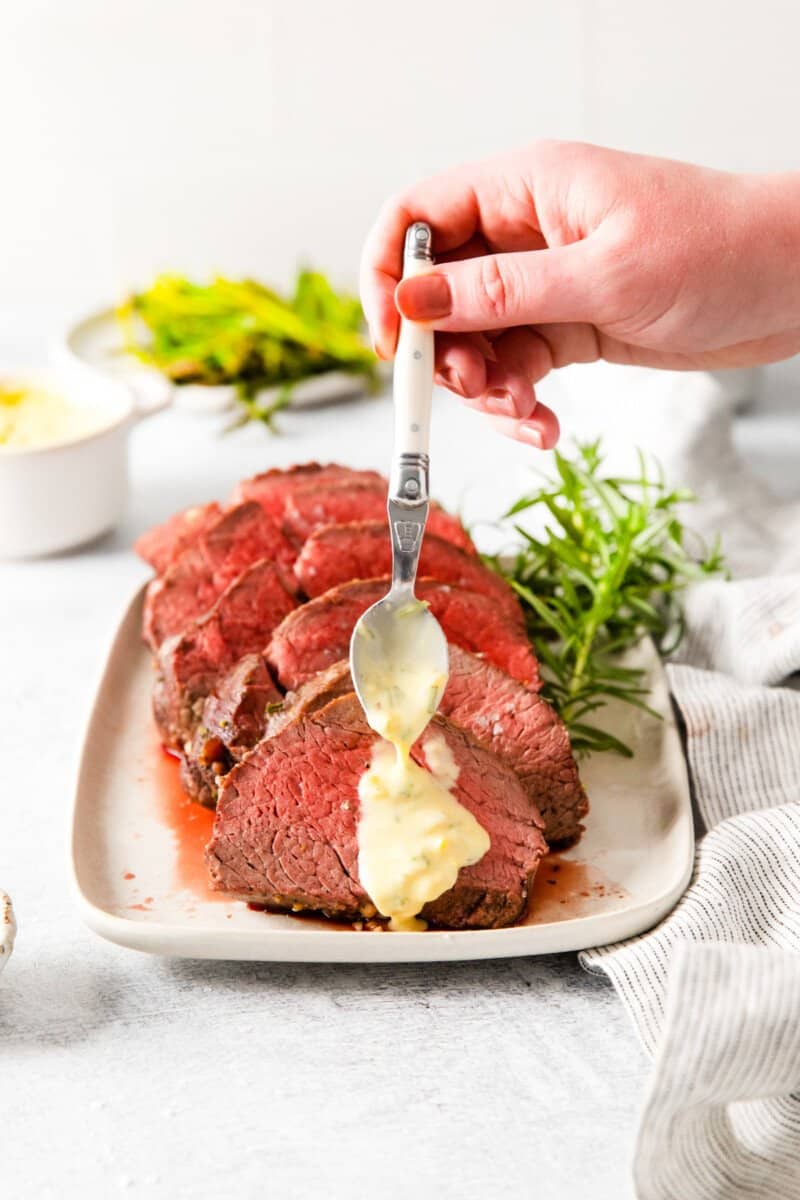 Beef tenderloin absolutely shines in the crockpot! The cut comes out pink in the middle with browned edges, loaded with flavor, and super tender. An awesome addition to your holiday menu, plus the easy Béarnaise sauce adds a restaurant level of quality to the dinner. You will love this!
If you make this recipe be sure to upload a photo in the comment section below or leave a rating. Enjoy! You can also jump to recipe.