Pork Tenderloin with Honey and Herbs is a delicious and easy recipe! This HONEY HERB PORK TENDERLOIN RECIPE will change the way you feel about cooking pork. It's tender, juicy, full of flavor, and most importantly EASY! If you've wondered How to Make Pork Tenderloin while cooking the meat to perfection, this recipe is for you. Don't you just want to bathe in that sauce?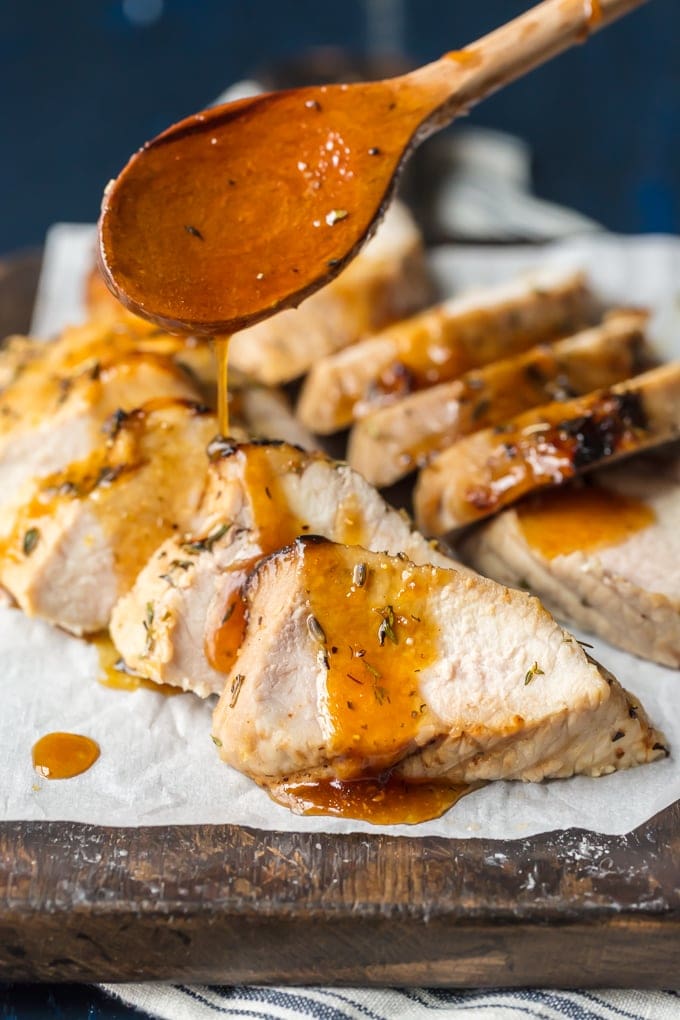 Honey Herb Pork Tenderloin
Have you ever cooked Pork Tenderloin? Do you want to? Are you not sure?? TODAY IS THE DAY! It's so much better than pork chops (in my humble opinion) because it's easier to keep it moist and tender and FULL OF FLAVOR!
We have coated this little Pork Tenderloin beauty in herbs and drizzled in the most amazing honey sauce to create a fancy meal that anyone and everyone can prepare and nail each and every time.
With this Pork Tenderloin Recipe you'll look like a chef in your very own home and your family will be left kissing the ground you walk on (and licking their plates clean). The perfect recipe!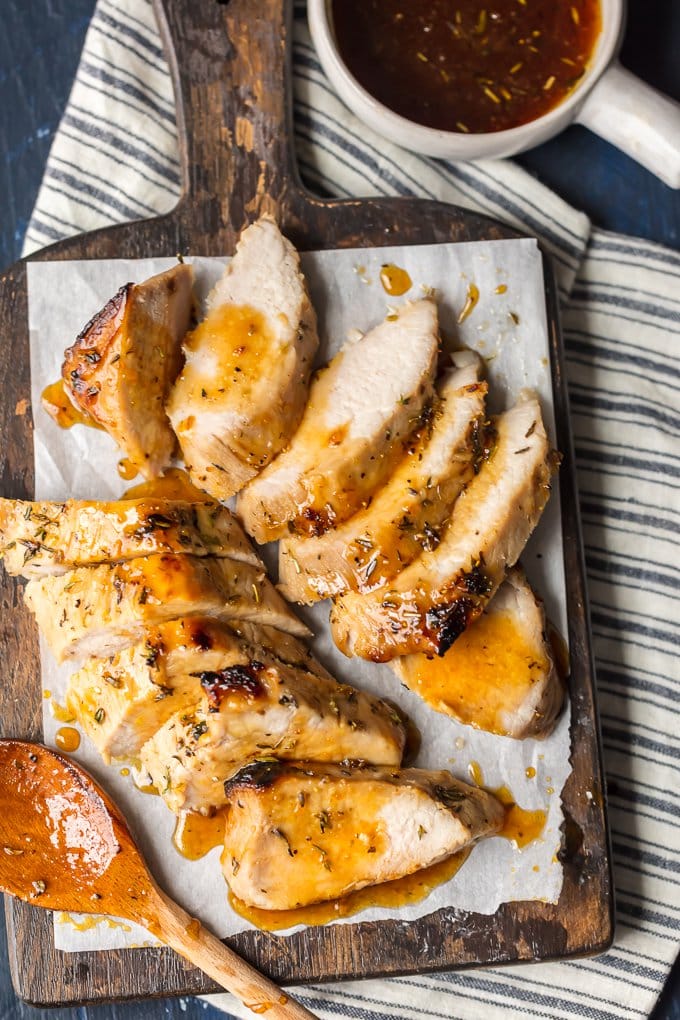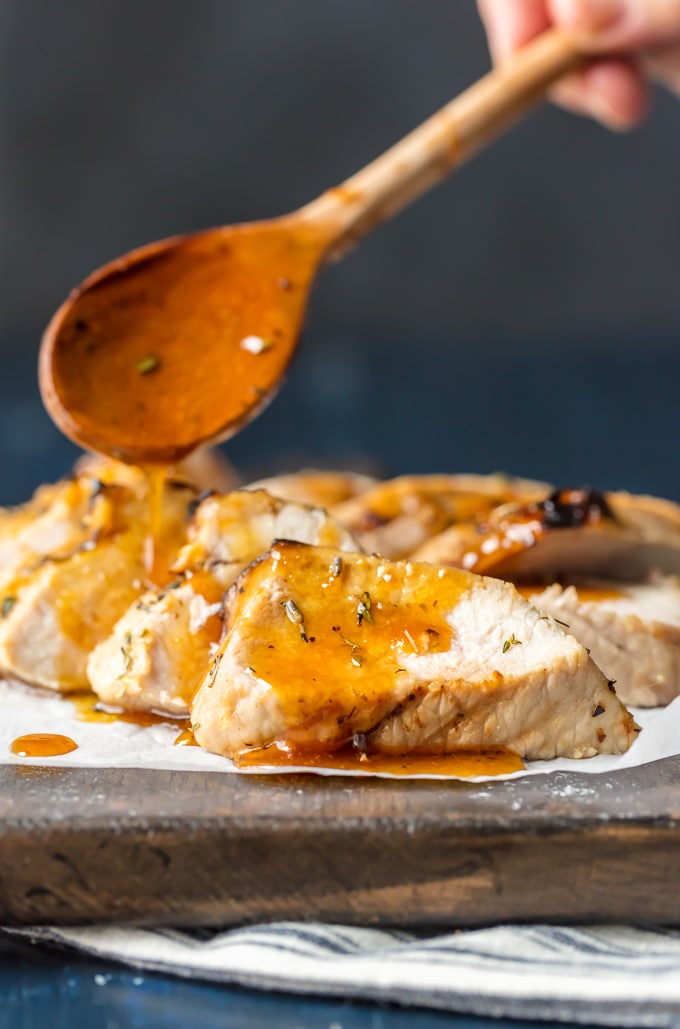 How to Cook Pork
Everyone wants to make pork that is tender and juicy, but unfortunately it's easy to overcook pork. HELP IS ON THE WAY!
Whenever I make this Honey Herb Pork Tenderloin I feel like a kitchen Goddess. It's a great recipe for entertaining friends or family but you shouldn't feel like you have to save it for a special occasion. It's also awesome on busy weeknights and perfect to take to work the next day for a light and delicious lunch. Your coworkers would for sure be jealous of this one. Be sure to pack extra sauce because YUM!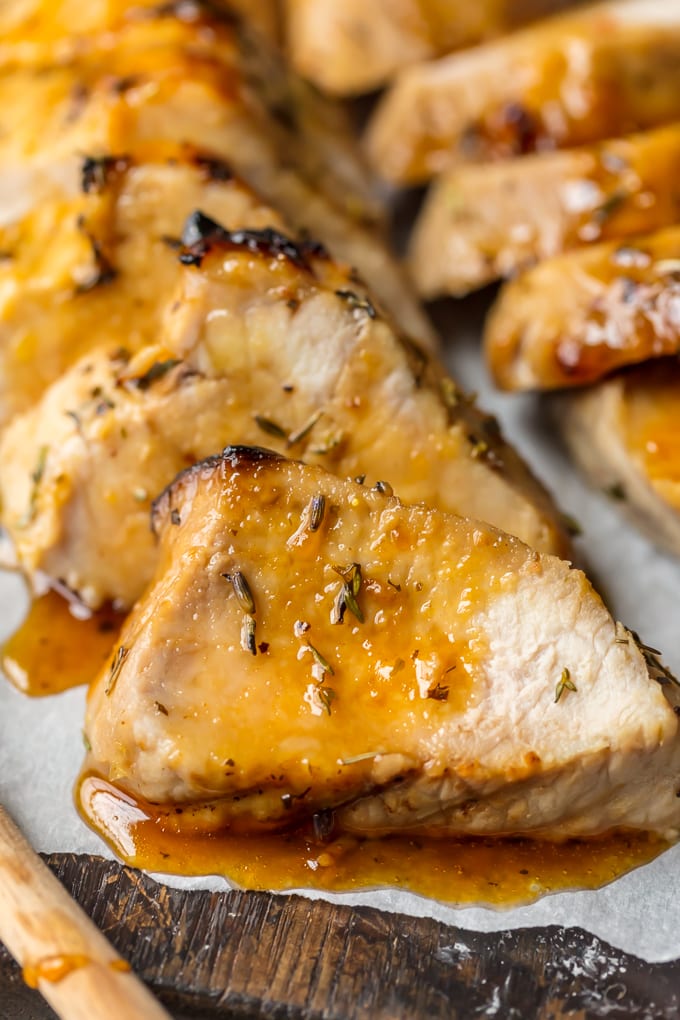 What to serve with this Herb Pork Tenderloin Recipe:
I think this meal works year round to bring flavor to the table in an unexpected way. Flavor explosion. Pair it with asparagus, oven roasted melting potatoes, or even cheesy brussels! The sky is the limit and you can't go wrong. It's like eating at the fanciest restaurant in town…but at home. And YOU made it. And it was secretly EASY! Is this real life?
We have recently updated our site to be much more user friendly, and our SIDE DISH RECIPES are just one example. On that page you'll find all of our favorite sides, for every occasion. There are lots of options for the perfect pairing to this Pork Tenderloin Recipe.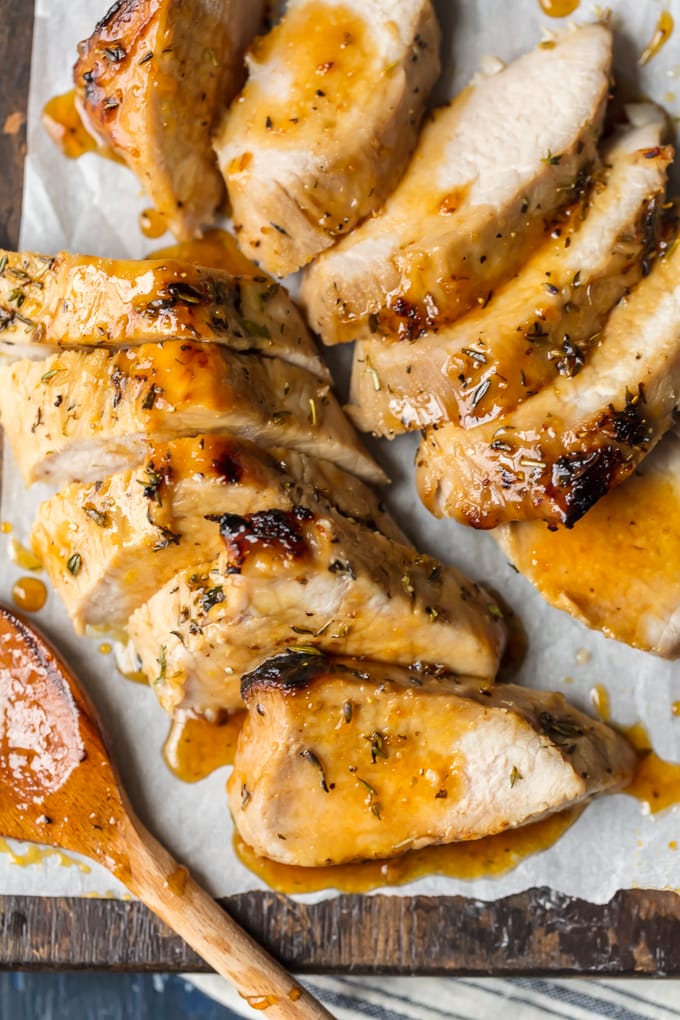 What is the difference between Pork Loin and Pork Tenderloin?
The main difference is what part of the pig the meat comes from. You might think so as the names suggest, but they aren't! The Pork Loin will be wide enough to cut steak like pieces from, and the tenderloin is thinner and smaller. You can see in the picture that each slice is 2-3 bites at most.
Can Pork Tenderloin be a little pink in the middle??
YES! The USDA just gave their seal of approval for slightly pink Pork Tenderloin and I'm so glad. It's juicier and so much tastier. See below for recommended internal temperatures for Pork.
How pink is TOO PINK for a cooked Pork Tenderloin Recipe?
The USDA used to recommend 165F internal temp for Pork Tenderloin but now they say 145F is just fine. Slightly pink is okay, but the pork will still be mostly white/opaque. Three cheers for 145F internal temp!
I hope you give this Honey Herb Pork Tenderloin a try ASAP. Let me know how you like it! Don't be scared. You've got this.
See below for How to Make Pork Tenderloin with Honey and Herbs:
AROUND THE WEB: Ginger Glazed Sticky Pork, Pork Chops with Mushroom Gravy, and Creamy Garlic Parmesan Pork Chops.