This classic Chocolate Cream Pie recipe features a sweet, smooth, decadent chocolatey pie filling topped with fluffy whipped cream. It only takes about 10 minutes to prep, so it's perfect for busy holidays like Thanksgiving and Christmas. Easy and impressive – the best of both worlds!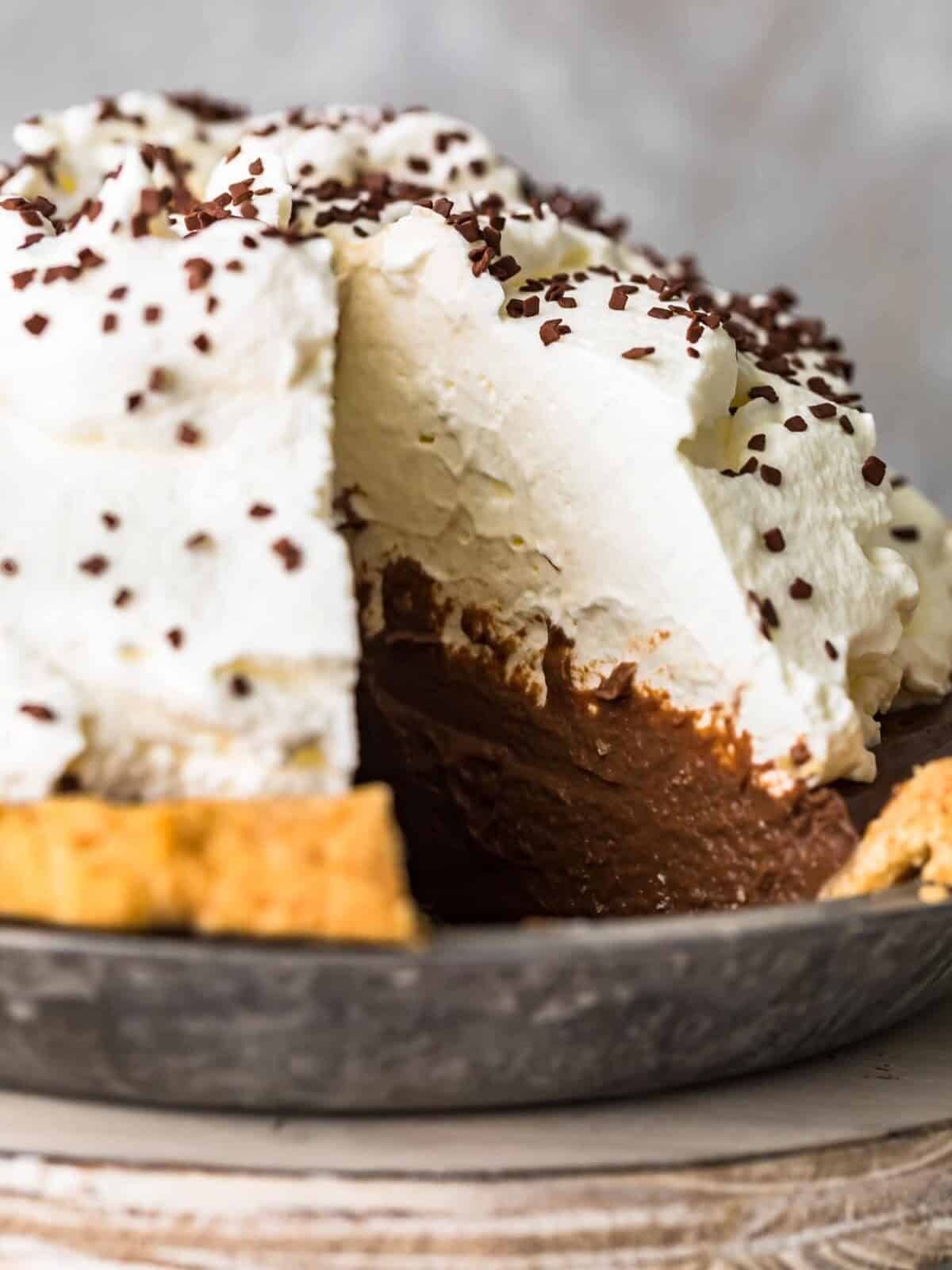 What's in this Chocolate Cream Pie Recipe
This holiday must make dessert is whipped up with simple and inexpensive ingredients!
Pie Crust: Use your favorite pre-made pie crust for this recipe, or make your own.
White Granulated Sugar: This creates the best touch of sweetness for the chocolate pie filling.
Cornstarch: The thick consistency of the pie filling is achieved with the use of cornstarch.
Unsweetened Cocoa Powder: You'll need this AND the chopped chocolate to work together to create the very best rich flavor.
Kosher Salt: Just a little bit is used to help enhance the other ingredients in the filling.
Whole Milk: You can use half-and-half in place of part or all of the whole milk for a richer pie.
Chocolate: Ghirardelli Bittersweet and Semisweet Chocolate Premium Baking Bars work well.
Butter: Unsalted butter is used to help get the best smooth texture for the chocolate.
Pure Vanilla Extract: You can use homemade (my personal preference for the best flavor) or store-bought.
Heavy Cream: You'll need this for the whipped topping. I don't recommend using any other dairy product.
Powdered Sugar: This creates the best sweetness for the whipped topping and can't be substituted with any other sugar.
PRO TIP: Allow four hours for the pie to completely cool and chill before serving.
How do I garnish chocolate cream pie?
Chocolate shavings always look pretty when dusted on top of the whipped cream! However, you can also make it more holiday specific by adding crushed candy canes for Christmas or red and pink sprinkles for Valentine's Day. Have fun with it!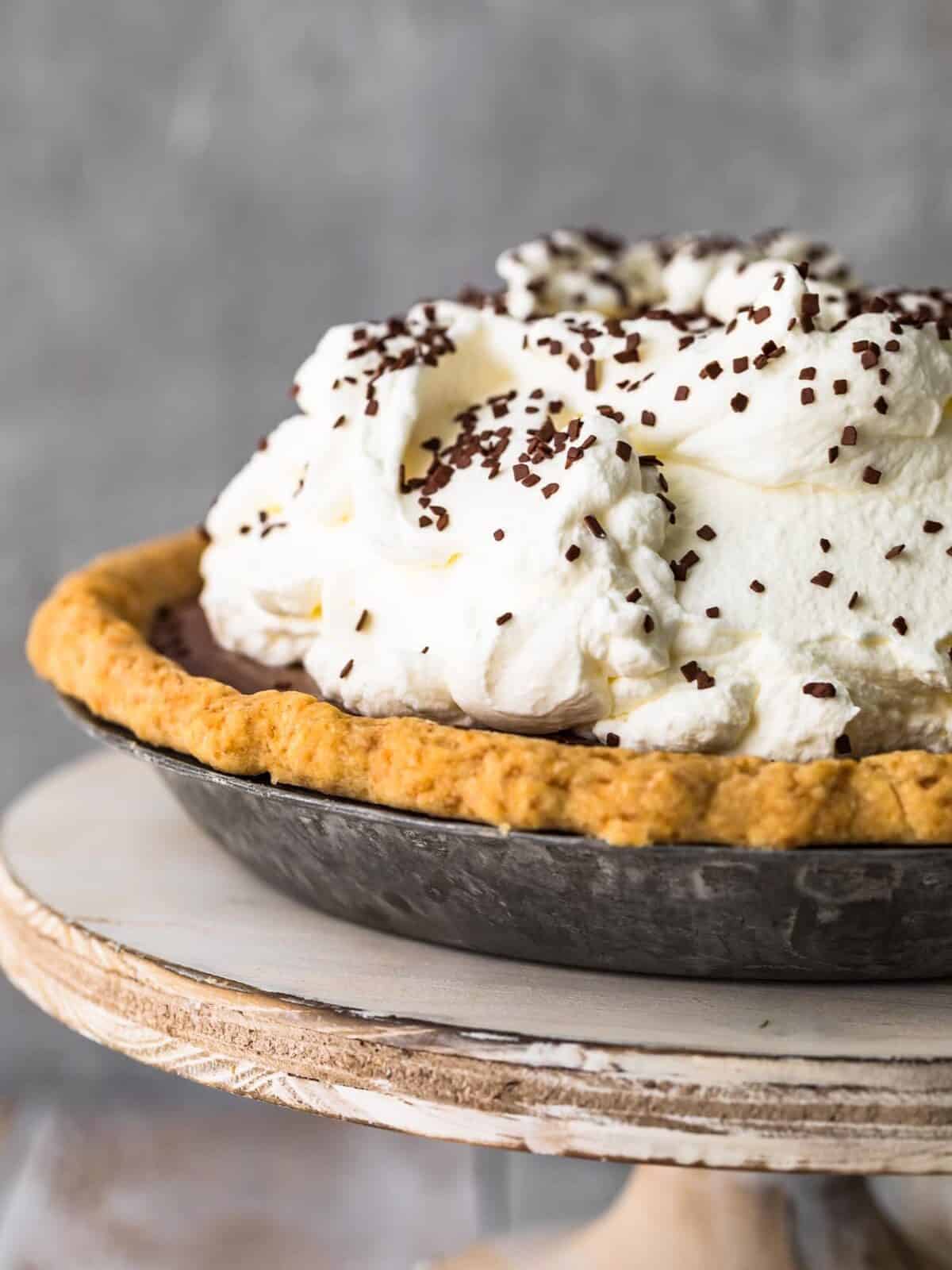 Can I make chocolate cream pie ahead of time?
Yes! The pie can be made up to 24 hours ahead of time, so it's perfect for easy entertaining. Add the whipped cream no more than 2 hours before serving though, so it doesn't become flat.
Why is my chocolate cream pie runny?
Make sure to avoid a runny pie by measuring all of the ingredients carefully. If there is not enough cornstarch or too much milk, it won't set right. Also, be sure to let the filling cook long enough to actually thicken.
What thickens a cream pie?
Cornstarch is what thickens the chocolate cream pie filling to the very best consistency.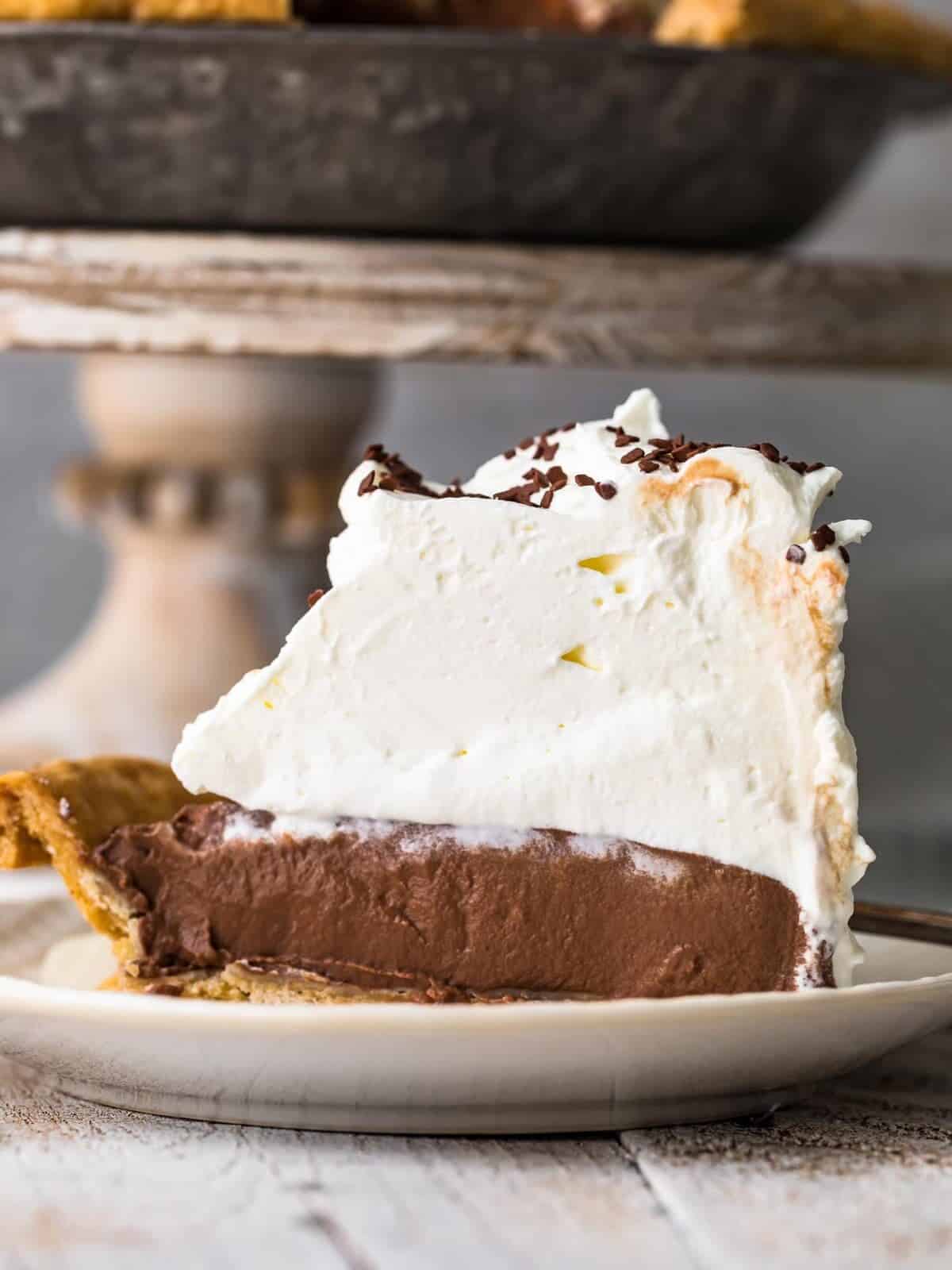 How to Store
In an airtight container in the fridge, chocolate cream pie will stay good for up to 3 days.
How to Freeze
I like to make a couple of pies and then freeze one for later. Let the pie cool to room temperature and cover it completely in either plastic wrap or an air tight freezer bag. Defrost the pie overnight in the refrigerator.
Serving Suggestions
We love to make this chocolate cream pie recipe for Thanksgiving, Christmas, Valentine's Day, and even as a substitute birthday cake!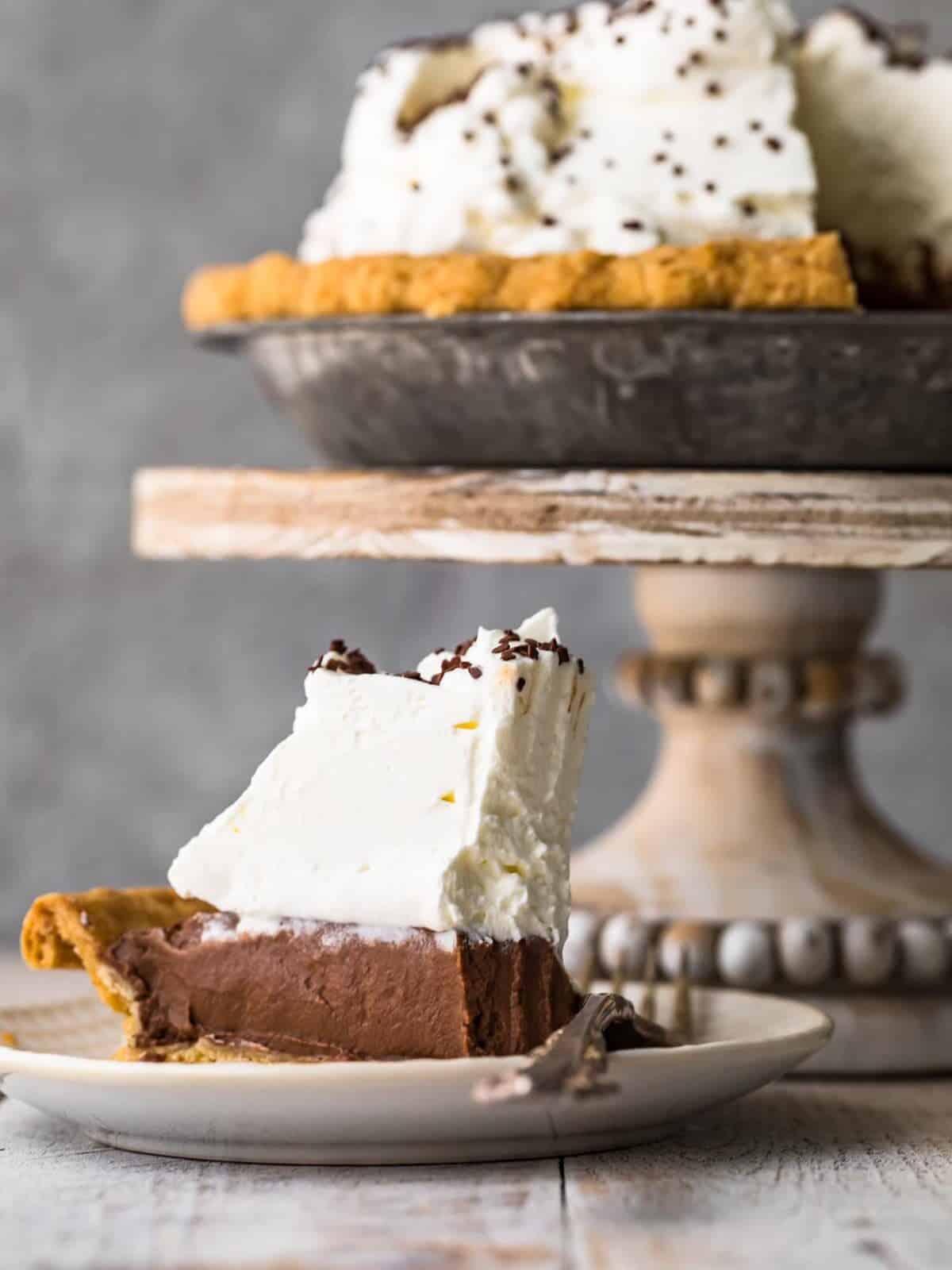 5-Star Review
"I'm not a huge fan of chocolate cream pie. It has to be a really excellent pie for me to enjoy it. However, my daughter is a big fan of chocolate cream pie. So, for the last 20-25 years, I've used a different recipe every year, trying to find one that I like. This year I tried yours & I'm done looking. Easy to make. Looks beautiful. Great taste. Great recipe. Thank you." – Tess K.