Believe me when I tell you, this is the best chocolate cream pie recipe you will make! It's so perfect for the holiday season and it's quick and easy to make. Decadent and creamy, this is the dessert you need to be serving this Thanksgiving!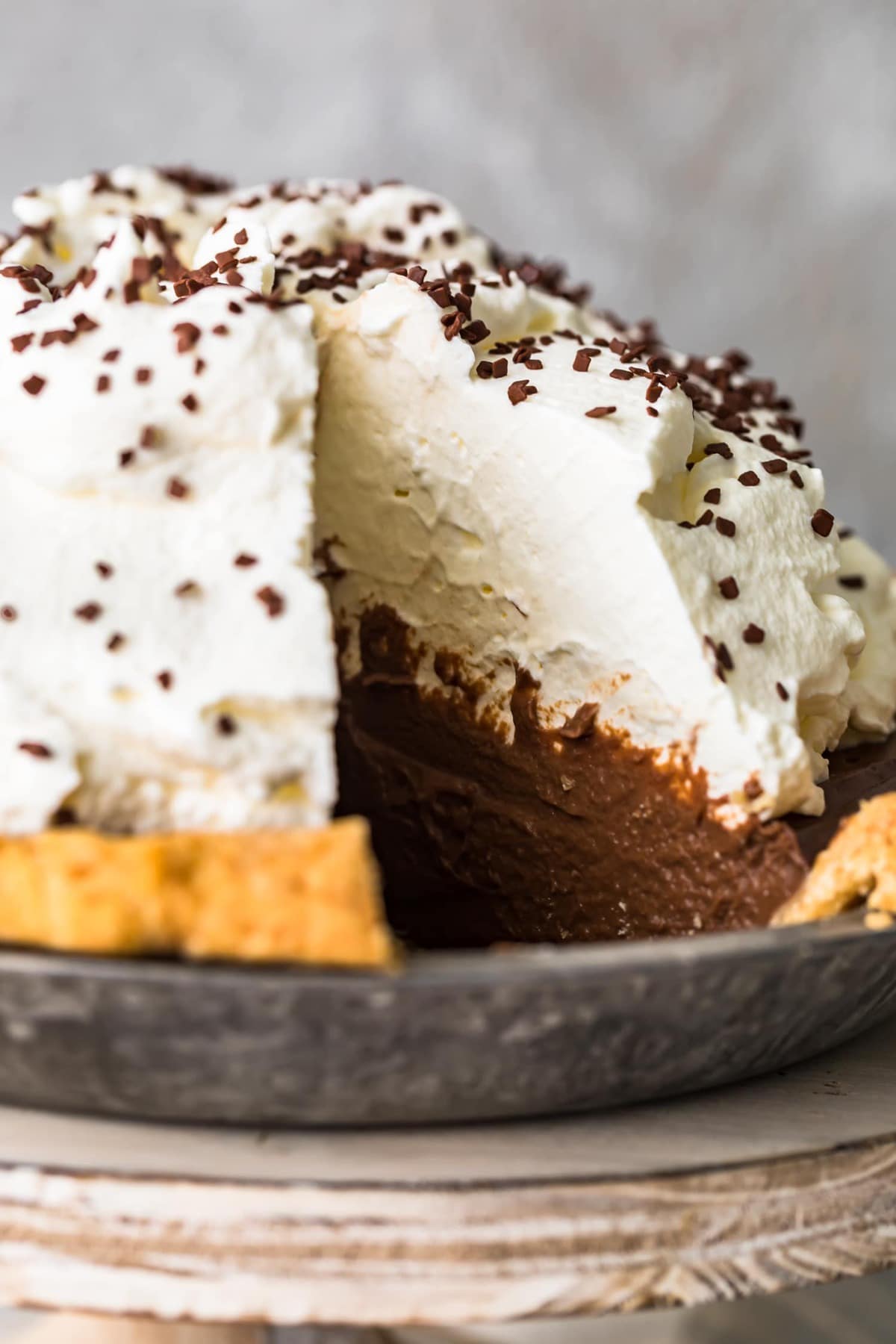 If you are looking for a show-stopping dessert to serve to guests this holiday season – look no further! This chocolate pie is so easy to make and is pure joy to eat!
How to Make The Best Chocolate Cream Pie
Cook the pie crust per package or recipe directions.

Cut a piece of parchment paper or waxed paper the size of the pie plate, and spray it lightly with nonstick cooking spray.
For the chocolate cream pie filling
In a large saucepan, whisk sugar, cornstarch, cocoa, and salt.

Add milk and whisk (scraping the sides) until fully incorporated.

Set the saucepan over medium to medium-low heat. Cook and whisk continuously 8-10 minutes or until bubbly (over the entire surface) and thickened.

Cook an additional 30 seconds and remove from the heat.

Add chocolate and butter. Whisk until melted and smooth.

Add vanilla and whisk until incorporated.

Pour the filling into the cooled pie crust and cover with the prepared parchment. Lightly press the parchment against the surface of the filling.

Cool the pie on the countertop 45-60 minutes then refrigerate until filling is set and firm, about 3 hours.
For the whipped cream topping
In a stand mixer fitted with the whisk attachment, whip the cream and powdered sugar on MEDIUM-HIGH 1 minute or until foamy.

Set the speed to HIGH and whisk 1-2 minutes or until still peaks form.

Spread to whipped cream over the pie and serve.

Garnish with chocolate flakes or shavings.

Enjoy!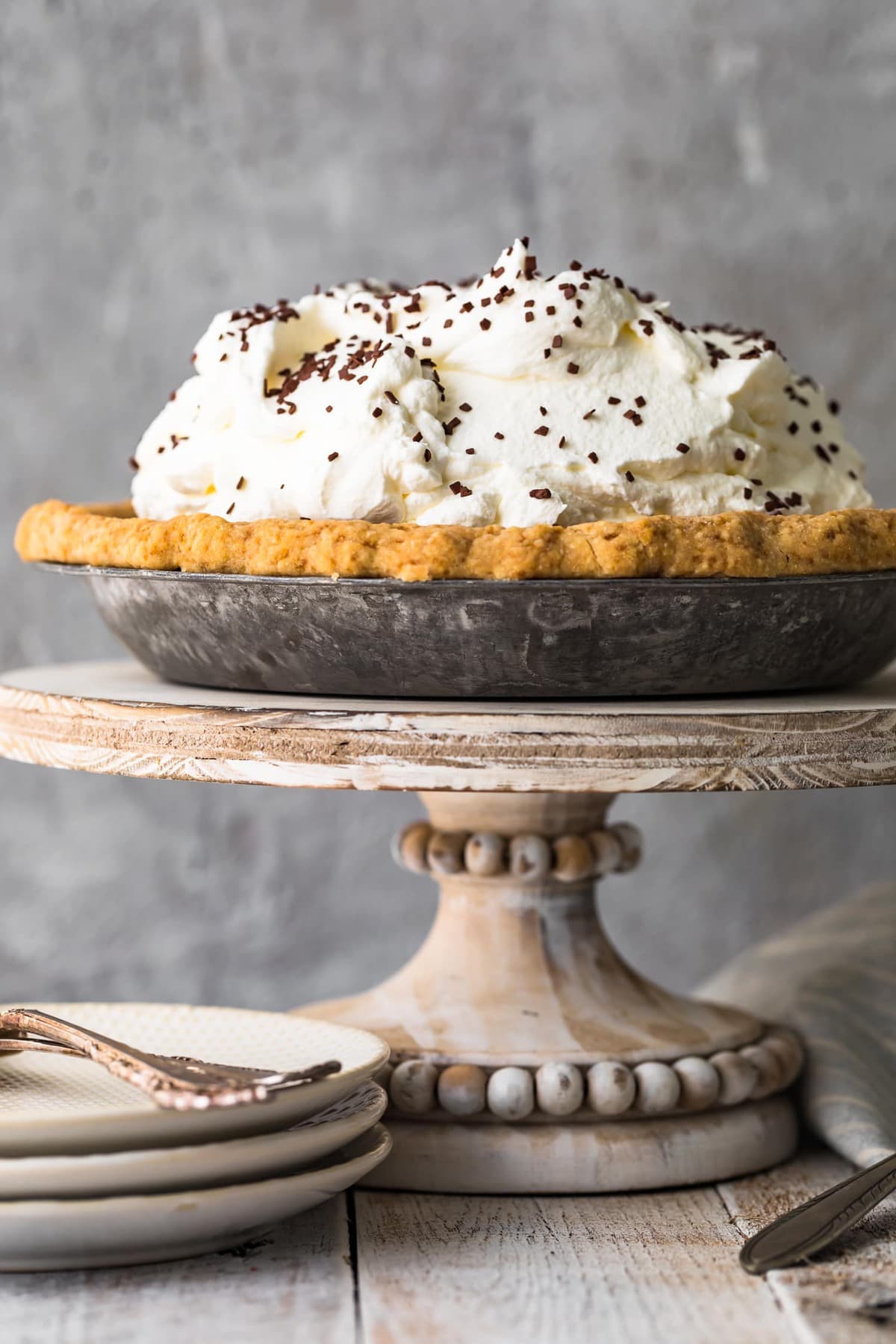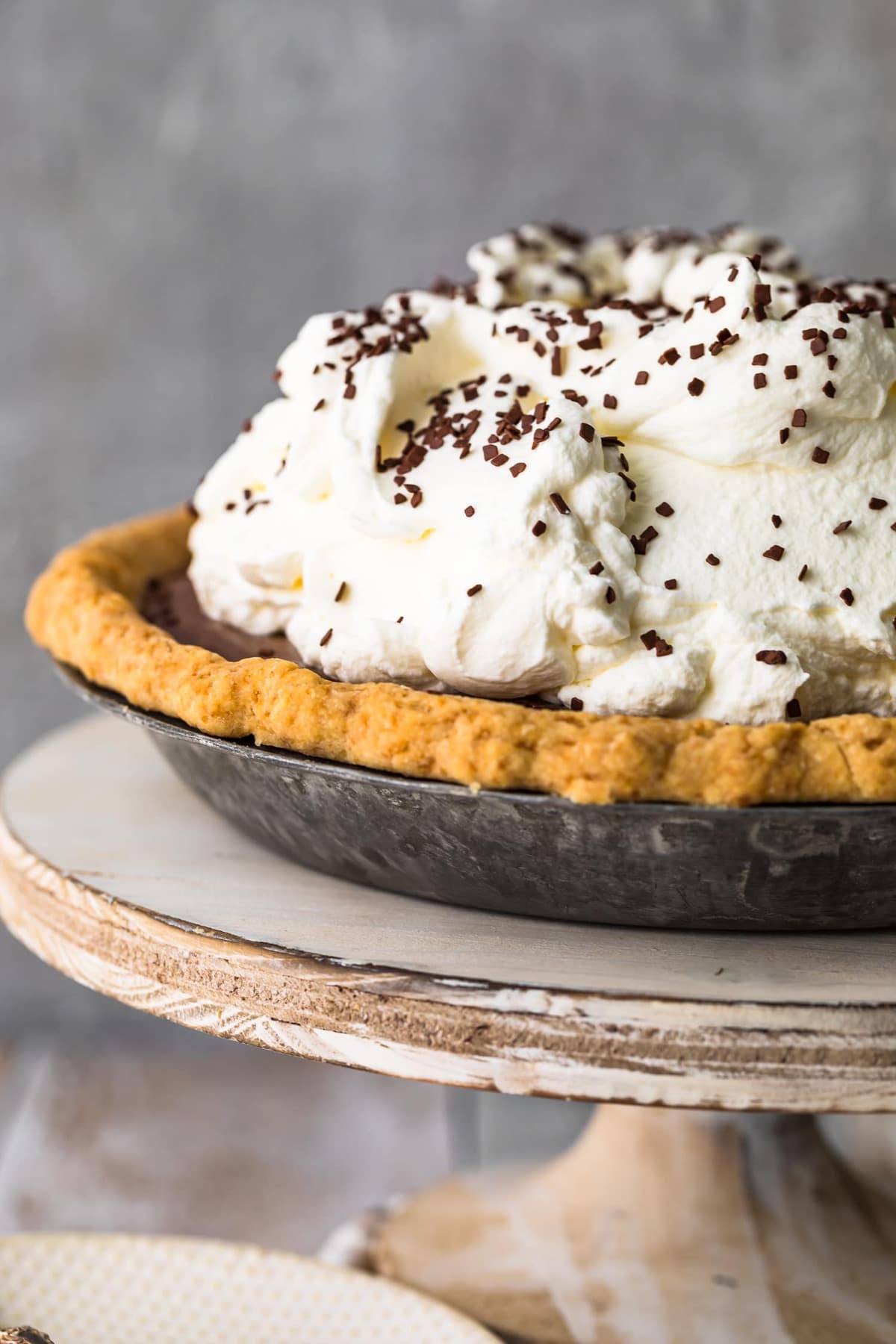 Thick and Creamy Chocolate Cream Pie
This pie embodies everything that is right about the holiday season! It's decadent and rich and it's definitely a crowd pleaser! Topped with freshly whipped cream, there is nothing subtle about this dessert!
The perfect pie for a dessert table
If you are expecting lots of guests during the holiday season, consider having a dessert table where guests can help themselves. This pie would sit perfectly amongst these other holiday and fall desserts:
Pumpkin Brownies (Super Easy Fall Dessert Recipe)
The Best Homemade Cherry Pie Recipe
Pumpkin Pie Dessert Lasagna (Pumpkin Lasagna)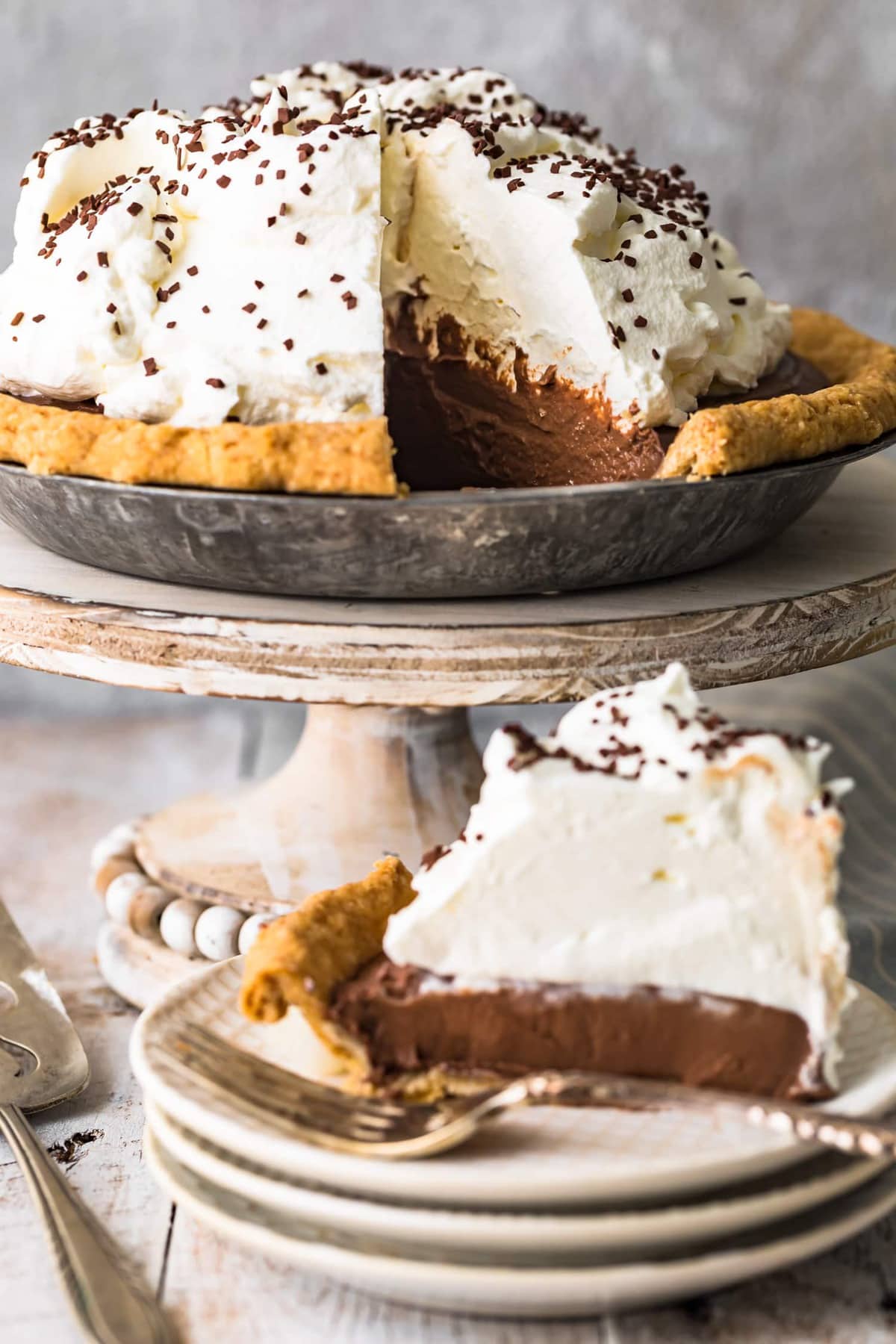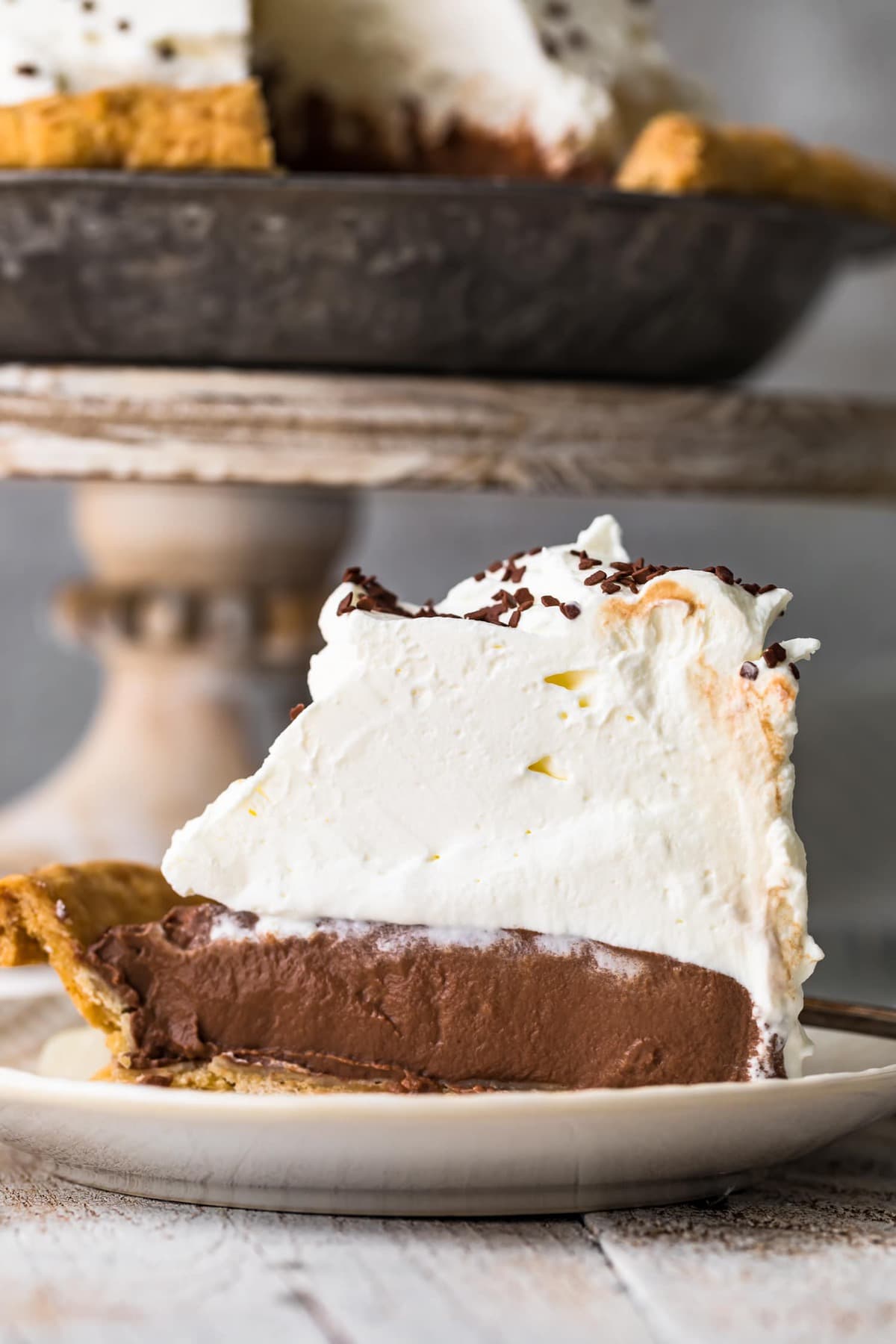 Can you make this chocolate cream pie recipe ahead of time?
The pie can be made up to 24 hours ahead of time, so it's perfect for easy entertaining. Add the whipped cream no more than 2 hours before serving though, so it doesn't become flat.
Can you freeze chocolate pie?
Yes! I like to make a couple of pies and then freeze one for later. Let the pie cool to room temperature and cover it completely in either plastic wrap or an air tight freezer bag. Defrost the pie overnight in the refrigerator.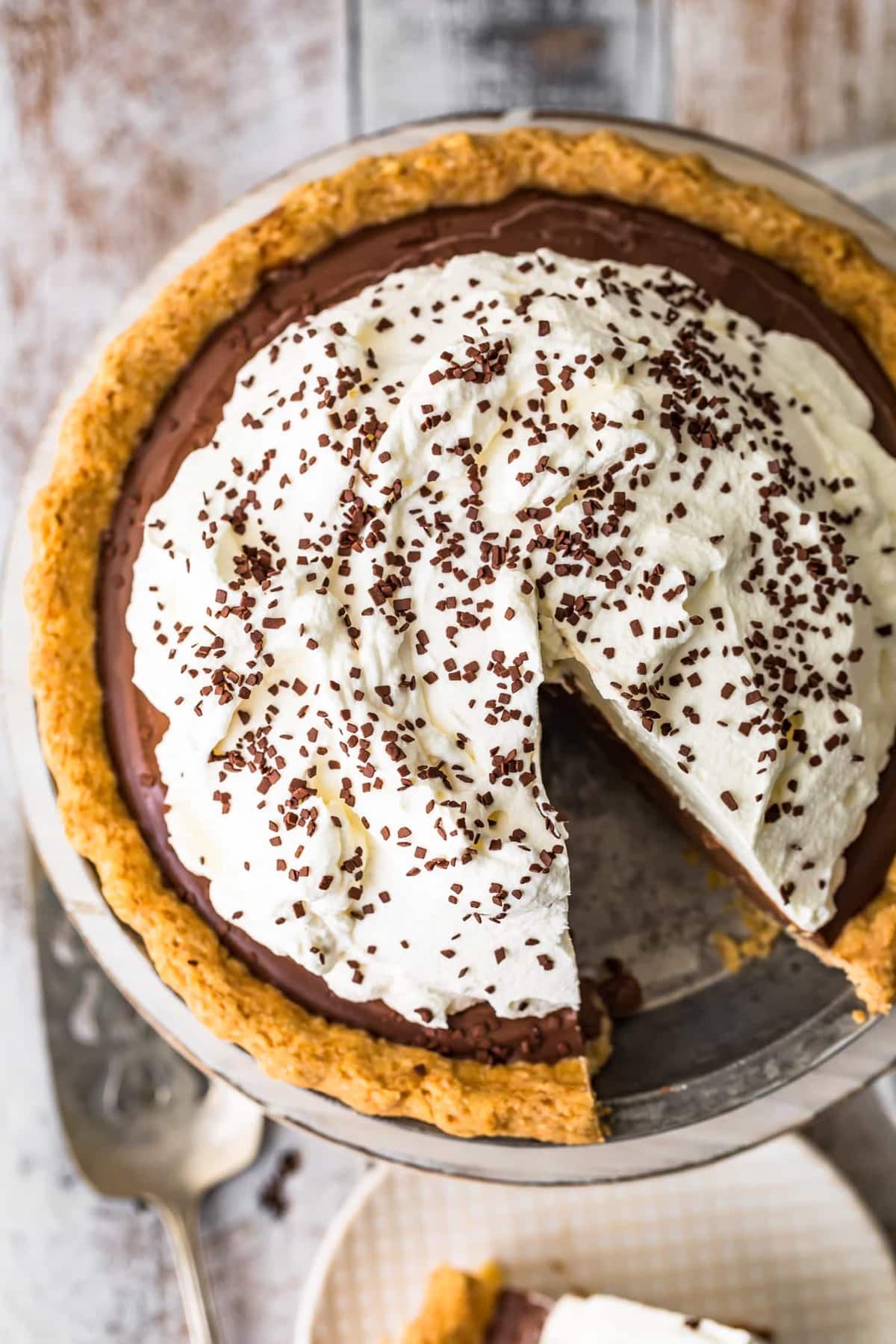 Top Tips to Make The Best Chocolate Cream Pie Recipe
Use your favorite pre-made pie crust fro this recipe, or make your own.
Line the pie tin with parchment for easy removal.
Allow four hours for the pie to completely cool and chill before serving.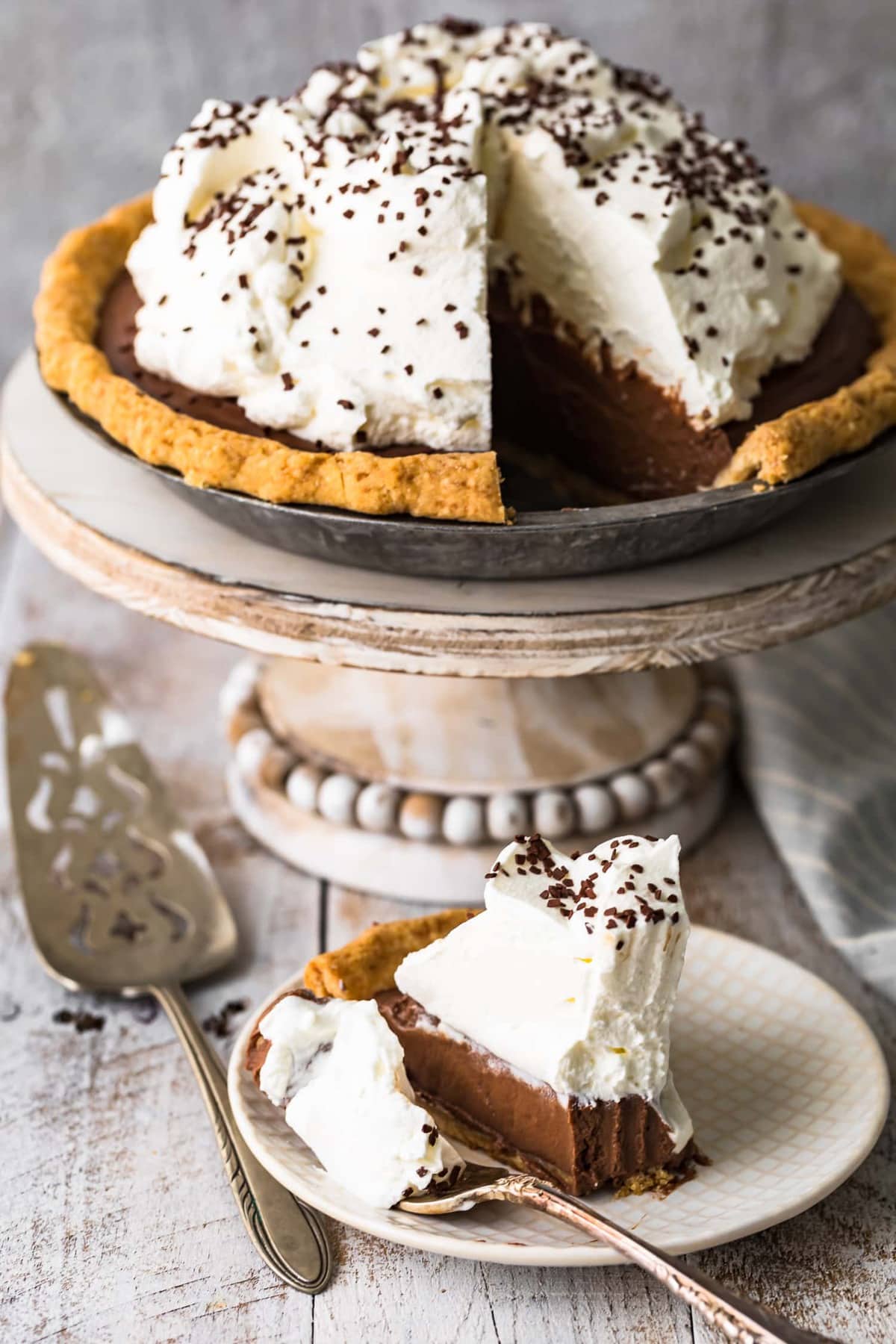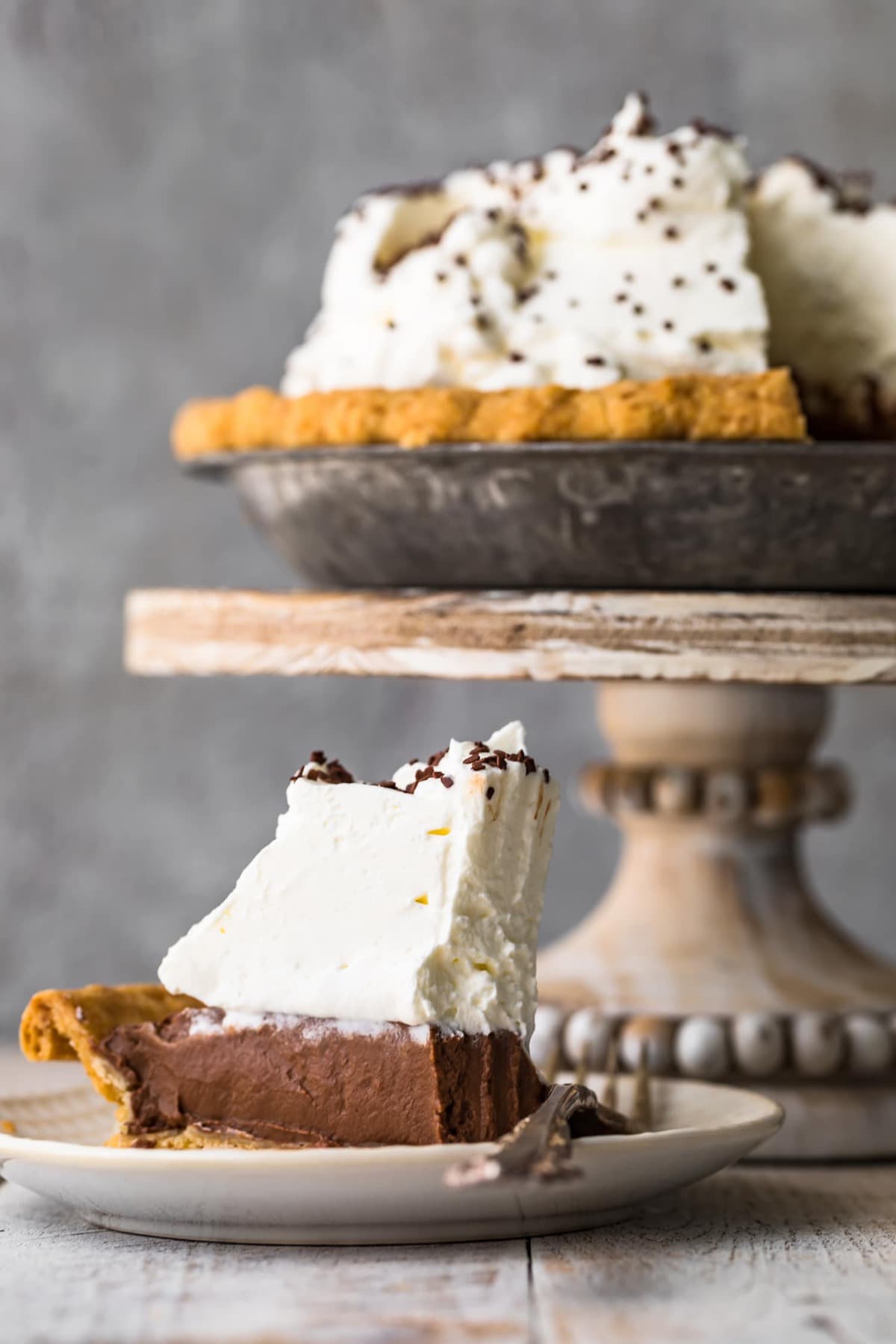 Be sure to check out these other easy pie recipes!
The Best Homemade Cherry Pie Recipe
Easy Homemade Apple Pie Recipe
20 Best Thanksgiving Pie Recipes