Chili con Carne is a one pot comfort meal that the whole family will love! Hearty ground beef is made delicious with a mixture of bold seasonings, onions, tomatoes, and red kidney beans. Top each bowl off with some sour cream and shredded cheese for the best bite!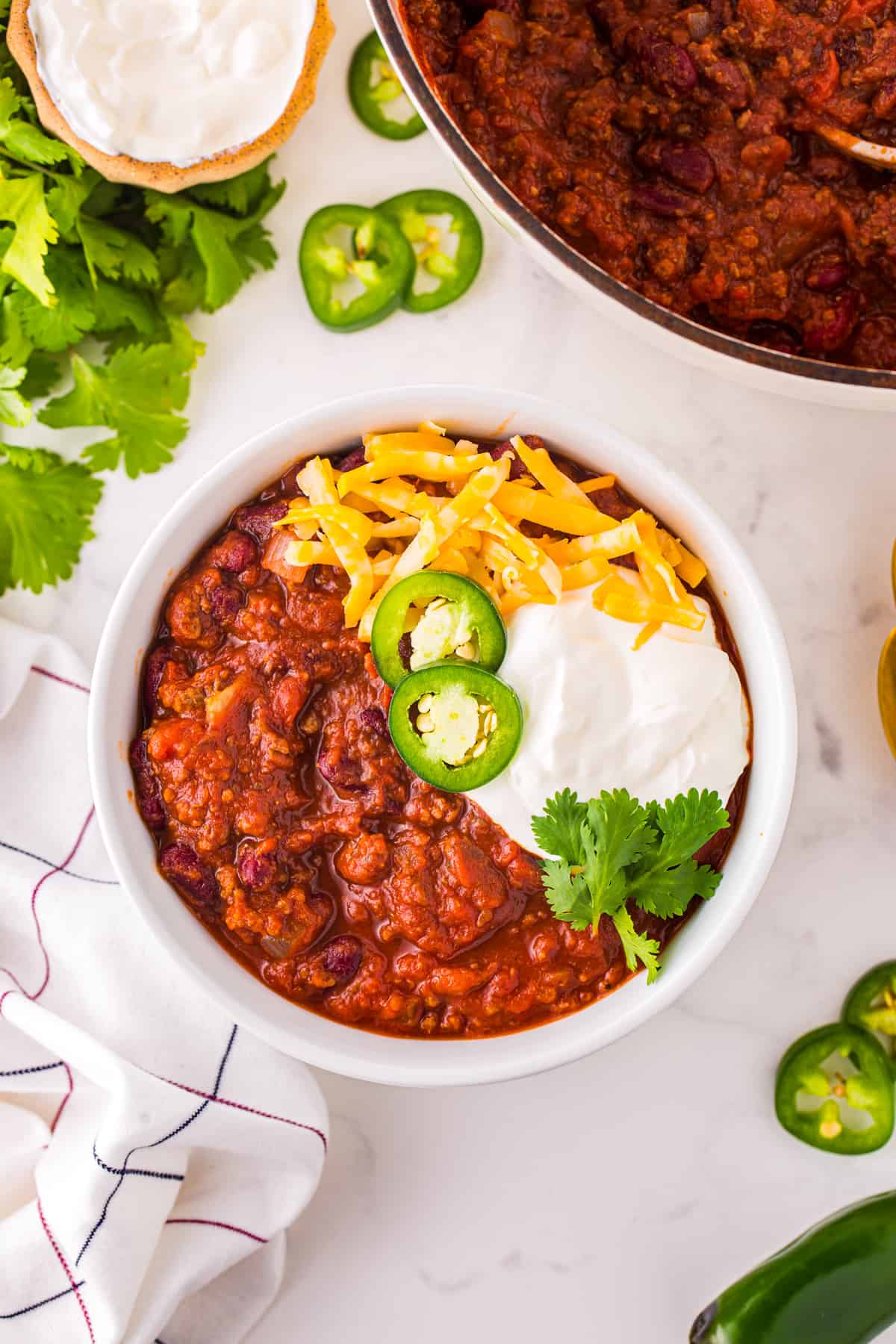 Beef Chili
After one heaping serving of Chili con Carne, no one is leaving the dinner table still hungry! However, it's so good that you might just be sneaking back in the kitchen for more no matter how full you may be. Even your pickiest eaters will be craving this dinner over and over again!
The best part? This beef chili recipe is SO easy to make all in one pot. That also means less dishes to clean, which is always a huge plus in my book! When your family inevitably begs to have it for dinner again, you won't mind saying yes, just because of how quick and easy of a weeknight dinner it is.
Why You'll Love this Chili con Carne Recipe:
Filling: Ground beef and kidney beans in every bite means that this protein-packed meal is sure to fill every belly at the table.
Comforting: A big, warm, flavorful bowl of chili does wonders for the body and soul! This comforting dinner recipe is ideal for chilly nights.
Easy: One pot recipes are always my favorite! They're easy to make and even easier to clean up.
Feel free to sprinkle some shredded cheese on your bowl of chili con carne! I also like to dress mine up with some sour cream, fresh cilantro, and fresh jalapeño slices.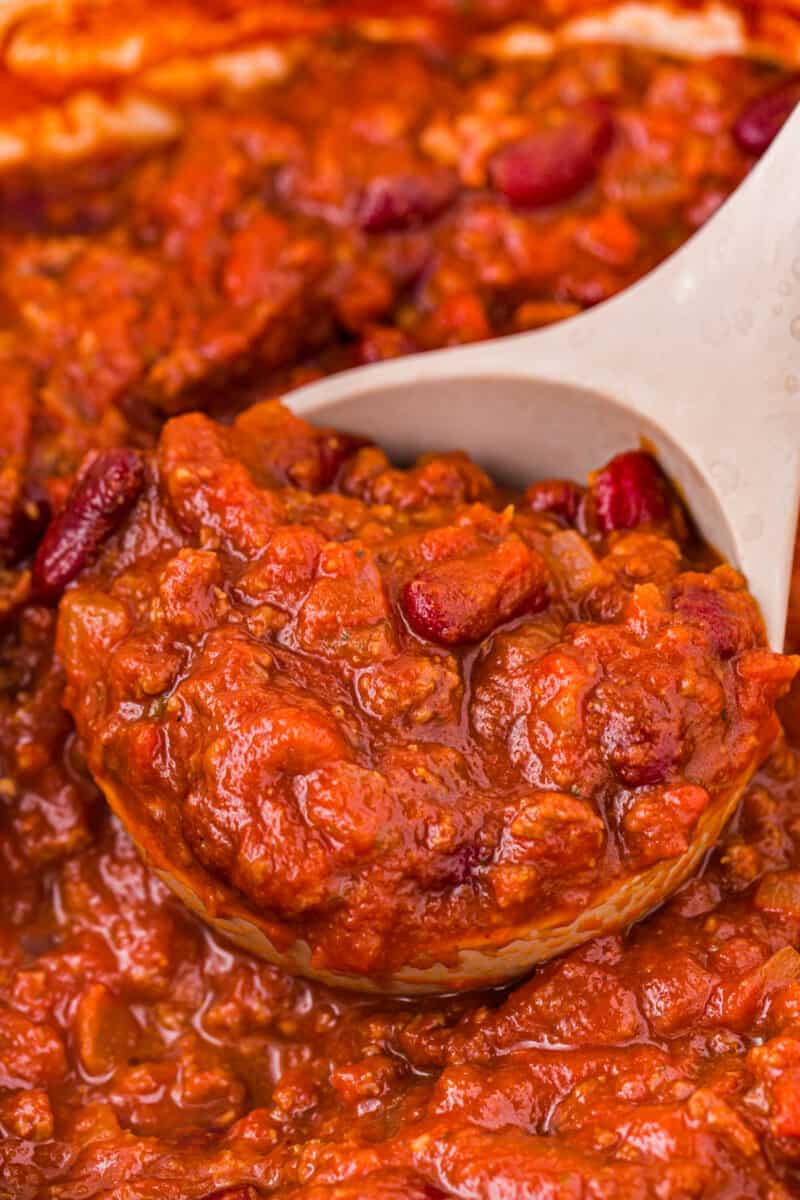 How to Make Chili con Carne
You can jump to the recipe card for full ingredients & instructions!
Sauté the onions and garlic in butter.
Season and cook the ground beef.
Stir in the remaining ingredients.
Simmer, covered, for about half an hour.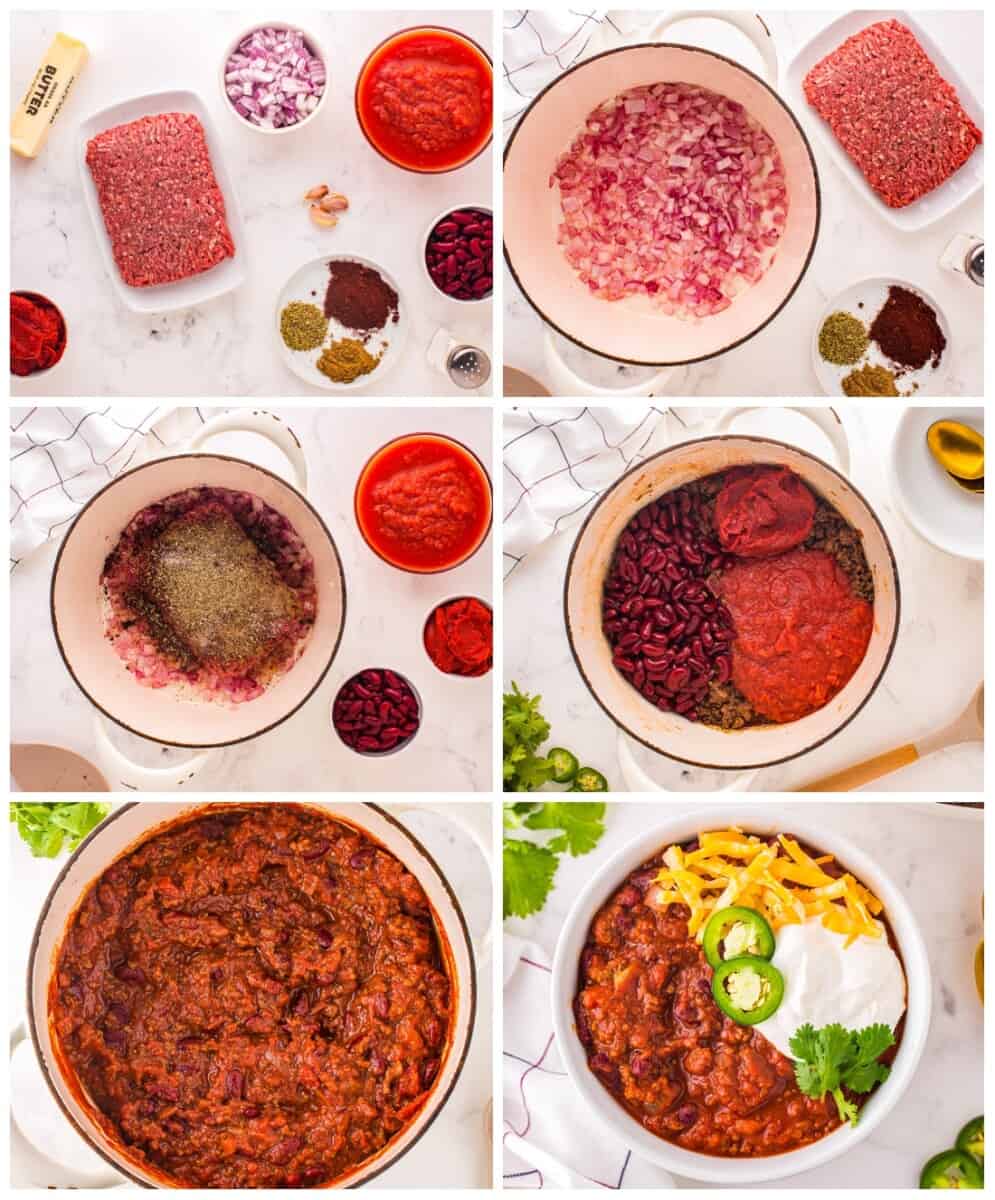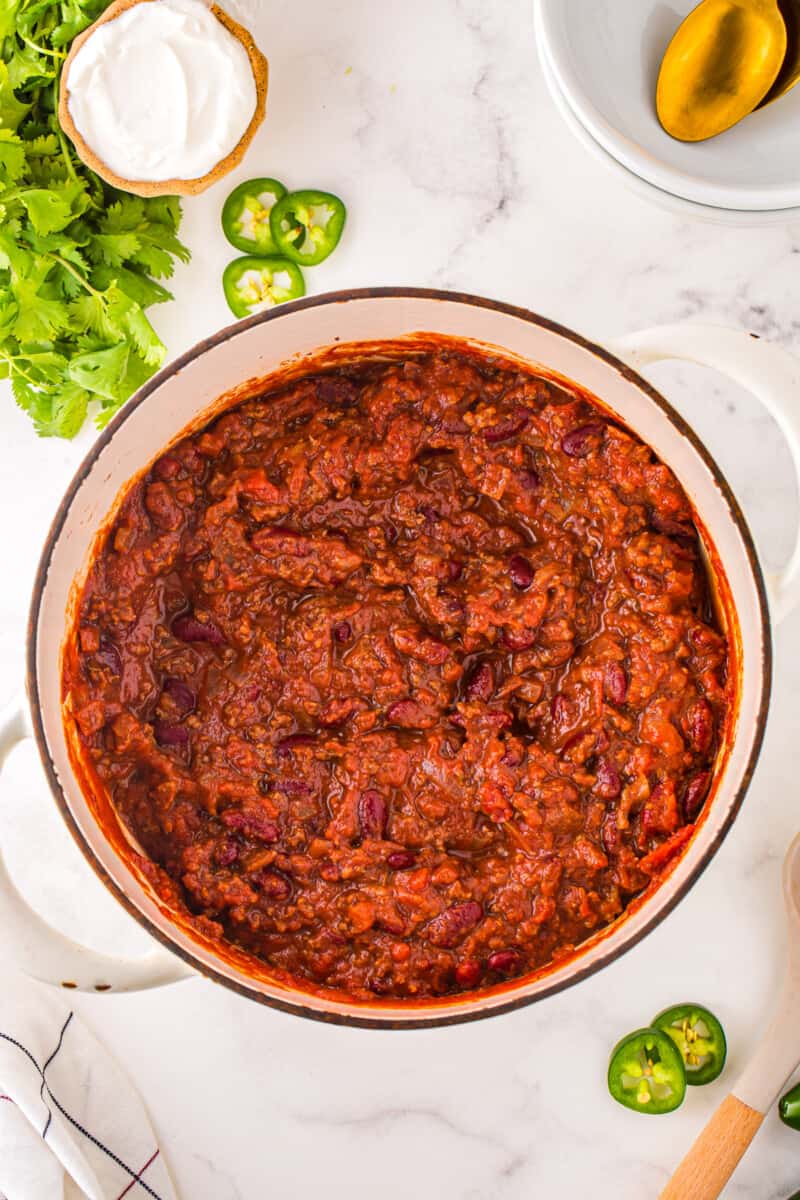 What is chili con carne?
"Chili con carne" translates to "chili with meat". It is a spicy stew made of beef, chili powder, beans, and tomatoes.
Is there a difference between chili and chili con carne?
Chili is often just shorthand for chili con carne. However, chili can be made with chicken, turkey, vegetables, etc., while chili con carne is most commonly made with ground beef.
Should there be beans in chili con carne?
That depends on who you ask! Many Texans are adamant that beans do not belong in chili, but I like to add beans for their creaminess and depth of flavor.
Is chili con carne spicy?
Chili con carne can be as spicy as you like. Chipotle chili powder is mildly spicy. You can easily modify the heat level of your chili by modifying the amount of chili powder you use. I recommend starting with 1 tablespoon and adding more, 1 teaspoon at a time, until you reach your desired spice level.
How do I fix runny chili con carne?
If your chili con carne is a bit too watery, simmer it uncovered over medium-low heat, stirring frequently, until it thickens up.
This classic beefy chili recipe is always a hit in our home around the fall and winter seasons. When it's cold outside, there's nothing better than warming up with a bowl of Chili con Carne!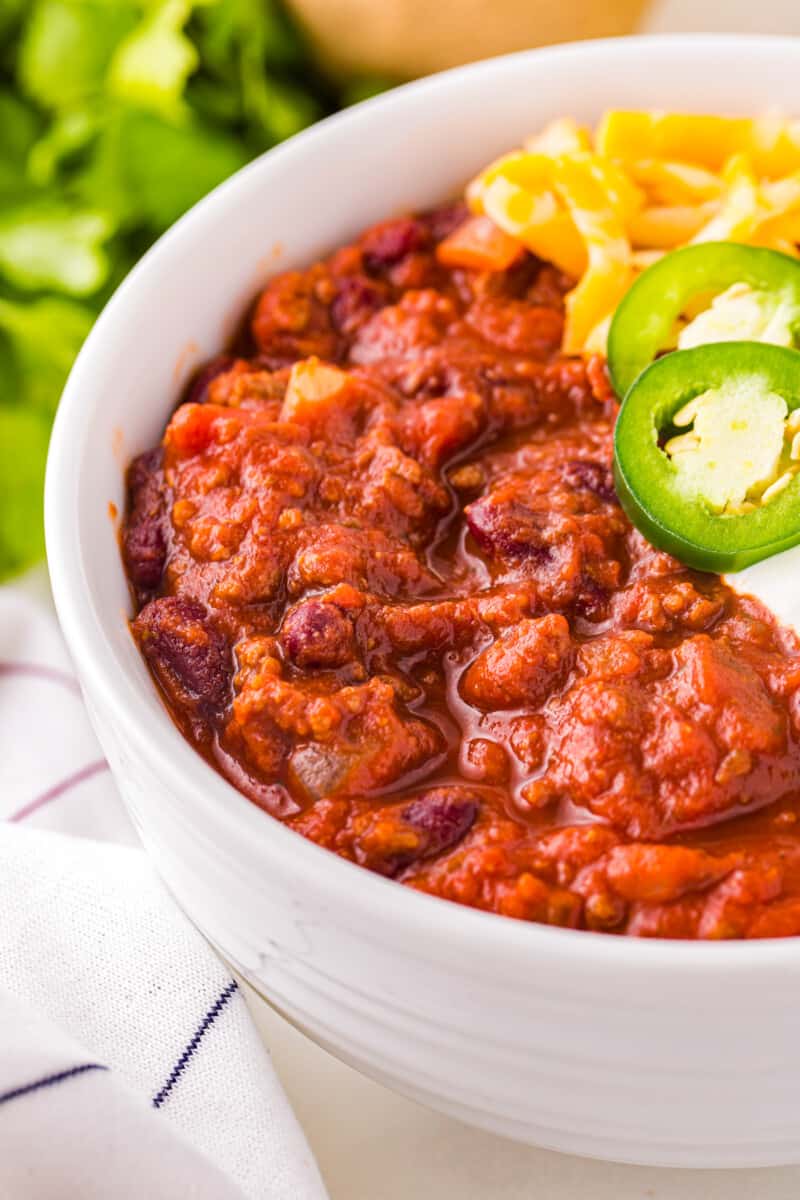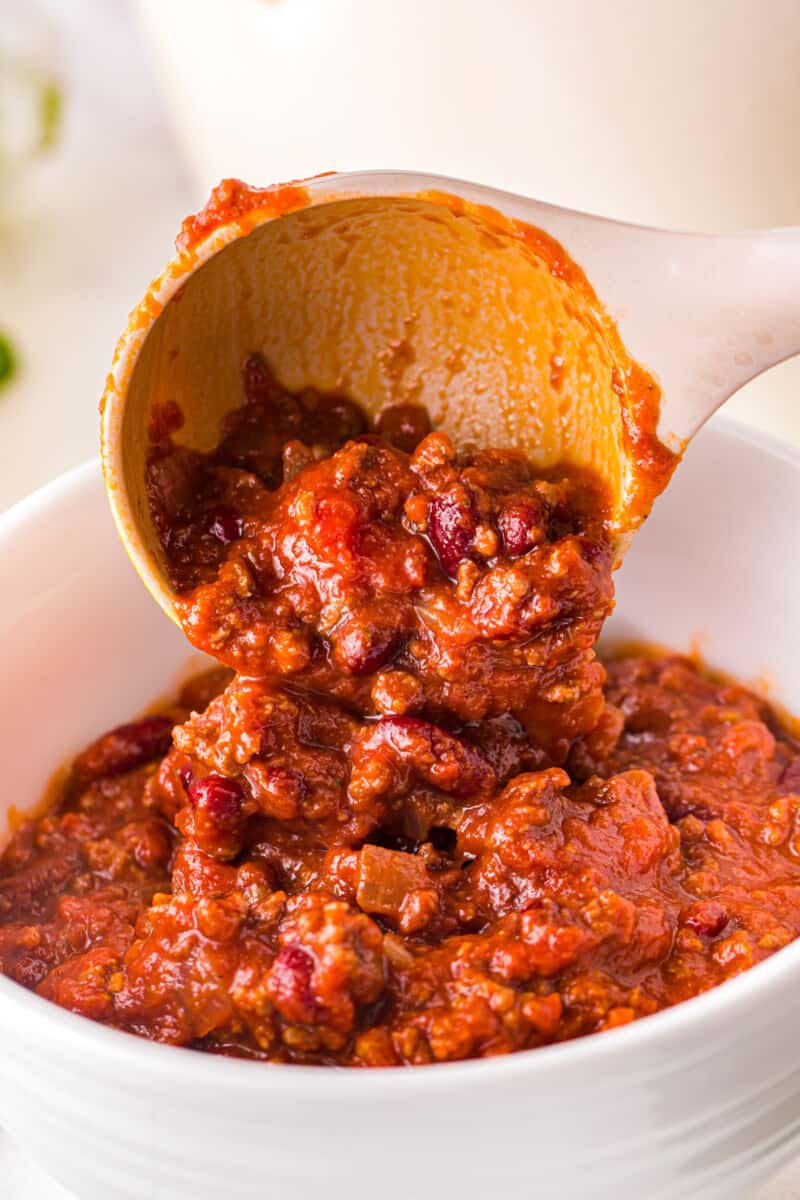 Make Ahead Instructions
This chili con carne can be made up to 2 days in advance of when you plan to serve it. In fact, many people swear that chili tastes better the day after it's made!
Storage Instructions
Store leftover chili con carne in an airtight container in the refrigerator for up to 3 days. Reheat gently in the microwave or on the stovetop.
Freezing Instructions
Freeze chili con carne whole or in individual portions in airtight containers or Ziplock bags for up to 3 months. Let thaw overnight in the refrigerator before reheating.
Substitutions
You can use unsalted butter, but I would add a little extra salt to still bring out the flavor of the onion and garlic.
Feel free to switch out the red onion for a yellow, white, or sweet onion if you prefer.
If you prefer to use fresh garlic, crush the garlic clove with the side of your knife so it releases the flavor slower.
Replace the ground beef with ground chicken or ground turkey for a different protein.
You can replace the chipotle chili powder with chili seasoning, which is what most chili recipes use. You will lose a little of the unique flavor of this dish but it will still work well.
You can omit the cumin if you're not a fan.
You can use another similar type of beans in a pinch, like black or pinto beans. However, red kidney beans are definitely the best option for this recipe.
Make It A Meal
Tips for the Best Chili con Carne
Don't skip browning the beef; this adds a LOT of flavor.
To keep the beef moist, mix ½ teaspoon of baking soda with a tablespoon of water, stir to combine, then mix it into the meat before cooking.
Don't overcrowd the pan; this will cause the onions and meat to steam rather than brown.
You can easily modify the heat level of your chili by modifying the amount of chili powder you use. I recommend starting with 1 tablespoon and adding more, 1 teaspoon at a time, until you reach your desired spice level.
Feel free to simmer the chili for more than 30 minutes to let the flavors meld together.
If the chili seems a bit watery, simmer it until it thickens up.
To round out the flavors, add a teaspoon of red wine vinegar to the chili just before serving. You won't taste it, but it will enhance the flavors of the dish!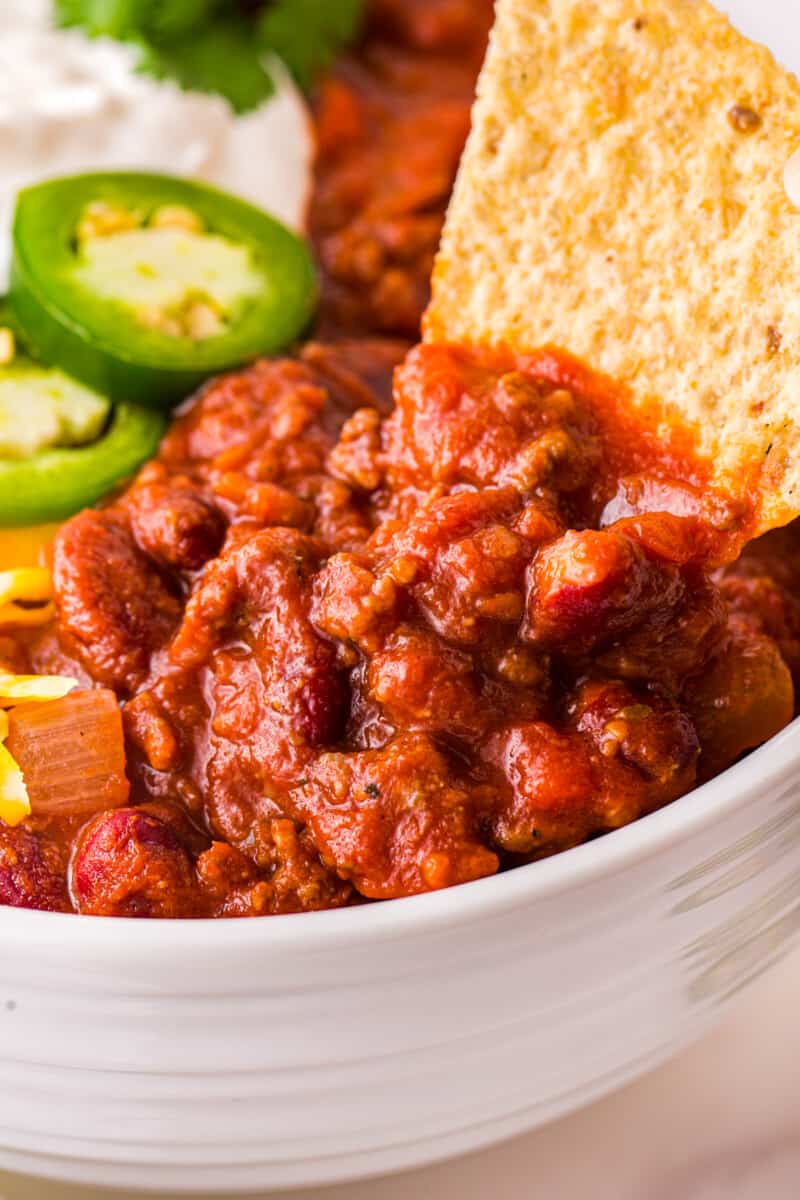 Making Chili con Carne in one big pot and garnishing it with all of my favorite toppings is one of my favorite cold weather traditions! This flavor-packed beef and bean chili recipe is as comforting as it is easy to make.
If you make this recipe be sure to upload a photo in the comment section below or leave a rating. Enjoy! You can also jump to recipe.