This Smashed Potatoes Recipe is a fun little side dish. They're nice and soft with just a little bit of crispy coating from the skin. I love using baby potatoes for these smash potatoes because they're the perfect size. Smashed Baby Potatoes are like a mix between fries and mini baked potatoes… or somewhere in between! They are just so tasty!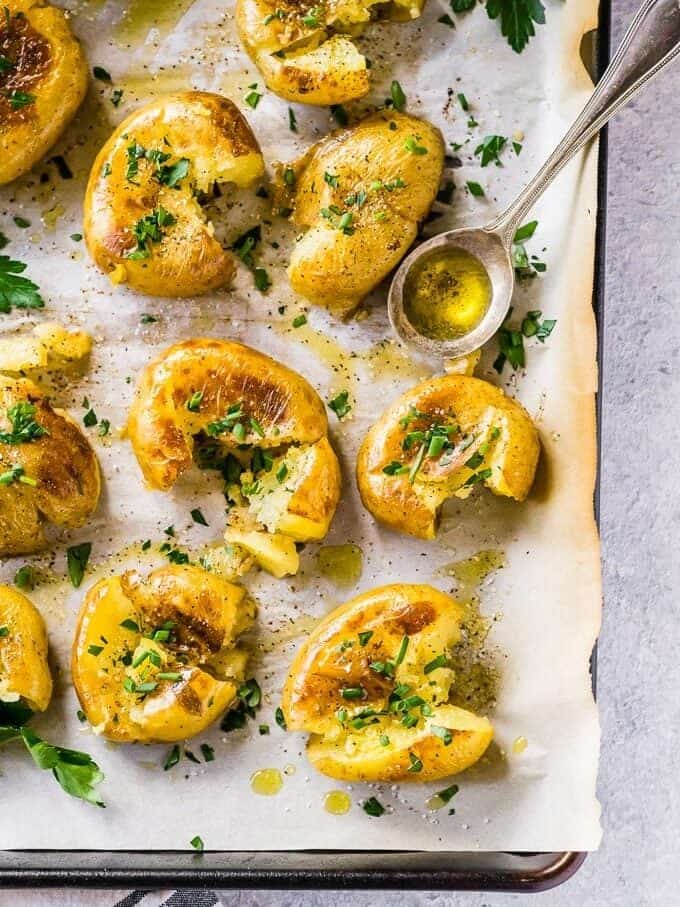 What's in this Smashed Potatoes Recipe?
If you are in need of another spud recipe, one that is crispy on the outside, tender on the inside, one that can even be considered a finger food if no one is watching… then you are definitely going to love these smashed potatoes!
Baby Potatoes: I like Yukon Gold, but any baby/new potato will work!
Olive Oil: Helps the potatoes crisp up in the oven.
Salt + Pepper: Enhance the natural flavor of the potatoes.
Pro Tip: Add your favorite fresh or dried herbs to enhance the overall flavor and pair with your main dish.
Variations on Crispy Smashed Potatoes
Feel free to add a bit more olive oil, or even a bit of butter, after taking them out of the oven for extra flavor. These baby smashed potatoes will get eaten up so fast!
If you want a variation on this recipe, try our loaded smashed potatoes. Same idea, but loaded with bacon, cheese, and sour cream!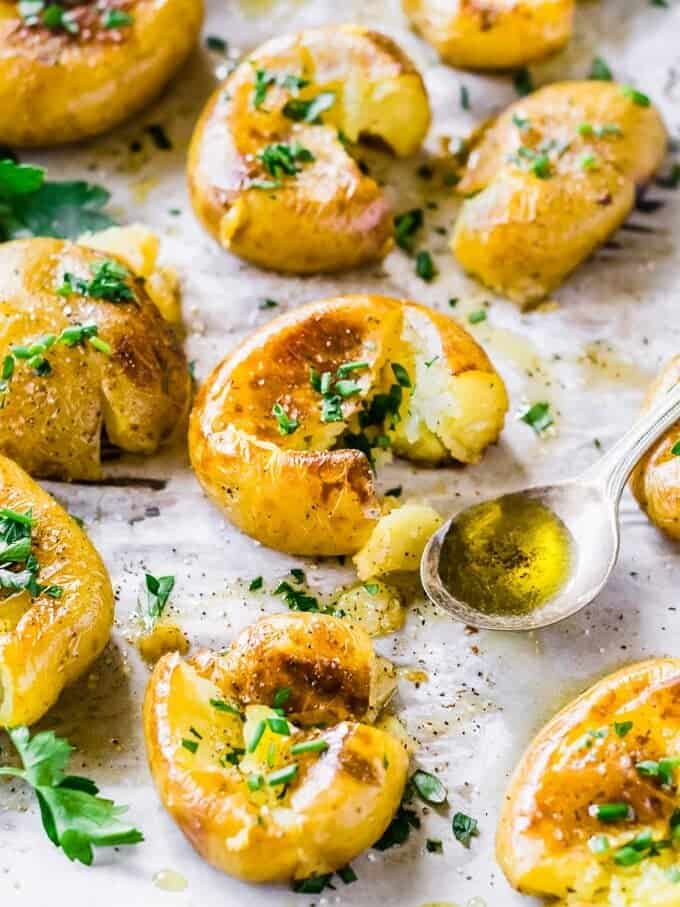 What's the difference between smashed potatoes and mashed potatoes?
Mashed potatoes are fully mashed after they're cooked and blended with spices and seasonings to create a smooth and creamy dish. These smashed potatoes are par-cooked and crushed with a potato masher to create a crispy exterior and a mashed potato-like interior.
Why are my smashed potatoes falling apart?
If the potatoes are overcooked, they will fall apart once smashed. So make sure to boil or steam them just to fork tender!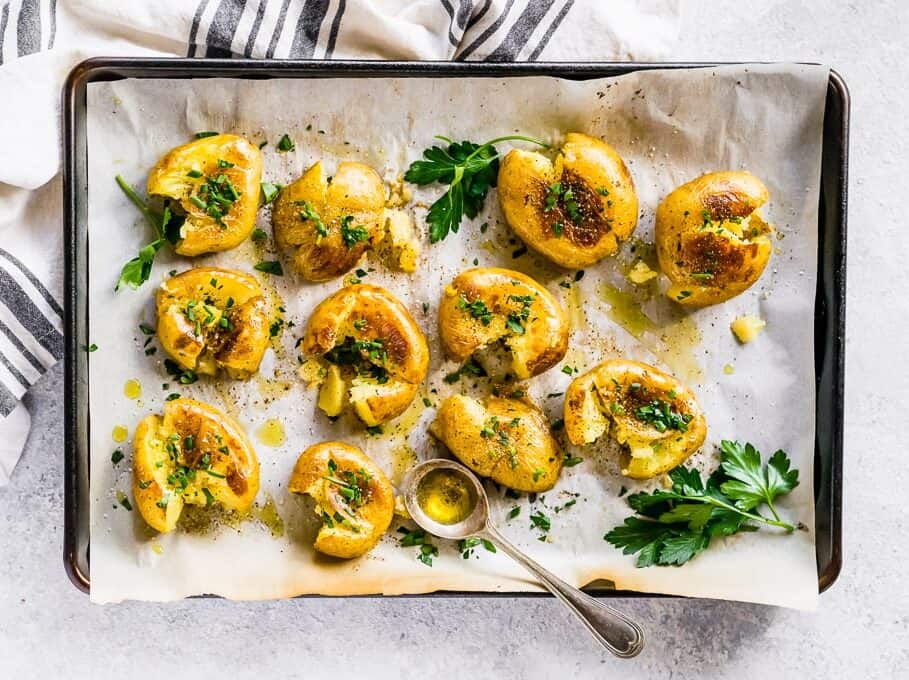 How to Store and Reheat
Store leftover smashed potatoes in an airtight container in the refrigerator for up to 5 days. Reheat in a 350°F oven for 10-15 minutes, or until warmed through and crispy.
How to Freeze
Freeze smashed potatoes in an airtight container or Ziplock bag for up to 3 months. Let thaw overnight in the refrigerator before reheating.
Serving Suggestions
I love that this easy side dish is so versatile and goes with almost any main dish. The flavors lend themselves perfectly to a simple lunch or a dressy date night. Try them with Oven Fried Chicken Breast, Creamy Caesar Chicken, Garlic Parmesan Pork Chops, Crab Cakes, Parmesan Crusted Tilapia, or Baked Pesto Salmon.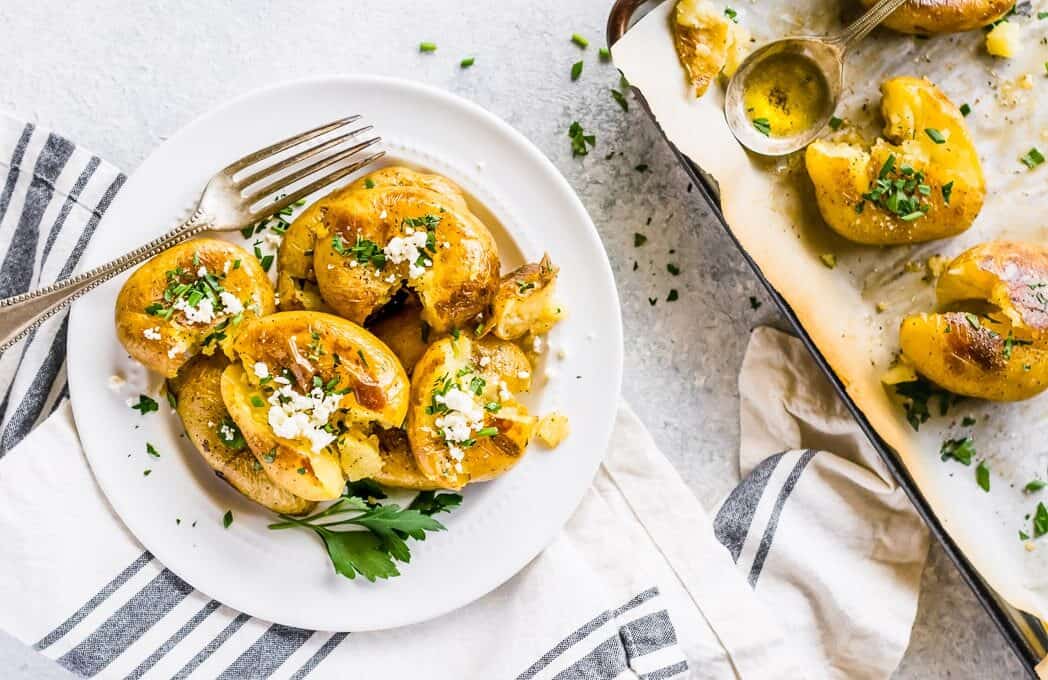 5-Star Review
"I made these to put on top of vegan chorizo tacos and they were truly fantastic. My partner said they were better than hash browns which is a glowing review on his part :)" – Rebecca
More Oven-Baked Potato Recipes We Love