This Smashed Potatoes Recipe is a fun little side dish. They're nice and soft with just a little bit of crispy coating from the skin. I love using baby potatoes for these smash potatoes because they're the perfect size. Smashed Baby Potatoes are like a mix between fries and mini baked potatoes…or somewhere in between! They are just so tasty!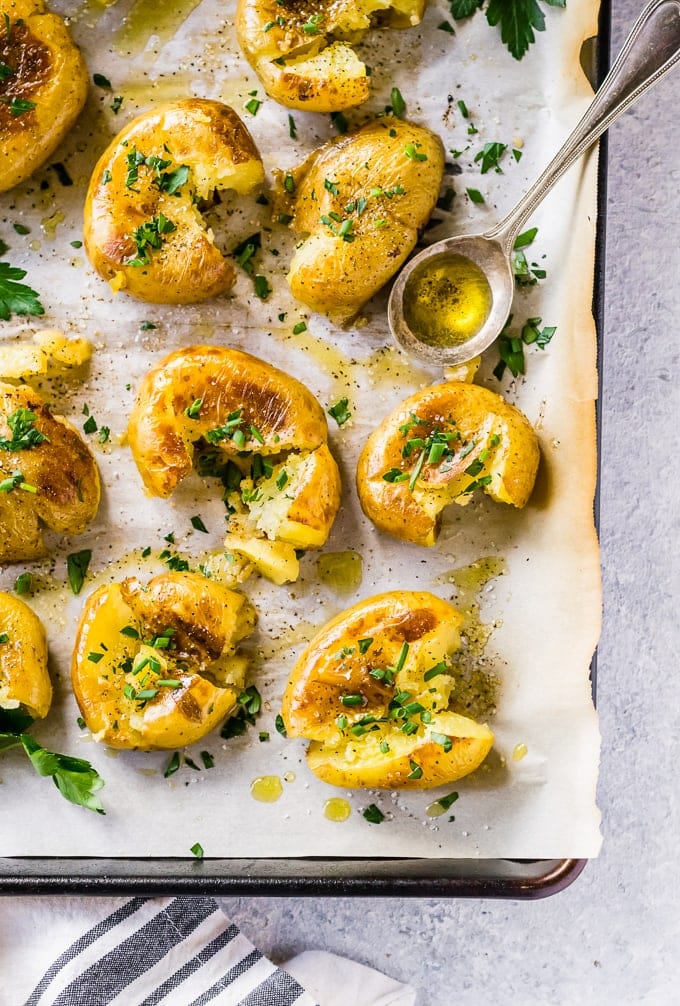 Smashed Potatoes Recipe – Smashed Baby Potatoes
This smashed potatoes recipe is so simple but so delicious. Smashed baby potatoes are the next great potato side dish!
I love this Smashed Potatoes Recipe. Potatoes are kind of a staple dish, so I'm always looking for new ways to cook them. There's definitely no shortage of recipes around here. You've got your baked potatoes, your home fries, and your mashed potatoes. But there's always room for another tasty potato recipe if you ask me.
Smash Potatoes are a great addition to any meal. The texture and the simple flavor of these smashed baby potatoes is exactly what I crave.
Simple side dishes are a must in any household…things that are quick and easy to make but still taste absolutely delicious. Something like this just goes with everything, whether you're cooking an easy chicken recipe, a tasty pork dish, or something extra fancy.
If you are in need of another spud recipe, one that is crispy on the outside, tender on the inside, one that can even be considered a finger food if no one is watching…then you are definitely going to love these smash potatoes!
This Smashed Potatoes Recipe is the perfect side dish for any meal. If you're looking for something different to try, make these Smash Potatoes!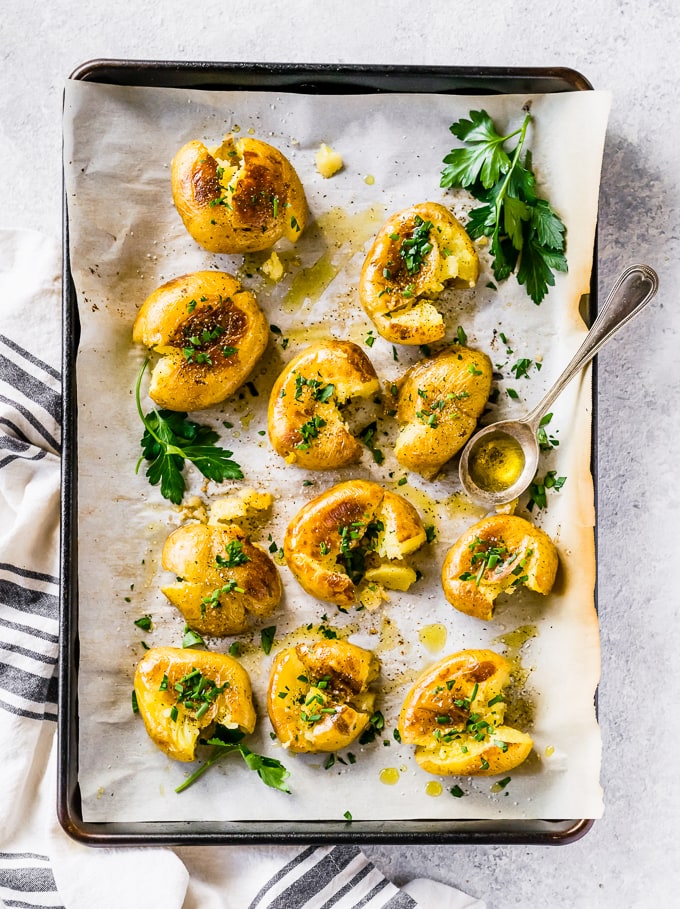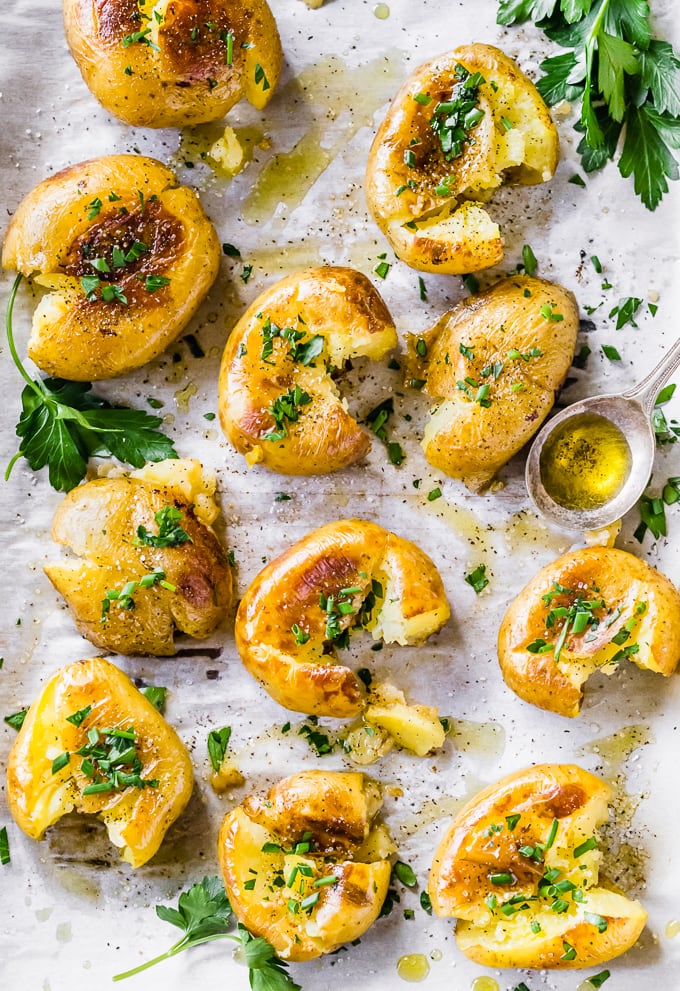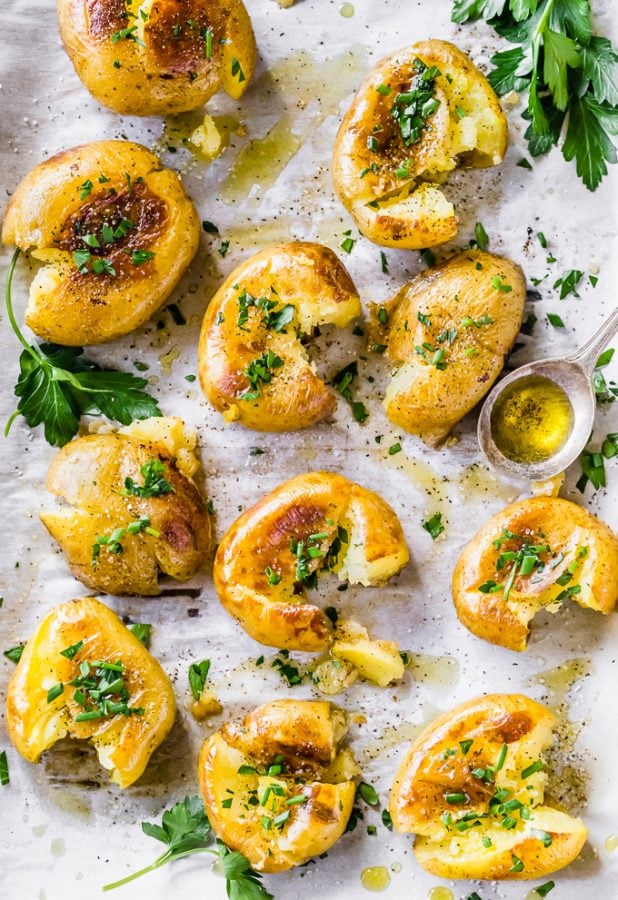 What are Smash Potatoes?
You might be wondering what smash potatoes are. A lot of people might hear that term and think of mashed potatoes, but that's now what we're making here!
It might be a little more clear if we just refer to them as Smashed Baby Potatoes…because that's exactly what they are! While you can make smashed potatoes with any size or type of potato, I like using baby potatoes. I think they're the perfect size! We smash them up just enough to make them flat, but not enough to make them mashed.
It creates a potato dish that's mashed on the inside, but still crispy on the outside. Everything stays intact so you could pick them up and eat them one by one like fries. But they definitely look more like smashed baked potatoes.
All I know is that this smashed potatoes recipe is absolutely delicious!
What to serve with Smashed Potatoes
I love that this easy side dish is so versatile and goes with almost any main dish. The flavors lend themselves perfectly to a simple lunch or a dressy date night. Here are some of our favorite meals to serve with these Simple Smashed Potatoes: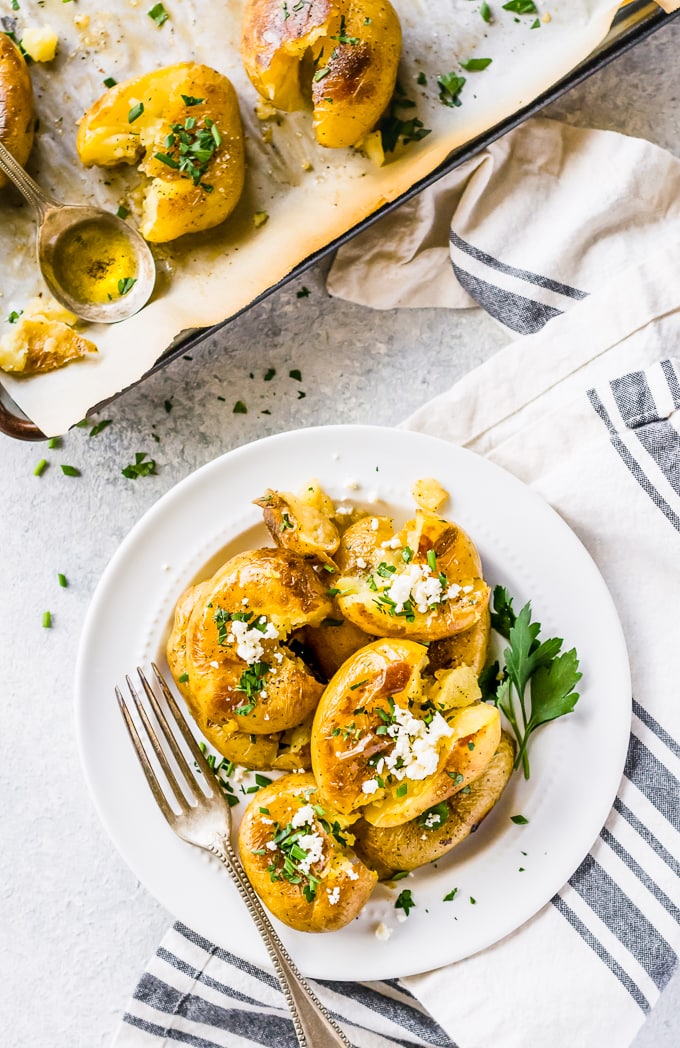 How to Make Smash Potatoes
This Smashed Potatoes Recipe is super easy and straightforward. There aren't many steps here, so don't worry about things getting complicated. It's just a simple recipe for a simple dish.
How to Make Smash Potatoes:
Steam or boil potatoes for about 15-20 minutes (or until tender)
Cover a baking pan with foil and drizzle with olive oil
Once the potatoes have cooked, place each one on the baking tray
Use a potato masher to gently flatten each baby potato
Sprinkle with preferred seasonings & herbs
Bake at 450 degrees for 20-25 minutes
Feel free to add a bit more olive oil, or even a bit of butter, after taking them out of the oven for extra flavor. These baby smashed potatoes will get eaten up so fast!
If you want a variation on this recipe, try our LOADED Smashed Potatoes. Same idea, but loaded with bacon, cheese, and sour cream!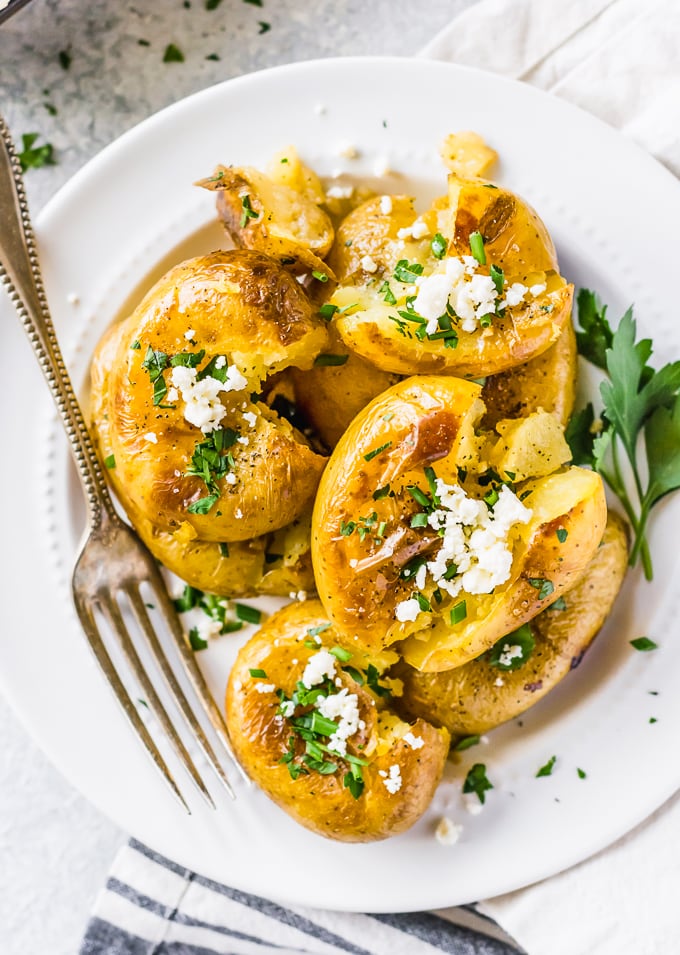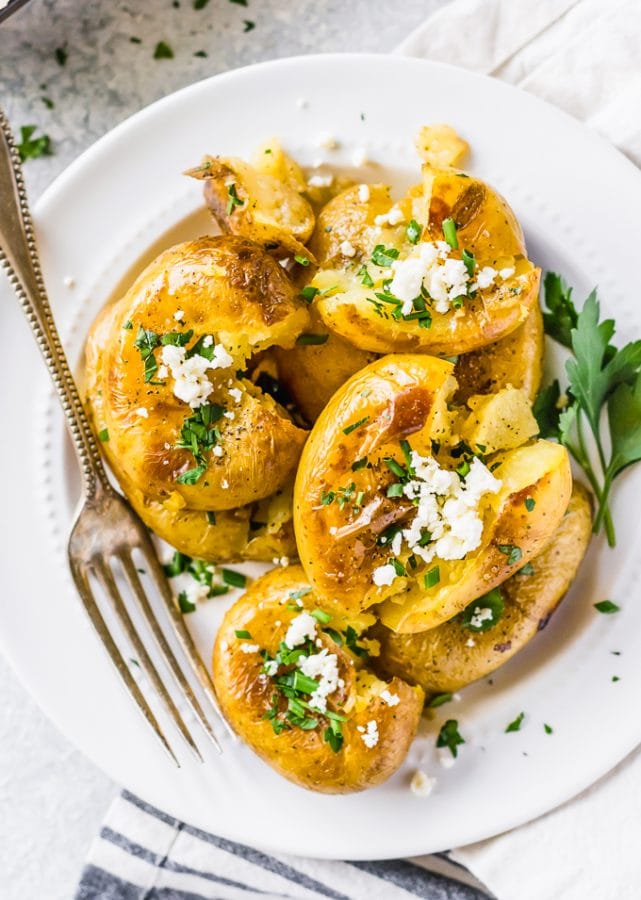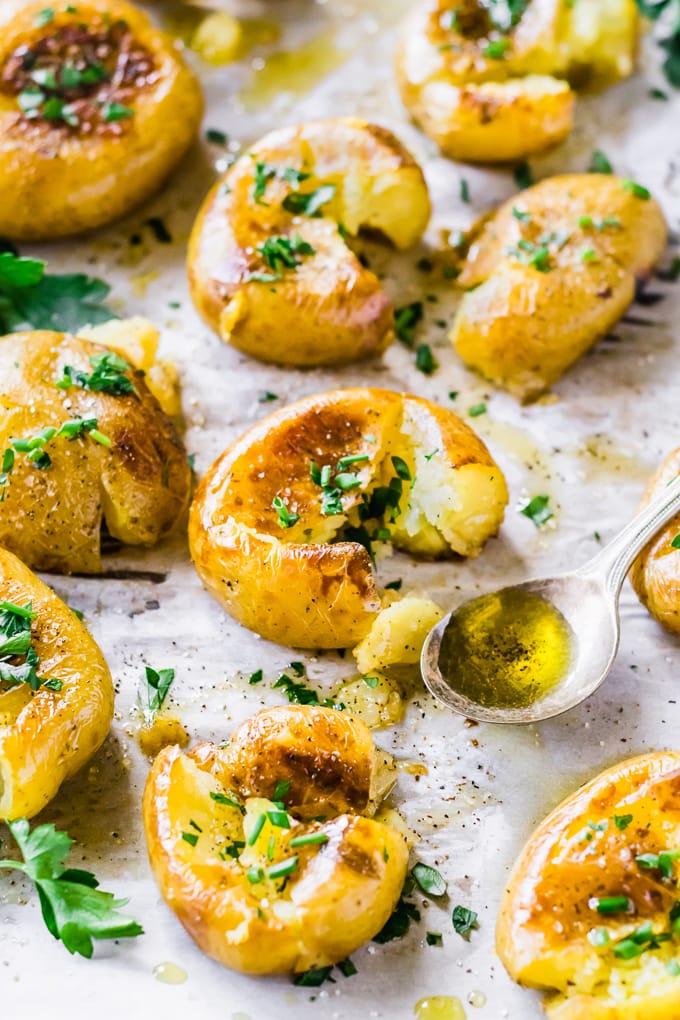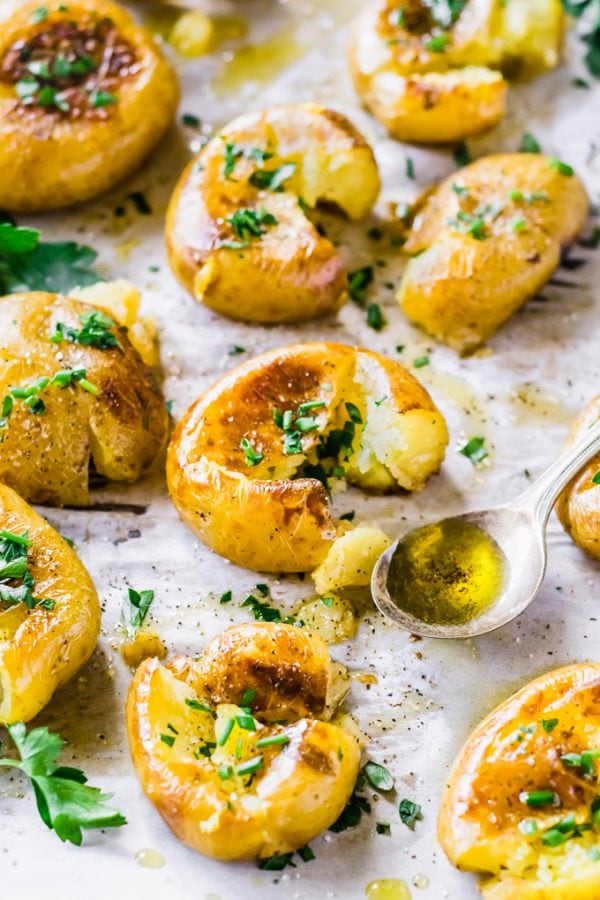 I know you're going to love this Smashed Potatoes Recipe! It's always fun to try a new potato dish, and these smashed potatoes are the perfect thing to try. They're easy to make and the flavors are simple. They make a great addition to any meal.
If you liked this Smashed Potatoes Recipe, try these other potato recipes:
If you make this recipe be sure to upload a photo in the comment section below or leave a rating. Enjoy! You can also jump to recipe.