Easy and quick to prep and cook, this Instant Pot turkey breast is seasoned with garlic and herbs for a tasty Thanksgiving main. Perfect if you are enjoying a smaller celebration, this turkey breast comes out so flavorful and juicy.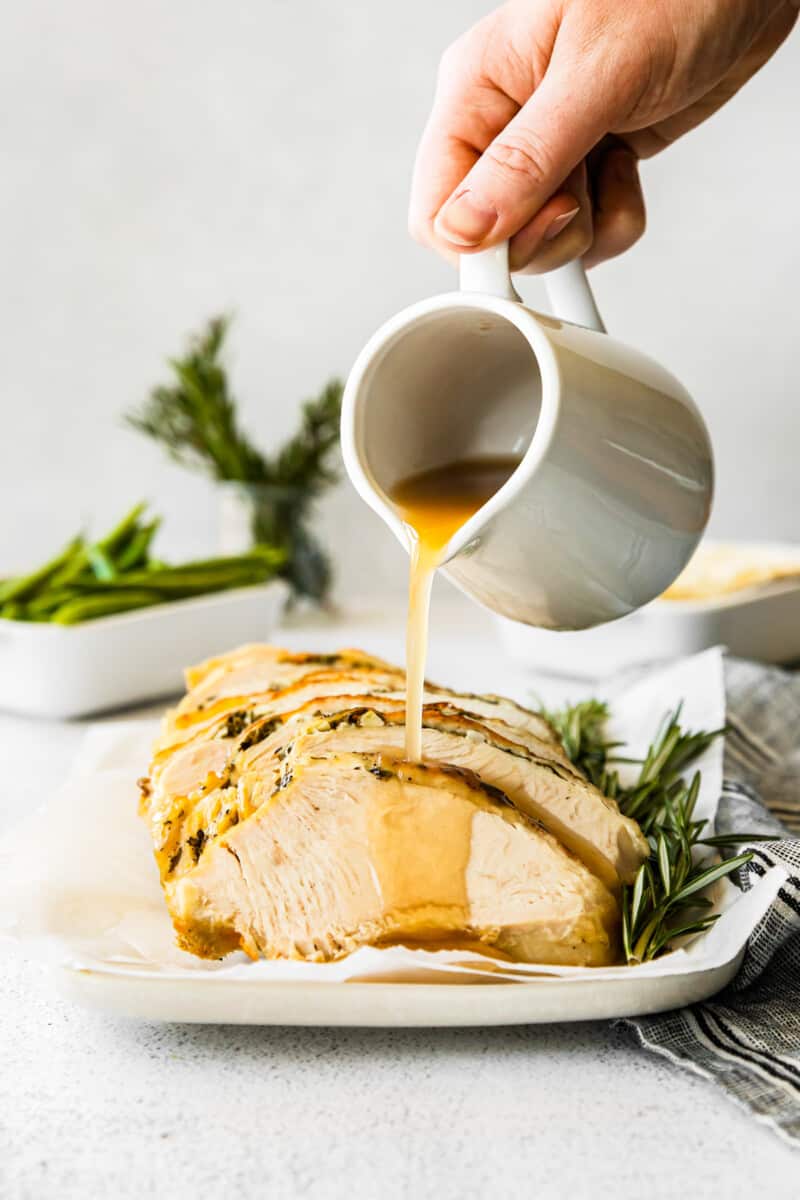 Tender Instant Pot Garlic Herb Turkey Breast Recipe
If you are having a smaller scale Thanksgiving, then a turkey breast is a great alternative to the whole bird.
Cooked in the Instant Pot, this recipe is not only quick and easy to make and cook, but it also frees up space in your oven for all of those delicious sides!
Garlic and herb butter is rubbed under the skin of the turkey breast for a wonderful flavor and there's no dry turkey in sight!
Be sure to try my Air Fryer Turkey Breast and Smoked Turkey Breast too!
Why you'll love this Pressure Cooker Turkey Breast recipe:
QUICK AN EASY: This chicken breast is simple to prep with a few basic ingredients, and it's so much quicker to cook than the traditional oven roasting method.
PERFECTLY COOKED: The Instant Pot helps to lock in the moisture of the turkey, so it comes out perfectly juicy.
PERFECT FOR SMALLER PARTIES: It can feel like a lot of work to cook a whole turkey for just a few people. This turkey breast will serve 6, so you'll still be able to enjoy some leftovers!
Simple and easy to make, this Instant Pot garlic herb turkey breast will be the star of the show at your Thanksgiving dinner!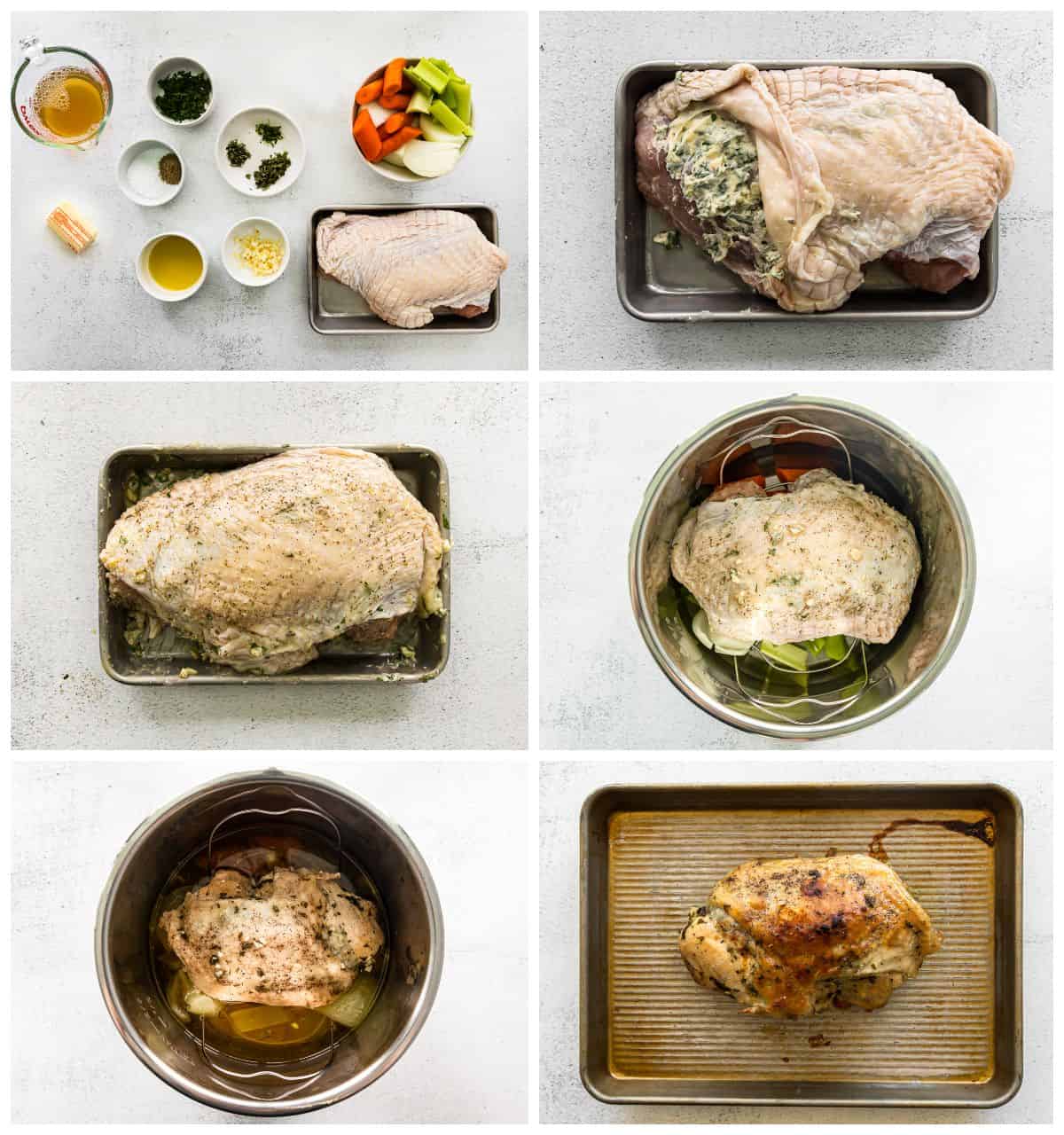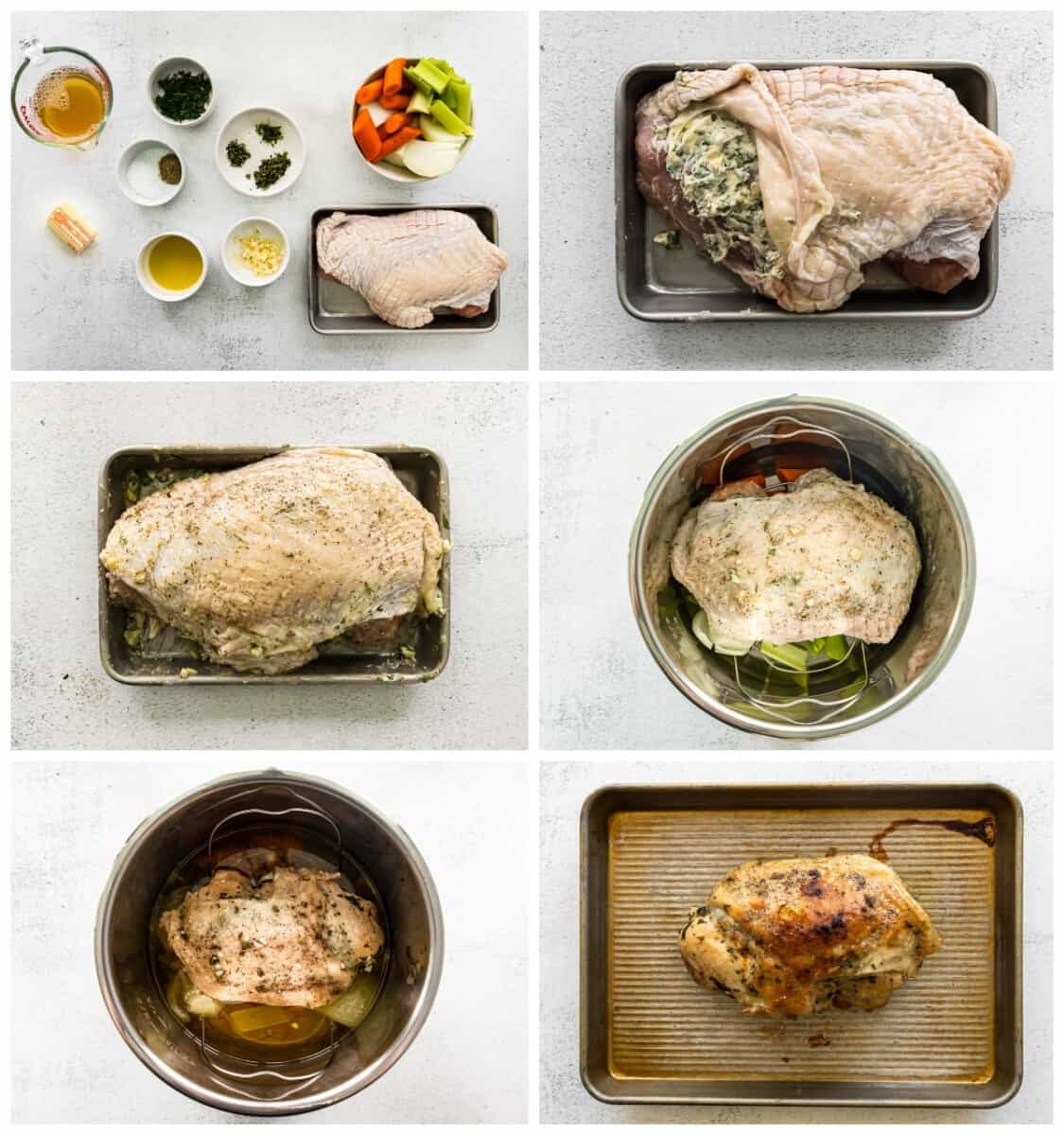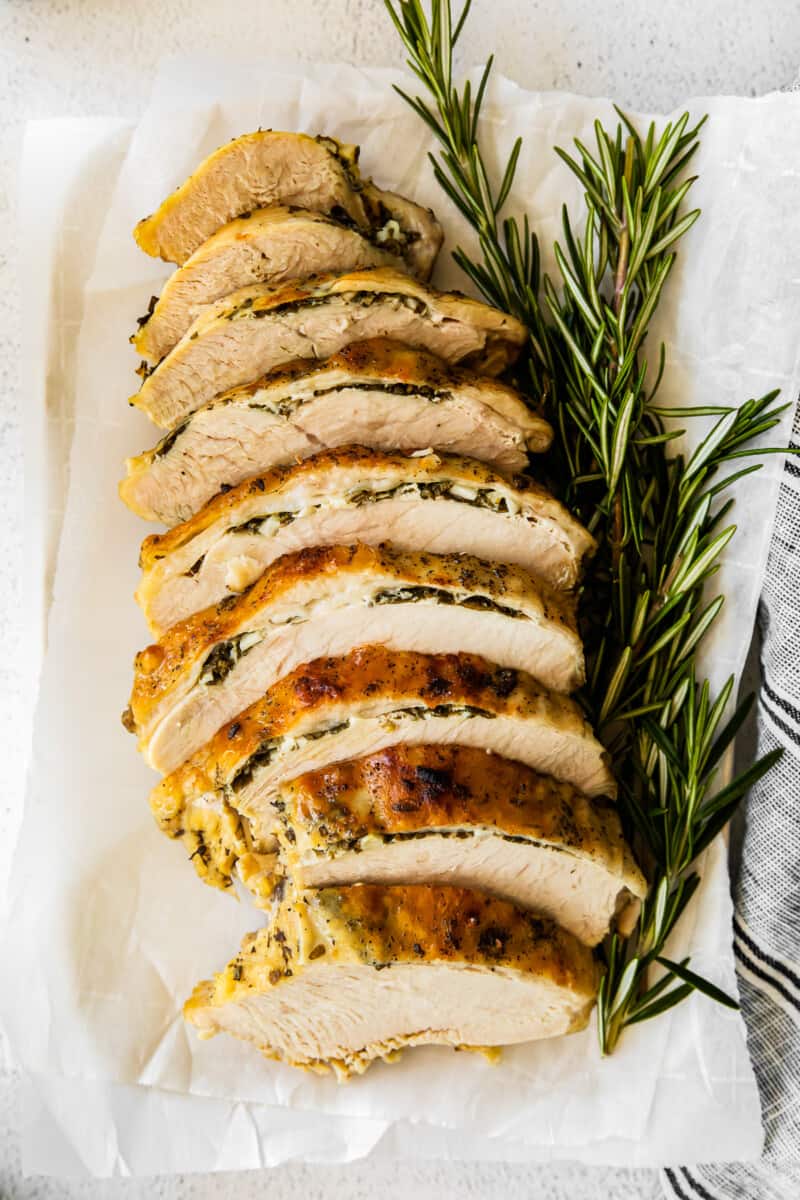 How to make Garlic Herb Turkey Breast
Be sure to see the recipe card below for full ingredients & instructions!
Place the trivet in the Instant Pot, pour in the stock and add the chopped veggies.
Mix together the ingredients for the garlic herb butter.
Rub the butter between the skin and the breast meat.
Oil and season the skin.
Cook in the Instant Pot.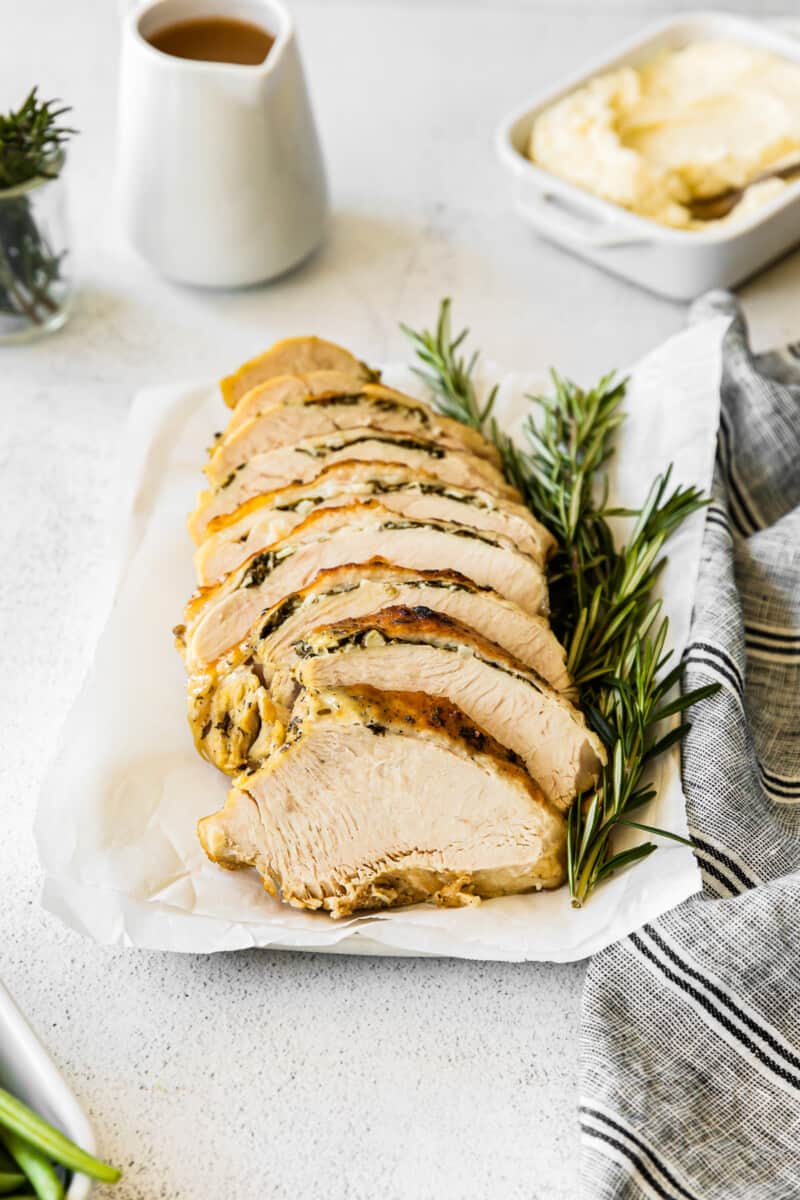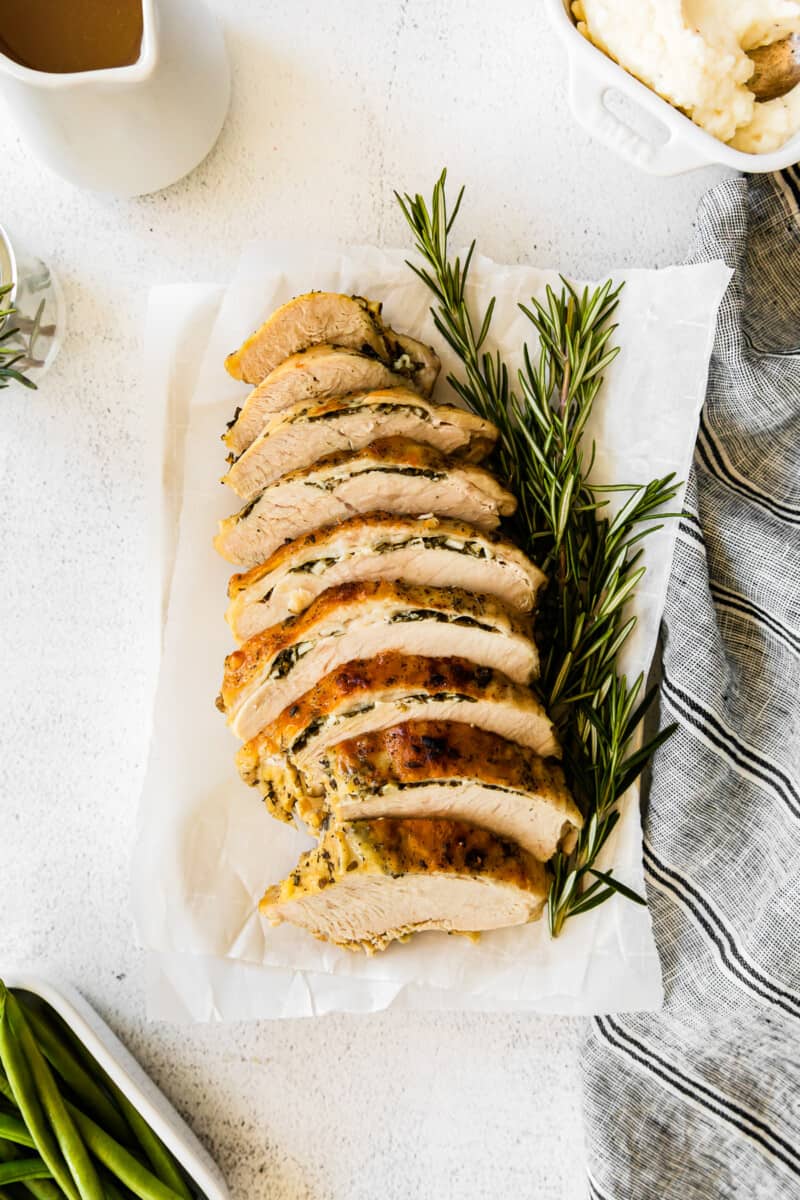 Can I use chicken instead of turkey for this Instant Pot recipe?
Turkey breasts are larger than chicken breasts, so take longer to cook through. You can adapt this recipe to make it with skin on chicken breasts, they will just take less time to cook. Use this Instant Pot chicken breast recipe as a guide for times.
Can I make this garlic herb turkey recipe ahead of time?
This turkey is best served soon after it is cooked so it is fresh and juicy, through leftovers will keep well for up to 4 days in the fridge. You can prep the turkey breast the night before and keep it covered in the fridge til you are ready to cook it.
How do I reheat turkey breast leftovers?
I've found that the best way to reheat turkey breast is to thinly slice or carve it, place it on a baking sheet and add a few tablespoons of stock. Cover tightly with foil and place in a preheated oven at 360F for 10 to 15 minutes til warmed through. This allows you to reheat it without drying it out.
Can I use a slow cooker instead of an Instant Pot to cook Turkey Breast?
If you don't have an Instant Pot, or would rather use your Crockpot, then be sure to check out this Slow Cooker Turkey Recipe. I love both methods and they turn out great!
Serving Suggestions
This garlic herb turkey breast is the perfect centerpiece for your Thanksgiving dinner. Serve it up with favorite sides like:
Cooking a delicious turkey breast in the Instant Pot is so effortless! Make your day less stressful and more enjoyable with this recipe!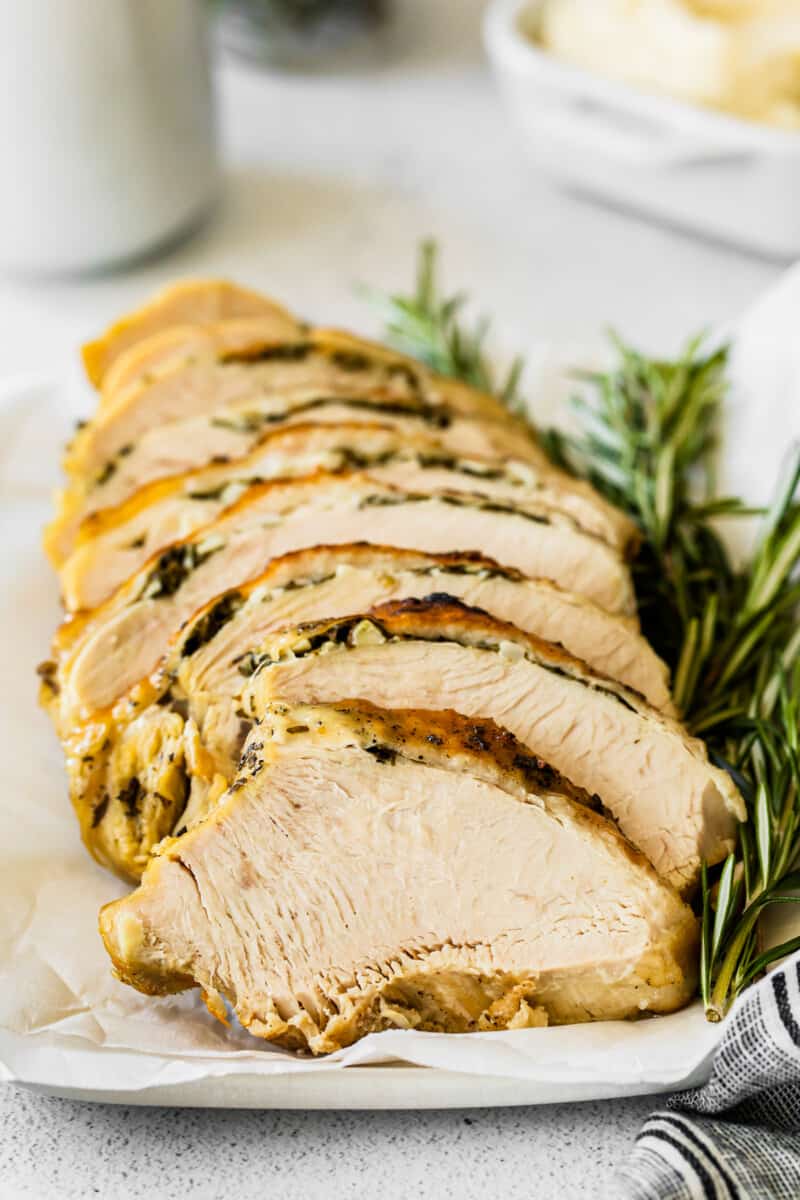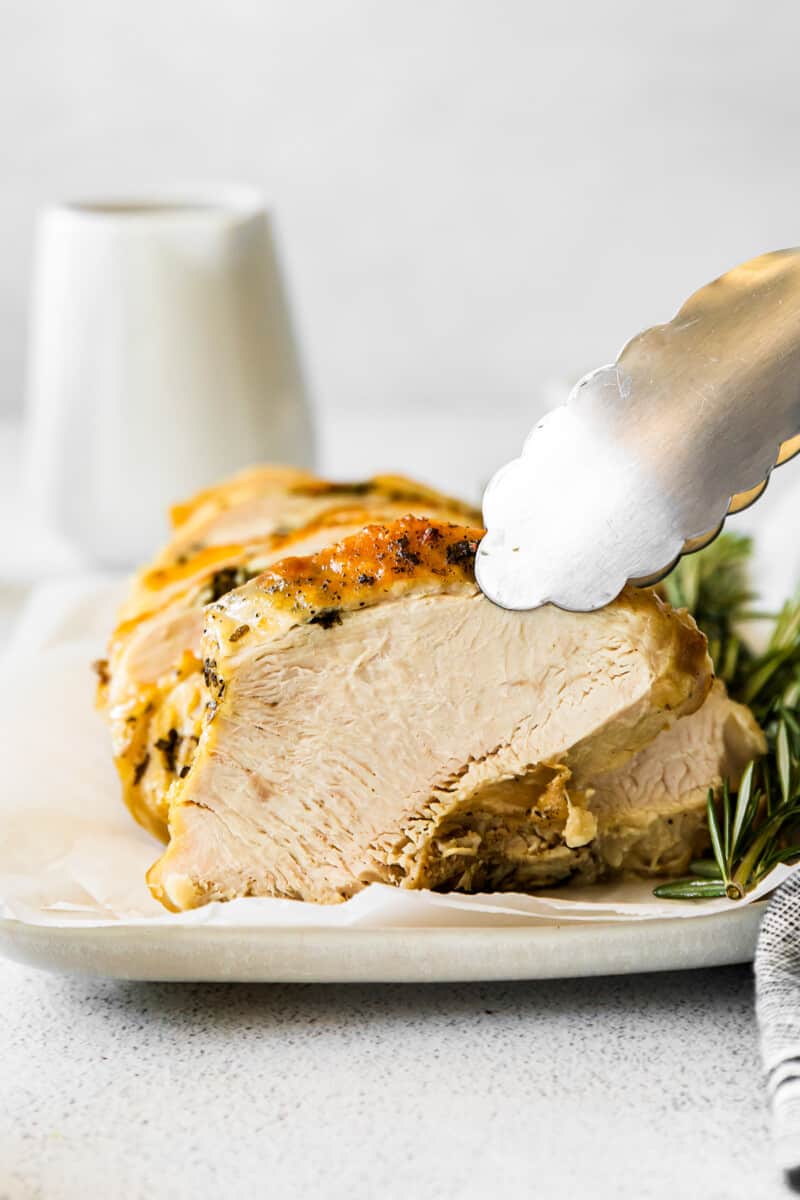 Tips!
If you want to brown the turkey skin after cooking, transfer the cooked turkey breast to a baking sheet and broil for 3-4 minutes or until your desired doneness. Make sure to keep an eye on it so it doesn't burn.
Pat the skin of the breast dry before prepping it, this will help remove excess water and help it to crisp up.
Once cooked and removed from the Instant Pot, cover the breast loosely with foil for 10 minutes to allow the juices to redistribute.
Say goodbye to dry turkey meat with this Instant Pot recipe! This foolproof method is easy to master!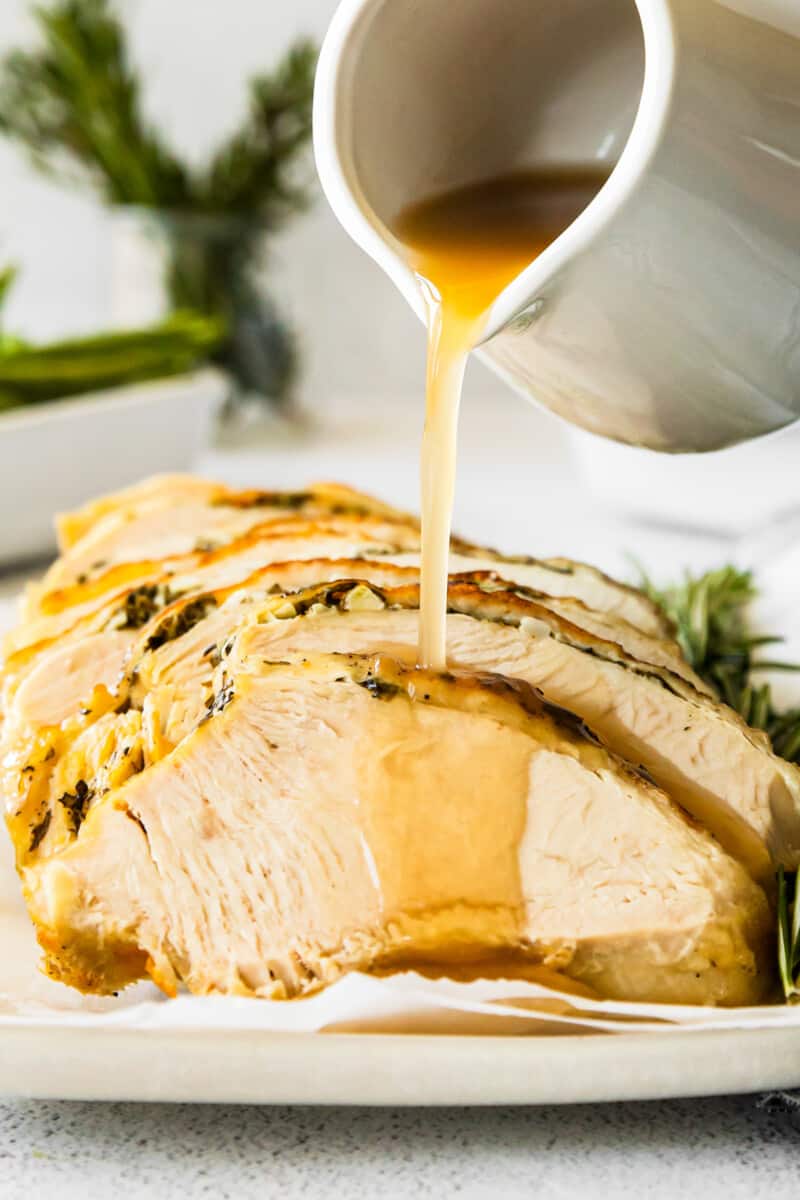 This Instant Pot garlic herb turkey breast is an easy way to impress friends and family this Thanksgiving!
If you make this recipe be sure to upload a photo in the comment section below or leave a rating. Enjoy!