Loaded with fresh blueberries, encased in a light and fluffy muffin mix and topped with a super satisfying brown sugar crumble – may I introduce you to the best Blueberry Muffins recipe!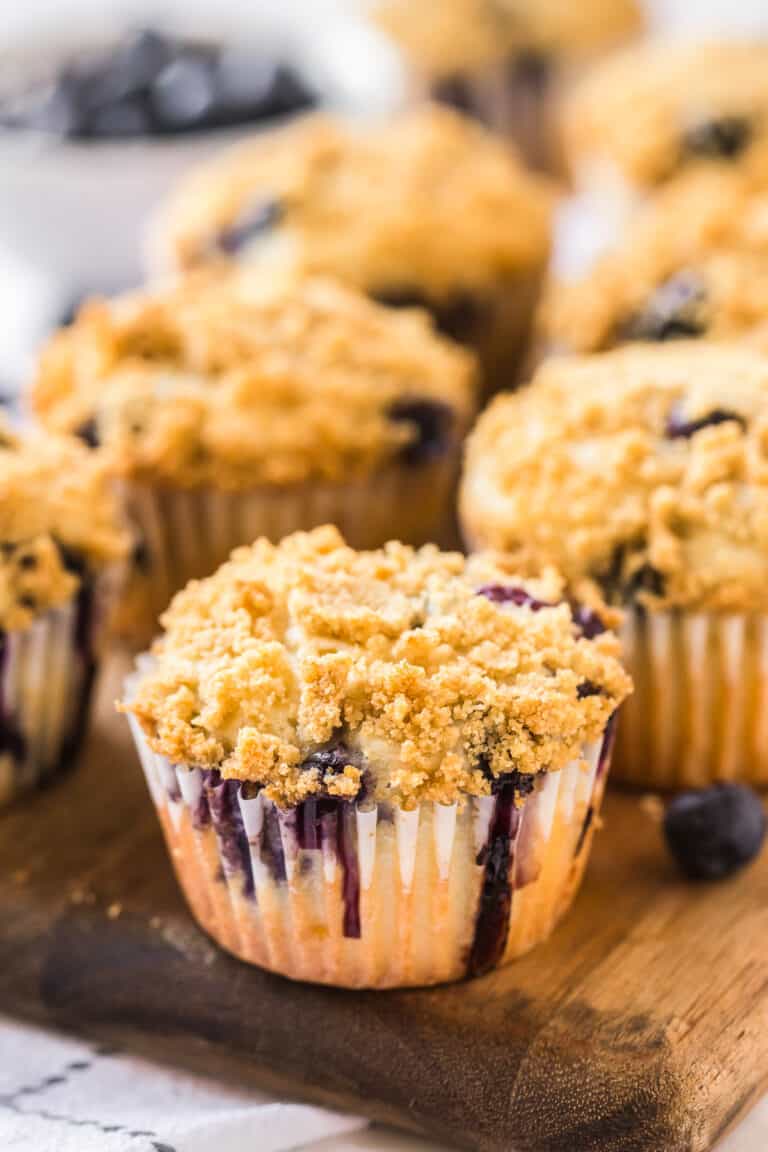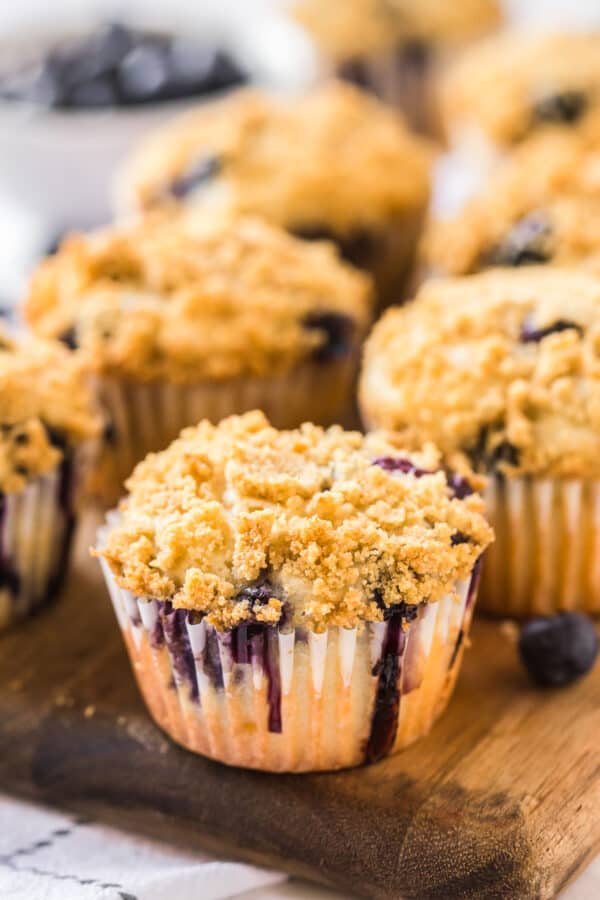 Blueberry Muffins
Making muffins from scratch has never been easier! This easy Blueberry Muffins Recipe serves up soft muffins with a sugary, crumble top and of course LOTS of blueberries! A berry delicious snack, breakfast or dessert!
Why you'll love this Blueberry Muffins Recipe!
A no fuss muffin recipe. An easy homemade muffin mix and topping can be whipped up in a few minutes, then pour into molds and bake – done!
Moist muffins! The texture of these blueberry muffins is divine. Made with vegetable oil, sour cream and buttermilk these are fluffy moist and super addictive.
A delicious and light crumble topping. The crumble on top of these muffins is a simple mix of brown sugar, flour and butter. It's light but super delicious and perfect to crown these fluffy muffins.
How to make this Blueberry Muffins recipe
You can jump to the recipe card for full ingredients & instructions!
Make your muffin batter. Whisk together the oil and sugar then whisk in the sour cream, buttermilk, egg and vanilla. Add in the flour, salt and baking powder the whisk again. Finally fold in the blueberries.
Make your crumble topping. Prepare the brown sugar topping by mixing together brown sugar, butter and flour.
Bake. Spoon the batter into the muffin molds, sprinkle on top of the muffins batter and bake for 20-25 mins.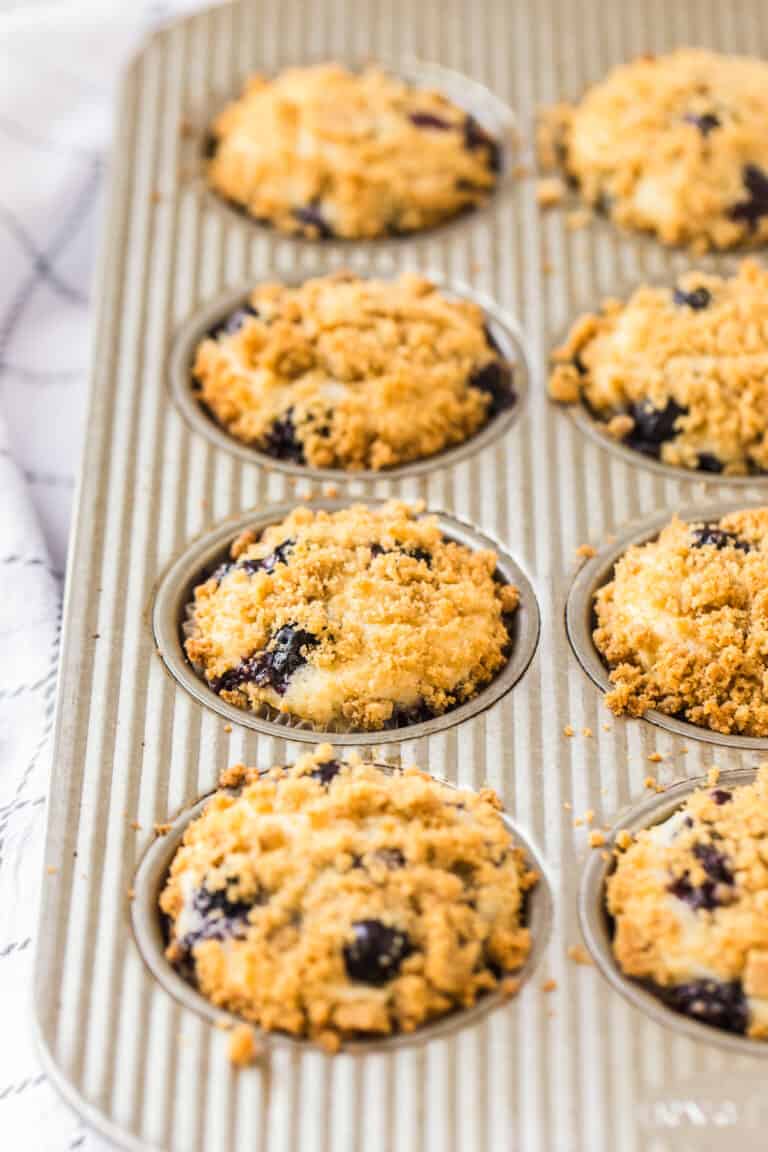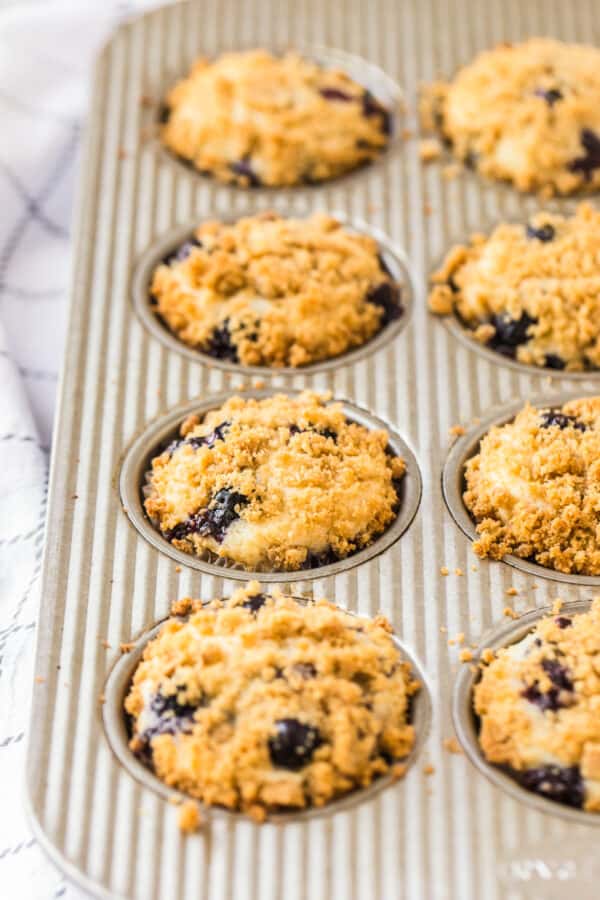 Can I use frozen blueberries?
Yes, you can use frozen blueberries for this blueberry muffin recipe, although I prefer using fresh blueberries. You will notice that your frozen blueberries may tend to bleed into the batter and will color the batter.
When using frozen blueberries bake the muffins for up to 10 minutes longer. Baking times may differ depending on your oven so make sure to check on the muffins periodically when cooking.
How do I stop my muffins from sticking?
You can bake muffins straight in a muffin tin, or you can use paper liners. To stop the muffins from sticking, use a nonstick pan and lightly grease the pan with nonstick cooking spray.
If you're using liners, spray the liners with a light coating of nonstick cooking spray to keep the muffins from sticking to the wrapper.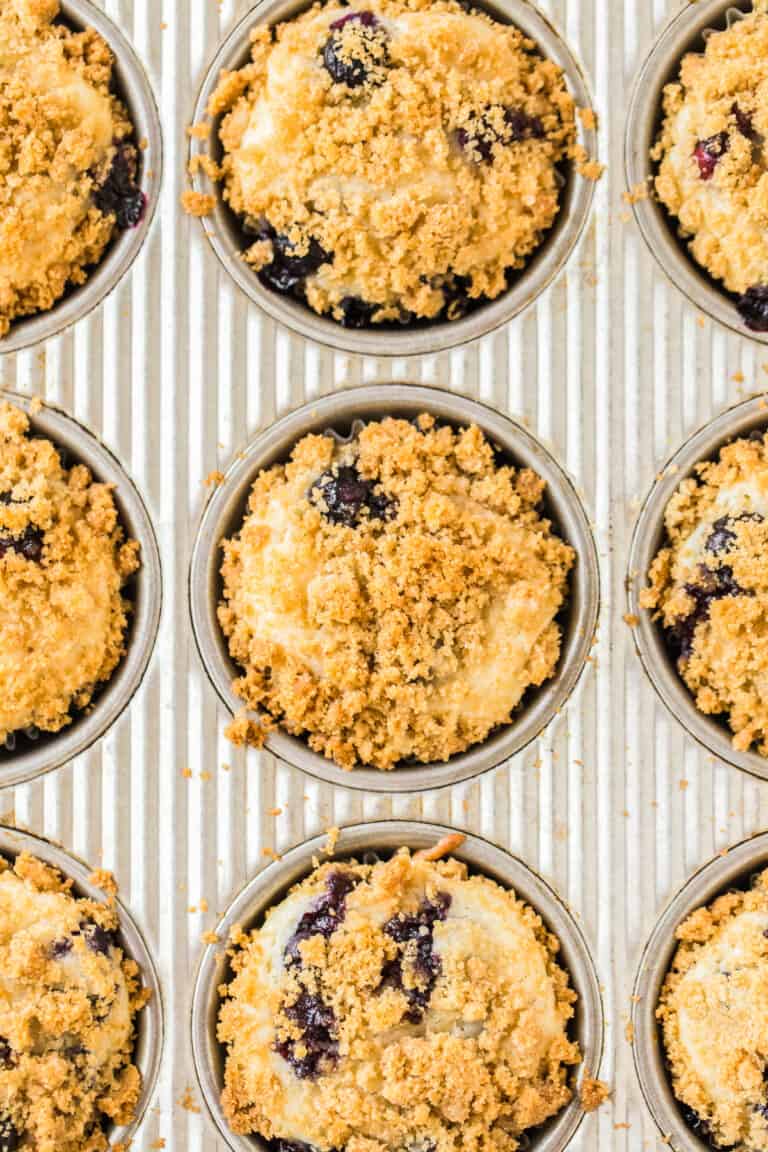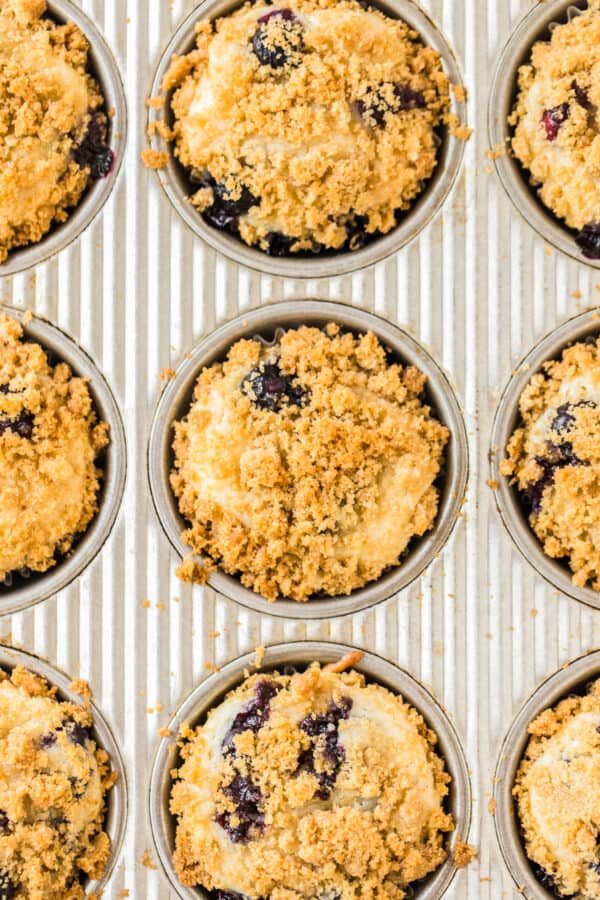 How to store these Blueberry Muffins
You can store blueberry muffins at room temperature for up to 5 to 7 days. You can also freeze your blueberry muffins for up to six months for best quality.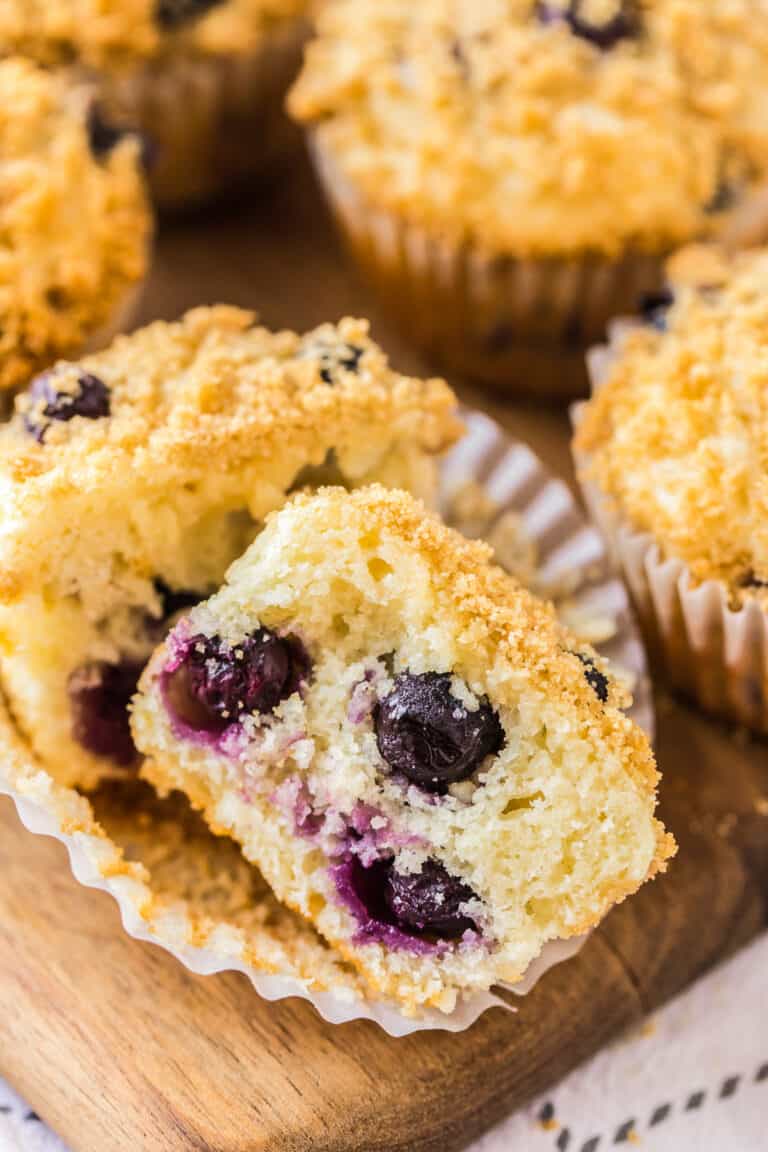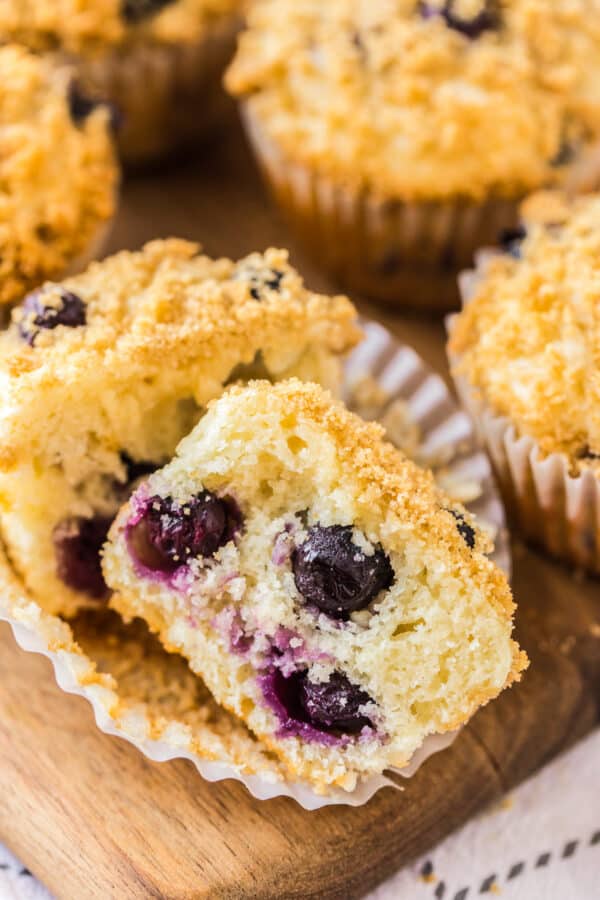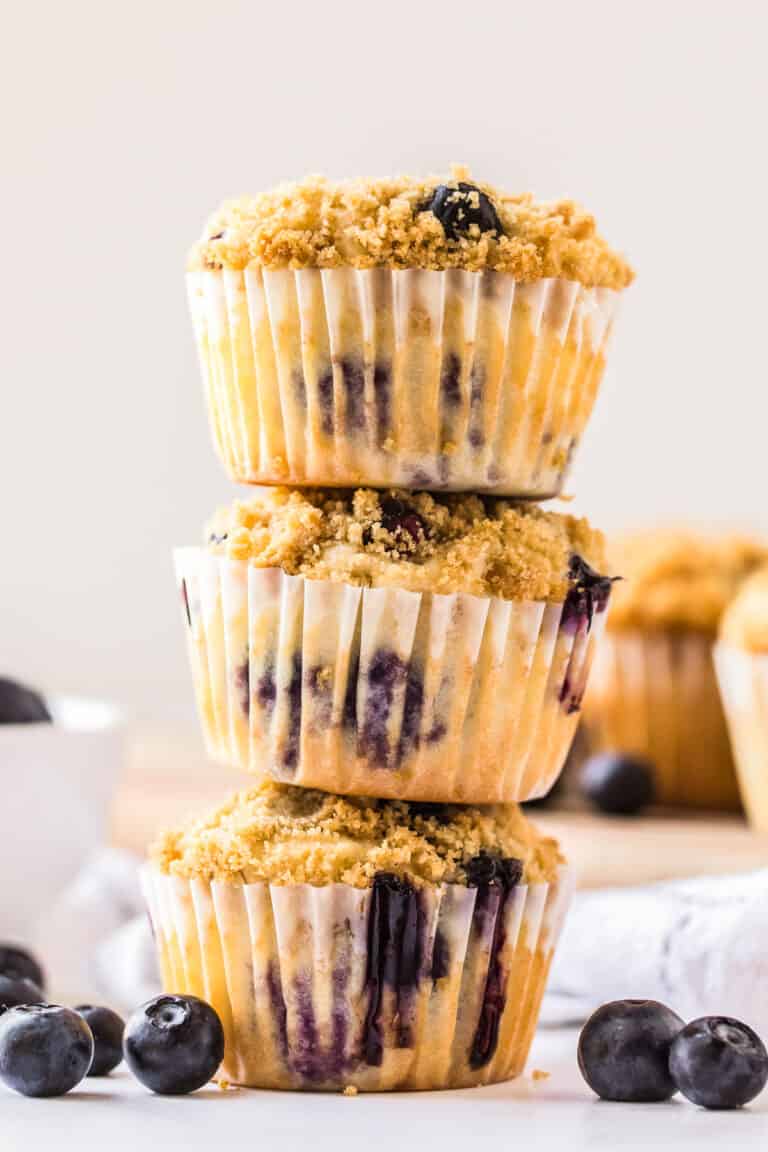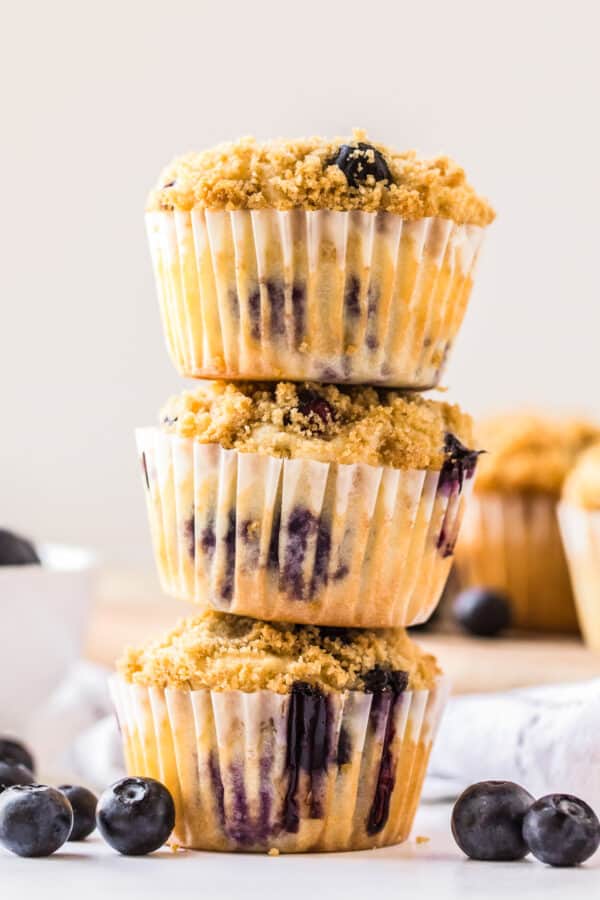 Tips!
If you do not have store bought buttermilk available, you can add 2 teaspoons of either white vinegar or lemon juice to sour the milk.
In order to help the crumble stay on the muffins, gently press the crumble on to the top of the muffin before you cook it.
If you don't have sour cream you can use yogurt, both add a lovely moisture to the muffins.
The brown sugar topping is completely optional, the muffins still taste great without it. The brown sugar topping helps add a little extra sweetness and extra crunch to the muffins.
Freeze the baked & cooled muffins for up to 3 months. Thaw in the refrigerator or at room temperature before enjoying.
More Fruit Filled Recipes We Love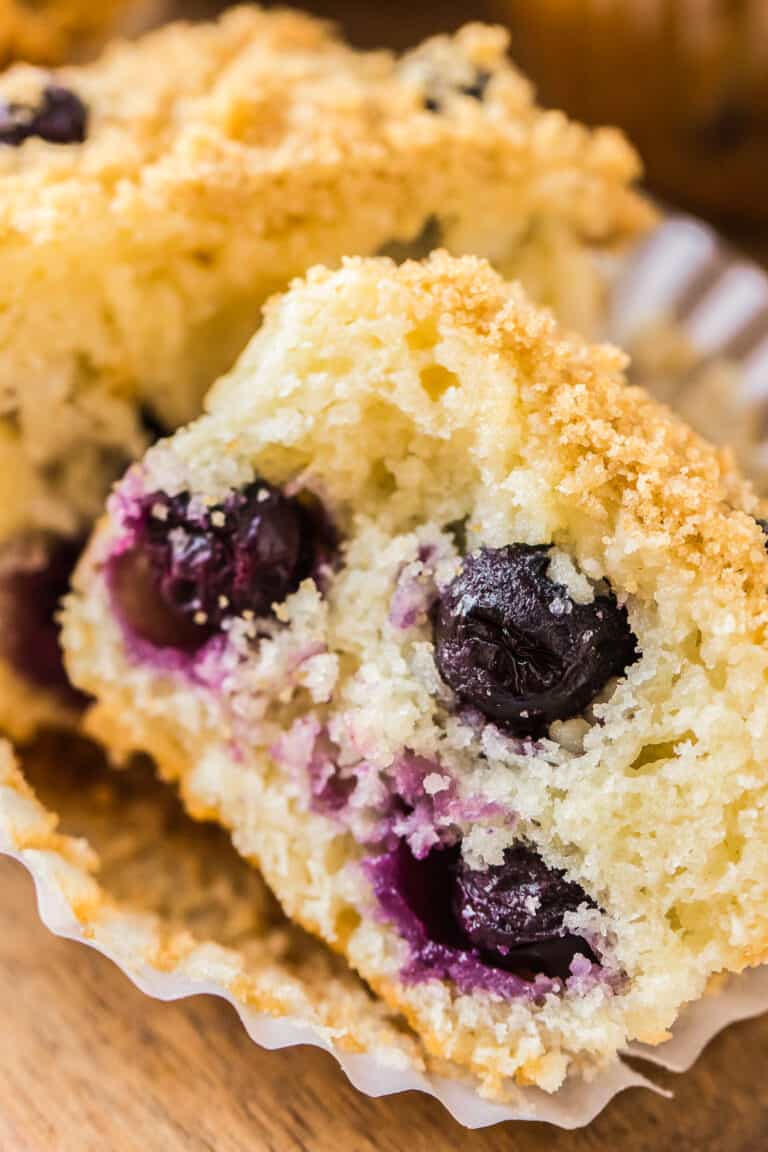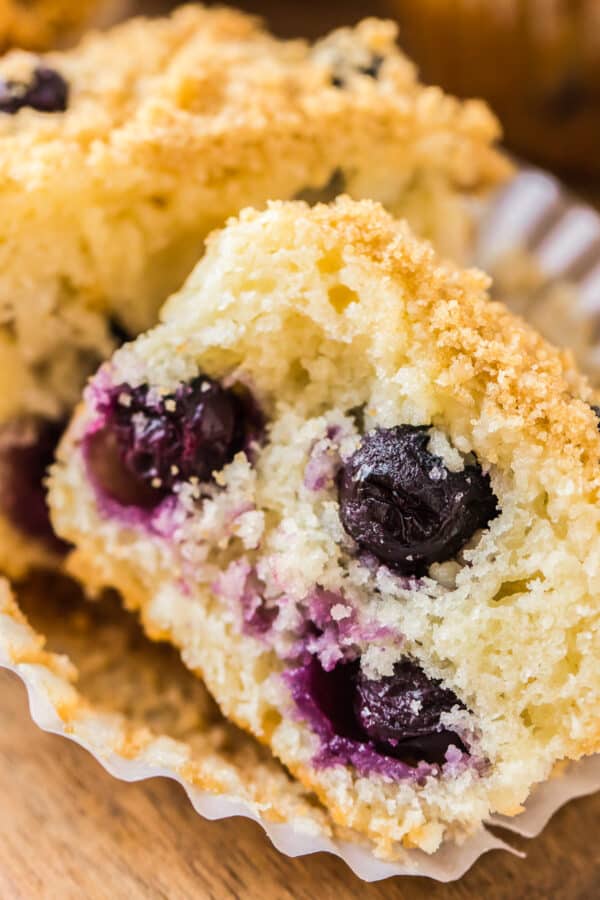 Other delicious muffin recipes
Have you tried this Blueberry Muffins Recipe? Feel free to leave a star rating and I'd love to hear from you in the comments below!