These fresh-baked Strawberry Muffins are made with real strawberries and a hint of almond extract for the most delicious flavor. They come out of the oven soft, fluffy, and perfectly moist! Making these fresh fruit muffins is so easy, and they make a great breakfast or snack.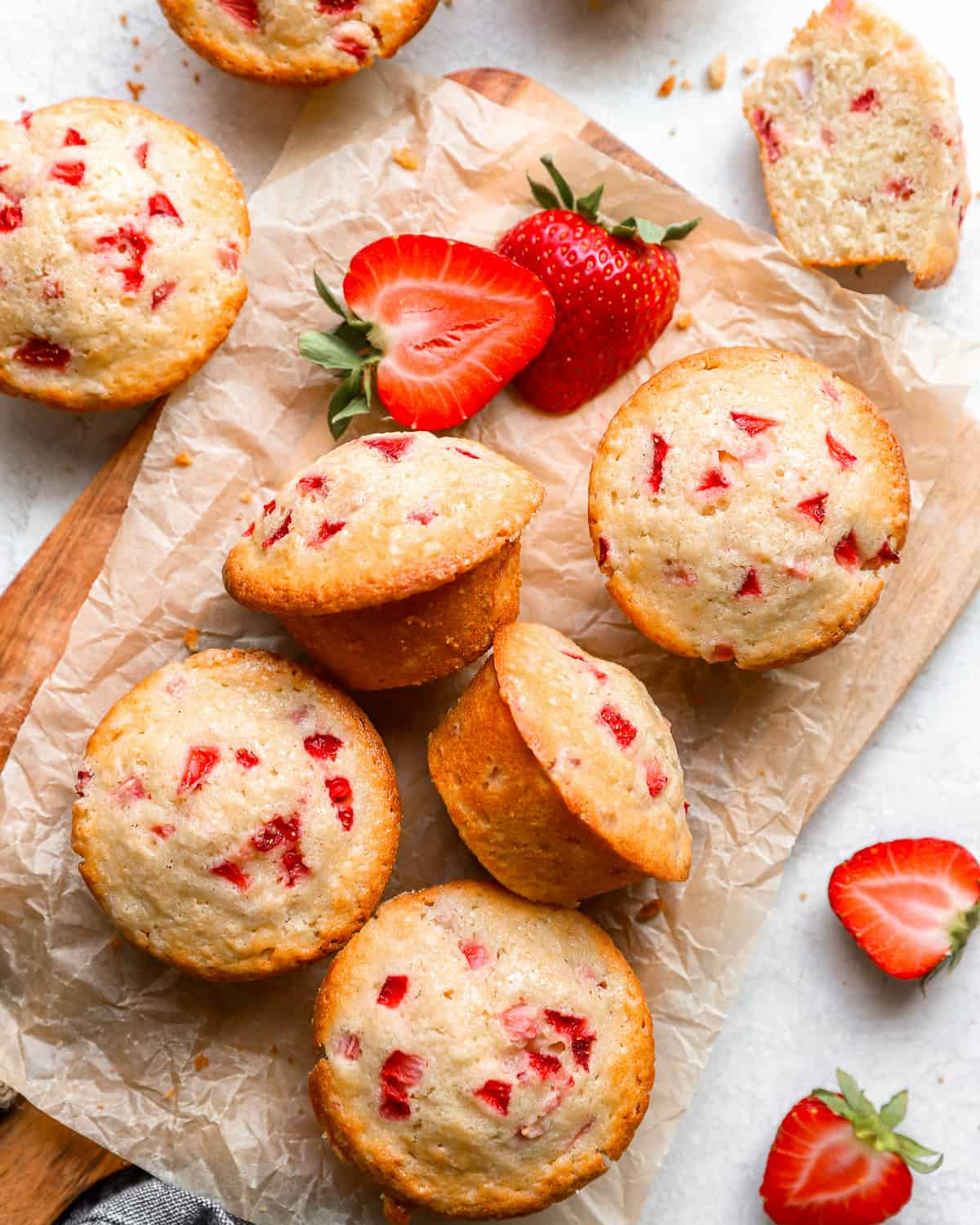 What's in this Strawberry Muffin Recipe?
There's nothing quite like a fresh and fruity strawberry muffin on a warm summer morning! This is a great recipe to make with real strawberries.
All-Purpose Flour: Gives the muffins structure.
Baking Powder: Helps the muffins rise in the oven.
Kosher Salt: Enhances the overall flavor.
Sugar: Granulated sugar sweetens the muffins, while turbinado sugar creates a bakery-style crunchy top.
Unsalted Butter: Adds moisture and richness to the muffins.
Milk: Adds moisture to the muffins to create the perfect consistency.
Eggs: Helps give the muffins structure and makes them rich.
Vanilla Extract: Enhances the sweetness of the muffins.
Almond Extract: Plays well with the fresh strawberries, but you could use more vanilla instead if you prefer.
Fresh Strawberries: Adds a fruity flavor and pop of color to these muffins.
Pro Tip: Toss the strawberries in a little bit of flour to prevent them from sinking to the bottom of the muffin batter.
Variations on Healthy Strawberry Muffins
This recipe can be easily adapted to use any kind of fruit, like blueberries, raspberries, chopped (pitted) cherries, diced apples, or peaches. Yum!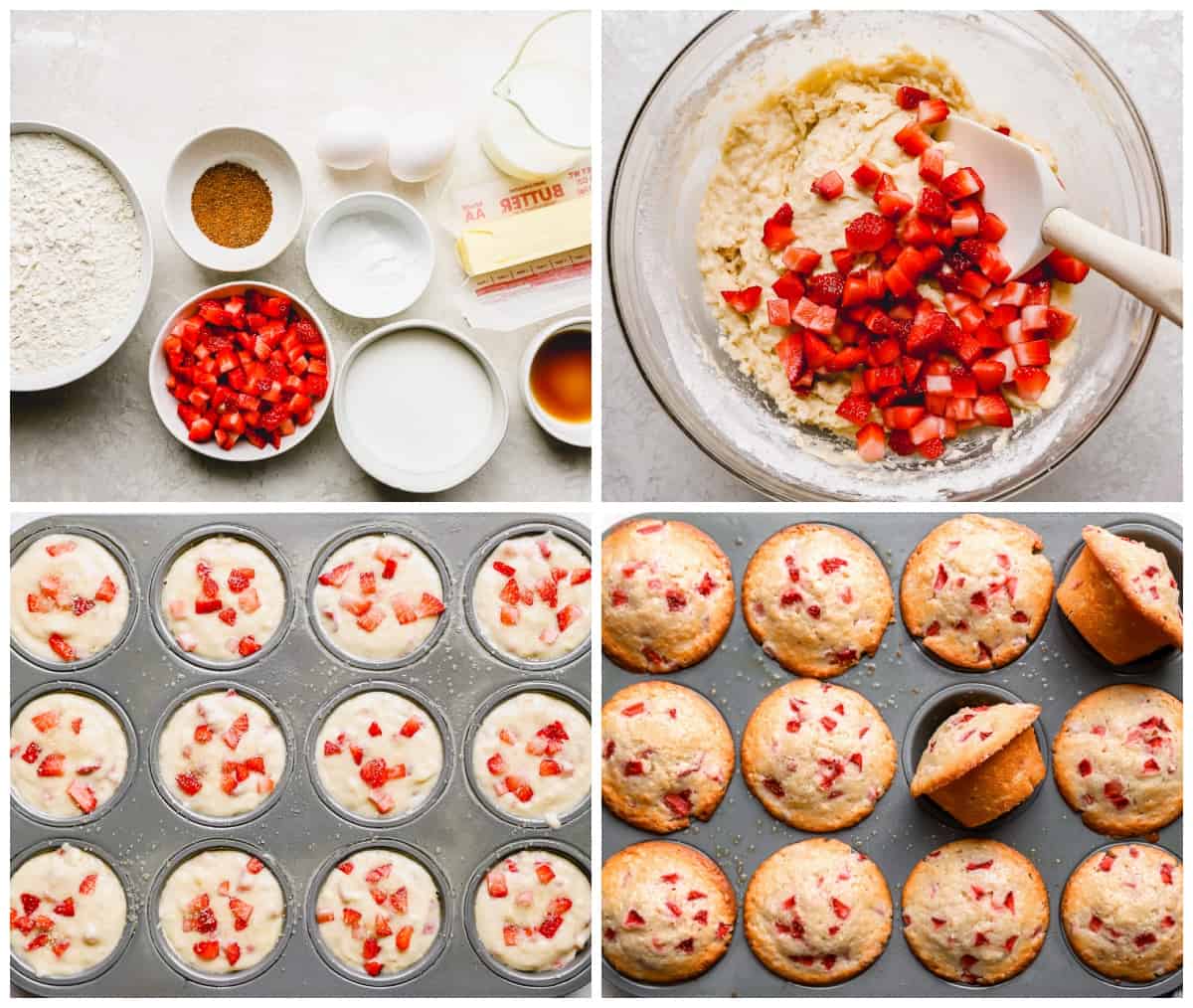 How do you make muffins moist and not dry?
To make these muffins extra moist, make sure not to overmix the batter!
Can I use frozen strawberries?
Yes, but you'll need to thaw them first, then press out any excess water with a towel.
What makes muffins too moist?
If your oven temperature is too low or if you use too much milk or butter, your muffins may turn out too moist or even wet. Make sure to check your oven temperature with a thermometer, as ovens can be up to 25°F off from the stated temperature. Also, I highly recommend measuring with a kitchen scale for the most consistent results.
How do I get my muffins to rise higher?
For ultra-high-rise, bakery-style muffins, start your muffins at 400°F for the first 5 minutes, then drop the temperature back down to 375°F for the remainder of the bake time. This supercharges the baking powder, leading to higher domes!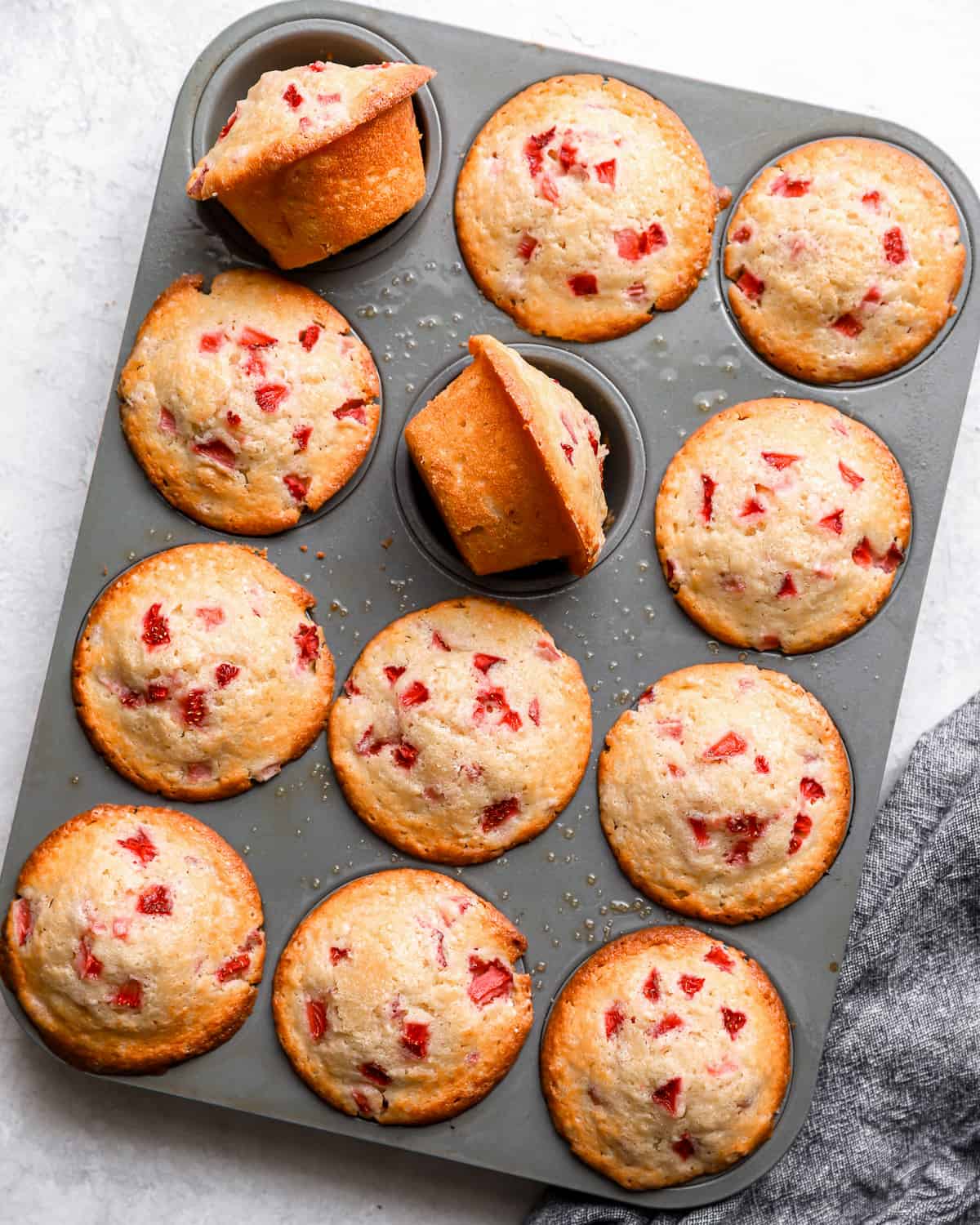 How to Store
Store leftover strawberry muffins in an airtight container at room temperature for up to 4 days, or in the refrigerator for up to 1 week.
How to Freeze
Freeze homemade strawberry muffins in an airtight container for up to 2 months. Let thaw overnight in the refrigerator before enjoying.
Serving Suggestions
Enjoy these muffins with an iced coffee, Starbucks pink drink, or strawberry mango smoothie. Cut a muffin in half and slather it with some lemon curd, vegan butter, or banana strawberry cream cheese for a decadent breakfast treat!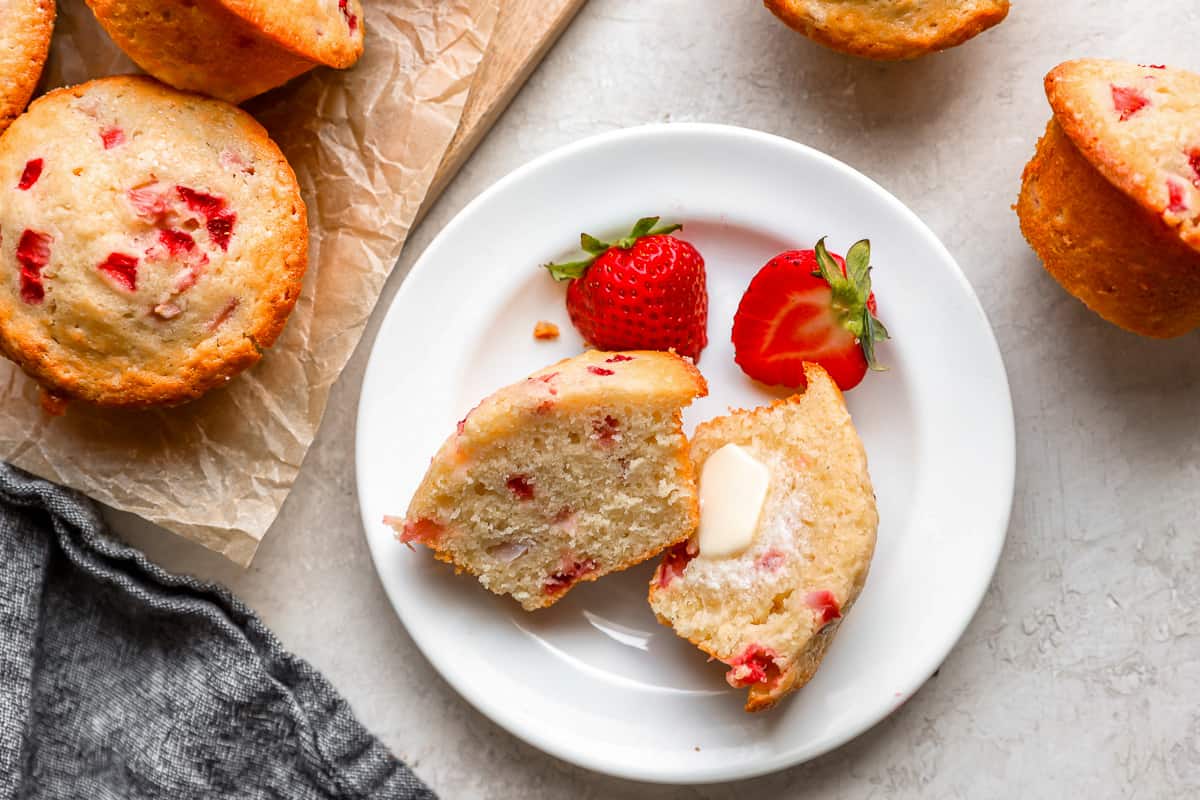 More Fruity Muffin Recipes We Love