Pecan Pie Muffins are sure to brighten your morning! These tasty mini muffins are the perfect thing to eat for a quick breakfast, for a snack, or even as a fun dessert. They're so flavorful and taste just like pecan pie in muffin form. These breakfast muffins are so easy to make and taste even better with the cream cheese frosting!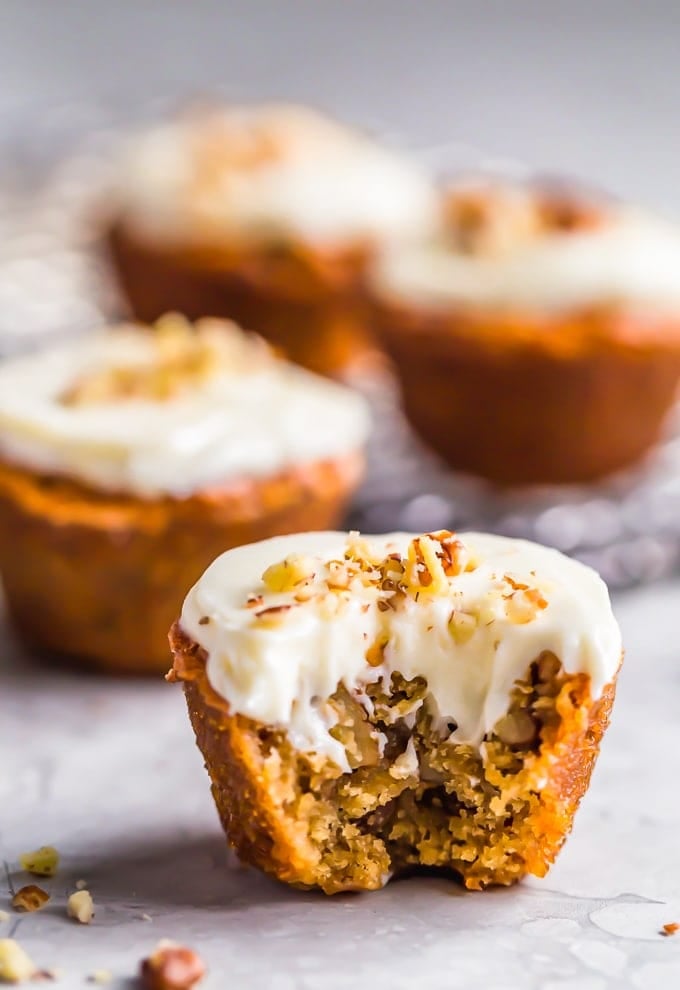 Pecan Pie Muffins
Pecan Pie Muffins are one of my favorite quick breakfasts. These delicious mini muffins don't take long to make, and they are easy to save for weekday breakfasts!
These pecan pie muffins with cream cheese frosting are such a fun breakfast treat! They're so easy eat in the mornings when you're in a rush, and just as nice when you have time to sit down enjoy them with a coffee.
I just can't get enough of these mini muffins. They're especially awesome (or dangerous) because they're bite sized, so you don't have to feel guilty for eating 2 or 3 (or 6 or 7…right??). You could also make these breakfast muffins in a regular size, but I really like these minis. They're so easy to eat, and SO cute!
Make up a batch of these mini pecan pie muffins and save them to eat throughout the week. This makes it simple to eat them on the go, or to pop in your mouth for a quick snack. And they make a really tasty dessert too. They're just so versatile!
These Pecan Pie Muffins are the perfect breakfast treat. Make these mini muffins and eat them all at once, or save them to snack on throughout the week!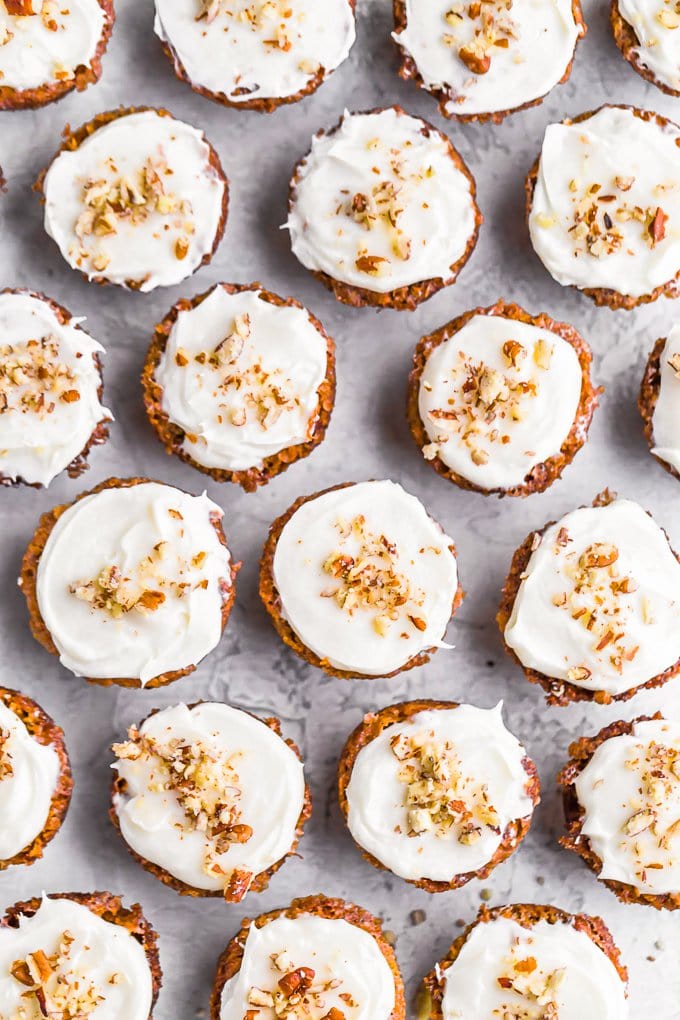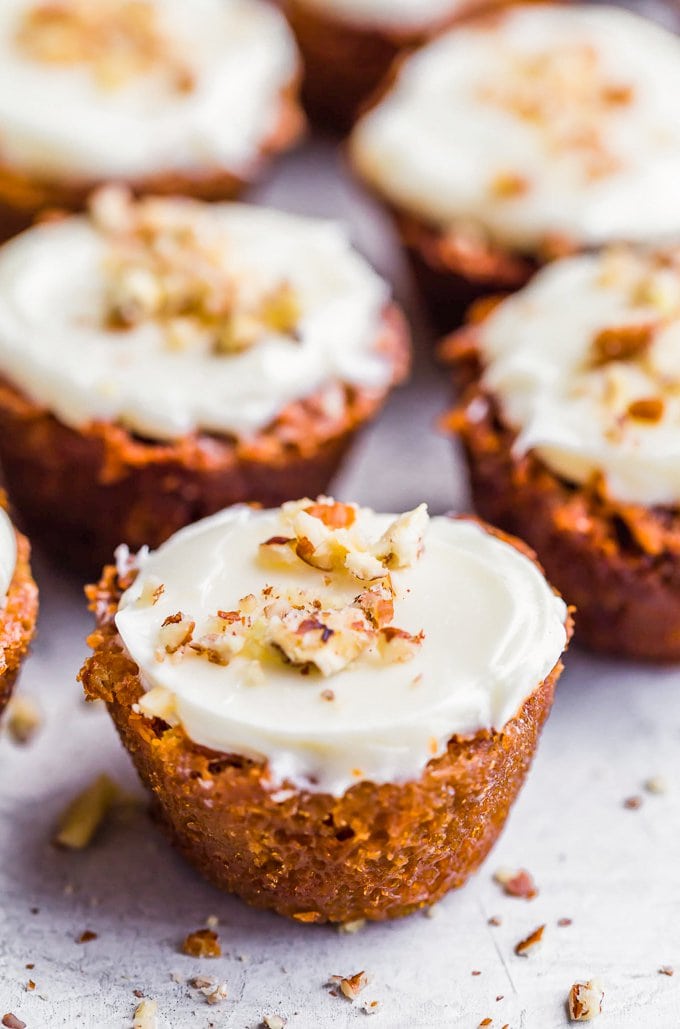 Breakfast Muffin Recipe
I love breakfast muffins. They are the perfect level of sweet without being overwhelming. You can eat them first thing in the morning without feeling like your overindulging. I think these pecan pie muffin have the perfect flavor for breakfast too. And they aren't frilly or overdone or extravagant, they're just good. REALLY good.
I don't care what your diet says, every breakfast needs some carbs if you ask me. These mini muffins are so small and delicious…they're worth the carb points! You could eat them without the frosting if that makes them feel more breakfast-y, but there's nothing wrong with treating yourself either!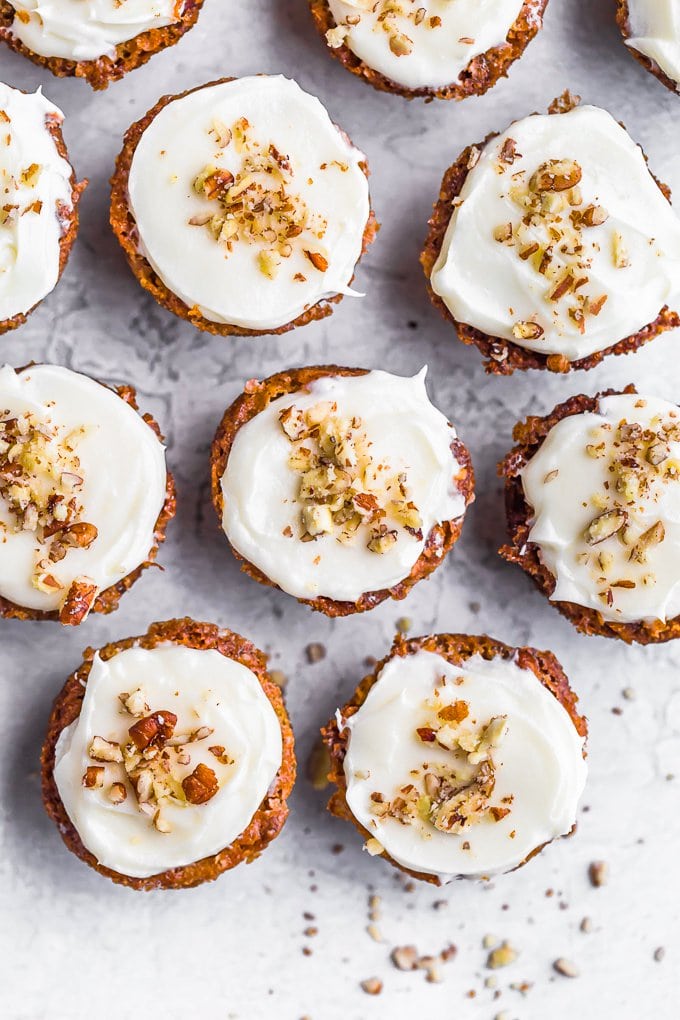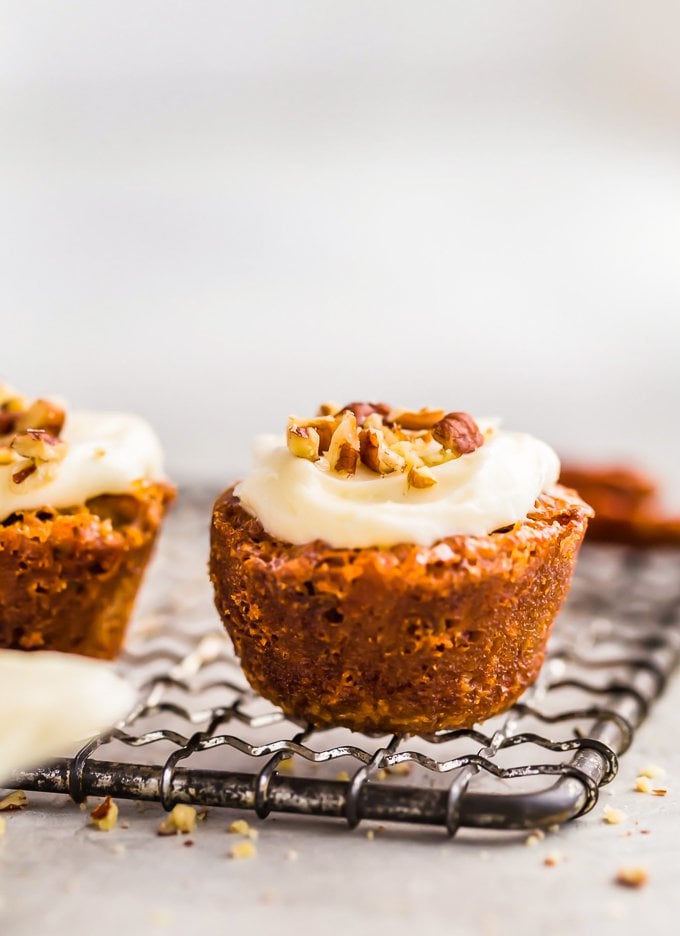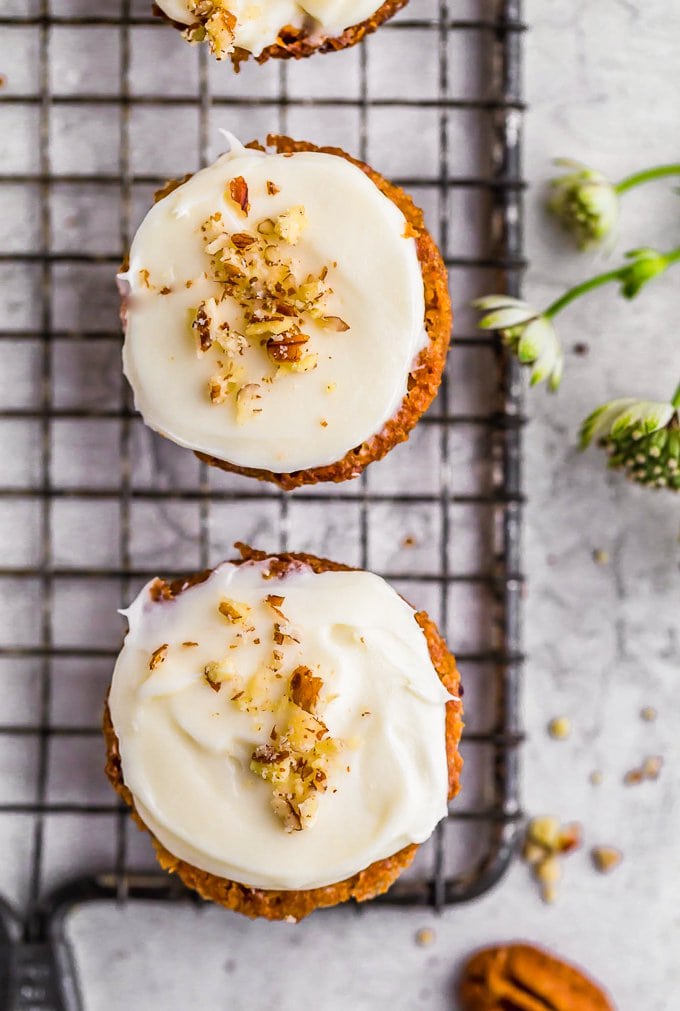 How to Make Pecan Pie Muffins
These pecan pie muffins are so hassle-free that you can easily make them first thing in the morning. I love that they only have 6 ingredients…can you believe that?! I am NOT a morning person, so the less ingredients the better. These mini breakfast muffins are definitely a win!
How to make Pecan Pie Muffins:
Grease the cups of a mini muffin tin, or use paper liners
Mix together brown sugar, flour, and pecans
In another bowl, beat together the eggs, vanilla, and butter until smooth
Stir the egg mixture into the dry ingredients, but don't over mix
Pour the batter into the muffin cups (fill up each cup about 2/3)
Bake 20-25 minutes at 350°F, then let them cool on a wire rack before serving
You can leave the mini muffins plain, or you can top them with cream cheese frosting. Whichever you prefer! If you want to save them to eat later, let them cool completely, and then store them in an airtight container. I like to make a batch and save them to grab for quick breakfasts.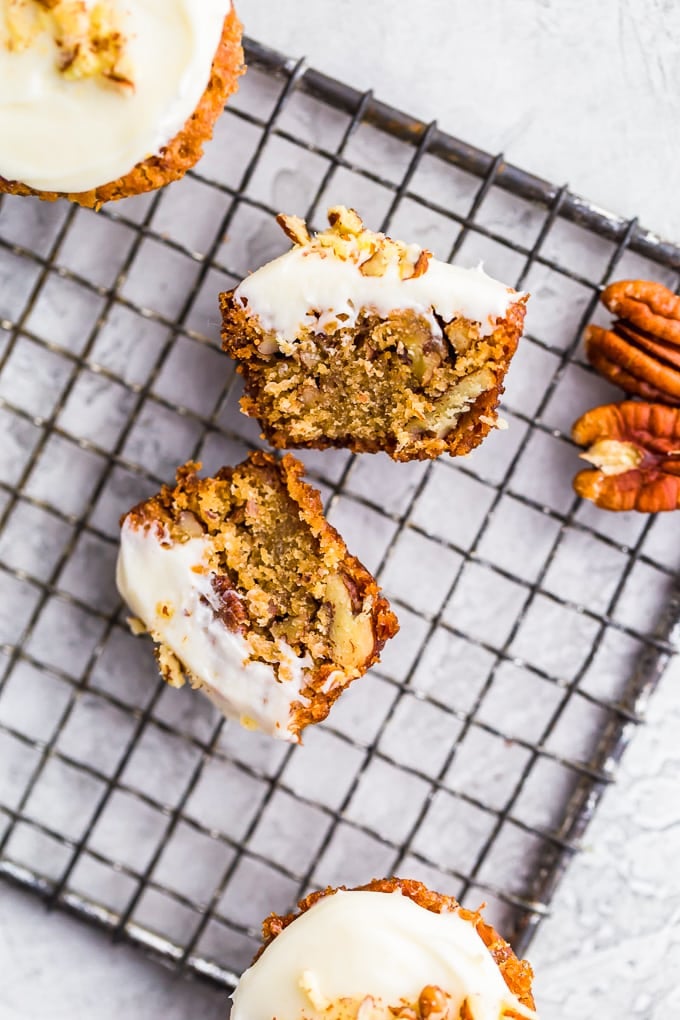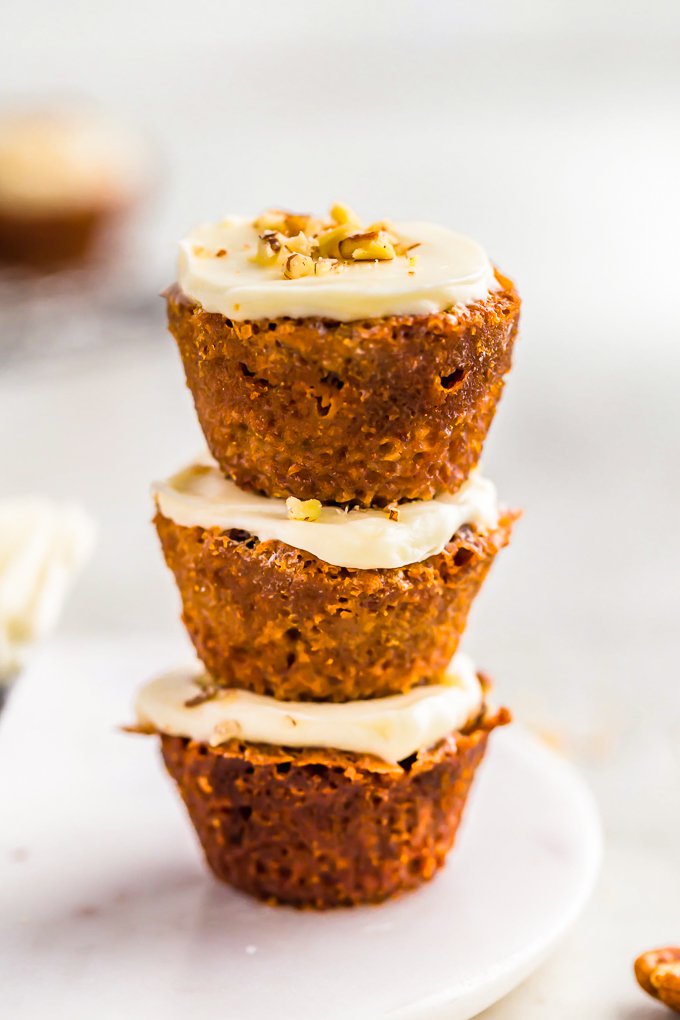 Holiday Breakfast Recipes
While you can definitely eat these amazing pecan pie muffins any time of day (dessert, mid-morning snack, afternoon snack, midnight snack…you get the idea), I like them best for breakfast. These make great breakfast muffins to serve on Christmas or another holiday. They just feel perfect for fall and winter since they have that classic pecan pie flavor.
No matter when you serve these mini muffins, everyone will love them! They are just so tasty and they're the perfect size.
Here's a few more breakfast ideas to serve over the holidays:
I can't stop talking about how good these Pecan Pie Muffins are! I love pecan pie, so naturally I love these too. You don't have to make them as mini muffins, but I think the size makes them extra fun.
See the recipe card below for details on how to make Pecan Pie Muffins. Enjoy!
If you like this breakfast muffins recipe, try these other recipes too: