This easy and healthy one pan recipe is perfect when you need dinner on the table fast. Honey garlic salmon is ready to serve in less than 30 minutes and it's a flavorful dinner that the whole family will love!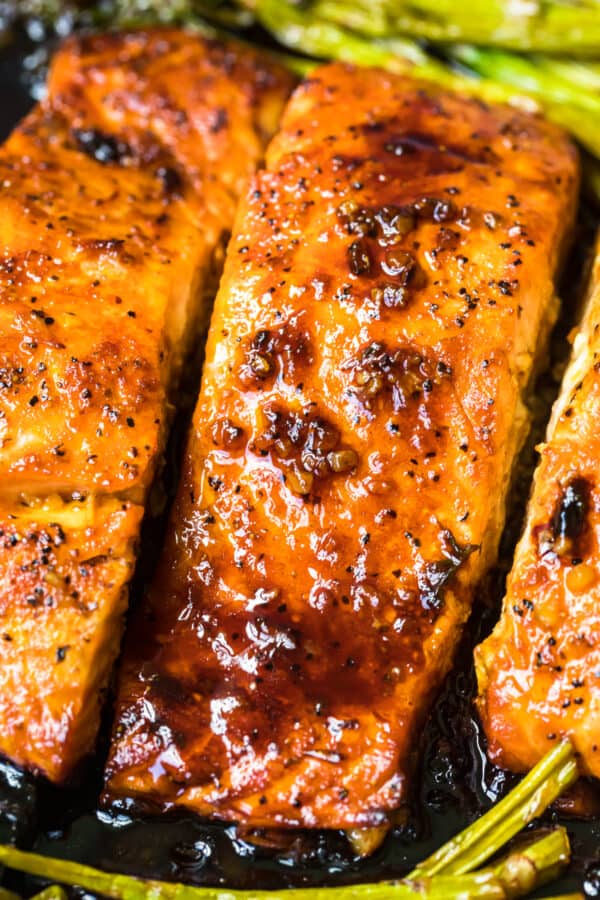 One Pan Honey Garlic Salmon
We have fish for dinner at least a couple of times a week. Everyone enjoys eating it and I love that it's super quick to make!
This honey garlic salmon is super delicious and requires hardly any prep. It's perfectly sweet and salty and there are never any leftovers!
Why You'll Love this Honey Garlic Salmon Recipe:
Cost-Effective: Thanks to our friends at ALDI, we have been able to keep this meal's costs around $5-6 per person. The recipe may be affordable, but it feels completely high-end. High-quality ingredients at absolutely amazing prices. I was also able to order everything online through Instacart, making the entire experience entirely contactless! ALso, in response to customer demand, ALDI has recently expanded its curbside pickup option to nearly 600 stores. Amazing!
One Skillet Meal: I'm a big fan of one-pan dinners. Everything is cooked together and the cleanup is minimal.
30-Minute Recipe: This is a great recipe when you are running short on time. Perfect to serve as a weeknight family meal, but fancy enough to serve to company.
Healthy: This dinner is made with no processed ingredients and salmon is a great source of protein and healthy fats.
Perfect Family Meal: This recipe is helping us get back to our routine of eating together every night. It's simple, affordable, and delicious. It's made in one pan (less dishes!) and in under 30 minutes. What's not to love?!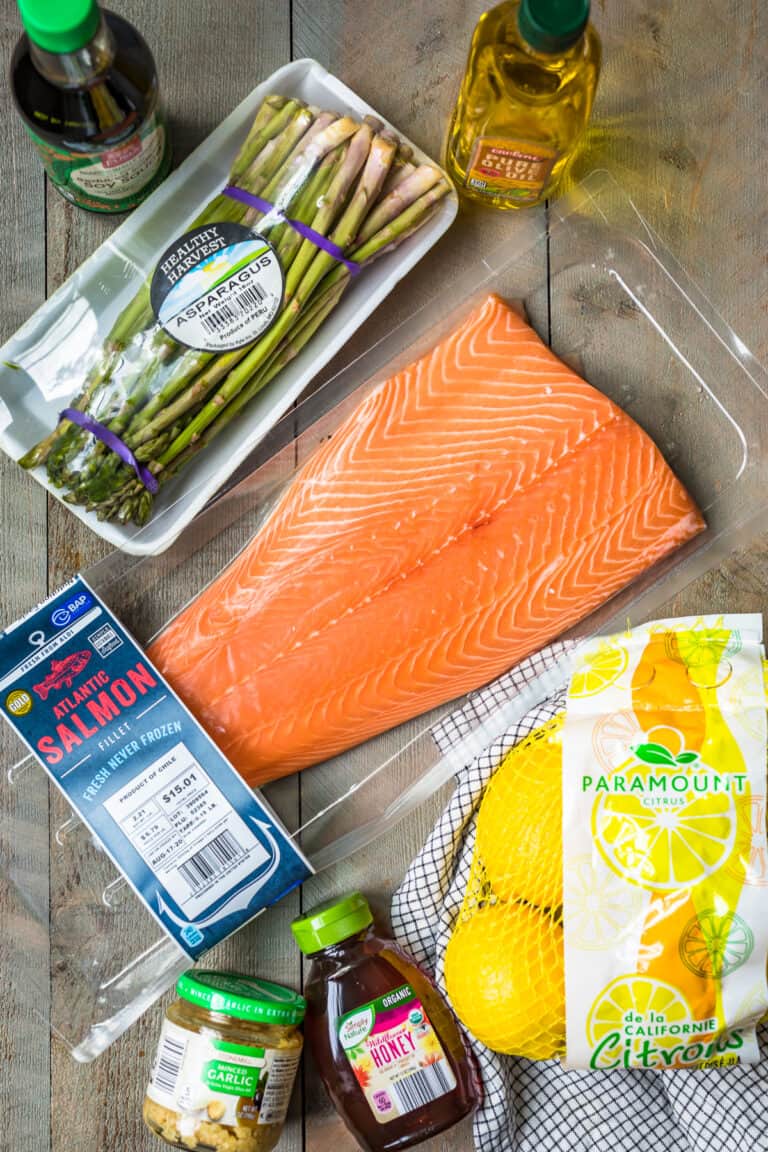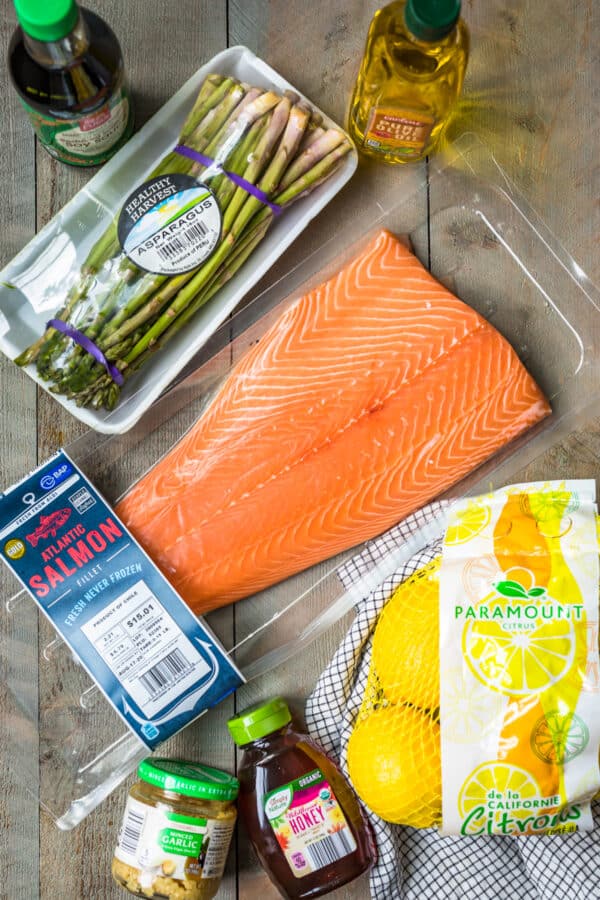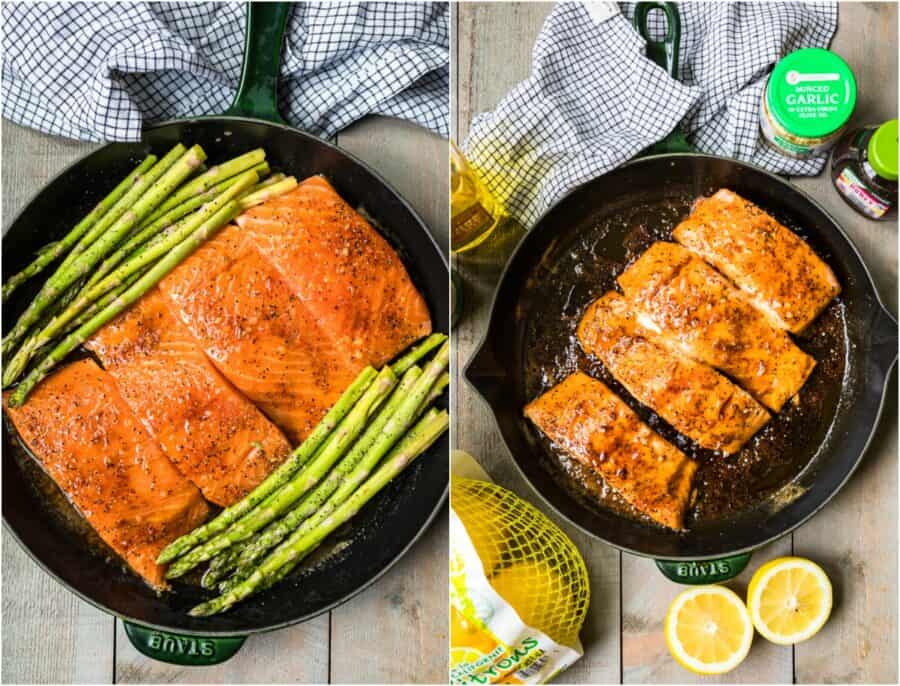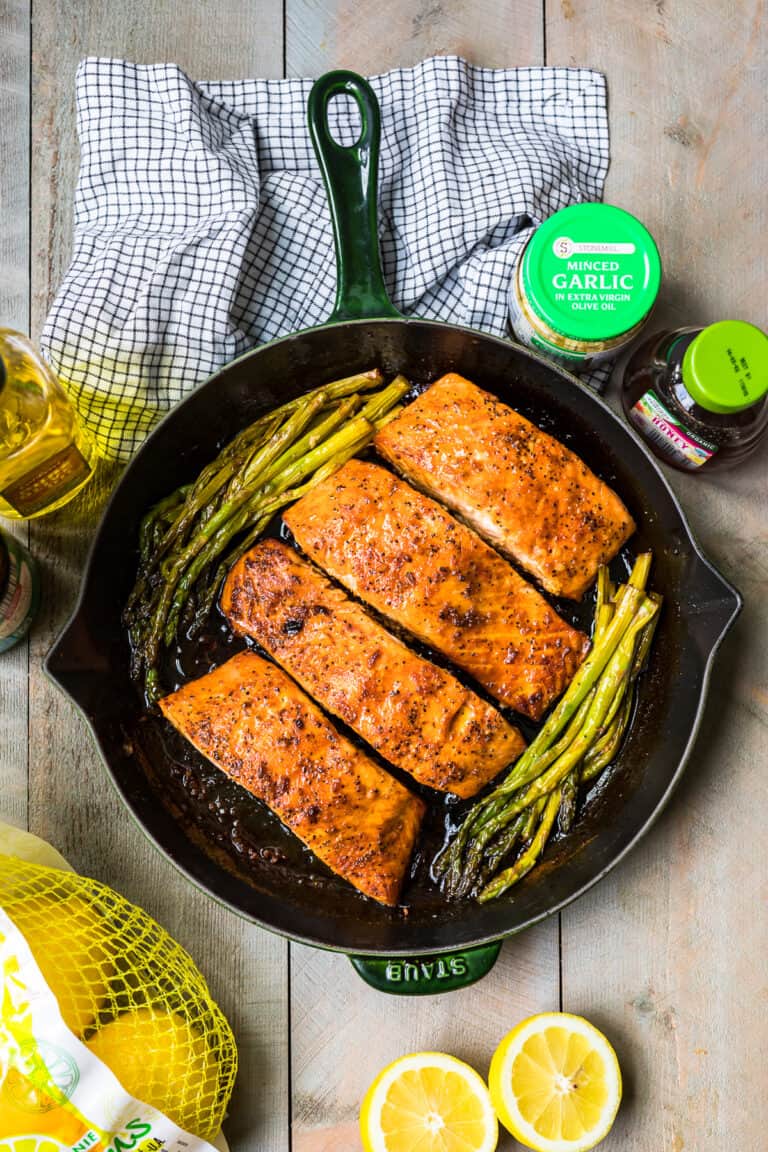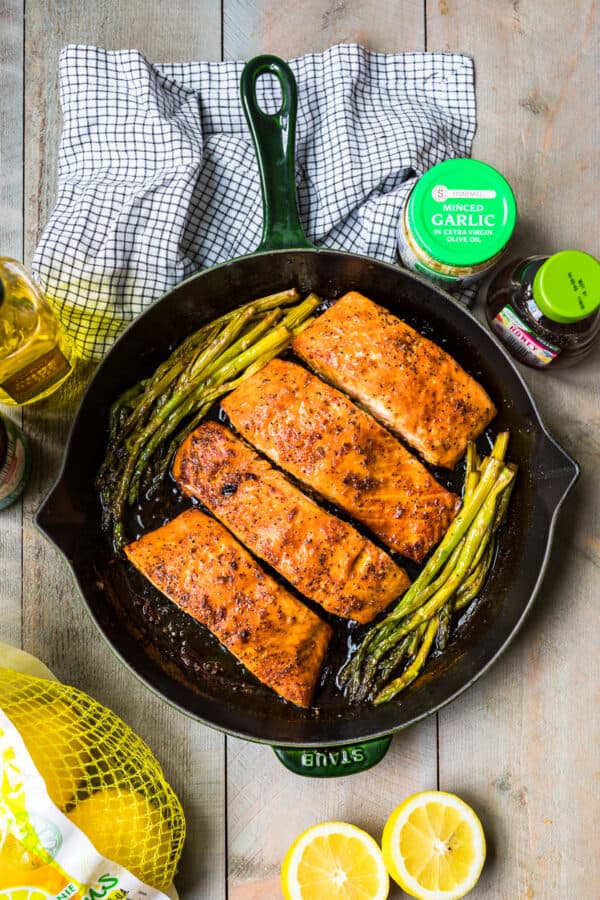 Why we love and trust Aldi for family dinners
We are so lucky to have a wonderful ALDI right around the corner from our house. I bet you do too, as they have countless convenient locations across the country. We love their amazing value, quality, and convenience.
In normal times, you can find us perusing the aisles and trying all sorts of ALDI-exclusive brands and ALDI finds that are new to us every week. Henry loves exploring and I love the convenient layout. I always know where to find what I need.
During 2020, we have been doing our shopping on Instacart, and ALDI has even made that super simple and user-friendly. You can find all of the trusted ingredients online and have a totally contactless experience. As I said before, ALDI is also offering curbside pickup at nearly 600 locations. ALDI cares about how we can stay safe and is willing to help!
Every time we shop at ALDI I'm blown away by the quality and value. The salmon we used for this recipe (we used the Fresh Atlantic Salmon Side) came looking SO fresh and perfect, and was an absolutely unbelievable value at under $16.00 (for 3 lbs. of salmon!) (*Price and availability may vary.)
ALDI was the first grocery store to offer all of their ALDI-exclusive products free of certified synthetic colors, partially hydrogenated oils (PHOs), and added MSG.
They guarantee quality on all our private-label products. If a customer doesn't like an ALDI-exclusive product, they can bring it
back. They'll return their money and replace the product. Amazing!
I was able to shop every ingredient for this Honey Garlic Salmon at Aldi.
Getting Back to Routines
2020 has been such a unique year and all of our schedules have been completely changed and thrown into chaos. I'm grateful to stores like ALDI and recipes like this easy one-pan salmon for helping us get back to our routines.
It felt awesome to have a safe shopping experience followed by an affordable and delicious meal. We got back to cooking together and enjoying dinner around the table as a family. Scout even circled the table begging for scraps. It was a bit of normalcy in a crazy year. Thank you ALDI!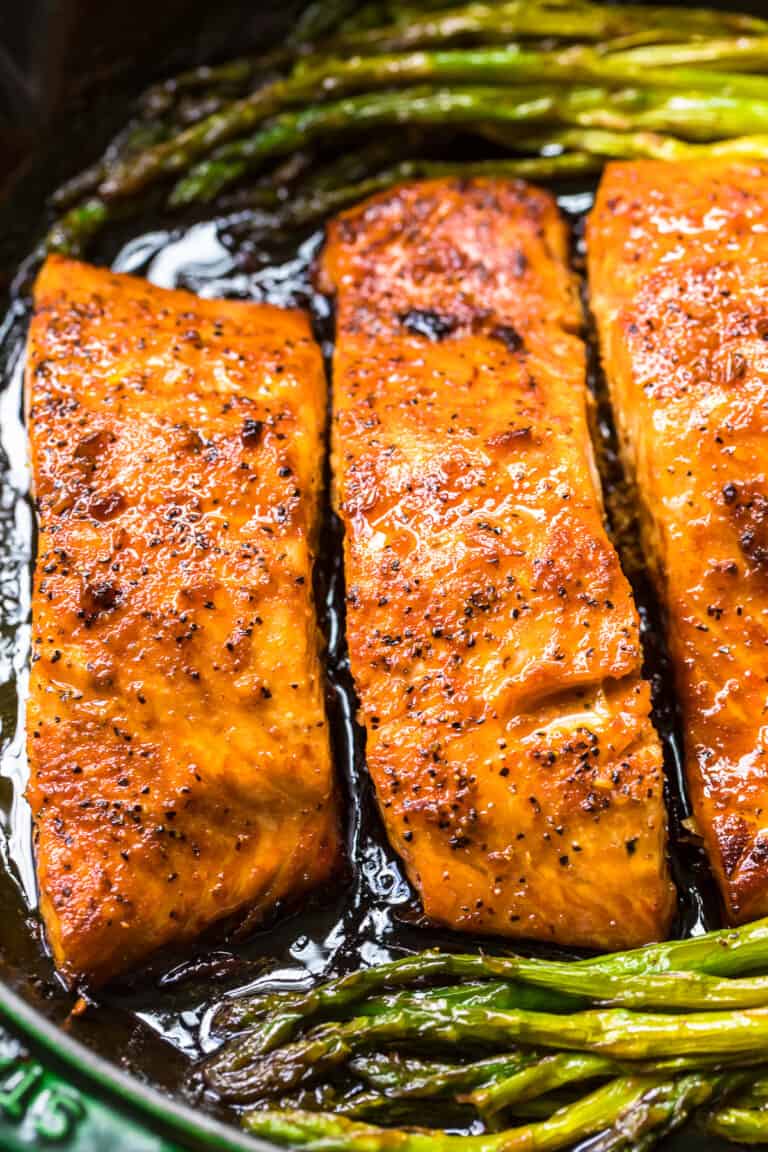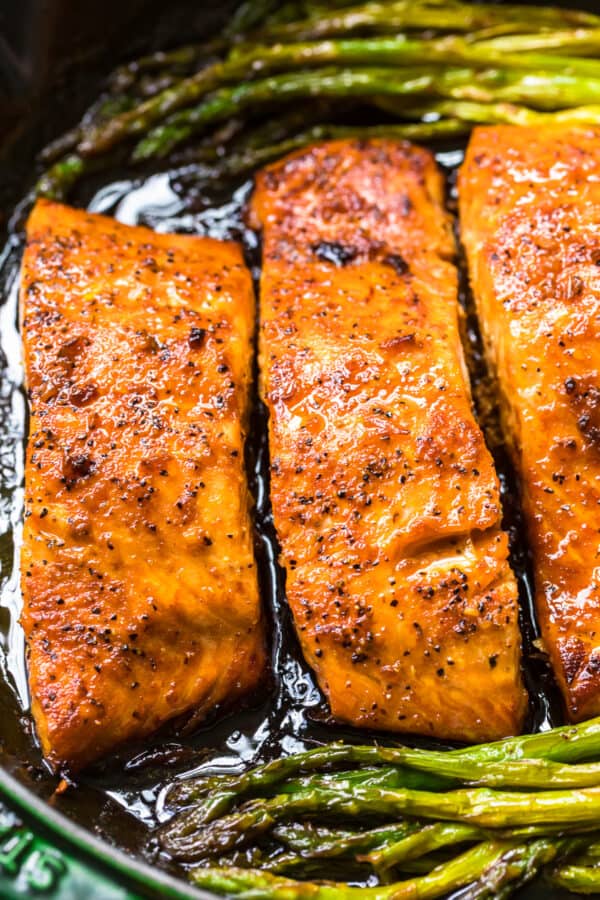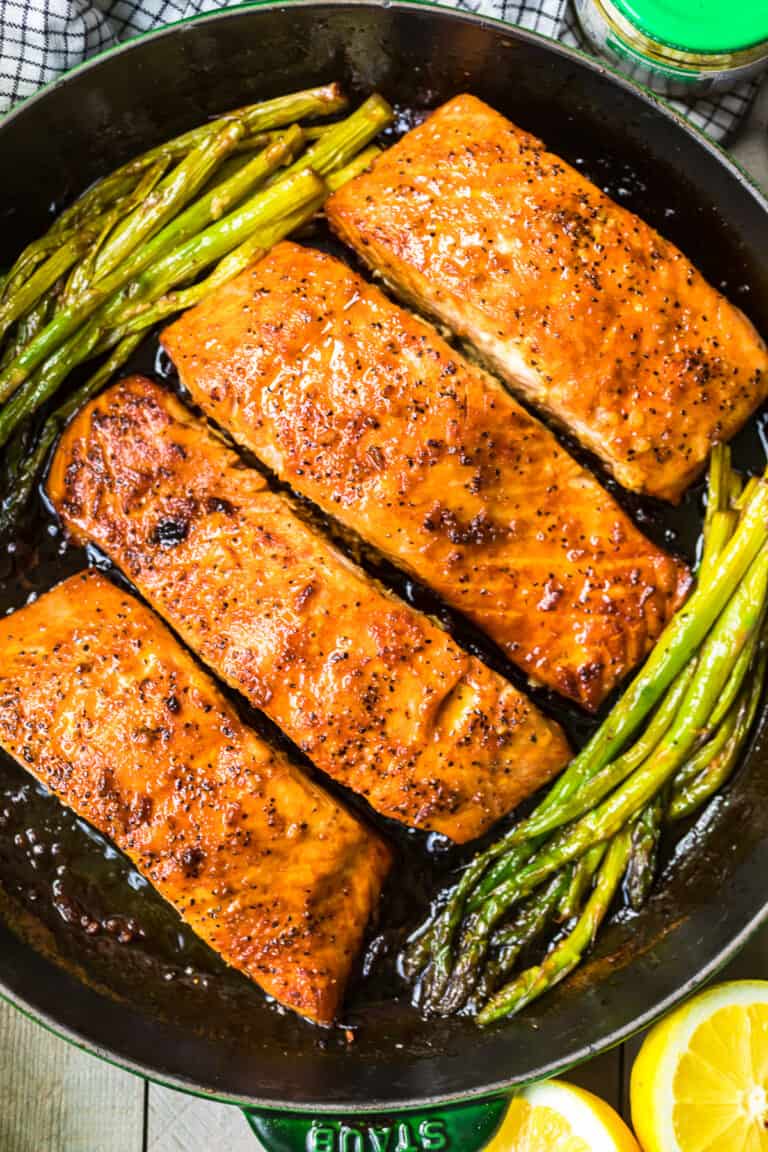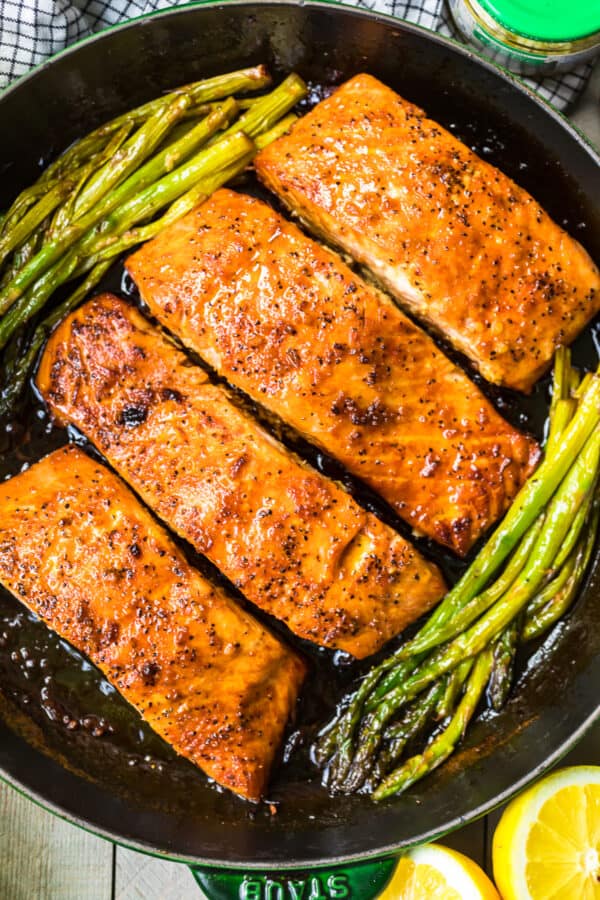 How to make honey garlic salmon
You can jump to the recipe card for full ingredients & instructions!
Pat the salmon dry and season.
Cook the garlic in a skillet and add in the honey, lemon juice, and water.
Add the salmon to the skillet, skin side down.
Baste the salmon in the sauce. Add the asparagus and season.
Cover and cook.
Broil for several minutes until browned and fully cooked.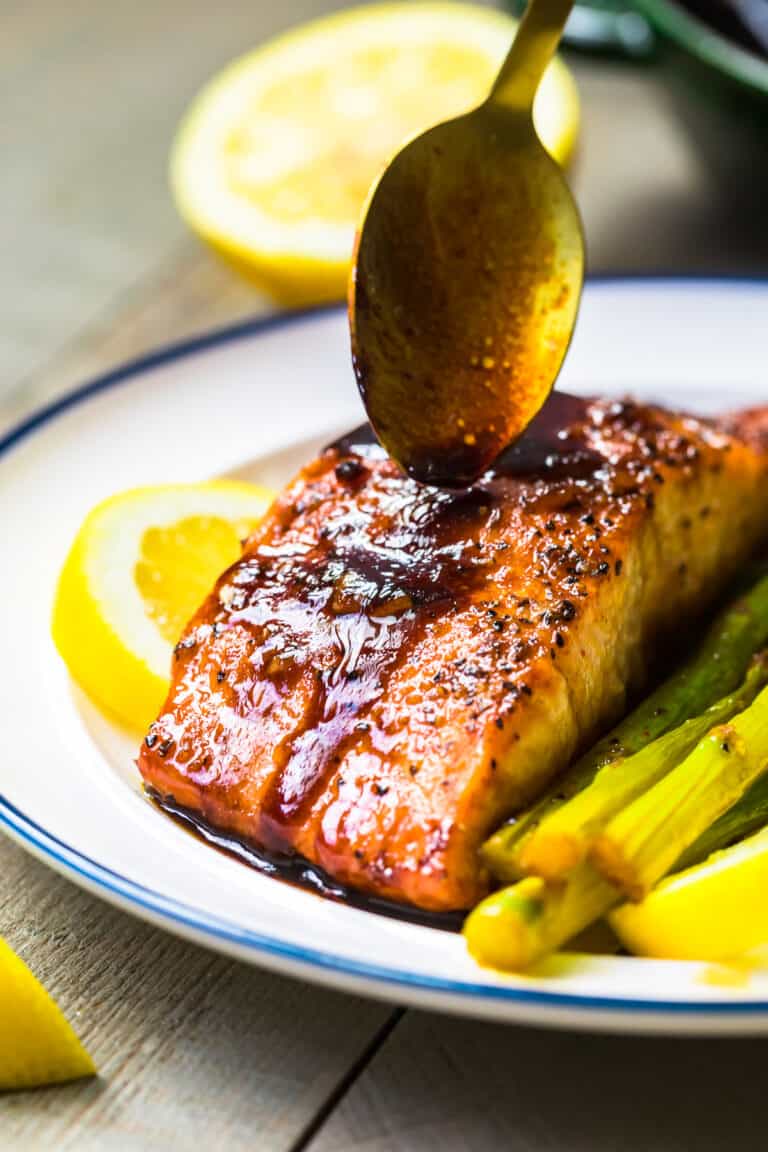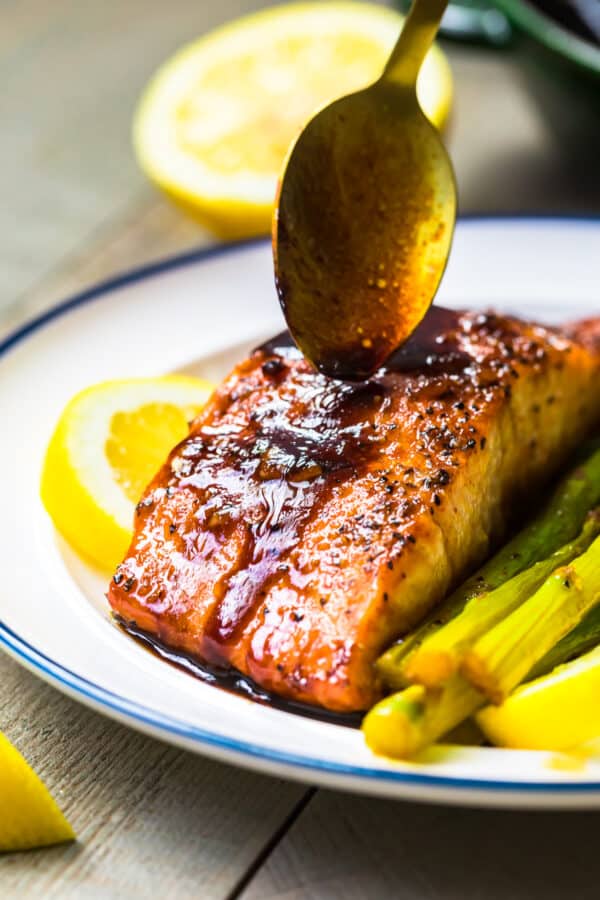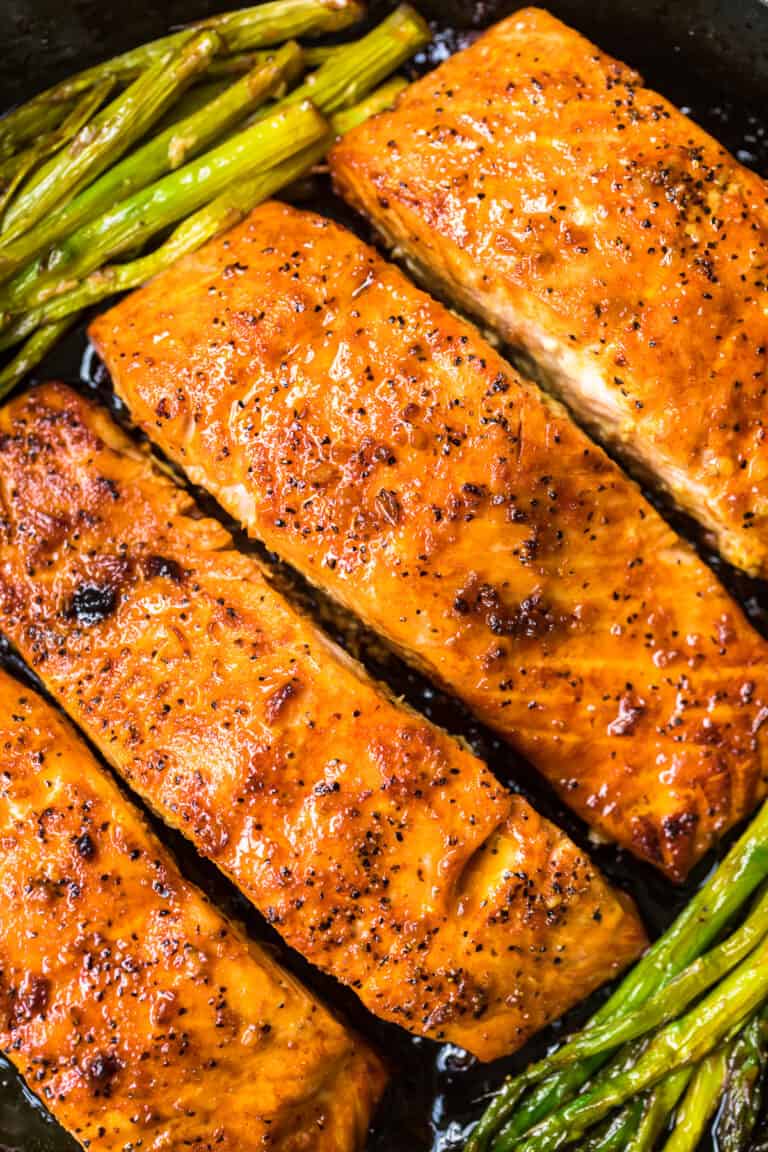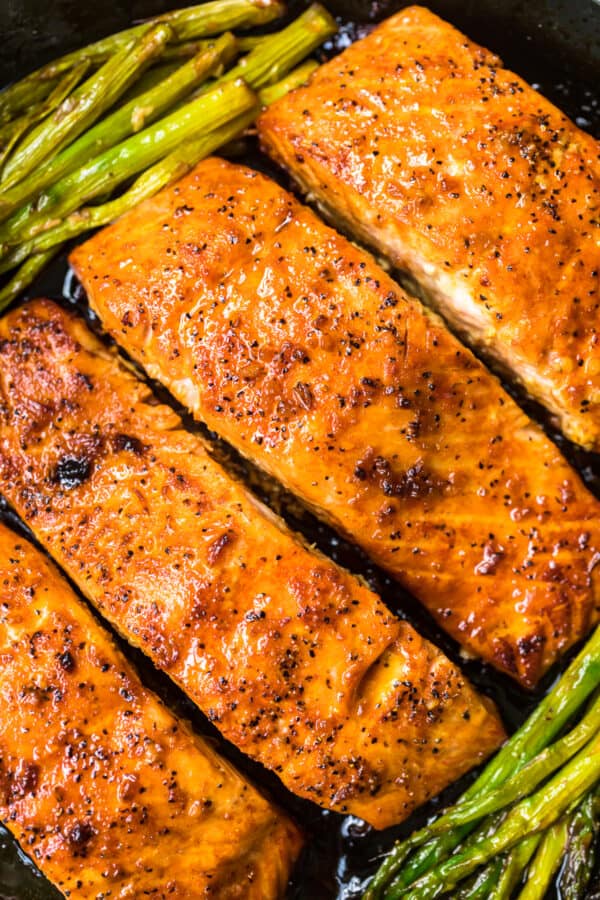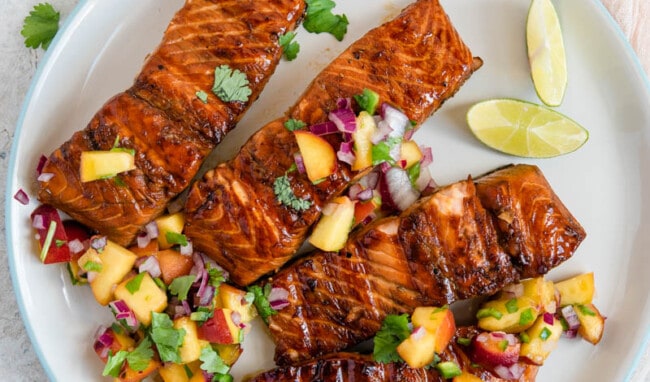 Salmon Recipes for Days!
15+ Salmon Recipes
Check out our Salmon Guide for our fave recipes + tips and tricks for cooking the best salmon every time.
See Salmon Guide
What do you serve with it?
This honey garlic salmon is perfect just served with the asparagus it is cooked with and is a hearty meal right out of the skillet. If you want to add a potato side, Cacio E Pepe Roasted Potatoes or Mashed Potatoes will work really well.
Can you make it ahead of time?
This salmon is best served as soon as it's made, but if you have leftovers they will keep well covered in the fridge for 3 to 4 days. You can reheat the salmon in a preheated oven at 275F for 15 minutes. Reheat it at a low temperature so that it doesn't dry out.
Can you make this recipe with other types of fish?
I love the combination of honey, garlic, and salmon but you can swap the salmon for other firm fish like cod, hake, or pollock.
Similarly, you can swap out the asparagus for other veggies like green beans or carrots.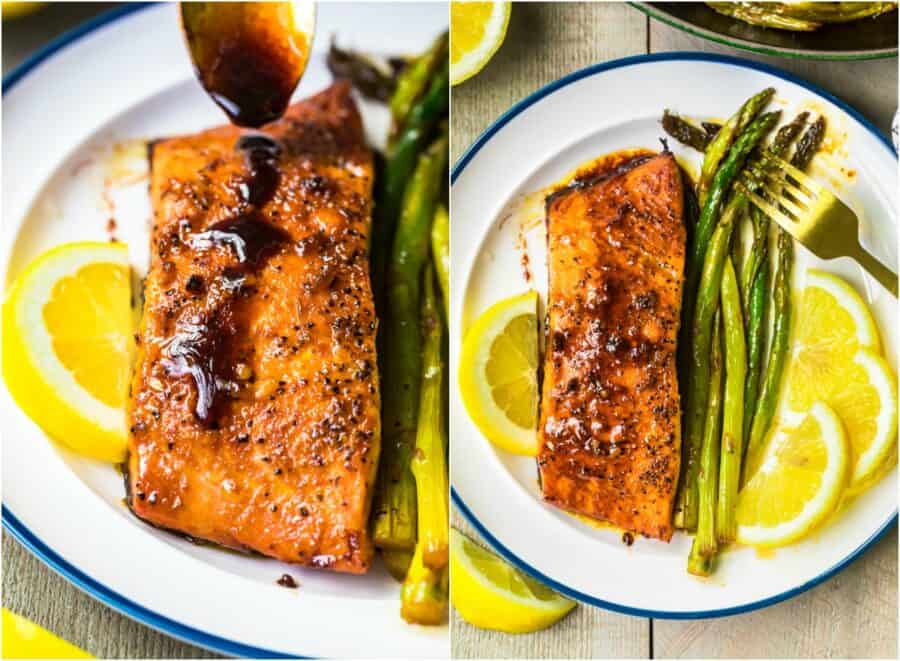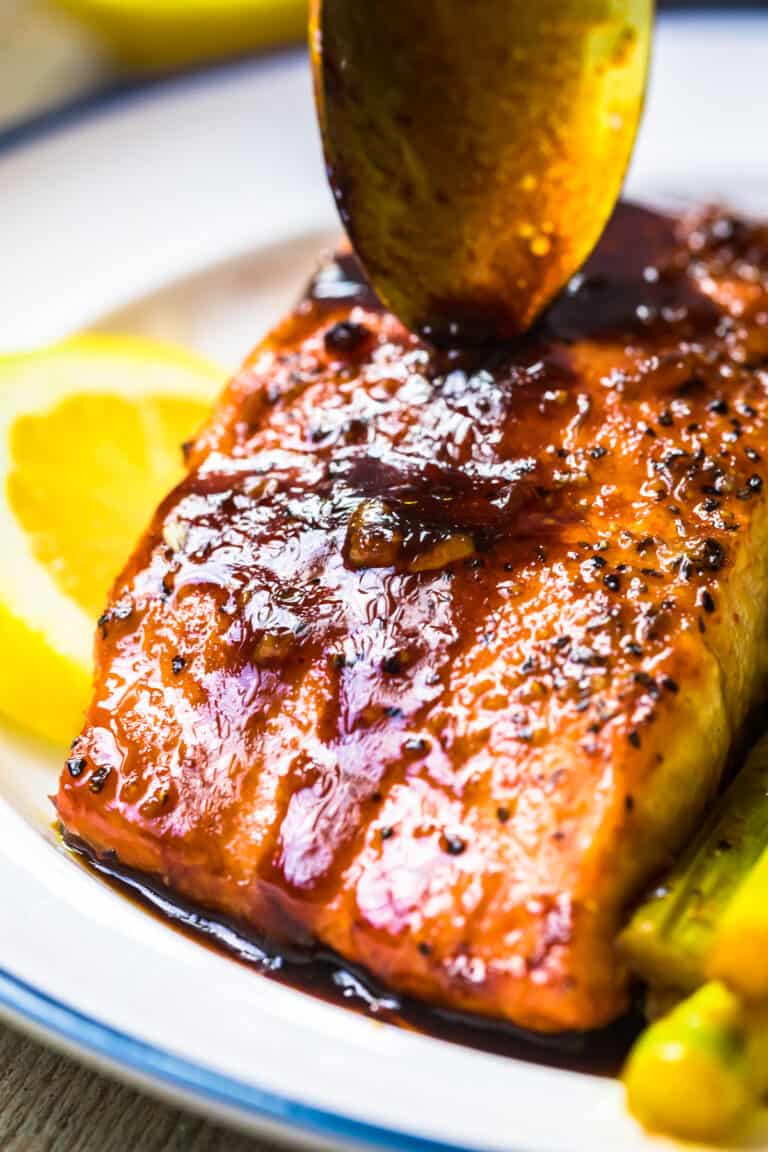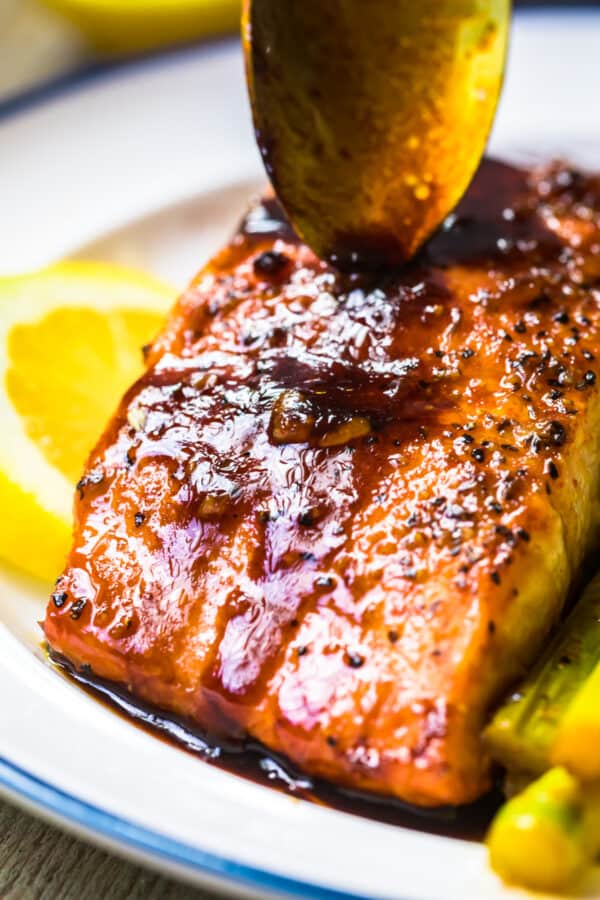 Tips!
Cooking times may vary slightly depending on the thickness of your salmon fillets.
The salmon is cooked when the flesh flakes away with a fork.
I like to serve the salmon with the skin on as it gets nice and crispy. If you prefer, you can serve the salmon without the skin, but it's best to cook it with skin for a richer flavor.
More Salmon Recipes we Love
This Honey Garlic Salmon is just one of our best salmon recipes. Check out some of our other favorites below.
See All Salmon
Show me what you love to make!
Are you cooking for your family and hoping to get back to your favorite routines as Fall rolls around? I'd love to see what you're cooking. Head to ALDI and let me know what you find. I'd love to feature your recipe on my Instagram!