This Pork Loin Roast recipe is the perfect holiday main dish! This Orange Cranberry Pork Loin Roast is juicy, delicious, and super festive. Add this roasted pork recipe to your Thanksgiving and Christmas tables!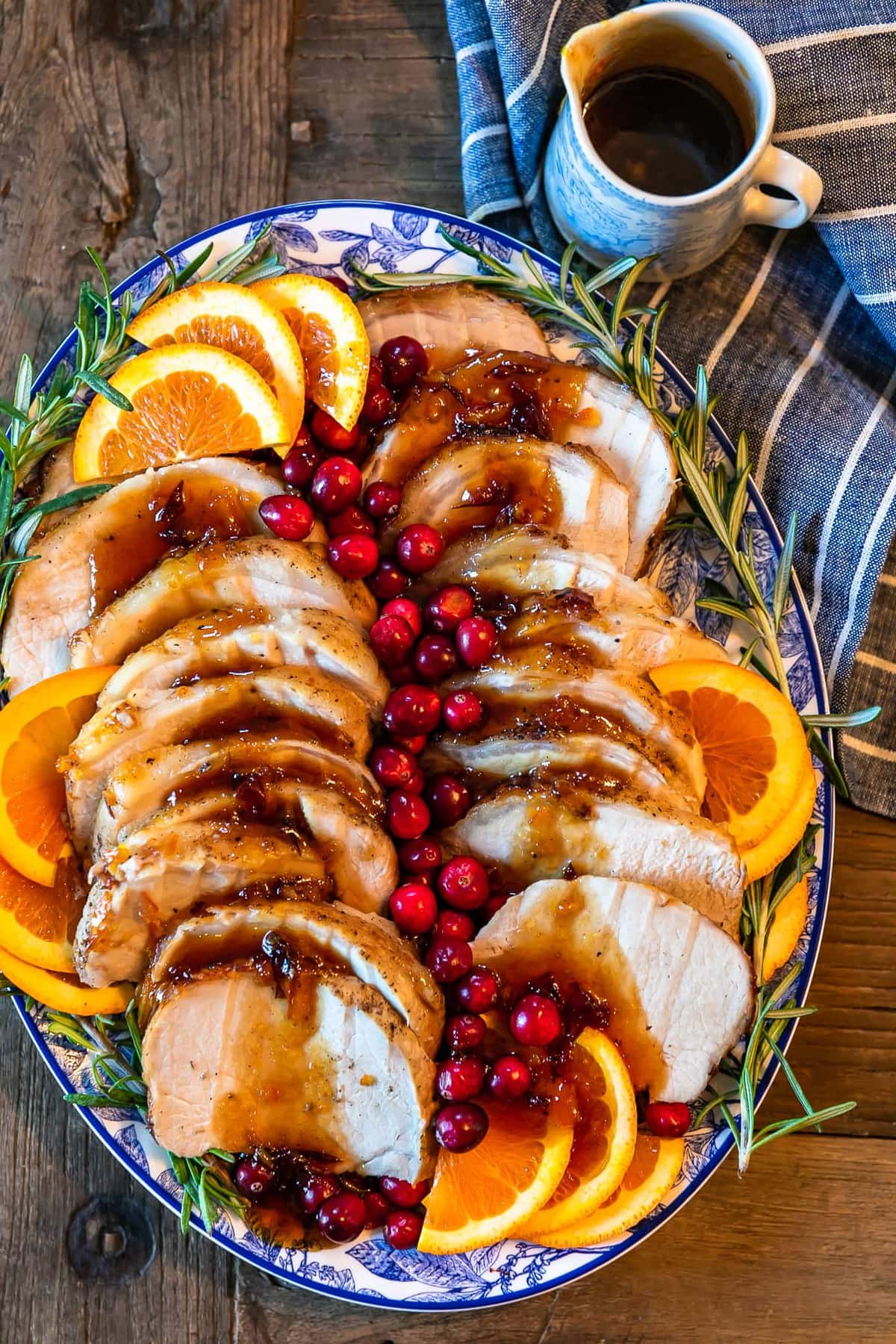 Holiday Pork Loin Roast
This pork loin roast recipe is perfect for the holidays. Make this Orange Cranberry Roasted Pork for Thanksgiving, Christmas, or any special meal this season!
Still working on your holiday menu? Thanksgiving is almost here, but if you're like me, the details aren't 100% nailed down just yet…but don't worry! If you've left the Thanksgiving meal planning to the last minute, today's recipe is going to be your saving grace. Especially if you're not a fan of turkey!
That's right, you can have a turkey-free Thanksgiving and still get all the flavors of the holiday. This Orange Cranberry Pork Loin Roast recipe is the most festive option thanks to the orange cranberry glaze.
Maybe you don't like turkey, or maybe you just want to change things up this year. Either way, this delicious roasted pork will fit just perfectly at the center of the holiday table.
This is a great Christmas pork tenderloin recipe too, and could even be a fun Easter dinner idea! So if you want to stick to the classic turkey for Thanksgiving, you still have a chance to make this amazing cranberry pork loin recipe this season.
Skip the turkey this year and make this amazing Orange Cranberry Pork Loin Roast recipe instead. It's so flavorful and just as festive!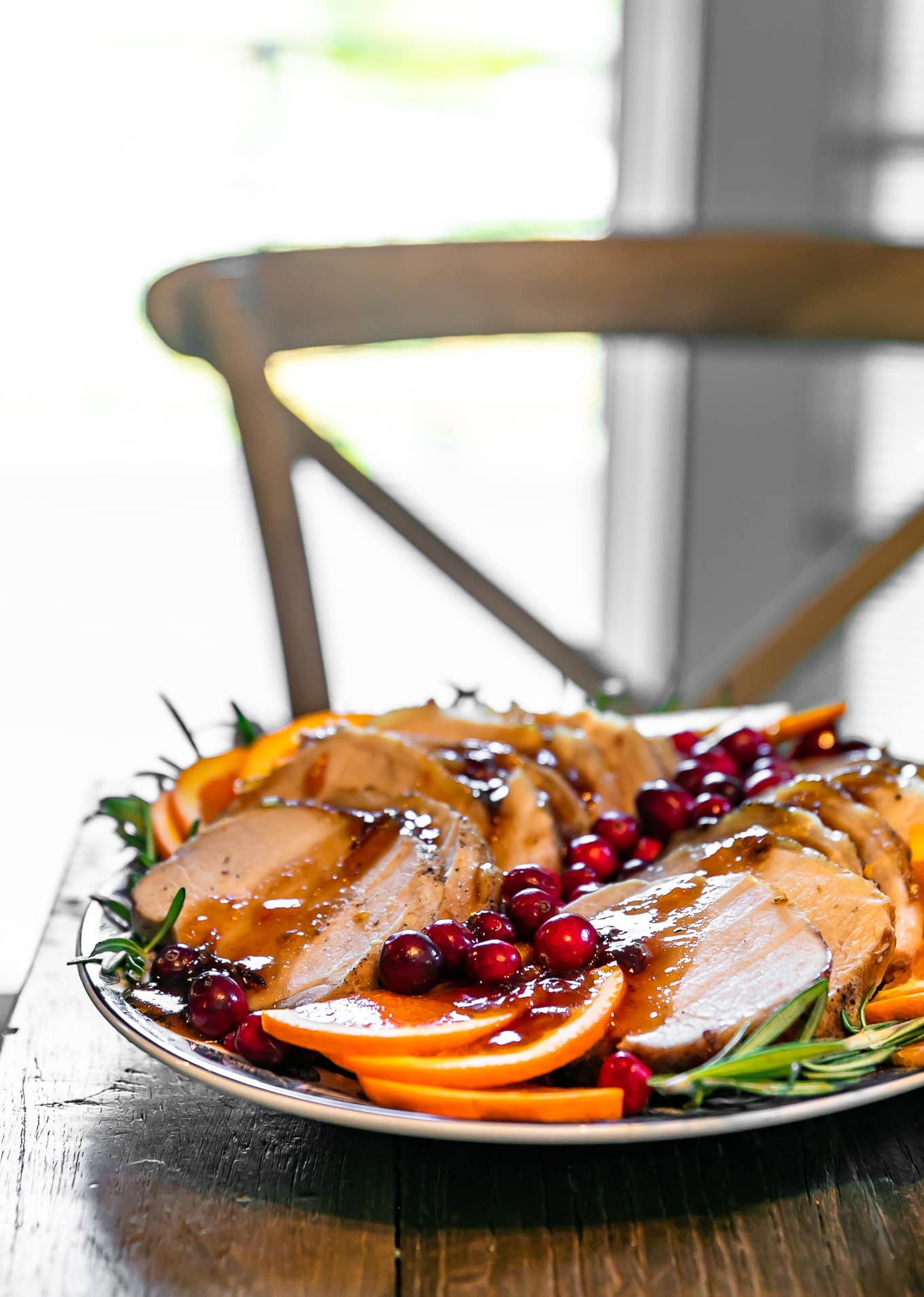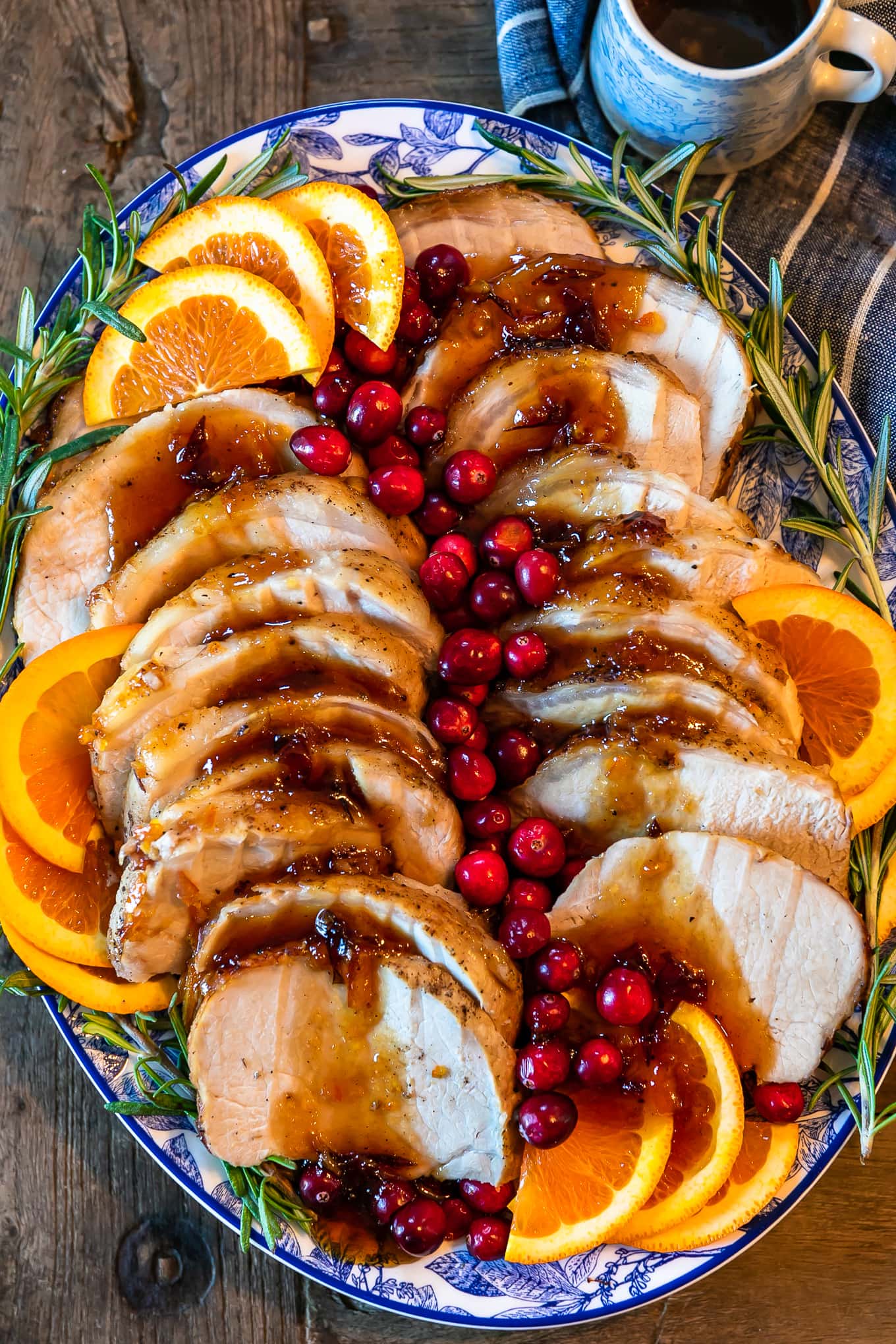 Orange Cranberry Pork Loin Roast
The orange cranberry sauce is what makes this pork loin roast recipe so amazing! It adds such a bright and cheery flavor, which is why it's so perfect for the holidays.
I love this roasted pork recipe for Christmas, so that I don't have to make the same turkey dinner all over again a month after Thanksgiving. It's just as festive, but it adds something new and delicious to the table.
And if you don't want to completely replace the turkey, consider making this as a second main dish option. A lot of people make a turkey and a ham every year, but you could use this is your holiday pork option instead. Trust me, you're going to want to try this!
What can you make for Thanksgiving besides turkey?
I know turkey is synonymous with Thanksgiving, and I do love a classic turkey dinner. BUT, you don't have to make turkey if you don't want to. A lot of people just don't like it, but they still serve it at the center of their Thanksgiving meal every year.
Don't be afraid to break tradition to make something more fitting for you and your family. And even if you do like turkey, it's nice to change things up every once in a while.
So if that's how you're feeling this year, try out this Orange Cranberry Pork Loin Roast recipe for the holidays. You've got the cranberry flavor that perfectly complements the rest of the meal, and this roasted pork is SUPER juicy and delicious.
It will look so beautiful on the table, surrounded by the rest of the food. Maybe it's time to replace Thanksgiving turkey with Thanksgiving pork…or at least just this once.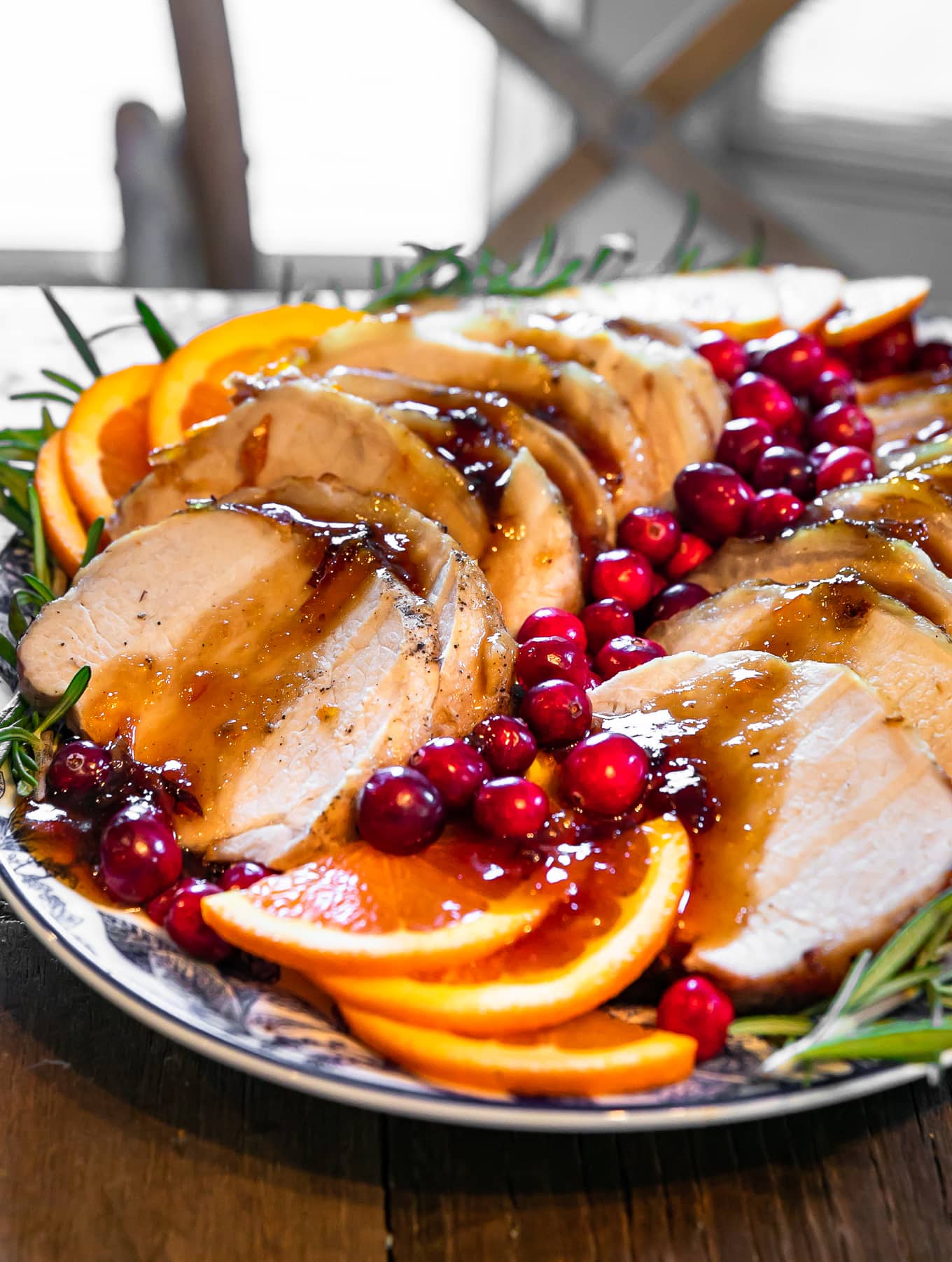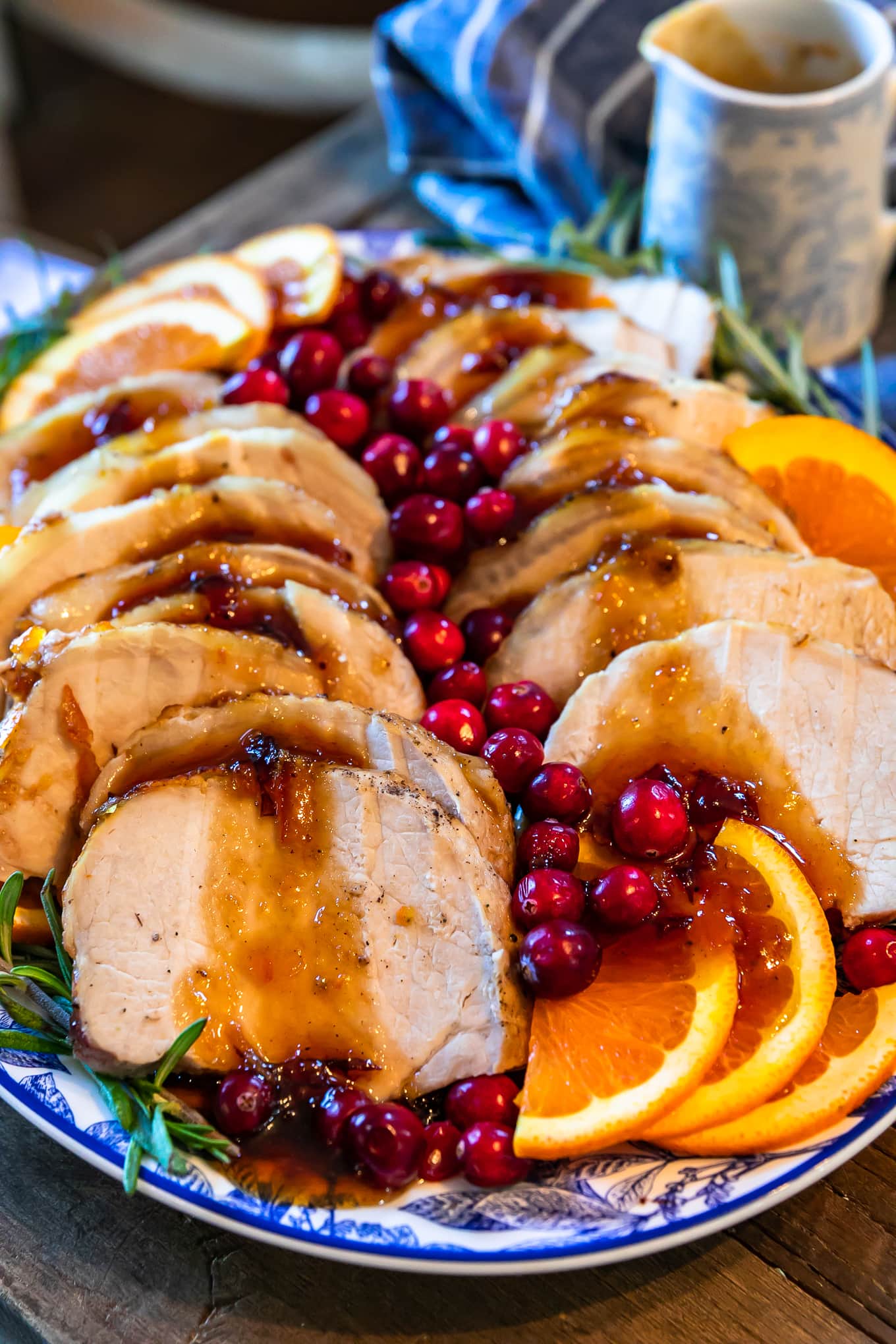 How to Roast Pork Loin
Roasted pork is such a great main course option this time of year. It's so incredibly juicy and flavorful, it only requires a few ingredients, and it's easy to make.
Plus, this Orange Cranberry Pork Loin Roast just looks extra festive and beautiful. It roasts in that orange cranberry sauce and comes out tasting so good!
How to make orange cranberry pork loin roast:
Prep the pork: pat dry, rub it with olive oil, then season it with salt and pepper.
Sear the pork loin, about 2 minutes on each side.
Make the orange cranberry sauce: combine orange juice, apple cider vinegar, orange marmalade, and cranberry sauce in a bowl.
Place the pork loin in a roasting pan and pour the sauce directly over it.
Roast pork for 60-80 minutes at 375°F, or until the internal temperature reaches 140-145°F. (Baste in the orange juice mixture every 20 minutes)
Remove the pork loin roast and let it rest/cool.
Add remaining juices to a saucepan. Bring the mixture to a boil, then let it simmer while the pork rests.
When you're ready to serve the pork loin roast, slice it up, place it on a serving platter, drizzle the extra sauce over it, and then garnish with fresh cranberries and orange slices. I can't get over how beautiful this dish looks, and it tastes just as good!
What sides go with pork loin?
This orange cranberry pork loin roast recipe fits in perfectly with all of the usual holiday sides! The flavor mixes perfectly with classic Thanksgiving side dishes, so no need to change up the entire meal if you don't want to. Make sure you add some of these delicious sides along with this roasted pork dish: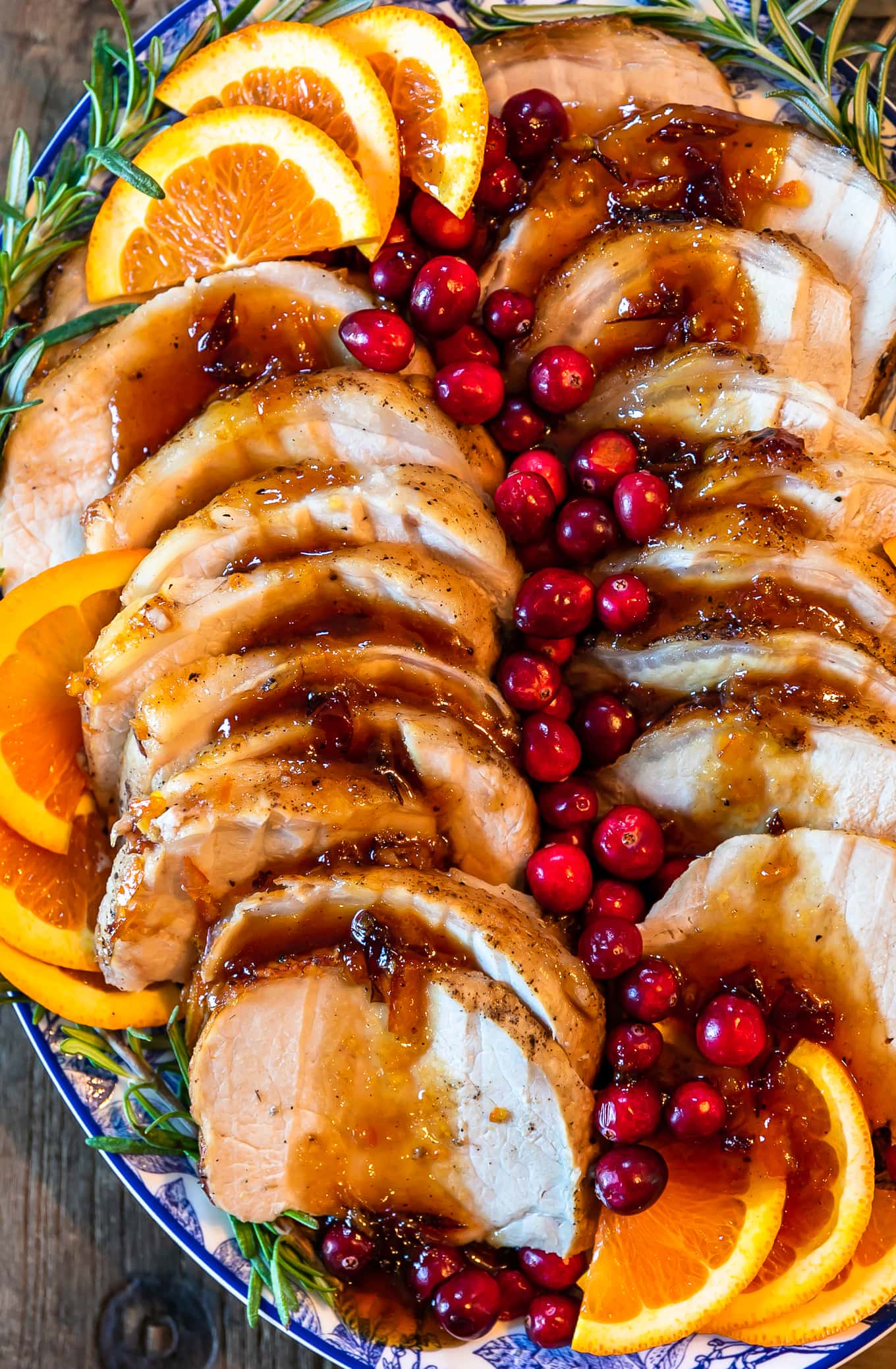 I hope you guys try this amazing Orange Cranberry Pork Loin Roast recipe this year! It's sooooo good and it really is perfect for holiday feasts. Happy holidays!
If you like this roasted pork recipe, you'll love these other pork recipes too:
If you make this recipe be sure to upload a photo in the comment section below or leave a rating. Enjoy! You can also jump to recipe.