Hummingbird Cake is a sweet and delicious dessert for any occasion. This beautiful banana pineapple cake with cream cheese frosting is a popular Southern cake recipe that everyone should try. Make this Hummingbird Cake recipe (with pineapple flowers) for Easter, bridal showers, and more!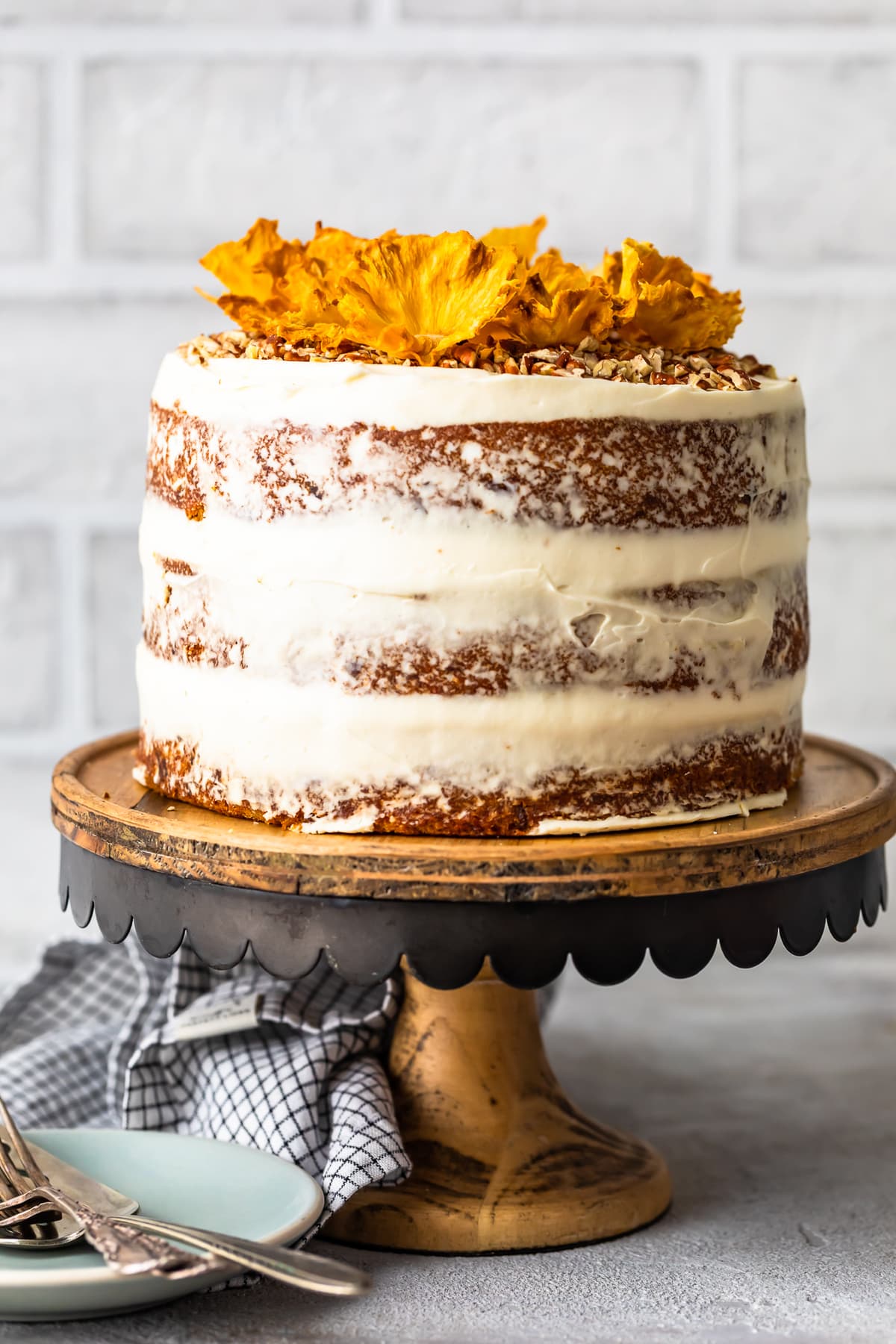 Hummingbird Cake
This Hummingbird Cake recipe is a special recipe that has become a classic in Southern baking. Make this cake even more beautiful with the dried pineapple flowers on top!
Anytime I manage to bake an entire cake, I feel pretty proud of myself. They require precision and patience, so it doesn't always feel as easy as my usual recipes. But this Hummingbird Cake recipe turned out beautifully, and I think it's perfect for special occasions!
This banana pineapple cake is a Southern classic. Made with ripe bananas, crushed pineapple, pecans, and cream cheese frosting, it's VERY sweet, but in the best way possible. The cinnamon adds some spice to balance it out, but it's so decadent and so delicious!
I made this Hummingbird Cake with cream cheese frosting and decided to top it with some dried pineapple flowers. They're easy to make, and they add an extra level of pretty! This cake is perfect for Easter, but it would be just as beautiful at a bridal shower or any springtime occasion.
This Hummingbird Cake recipe with Dried Pineapple Flowers is the perfect cake for special occasions and holidays!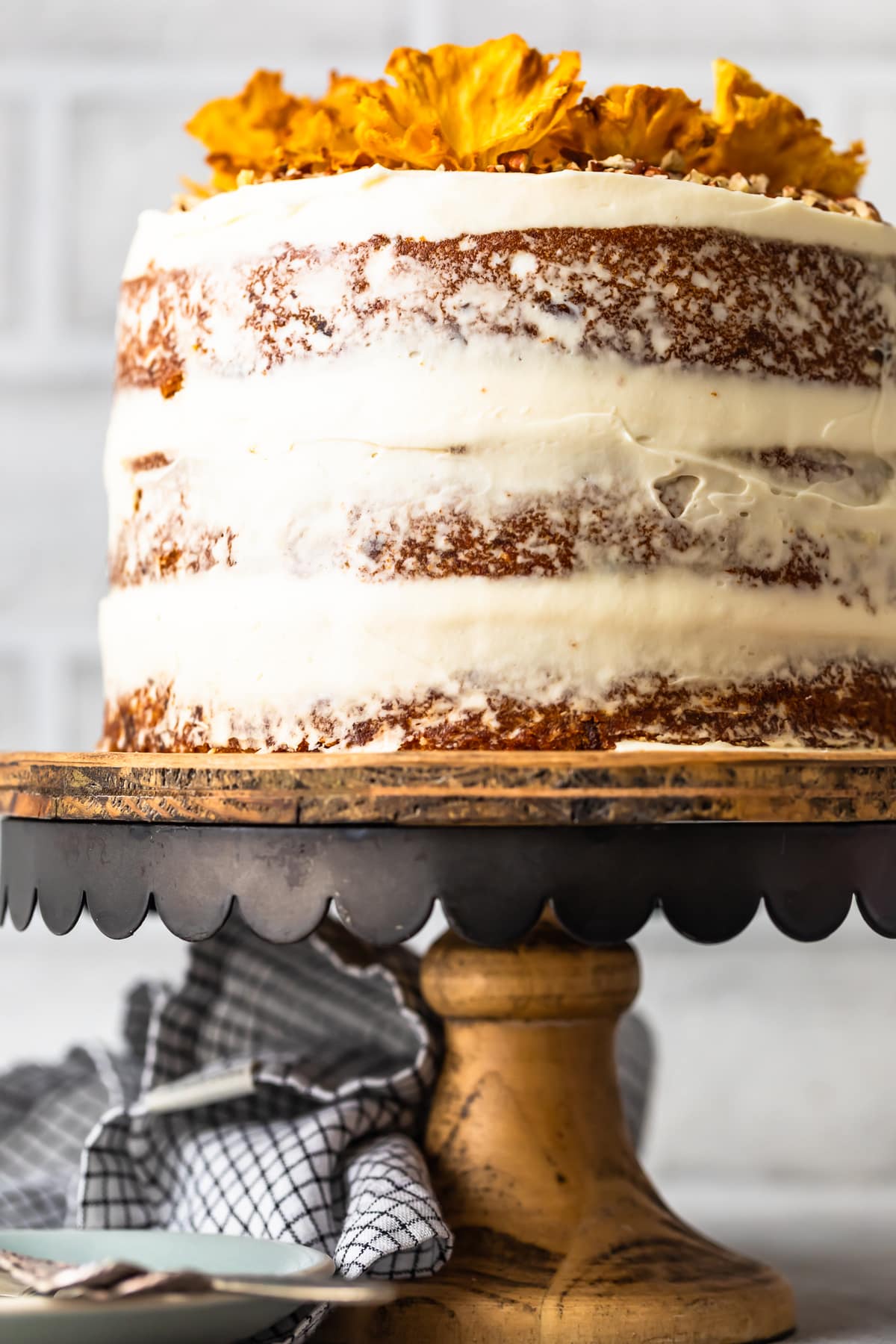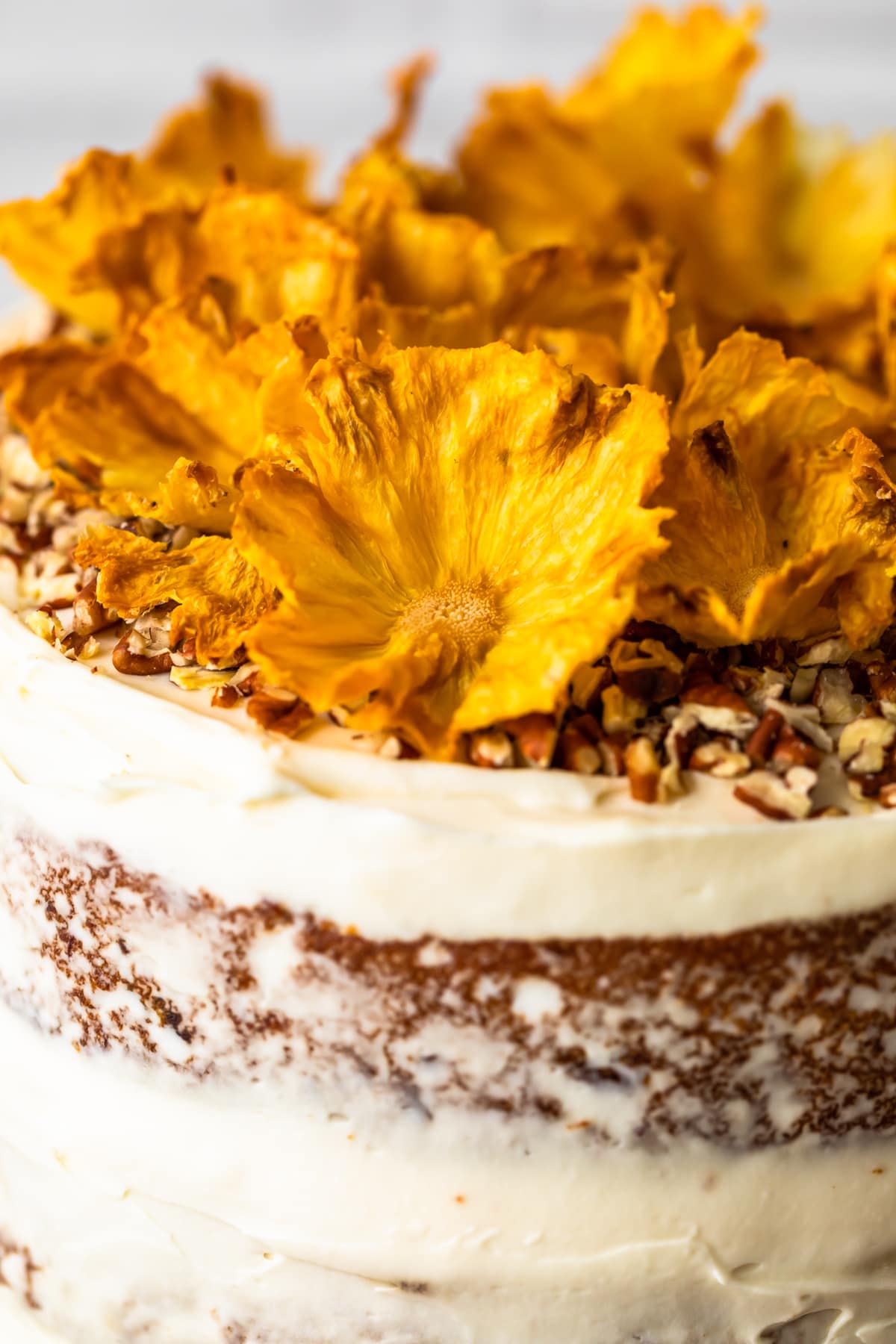 Banana Pineapple Cake
Banana and pineapple are two super sweet fruits that create an amazing tropical flavor. So they pair perfectly in this classic Hummingbird Cake! And while this banana pineapple cake is very sweet, the added spice from the ground cinnamon balances it out nicely.
Hummingbird Cake Ingredients:
Crushed Pineapple (cans with pineapple juice)
Toasted Pecans
Very Ripe Bananas
Ground Cinnamon
All-Purpose Flour
Baking Soda
Baking Powder
Vegetable Oil
Eggs
Granulated Sugar
Vanilla Extract
Salt
Hummingbird Cake with Cream Cheese Frosting
Our hummingbird cake wouldn't be complete without the cream cheese frosting. It's the perfect complement to the pineapple banana cake! Use a stand mixer with a whisk attachment for this recipe to make it smooth and fluffy.
How to make cream cheese frosting:
Place cream cheese and butter to the mixing bowl and whisk on medium-high for about 3 minutes.
Add in sour cream (or plain greek yogurt) and vanilla extract, and beat on medium-high for 2 more minutes.
Change speed to low as you add in the powdered sugar. Then switch back to medium-high and whisk for 3 minutes.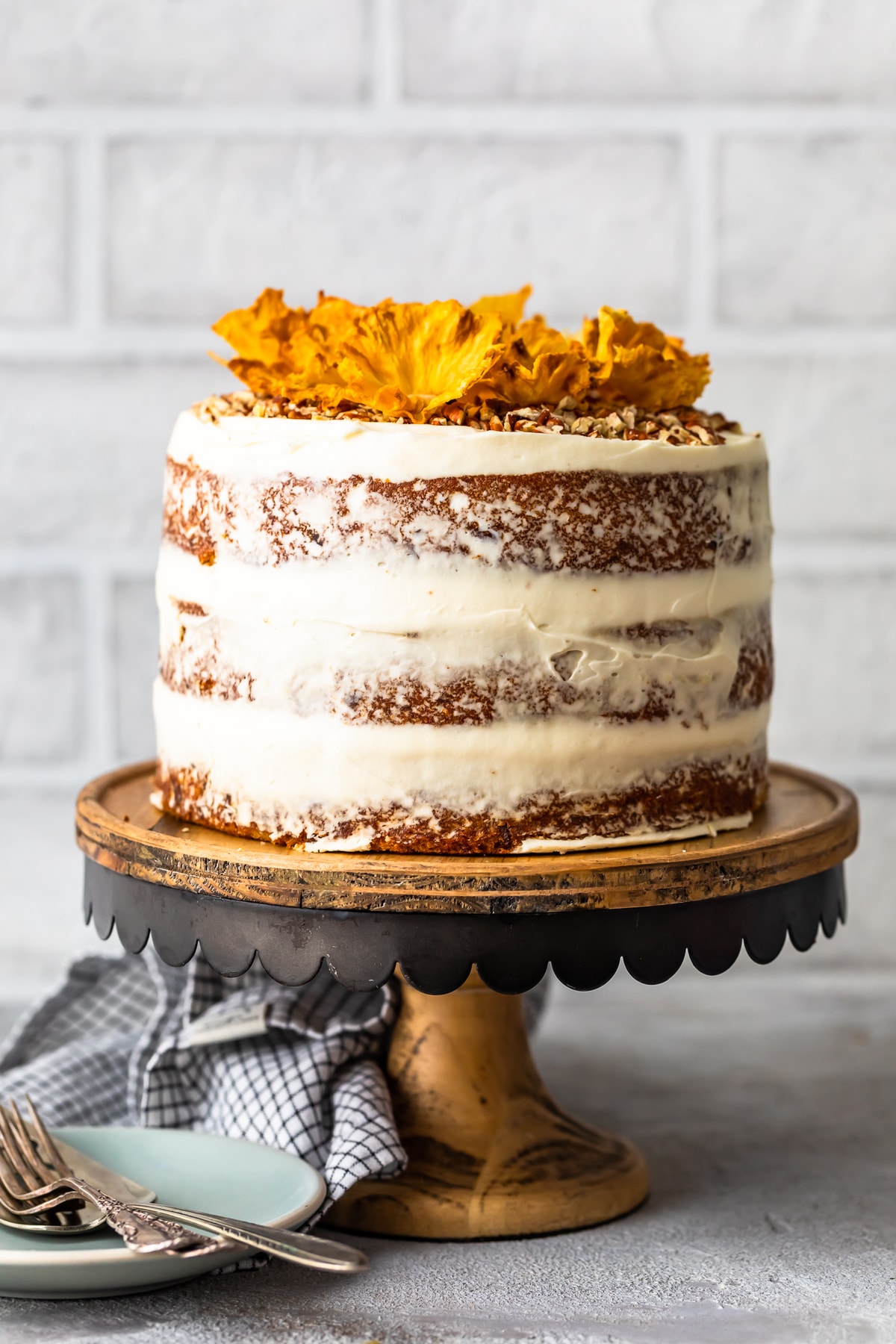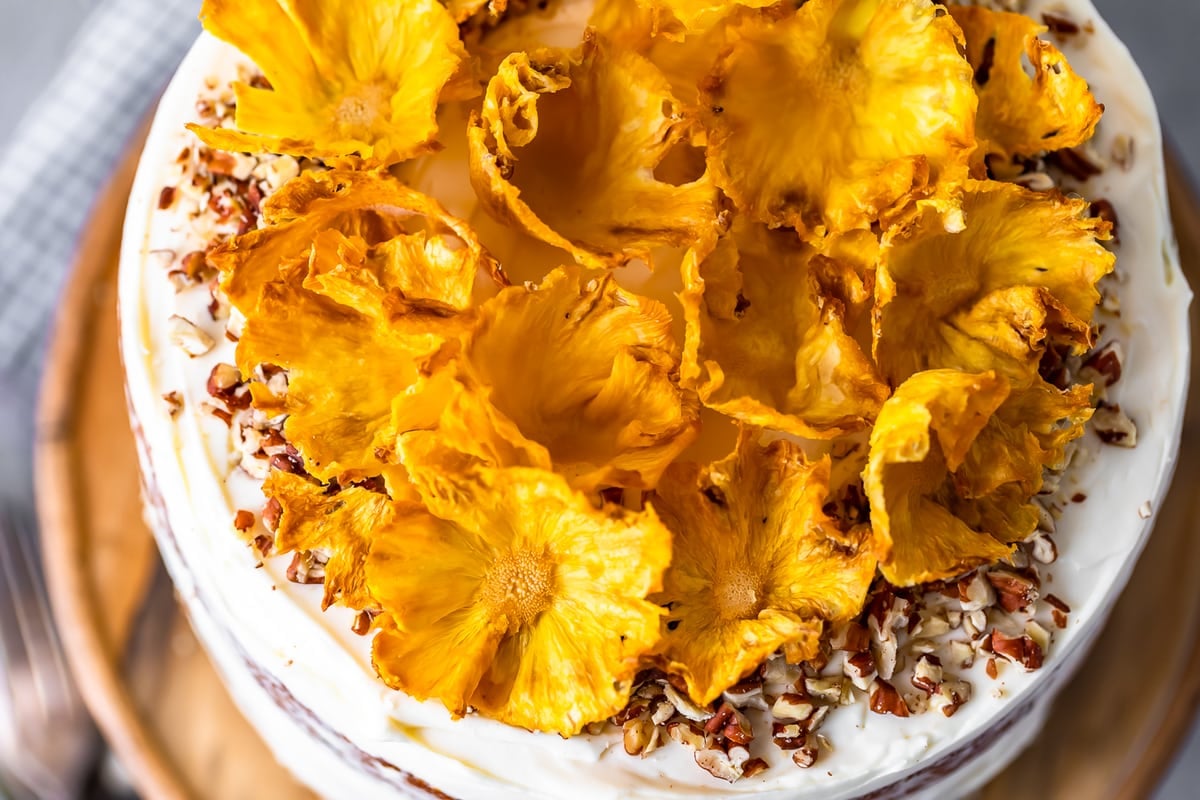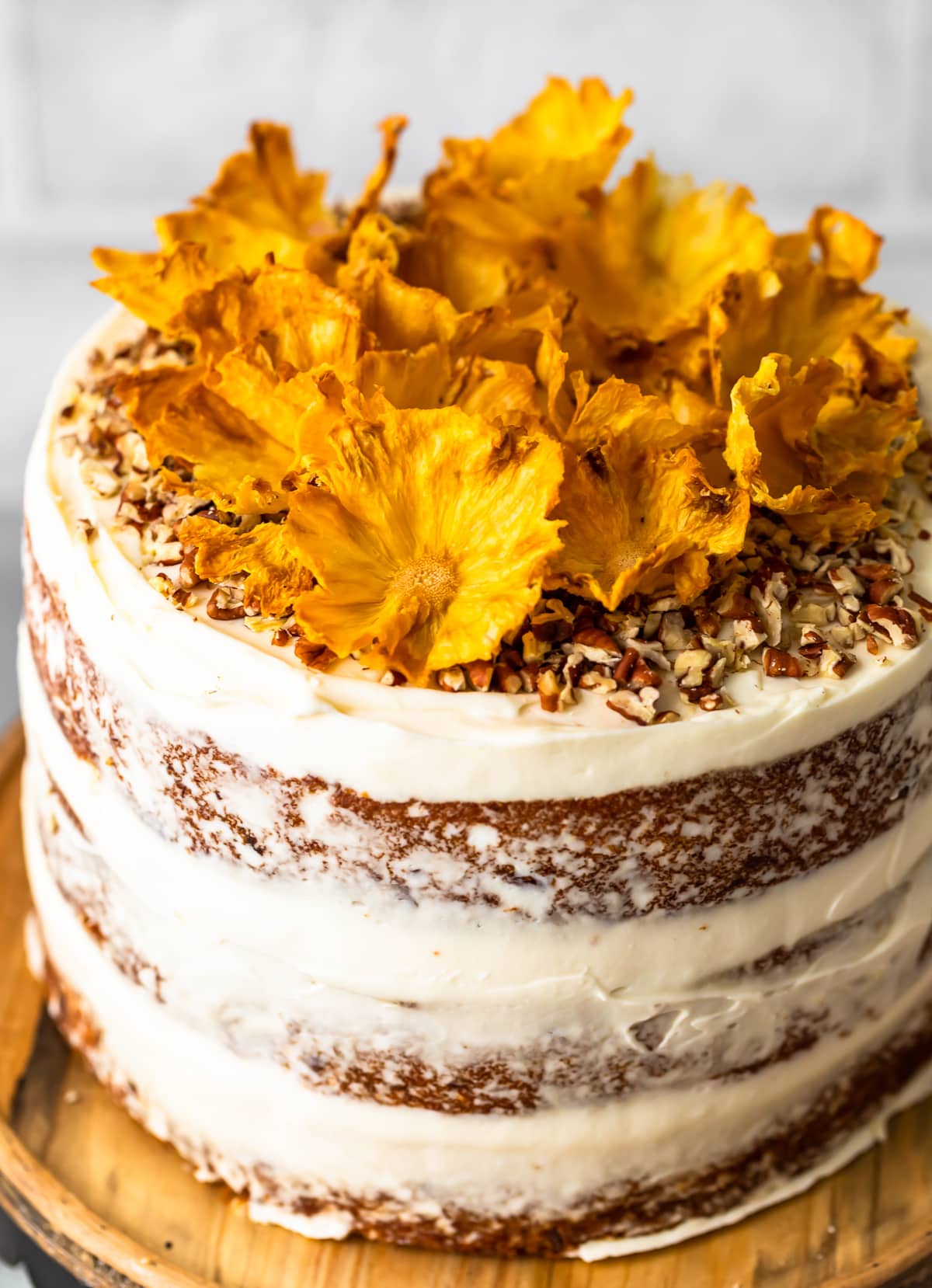 How to Make Hummingbird Cake
This recipe is in three parts: make the cakes, make the cream cheese frosting, and then assemble everything to create the most beautiful Hummingbird Cake!
The pineapple slices for the flowers need up to 3 hours to fully dry out, so if you're going to use them, you'll need to make those ahead of time. These are fine to make a day or two before, and then store them carefully until you're ready to use them.
Start by preparing the cake batter. This is the most intricate part of the whole recipe, but as long as you follow the directions, it's simple enough!
Let the cakes bake for about 25-40 minutes at 350°F, then let them cool completely before assembling.
While the cake layers are cooling, you can whip up the cream cheese frosting so that it's ready to use.
Then it's time to assemble all the parts to make your cake! Layer the cakes, add the cream cheese frosting, top with toasted pecans, and finish with the pineapple flowers.
You can find the full detailed instructions in the recipe card below.
Dried Pineapple Flowers
A traditional Hummingbird Cake does not have these dried pineapple flowers on top, but I thought they made the perfect addition! Not only are they beautiful, but the sweet pineapple slices add even more flavor to this banana pineapple cake.
Find out how to make these easy Pineapple Flowers right here.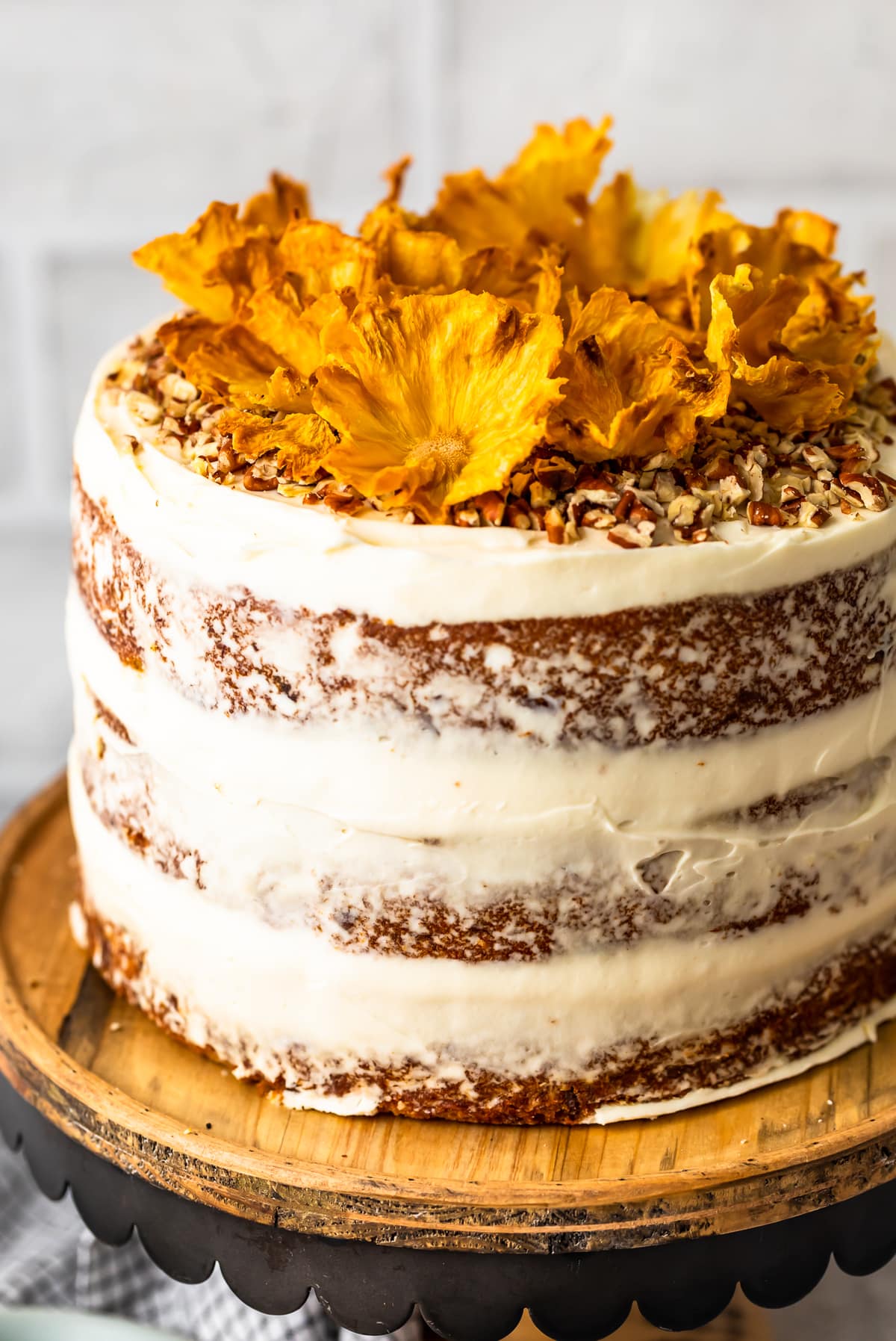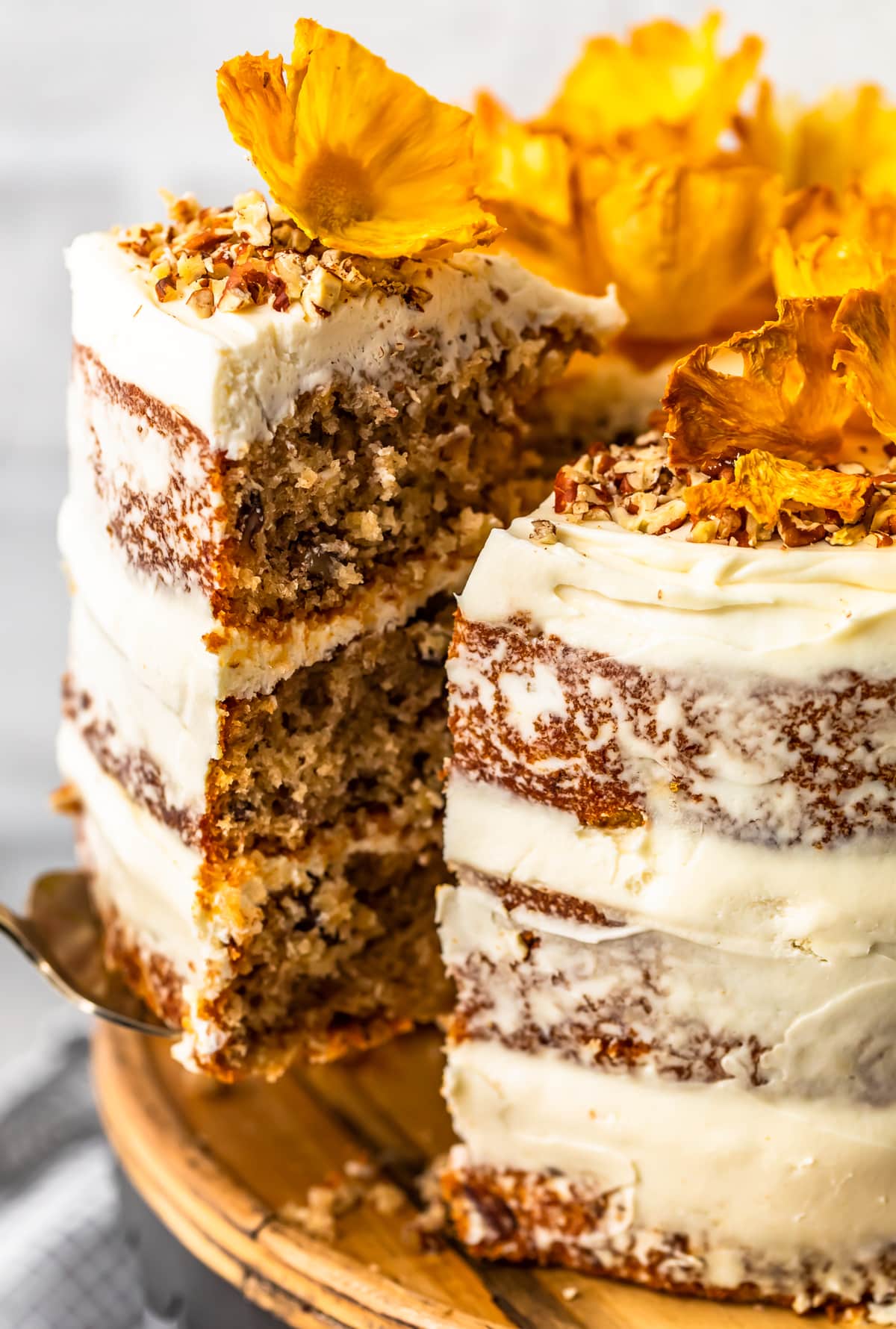 Tips for making this Hummingbird Cake recipe
To make this hummingbird cake recipe the best it can be, there are a few important tips to keep in mind.
You need super ripe bananas for this recipe, so look for a bunch at the store that is covered in brown spots, or buy a bunch and let it sit for a few days before making this cake.
If you're short on time and you can't find bananas that are ripe enough, add a tablespoon of agave syrup or honey when mashing up the ripest bananas you have (no green bananas!). This will help to make it sweeter.
Toasted pecans are also a must! To make it easier to use them both in the batter and as decoration, I toasted them whole, and then chopped up 1 1/2 cups worth. The rest were left to top off the cake.
You can use 8-inch or 9-inch cake pans to make the layers. 8-inch will make three layers, and 9-inch will make two layers.
A can of crushed pineapple is a better option than crushing up fresh pineapple because you want to make sure you get allll the juices mixed into the batter.
Why is it called a hummingbird cake?
There is definitely some debate about the name of this cake, but usually it's attributed to the fact that this banana pineapple cake is so sweet. "Sweet enough to attract hummingbirds."
Does hummingbird cake need to be refrigerated?
As a general rule, any cake with cream cheese frosting does need to be refrigerated. Any leftover cake can be covered and stored as is, or cut into slices and placed in containers before being refrigerated. Take the cake out of the refrigerator and let it sit for an hour or so before serving again so it can come to room temperature before eating.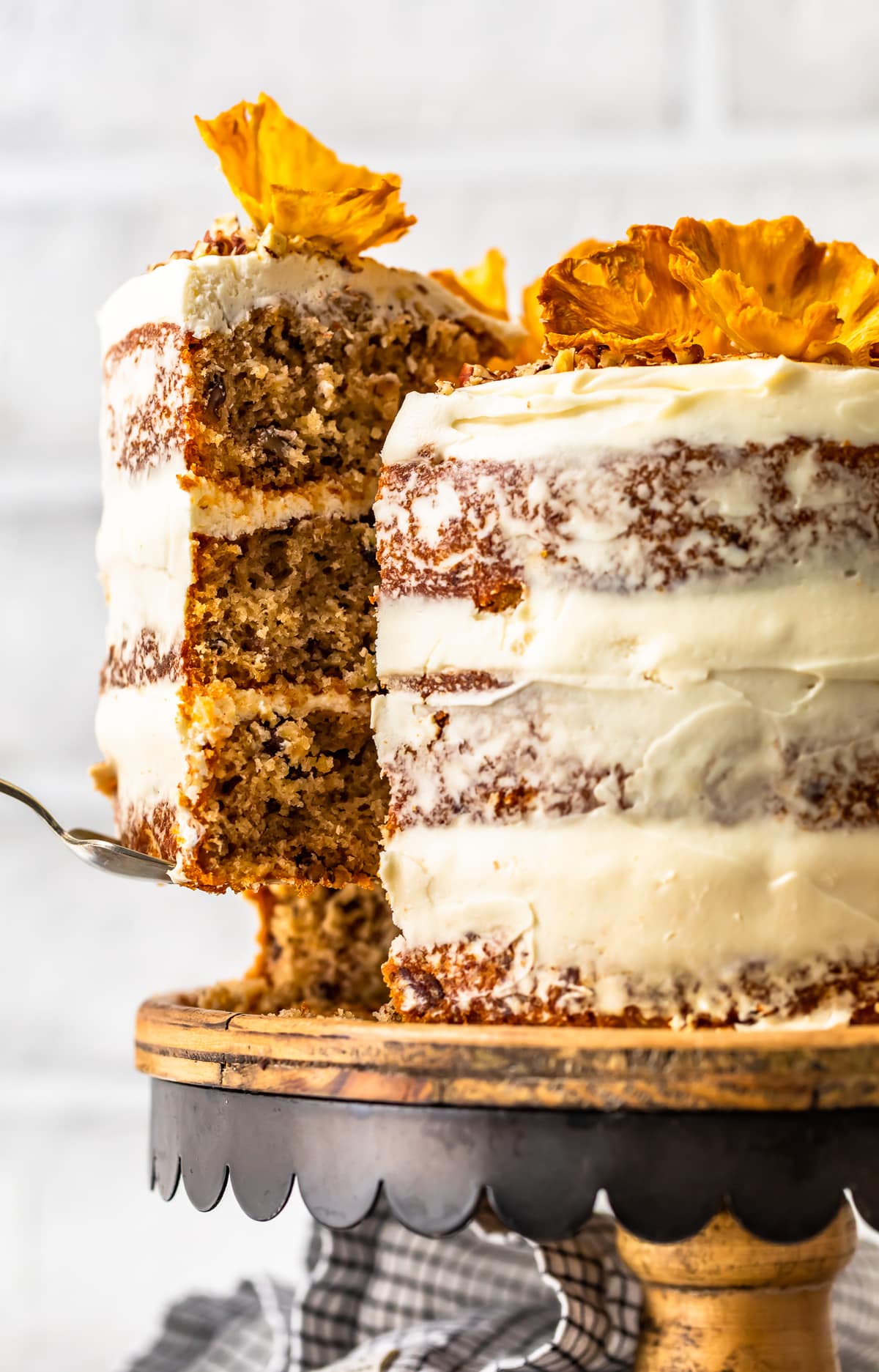 I love how this Hummingbird Cake recipe turned out, especially with the pineapple on top. It's going to make the most beautiful Easter dessert!
Try these other desserts for Easter or other holidays & special occasions: