Skillet Carrot Cake is the perfect way to make this delicious dessert! This easy carrot cake recipe with pineapple is so moist, so flavorful, and so simple! And we're topping it off with the absolute best cream cheese frosting for carrot cake, because it wouldn't be complete without it!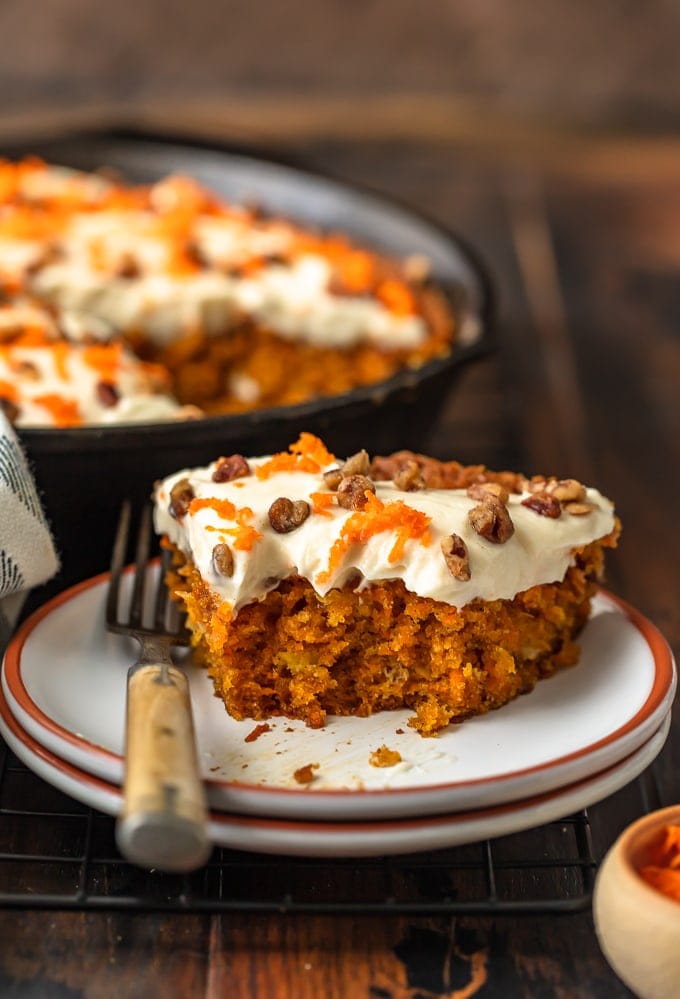 Carrot Cake Recipe
This easy carrot cake recipe with pineapple is made in a skillet. It's so moist and so delicious! Top it off with the best cream cheese frosting for carrot cake!
Carrot Cake is a classic dessert, but (as usual), we're putting a bit of a spin on it. This is such a great way to make one of my favorite desserts.
We're making this carrot cake with pineapple to add some extra moisture and sweetness. I think this really perfects it and makes it so much better. And of course we can't forget the frosting. We've got the BEST cream cheese frosting for carrot cake. It's so soft and creamy and flavorful. I'm a little bit obsessed with it if I'm being honest…but you will be too once you try it!
Top everything off with some honey roasted pecans and carrot shavings, and you've got the best carrot cake recipe ever. I love this easy dessert for Thanksgiving and Christmas, but it's good any time of year, for any occasion!
Make this easy carrot cake recipe and top it off with the best cream cheese frosting. You'll have the best dessert in no time!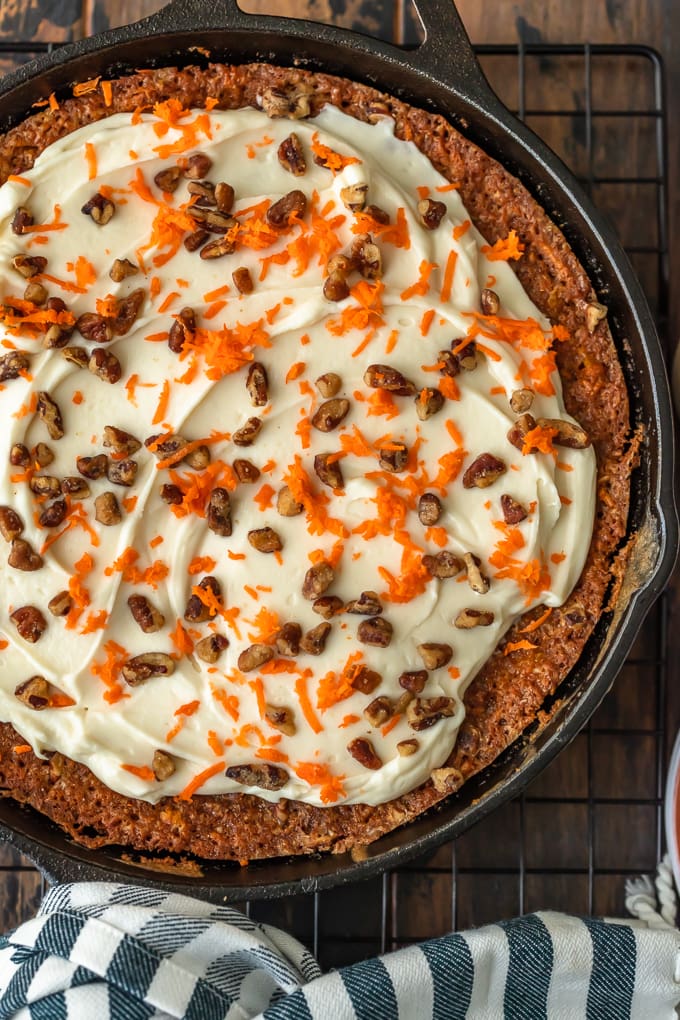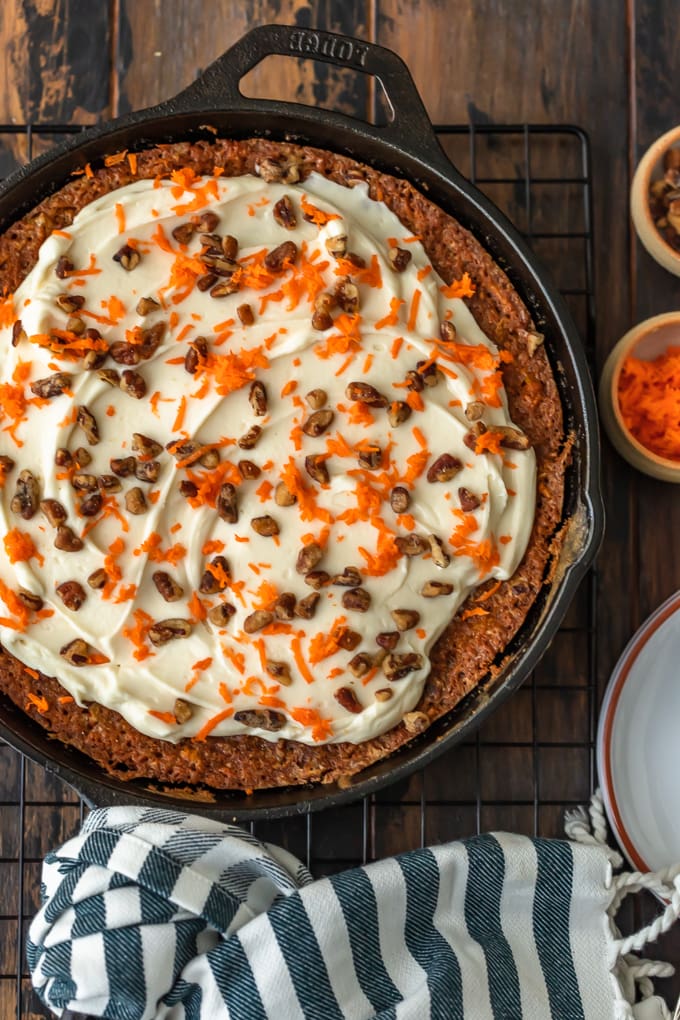 Easy Carrot Cake Recipe with Pineapple
This easy carrot cake recipe is special. Not just because it's made in a skillet (making carrot cake without an oven is genius), but because we're making carrot cake with pineapple. While the more traditional recipes don't include this ingredient, I think it's an absolute must! The main reason you should be adding pineapple into your carrot cake recipe is because it adds so much moisture and just the right amount of sweetness.
What's in Carrot Cake?
Every carrot cake is different, but one thing they all contain: carrots! Grated carrots are the base of this amazing dessert; they give it texture, moisture, and its orange-y color. However, carrot cake does not really taste like carrots. The flavor comes from all of the other ingredients inside.
Here are the ingredients for this easy carrot cake recipe:
Carrots
Cinnamon
Ginger
Nutmeg
Flour
Baking Soda
Salt
Granulated Sugar
Flaked Coconut
Pineapple
Vegetable Oil
Eggs
Honey Roasted Pecans
Are there raisins in carrot cake?
Whether or not raisins belong in carrot cake is a controversial topic. Some are strongly against it, while others welcome them. So some carrot cake recipes do contain raisins, but this one doesn't!
What kind of nuts are in carrot cake?
Walnuts are a common nut to add into any carrot cake recipe, but we are using pecans (honey roasted pecans to be exact).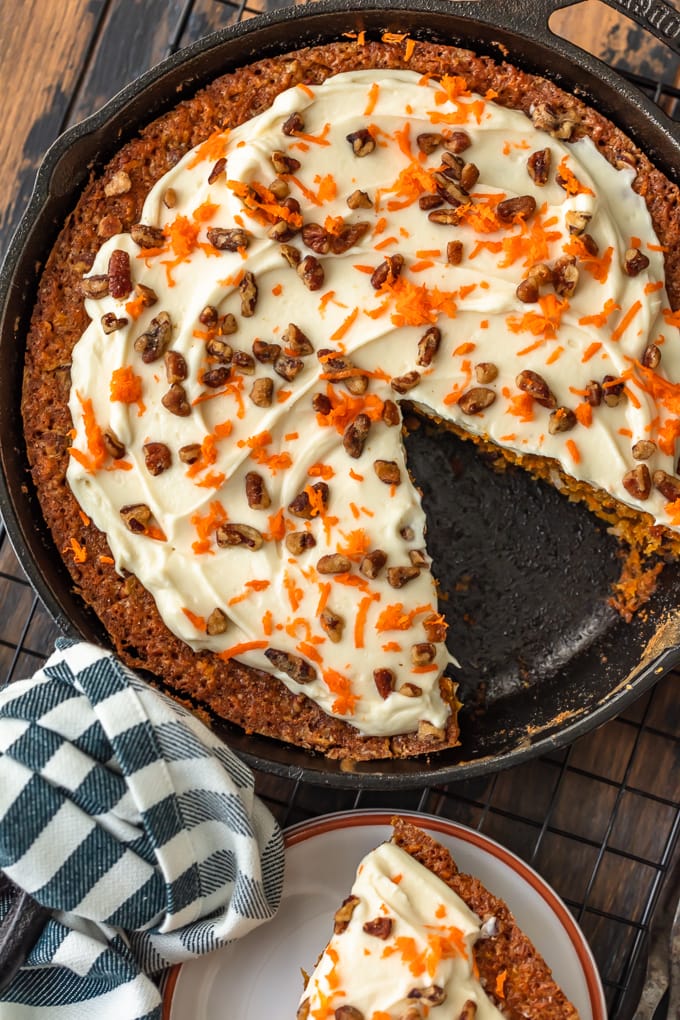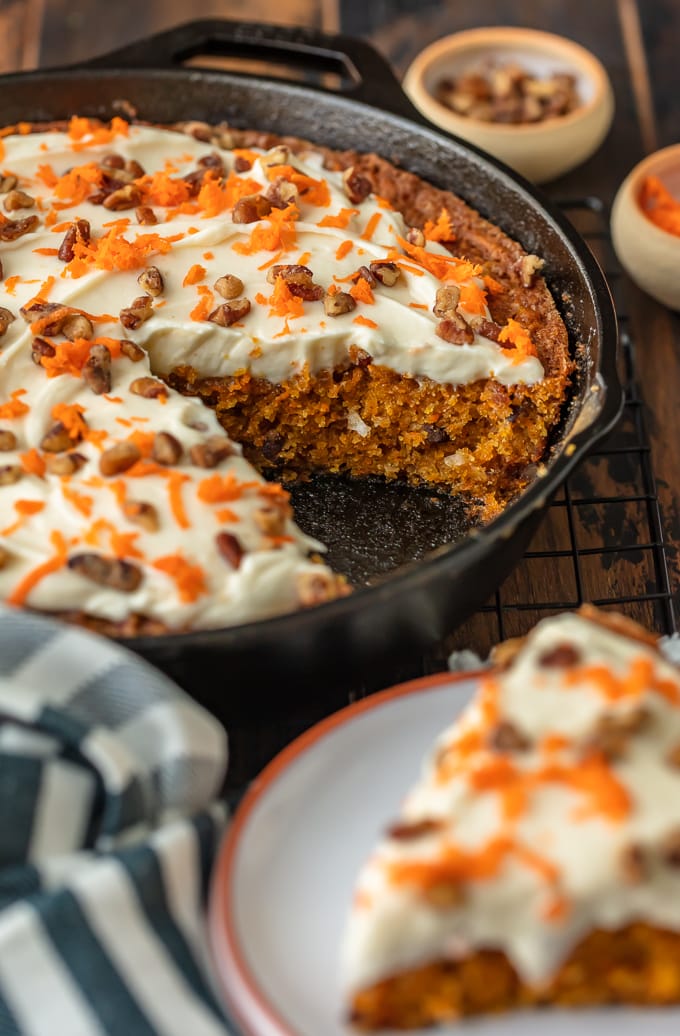 How to Make Carrot Cake in a Skillet
This skillet carrot cake recipe with pineapple is pretty awesome. It's simple, it's moist, it's super flavorful, and it's one of the best desserts ever! Of course the cream cheese frosting is the highlight (trust me, you're going to drool when you get to that part of the recipe), but the entire cake is just absolutely delicious. We're making this in a 9-inch cast iron skillet for a fun twist on a classic.
How to make carrot cake without an oven:
Whisk together flour, baking soda, salt, cinnamon, nutmeg, and ginger.
In another bowl, whisk together sugar, eggs, and oil.
Combine sugar mixture and flour mixture, and stir together.
Gently fold in the grated carrots, the pineapple, and 1/3 of the pecans.
Pour the batter into prepared skillet.
Bake at 350°F for 30-35 minutes.
Let the cake cool completely before spreading on the frosting. When ready to serve, top it off with the rest of the pecans and some carrot shavings. Check below for the full recipe.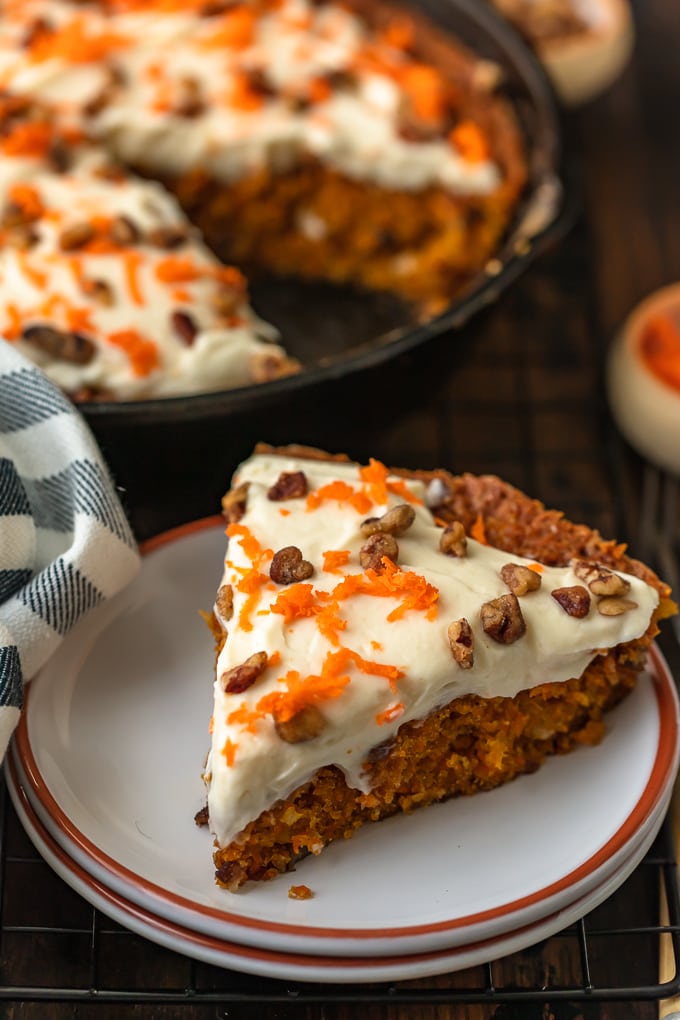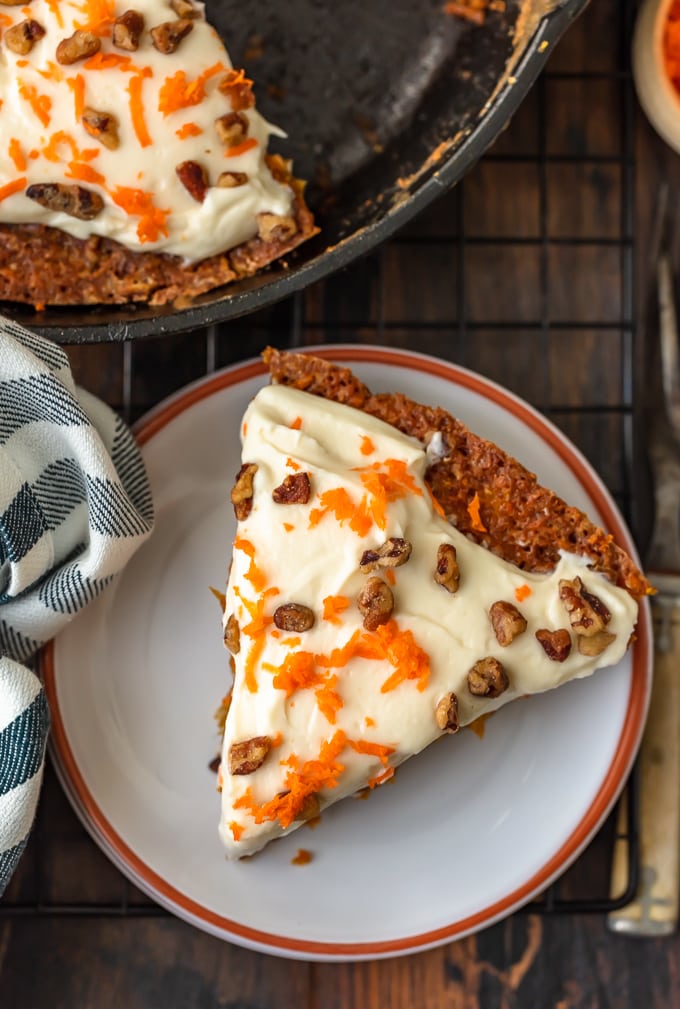 Best Cream Cheese Frosting for Carrot Cake
This frosting is INCREDIBLE. It's seriously the best cream cheese frosting for carrot cake. Ever! I mean, carrot cake is good as is. But if you're not topping it with this cream cheese frosting recipe, you're missing out. It's made from cream cheese, butter, sour cream, vanilla extract, and powdered sugar.
How to make cream cheese frosting for carrot cake:
Whisk together cream cheese, sour cream, butter, and vanilla in an electric mixer.
Mix for about 3 minutes until the consistency is creamy and smooth.
Turn the mixer off and add in the powdered sugar. Then turn the mixer to low and whisk 15-20 seconds.
Then switch the mixer to medium-high and mix another 3 minutes.
Five simple ingredients make the best cream cheese frosting, perfectly topping off this amazing skillet carrot cake recipe. I personally like adding alllll of that frosting on top of the cake, but if it's a bit too much for you, spread on thin layer and save the extra for another time. You can store it in the refrigerator.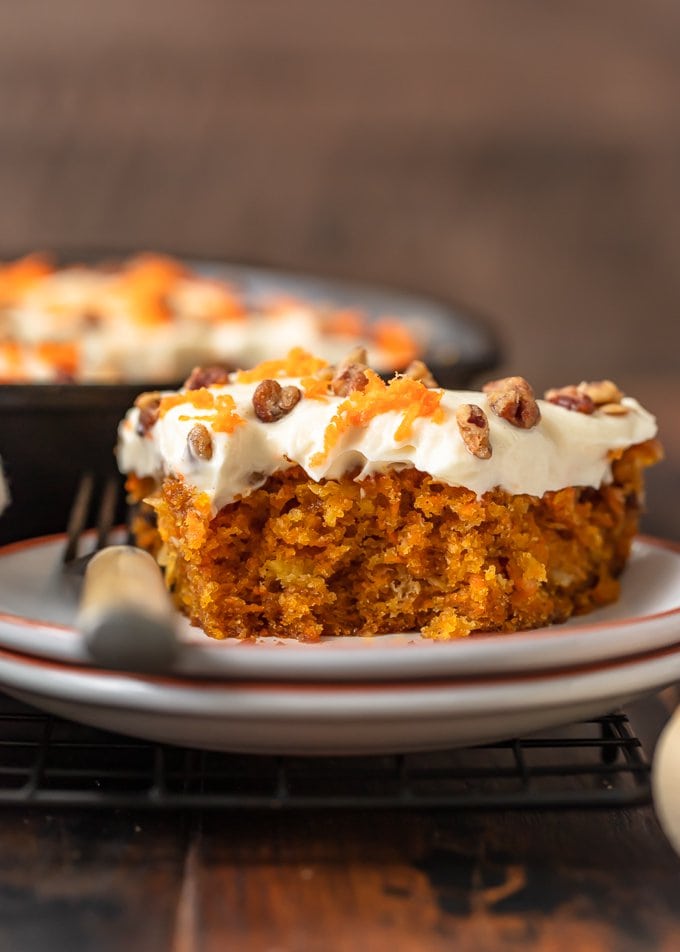 If you're looking for the perfect dessert, you've found it! This Skillet Carrot Cake with pineapple is a must make, and the cream cheese frosting will blow you away. I can't wait for you to try it!
See the recipe card below for details on how to make this Skillet Carrot Cake recipe with the BEST Cream Cheese Frosting ever. Enjoy!
If you like this easy carrot cake recipe, you'll love these other recipes too: