This Easy Peach Cobbler is the stuff dreams are made of! This recipe is so simple, and it only has 6 ingredients (7 if you count the Cool Whip). It can be made year-round and is so full of flavor, you'll swear Grandma made it. It's a must-make for every holiday including Easter, 4th of July, Thanksgiving, and Christmas!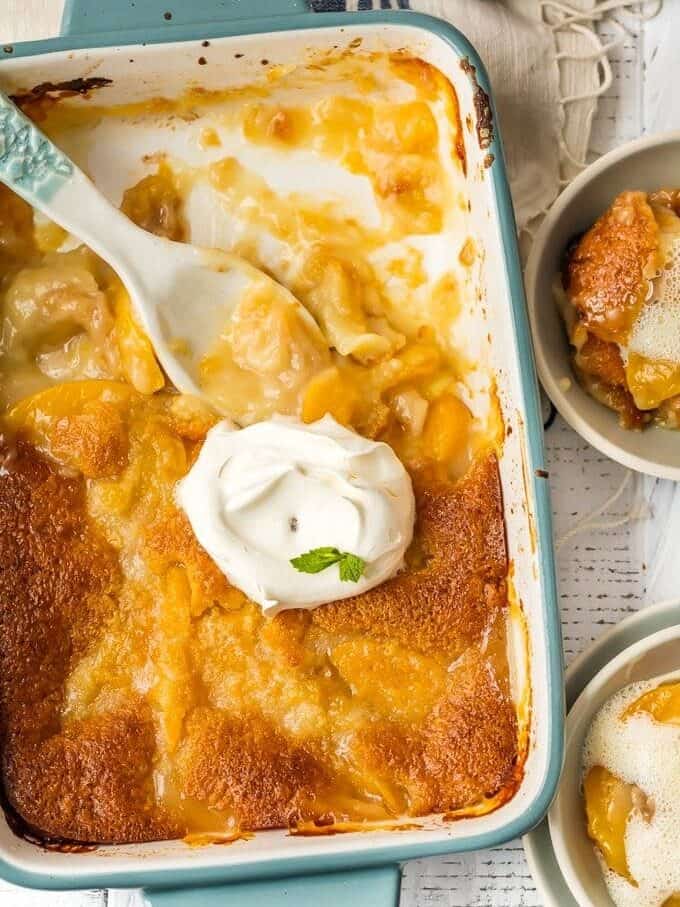 What's in this Easy Peach Cobbler Recipe?
This peach cobbler recipe is truly so simple, you'll feel like a pastry chef. We're making this peach cobbler with canned peaches, so you can make it year-round. It can be thrown together in 5 minutes and then you can just let it bake and do its thing.
Salted Butter: Adds richness and flavor to the cobbler. It also helps create a buttery, crisp topping when combined with the flour and sugar, and the additional salt tempers the sweetness.
Canned/Jarred Peaches: The star of the show, providing a sweet and fruity filling. Canned or jarred peaches are convenient and readily available, especially when fresh peaches are not in season.
Self-Rising Flour: A type of flour that contains leavening agents, such as baking powder, which help the cobbler topping rise and become light and fluffy when baked.
Sea Salt: Enhances the overall flavor of the cobbler and balances the sweetness.
Granulated Sugar: Sweetens the dish.
Milk: Adds moisture to the cobbler topping, helping it bind together and creating a tender texture when baked.
Vanilla Extract: Adds a warm and aromatic flavor to the cobbler and enhances the sweetness of the peaches.
Cool Whip: Adds a creamy and light element to the cobbler. Totally optional, but definitely recommended.
Pro Tip: Self-rising Flour is a must in this recipe or it will not bake up correctly. See below for substitutions.
Variations on Peach Cobbler with Canned Peaches
You can change up the flavor of this cobbler by adding warming spices like cinnamon, nutmeg, or ginger, or try adding fresh ginger or lemon zest for a bright and zesty flavor. Add a splash of rum to the filling for additional depth.
Feel free to get creative with the filling by adding some raspberries or blueberries or chopped nuts!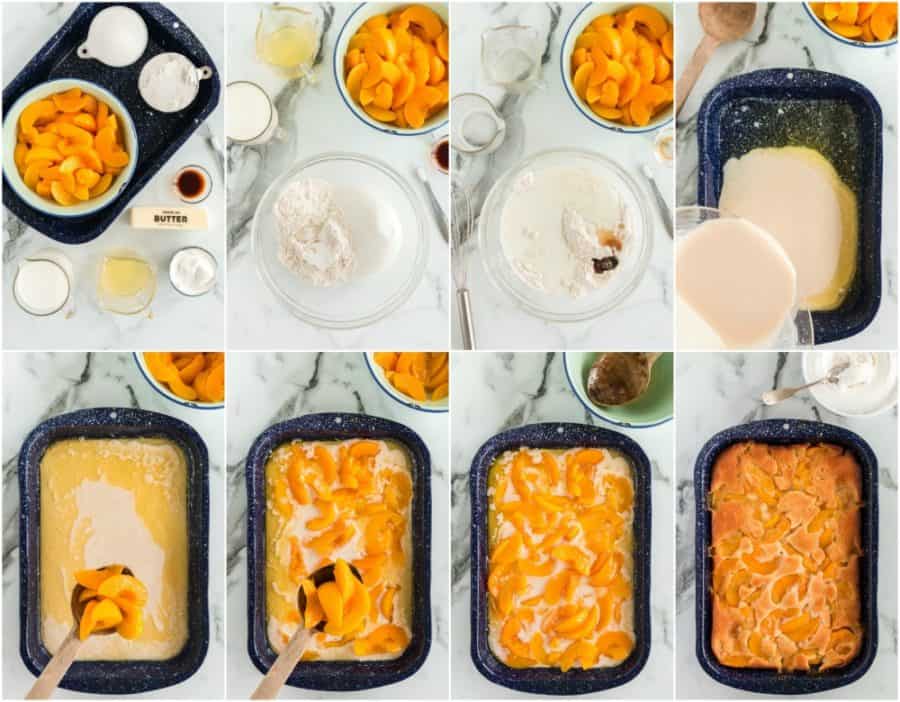 Is it better to use fresh or canned peaches for cobbler?
Both work well! I chose to use canned in this recipe for speed, simplicity, and because peaches aren't always in season!
When are peaches in season?
Most peaches are harvested between May and August, which is why this dessert is typically a summer recipe. But by making this peach cobbler with canned peaches, you can make it any time of year!
Should you rinse canned peaches?
There's no need! I just drain them. You can rinse them if you prefer your cobbler a bit less sweet, but be sure to reserve ¼ cup of the syrup!
Can I use fresh peaches?
If you prefer to use fresh peaches, that's totally fine! Just use about 6 peaches, sliced, or approximately 4 cups of sliced peaches.
Is there a difference between self-rising Flour and all-purpose flour?
Yes! Self-rising flour already has a leavening agent, such as baking powder, added in. It works great with this easy recipe because it takes one measurement out of the equation for you. For those of us that are new to baking, that's an awesome thing!
Are there substitutions for self-rising flour?
If you don't have self-rising flour, rest assured you can still make this easy peach cobbler recipe. Whew! Just add in 1 teaspoon of baking powder per 1 cup of flour. Easy peasy, right?
How long should peach cobbler sit before serving?
It's best to let it sit for at least 30 minutes in the pan before doling it out, but I won't tell if you just can't wait!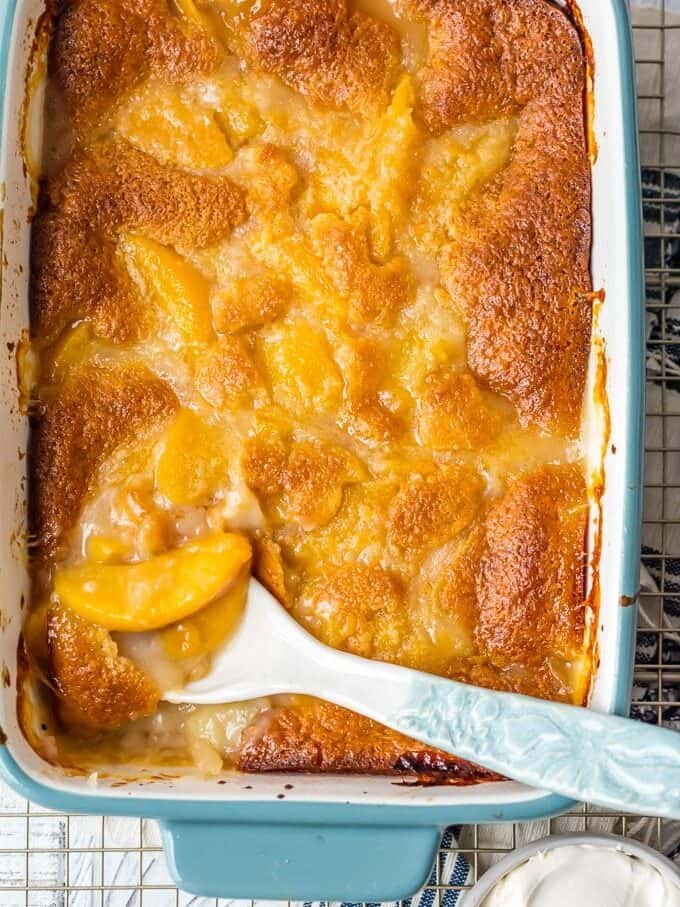 How to Store and Reheat
Store leftover peach cobbler in an airtight container in the refrigerator for up to 4 days. Reheat in a 350°F oven for 5-10 minutes or in the microwave in 30-second increments until warmed through.
How to Freeze
Freeze peach cobbler tightly wrapped in 2 layers of plastic wrap and 1 layer of aluminum foil for up to 3 months. Let thaw overnight in the refrigerator before reheating.
Serving Suggestions
Serve this warm, gooey cobbler topped with Cool Whip or fresh whipped cream, a scoop of vanilla or red velvet ice cream, and a drizzle of lemon curd or caramel sauce. It's also delicious served with white chocolate mousse or with grilled peaches and ice cream for double the peachy flavor. Sip on some delicious peach lemonade and get to baking!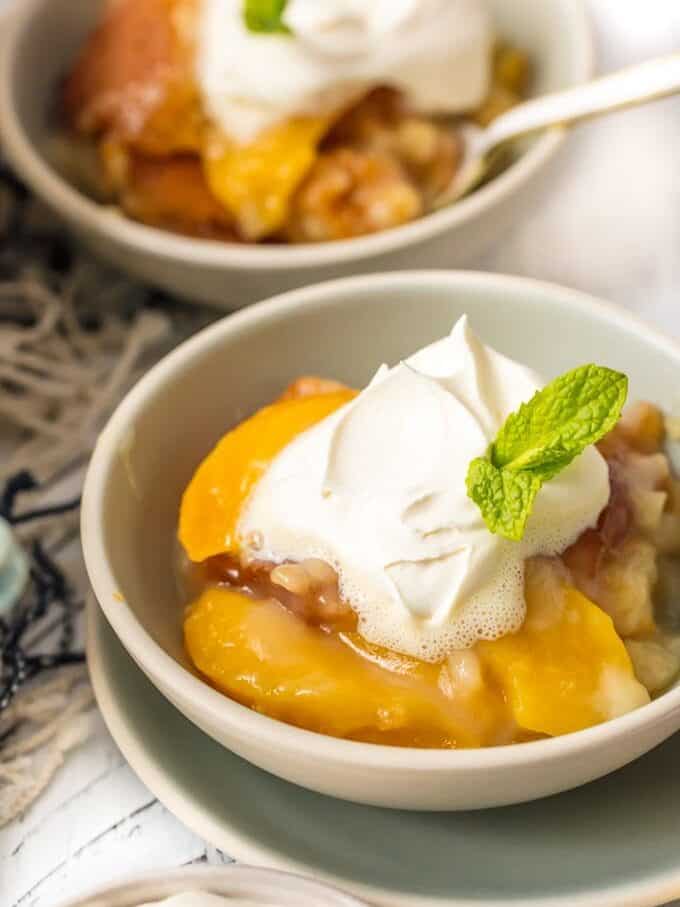 More Cobbler & Crisp Recipes We Love