Peach Cobbler is the stuff dreams are made of! This easy Peach Cobbler recipe is so simple and it only has 6 ingredients (7 if you count the whipped cream). Peach Cobbler with Canned Peaches can be made year round and is so full of flavor you'll swear it was made by Grandma. It's a must make for every holiday including Easter, 4th of July, Thanksgiving, and Christmas!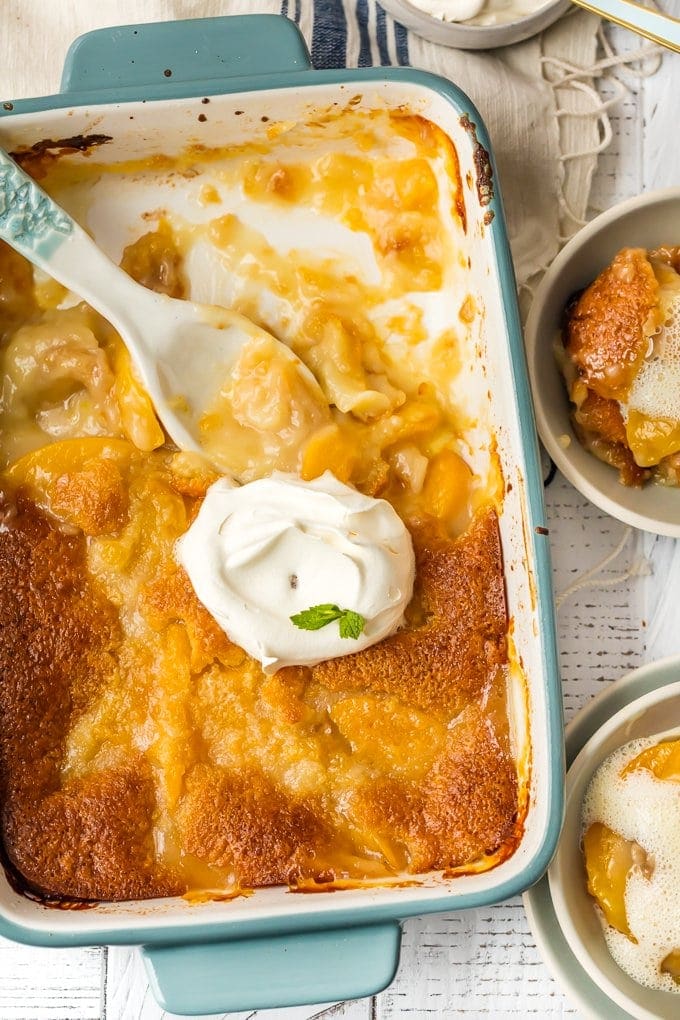 Easy Peach Cobbler with Canned Peaches
Peach Cobbler is on my mind day and night. I've made Instant Pot Apple Crisp, but never Peach Cobbler! Summer is getting closer and I'm already thinking about the best summertime dessert recipes.
I've always had a thing for this classic dessert, but I never realized just how EASY it can be to make.
This Easy Peach Cobbler recipe is truly so simple, you'll feel like a pastry chef. We're making this peach cobbler with canned peaches, so you can make it year-round.
It can be thrown together in 5 minutes and then you can just let it bake and do its thing.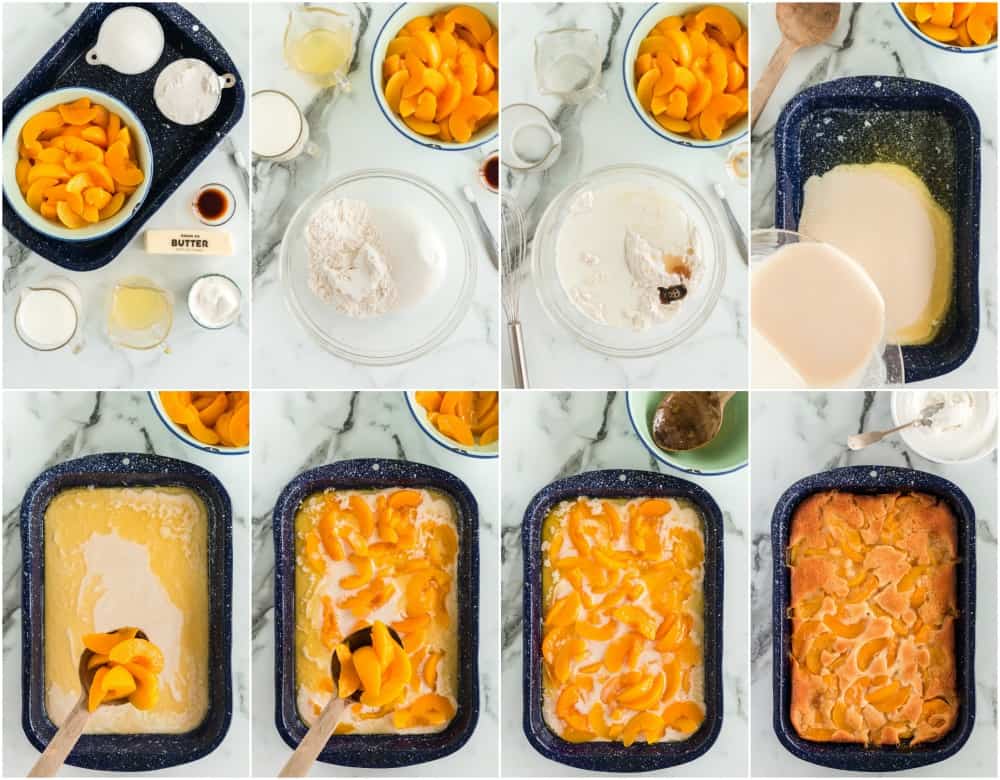 Peach Cobbler for the Holidays
This Easy Peach Cobbler with Canned Peaches is perfect for Thanksgiving, Christmas, and Easter. Since it's made using canned peaches you can make it year round!
You'll be topping it with whipped cream or ice cream in a little over an hour and wowing your dinner guests in no time! I love this for summer and it makes a great Easter Dessert too.
I love that this Easy Peach Cobbler Recipe uses canned peaches because you don't even have to wait until warmer weather to make it. You can make it year round. Speaking of…make it today!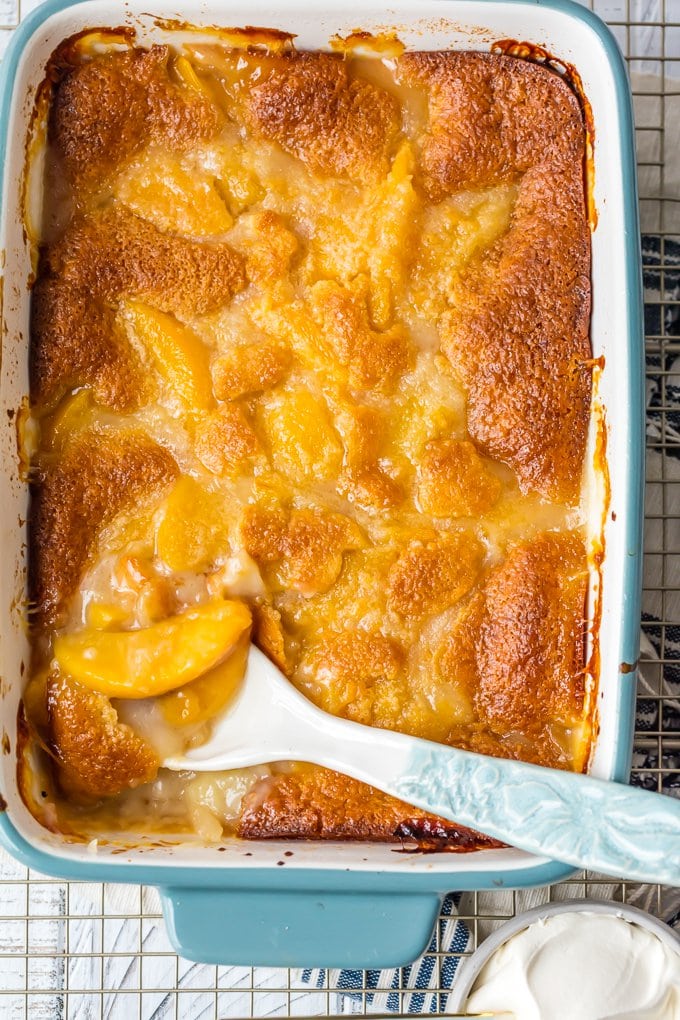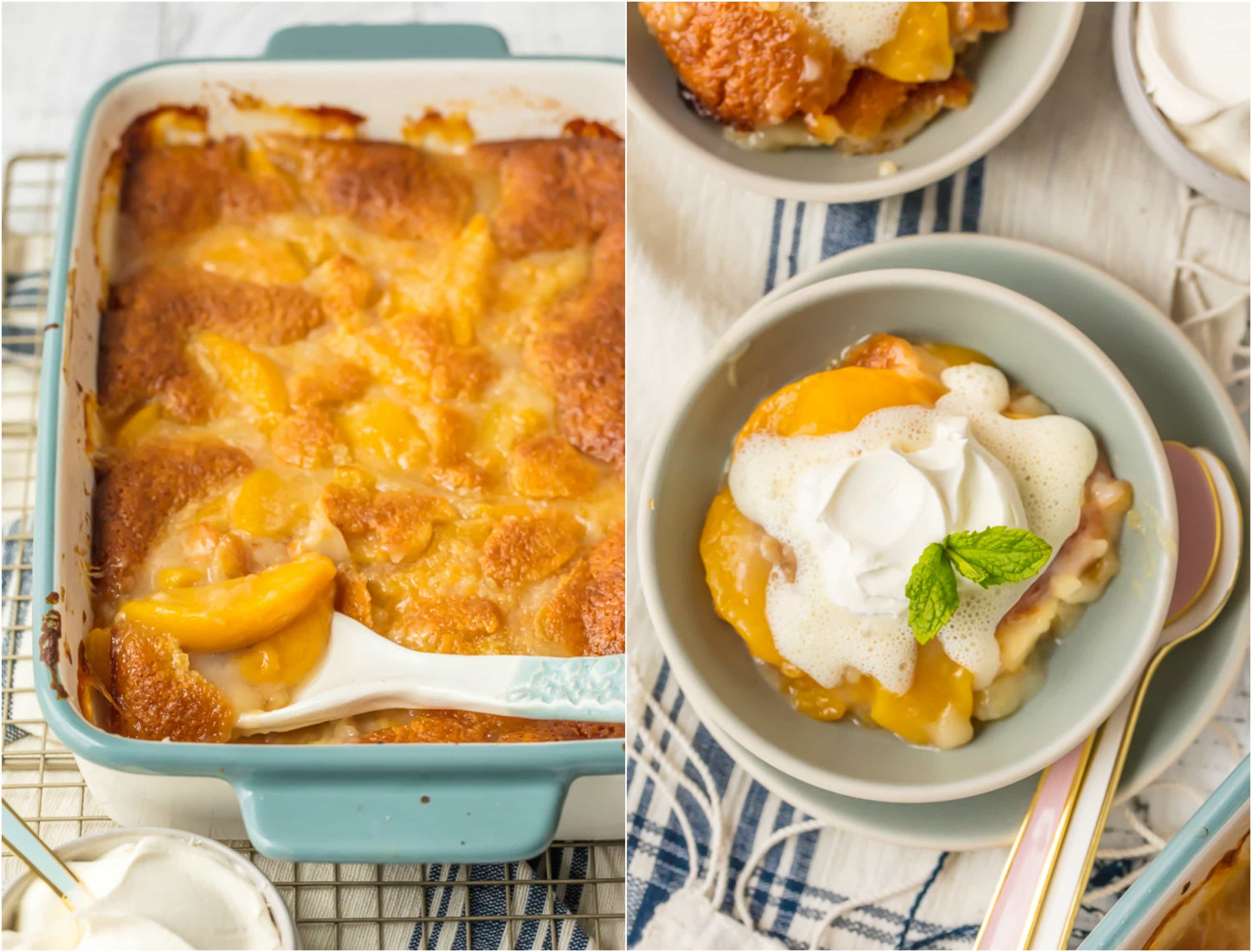 Easy Peach Cobbler Recipe
You guys…this recipe is SO simple. You simple melt butter in a baking dish, pour over a mixture of your wet and dry ingredients, and then top with jarred or canned peaches, and then let your oven do the rest.
You'll know its done when the batter bakes up around the peaches and is all hot and bubbly and browned to your liking.
The smells coming out of this kitchen today were something I'd love to bottle up and turn into a candle. This easy peach cobbler recipes just smells THAT good! The smell of Summer coming right at you.
More Recipes with Peaches
We LOVE peach season! After you make this recipe, be sure to check out some of our other favorites.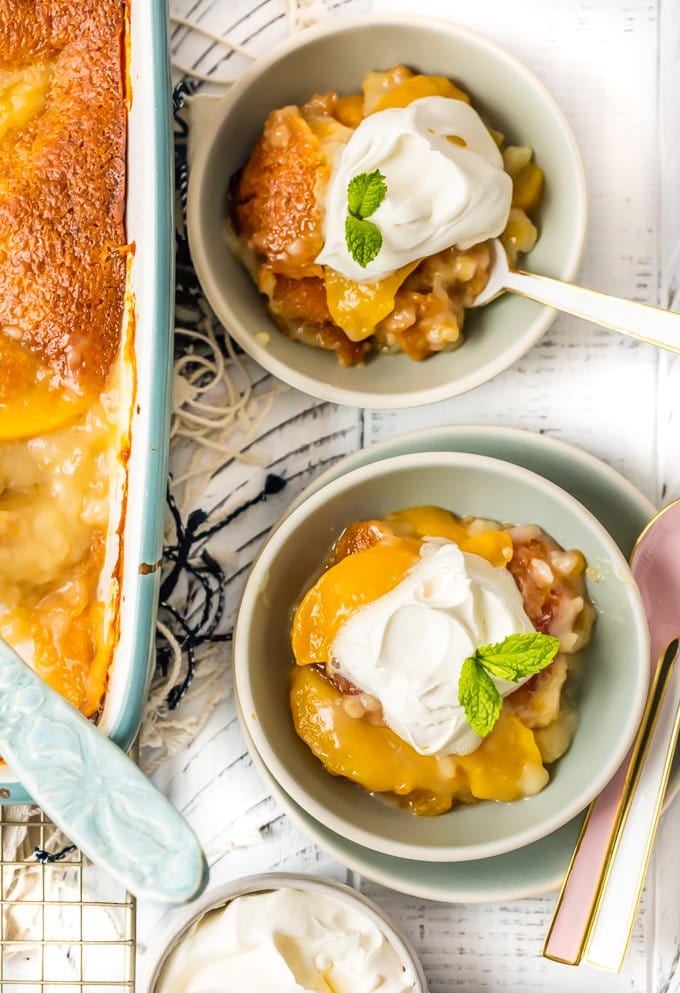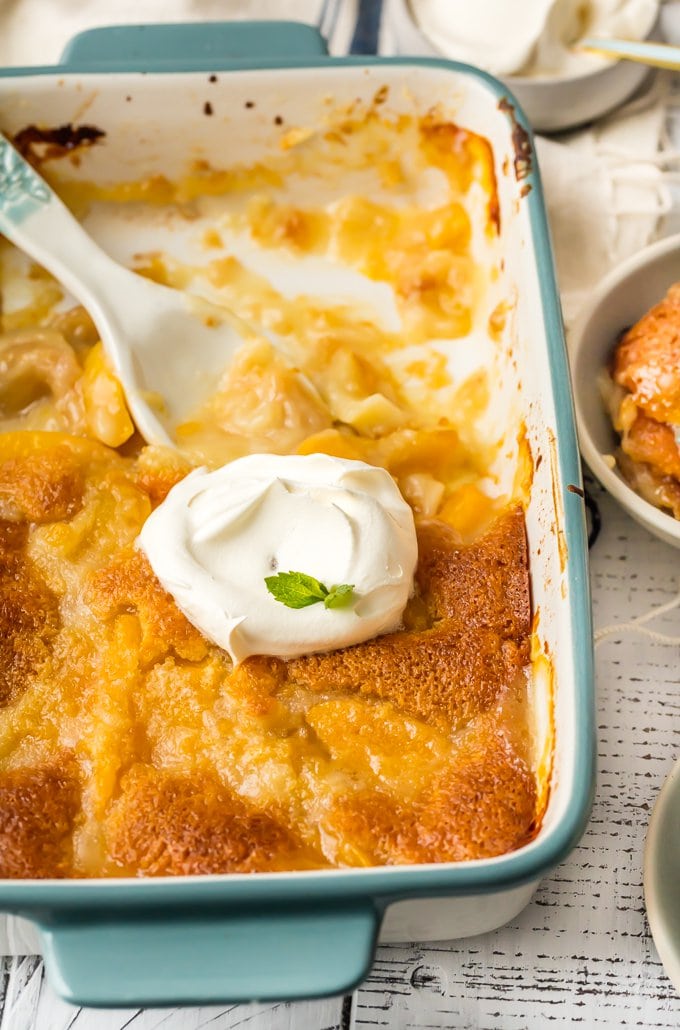 How to Make Peach Cobbler
This easy peach cobbler recipe is a stress-free dessert you can make for any occasion, any time of year!
Preheat the oven, and let butter melt in the baking dish.
Drain both jars/cans of peaches and reserve some of the syrup in a separate bowl.
Stir together flour and sugar, then whisk in the, milk, vanilla, and syrup from the peaches.
Pour the mixture into the baking dish, and spoon the peaches over the batter.
Bake for 1 hour at 350°F until the batter turns a golden brown.
Let it cool slightly before serving! Scoop some whipped cream or ice cream (or both) on top, and enjoy!
You can jump to the recipe card for full ingredients & instructions!
Is there a difference between Self-Rising Flour and All Purpose Flour?
Yes! Self-Rising Flour already has a leavening agent, such as baking powder, added in. It works great with this easy recipe because it takes one measurement out of the equation for you. For those of us that are new to baking, that's an awesome thing!
Self Rising Flour is a MUST in this recipe or it will not bake up correctly. See below for substitutions.
Are there substitutions for Self-Rising Flour?
If you don't have Self-Rising Flour, rest assured you can still make this easy Peach Cobbler recipe. WHEW! Just add in 1 teaspoon baking powder per 1 cup flour. Easy peasy, right?
When are peaches in season?
Most peaches are harvested between May and August, which is why this dessert is typically a summer recipe. But by making this peach cobbler with canned peaches, you can make it any time of year!
If you prefer to use fresh peaches, that's totally fine! Just use about 6 peaches, sliced, or approximately 4 cups sliced peaches.
Serving Suggestions
SO MANY THINGS! Truthfully I could eat this Easy Peach Cobbler after dinner each and every night, but I think it pairs especially well with Buttermilk Fried Chicken, Copycat Honey Baked Ham, or some great BBQ Pulled Pork Sandwiches.
More Pairing Ideas for Easy Peach Cobber: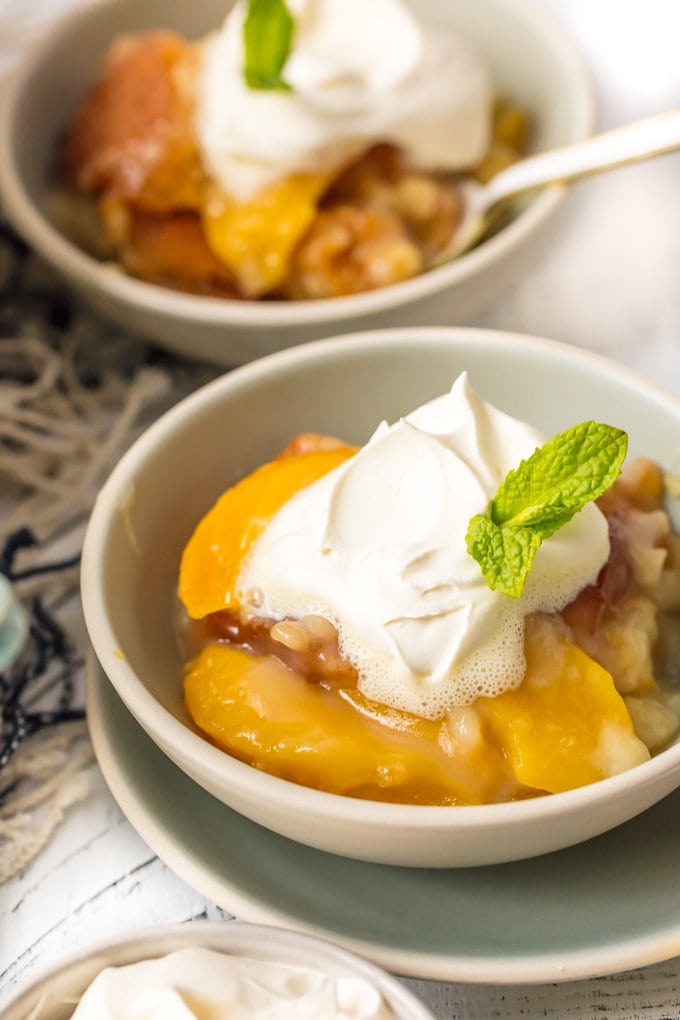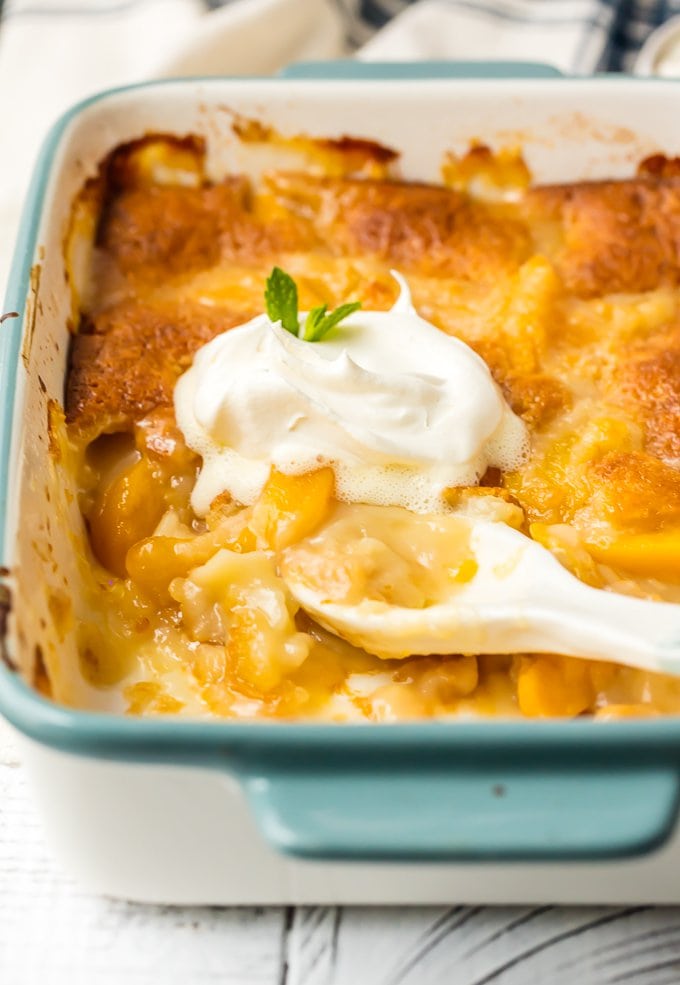 I hope your Easter or Fourth of July celebration includes this Amazing Easy Peach Cobbler Recipe. I know ours will. We don't have time for complicated recipes, I have a one year old. Give me ALL THE EASY RECIPES!
More Pies & Cobblers
This Easy Peach Cobbler with Canned Peaches is just one of our favorite pies/cobblers for the holidays. We always keep things simple, so check out some of our easy faves below.
See All Pie Recipes
If you make this recipe be sure to upload a photo in the comment section below or leave a rating. Enjoy! You can also jump to recipe.