STUFFED JALAPENO POPPERS are a fun and delicious appetizer! We stuffed these jalapeno peppers with ground beef, cream cheese, and cheddar cheese to create a tasty Cheeseburger Jalapeno Poppers recipe. We love these spicy, flavor-filled appetizers for tailgating, parties, or a simple night spent at home.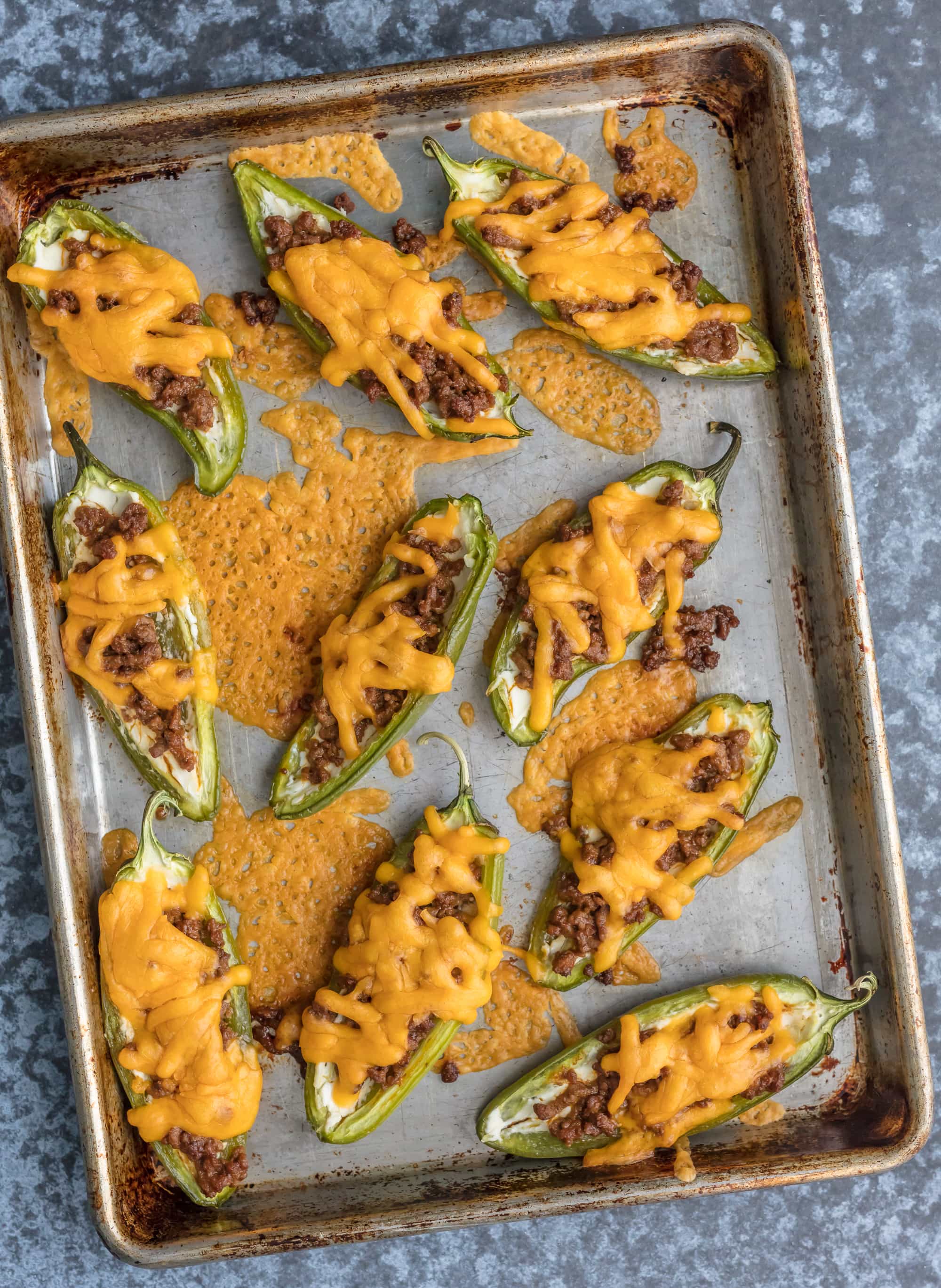 Stuffed Jalapeno Poppers Recipe
Stuffed Jalapeno Poppers are the perfect appetizer for parties. We stuffed these cheeseburger jalapeno poppers with ground beef and LOTS of cheese!
Stuffed Jalapeno Poppers are spicy, cheesy, and delicious. That's everything you need to create an amazing game day appetizer! We stuffed these with ground beef and cheese to create a special Cheeseburger Jalapeno Poppers recipe, and I am kind of obsessed.
It's officially football season and if you guys have been following along, we LOVE football in this house. Every weekend is spent with wayyyy too much football (and if I have to talk to Pat any more about fantasy football leagues I might go insane) and even though I'm a big fan, I'm an even bigger fan of the food.
BRING ME ALL THE TAILGATING APPETIZERS! There are never enough finger foods and dips in the world. These Cheeseburger Stuffed Jalapeno Poppers are way too addicting and are the ultimate snack while watching some pigskin.
These spicy Stuffed Jalapeno Poppers are filled with ground beef, cream cheese, cheddar cheese, & taco seasoning. The perfect game day appetizer!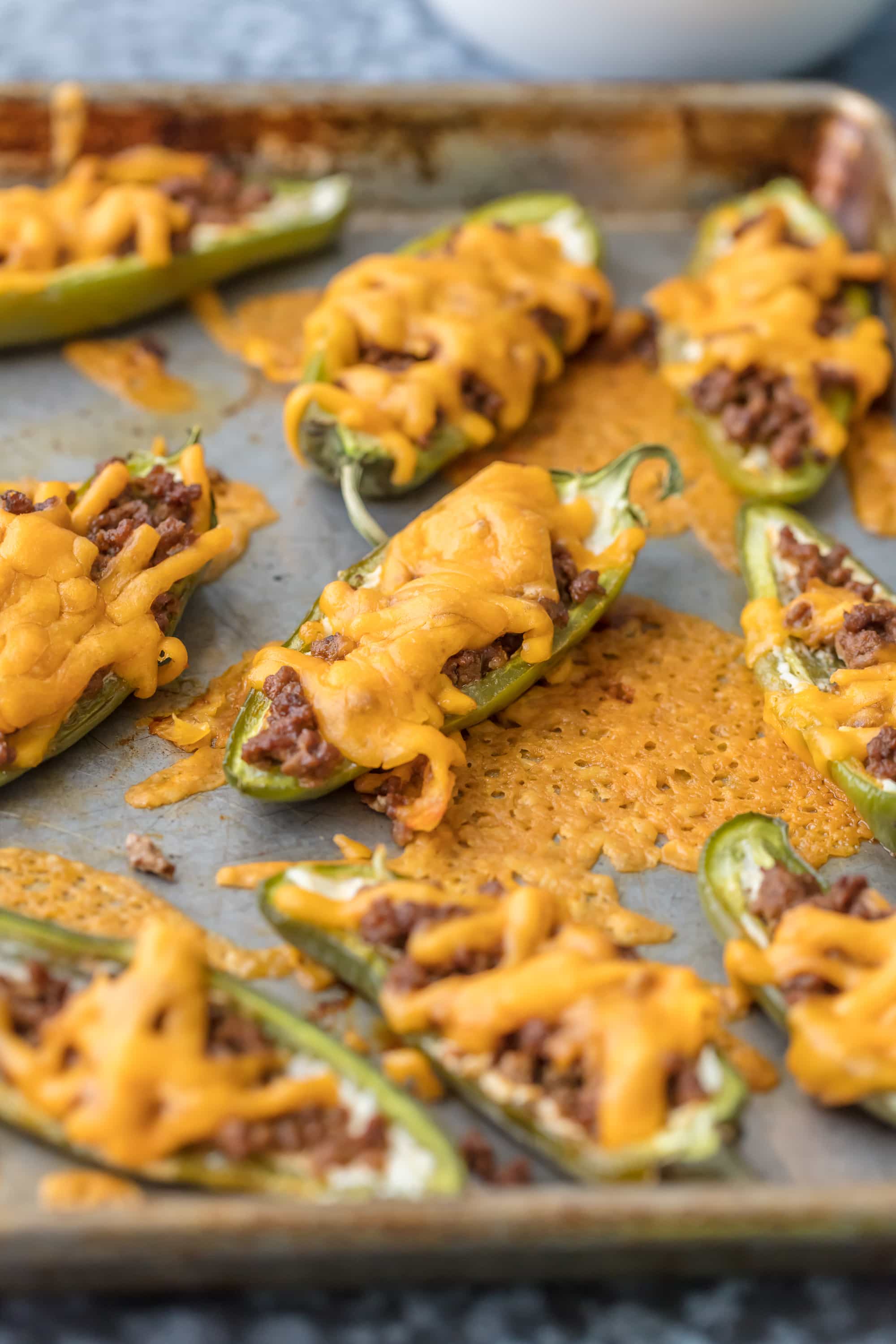 How to Make Stuffed Jalapeno Poppers
Jalapeno Poppers mixed with the flavor of cheeseburgers….tell me that doesn't sound like the most amazing game day appetizer? Not only are they delicious, but this stuffed jalapeno poppers recipe is easy to make too! They're stuffed with cream cheese, cheddar cheese, and ground beef, and there's just enough to spice to give it a kick.
How to Make Cheeseburger Jalapeno Poppers:
Cut jalapenos in half length-wise, & remove all seeds and veins
In large skillet over medium-high heat, heat olive oil, then add in ground beef & crumble as it cooks
Stir in taco seasoning about half-way through cooking the beef
Place jalapenos on baking sheet, stuff each one with 1 tsp cream cheese, a spoonful of ground beef, & sprinkle with cheddar cheese
Bake stuffed jalapeno poppers for 25-35 minutes at 350°F
Recommended Products to make Stuffed Jalapeno Poppers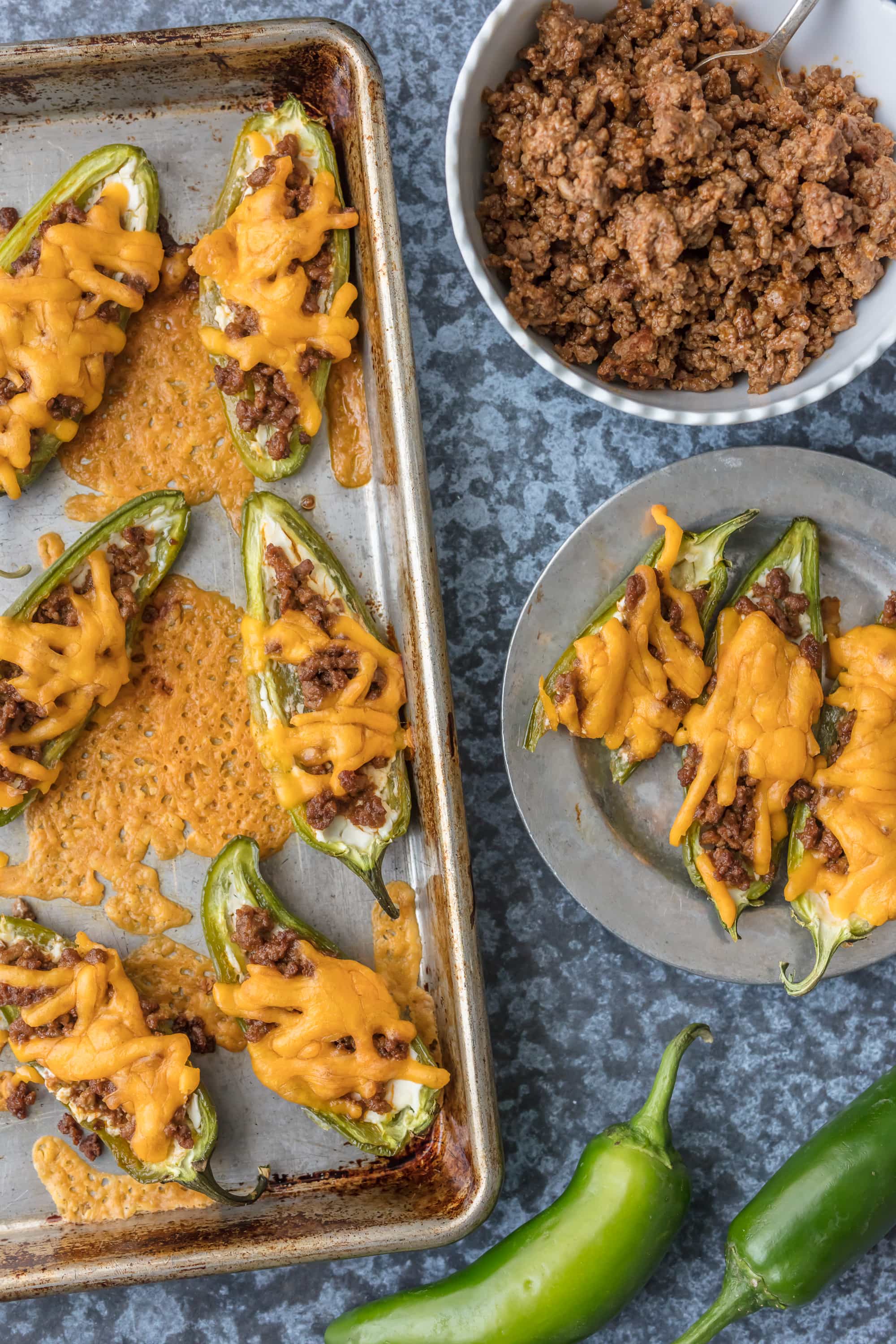 I can't get enough of this Cheeseburger Stuffed Jalapeno Poppers recipe. Guests will be devouring these on game day, so make plenty and grab some for yourself straight out of the oven! I love the mix of the cream cheese with the spicy jalapenos and seasoned beef…just so yummy!
See the recipe card below for details on how to make Cheeseburger Stuffed Jalapeno Poppers. Enjoy!
If you like this stuffed jalapeno poppers recipe, try these other appetizers too: