Golden and crispy on the outside but soft in the middle, these Garlic Parmesan Soft Pretzels are the ultimate game day snack or savory treat!
Garlic Parmesan Pretzels
Topped with an addictive mix of garlic and parmesan, these easy homemade soft pretzels will be gobbled up quick! Baked to perfection, they're an awesome party snack, you'll be amazed at how simple it is to whip up a batch of these twisty, golden brown beauties!
Looking for more game day treats? Why not also try my Best Guacamole Recipe Ever! and my Bacon Wrapped Tater Tots!
Why You'll Love this Garlic Parm Soft Pretzel Recipe:
CHEESY: Generously topped with Parmesan for that perfectly cheesy hit.
SAVORY: Slathered in garlic butter!
CRUNCH AND SOFT: A slight crunch on the outside gives way to the soft center – so good.
Simple to make, even for beginner bakers and they taste as good as they look!
How to Make Garlic Parmesan Soft Pretzels
You can jump to the recipe card for full ingredients & instructions!
In a large bowl, mix your dough ingredients then allow to rise.
Knead the dough until it is smooth and elastic.
Cut the dough into 16 equal pieces, roll into 6 inch long ropes and form the pretzel shapes.
Boil the pretzels in a large pot
Brush the pretzels with egg wash, sprinkle with salt and bake for approximately 15 mins.
Toss the pretzels in melted butter, garlic powder and parmesan.
Serve and enjoy!
Ingredients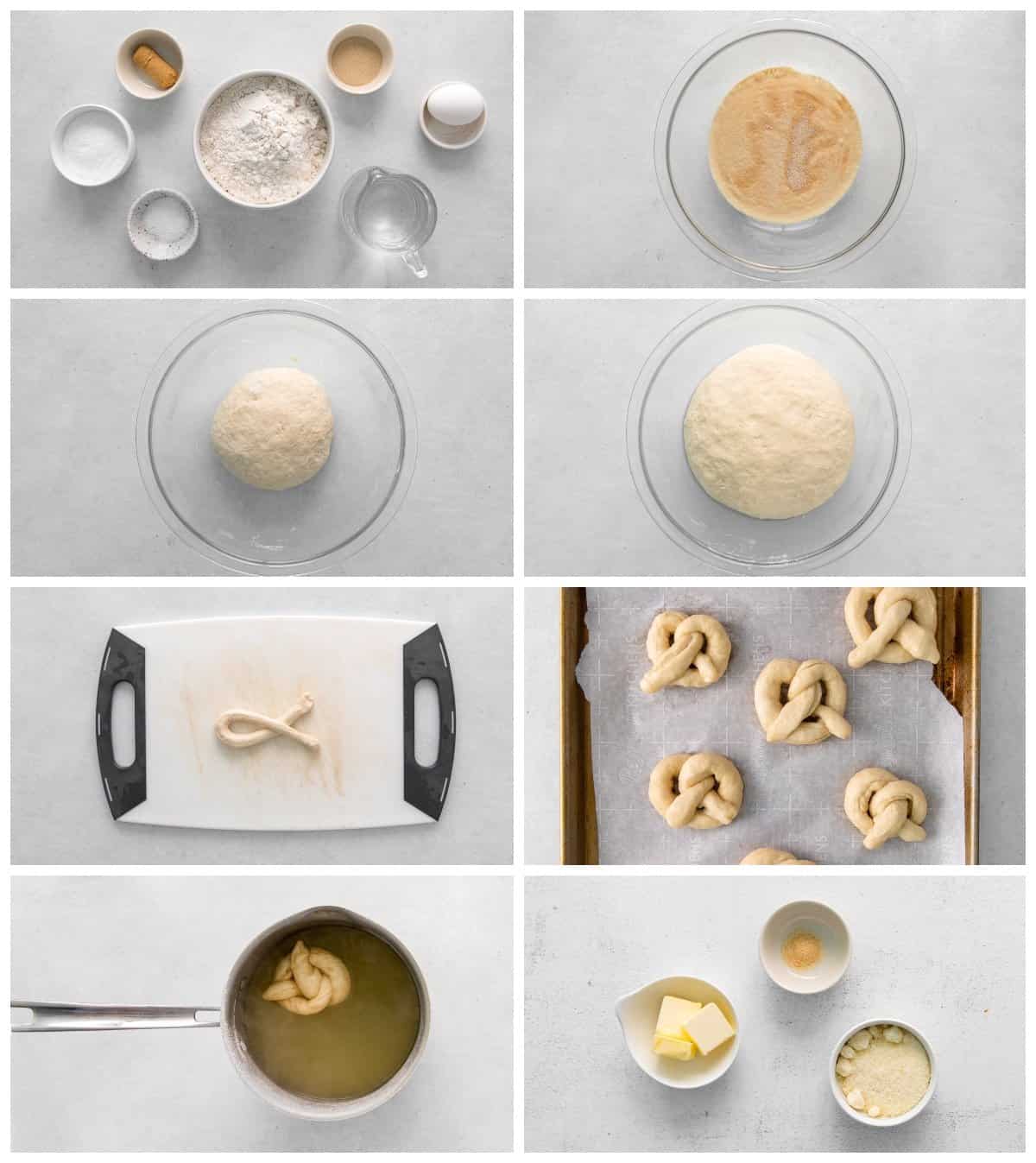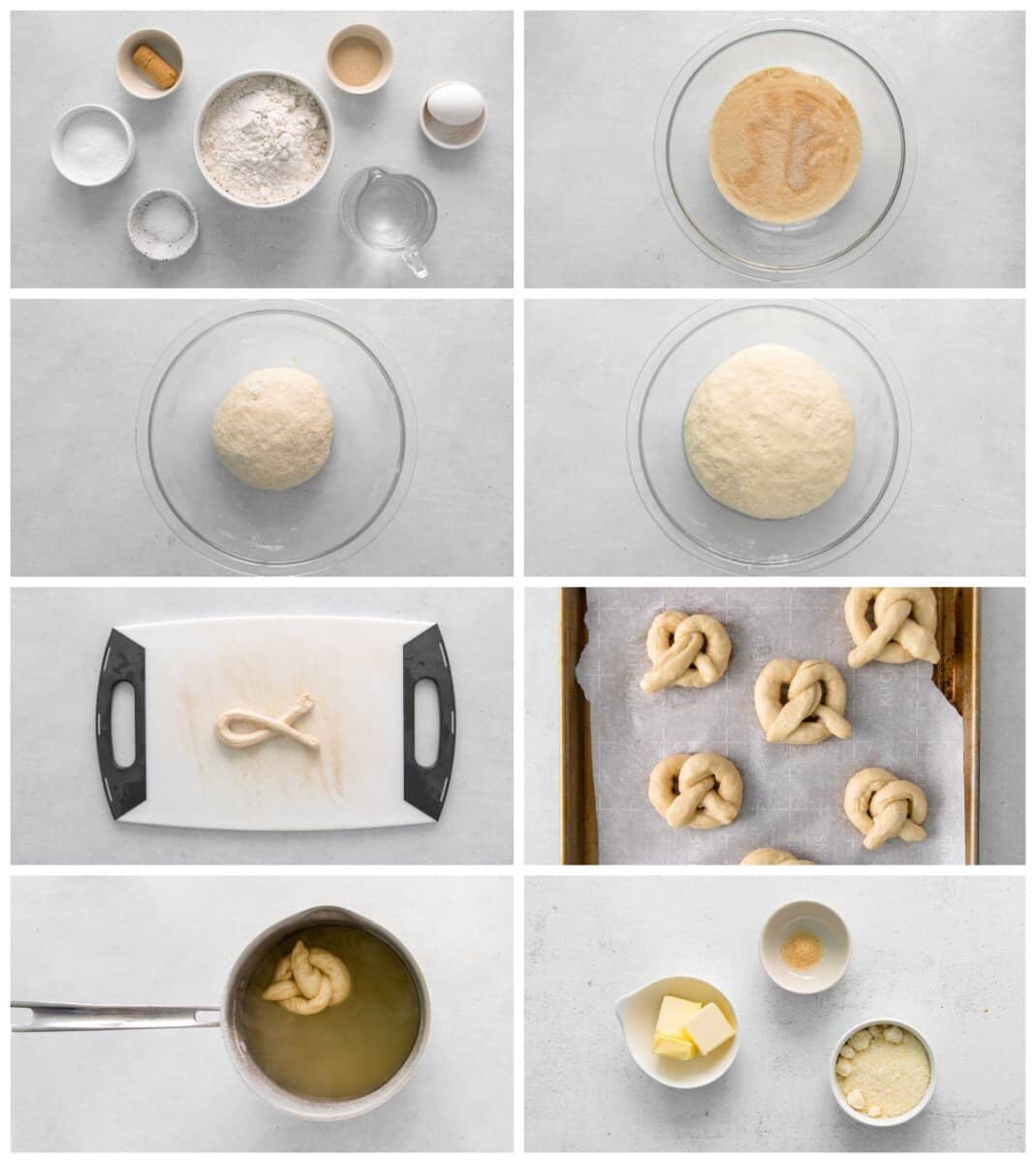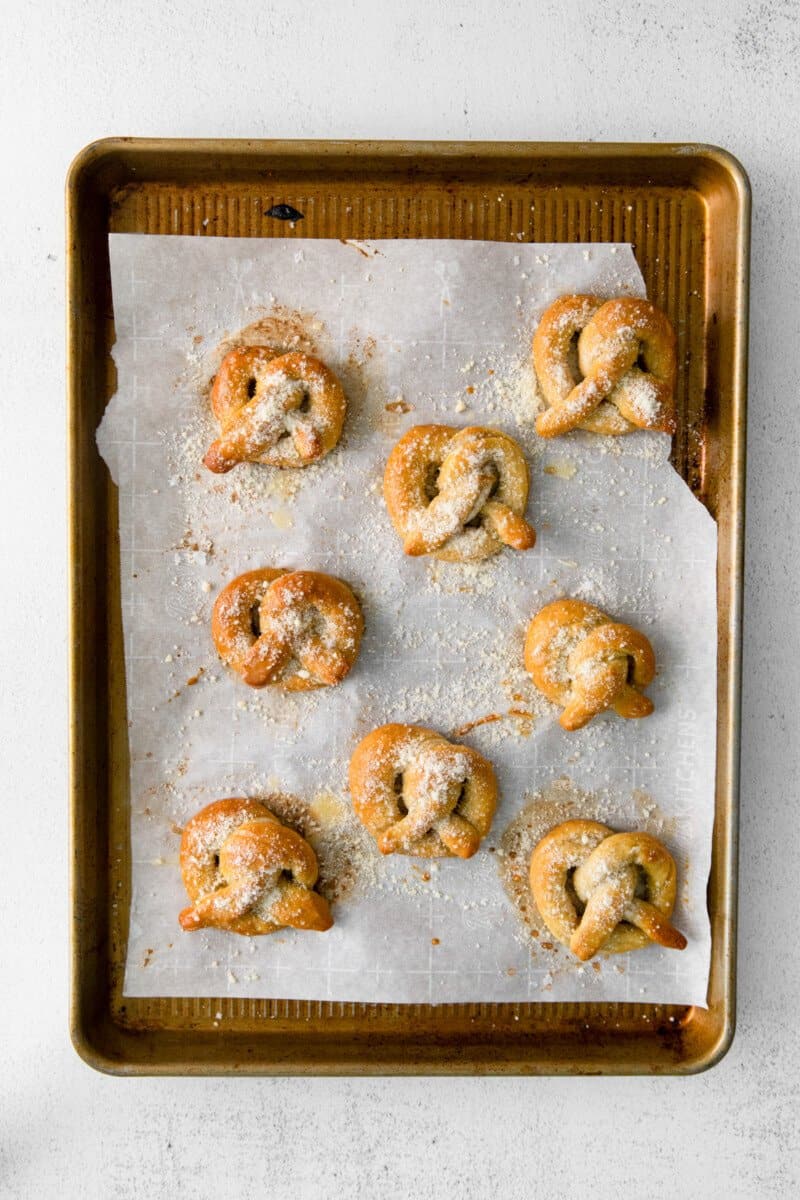 What does it mean to "bloom" yeast?
To bloom yeast means to dissolve it in warm liquid (often with a little bit of sugar) and leave it for a few minutes, or until foamy. Proofing yeast ensures that it is alive and vigorous enough to make your dough rise.
Why do I need to boil soft pretzels before baking them?
Boiling pretzel dough causes it to instantly puff, creating a chewy interior. The baking soda produces pretzels with that characteristic deep golden brown and cracked appearance.
Can I use fresh garlic on garlic parmesan soft pretzels?
If you love the flavor of raw garlic, go for it! If not, I would suggest adding chopped garlic to the tops of the pretzels while they bake or sautéing some chopped garlic before adding it to the butter mixture.
How do I shape a pretzel?
Start by rolling a piece of dough out into a 6-inch long skinny rope. Next, take both ends of the rope in your fingertips and draw them together so the dough forms a circle. Twist the ends of the rope together once or twice, depending on your preference. Then bring the twisted end toward yourself and fold it down onto the bottom curve. Use a bit of water to stick the ends together if needed.
Serving Suggestions
These bad boys are perfect on their own but they are also great for dipping! Here's some fave dips you can try:
Warm, savory and utterly addictive, these homemade garlic parm soft pretzels are a slam dunk for game day!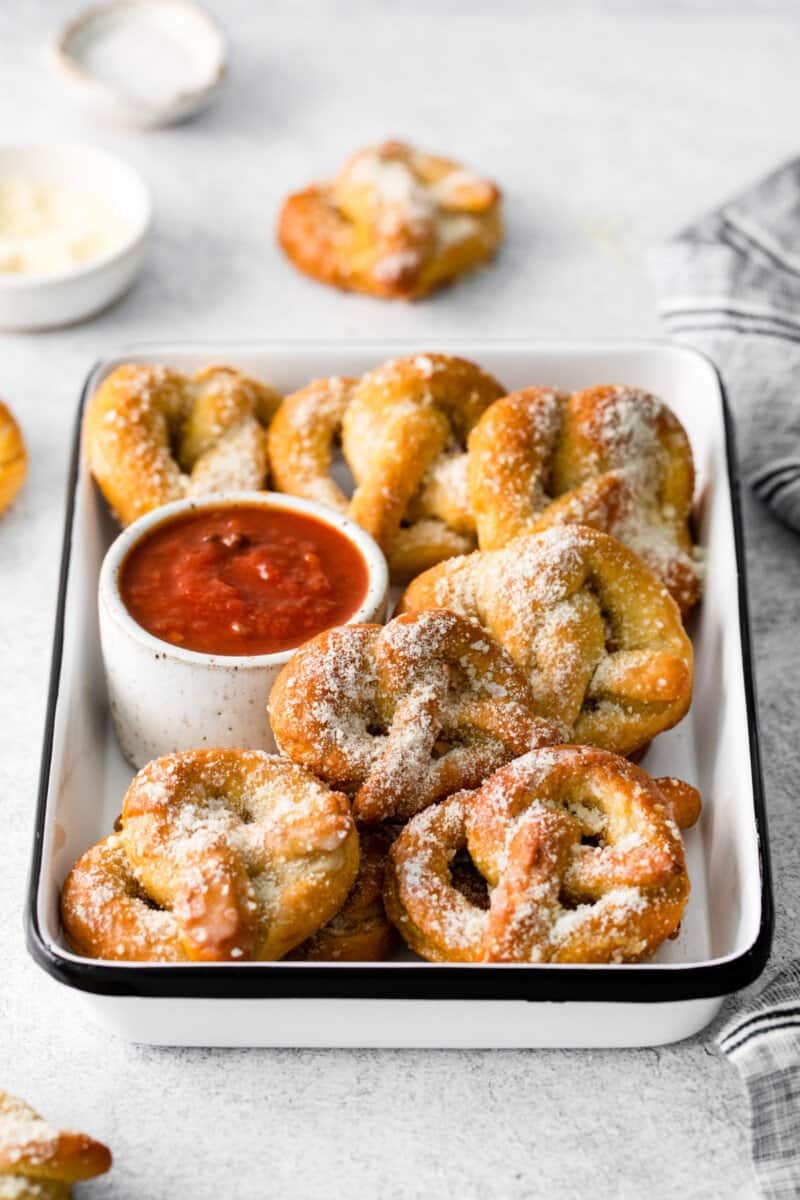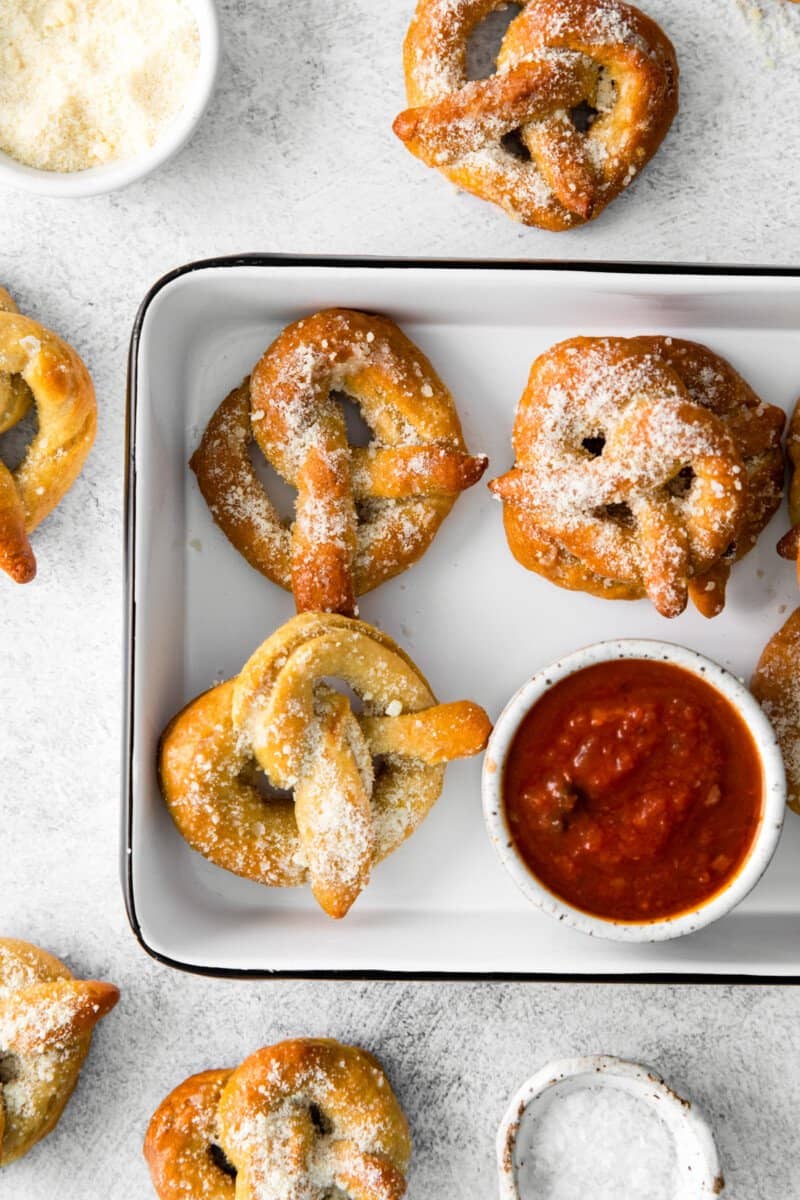 Make Ahead Instructions
Soft pretzel dough can be prepared up to 1 day in advance. Prepare the dough through step 4, but instead of proofing the dough on the countertop, place it tightly covered in the refrigerator overnight. Let come to room temperature for about 30 minutes before continuing with the recipe.
Storage Instructions
Fully assembled, these garlic parmesan soft pretzels are best enjoyed on the day they are made. If you plan to save some for later, I recommend leaving the garlic-parmesan butter off until you're ready to serve them so that they don't become soggy. Store leftover pretzels in an airtight container at room temperature for up to 2 days. To reheat, place in a 350°F oven for about 5 minutes, then toss in garlic-parmesan butter.
Freezing Instructions
I recommend freezing these garlic parmesan pretzels plain to avoid soggy pretzels. Freeze in a single layer on a baking sheet until solid, then transfer to an airtight container or Ziplock bag for up to 1 month. Reheat from frozen at 350°F for 10-12 minutes before tossing in garlic-parmesan butter.
Soft Pretzel Variations
These garlic parmesan soft pretzels are so tasty! But this pretzel recipe is super versatile, and you can change up the toppings to suit your preferences. Try these combos in place of the garlic parmesan topping:
Classic: Leave the pretzels plain or toss with 3 tablespoons melted butter and 2 tablespoons sesame seeds.
Cinnamon-Sugar: Top the pretzels with 3 tablespoons melted butter, 2 teaspoons cinnamon, and ½ cup granulated sugar. Serve with vanilla icing.
Almond Crunch: Brush the pretzels with 2 tablespoons of melted butter and top with almond sugar before baking. To make almond sugar, pulse ½ cup slivered almonds with 2 tablespoons granulated sugar in a food processor. Serve with vanilla icing.
Ranch: Top the pretzels with 3 tablespoons melted butter and 1 envelope of ranch seasoning mix. Serve with marinara sauce or ranch dressing.
Pepperoni Pizza: After egg washing your pretzels, top with 5 or 6 pepperoni slices each and sprinkle with 1½ cups mozzarella cheese before baking. Serve with marinara sauce.
Cheddar Jalapeño: Add ¼ cup drained and chopped pickled jalapeños to the dough in step 2. Top with 1 cup shredded cheddar cheese before baking.
Vanilla Bean: Stir together 2 cups powdered sugar, 1 teaspoon vanilla bean paste, and ¼ cup whole milk. Dip the baked pretzels in the glaze before serving.
Double Chocolate: Add ¼ cup unsweetened cocoa powder to the dough in step 2 and knead in ¼ cup mini semisweet chocolate chips towards the end of step 3. Top with chocolate sprinkles, if desired, and serve with vanilla or chocolate icing.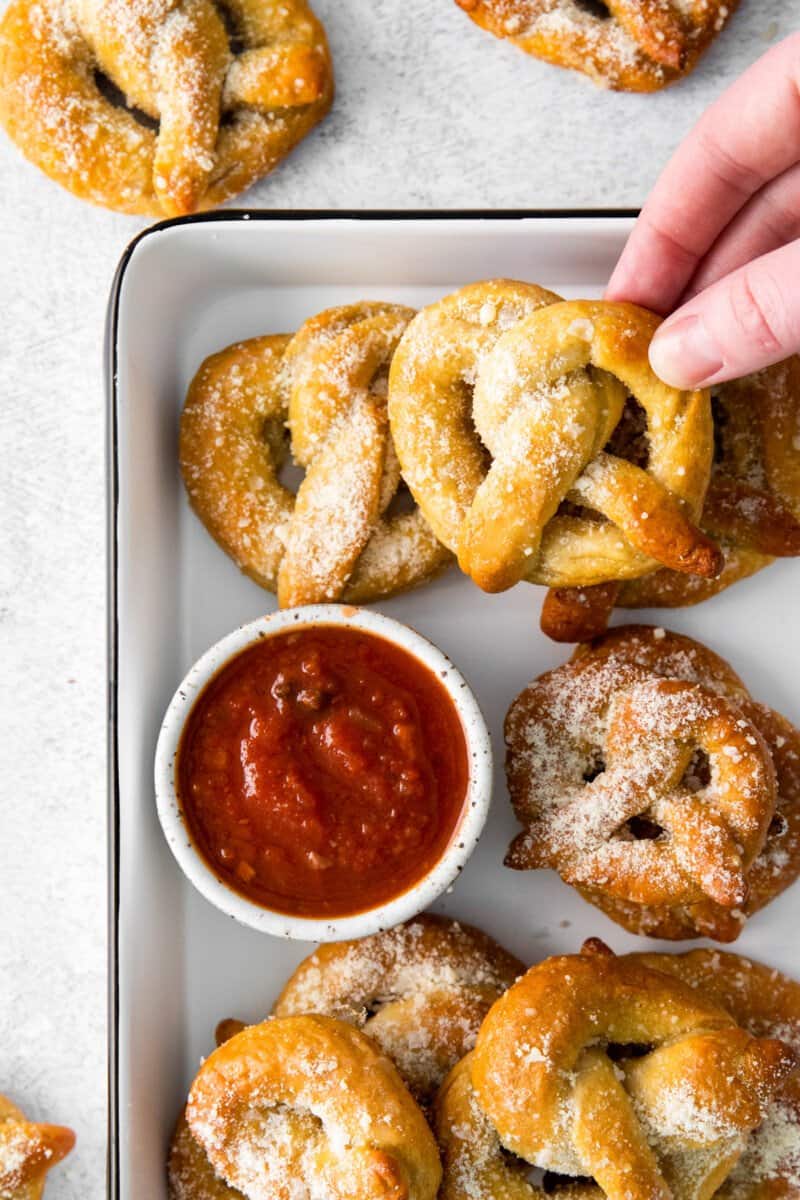 With their cheesy and savory flavors, these garlic parmesan soft pretzels have become a favorite treat at our house! Even if you are new to baking, these will come out beautifully and – most importantly -they'll taste awesome!
If you make this recipe be sure to upload a photo in the comment section below or leave a rating. Enjoy! You can also jump to recipe.