CHEESE RAVIOLI is a classic pasta dish, but I took it up a notch with this One Pan Cheese Ravioli Skillet. It's loaded with cheese-stuffed ravioli, Italian sausage, more cheese, tomatoes, and basil. It's a simple and fun one pan dinner that everyone will ask for again and again. This cheese ravioli recipe is sure to please the entire family!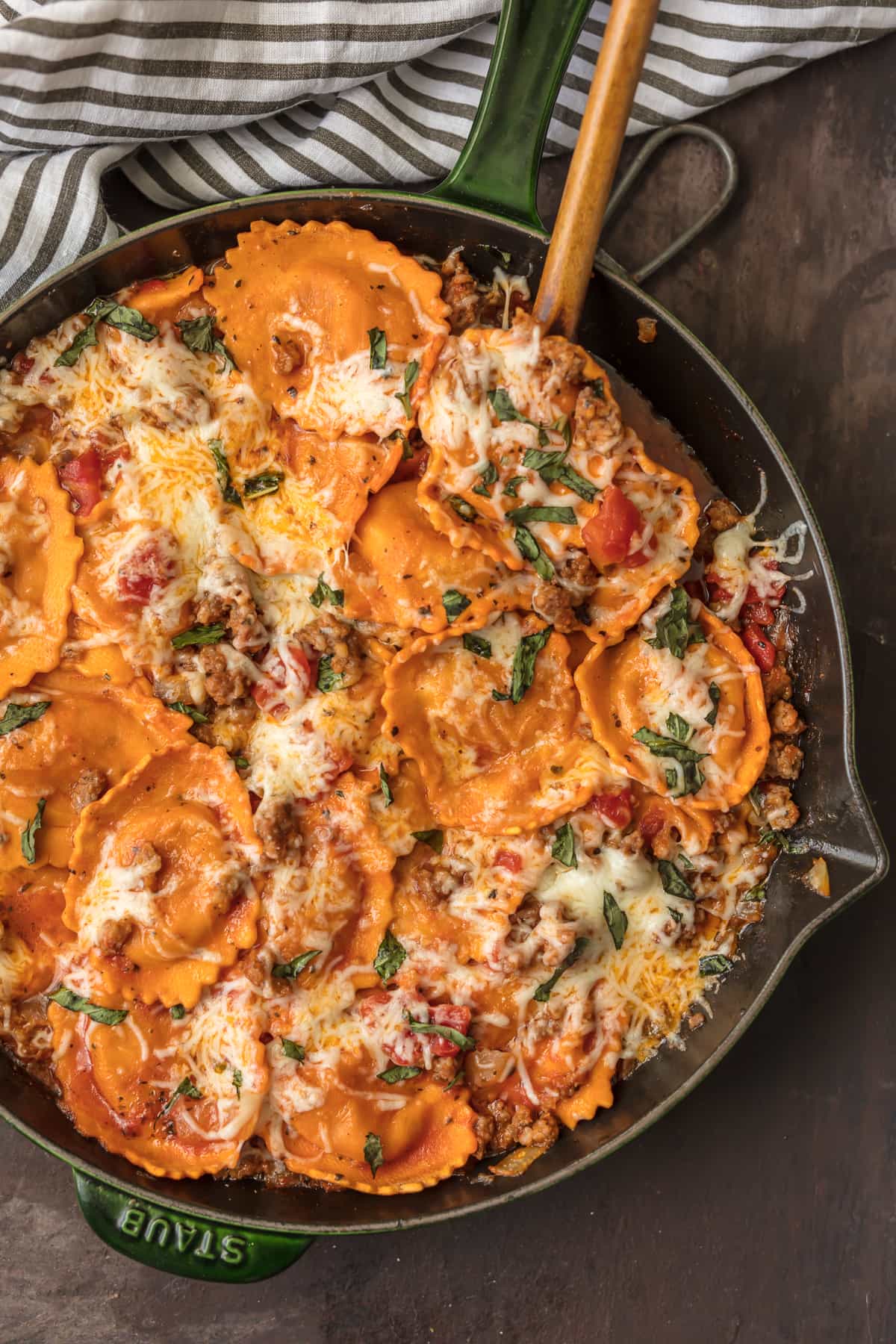 Cheese Ravioli Recipe with Italian Sausage
This Cheese Ravioli skillet is filled with stuffed ravioli, Italian Sausage, and lots of cheese. It's the perfect one pan cheese ravioli recipe!
Cheese Ravioli is such a classic, but I wanted to take it up a notch. Instead of simple ravioli with some sauce, I turned in into a full on one pan skillet meal!
There's so much to love about this one pan Cheese Ravioli skillet! It starts with amazing cheese-stuffed ravioli, and then I added tomatoes, basil, Italian sausage, and more cheese. It's the ultimate flavor combo and the easiest dinner EVER. You guys know I love a good easy skillet meal, it's one of my favorite things to make on the site.
This sausage and Cheese Ravioli recipe just happens to be one of my favorites, because it's one of Pat's favorites too! It's always nice to be able to make him happy with a meal I love as well. If you're looking for an incredibly easy and fun meal for any day of the week, you've come to the right place!
This One Pan Cheese Ravioli Skillet is filled with Italian Sausage, tomatoes, and basil. It's the perfect one pan meal!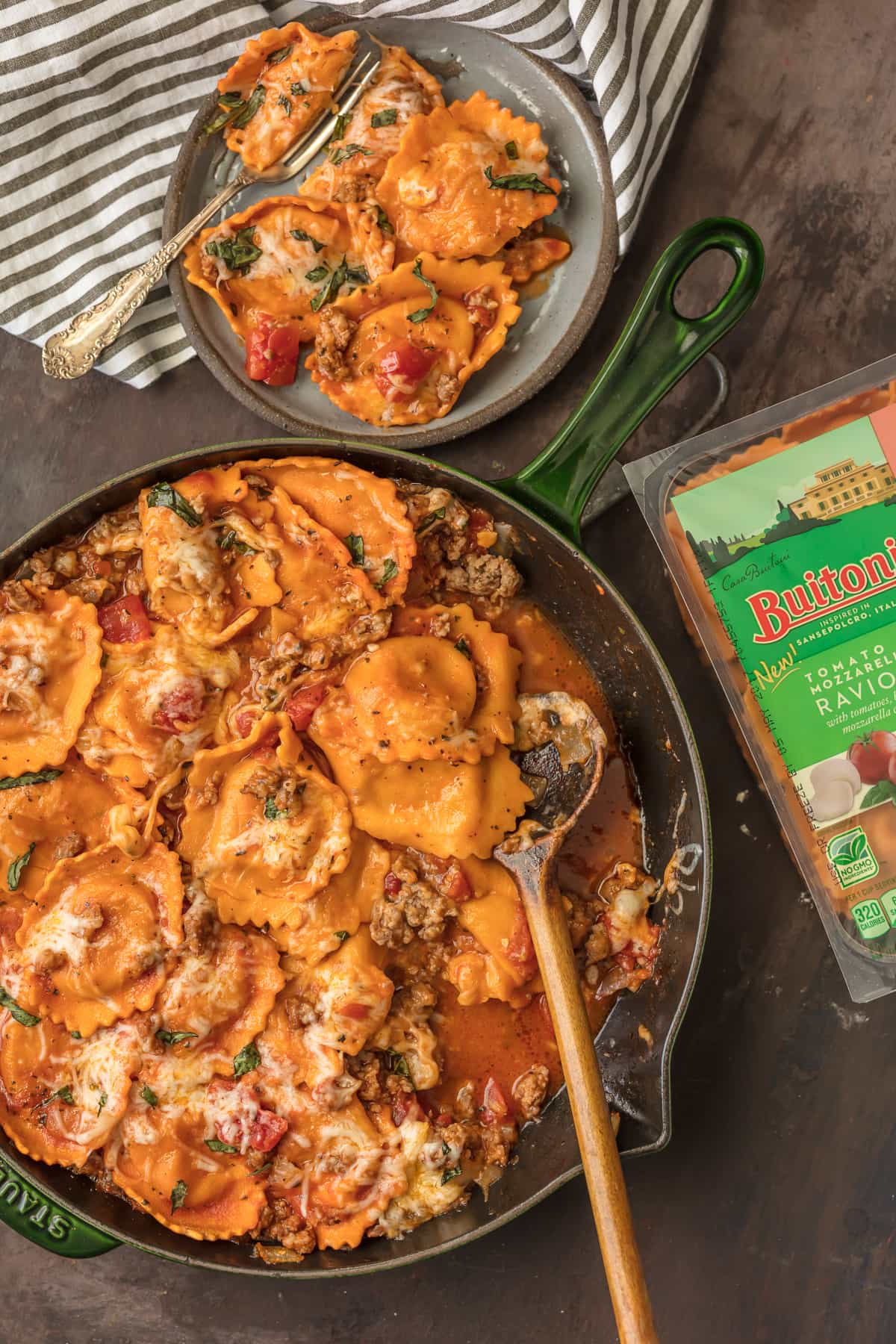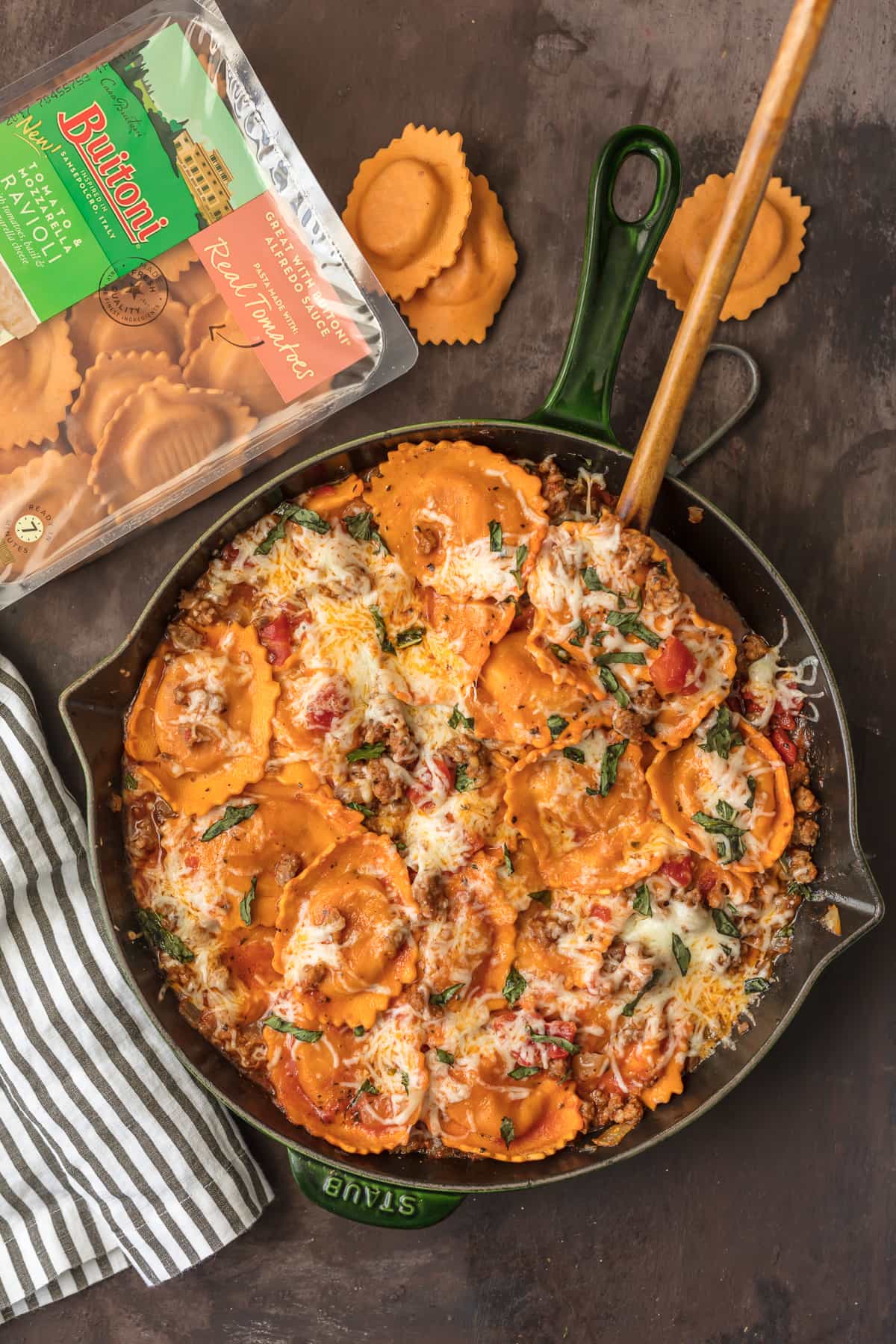 Stuffed Cheese Ravioli
I found out about Buitoni's NEW stuffed pastas a while back and I've been obsessed ever since. You can find their refrigerated pastas in either the deli or dairy section of your local grocery store, and you will not regret it! You might remember the Pesto Chicken Tortellini Soup I made with their filled tortellini last month (and if you don't remember…get on it!), and after trying that I just knew I had to try their Tomato and Mozzarella Ravioli.
Made with real ingredients (all Non GMO), this ravioli knocks my socks off. It's the perfect cheese ravioli to throw in a skillet and get to cooking!
One Pan Ravioli Skillet
One pan meals are one of my favorite things to make for dinner because they're so simple. You can just throw all the ingredients into the skillet and cook it all up. It saves you from the dreaded pile of dishes too!
This Italian Sausage and Cheese Ravioli Skillet is so full of flavor and so much fun to make. It's filled with so many tasty ingredients, so it's hard to go wrong here. The tomato and mozzarella stuffed ravioli cooks quickly and it tastes super fresh. Cooking the sauce, pasta, and sausage all in one pan saves a lot of hassle. I love this one pan cheese ravioli!
How to Make Sausage & Cheese Ravioli
The ravioli itself is stuffed with tomato and cheese, so we're starting off with some really good pasta to throw into this skillet. The rest is easy & only takes about 30 minutes. One pan AND only half an hour? I love this recipe!
How to Make this Cheese Ravioli Skillet:
Heat large skillet and add garlic & olive oil
Add the sausage & cook for 3-5 minutes, crumbling as you go
Stir in the tomato sauce & seasoning
Add in the cheese ravioli & cover it in sauce
Bring it all to a boil & then let it simmer
Cover skillet & cook for 5 minutes, then cook another 5 minutes uncovered
Sprinkle with cheese & basil and simmer until cheese melts
This amazing One Pan Cheese Ravioli and Sausage Skillet is too good. Try it out for your next dinner!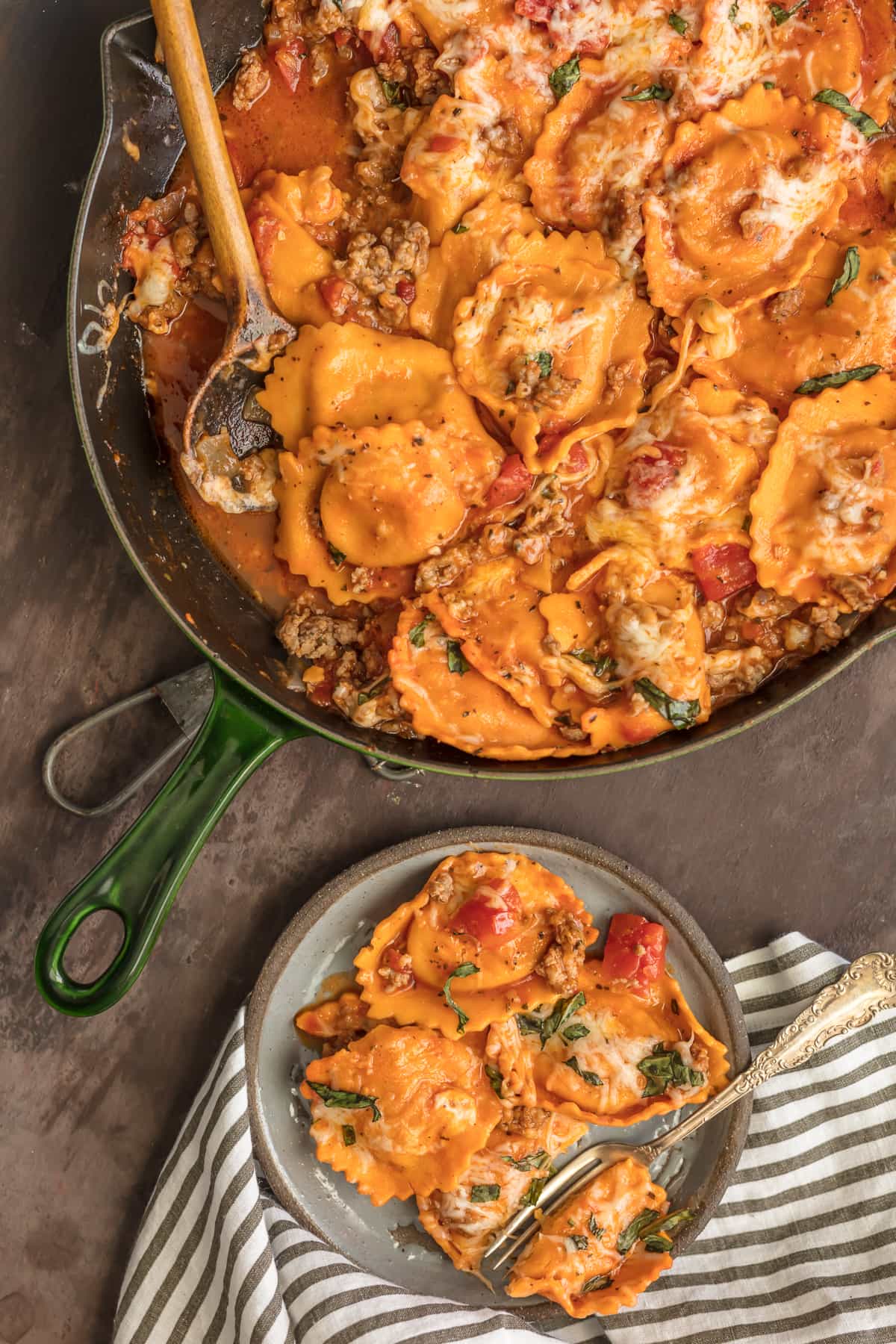 We have been eating this Cheese Ravioli Skillet time and time again since I first made it months ago. I knew I had to add this sausage and cheese ravioli recipe to the site and get it into your hands. I hope you love it as much as we do!
Watch the Video or see the recipe card below for details on how to make this Cheese Ravioli Skillet. Enjoy!
If you like this cheese ravioli recipe, try these other pasta dishes: